Butternut squash soup is a perfect comfort food for a chilly day, since it warms me up and makes me feel good.
For this vegetarian soup, I really wanted to bring out the roasted taste. Often, I'll just halve the butternut squash and roast it that way.
It's good when you eat it as is, but the roast flavor tends to get lost after the other soup ingredients are added.
By cutting the Winter squash into cubes prior to roasting, the flavor is stronger and still shines through in the soup.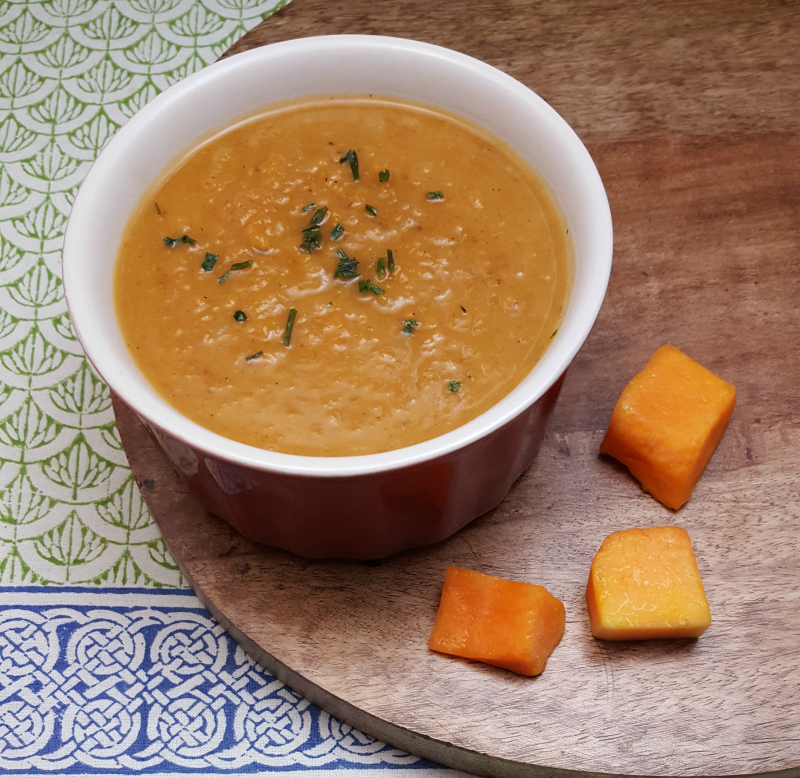 Pre-heat Oven to 400
Ingredients:
2 lb. Butternut Squash
1/2 cup Chopped Onion
2 T Butter
2 cups Water (or more, if you like a thinner soup)
Olive Oil
Salt and Pepper to Taste
Instructions:
Halve squash. Scoop out seeds. Remove skin and cut into cubes.
Place squash cubes in a single layer on a baking sheet covered with parchment paper.
Drizzle with olive oil. Sprinkle on salt and pepper.
Roast for approx. 40 minutes until squash is browned and tender.
While the squash is roasting, cook onion and butter in a soup pan until tender.
Add roasted squash and water to the soup pan.
Blend with an immersion blender.
Bring to a boil. Then reduce heat to low and simmer for 5-10 minutes.
Check out my other vegetarian recipes, so you can get more kitchen inspiration.