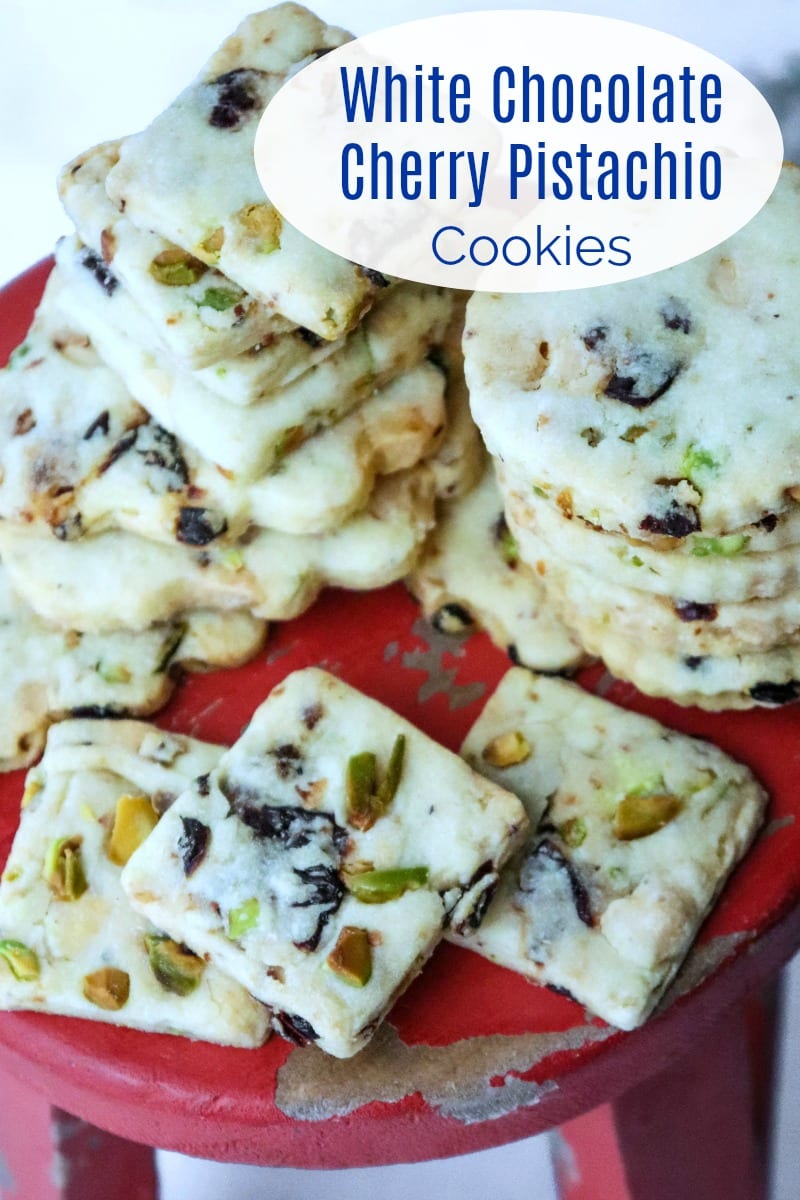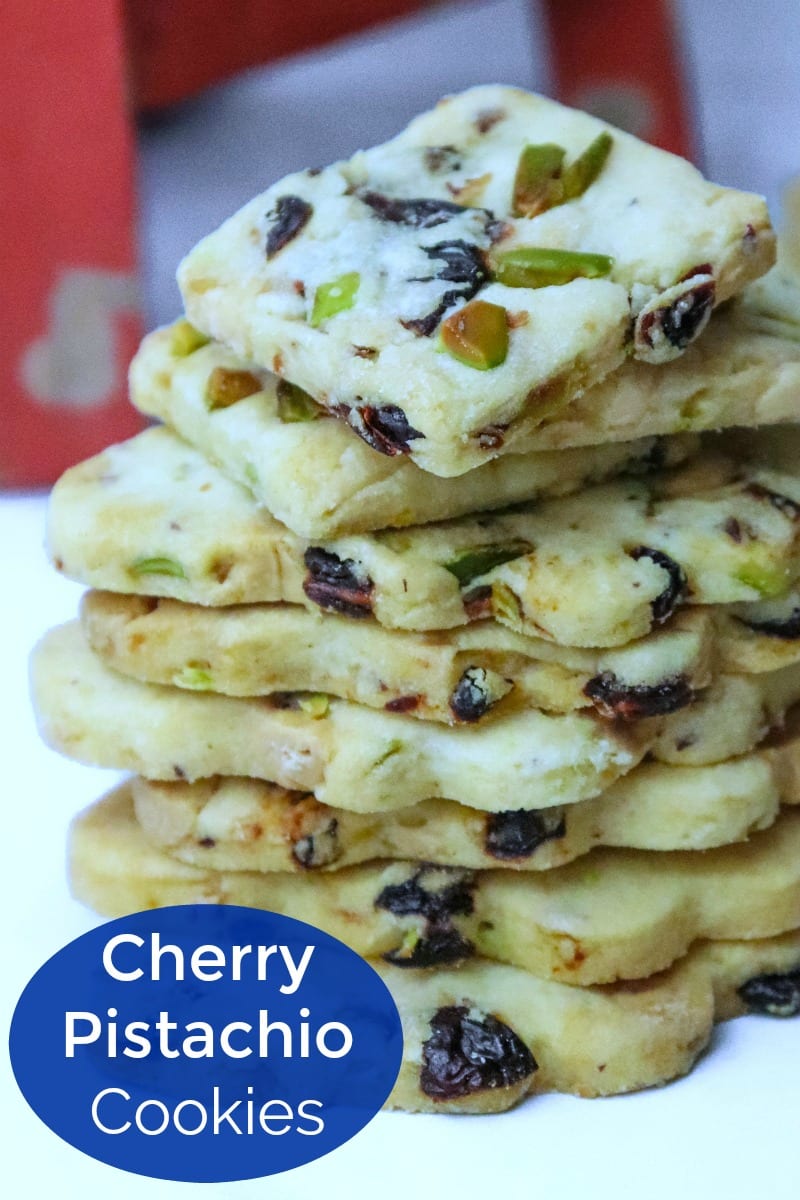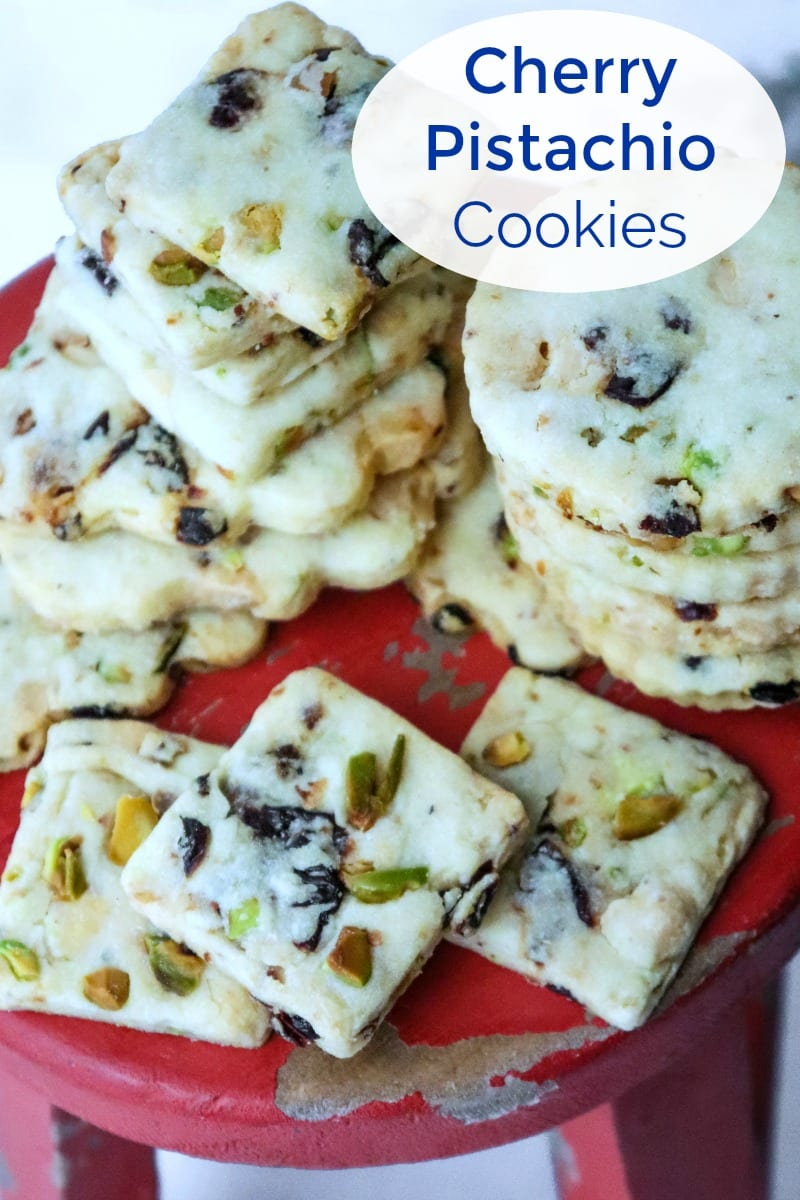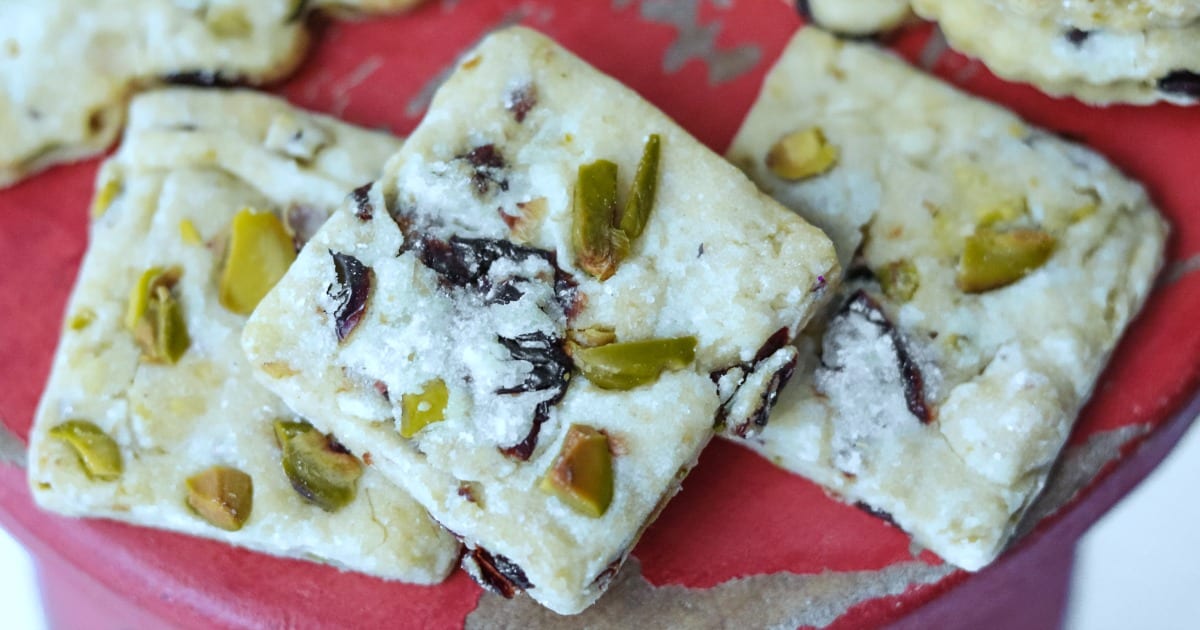 These white chocolate cherry pistachio cookies are great Christmas cookies, but I would be happy to eat them anytime of the year.
This is a shortbread cookie with a whole lot of extras mixed in, so each bite is filled with flavor.
I love the texture and simplicity of shortbread, so am happy I get all that even with the extra mix ins.
The cookies have a generous amount of white chocolate morsels, chopped dried cherries and unsalted pistachios, which go together perfectly.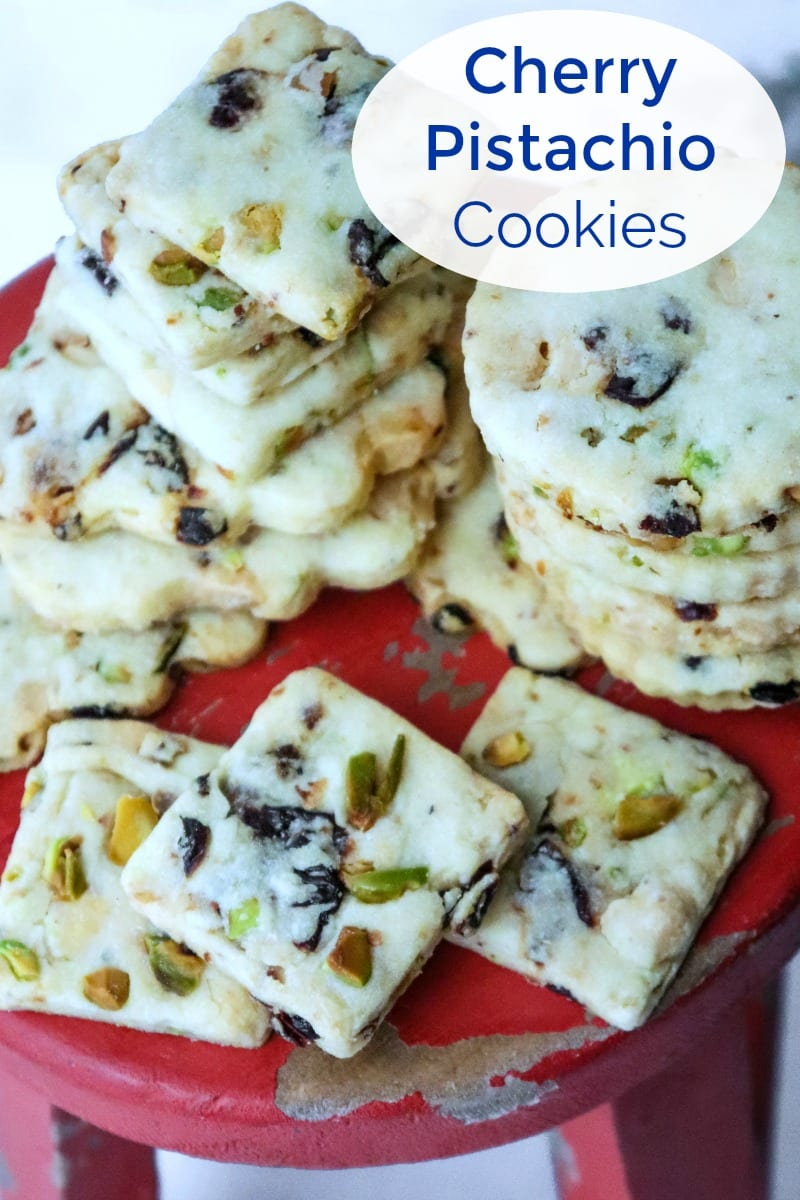 You can use any type of cookie cutter shapes that you'd like, depending upon the occasion.
Or you can simply cut out squares or rectangles with a knife, when you have rolled out the dough.
Eat all the cookies yourself or pack them up to give as a gift, take to a party or sell at a bake sale.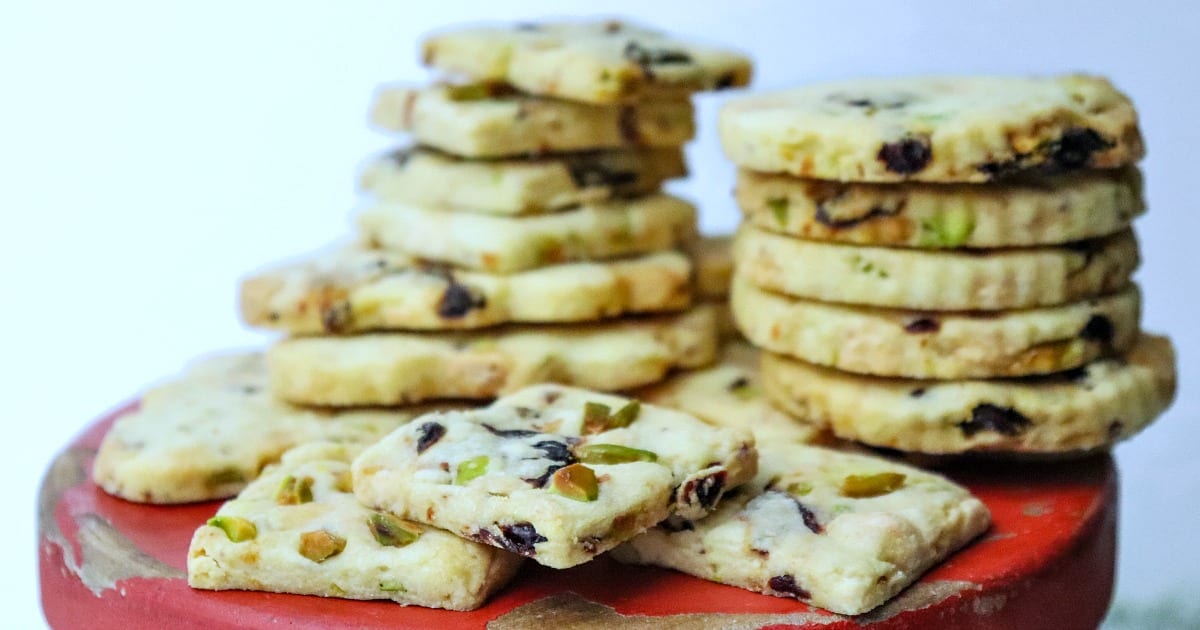 White Chocolate Cherry Pistachio Cookies Recipe
Prep Time- 15 minutes
Chill Time – 2 hours
Bake time 12-15 minutes
Makes 2-3 Dozen Cookies
Ingredients
1 stick + 2 T Butter
2/3 cup Granulated Sugar
1 Egg
2 cups All-purpose Flour
1⁄2 t Salt
1⁄2 cup White Chocolate Chips
1/3 cup chopped pistachios, unsalted
1/3 cup chopped dried cherries
Supplies
Mixing Bowl
Sifter
Stand Mixer
Plastic Wrap
Rolling Pin
Cookie Cutters
Baking Sheet
Instructions
1) Sift flour and salt together into a bowl.
2) Cream the butter and sugar together with the stand mixer. Then add in the egg. Slowly add in the flour mixture and blend on low speed until incorporated. Add in the white chocolate, cherries and pistachios.
3) Form a ball with the dough and wrap in plastic wrap. Refrigerate for 2 or more hours.
4) Preheat oven to 325°.
5) Roll dough to 1/8″ thick and cut out shapes with cookie cutters or cut squares with a knife.
6) Bake for 12 to 15 minutes until edges just being to turn light brown.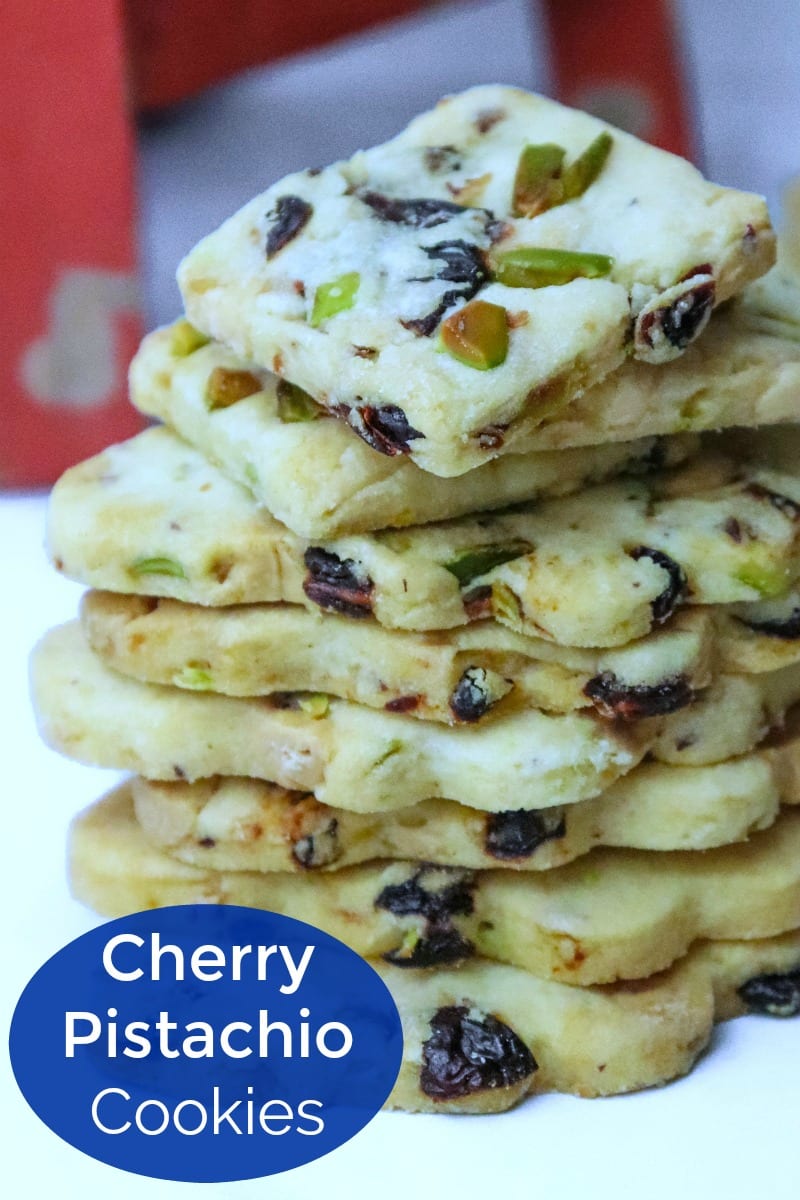 Cookie Recipes