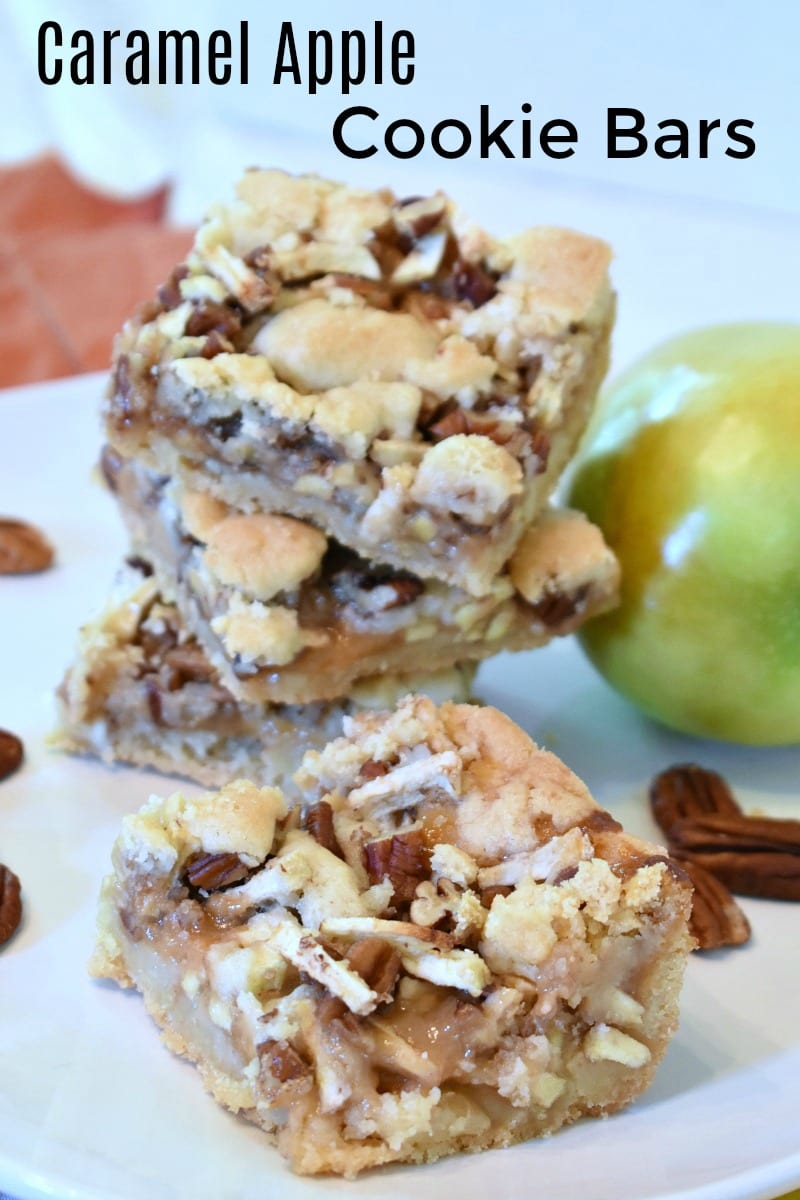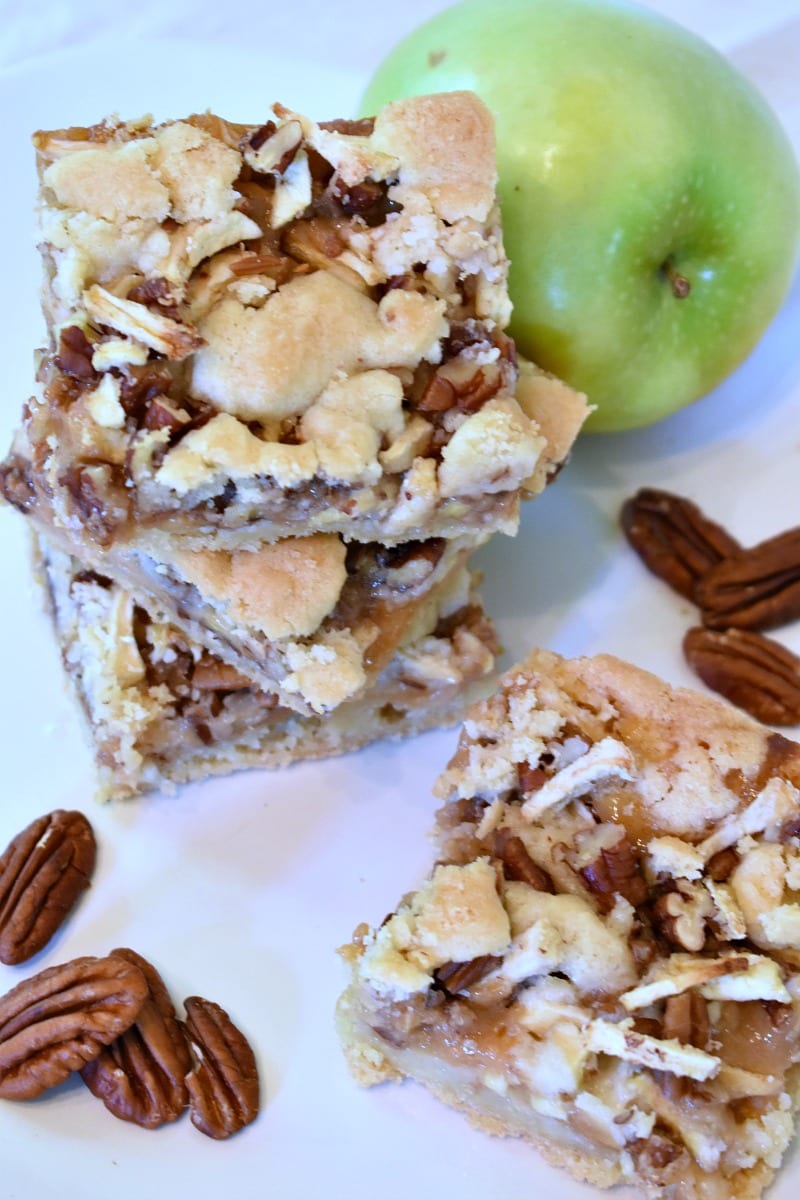 Yummy Fall Flavored Cookie Bars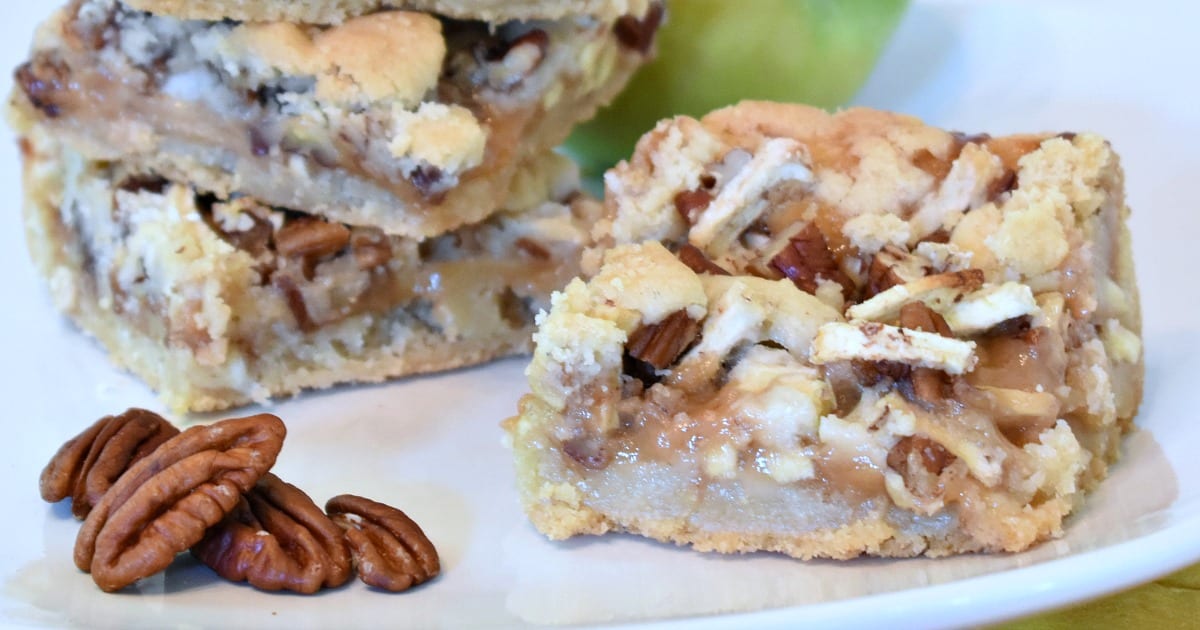 When you are looking for an easy sweet treat with the yummy flavors of Fall, bake a batch of my caramel apple cookie bars.
The decadent bars are simple to make, but they look and taste impressive.
It is the perfect finish to a meal or a lovely treat by itself, when you need a little something to get you through an afternoon slump.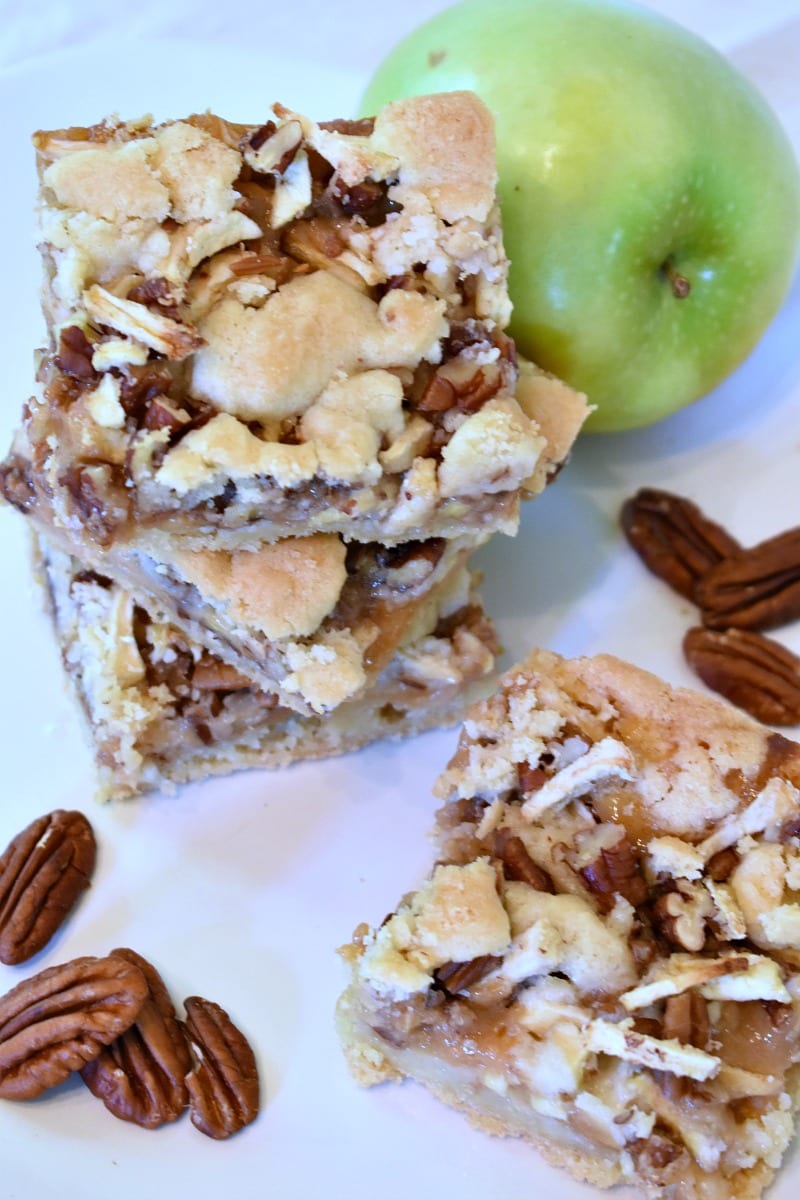 The recipe starts with a roll of refrigerated sugar cookie dough, so the prep time is minimal.
Ingredients are added in layers, so no special skills are required.
You just need to follow the easy step by step instructions to assemble and bake this tasty dessert.
If you have kids who like to help in the kitchen, they can help with this recipe.
Little ones will need help with the oven and with the chopping.
Older kids and teens who know how to safely use the oven and knives may be able to complete the entire recipe on their own from start to finish.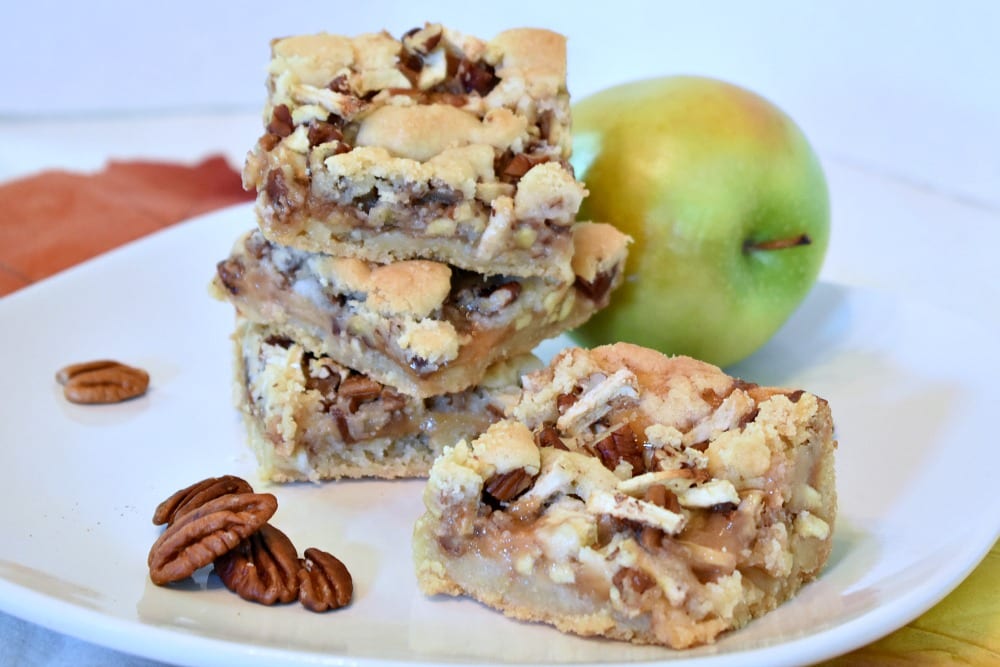 One thing I learned as an adult is that cooking spray and baking spray are not the same thing.
The ingredients are different and they serve different purposes, so now I keep both on hand.
Baking spray has flour mixed in, so it is designed to release your baked goods from the pan easily.
When you use baking spray for this dessert, your cookie bars will come right out of the pan.
The caramel apple cookie bars are great to make for a treat at home, but you can also pack them up to share.
These are great for bake sales, cookie exchanges, holiday buffets and can be wrapped up and given as a gift.
Enjoy!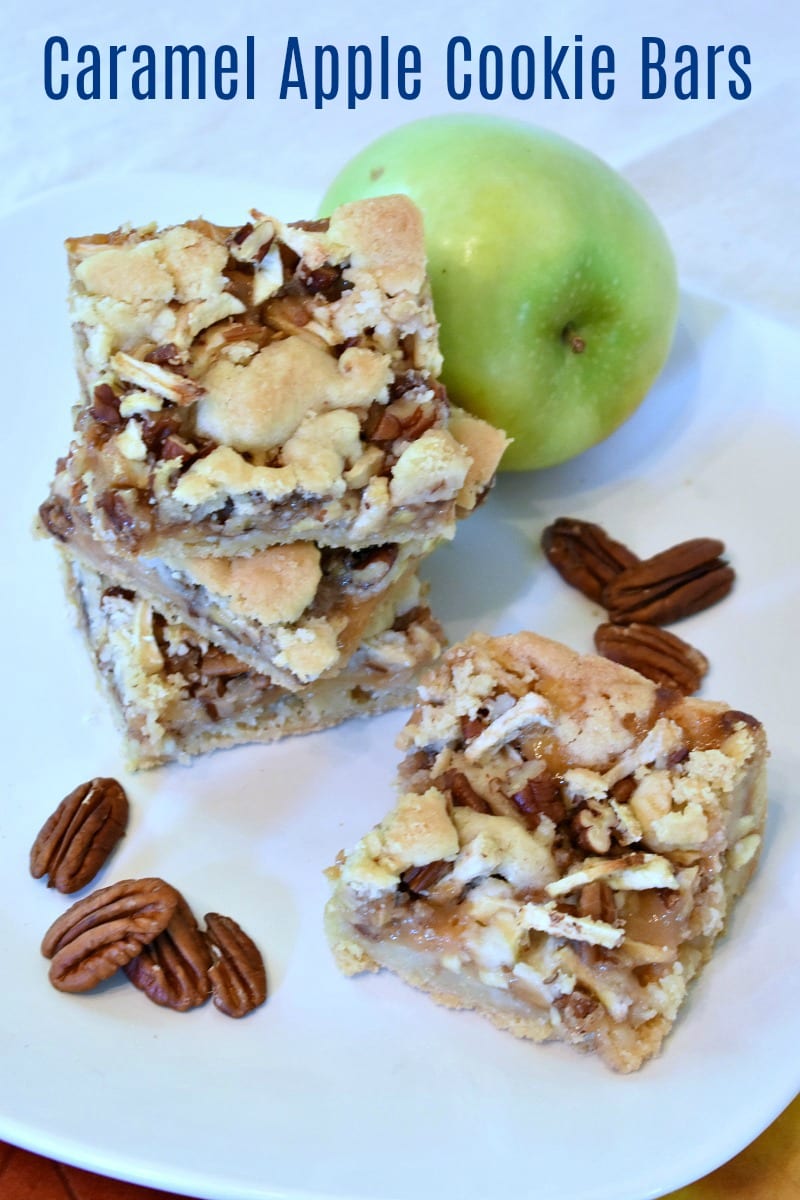 Caramel Apple Cookie Bars Recipe
Ingredients:
Roll Refrigerated Sugar Cookie Dough
2 Medium Granny Smith Apples, chopped
1/2 cup Chopped Pecans
1/2 cup Caramel Ice Cream Sauce
4 T All Purpose Flour
1/2 t Salt
Supplies
8″ x 8″ Baking Dish
Nonstick Baking Spray
2 Small Mixing Bowls
Instructions:
1) Pre-heat oven to 350 and lightly coat baking dish with nonstick baking spray.
2) Set aside 1/2 cup of cookie dough. Then press remaining dough evenly into the bottom of the baking dish.
3) Bake for approx 10 minutes until golden brown and remove from oven.
4) Let cookie cool for approx. 10 minutes.
5) Add caramel sauce and 3 T flour to a small bowl and stir together, so that there are no lumps.
6) In a second bowl, toss apples, 1 T flour and chopped pecans together.
7) Pour caramel over the cookie base.
8) Sprinkle apple pecan evenly on top of the caramel.
9) Crumble the reserved cookie dough on top of the apples and pecans.
10) Bake for approx. 40 minutes until golden brown and cooked through.
11) Let cool and then cut into 9 pieces.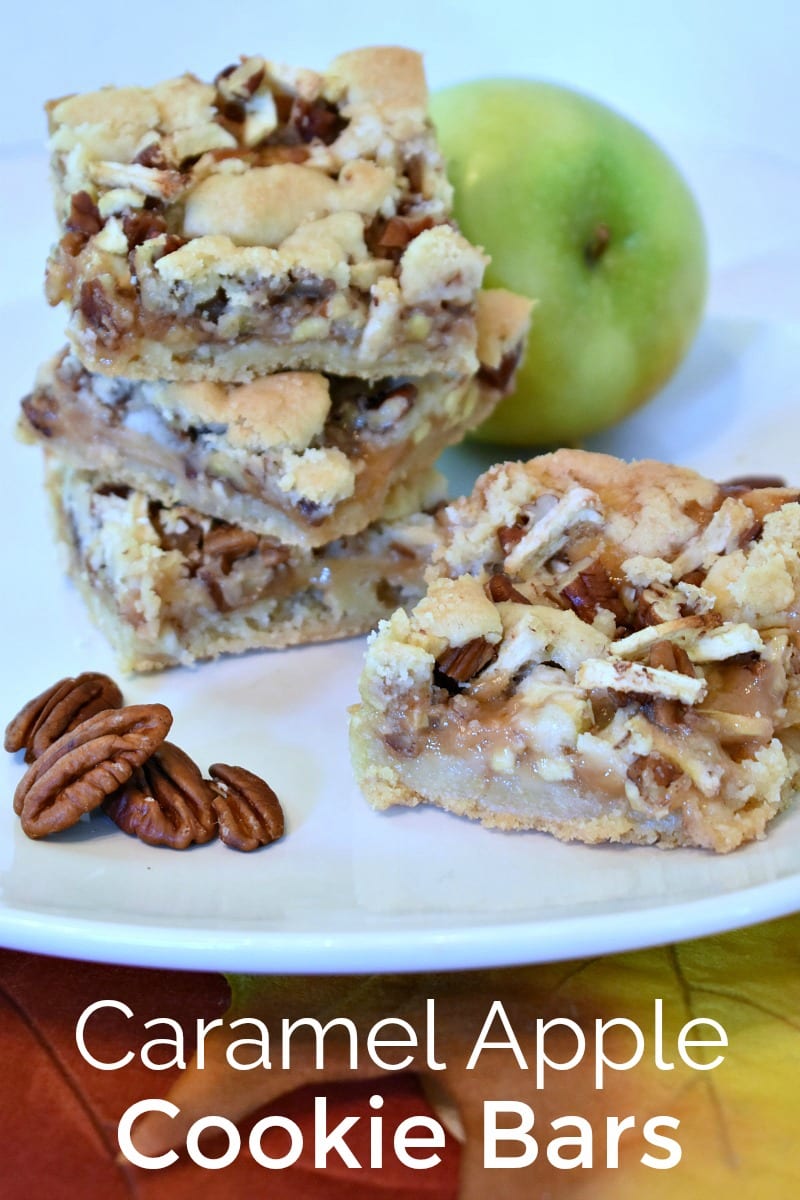 More from Mama Likes To Cook
Check out the rest of my vegetarian recipes, so you can get more great ideas for baking, cooking, blending and juicing.
Apple Recipes
Caramel Apple Recipes
Shopping Tips
For a beautiful assortment of kitchen necessities and food gifts for the whole family, check out the deals at these online stores.
Are you ready to have some delicious fun in the kitchen?