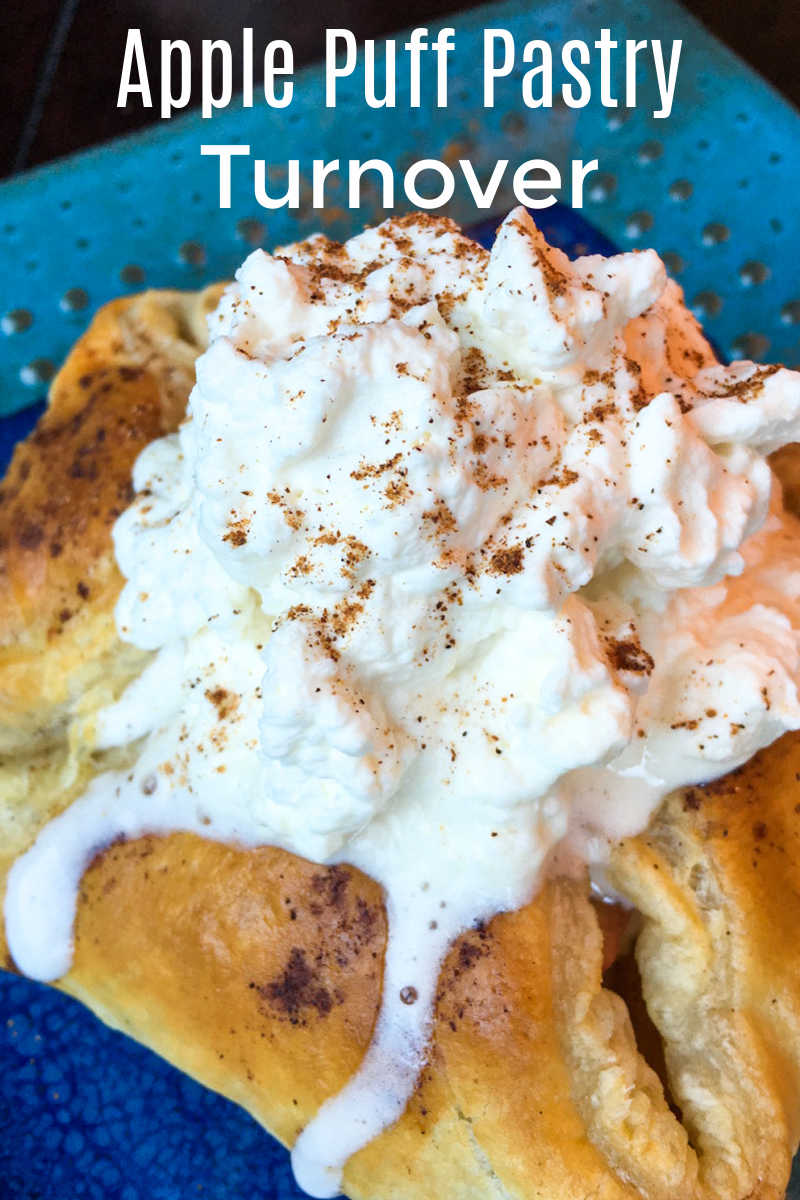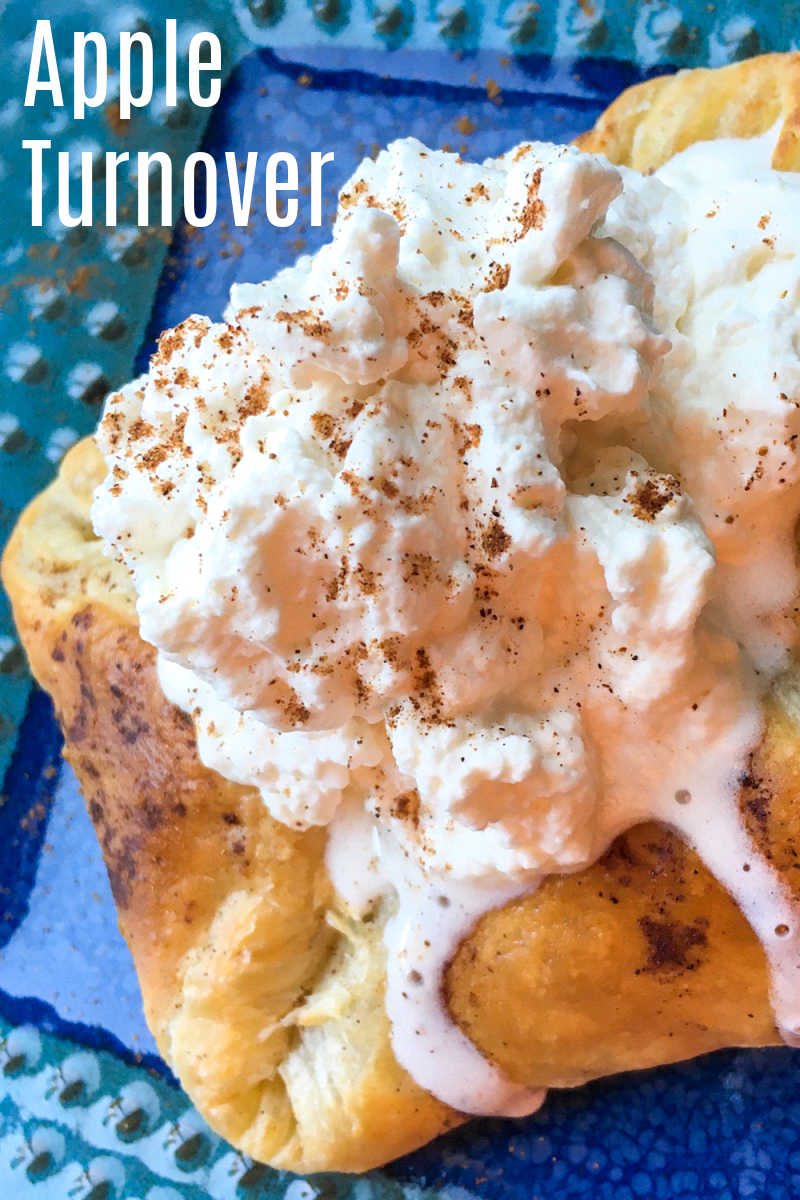 with maple whipped cream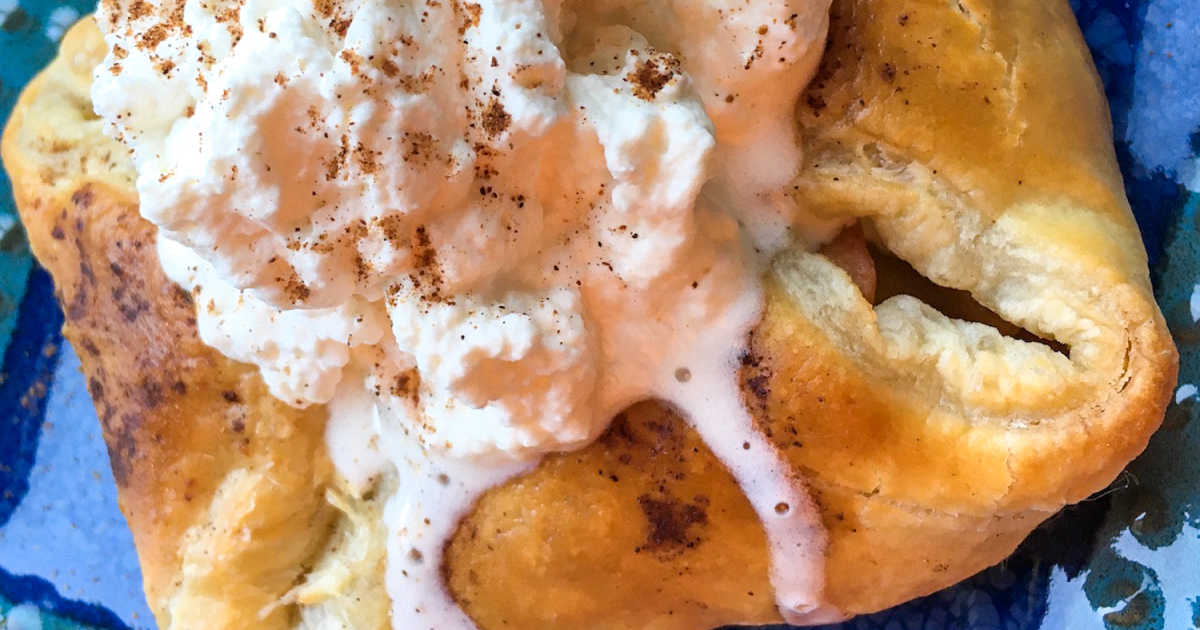 Homemade pastries are simple to make with fresh fruit, when you follow my apple puff pastry turnover recipe.
These pastries are delicious as is, but become even more of a treat topped with maple whipped cream made with real maple syrup.
I don't usually do sweets for breakfast, so I think of this as dessert.
If you do like to start your day with sweets, feel free to serve the turnovers for breakfast or brunch with or without the whipped cream.
There is a little bit of brown sugar cooked into the apple filling, but the pastries aren't what I would call 'sugary.'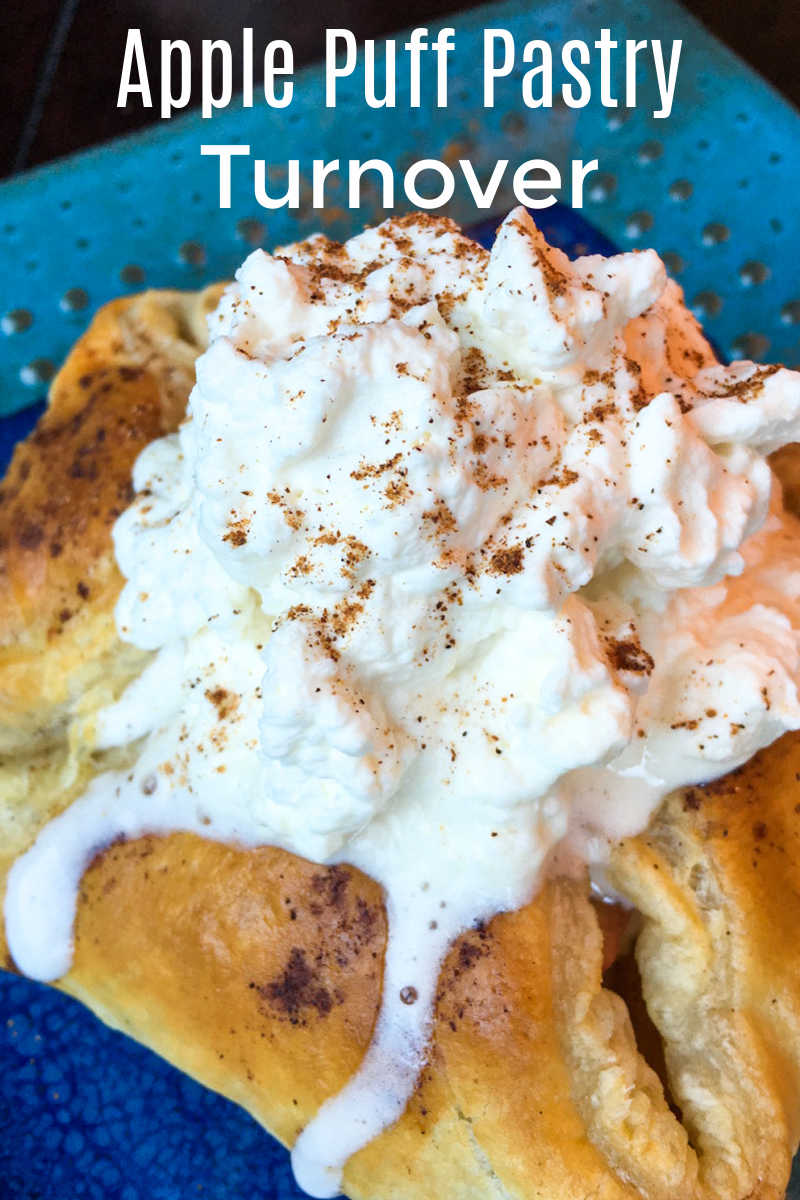 Packaged puff pastry sheets come frozen, so you'll need to let them thaw in the refrigerator overnight.
Then they will be ready to use and this puff pastry treat will be quick to assemble.
All ovens are not the same, so you will want to keep an eye on the turnovers as they are getting close to being done.
Take the pan out of the oven as soon as the color looks good, so that the delicate pastry doesn't burn.
Enjoy!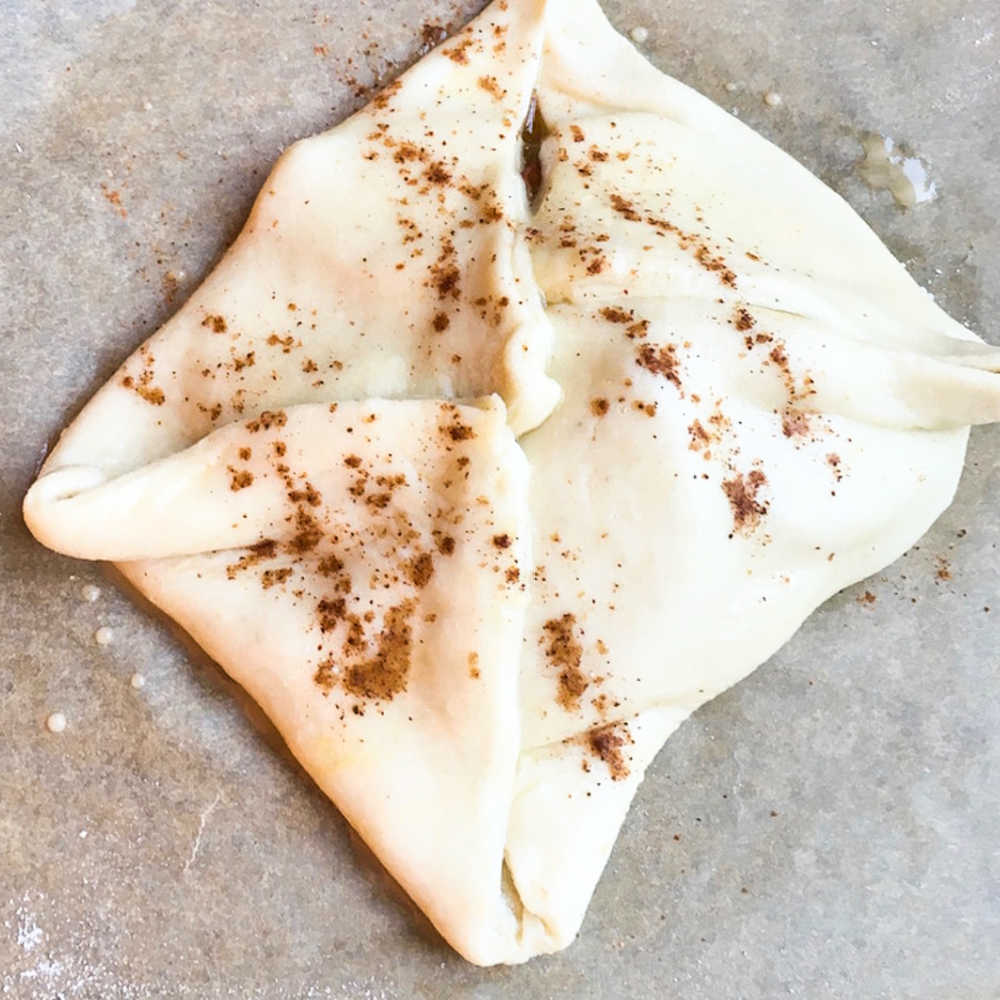 Prep time: 20 minutes (+ time to thaw puff pastry)
Cook time: 35-40 minutes
Yields: 4 apple turnovers
Ingredients
Pkg. of 2 Puff Pastry Sheets, thawed
1 Egg Yolk
1 T Water
3 T Butter
3 Apples
2 T Brown Sugar
2 t Cinnamon
1 t Nutmeg
1 t Ground Cloves
Whipped Cream:
1 pint Heavy Whipped Cream
2 T Maple Syrup
Supplies
Mixing Bowls
Immersion Blender or Mixer
Rolling Pin
Large Rimmed Baking Sheet
Parchment Paper or Silicone Baking Mat
Skillet
Instructions
1) Thaw the puff pastry in the refrigerator overnight.
2) Preheat oven to 400°.
3) Make the maple whipped cream with either a mixer or an immersion blender. Whip the heavy whipping cream, so that it doubles in volume. Then drizzle in the maple syrup and continue whipping, so it becomes light and fluffy. Cover and refrigerate until ready to use.
4) Prepare and egg wash in a small bowl by beating the egg yolk with water until thoroughly combined. Set aside.
5) Remove the thawed puff pastry from refrigerator. Place the dough on a lightly floured surface and roll dough into a uniform square shape. Cut into 4 squares and place them on a large rimmed baking sheet lined with parchment paper or silicone baking mat.
6. Pierce the center of each pastry square a few times with a fork. Place the baking sheet in the freezer, so that it chills while you are preparing the filling.
7) Peel and core the apples and, then, slice thin. Melt butter in a skillet set to medium heat. Add apple slices and cook for a few minutes until soft. Add brown sugar and spices to the skillet and stir to combine. Remove from heat and set aside.
8) Remove the puff pastry from the freezer and spoon the apple filling into the center of each square. Fold in each corner toward the middle to from the turnover, but leave a couple openings to vent.
9) Brush each turnover the with prepared egg wash and sprinkle with cinnamon.
10) Bake in the preheated oven for about 25-30 minutes, so that the turnovers are light golden brown and puffy. Watch carefully to keep from burning.
11) Top with maple whipped cream to serve.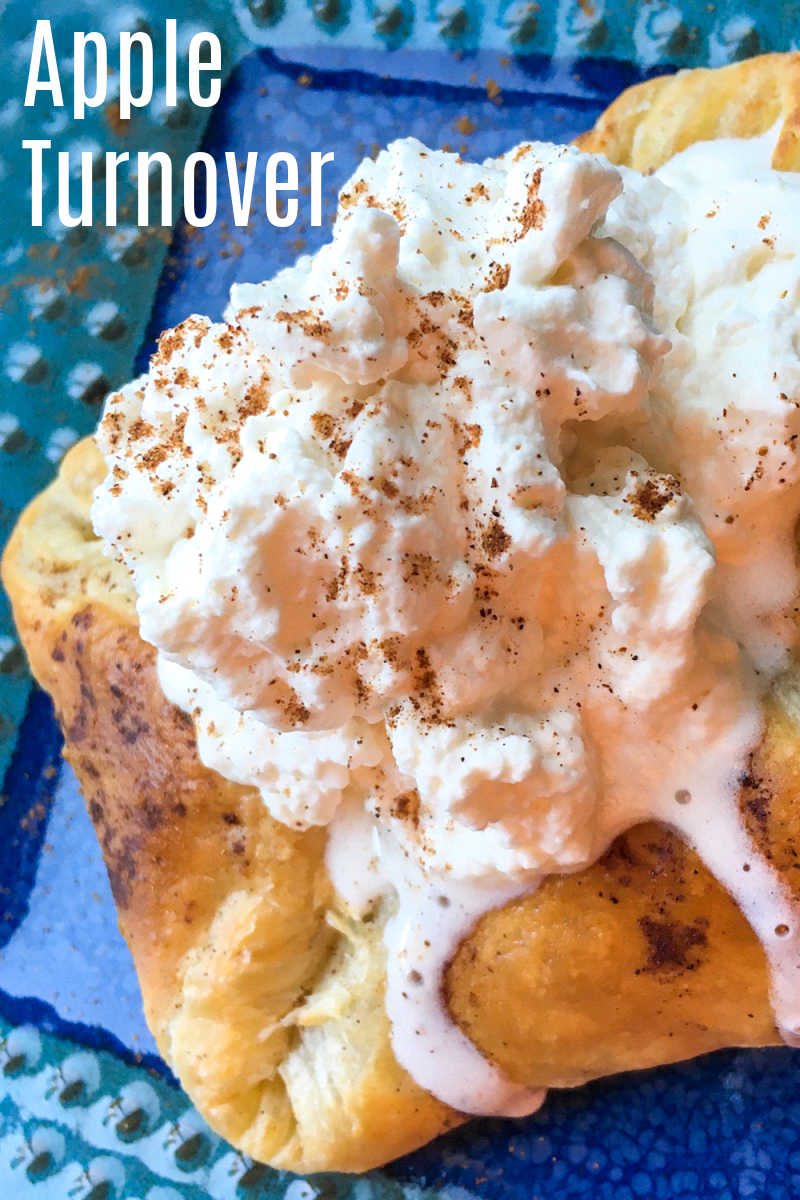 More from Mama Likes To Cook
Check out the rest of my vegetarian recipes, so you can get more great ideas for baking, cooking, blending and juicing.
Puff Pastry Recipes
Apple Recipes
Caramel Apple Recipes
Shop Now
For a beautiful assortment of kitchen necessities and food gifts for the whole family, check out the current deals at these online stores.
Are you ready to have some delicious fun in the kitchen?