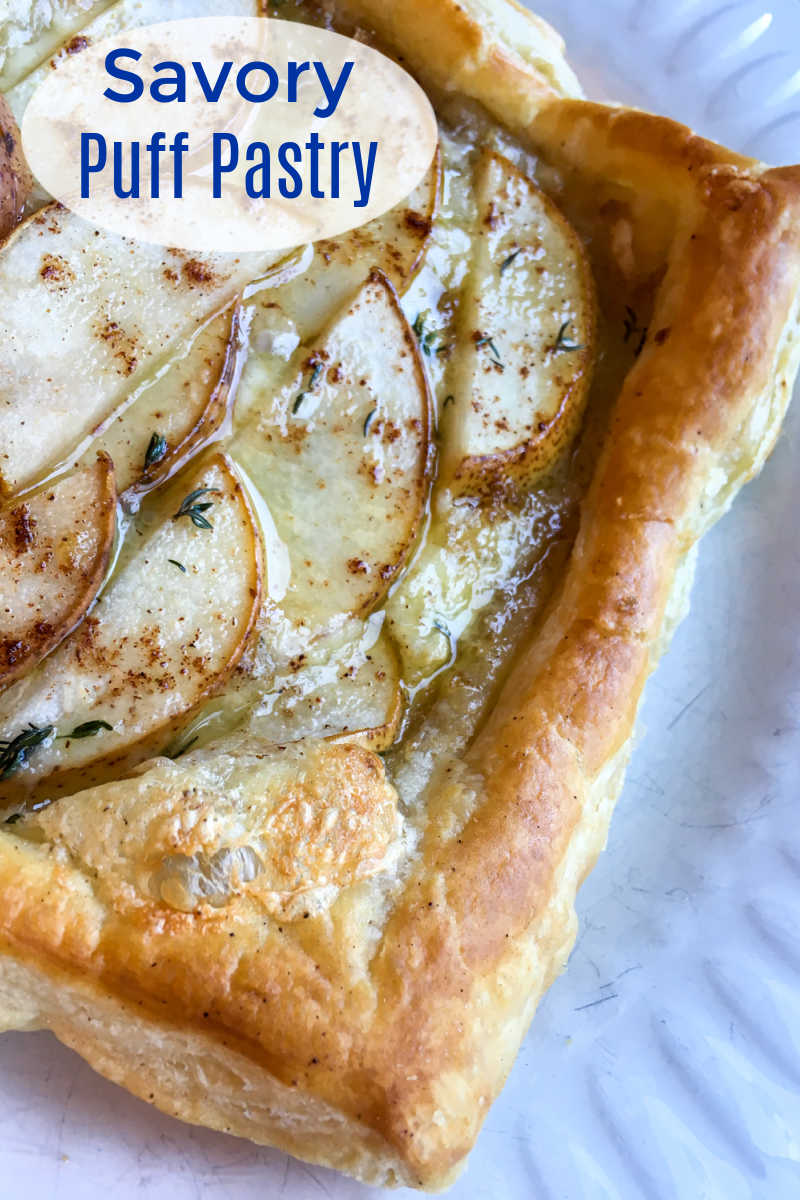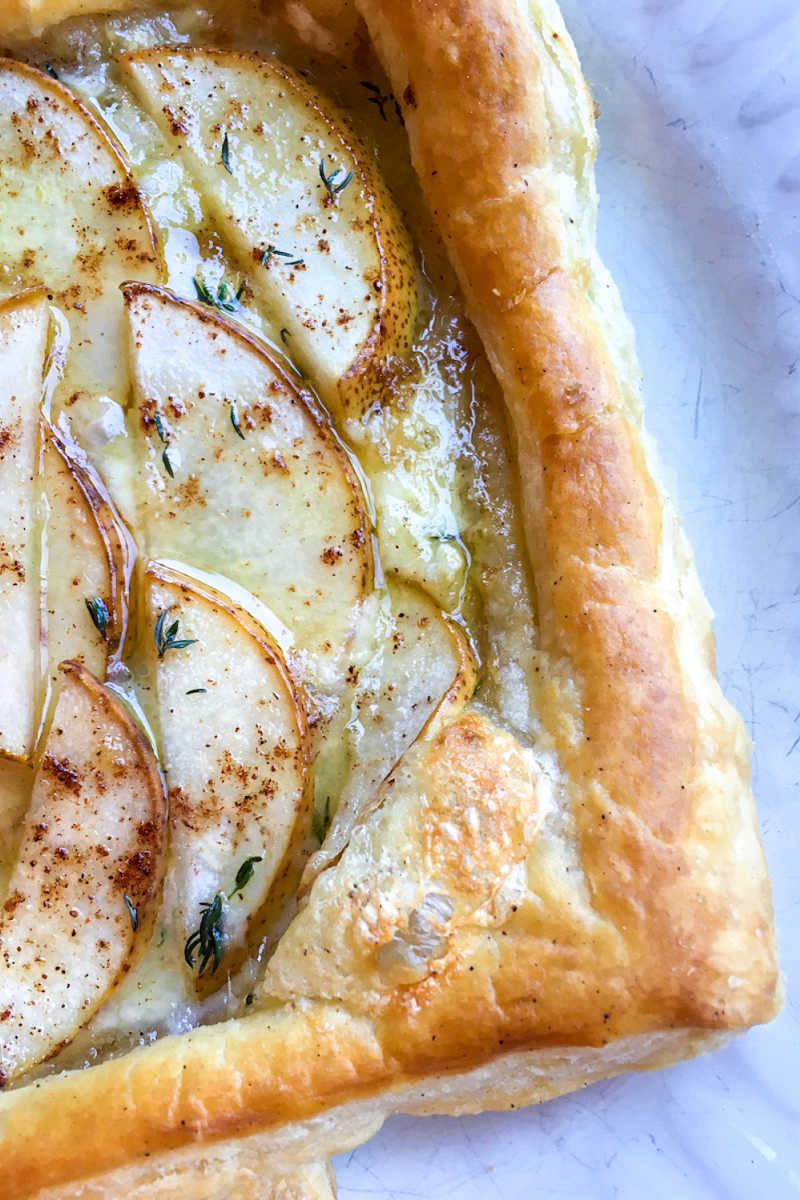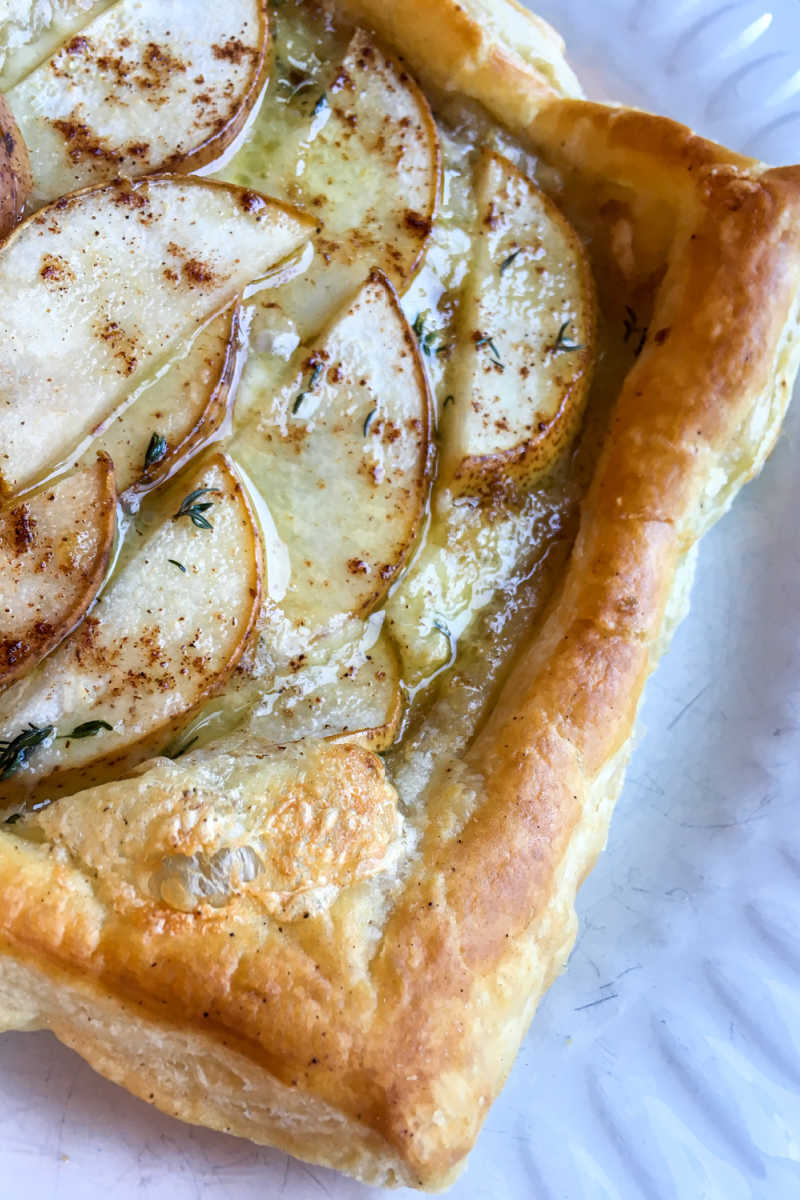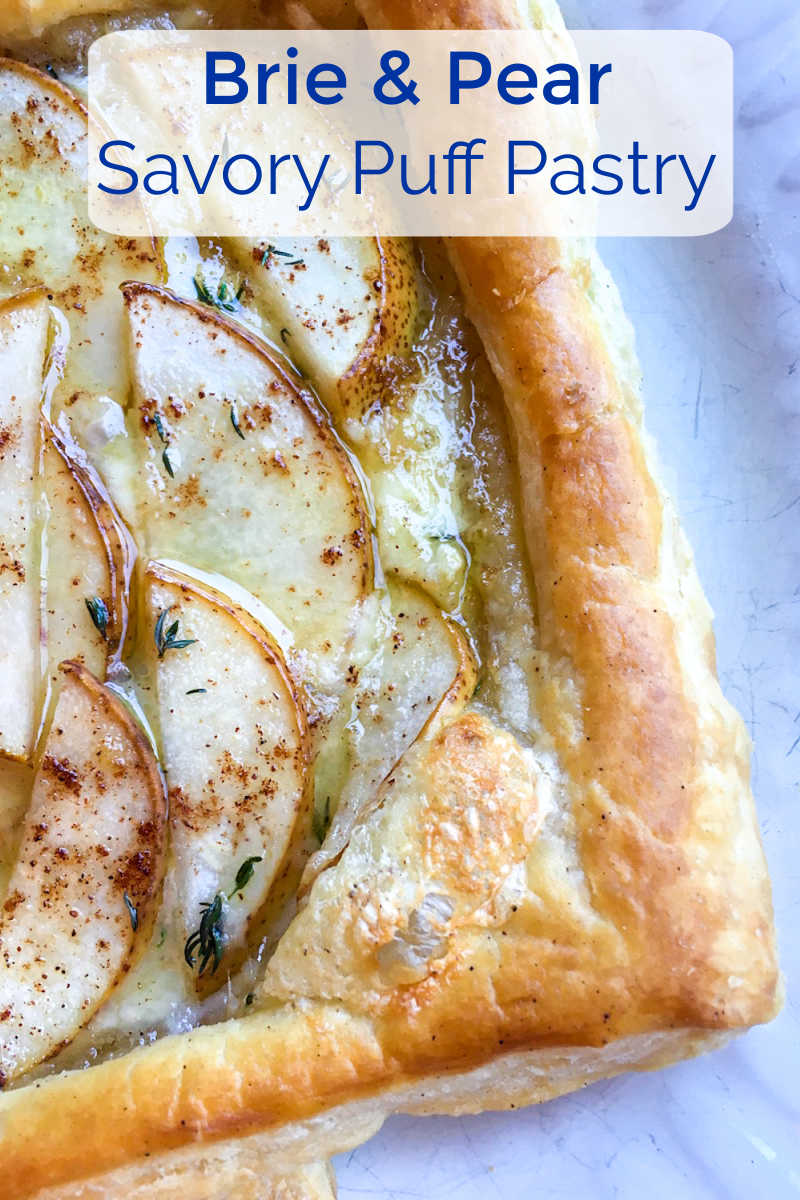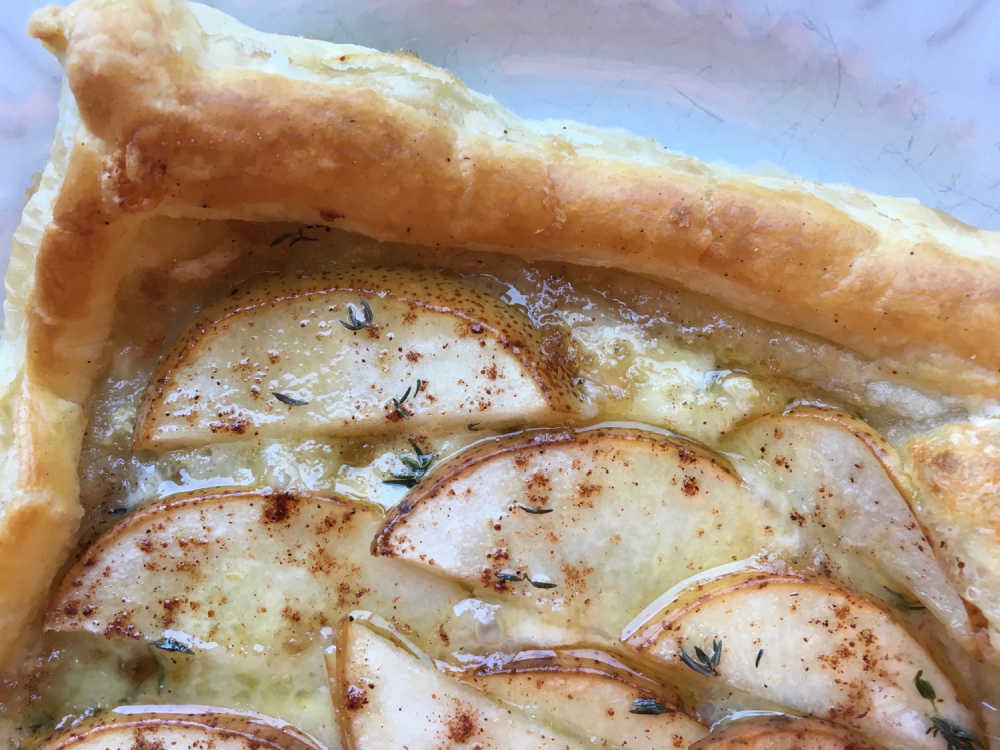 Make a delicious savory puff pastry with brie and pear, when you want an easy appetizer that looks and tastes like a special treat.
Frozen puff pastry is a wonderful invention, so this is a good item to keep stocked in your freezer.
Then you will be ready to bake, when the mood strikes.
Sweet puff pastry desserts may be more common, but you can also go with savory.
The brie and pear pastry is great as an appetizer or to set out for a party buffet.
However, it will also do just fine as a side dish with dinner.
Pears are naturally sweet, but the creamy brie cheese is wonderfully savory.
You'll need half of a package of frozen puff pastry to make a single brie and pear savory pastry.
Or you can double the recipe to make two of them and use up the whole package at once.
This beautiful appetizer is easy to make and it tastes amazing.
Enjoy!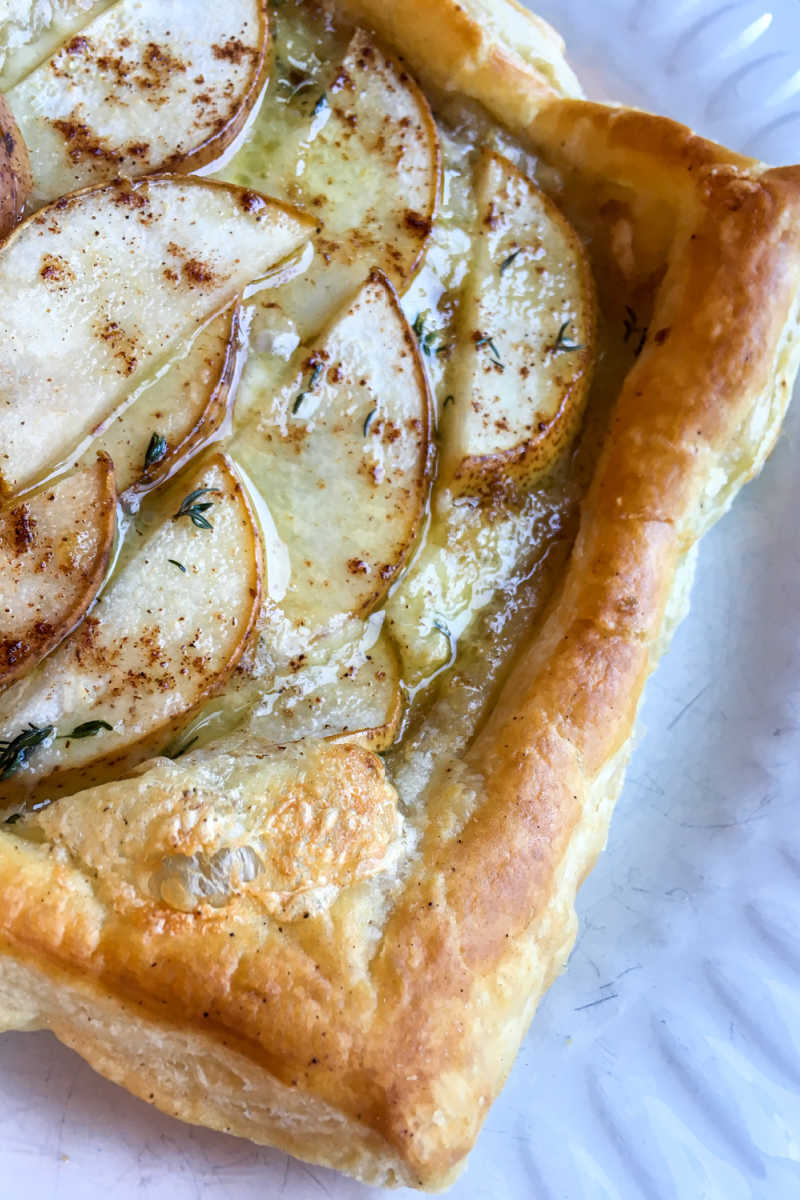 Prep time: 20 minutes
Cook time: 15-18 minutes
Servings: 4
Ingredients
1 Puff Pastry Sheet (typically 1/2 of a pkg.)
2 oz. Brie
1 Medium Pear
2 sprigs Fresh Thyme
1 t Nutmeg
2 t Cinnamon
2 T Maple Syrup
1 Egg Yolk
1 T Water
Supplies
Rolling Pin
Knife
Rimmed Baking Sheet
Parchment Paper
Fork
Small Whisk
Pastry Brush
Instructions
1) Thaw the puff pastry in your refrigerator overnight or for at least a few hours.
2) Pre-heat oven to 375°F.
3) Carefully unfold the thawed puff pastry. Place on a lightly floured surface and roll it out into a large rectangle with a floured rolling pin.
4) Cut the pastry in half with a sharp knife. If you are making a single recipe, wrap half in plastic wrap and refrigerate. If you are doubling the recipe, work on half at a time.
5) Cover the baking sheet with parchment paper and place the puff pastry on top.
6) Create a "frame" by making a cut around the perimeter of the pastry about 1/2″ from the edge. The cut should go about halfway through the pastry, not completely through to the parchment.
7) Use a fork to poke some ventilation holes into the center of the "frame."
8) Cut the brie into thin slices and remove the rind. Thin slice the pear and remove any seeds.
9) Arrange brie in a single layer in the center of the pastry 'frame' leaving the edge uncovered. Top with pear slices. Sprinkle with thyme, nutmeg and cinnamon. Drizzle with maple syrup.
10) Whisk egg yolk and water together to create an egg wash. Brush the wash over the exposed edge of the pastry frame.
11) Bake for approximately 15-18 minutes, so that the pastry "picture frame" puffs up
and turns golden brown.
12) Remove from oven and let cool slightly. Then, slice and serve.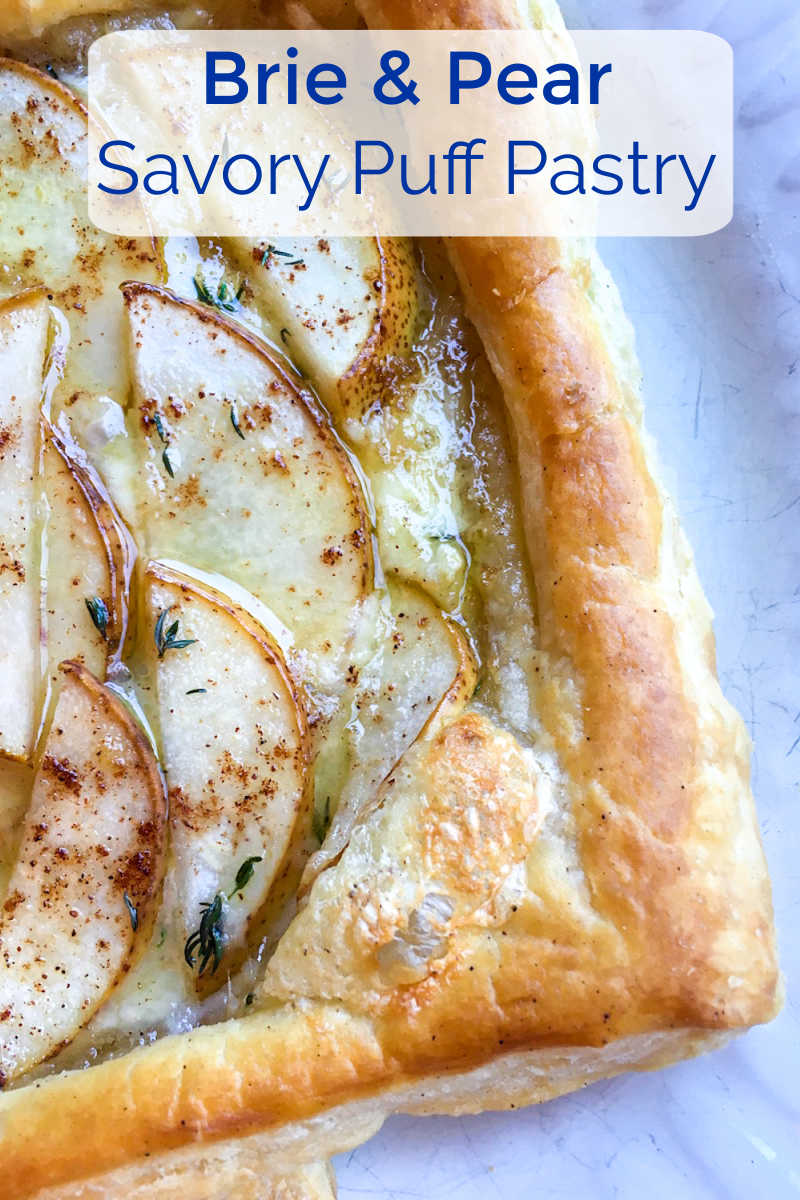 More from Mama Likes To Cook
Check out the rest of my vegetarian recipes, so you can get more great ideas for baking, cooking, blending and juicing.
Puff Pastry Recipes
Pear Recipes
Brie Recipes
Shop Now
For a beautiful assortment of kitchen necessities and food gifts for the whole family, check out the deals at these online stores.
Are you ready to have some delicious fun in the kitchen?