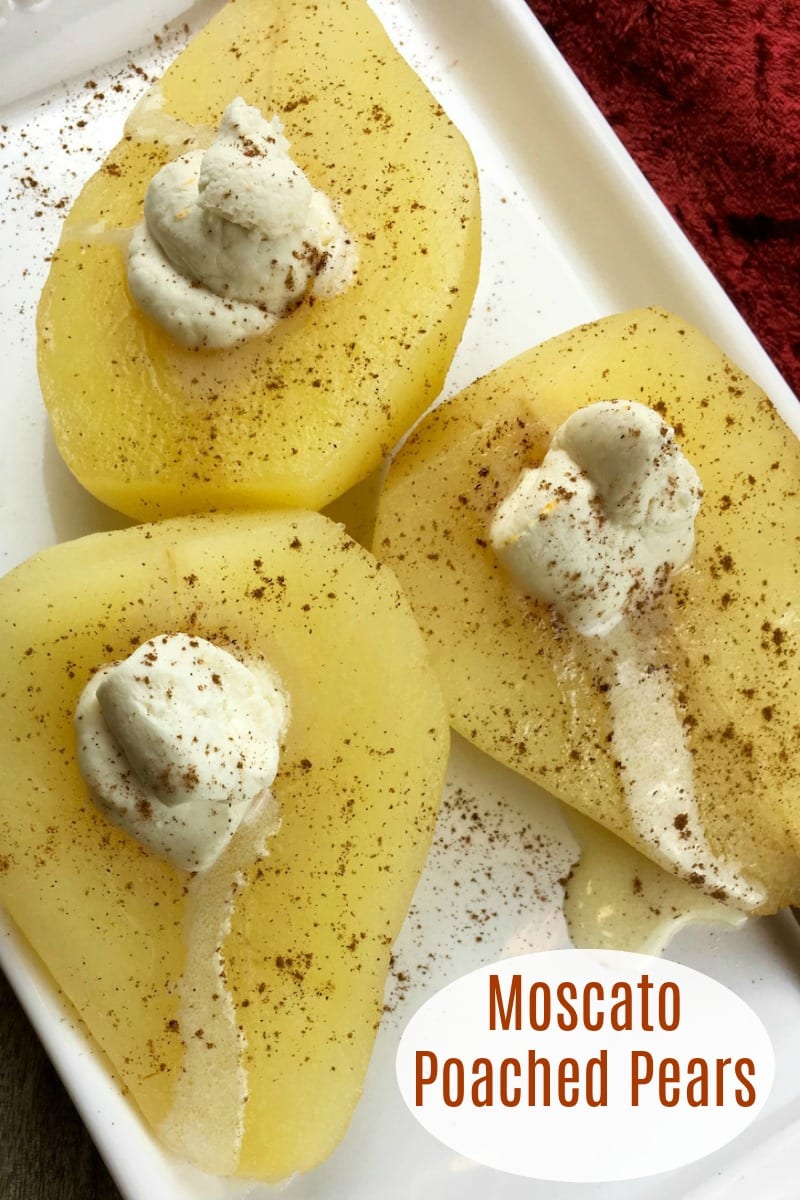 Simple Dessert Recipe
Honey and Moscato Poached Pears
When you want an elegant and simple dessert to impress your guests, serve moscato honey poached pears topped with mascarpone cream.
The easy pear dessert looks as if it is something special, but is surprisingly uncomplicated.
It is definitely sweet, but doesn't feel too heavy. So this is a lovely finish to a good meal.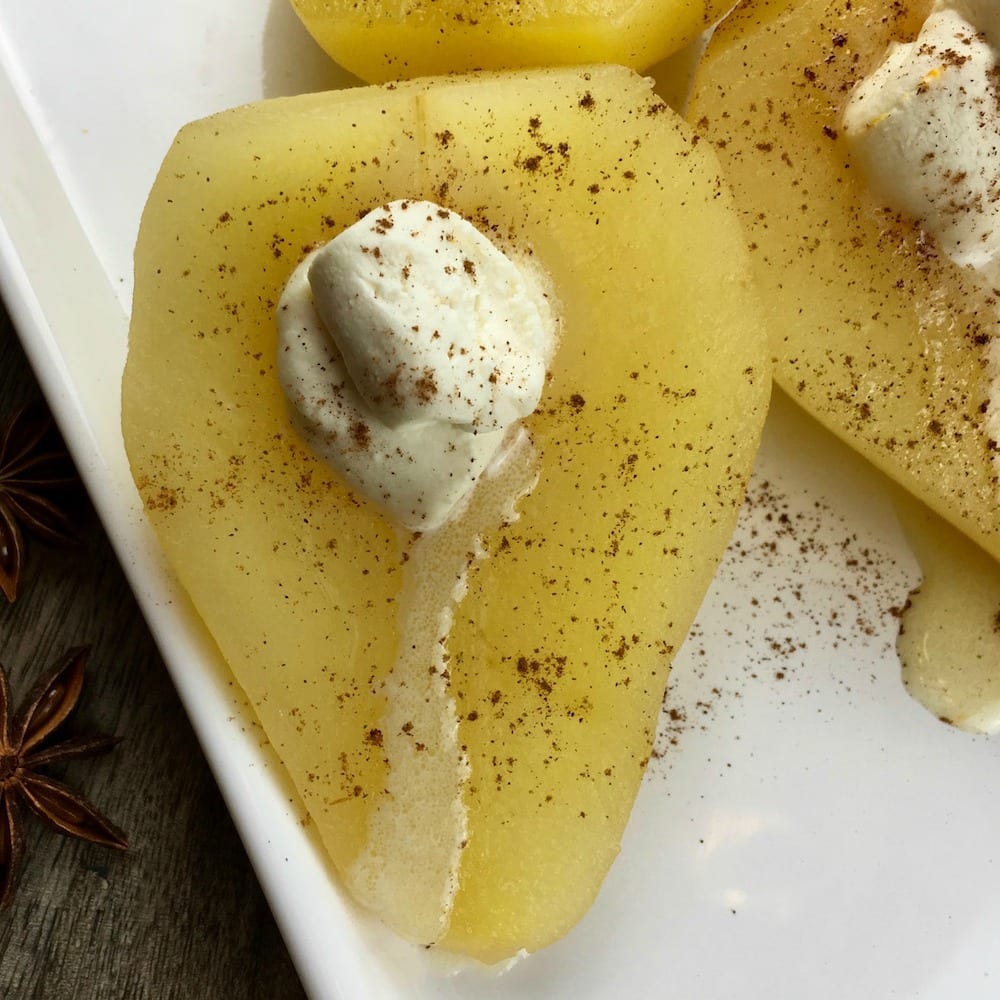 Moscato is sweet and lightly fruity, so it is the perfect complement to the fresh pears.
Another sweet white wine can be substituted, but I prefer moscato.
When you are choosing your pears, look for firm ones that are not quite ripe. Red or Green Anjou Pears both work well.
That way they will hold up to the poaching and still have a good texture.
The dessert is best served warm, so you'll want to poach just before the dessert course.
You can make the mascarpone topping ahead of time and store it in the refrigerator, if you'd like.
Enjoy!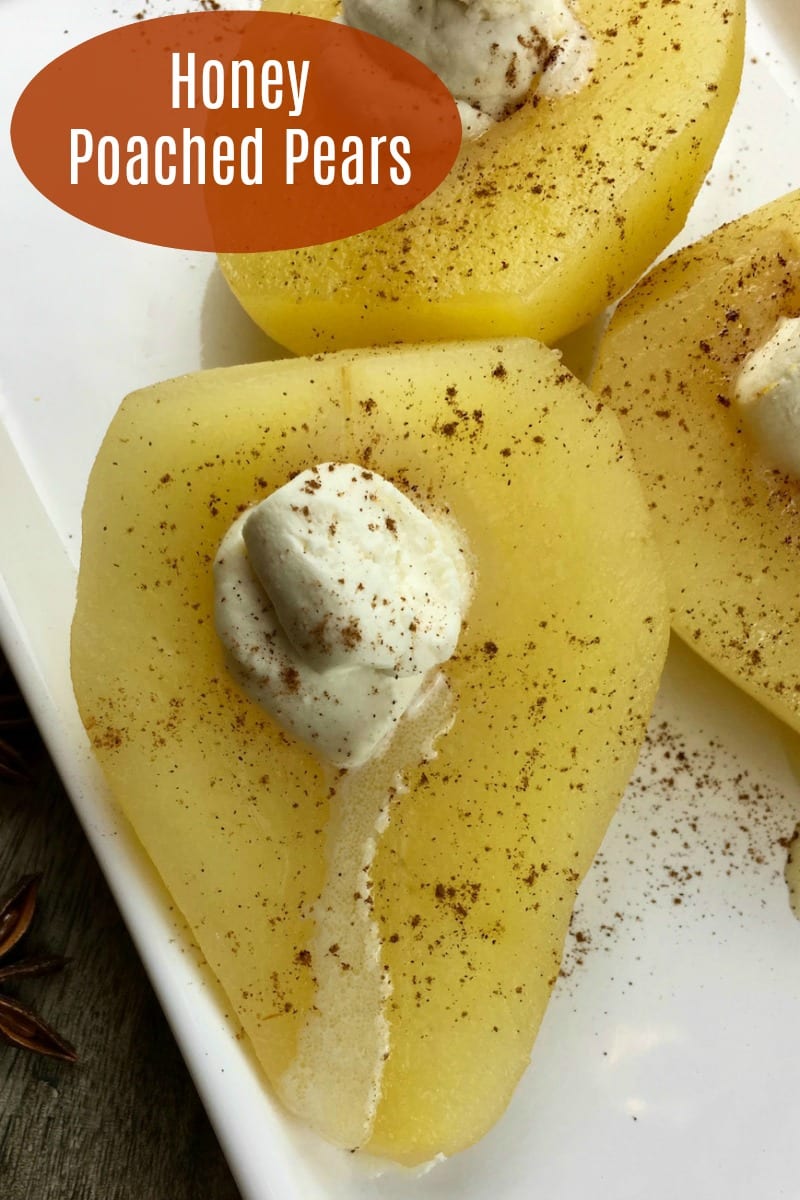 Moscato Honey Poached Pears Recipe
Serves 6
Ingredients
Poached Pears:
3 cups Moscato
1/3 cup Honey
2 t Whole Cloves
3 Cinnamon Sticks
3 Whole Star Anise
6 Pears (Firm and not quite ripe)
Mascarpone Cream:
8 oz. Mascarpone Cheese, room temperature
3 T Heavy Cream or Half & Half
3 T Honey
2 t Orange Zest (fresh or dried)
2 t Vanilla Extract
Garnish:
Supplies
Deep Skillet
Paring Knife
Mixer
Instructions
1) Add Moscato, honey, cloves, cinnamon sticks and star anise to a deep skillet. Set to medium and bring to a gentle simmer, stirring occasionally, for 5 minutes.
2) While the liquid is warming, peel the pears. Then halve the pears and carefully remove the seeds with a small spoon.
3) Reduce heat to medium low and carefully add the pear halves to the simmering liquid. Cook for approximately 20 minutes or until pears are tender. Do not overcook.
4) Make the mascarpone topping, while the pears are poaching. Add the mascarpone and cream to the stand mixer bowl and whip until light and fluffy.
5) Add honey, orange zest and vanilla and whip until well combined. Place in the refrigerator to chill.
6) When pears are done poaching, remove pan from heat and cool slightly.
7) Top each pear with a spoonful of honey mascarpone creame. Then sprinkle with cinnamon and drizzle with a little bit of the poaching liquid.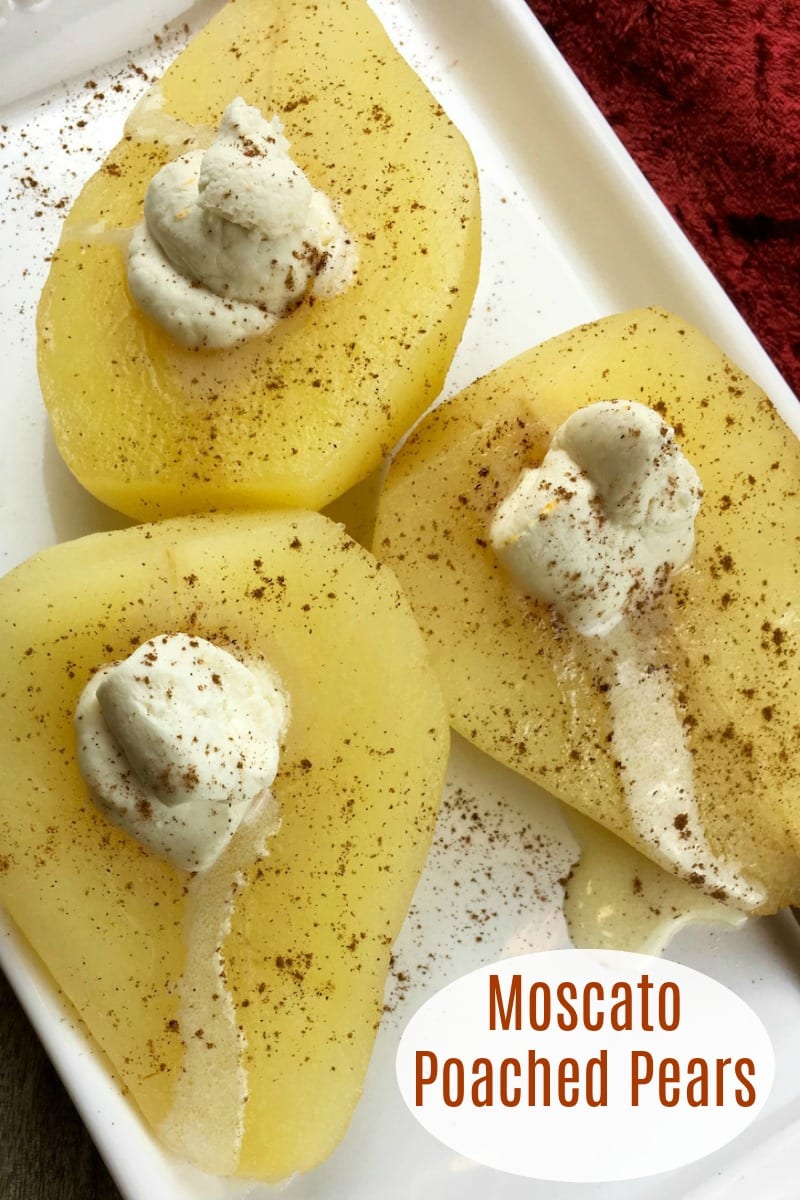 Check out my other dessert recipes, so you can get more sweet inspiration.
Following are a few of my other delicious dessert recipes:
Then take a look at the rest of my vegetarian recipes, so you can have even more delicious fun in the kitchen!