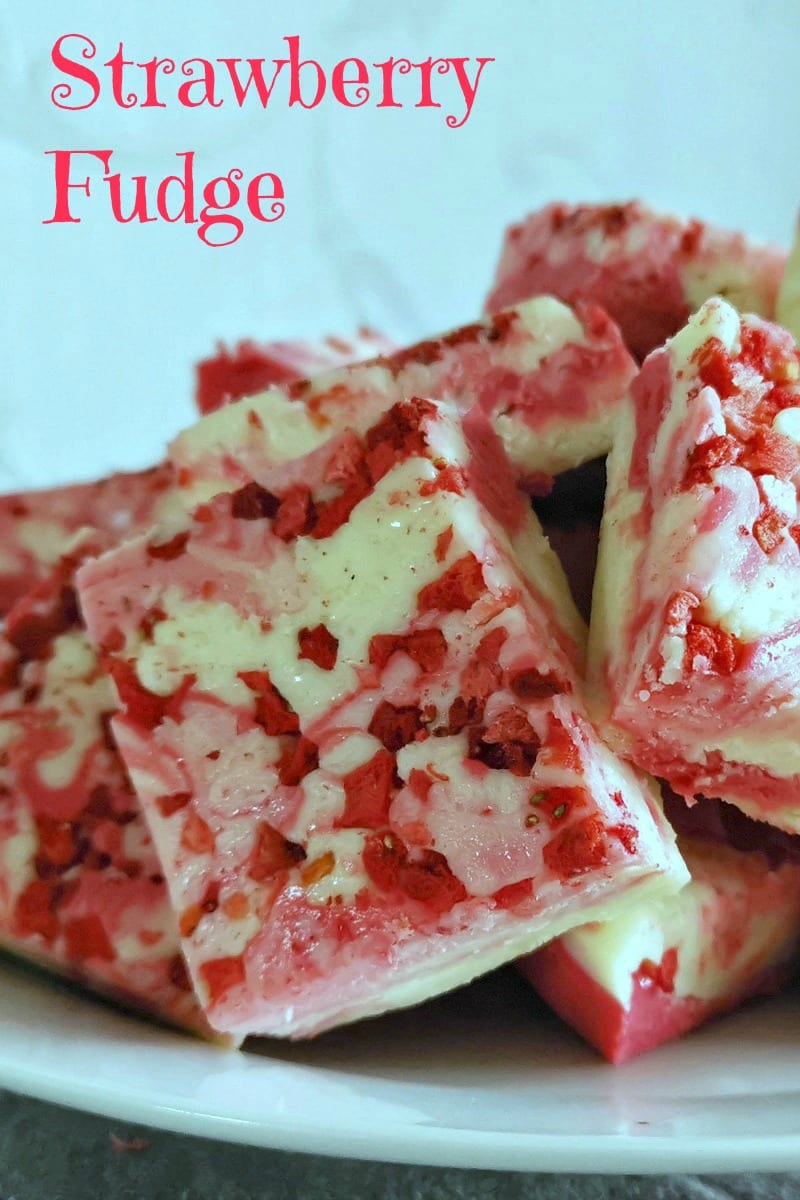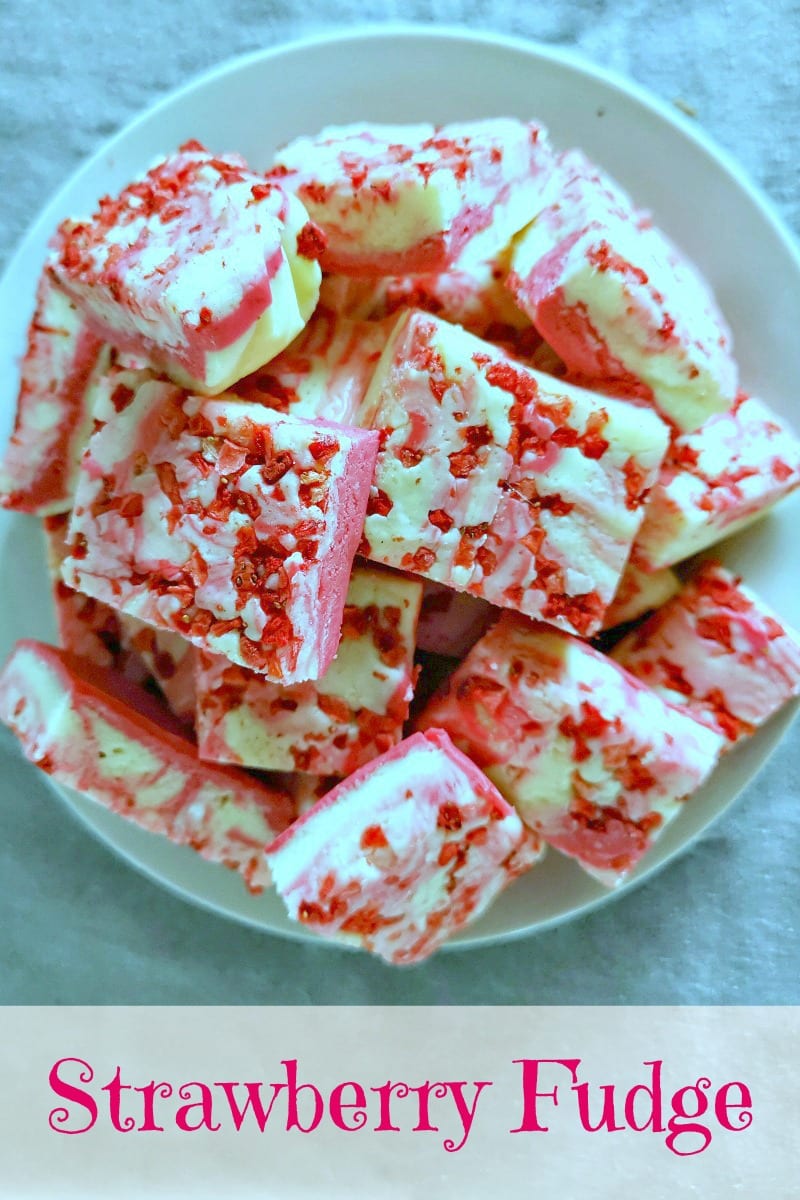 Red and White Dessert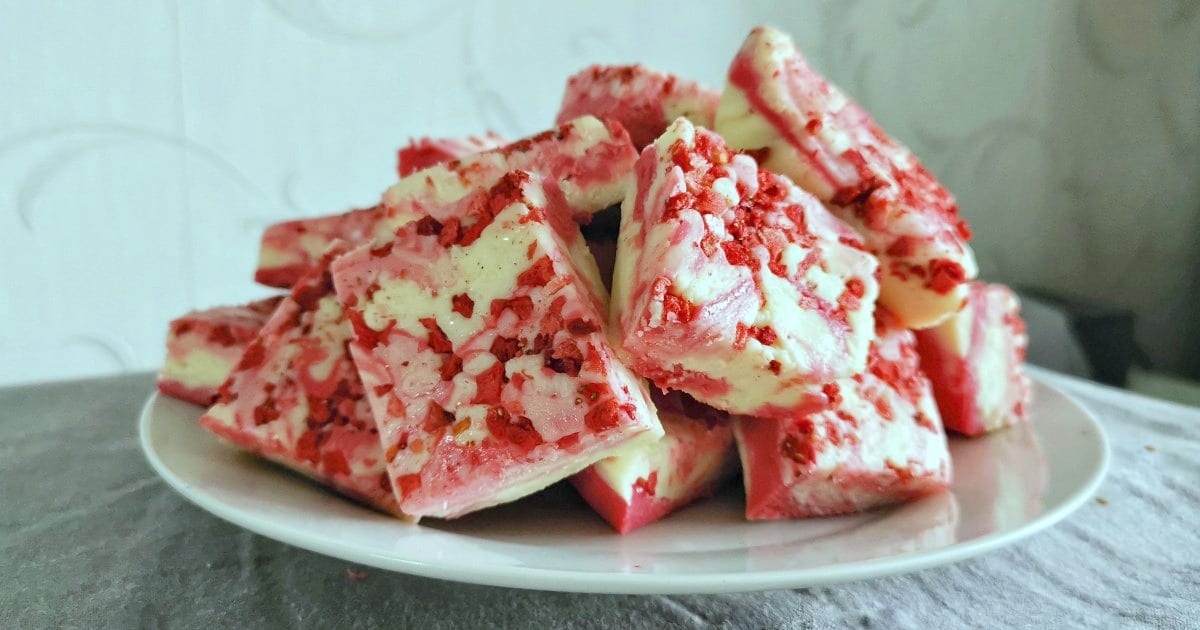 Fudge is yummy and surprisingly easy to make, so you'll want to make a batch of my strawberry swirl fudge with strawberry chunks.
The red and white fudge can be enjoyed anytime, but can also be served or given as gifts for holidays.
The colors are perfect, so that it can be Chirstmas fudge or Valentines Day Fudge.
If you want something spooky, you can turn it into a bloody Halloween Fudge.
Whatever you choose to call it, this fruit fudge is yummy.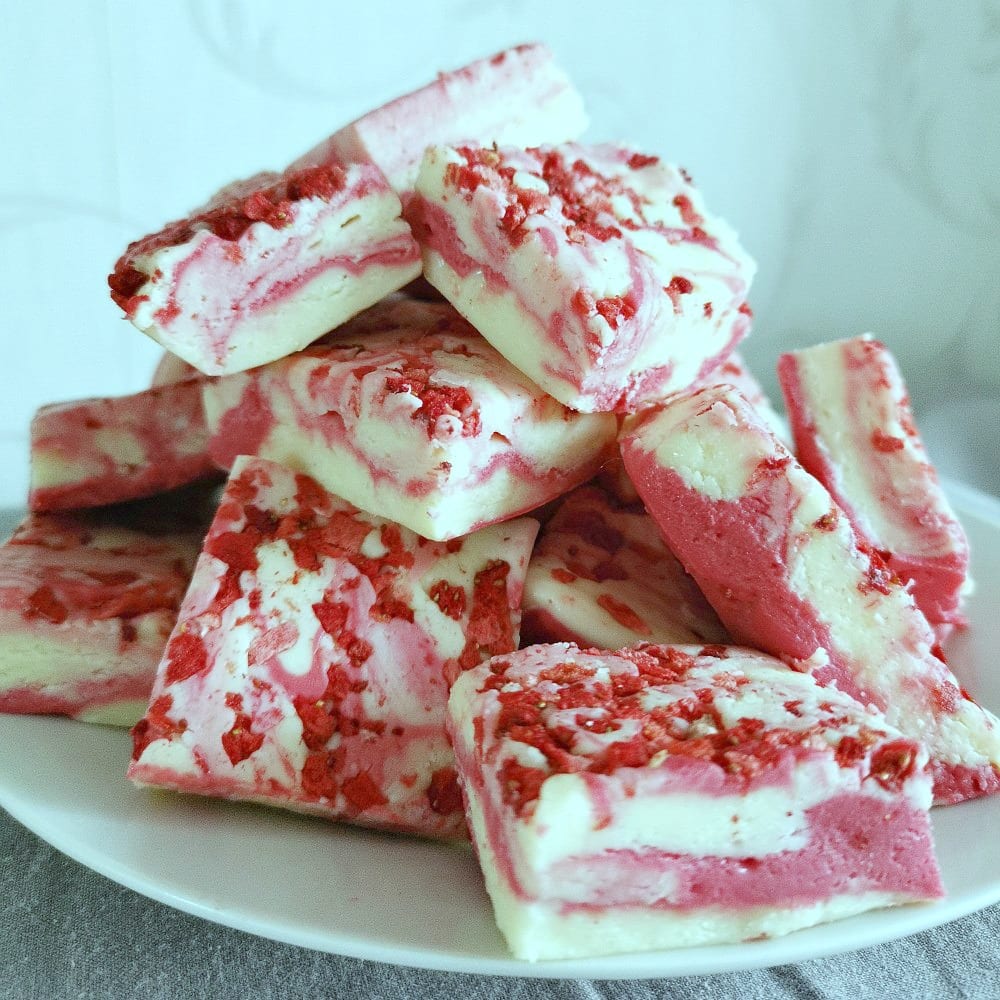 If you have ever tried to add fresh fruit to fudge, you know that can cause problems.
The natural juices in strawberries and other fruit will mess with the texture, so the fudge will not set properly.
To solve that problem, this recipe uses freeze dried strawberries, instead of fresh, juicy berries.
Freeze dried strawberries are real strawberries, but the moisture has been removed.
This leaves us with intense strawberry flavored bits that can be safely added to fudge.
It is a real treat, when you bite into the little bits of real fruit in the fudge.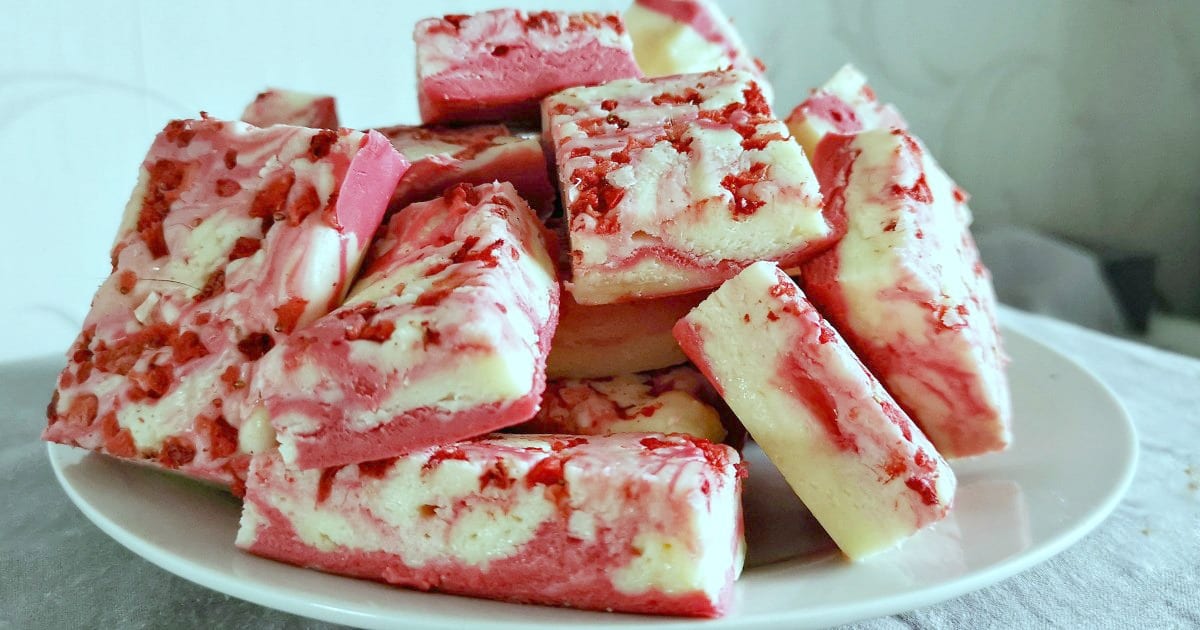 Fudge is always a hit, when it is served at a party or wrapped up as a gift.
This no bake dessert is extra pretty with it's swirl of color.
And, of course, the strawberries make it extra delicious.
Enjoy this fudge for Christmas, Valentines Day, Halloween or one of our patriotic holidays.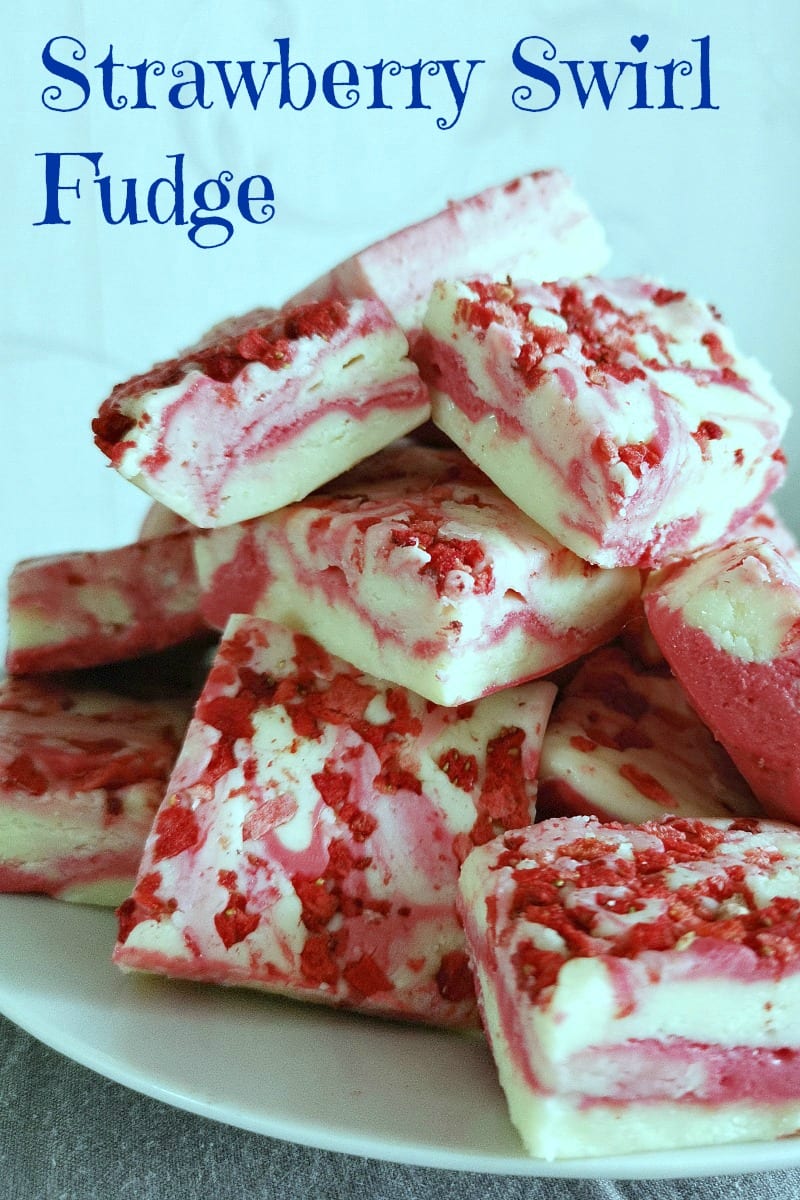 Ingredients
14 oz. pkg White Baking Chocolate
14 oz. can Sweetened Condensed Milk
2/3 cup Powdered Sugar
Red Gel Food Coloring
1/2 cup Freeze Dried Strawberries, chopped
Supplies
Parchment Paper
11″ x 7″ Baking Dish
Double Boiler
2 Mixing Bowls
Instructions
1) Add about an inch of water to the bottom of a double boiler and turn on the burner to medium.
2) Cut the white chocolate into bits and place in the top pan of the double boiler.
3) Stir occasionally until chocolate is melted. Then reduce heat to low.
3) Line your baking dish with parchment paper.
4) Add the sweetened condensed milk and powdered sugar to a mixing bowl and stir to combine.
5) Pour in the warm, melted chocolate and mix together thoroughly.
6) Divide the mixture and put half into a separate bowl.
7) Add red food coloring to one of the bowls. Mix in a little at a time until you get the shade of red/pink that you want.
8) Add a few spoonfuls of pink to the parchment paper covered baking dish followed by a few spoonfuls of white. Repeat until all of the fudge is in the baking dish.
9) Drag a knife through the mixture to swirl the colors. Swirl a little or swirl a lot, your choice.
10) Sprinkle the freeze dried strawberries over the top and press them into the fudge with the palm of your hand.
11) Place the fudge into the refrigerator to set for at least a few hours.
13) Cut into chunks, serve and enjoy!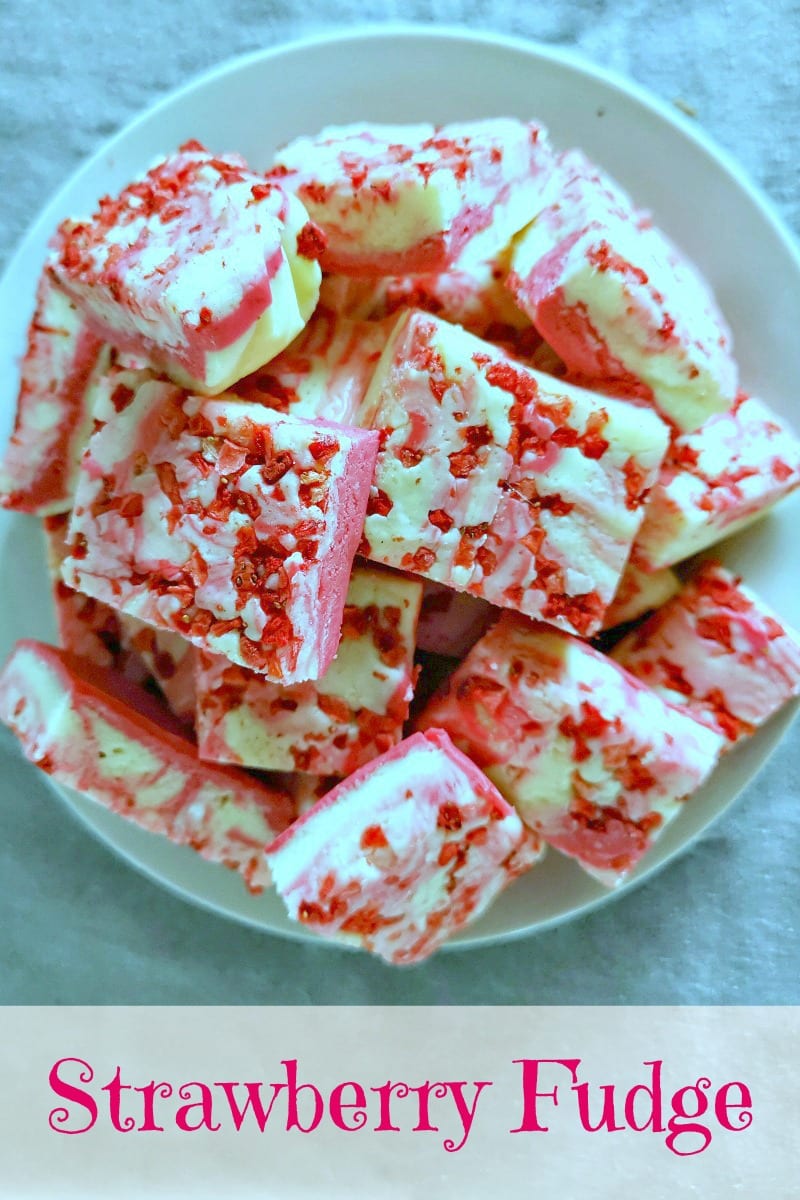 More from Mama Likes To Cook
Check out my vegetarian recipes, so you can get more great ideas for baking, cooking, blending and juicing.
Fudge Recipes
Shop Now
For a beautiful assortment of kitchen necessities and food gifts for the whole family, check out the current deals at these online stores.
Are you ready to have some delicious fun in the kitchen?