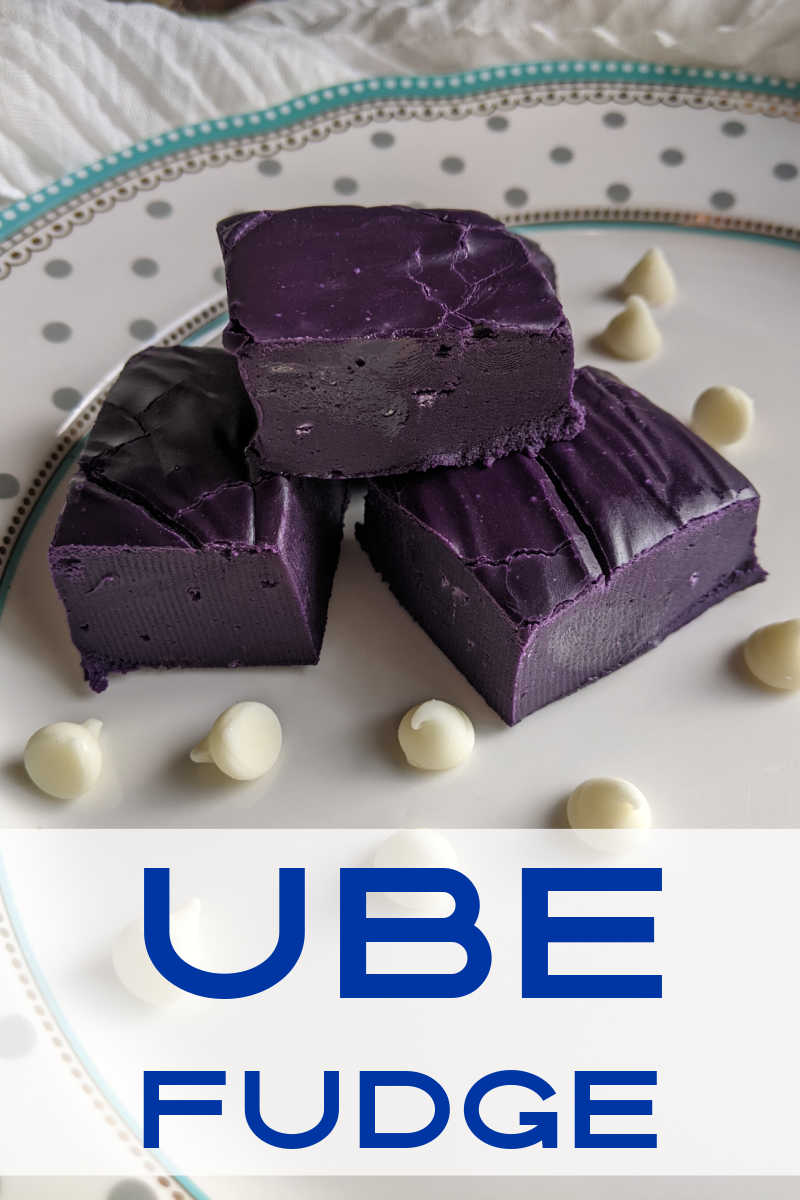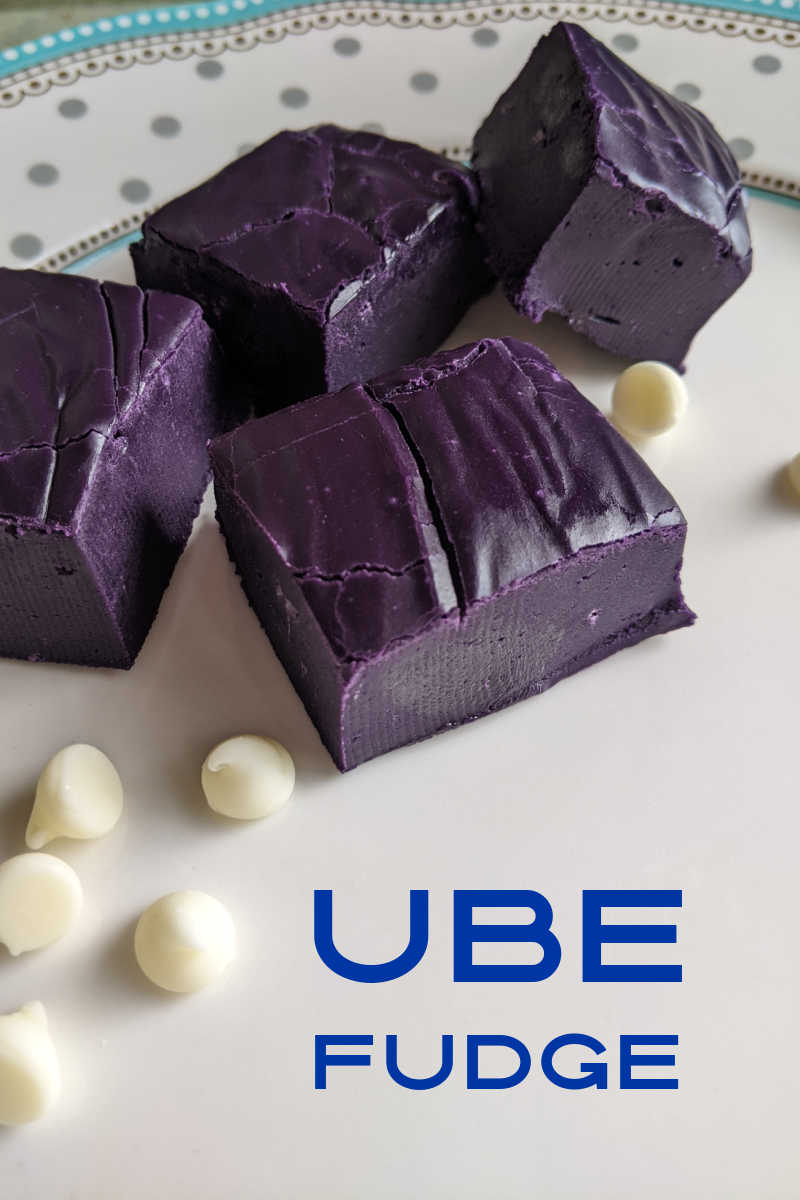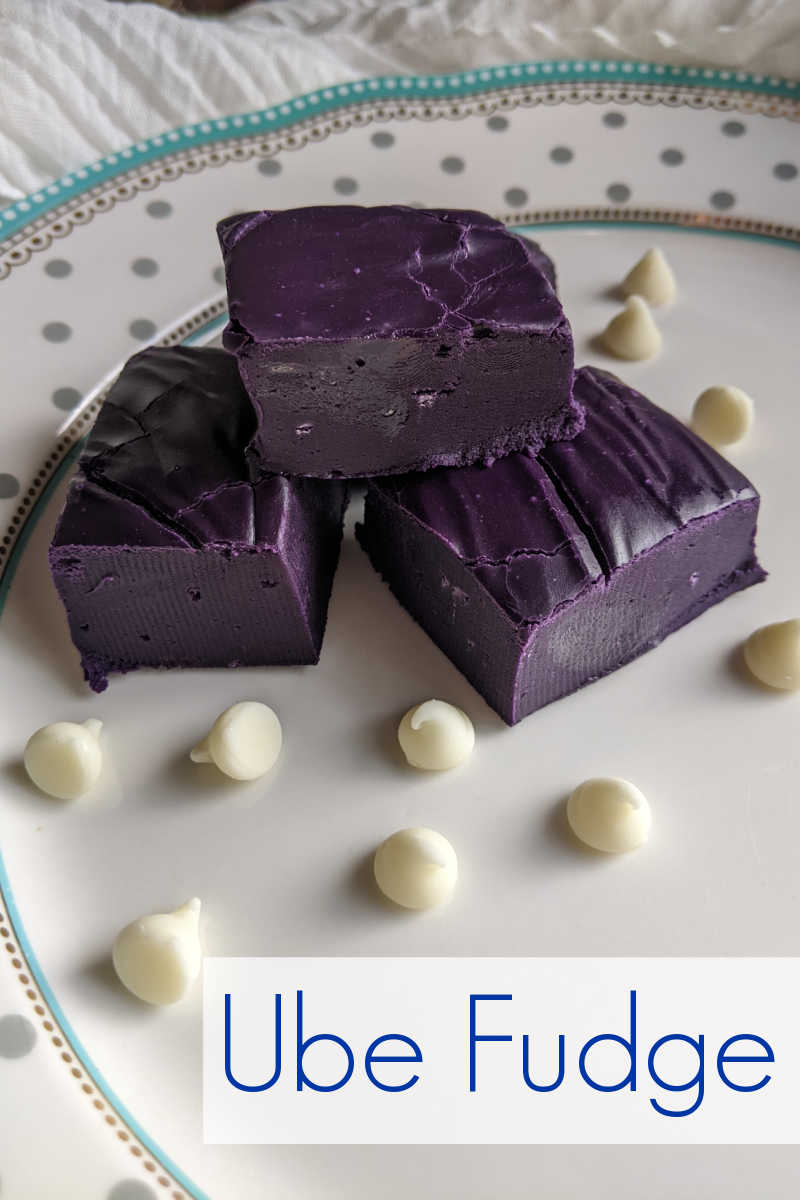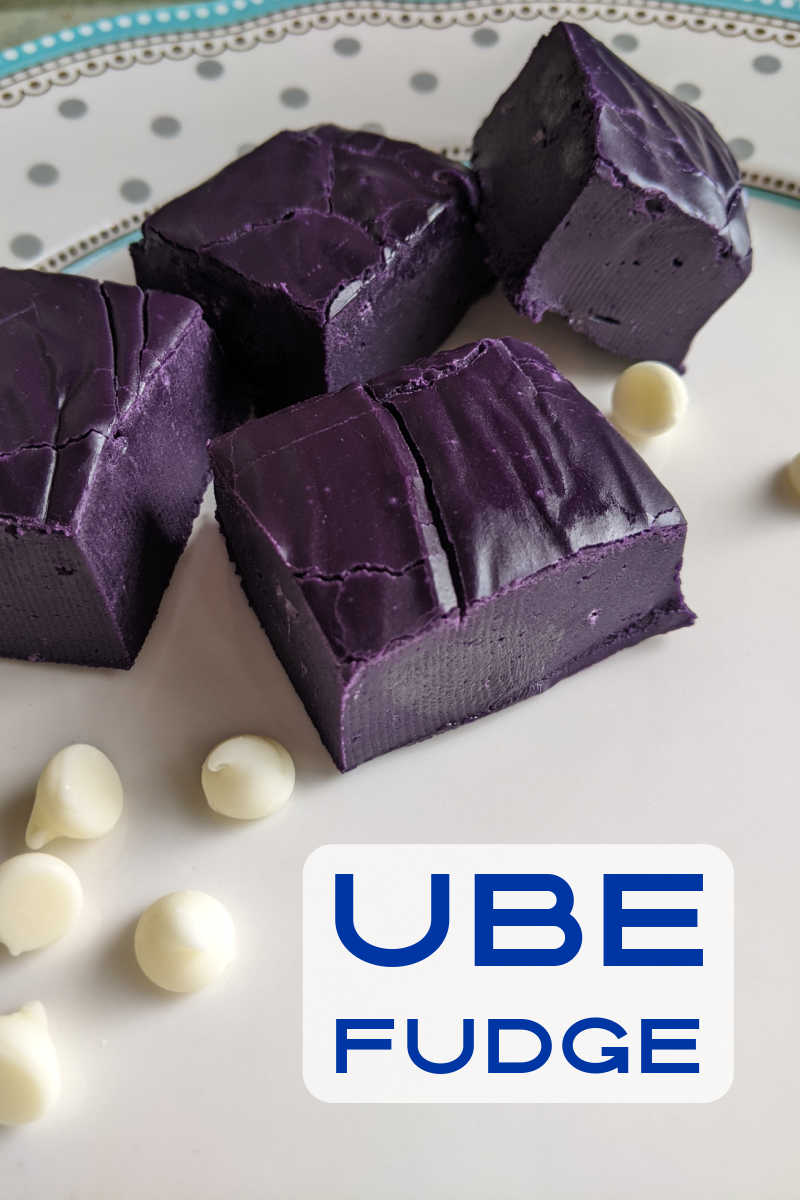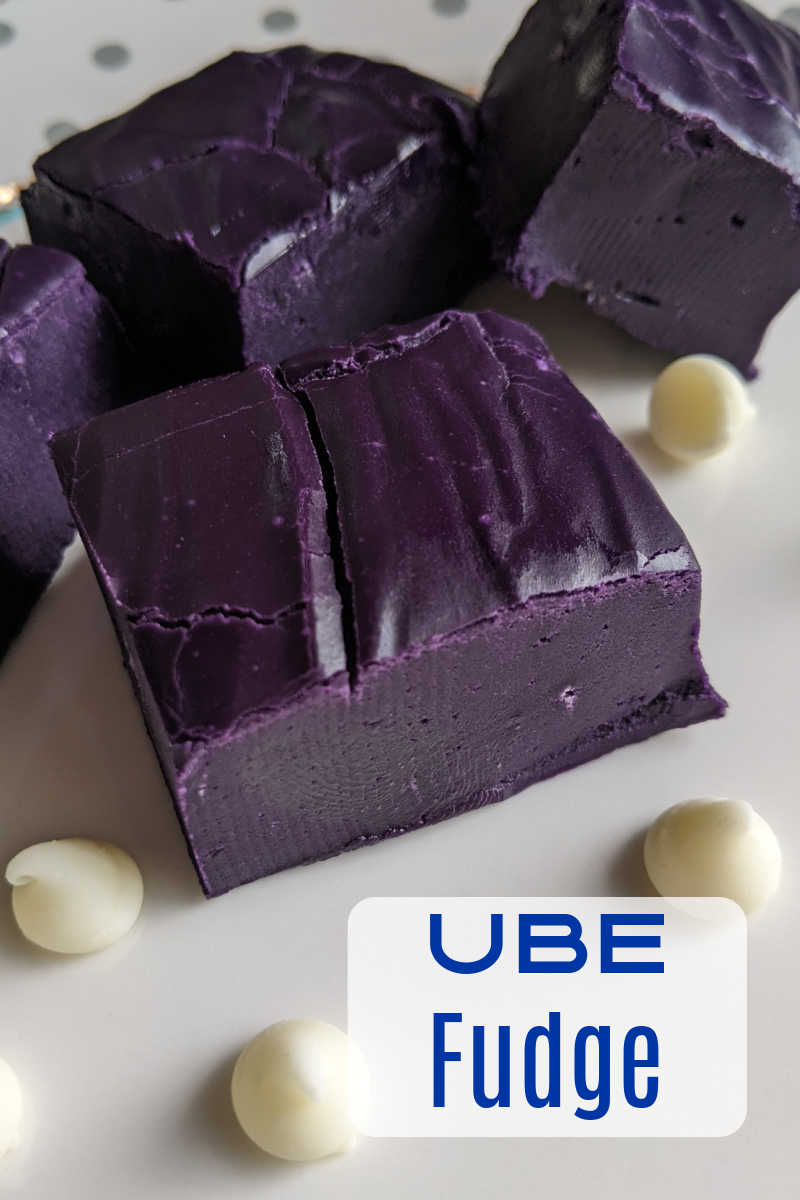 Ube Purple Sweet Potato Fudge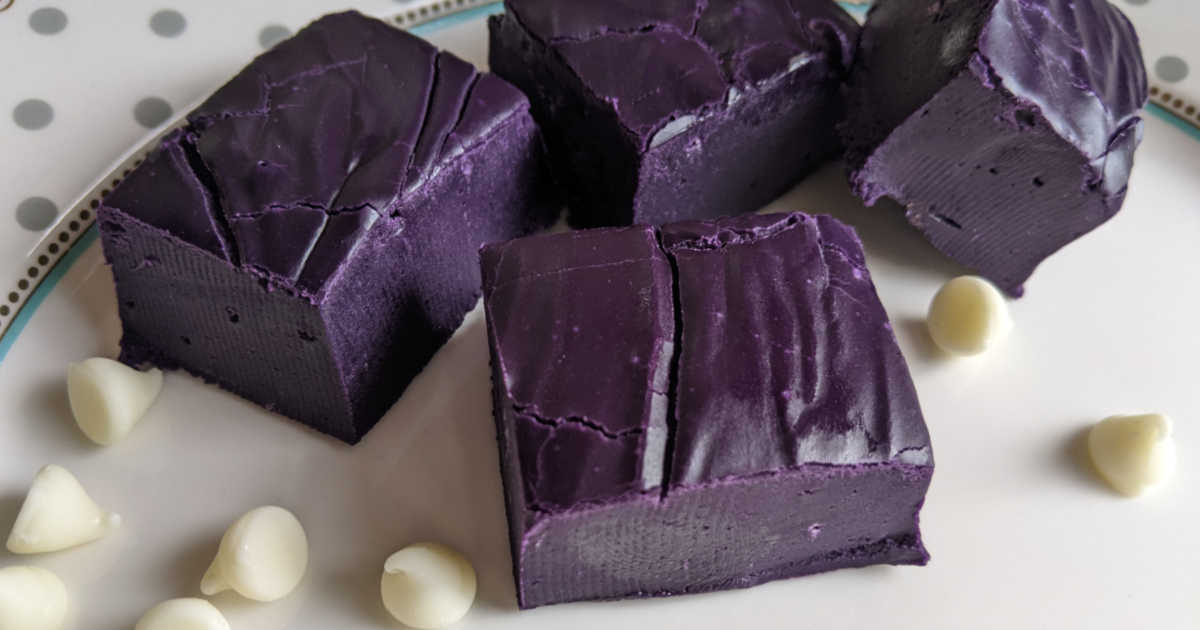 Ube fudge is a beautiful treat with the delicious taste of purple sweet potatoes and white chocolate.
It is also quick and easy to make.
There are only 2 ingredients in the recipe – ube sweetened condensed milk and white chocolate chips.
No special skills are needed, so anyone can make this homemade fudge.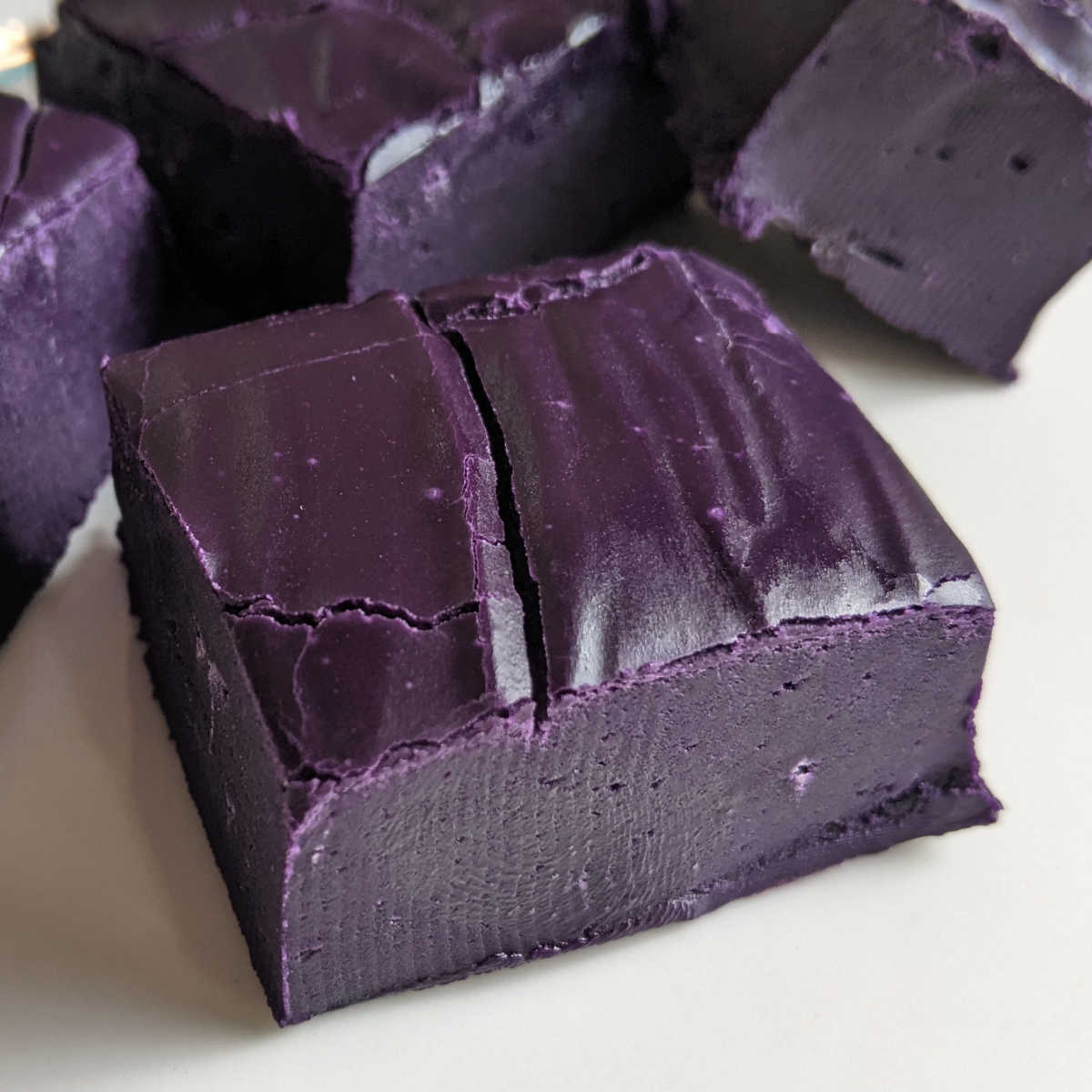 What Is Ube?
Ube is a purple yam (sweet potato) that is popular in the Philippines and other Asian countries and is often used in desserts.
It is also getting more popular and easier to find here in the US.
These days we tend to use "yam" and "sweet potato" interchangeably, but, technically speaking, ube is is actually a yam.
The starchy, purple vegetable is delicious and wonderful in desserts.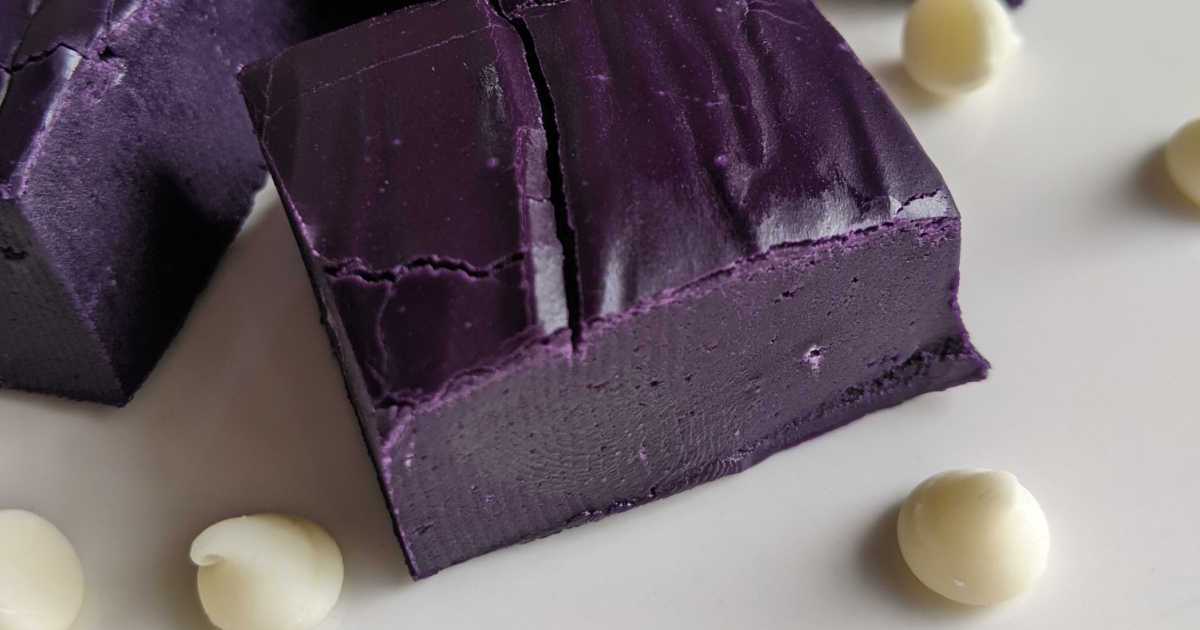 How To Pronounce Ube?
The word is easy to say, once you know how.
Ube is the word for tuber in Tagalog, which is a Filipino dialect.
It is pronounced "ooh beh" or "oo bae."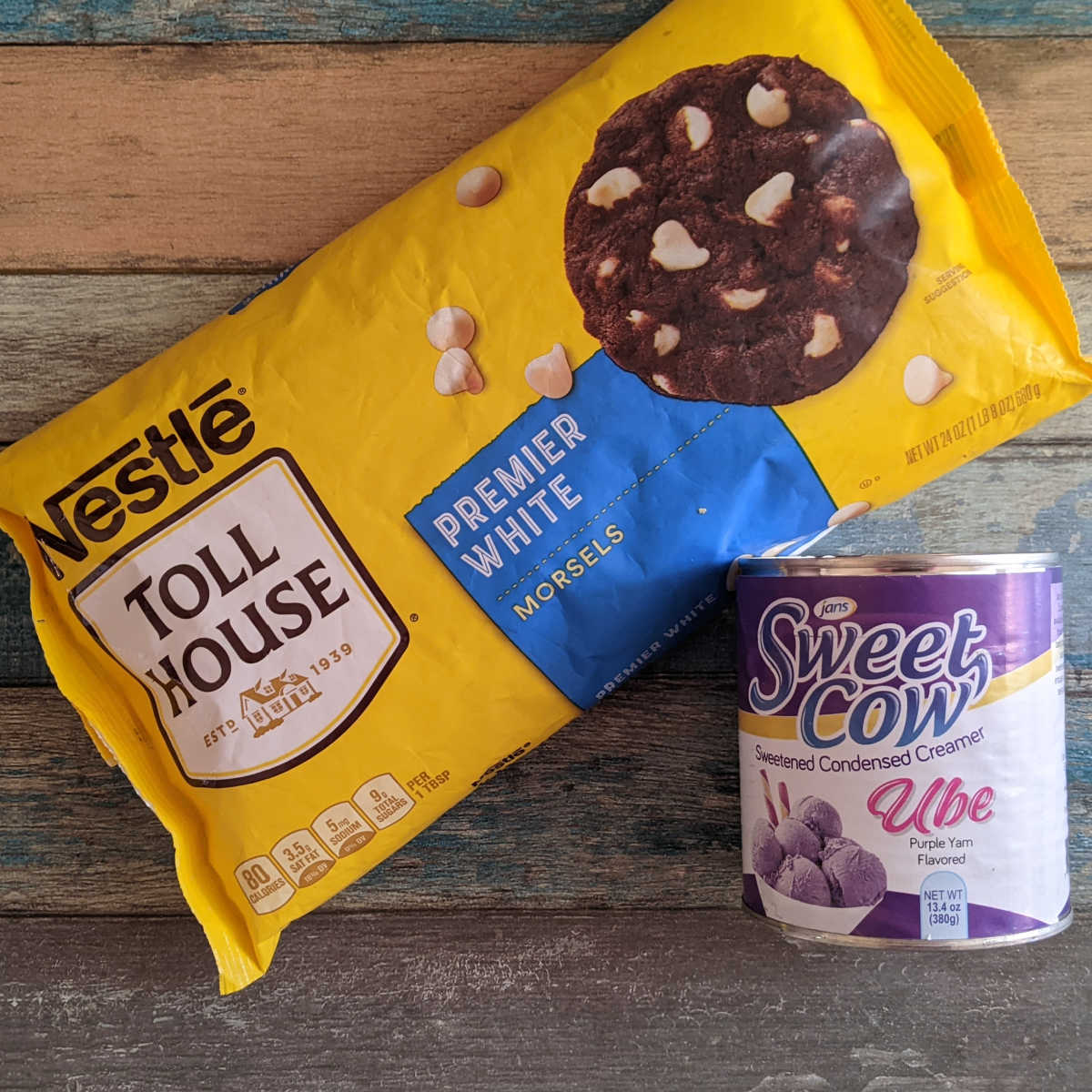 What Is In Ube Flavored Sweetened Condensed Milk?
Ube sweetened condensed milk starts with the same basic ingredients as regular sweetened condensed milk, but has ube flavoring added.
It is also a deep, dark purple color.
Where to Buy Ube Sweetened Condensed Milk
I have purchased ube sweetened condensed milk online at both Say Weee! and on Amazon.
Weee! has a huge selection of Asian groceries, including common items and others that are hard to find.
When you use my referral link, you can get $20 off your first purchase.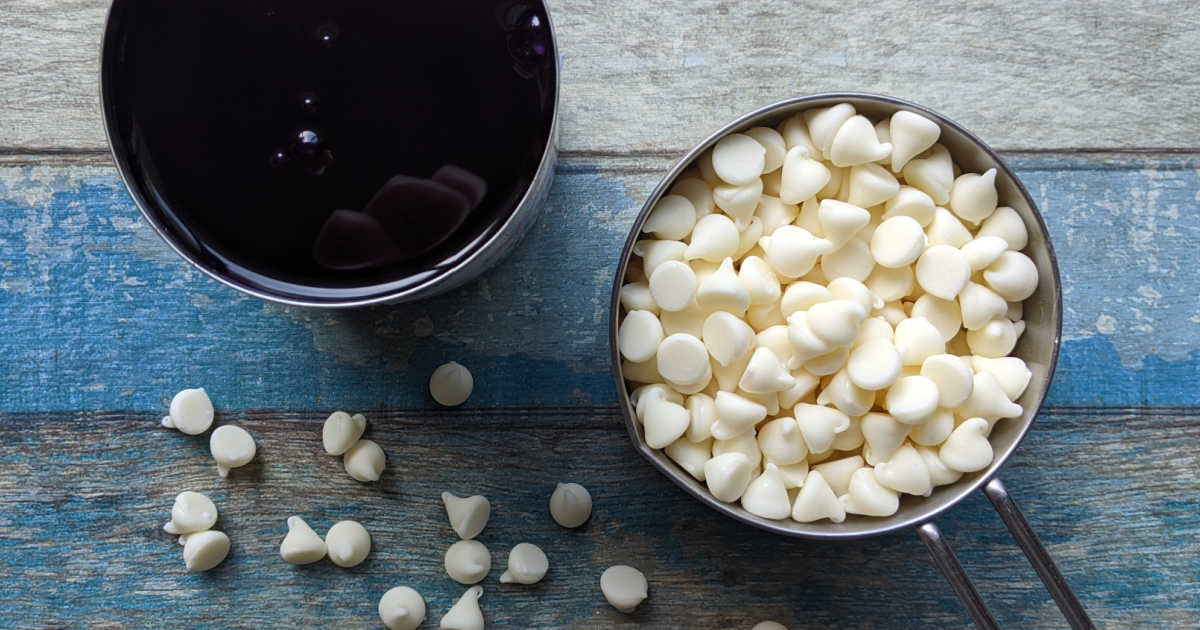 Purple Party!
Pretty purple fudge can be enjoyed any time you'd like, but can also be fun for a themed party.
A purple dessert is great for Mardi Gras, for a royal princess party or a mermaid or butterfly party.
The fudge can also be the purple part of a rainbow party.
It can, of course, be perfect for game day when you are cheering on your favorite purple team, such as the Minnesota Vikings or even your child's team.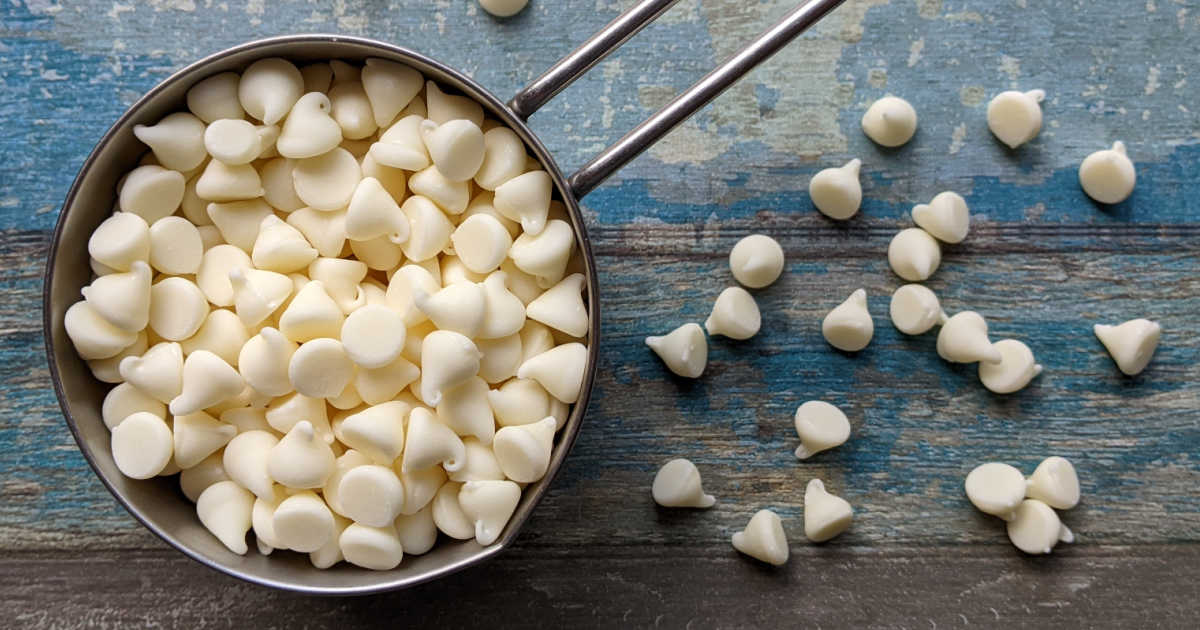 How to Make Light Purple Fudge
As written, the recipe makes a deep, dark purple fudge.
If you'd like a lighter purple fudge, you can substitute regular sweetened condensed milk for part of the ube sweetened condensed milk.
The fudge will still be good, but the ube flavor won't be as strong.
Can I Use Milk Chocolate Chips Instead of White Chocolate Chips?
The taste of milk chocolate goes really well with the flavor of ube, so ube milk chocolate fudge is delicious.
However, when you mix brown chocolate with dark purple condensed milk, the fudge is very dark and not the same pretty purple color as in my photos.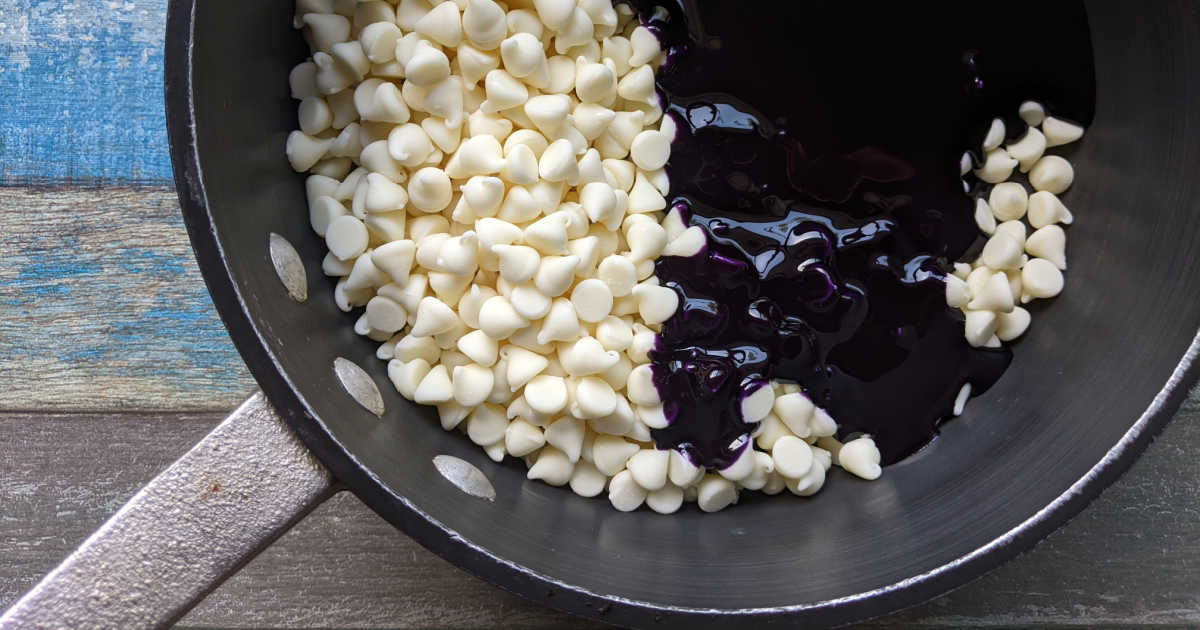 Fudge Cooking Tip to Prevent Scorching
I love making all kinds of fudge, so have made it often.
It is easy to make, but you can't rush it.
Keep the burner on low and stir frequently to keep it from scorching or getting a grainy texture.
For the first minute or so, you may be tempted to turn up the heat to speed up the process of melting the white chocolate chips.
Don't.
Just let the white chocolate slowly melt on low heat and it will be creamy and thoroughly combined within a few minutes.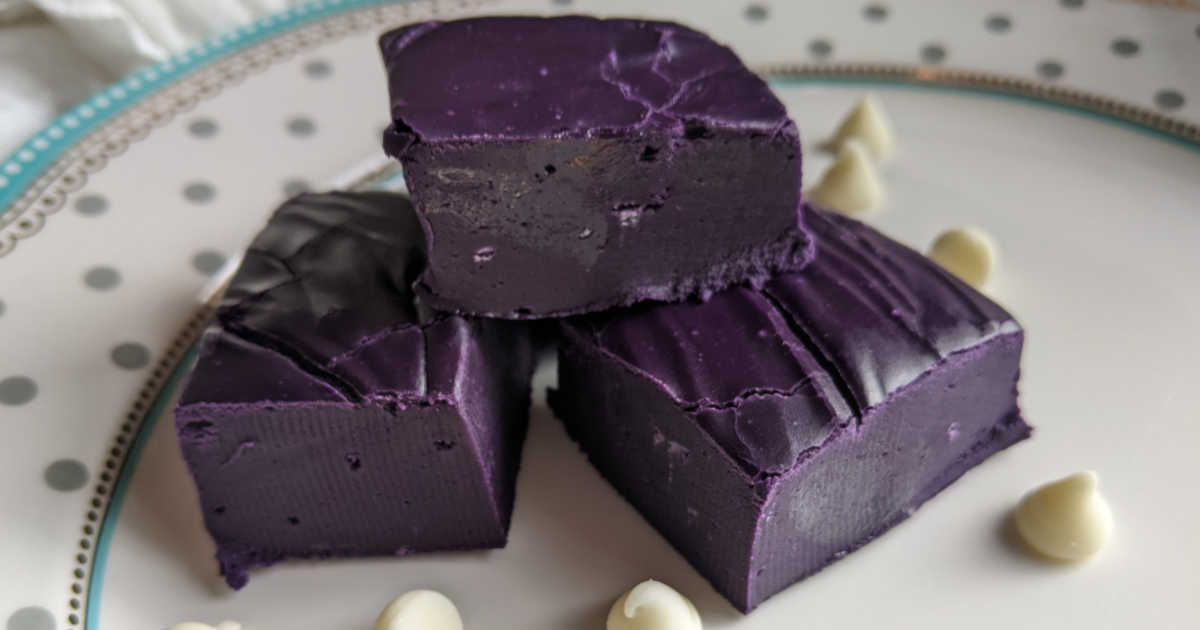 How to Store Leftover Fudge
After your fudge has set, you can store it in an airtight container.
You can also plate it and cover it with plastic wrap sealed tightly around the edge of the plate.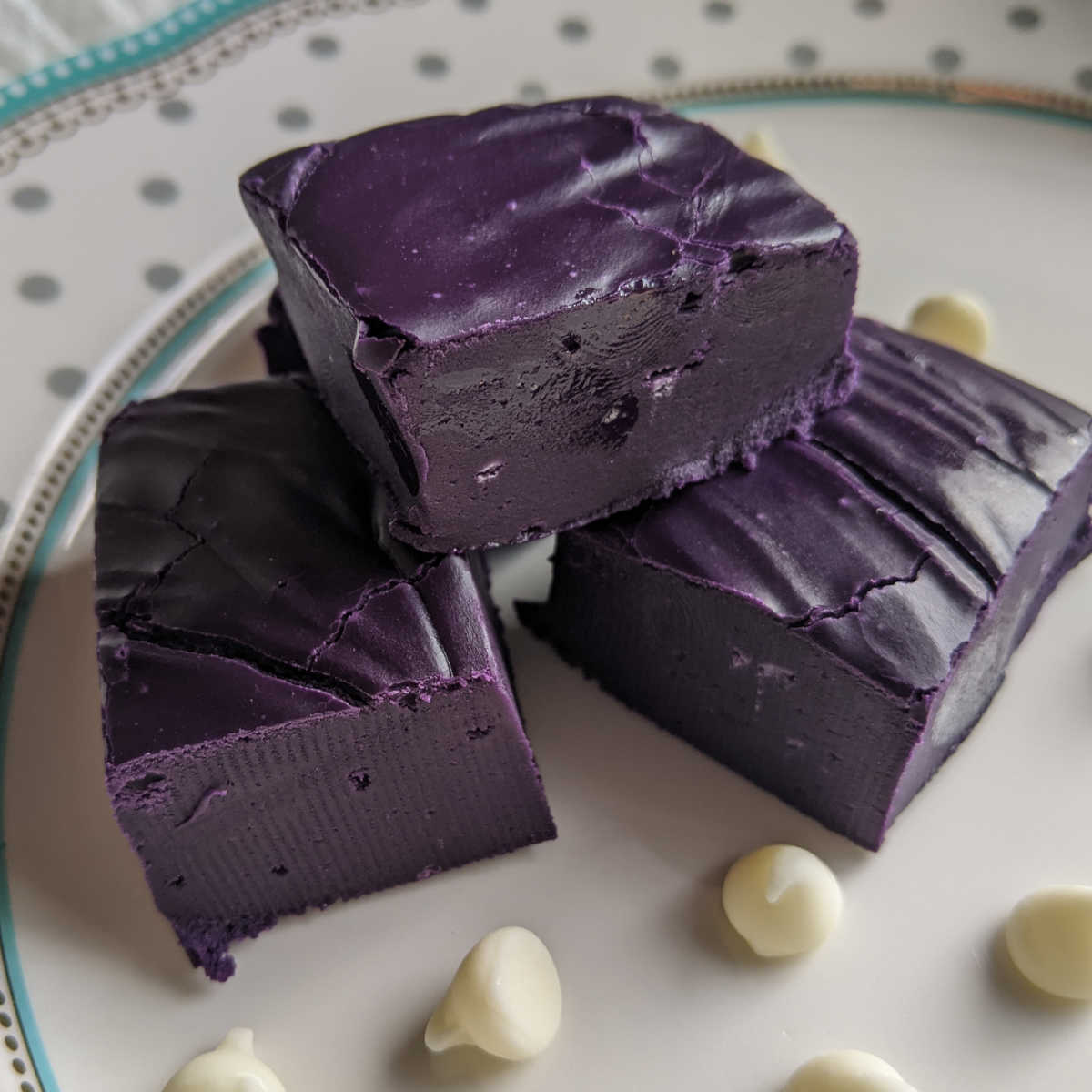 Purple Ube Fudge Recipe
Ingredients
1 can Ube Sweetened Condensed Milk (13.4 oz.)
3 cups White Chocolate Chips
Supplies
8″ x 8″ Baking Dish
Parchment Paper
Heavy Saucepan
Silicone Spatula
Instructions
1) Line the baking dish with parchment paper and set aside.
2) Add white chocolate chips and ube sweetened condensed milk to the saucepan.
3) Cook over low heat, stirring frequently until the white chocolate chips are completely melted and the fudge is smooth.
4) Spread the mixture into the parchment lined baking dish and chill to set the fudge.
5) Once cool, cut into individual sized pieces. Serve immediately or store in an airtight container.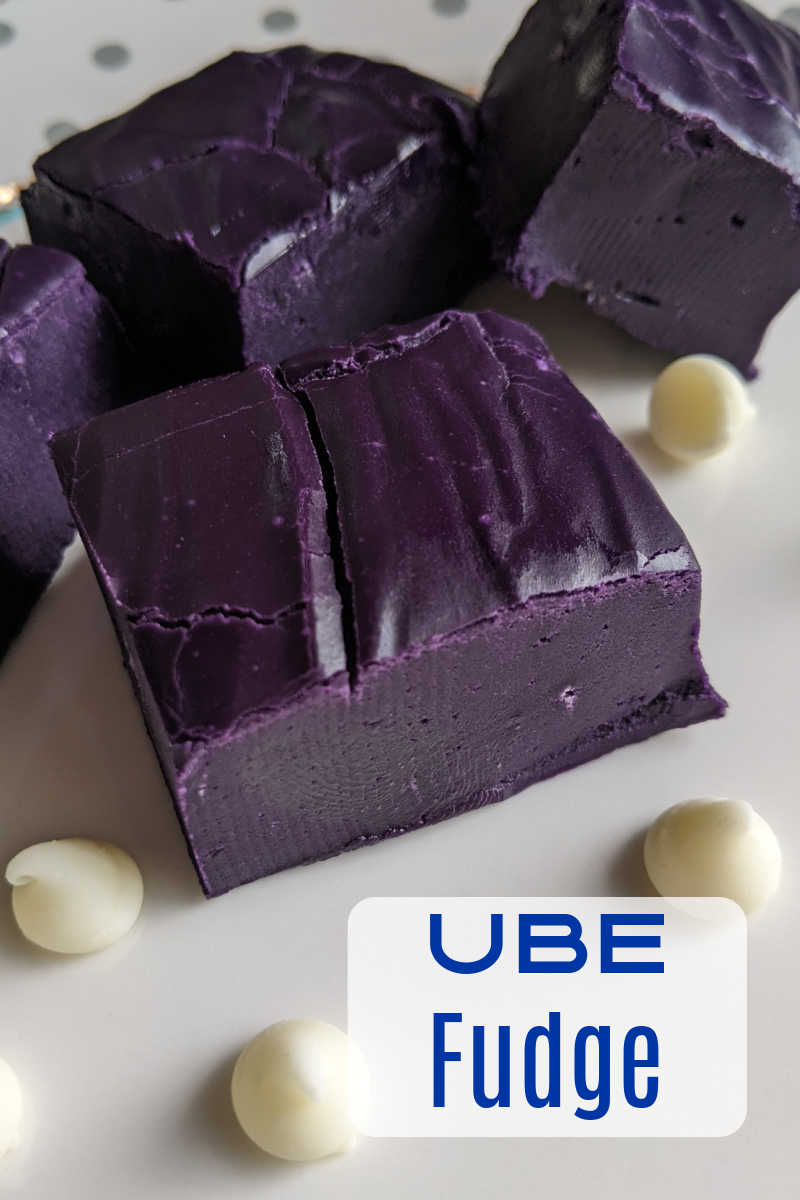 More from Mama Likes To Cook
Check out my vegetarian recipes, so you can get more great ideas for baking, cooking, blending and juicing.
Fudge Recipes
No Bake Dessert Recipes
Cookie Recipes
Shop Now
For a beautiful assortment of kitchen necessities and food gifts for the whole family, check out the current deals at these online stores.
Are you ready to have some delicious fun in the kitchen?