Thumbprint Cookies
with Lemon Curd and Toasted Coconut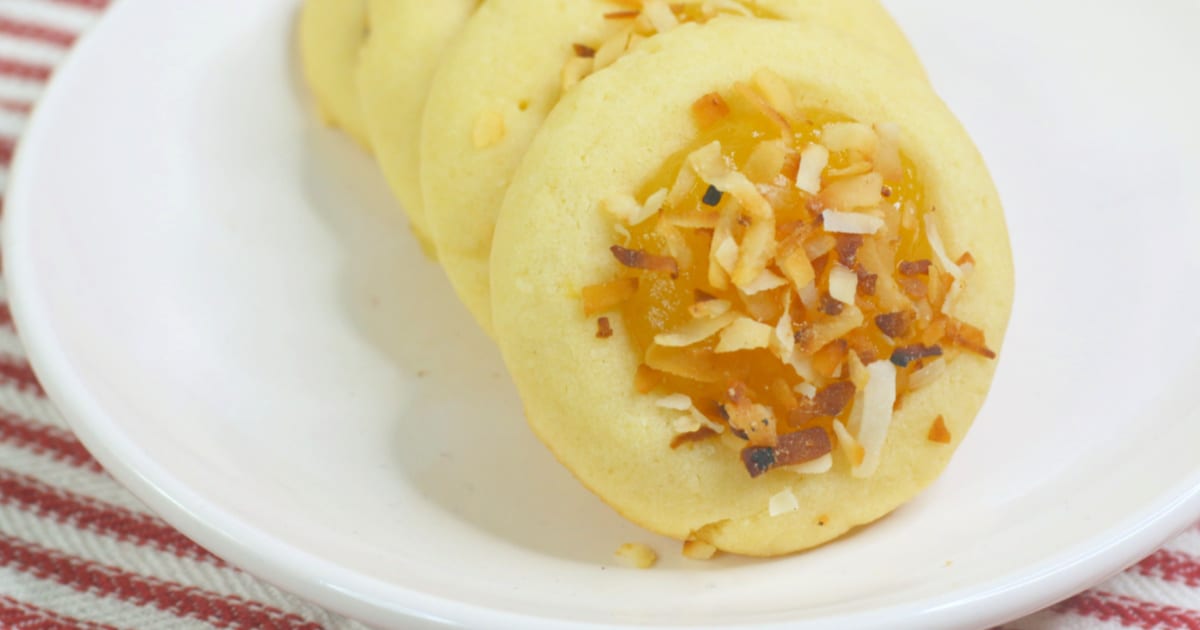 Thumbprint cookies are always delicious, but these toasted coconut lemon curd cookies have extra tasty sweet and tart flavors on top.
The recipe is simple, so even a novice baker can make cookies that look professional.
Each buttery cookie has a little depression in the middle, so you can fill it with yummy lemon curd and then sprinkle toasted coconut on top.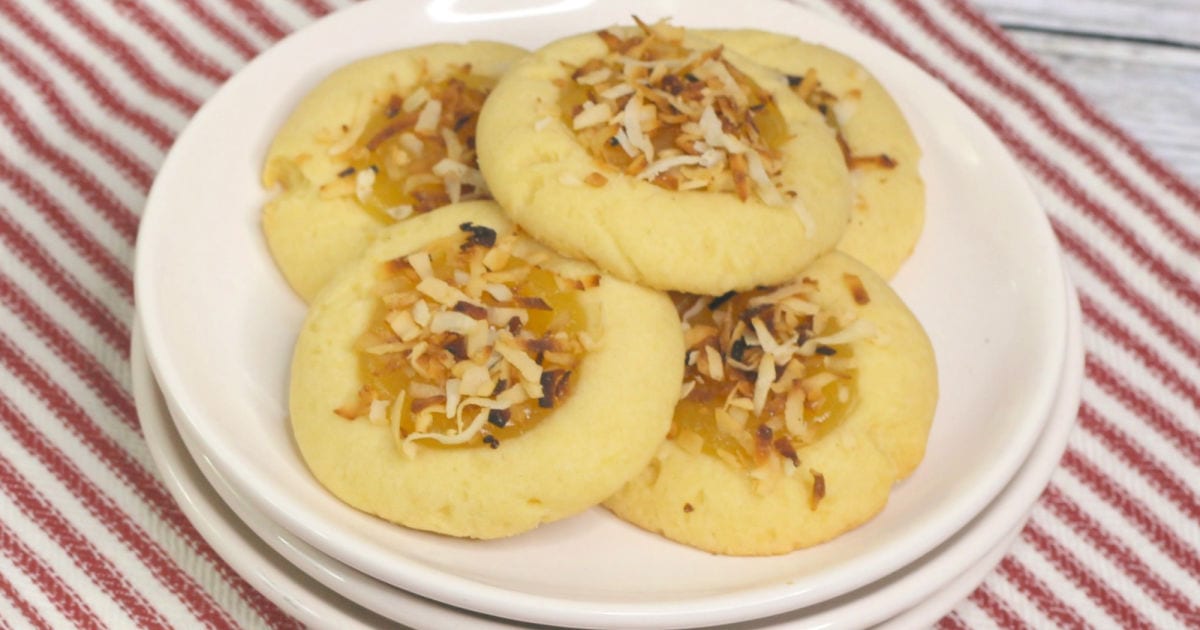 I love homemade lemon curd, so that is usually my first choice for filling these cookies.
However, they are still wonderful, when you take a shortcut and use a jar of store bought lemon curd.
If you have kids who like to help in the kitchen, these thumbprint cookies are a great family activity.
It is fun to roll the cookie dough into balls and shape the cookies before baking them.
Then, kids can also help fill the baked cookies with lemon curd and top with the toasted shredded coconut.
Enjoy!
Toasted Coconut Lemon Curd Cookies Recipe
Ingredients
1 cup Butter, softened
3/4 cup Granulated Sugar
1 T Vanilla Extract
2 Egg Yolks
1 T Lemon Zest
1 T Lemon Juice
2 1/4 cups All-purpose Flour
1 t Baking Powder
1/2 t Salt
1/3 cup Lemon Curd (Homemade or Store Bought)
1/2 cup Shredded Coconut
Supplies
Baking Sheets
Parchment Paper or Silicone Baking Mats
Mixing Bowl
Whisk
Mixer
Wire Cooling Rack
Instructions
1) Preheat oven to 350° and line baking sheets with parchment paper or silicone baking mats.
2) Arrange the shredded coconut in a single layer on a parchment lined baking sheet. Then, set aside.
3) Use a mixer to cream the butter and sugar until combined and fluffy.
4) Add in the egg yolks, lemon juice, lemon zest and vanilla. Mix, so that they are well blended.
5) In a separate mixing bowl, combine the flour, baking powder and salt. Whisk briefly, so that they are combined.
6) With the mixer on low, slowly add in the flour mixture. The dough will form clumps.
7) Form the dough into a ball. Pinch off pieces of dough, so that you can form them into 1″ balls. Place them on a parchment covered baking sheet about 1 1/2″ apart.
8) Press the cookies flat and create a depression in the center of each cookie with your thumb or a small measuring spoon.
9) Place a sheet of cookies and the coconut in the preheated oven. Toast the coconut for about 5 minutes, and then remove from the oven and set aside. Bake cookies for approximately 20 minutes until golden brown. Allow the cookies to cool for 5 minutes before transferring to a wire cooling rack.
10) Spoon lemon curd into the depression of each cookie and top with toasted coconut.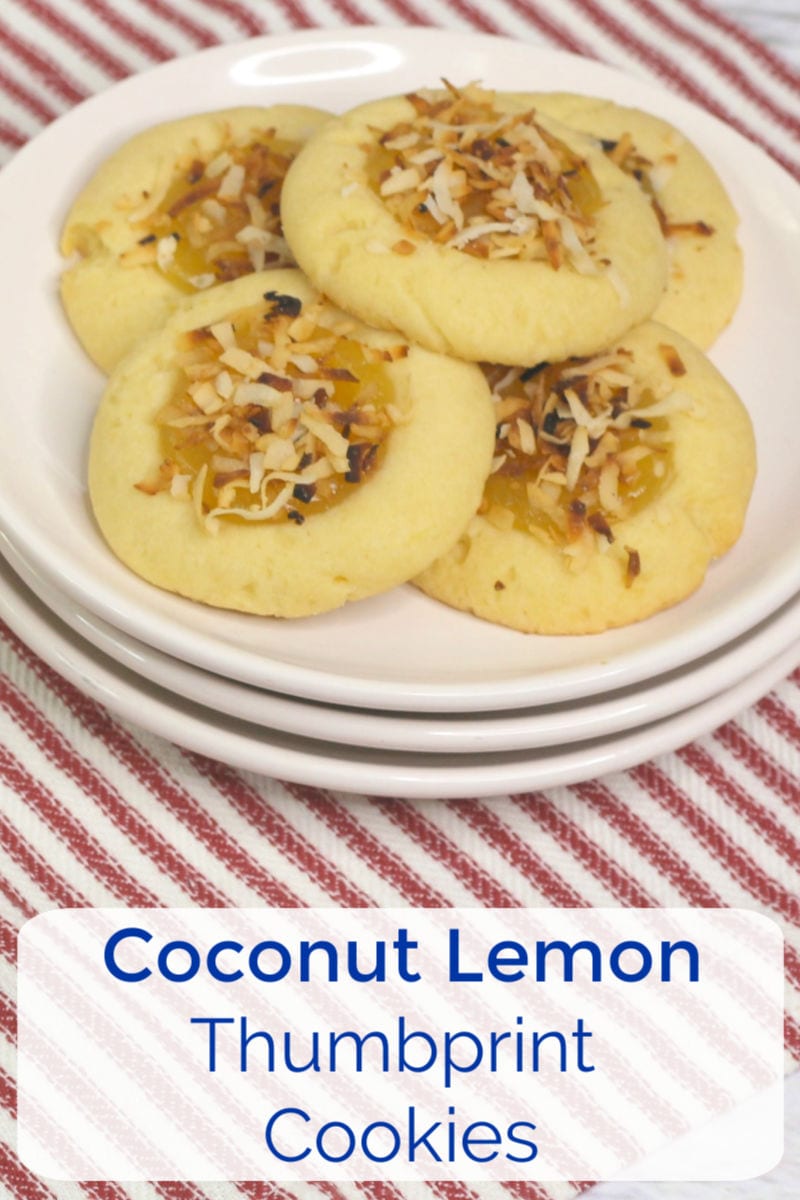 More from Mama Likes To Cook
Check out my vegetarian recipes, so you can get more great ideas for baking, cooking, blending and juicing.
Cookie Recipes
Coconut Recipes
Lemon Dessert Recipes
Dinner Lemon Recipes
Lemon Drink Recipes
Shopping Tips
Check out the latest deals on kitchen necessities and food gifts for the whole family, when you visit these online stores.
Are you ready to have some delicious fun in the kitchen?