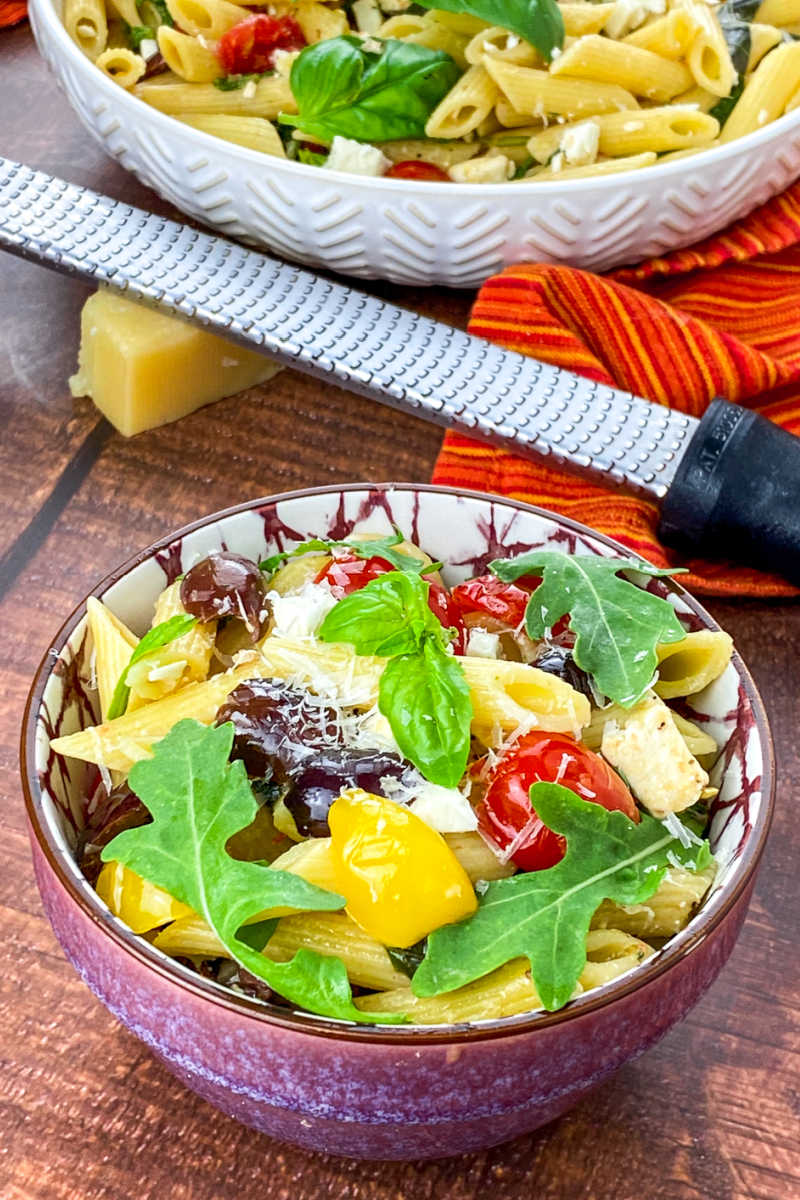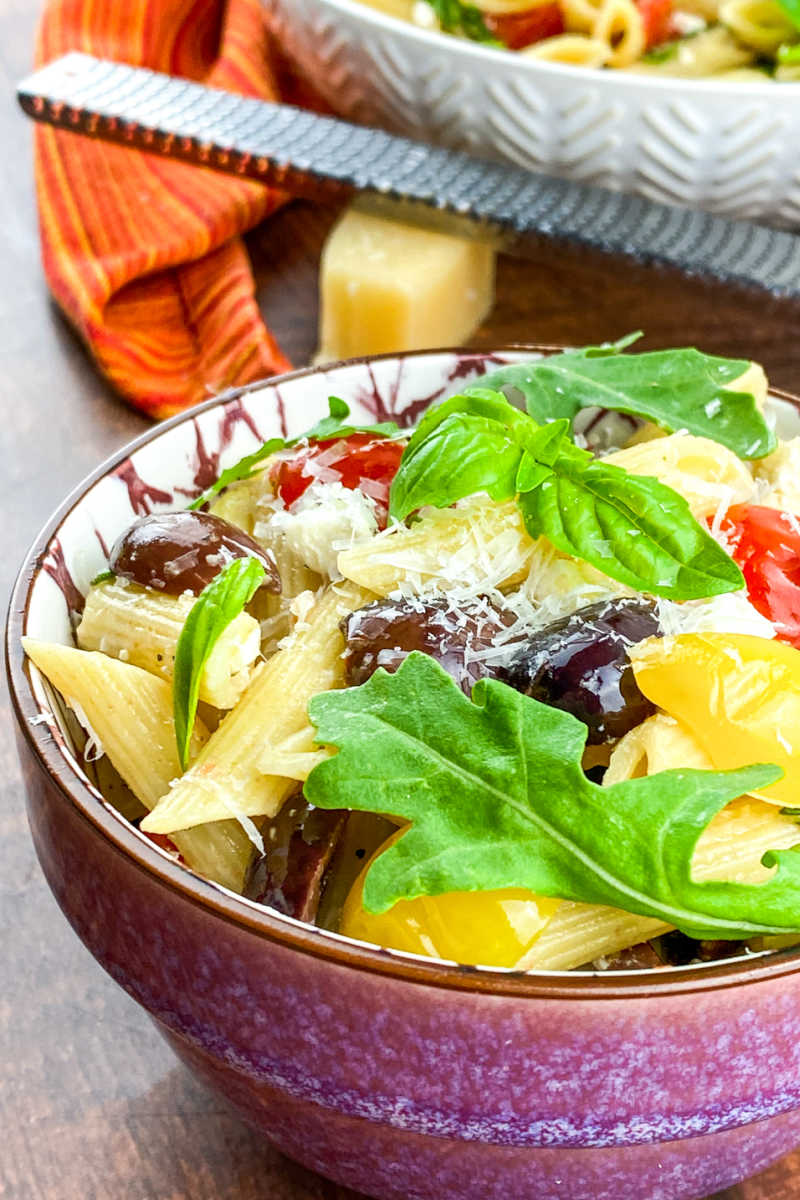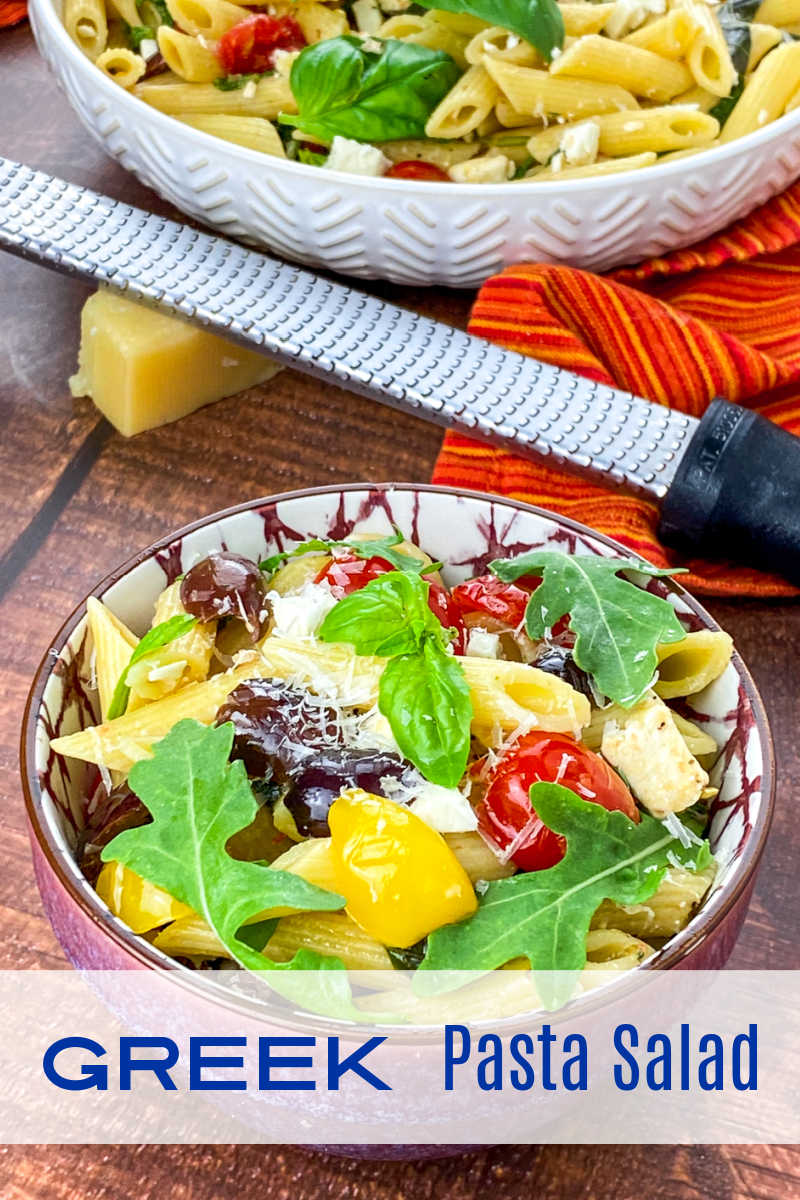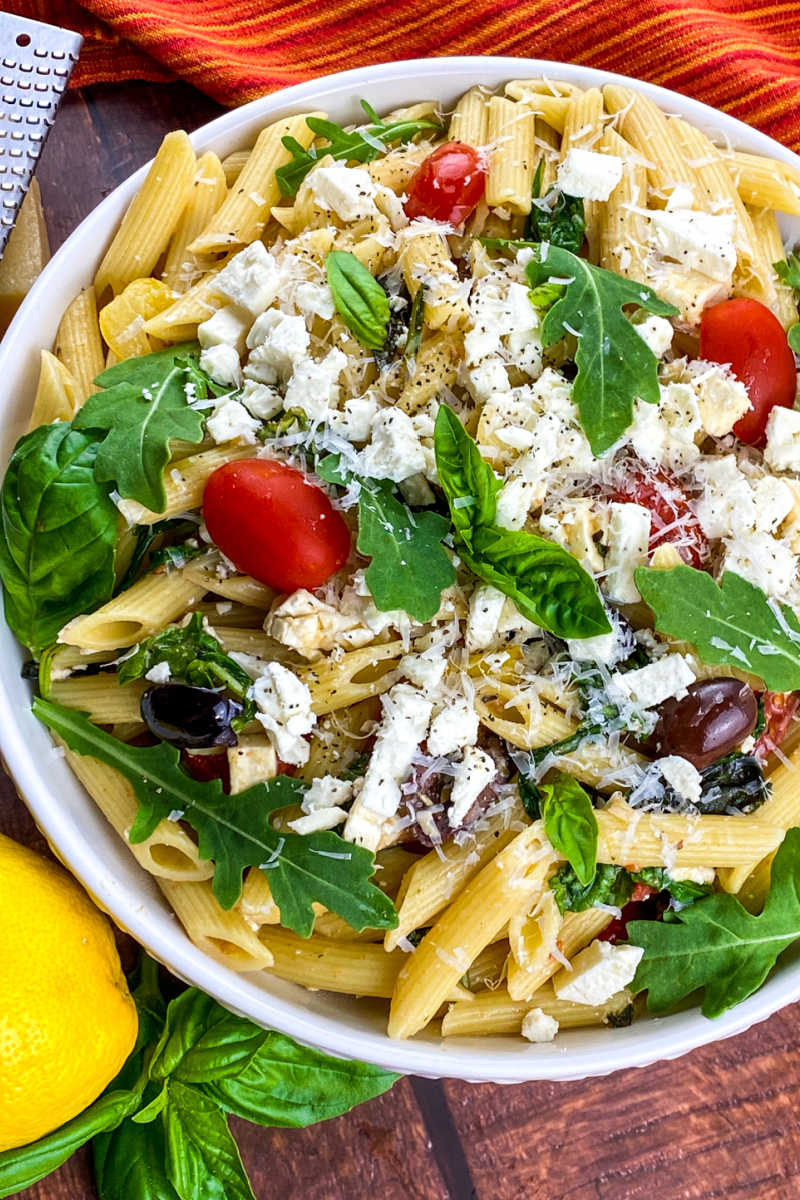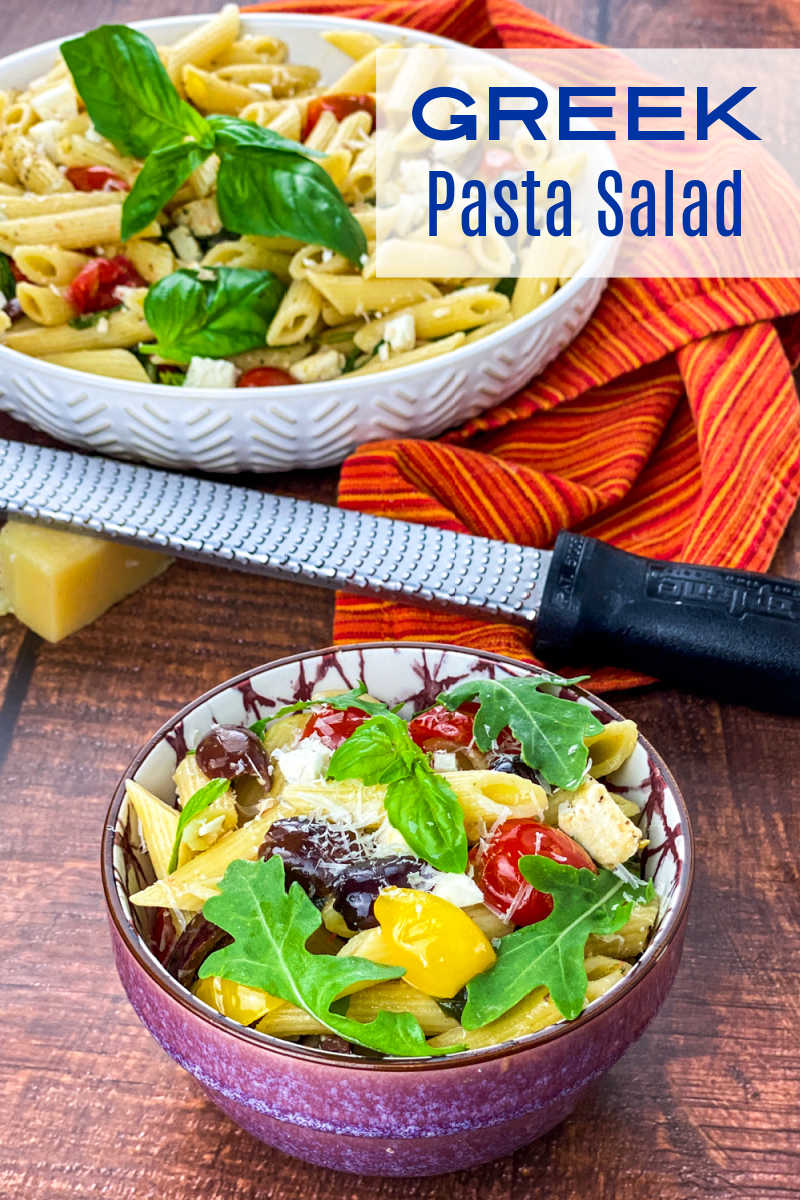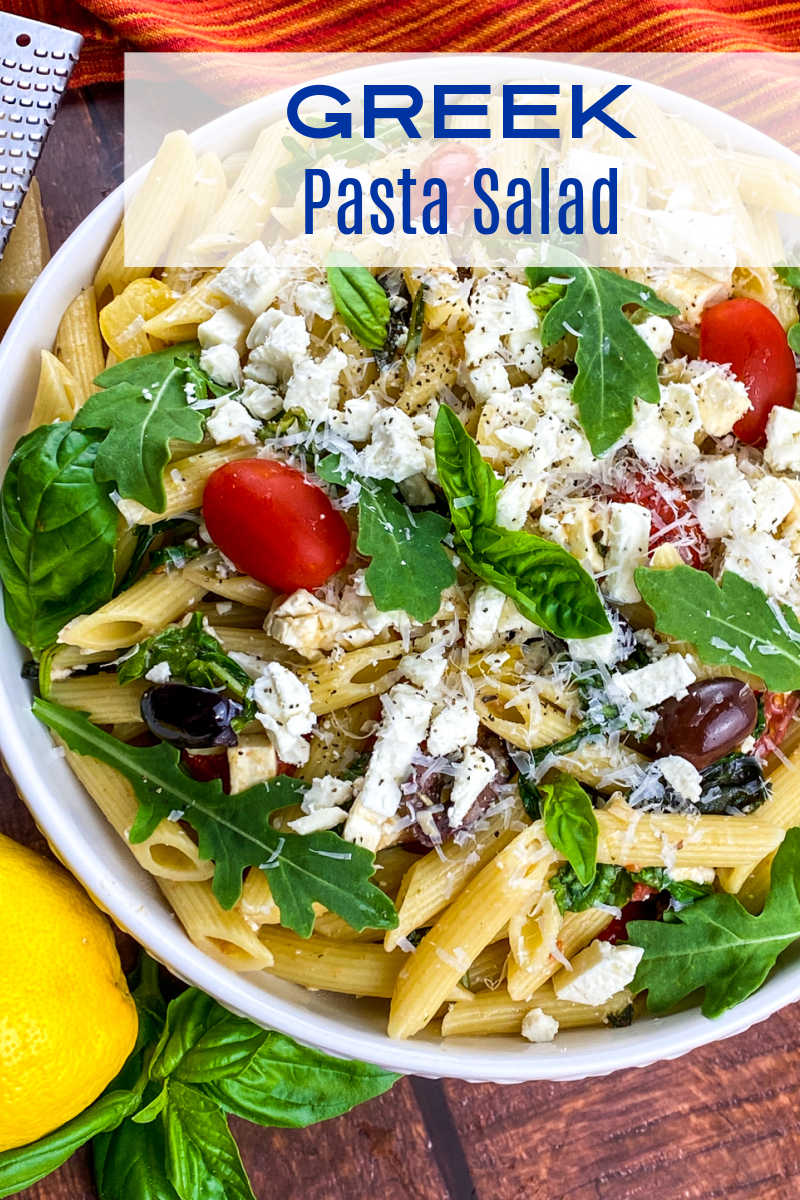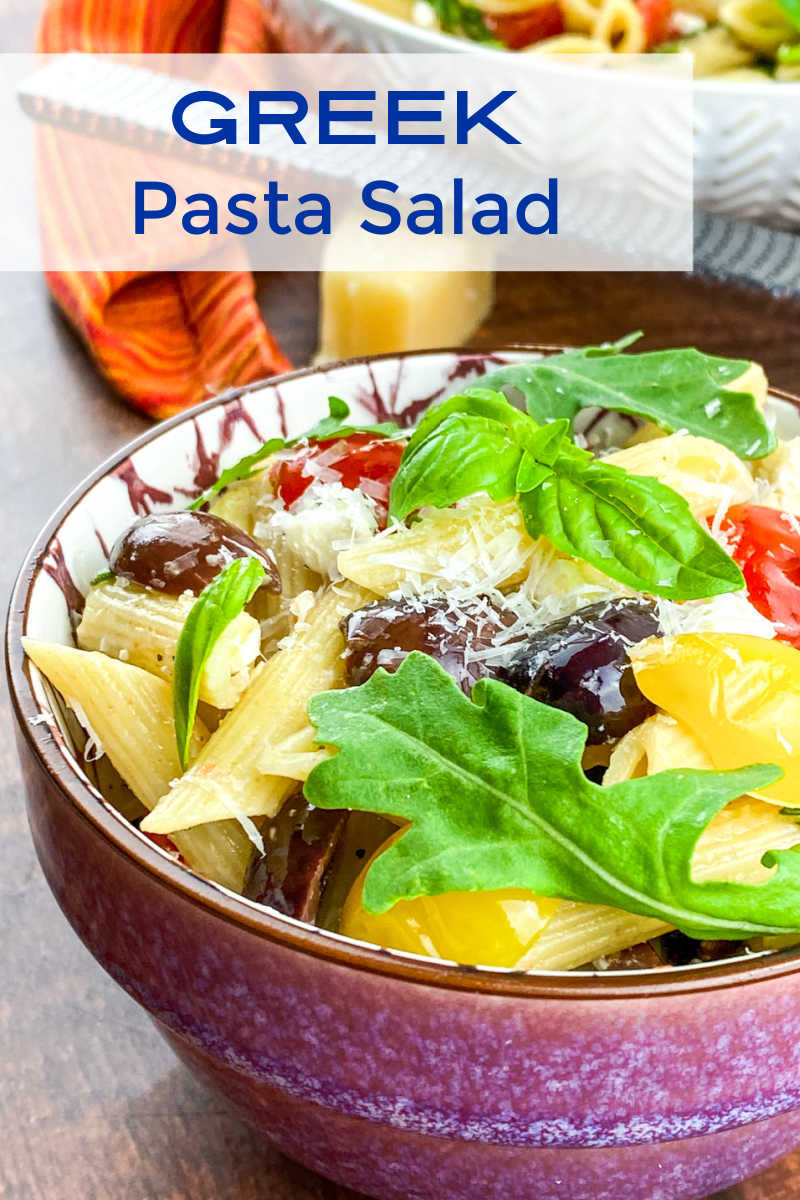 with feta and arugula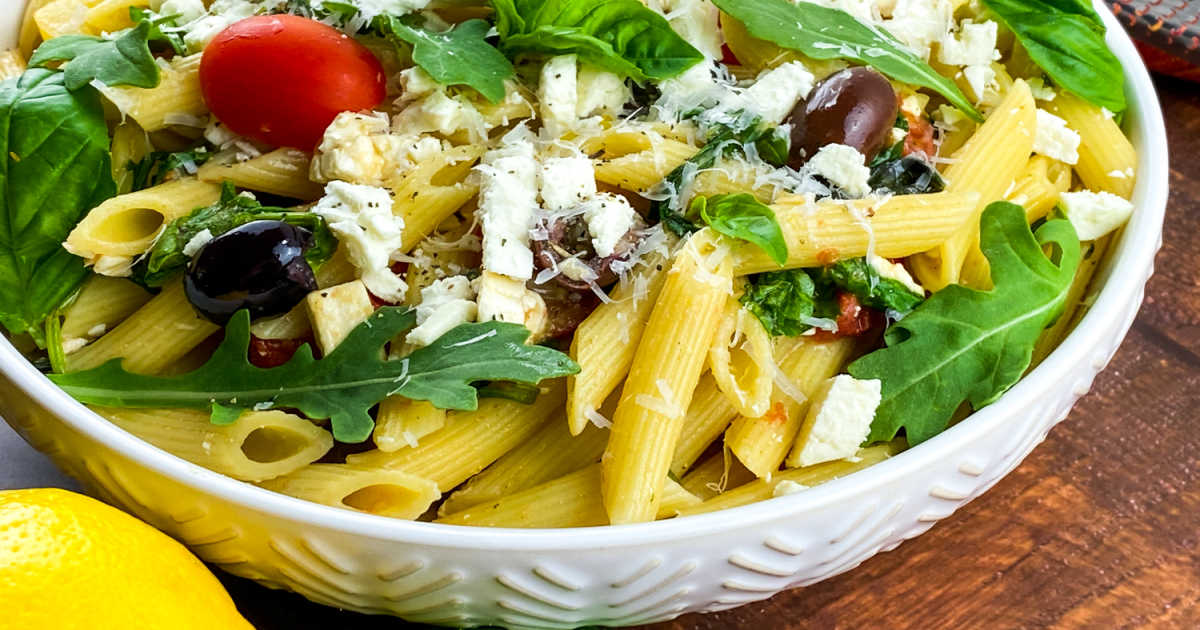 A Greek pasta salad with feta cheese is the perfect side dish, especially when it has a tangy lemon dressing and fresh ingredients.
This is a great salad to enjoy at home, and it packs well for a picnic or potluck.
You can make the dressing ahead of time to allow the flavors to fully develop and then put the salad together just before serving.
The pasta salad has all the flavors you would expect from a Mediterranean dish – feta, garlic, basil, tomato, lemon and Kalamata olives.
Serve it as a side dish or enjoy it as an entree for a Summer lunch.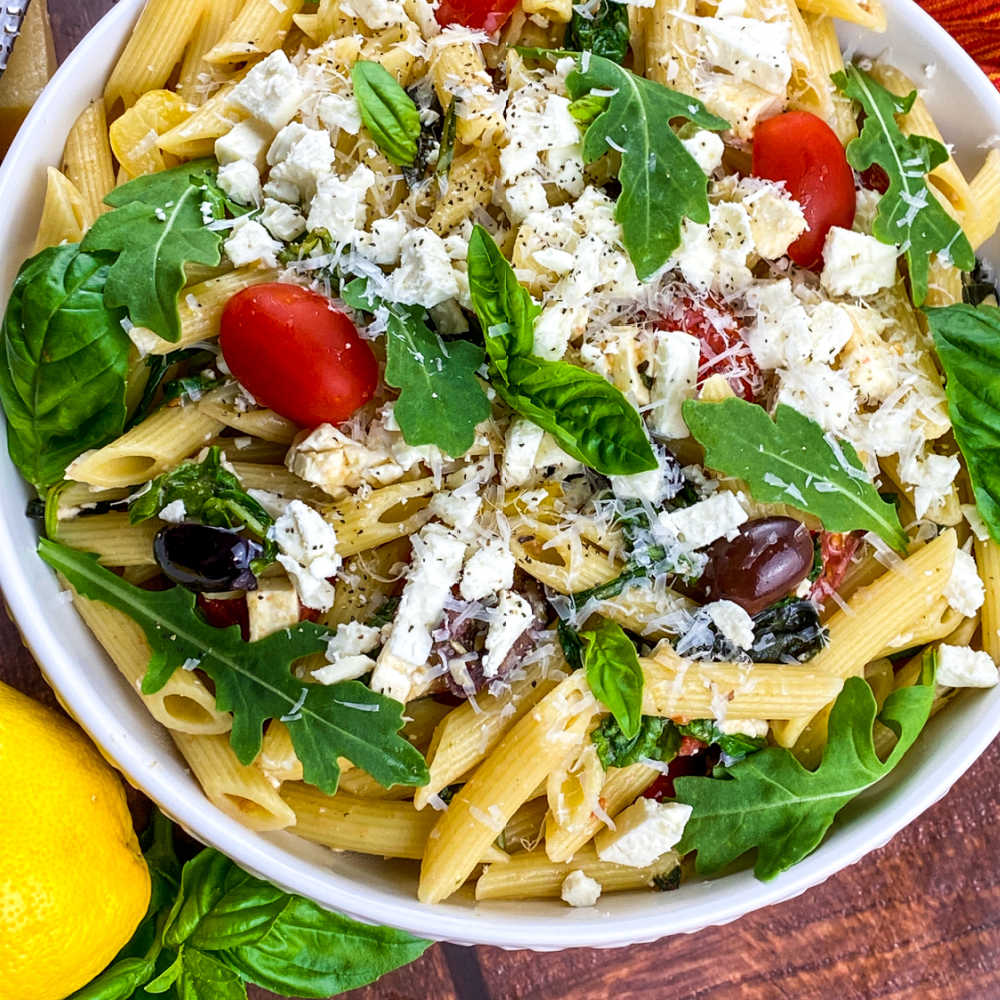 Greek feta is recommended for this salad, since it is firmer than creamy sheep's milk feta cheese.
I love creamy Danish or Bulgarian feta for other things, but for this recipe crumbly Greek feta is best.
The penne pasta is substantial, so it pairs well with the other ingredients.
Another large pasta, such as bow tie (farfalle), can be substituted, if you'd like.
I love having leftovers of this pasta salad, so I can enjoy it two meals in a row!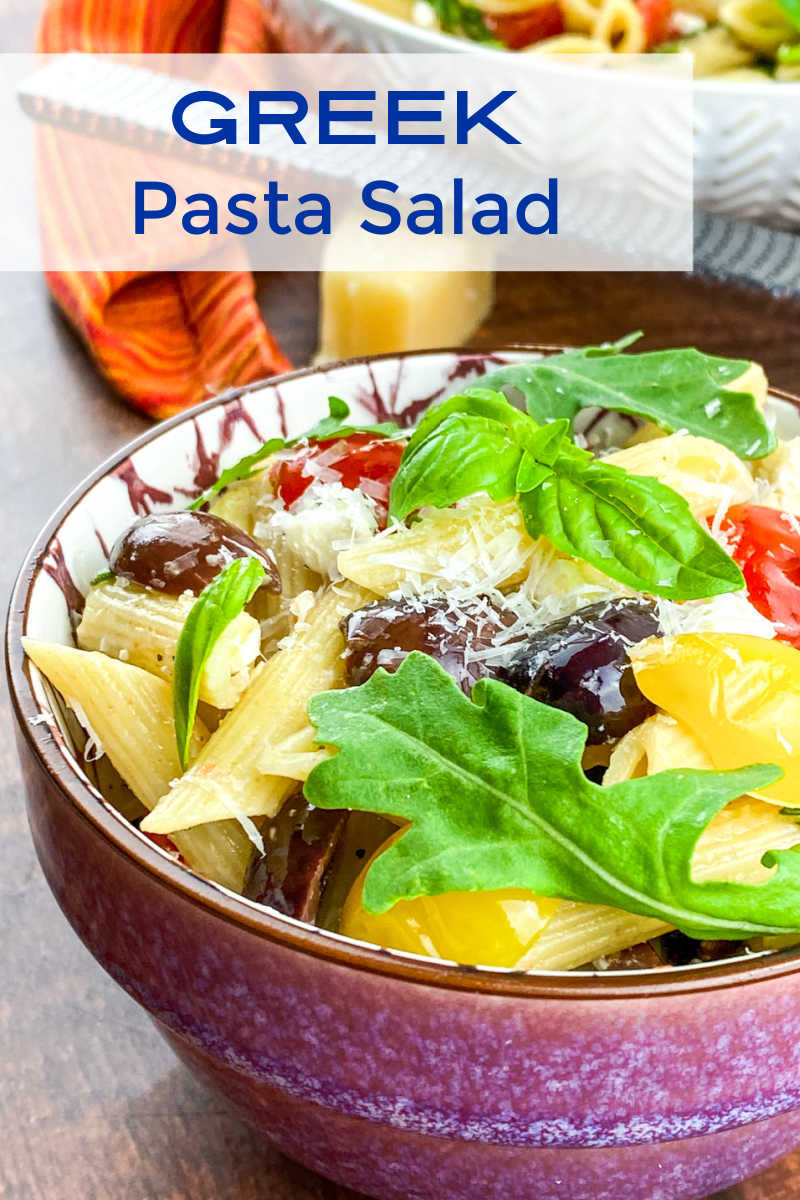 Greek Pasta Salad Recipe
Prep time: 15 minutes
Cook time: 15 minutes
Serves: 4-6
Ingredients
Lemon Dressing Ingredients
½ cup Extra Virgin Olive Oil
2 T White Balsamic Vinegar
2 T Lemon Juice
1 t Lemon Zest
1 clove Garlic, minced
2 T Honey
1 T Dijon Mustard
Salt and Black Pepper to Taste
Salad Ingredients
16 oz. box Penne Pasta, prepared al dente according to package instructions
2 T Extra Virgin Olive Oil
3 cloves Garlic, minced
1 Grape Tomatoes, halved
2 cups Arugula
12 Basil Leaves, sliced thin
1/3 cup Kalamata Olives, chopped
3 T Parmesan Cheese, grated
3 oz. Greek Feta Cheese, crumbled
Garnish (optional)
Arugula
Basil
Parmesan
Supplies
Pasta Pan
Pasta Strainer
Pint Mason Jar with Lid
Measuring Cup
Measuring Spoons
Skillet
Large Mixing Bowl
Instructions
1) Prepare the pasta according to package directions until al dente. Drain, rinse, and set aside.
2) Add all dressing ingredients to a mason jar. Close the lid tightly and shake vigorously to emulsify. Refrigerate until ready to use.
3) Sauté olive oil and minced garlic in a skillet and for a minute, so the garlic begins to color. Add the halved tomatoes to the skillet and cook for 2-3 minutes, so the tomatoes are warm, but not overcooked.
4) Remove skillet from the heat and stir in the fresh arugula and pour into a large mixing bowl.
5) Add the fresh basil, olives, cooked pasta, feta and parmesan to the mixing bowl. Drizzle with 3 T of the lemon vinaigrette and season with salt and pepper to taste. Toss with tongs to combine.
6) Plate individual portions or serve in a large salad bowl. Garnish with arugula, basil and freshly grated parmesan.
7) Serve immediately with the remaining lemon dressing on the side.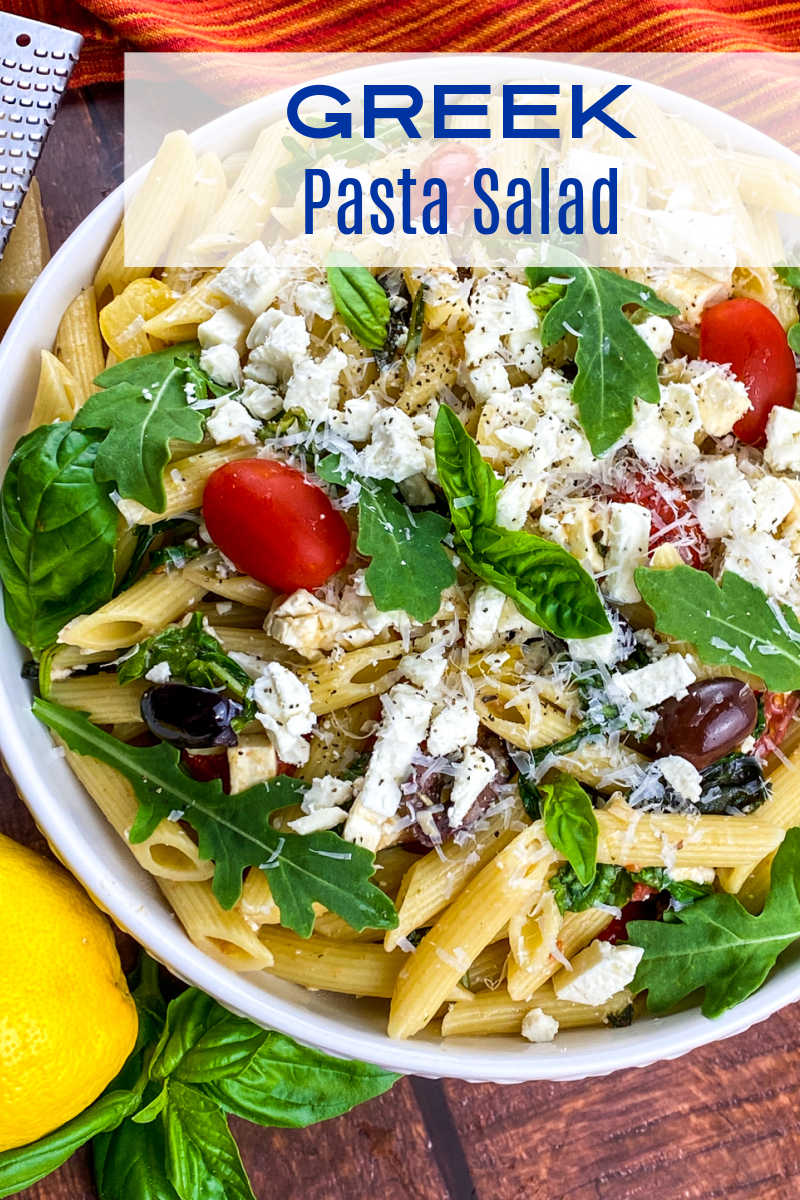 More from Mama Likes To Cook
Check out my vegetarian recipes, so you can get more great ideas for baking, cooking, blending and juicing.
Salad Recipes
Basil Recipes
Lemon Dessert Recipes
Dinner Lemon Recipes
Lemon Drink Recipes
Pasta Recipes
Shop Now
For a beautiful assortment of kitchen necessities and food gifts for the whole family, check out the current deals at these online stores.
Are you ready to have some delicious fun in the kitchen?