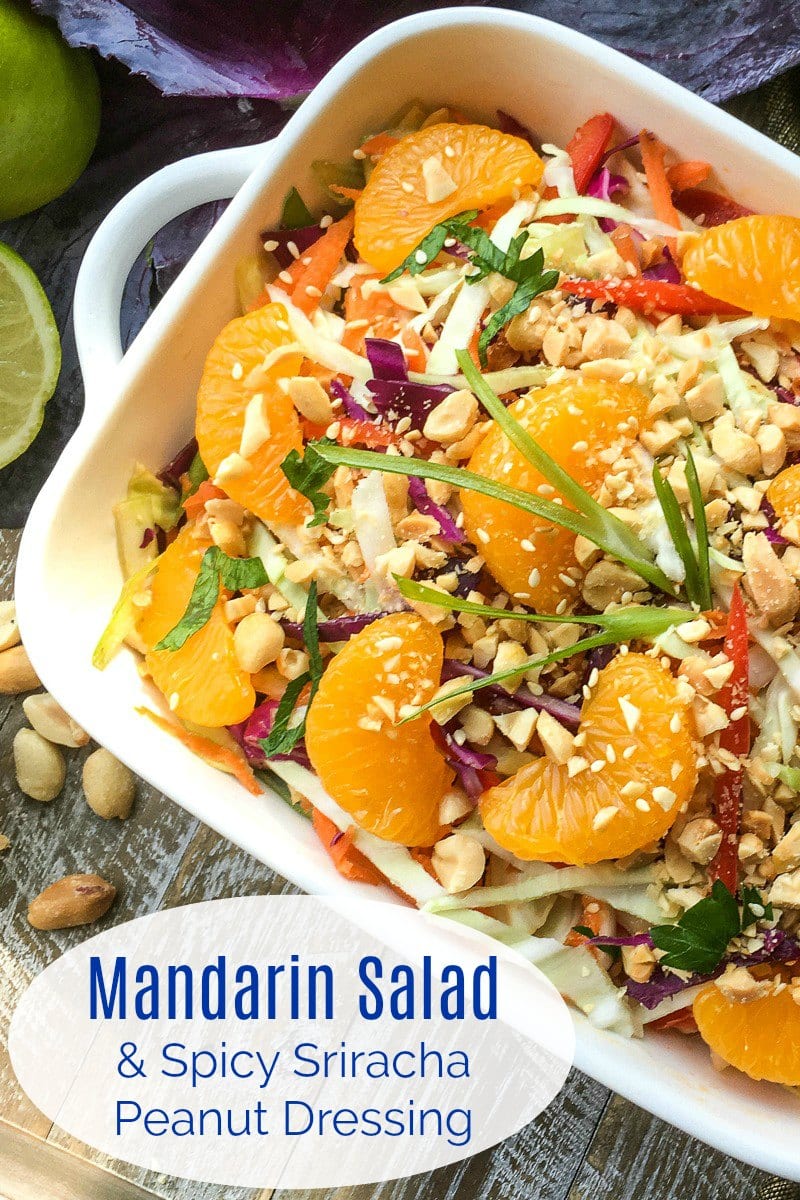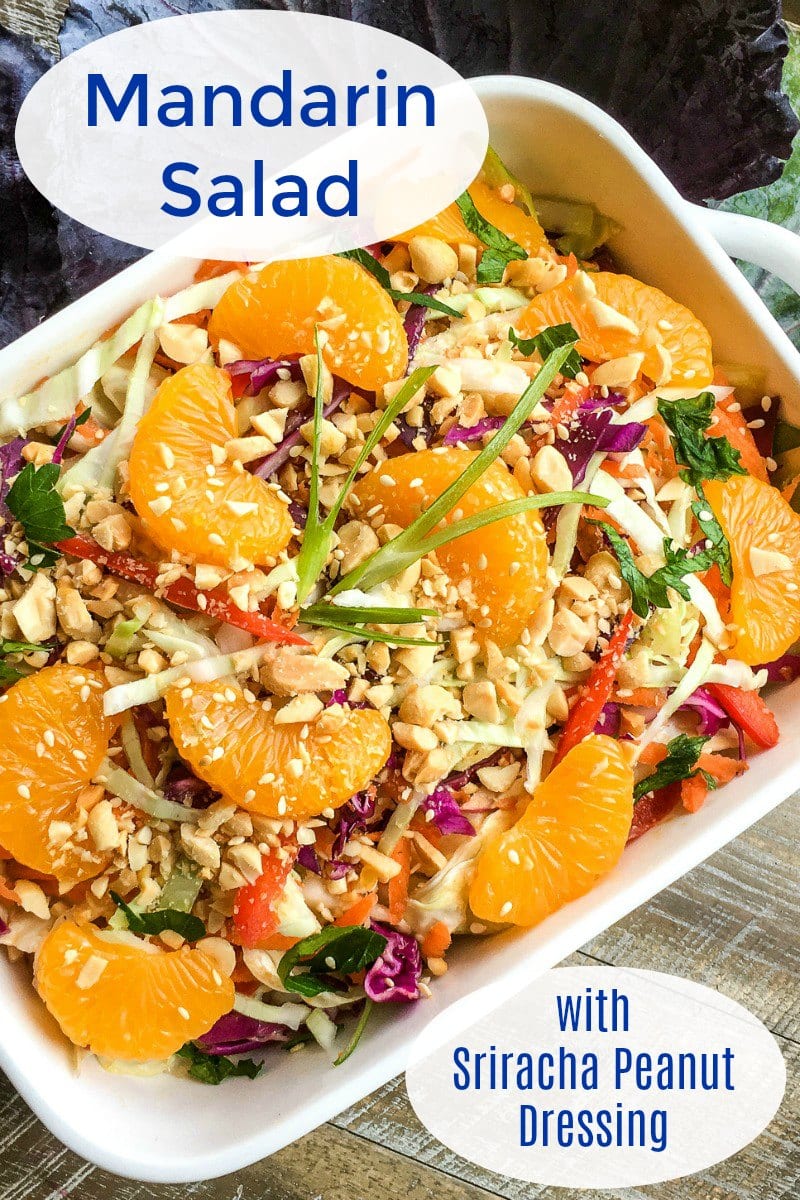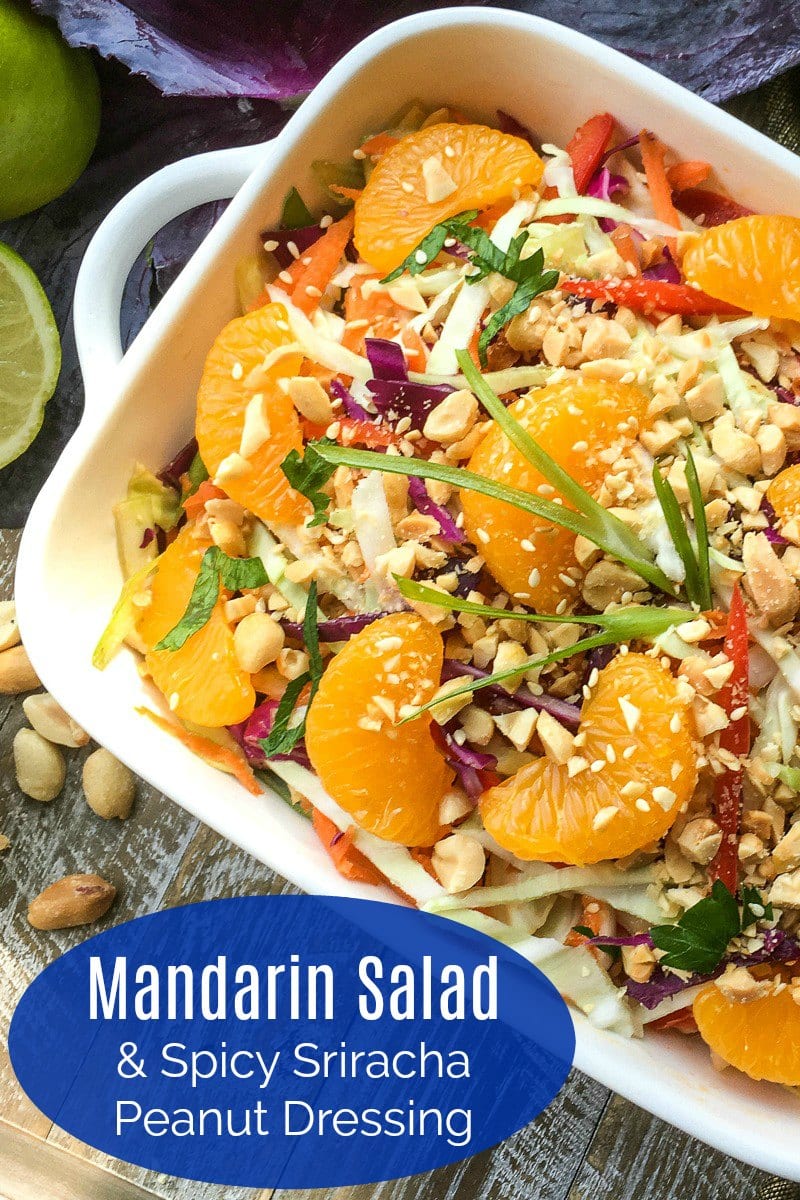 Vegan Asian Salad
with Spicy Sriracha Dressing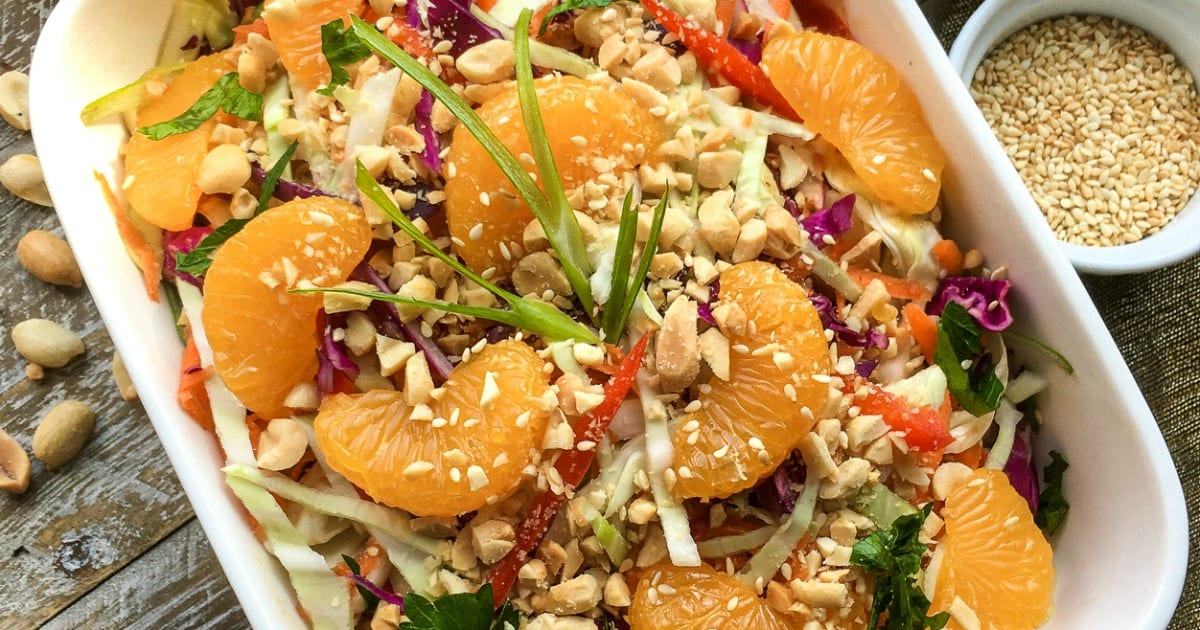 This gorgeous vegan Mandarin cabbage salad is extra delicious, when you toss in the homemade spicy Sriracha peanut dressing.
It is packed full of flavor, so you'll love it from the first bite to the last.
You can serve it as a side salad or make a meal of it.
It can be filling and there is protein in the peanuts and sesame seeds.
Since the salad is cabbage based, it is great to make a little ahead of time.
The cabbage stays crunchy, so you don't have to worry about it getting soggy like salads with more delicate greens.
Take it to a potluck, serve it at a party or pack it for lunch.
I toss a little bit of the dressing in right away and then save the rest to drizzle on right before I eat.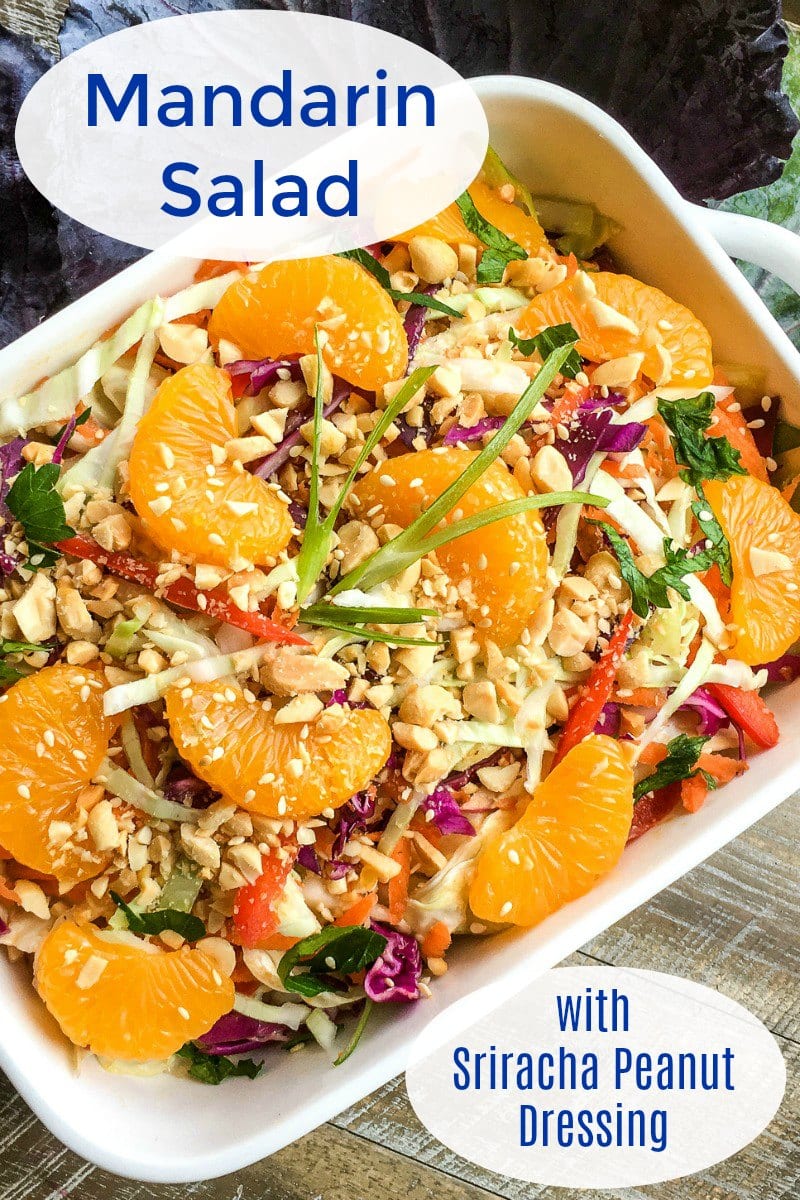 The salad has a spicy kick, since the peanut dressing is made with Sriracha sauce.
As written, the recipe is what I'd call a 'medium' hot.
Feel free to add more or less, depending upon your personal preference.
Enjoy!
Mandarin Salad with Sriracha Peanut Dressing Recipe
Prep time 20 minutes
Cook time 5 minutes
Serves 4
Ingredients
Sriracha Peanut Dressing
½ cup Peanut Butter
1 T Sriracha Sauce
3 T Rice Vinegar
1 T Sesame Oil
3 T Tamari
2 T Lime Juice
2 cloves Garlic, minced
1 T Fresh Ginger, minced
¼ cup liquid from canned Mandarin Oranges
Salt and Pepper to Taste
Vegan Salad
4 cups Green Cabbage, shredded
2 cups Red Cabbage, shredded
¼ cup Cilantro, chopped
2 Large Carrots, shredded
2 Green Onions, sliced
¼ cup Peanuts, chopped
1 can Mandarin Oranges, drained (10 oz.)
1 T Sesame Seeds
Supplies
Skillet
Whisk
Mixing Bowl
Tongs
Serving Platter
Instructions
1) Prepare the dressing in a medium skillet over medium heat. Add peanut butter, Sriracha, rice vinegar and sesame oil. Cook for a few minutes, stirring constantly, until peanut butter is melted and ingredients are combined.
2) Reduce heat to low and whisk in tamari, lime juice, minced garlic, minced ginger and mandarin orange liquid. Cook for about two minutes, stirring occasionally. Remove from heat and set aside.
3) Add cabbage, carrots, green onion, cilantro and ¼ cup of the salad dressing to a mixing bowl and use tongs to toss together.
5) Transfer salad to a serving platter. Top with peanuts, mandarin oranges and sesame seeds. Serve immediately with extra dressing on the side.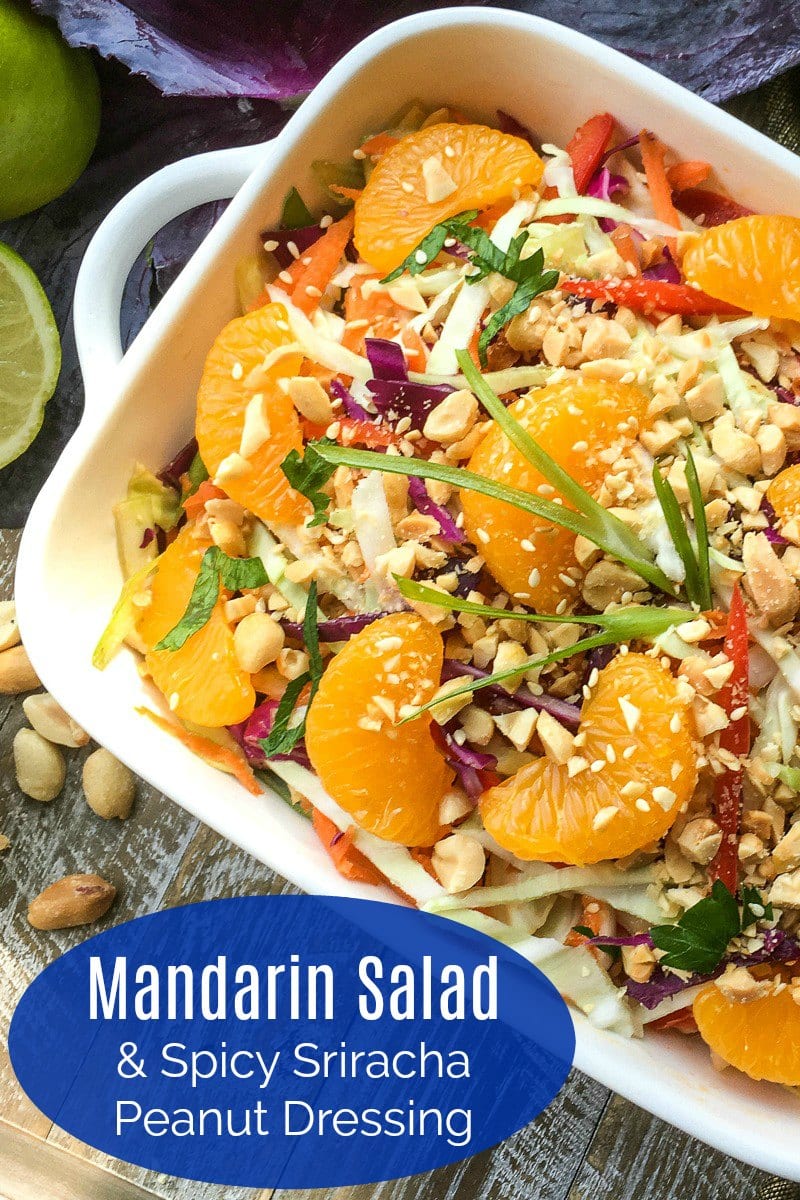 More from Mama Likes To Cook
Check out my salad recipes, so you can get more delicious inspiration.
Following are some of my favorite salad recipes:
Then take a look at the rest of my vegetarian recipes, so you can have even more delicious fun in the kitchen!