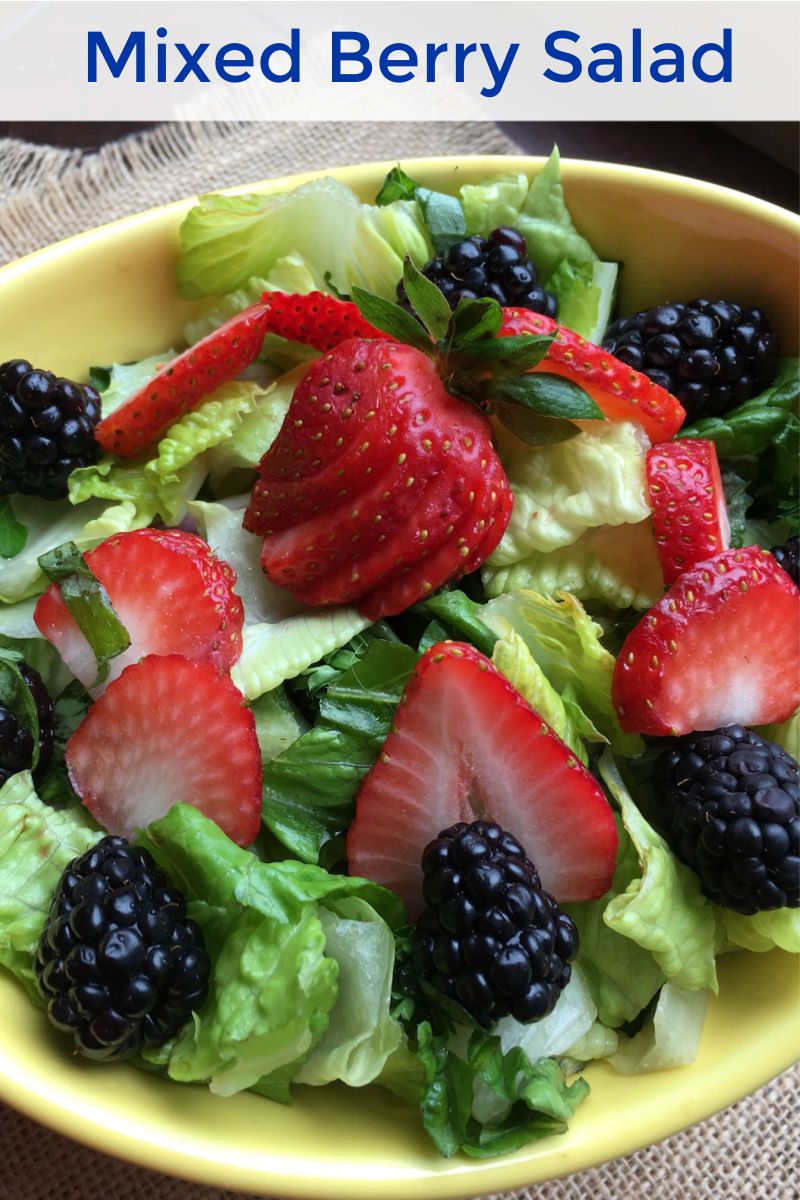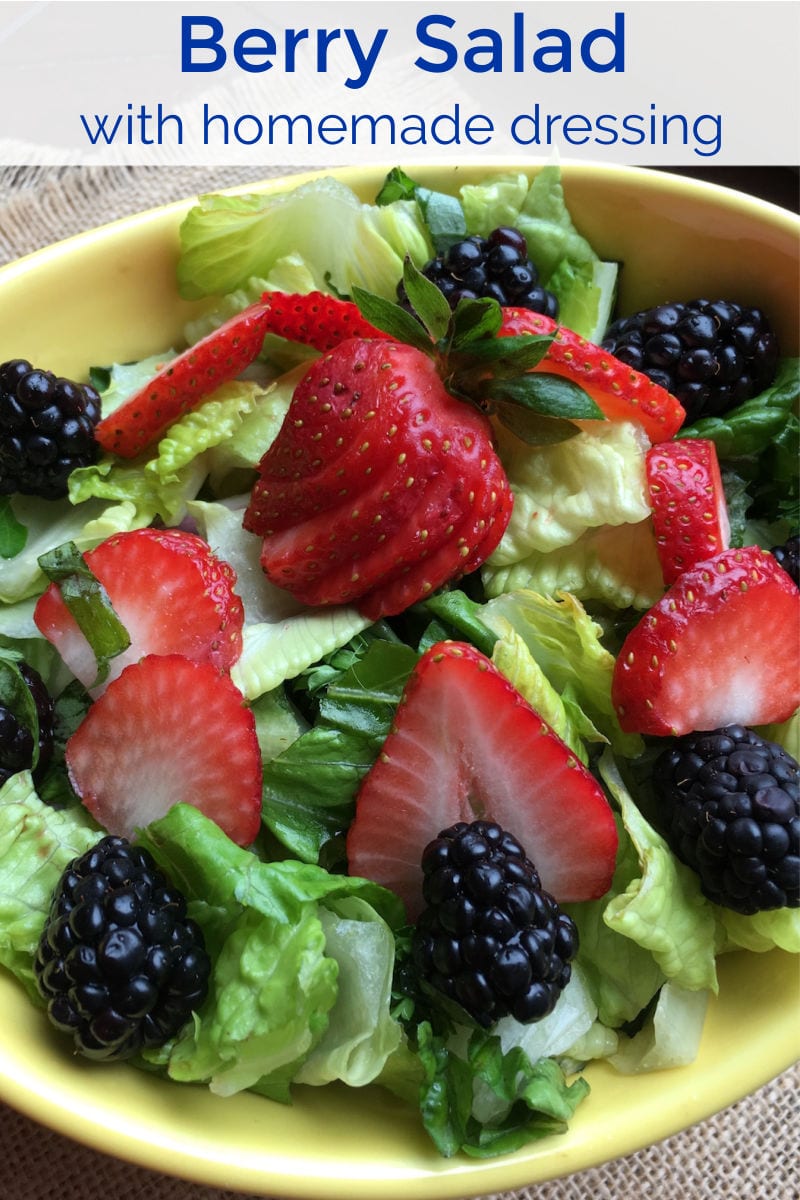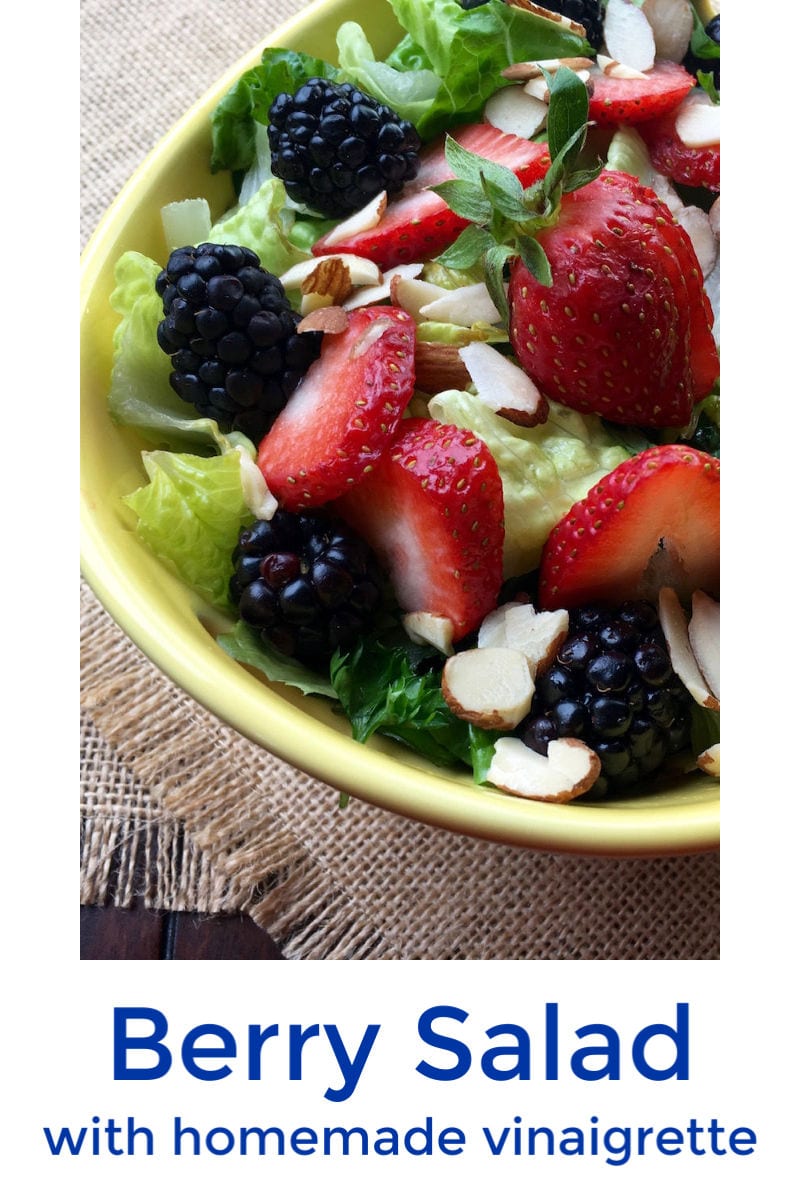 Mixed Berry Salad
with Raspberry Dressing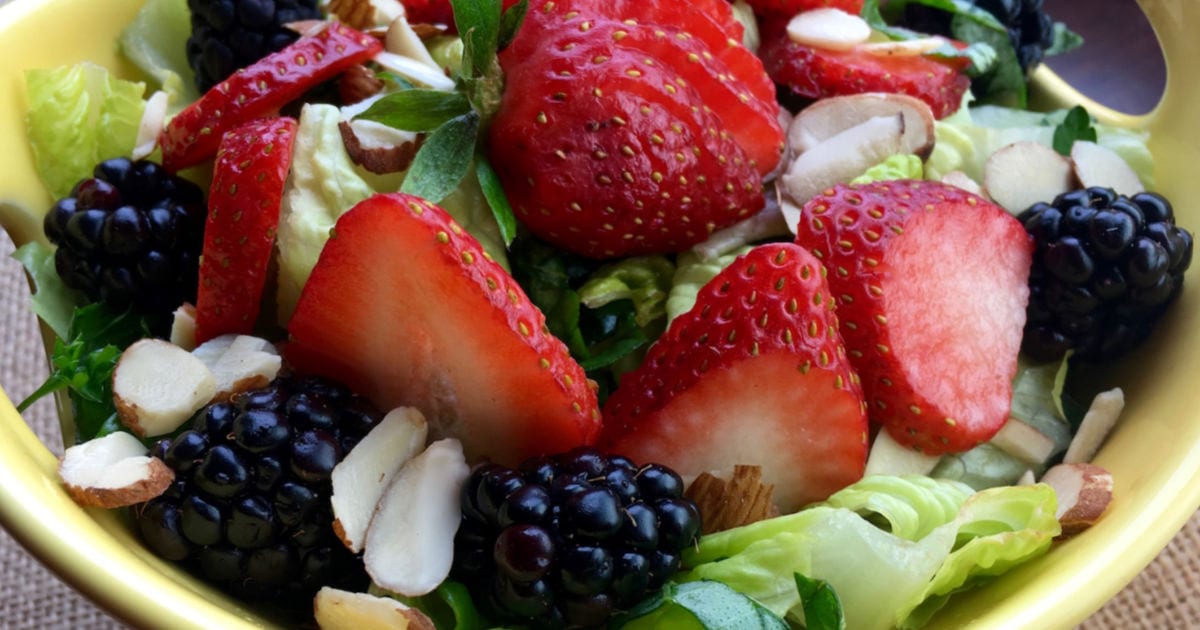 When you want a salad that is extra special, toss this homemade raspberry vinaigrette dressing into my fresh mixed berry salad.
It is easy to get in the habit of purchasing bottles of salad dressing at the grocery store, but homemade is super delicious.
Additionally, it is quick and easy to make and budget friendly.
You can serve this fresh tossed salad as a side dish for dinner or as an entree for a light lunch.
Either way, this is a pretty and tasty way to enjoy fresh fruit and veggies.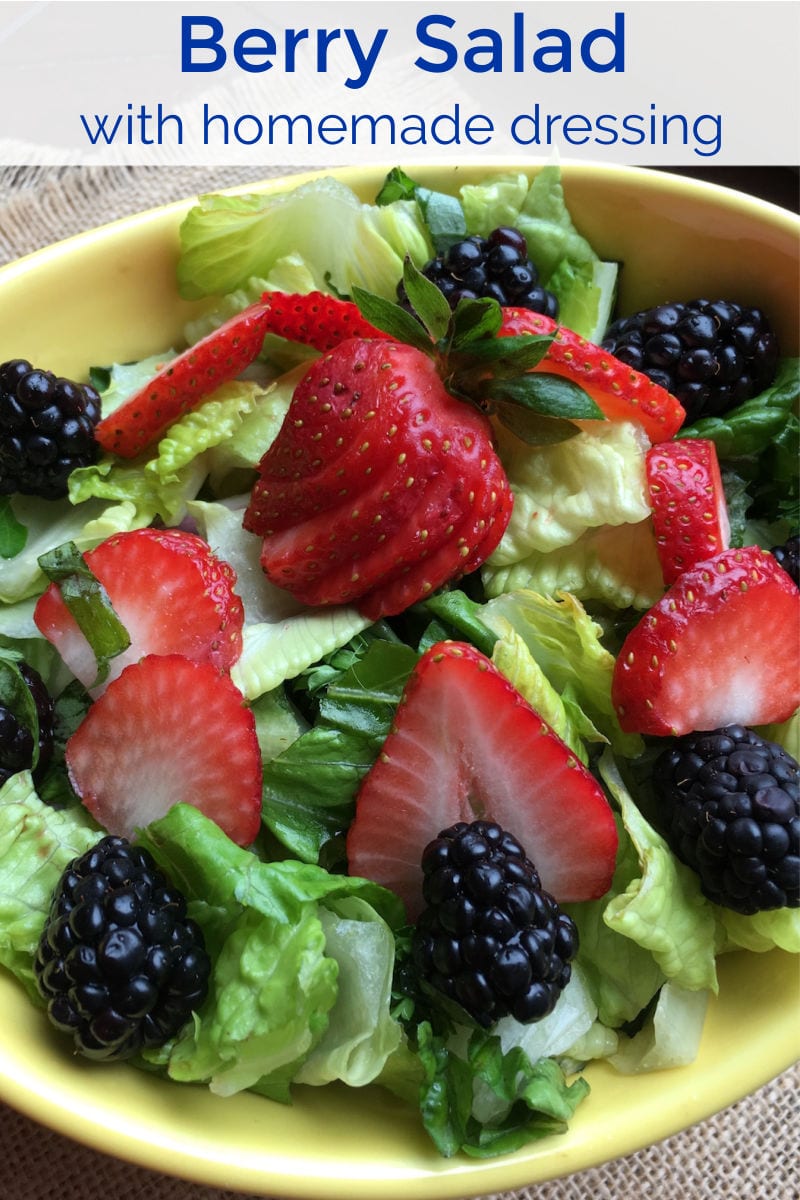 The dressing gets its sweetness from the fresh raspberries, so there is no processed sugar added.
You get the flavor of three different berries, since strawberries and blackberries are tossed in the salad and raspberries are blended into the vinaigrette.
If you'd like to make the raspberry dressing to use on another type of salad, that's an option, too.
But … I really like this one!
Fresh mint is added into the salad, so it makes all of the flavors pop.
As you can imagine, this salad is bursting with fresh flavor.
Pick up lots of berries the next time you're at the grocery store or farmers market, so that you can enjoy this tasty berry salad, too!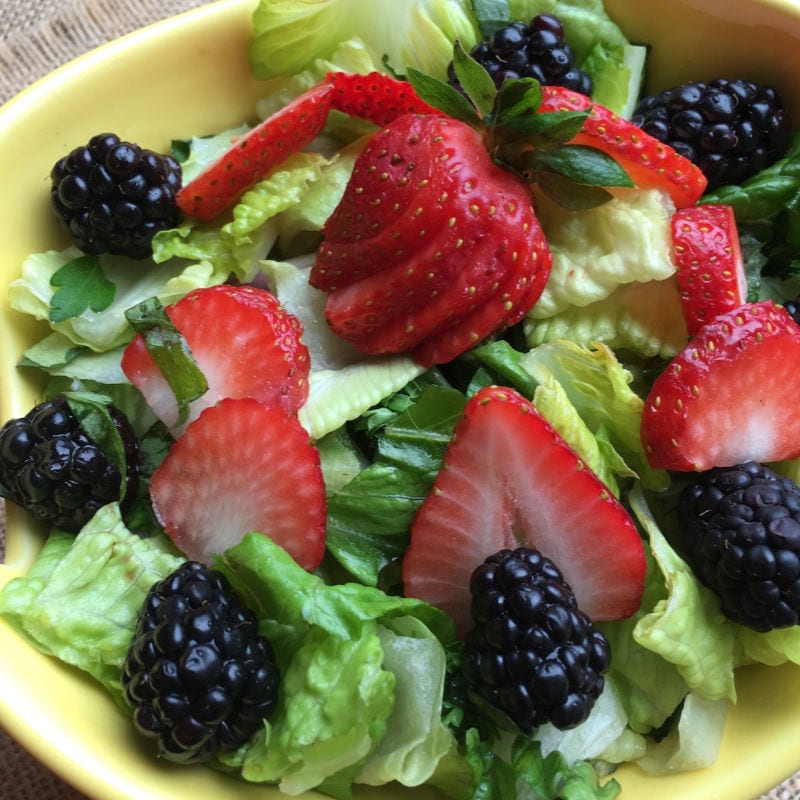 Berry Salad & Homemade Raspberry Vinaigrette Recipe
Prep time 15 minutes
Cook time none
Serves 4
Ingredients
Dressing
¼ cup White Balsamic Vinegar
½ cup Extra Virgin Olive Oil
½ cup Raspberries
2 t Lemon Juice
Salt to Taste
Salad
1 head Romaine Lettuce or 2 Romaine Hearts
1/3 cup Fresh Mint, chopped
1 cup Strawberries, hulled and sliced
1 cup Blackberries
1/3 cup Sliced Almonds
Supplies
Blender
Salad Bowl
Chef Knife
Tongs
Instructions
1) Add white balsamic vinegar, extra virgin olive oil, raspberries and lemon juice to a blender. If desired, add salt to taste. Blend until smooth.
2) Trim and chop lettuce to desired size and put in a salad bowl. Add in chopped mint, sliced strawberries, whole blackberries and sliced almonds. Gently toss to combine.
3) Drizzle in desired amount of raspberry vinaigrette and toss together. Use all of the dressing or a portion of it, according to taste.
4) Serve immediately.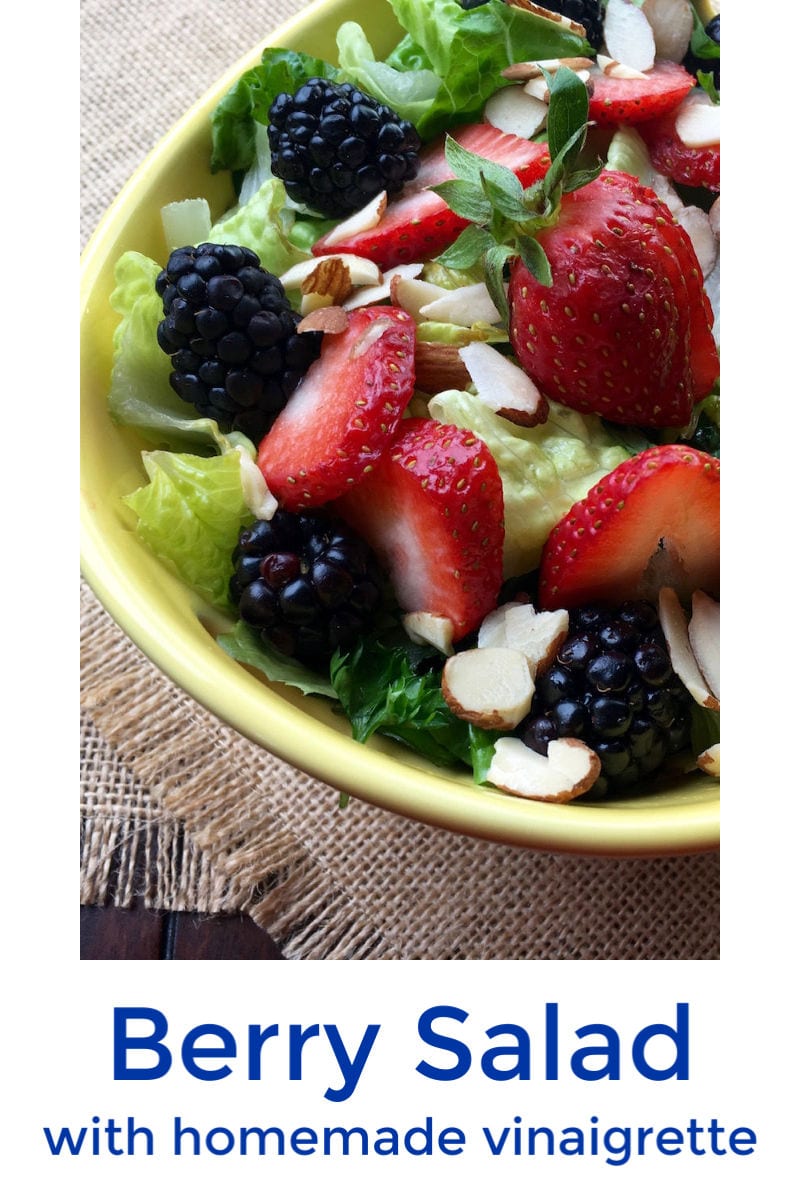 More from Mama Likes To Cook
Check out my salad recipes, so you can get more delicious inspiration.
Following are some of my favorite salad recipes:
Then take a look at the rest of my vegetarian recipes, so you can have even more delicious fun in the kitchen!