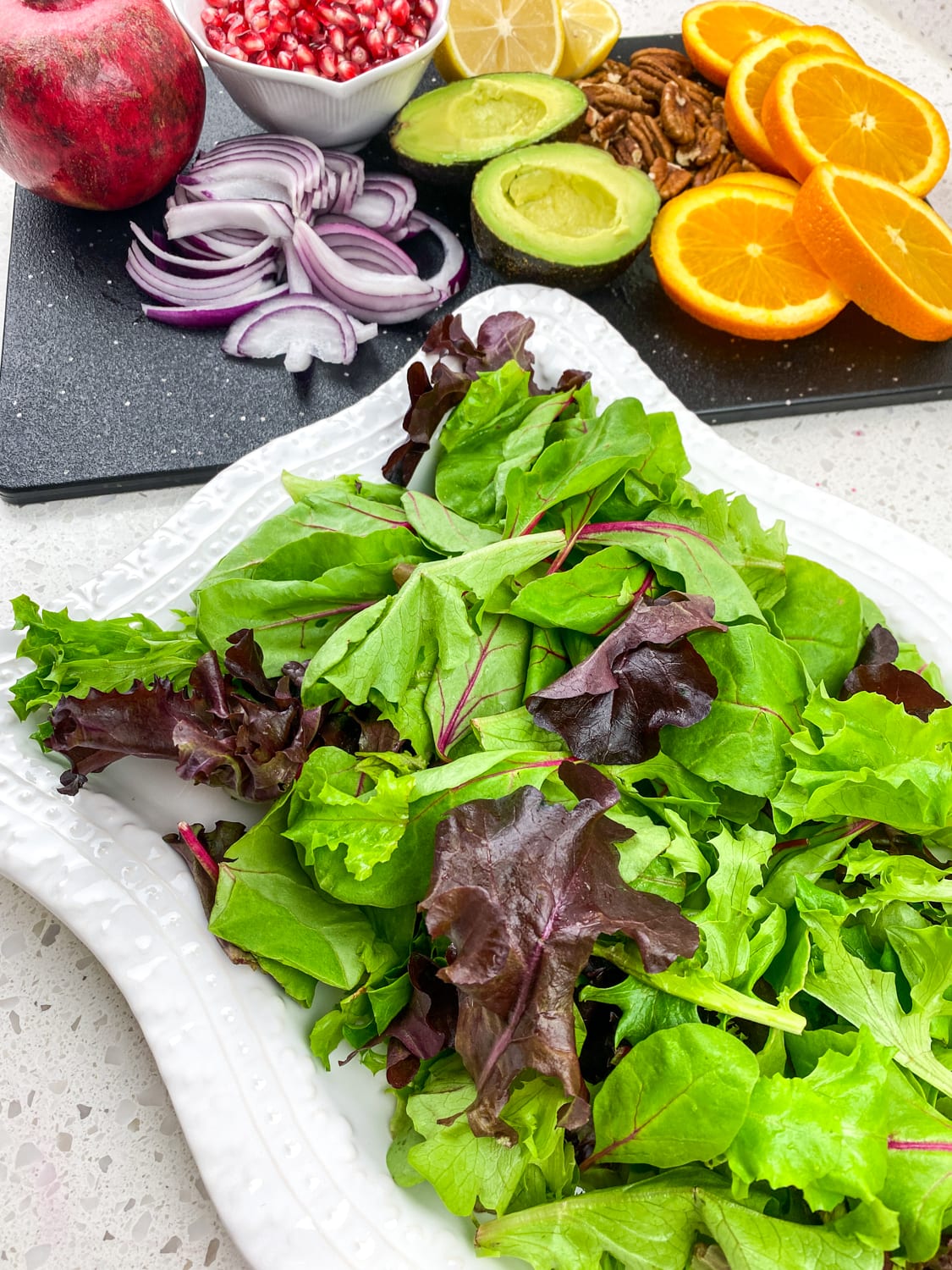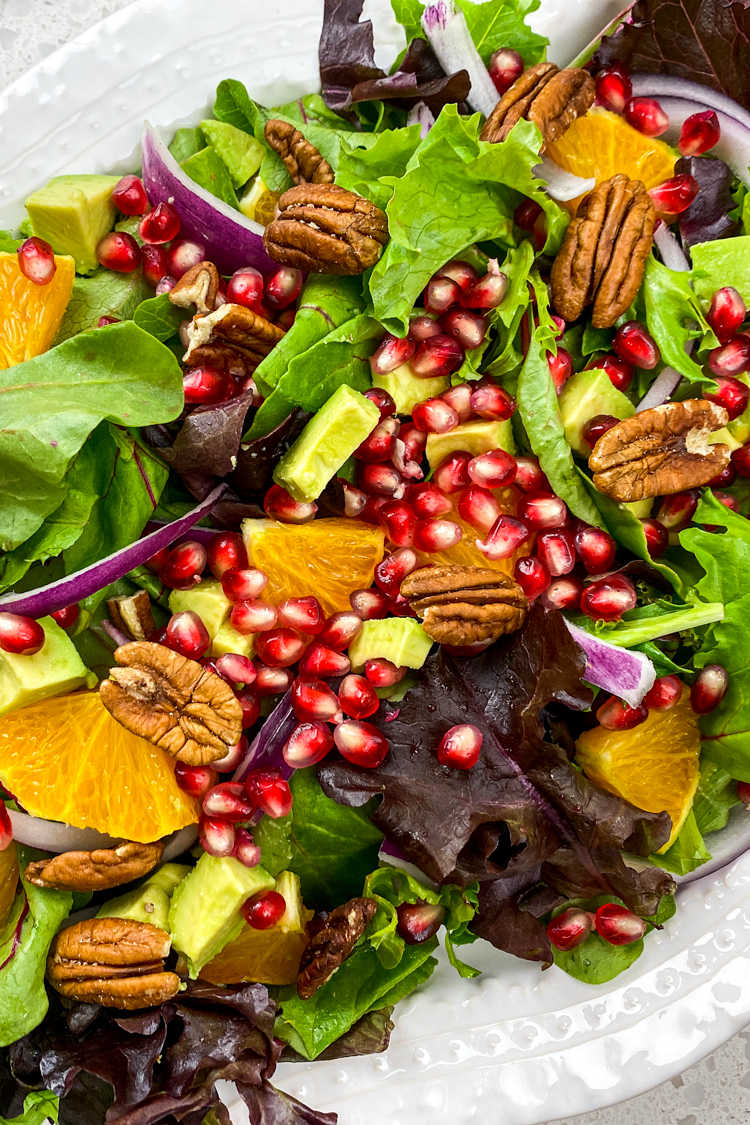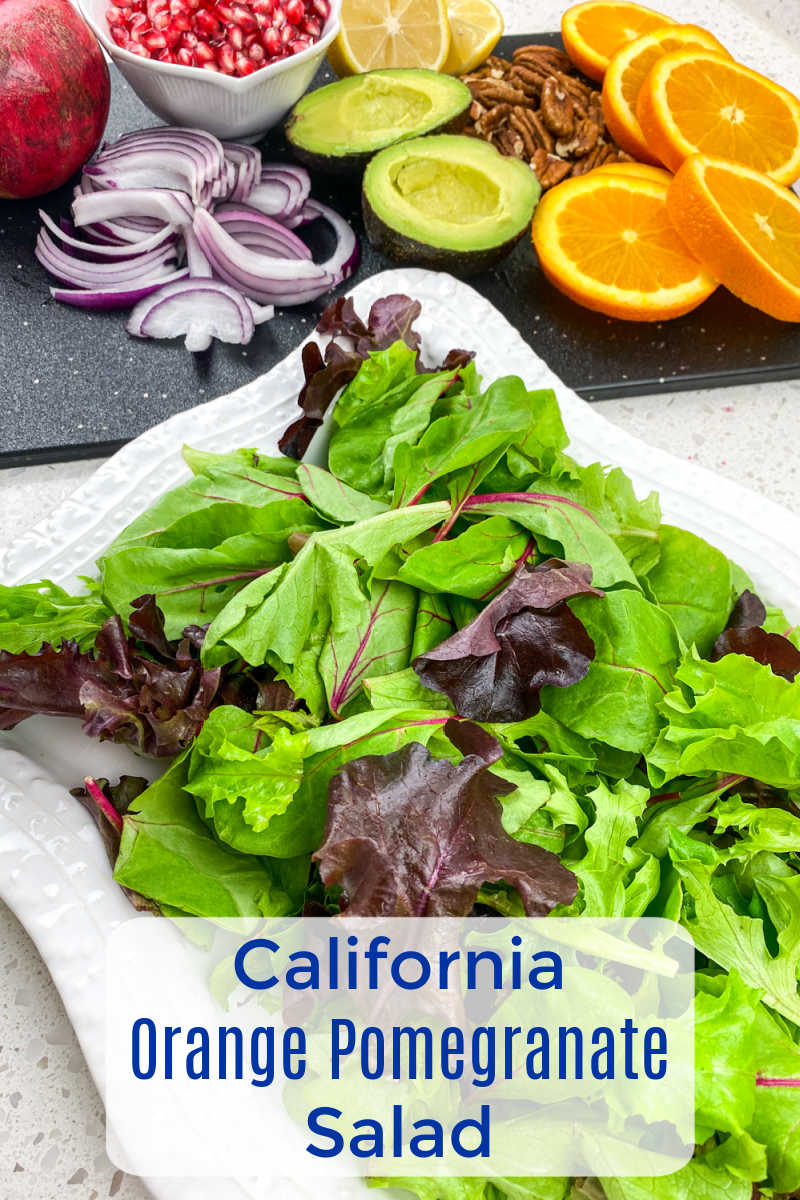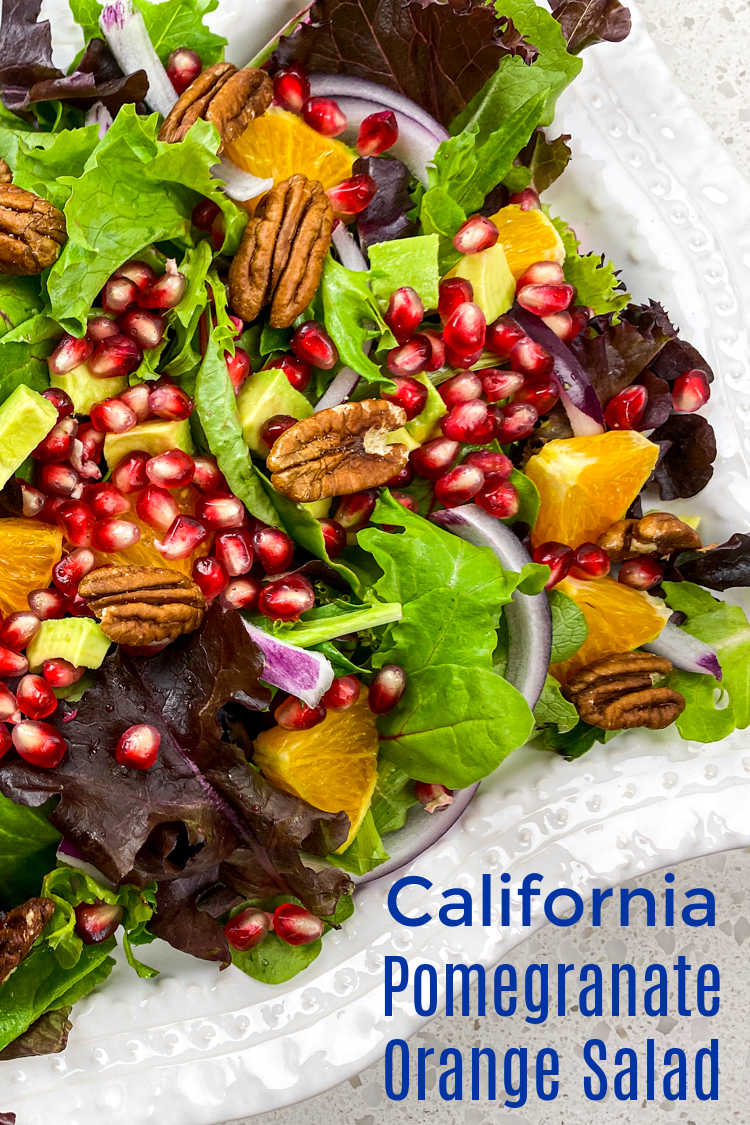 Orange Pomegranate Salad
with Avocado and Pecans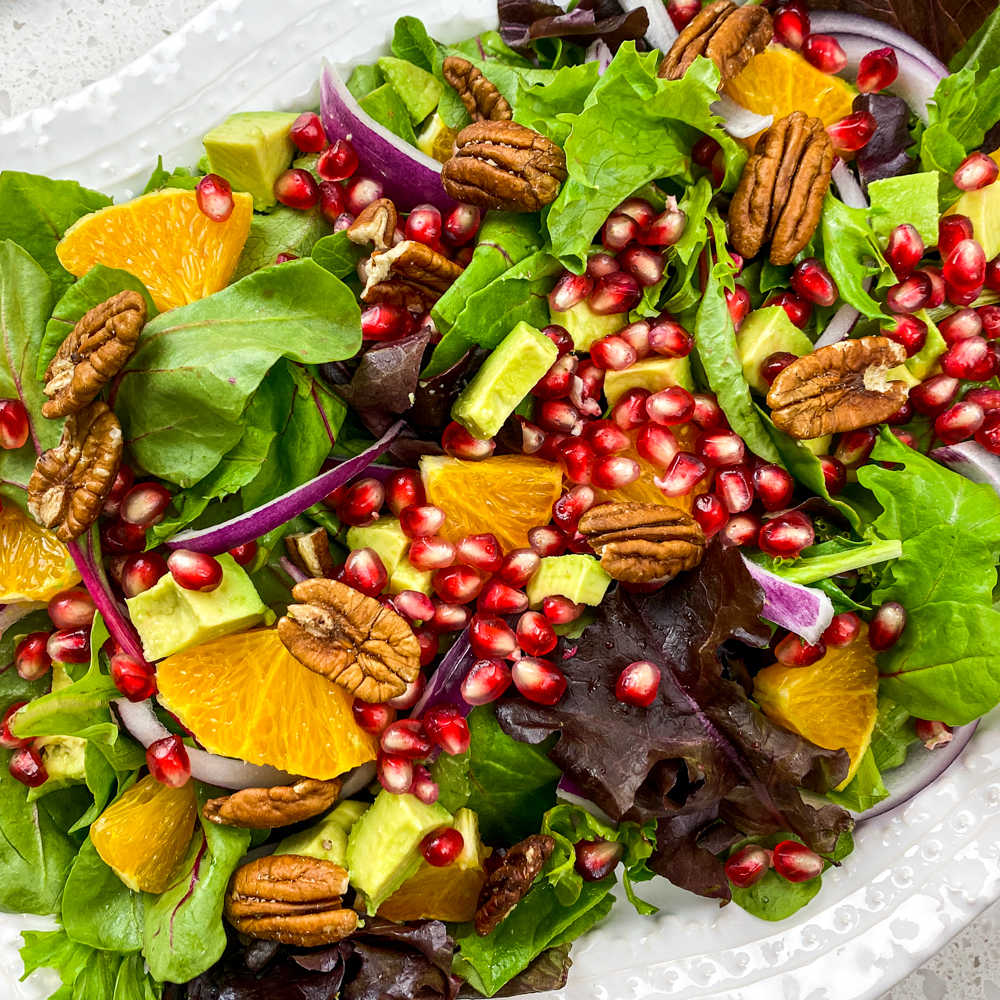 When you want a salad that looks and tastes amazing, make my California orange pomegranate salad with avocado and pecans.
Yes, when a recipe is made California style, that typically means that it includes avocados.
I usually think of this as a Fall or Winter salad, since that is when pomegranates are in season in my area.
However, these days you can find pre-packaged pomegranate arils year round and they taste just as good as the ones from whole fruit.
I love all of the colors, textures and tastes in this beautiful salad, since they make it so pretty and tasty.
These are all things that I enjoy on their own, but the flavors are elevated when combined.
I tend to like bigger chunks in my salad, but feel free to chop yours up more finely to suit your taste.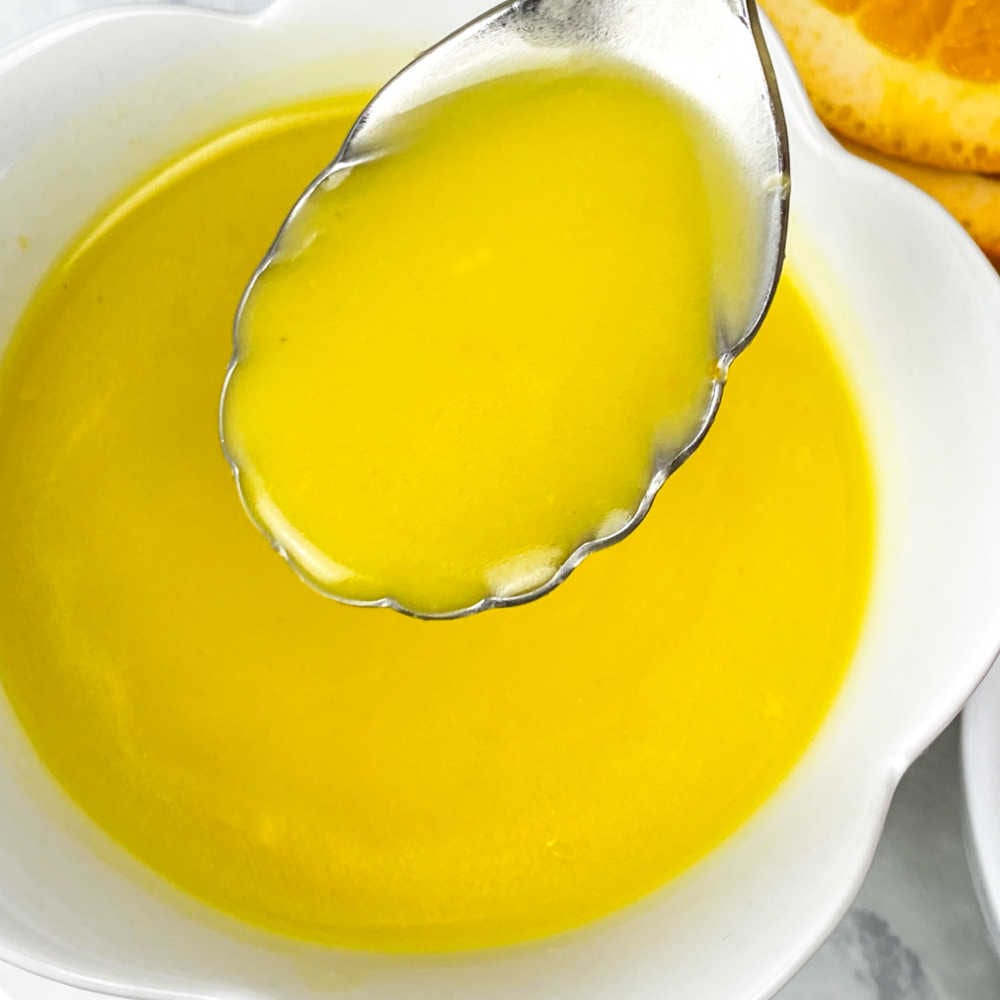 The homemade dressing on this salad is wonderful, but store bought will work, too.
When we are in a rush, the few extra minutes it takes for homemade is sometimes too much.
Any of these would be good:
Or try another favorite dressing and still enjoy the fresh fruits on this yummy salad.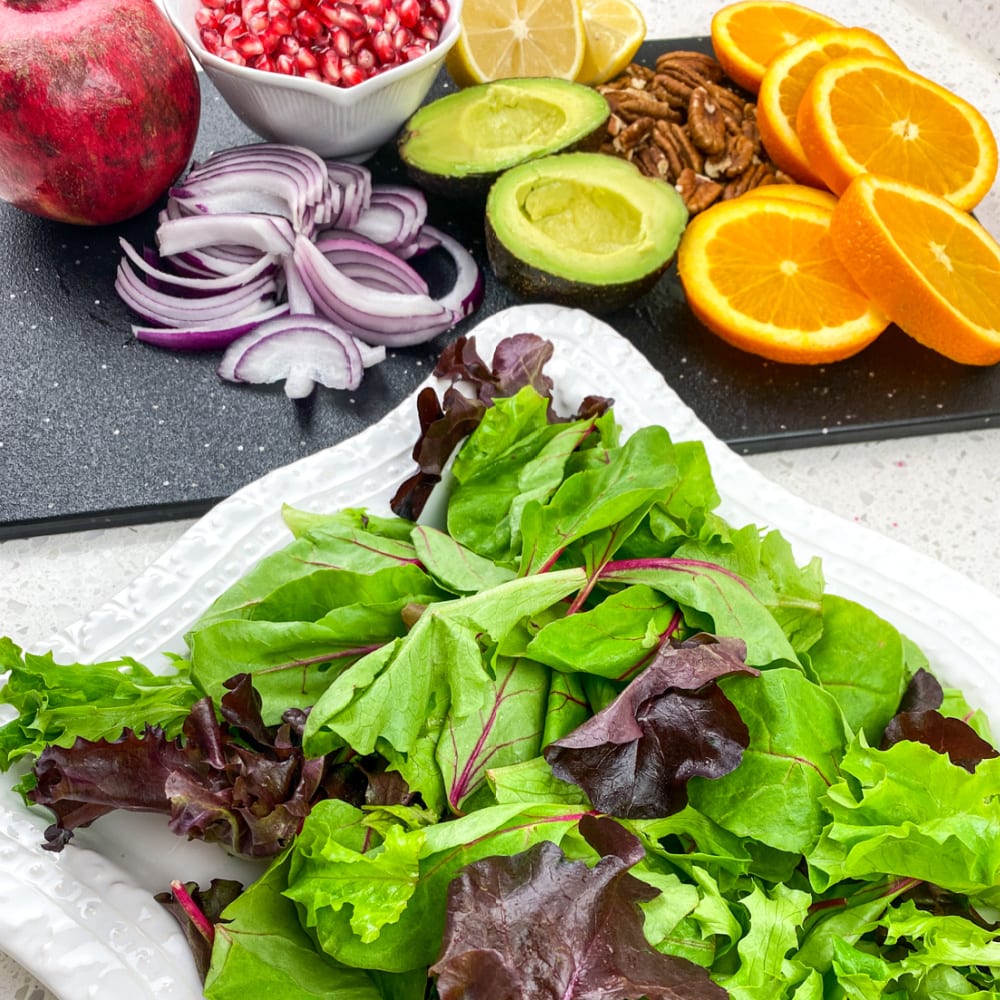 California Orange Pomegranate Salad Recipe
Prep time: 20 minutes
Cook time: none
Serves: 4
Ingredients
Orange Champagne Vinaigrette Ingredients
¼ cup Citrus Champagne Vinegar
2 cloves Garlic, peeled and smashed
1 t Dijon Mustard
1 t Orange Zest
¼ cup Orange Juice
2 T Maple Syrup
½ cup Extra Virgin Olive Oil
Salt and Black Pepper to Taste
Salad Ingredients
1 large Pomegranate (or one cup pomegranate arils)
1 large Orange
½ medium Red Onion
1 large Avocado
1 T Lemon Juice
6 cups Mixed Salad Greens
¼ cup Pecan Halves
Supplies
Measuring Spoons
Measuring Cup
Mixing Bowl
Immersion Blender
Chef Knife
Serving Platter
Instructions
1) First, prepare the homemade dressing by adding all of the dressing ingredients, except for the olive oil, to a bowl. Use an immersion blender to blend for about a minute until completely smooth.
2) Slowly drizzle in the olive oil while blending until thoroughly emulsified. Add additional salt and pepper, if desired. Transfer to a serving container and set aside.
3) If using a whole pomegranate, slice open the pomegranate and carefully separate the arils from the pith. If using packaged pomegranate arils, open up the package and you are good to go.
4) Cut the avocado into chunks and coat with lemon juice. Thin slice the red onion and peel the orange and cut it into bite sized pieces. Wash the mixed salad greens and pat dry.
5) Arrange the mixed greens on a serving platter and top with the pomegranate arils, avocado chunks, orange sections, red onion slices and pecan halves.
6) Drizzle some of the vinaigrette on the salad and serve the rest on the side. Enjoy immediately.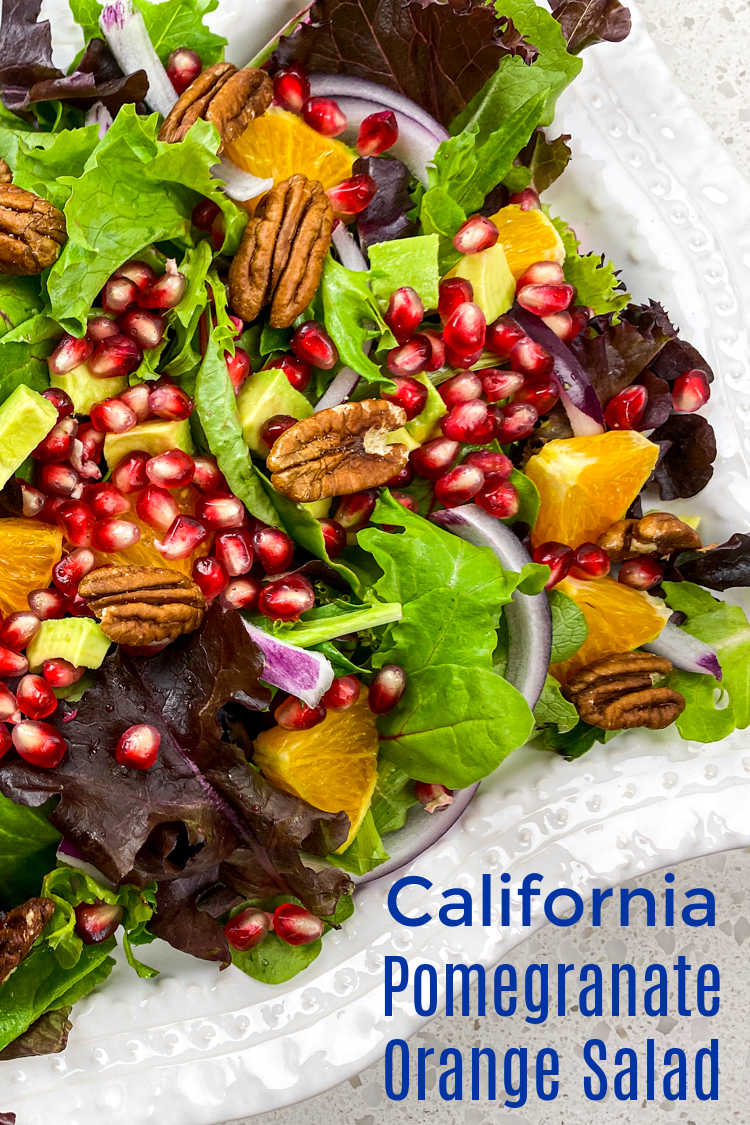 More from Mama Likes To Cook
Check out the rest of my vegetarian recipes, so you can get more great ideas for baking, cooking, blending and juicing.
Salad Recipes
Orange Recipes
Shop Now
For a beautiful assortment of kitchen necessities and food gifts for the whole family, check out the deals at these online stores.
Are you ready to have some delicious fun in the kitchen?