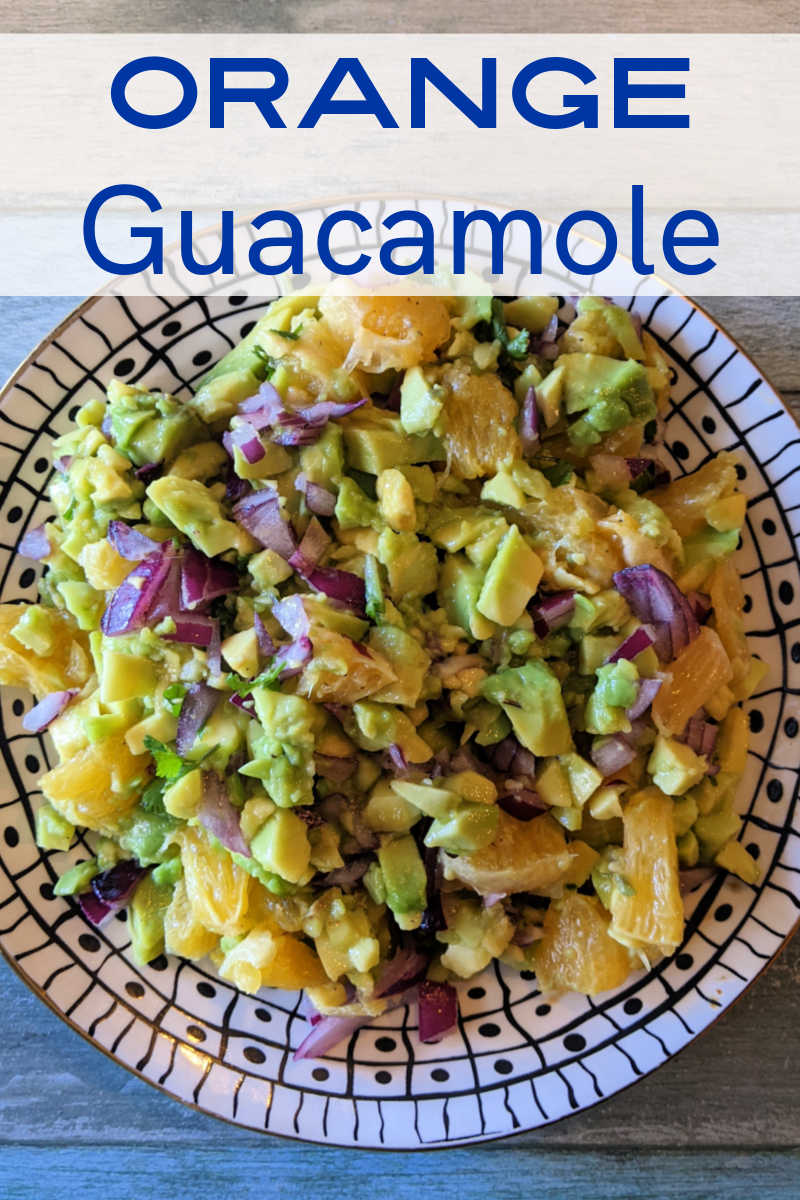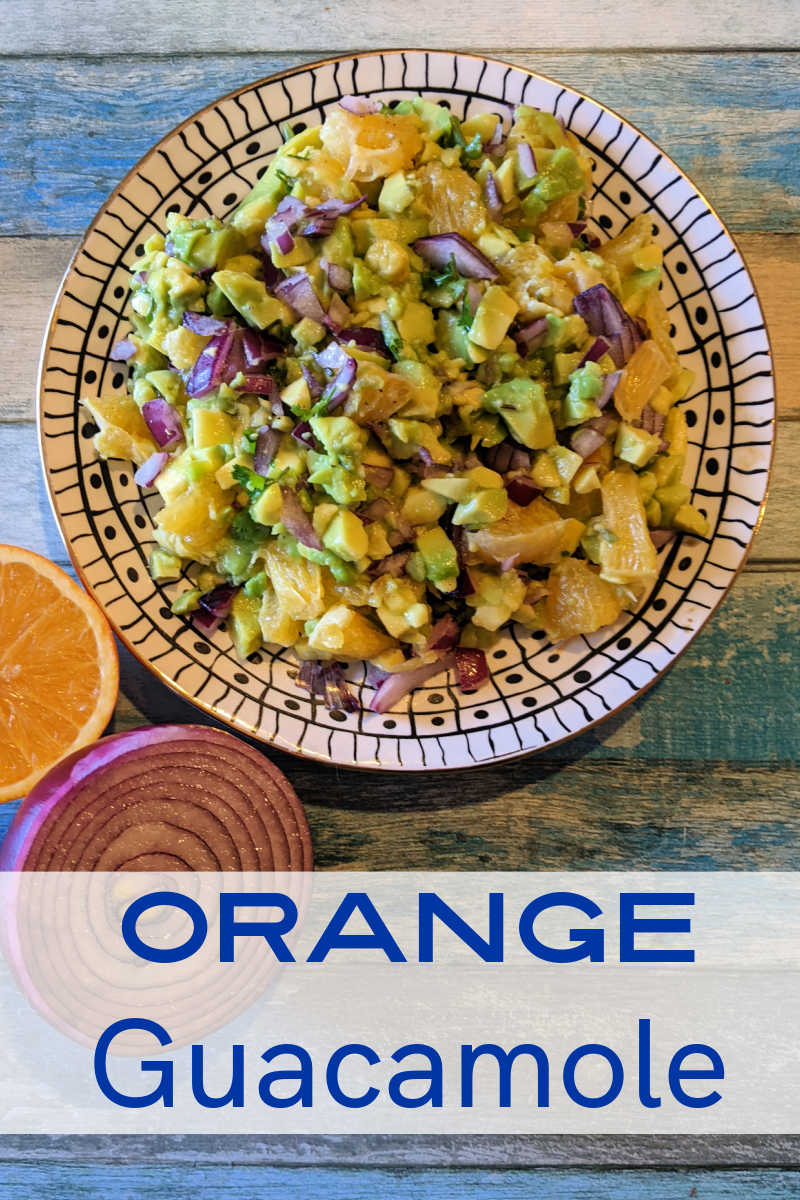 Guacamole Made with Fresh Oranges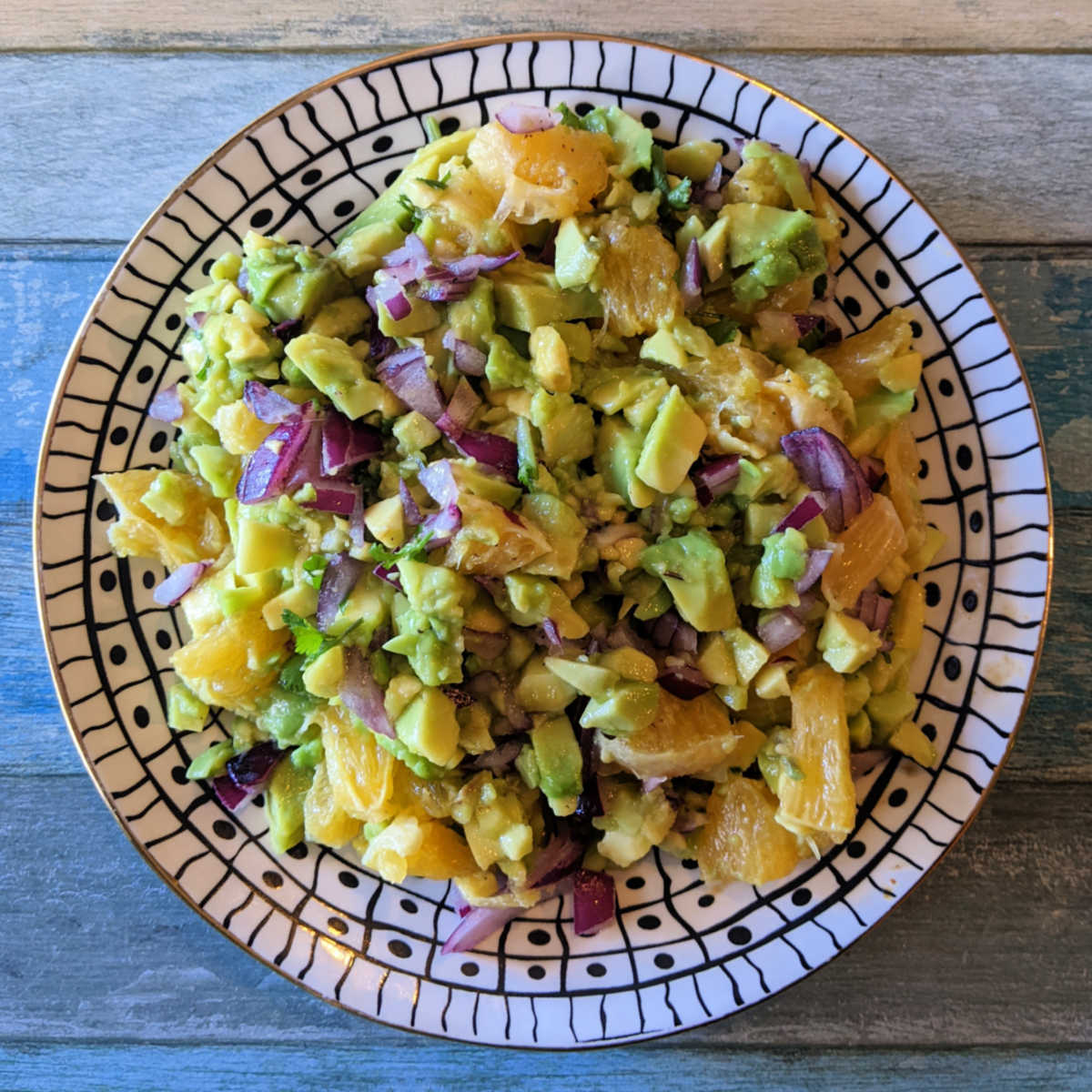 Fresh orange guacamole is absolutely delicious, when you make it with chunks of orange instead of just the juice.
The sweet citrus fruit goes perfectly with the creamy avocado and the bold red onions, cilantro and garlic.
Use the guacamole as a dip for chips, veggies or other snacks or serve it as a topping for other foods.
I ate this fresh orange guacamole on an egg sandwich and it would also be great on a taco or burger.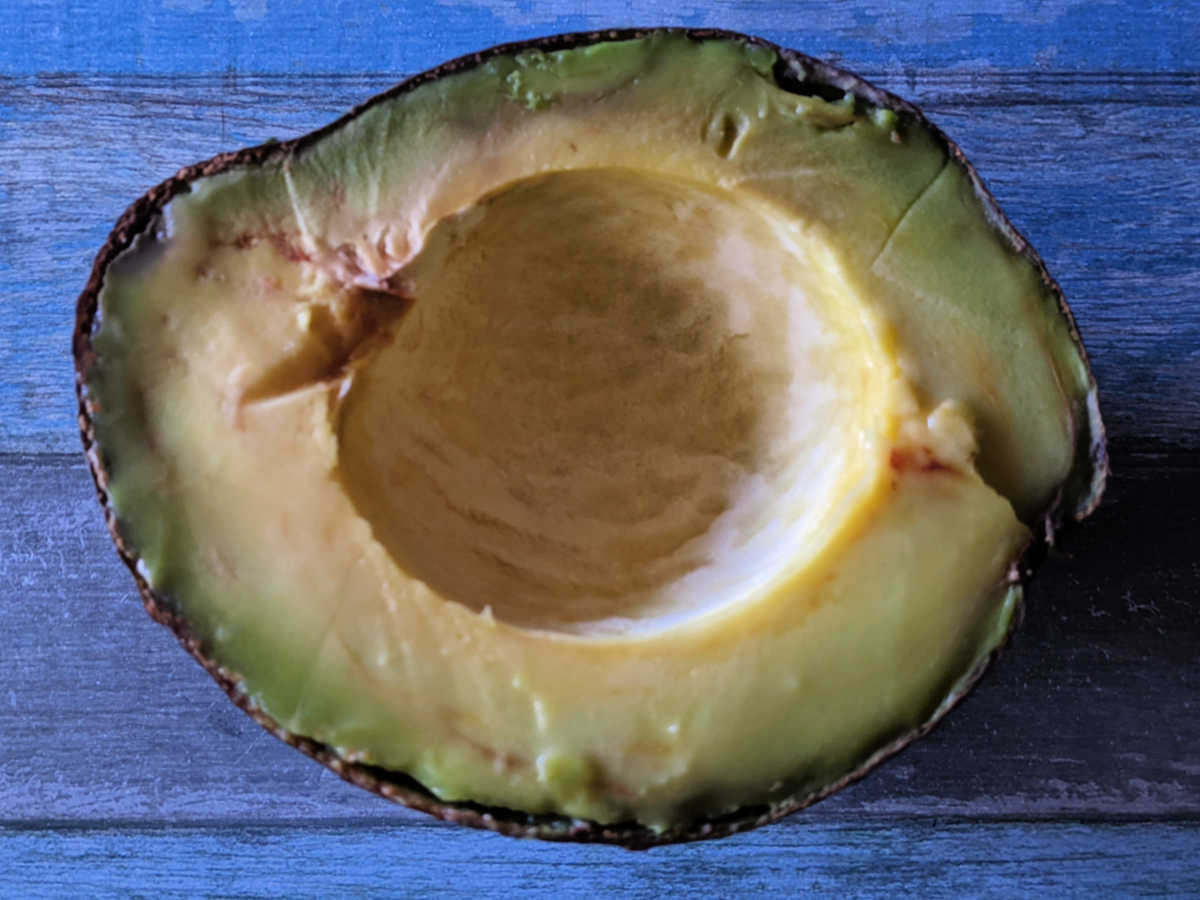 Avocado
My family loves avocados, so we eat them often.
I've even got a few young avocado trees in the yard, so am hoping to have an abundance of avocados within a couple years.
Avocados are a fruit, not a vegetable, even though savory avocado dishes are more common here in the US than sweet ones.
They are nutritious, heart healthy and, of course, delicious.
Avocados do vary in size, so this recipe can be flexible and measurements don't need to be precise.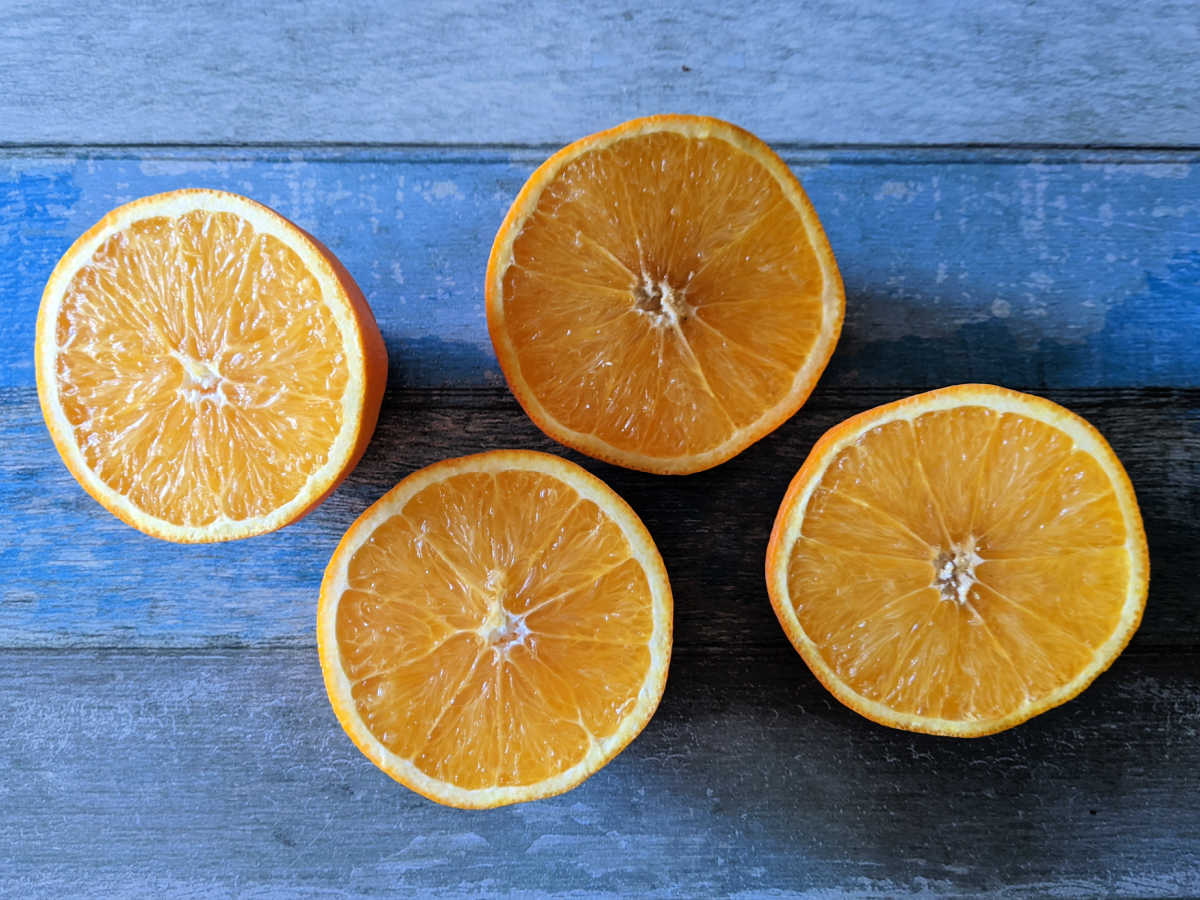 Orange
Any kind of citrus can be good to add to guacamole, since the juice helps keep avocados green and fresh.
However, you don't need to use only the juice.
This recipes uses sections from a fresh orange that have been cut into bite sized chunks.
The sweet and juicy fruit is a fun contrast to the creamy avocado in the guacamole.
This orange was home grown and I'm not sure of the variety, but it's a good, basic orange.
Use an orange with good flavor that isn't bitter, since you will be getting nice, big chunks of it in your guacamole.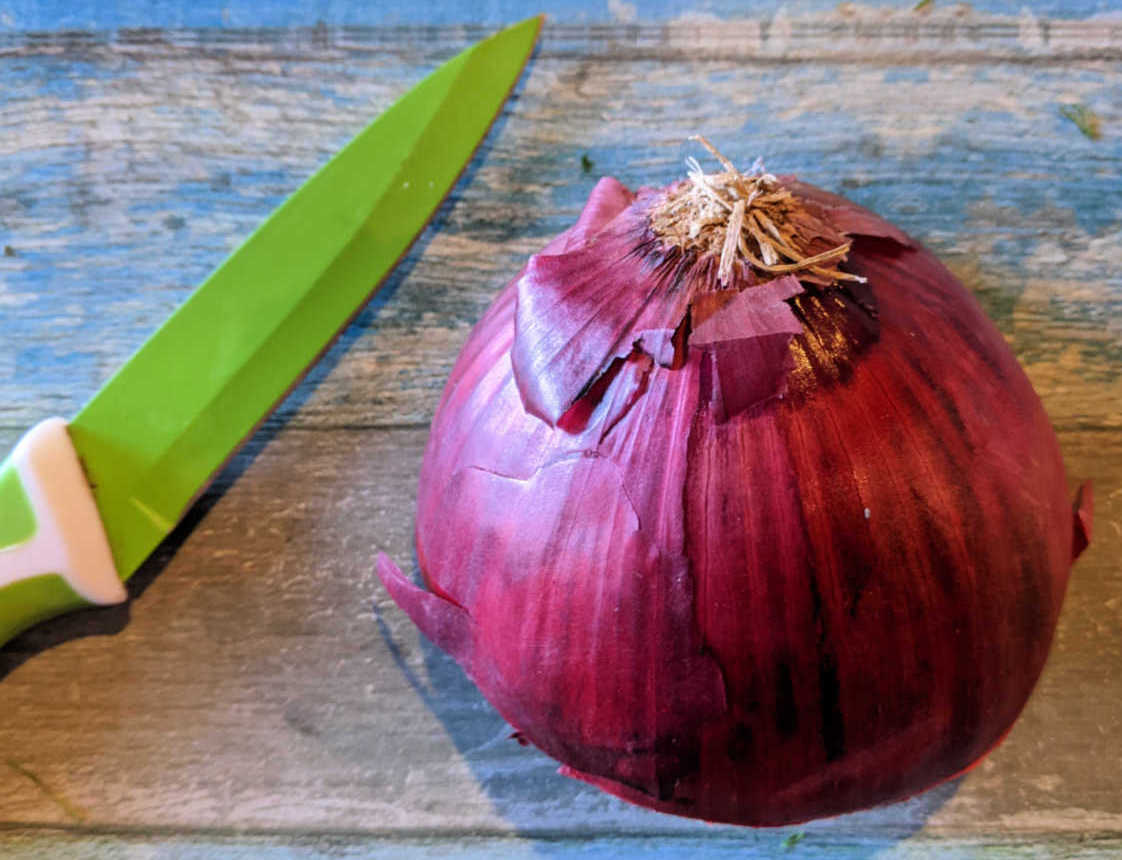 Red Onion
I prefer using a red onion, when I made guacamole and other dishes where the onion is raw and not cooked.
Red onions have a nice onion flavor, but are a bit milder for eating raw.
Another benefit is that red onions are pretty and give the guacamole a nice pop of color.
If you are substituting and using a yellow or white onion in this recipe, you may want to cut back a little on the amount.
Also, chopping a non-red onion more finely will help distribute the sharp onion taste throughout the guacamole.
When I use red onions, I like bigger chunks.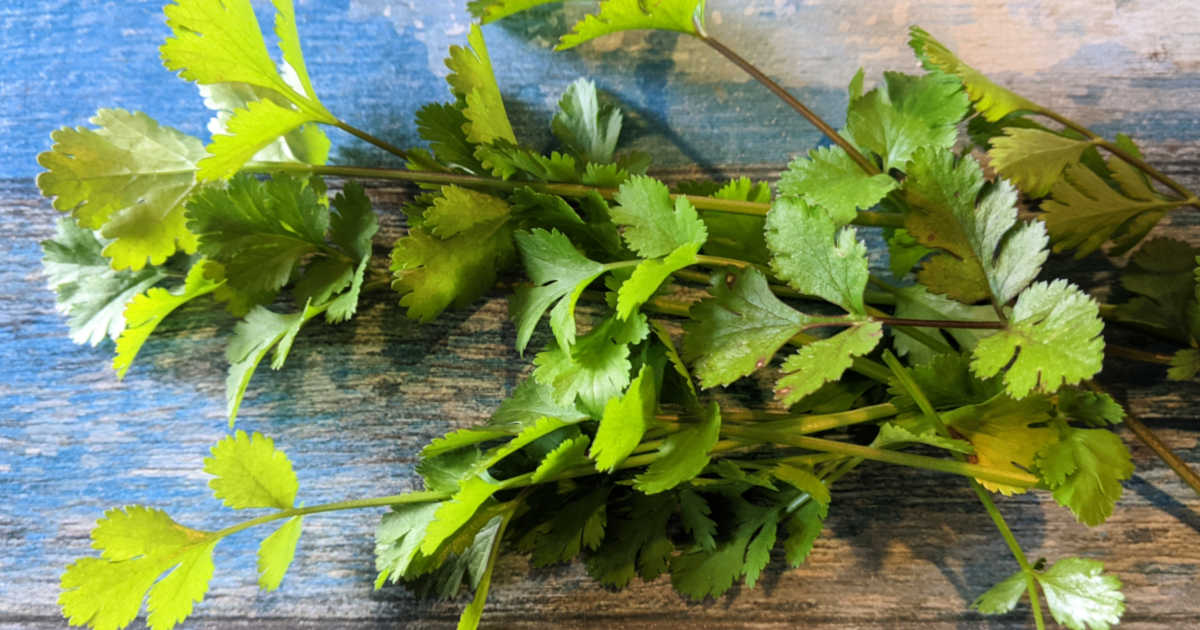 Cilantro
There are two types of people in the world: those who love cilantro and those who hate cilantro.
My family is in the "we really love cilantro" camp, so I grow it in the garden year round and we eat it often.
I enjoy the flavor and pretty dark green color that it gives to this orange guacamole.
And, I find it enjoyable to go out to the garden to pick cilantro before I get busy in the kitchen.
If you are someone who doesn't care for cilantro, the guacamole will still be good if you leave it out.
However, if you are a cilantro fan, the flavor goes really well with avocado and oranges.
Fresh Orange Guacamole Recipe
Ingredients
1 large Avocado
1 Orange
¼ cup Red Onion, chopped
1 T Cilantro, minced
1 t Granulated Garlic
Salt and Pepper to Taste
Supplies
Knife
Mixing Bowl
Spoon
Instructions
1) Mash your avocado in a bowl.
2) Peel the orange and break it apart into sections. Cut it into bite sized pieces and remove seeds (if there are any.) Add the orange pieces and any juice that escaped while you were cutting to the bowl.
3) Add the chopped red onion, minced cilantro and granulated garlic to the bowl. Stir together.
4) Taste and add salt and black pepper, if you'd like.
5) Enjoy!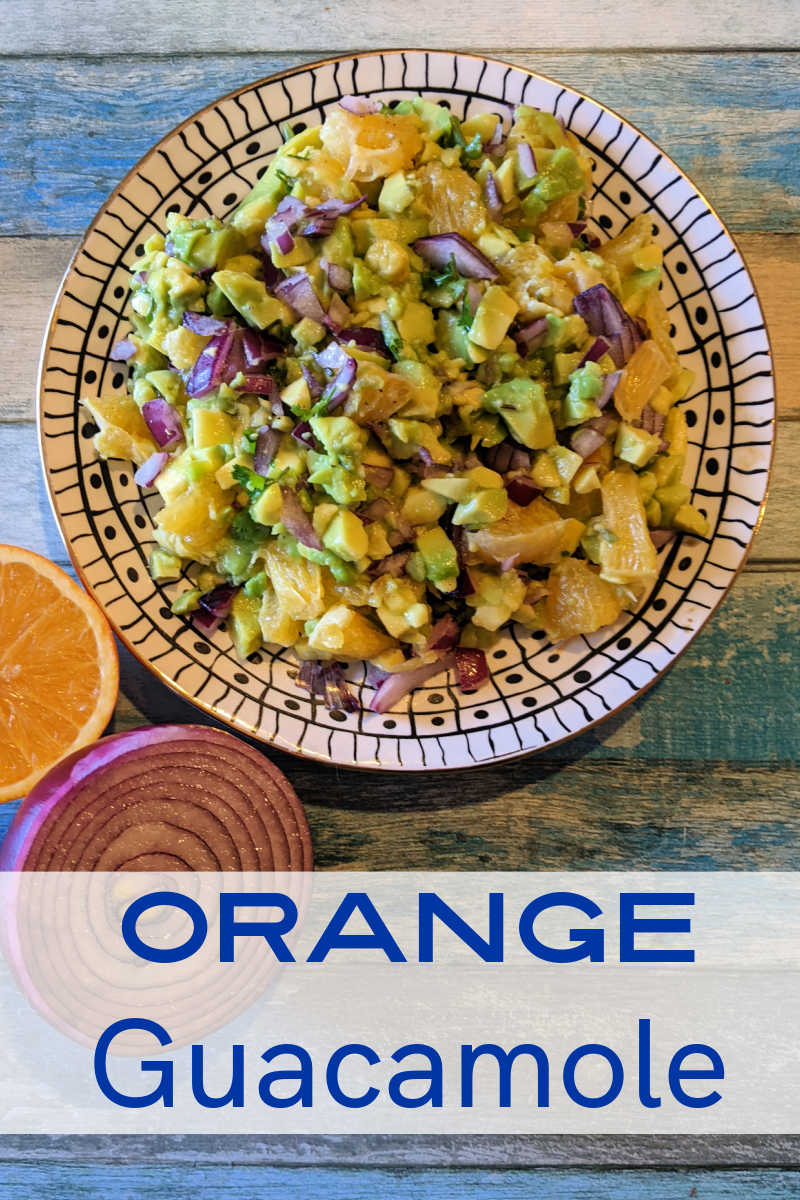 More from Mama Likes To Cook
Check out my vegetarian recipes, so you can get more great ideas for baking, cooking, blending and juicing.
Guacamole Recipes
Avocado Recipes
Orange Recipes
Shop Now
For a beautiful assortment of kitchen necessities and food gifts for the whole family, check out the current deals at these online stores.
Are you ready to have some delicious fun in the kitchen?