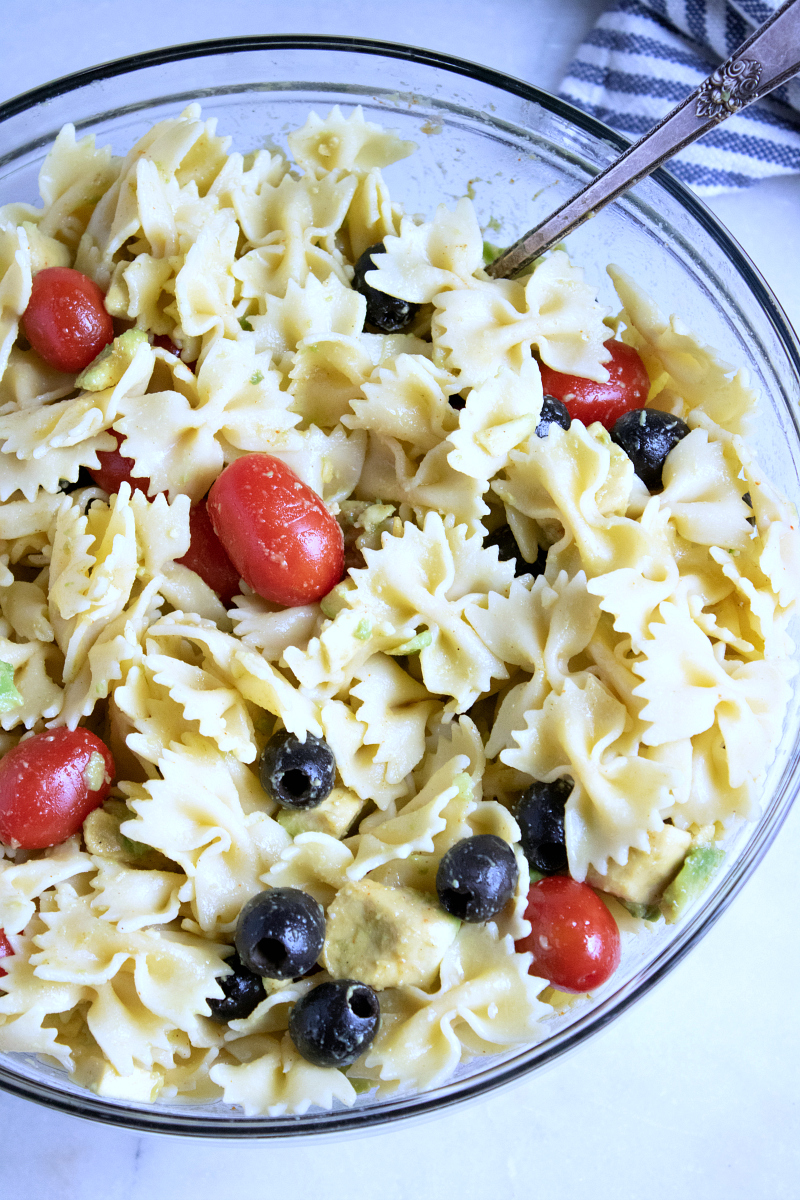 Pasta Salad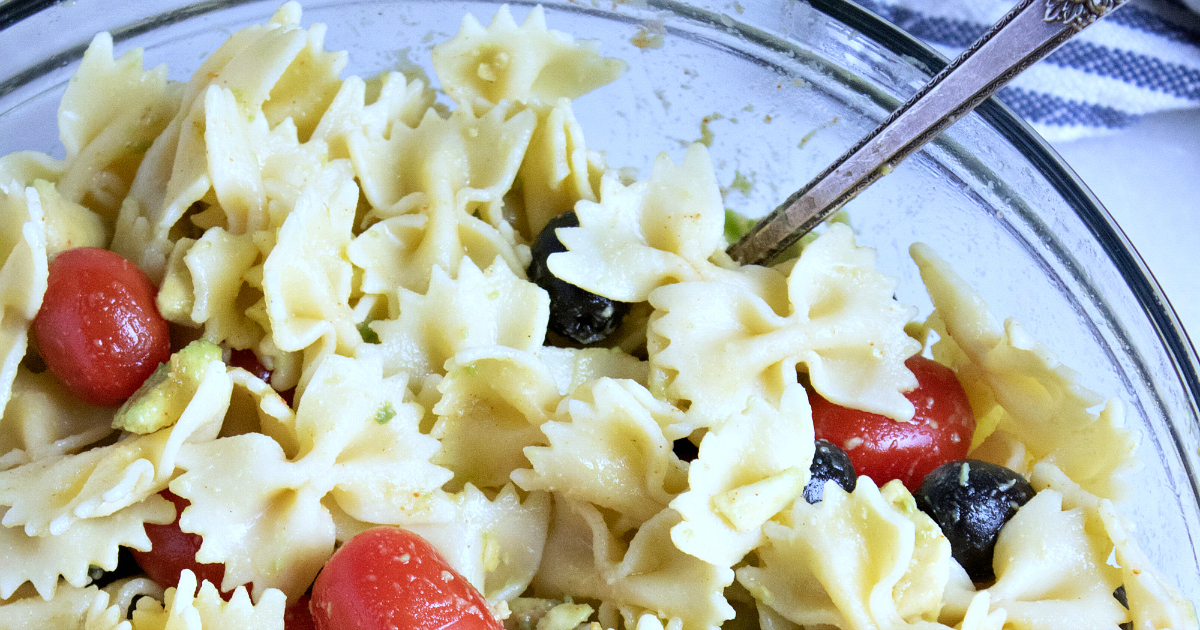 Easy Picnic Salad
I'm an avocado fan, so I love adding them to this quick and easy bow tie pasta salad.
They give the dish an extra burst of flavor and nutrition.
The salad is vegetarian and vegan, so it is a good choice to bring to a picnic or potluck.
If you want to make it gluten free, just choose a GF pasta.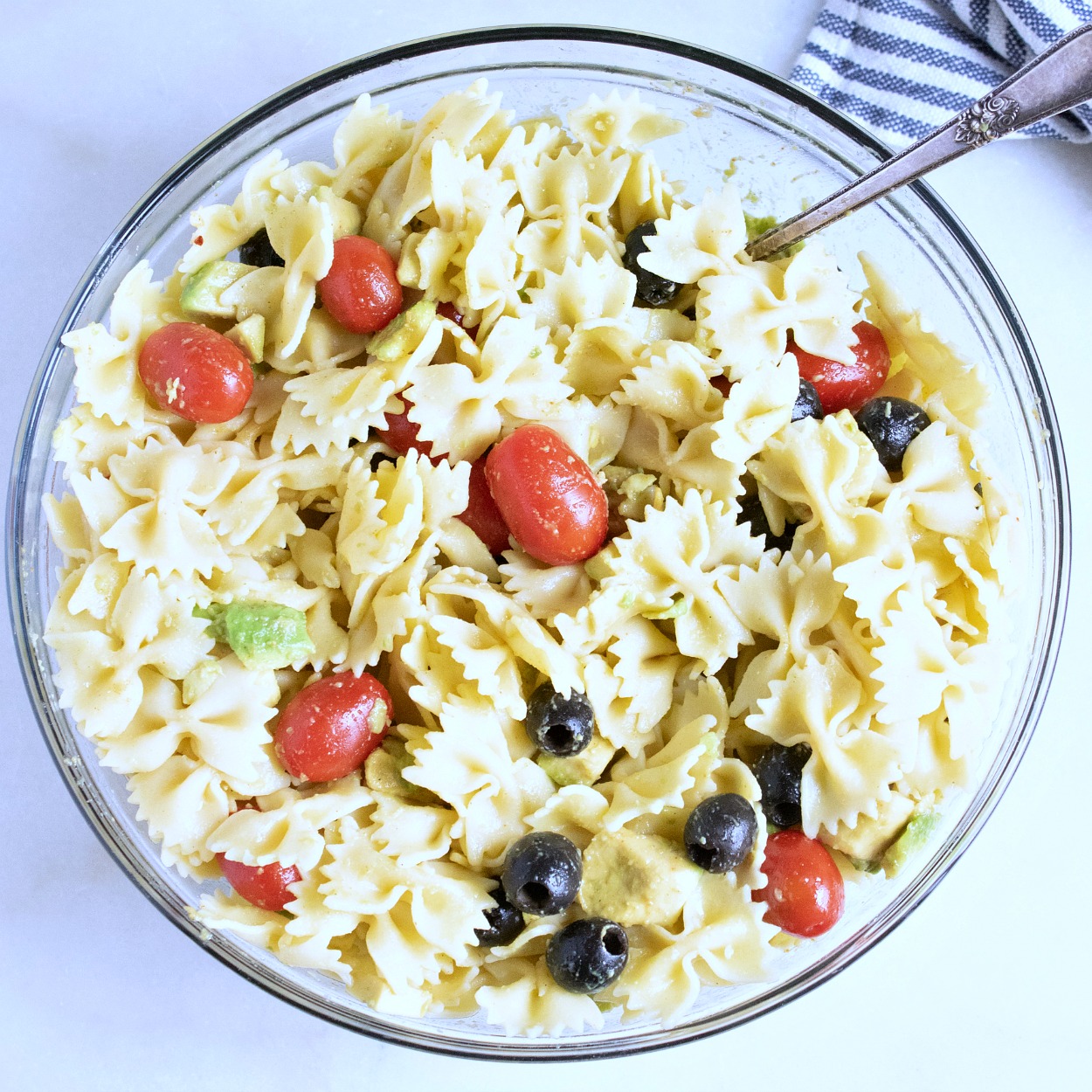 Avocados are one of my most favorite foods, so I usually keep them on hand to add into all sorts of dishes.
The creamy taste and smooth texture of the avocado chunks is a nice contrast to the other ingredients, so each bite is a pleasure.
Of course, I am also a fan of avocado nutrition.
Avocados have fiber, B vitamins and folate, along with other nutrients our bodies need.
Fortunately, we can now get good avocados just about year round.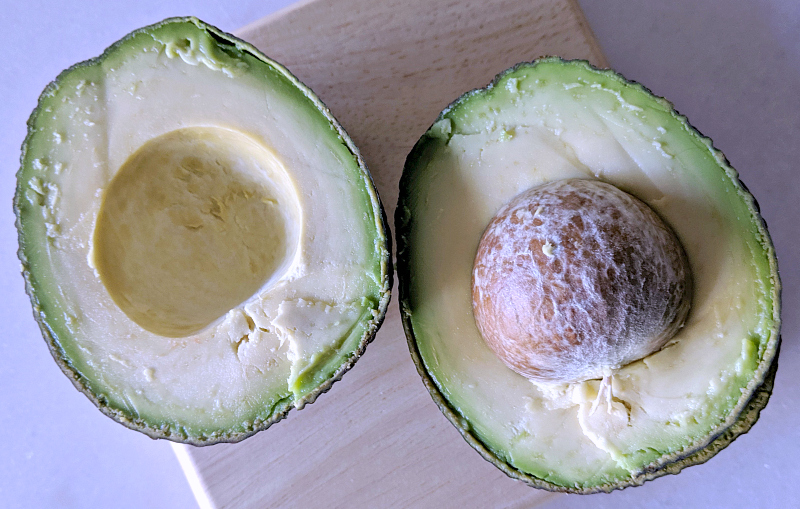 If your avocado isn't ripe enough, you can speed up the ripening process at home.
I have heard of many ways to do it, but I prefer the simple brown bag method.
Just place your avocado and an apple or banana in a brown paper bag.
Then, within a day or two, you'll have a soft avocado that is ready to enjoy.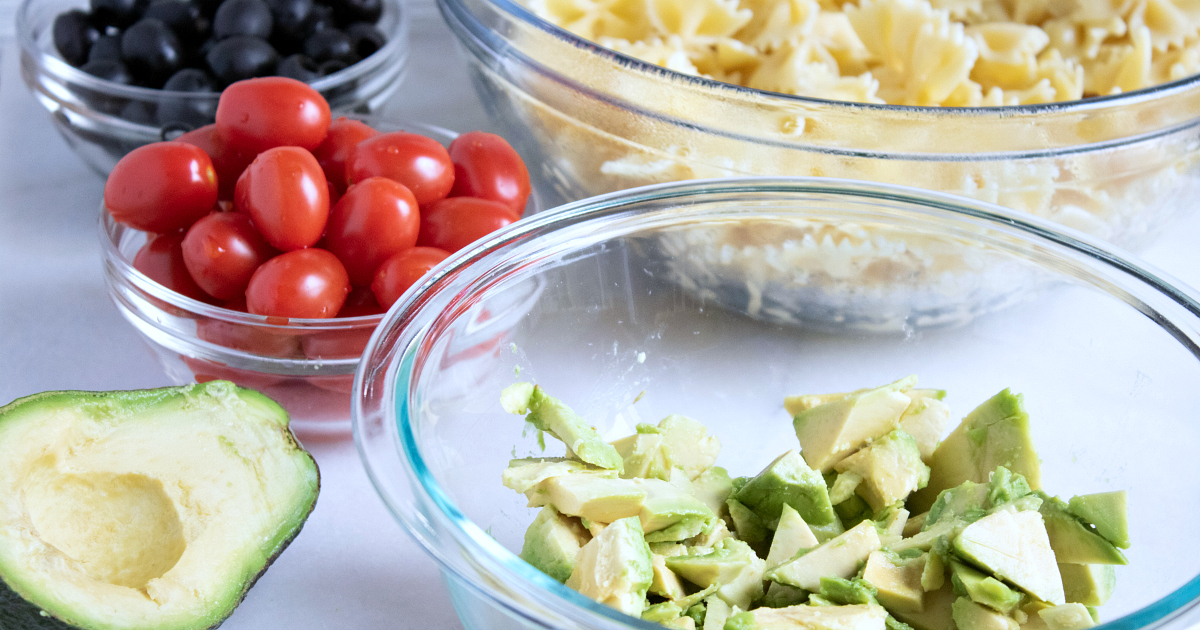 This pasta salad recipe is a crowd pleaser as is, but you can make some little changes according to your personal taste.
Sometimes I'll increase the amount of lemon and garlic for a stronger flavor, when I'm making it to serve at home.
If you like some heat, you can add diced jalapenos or Hatch chile powder to your salad.
Enjoy!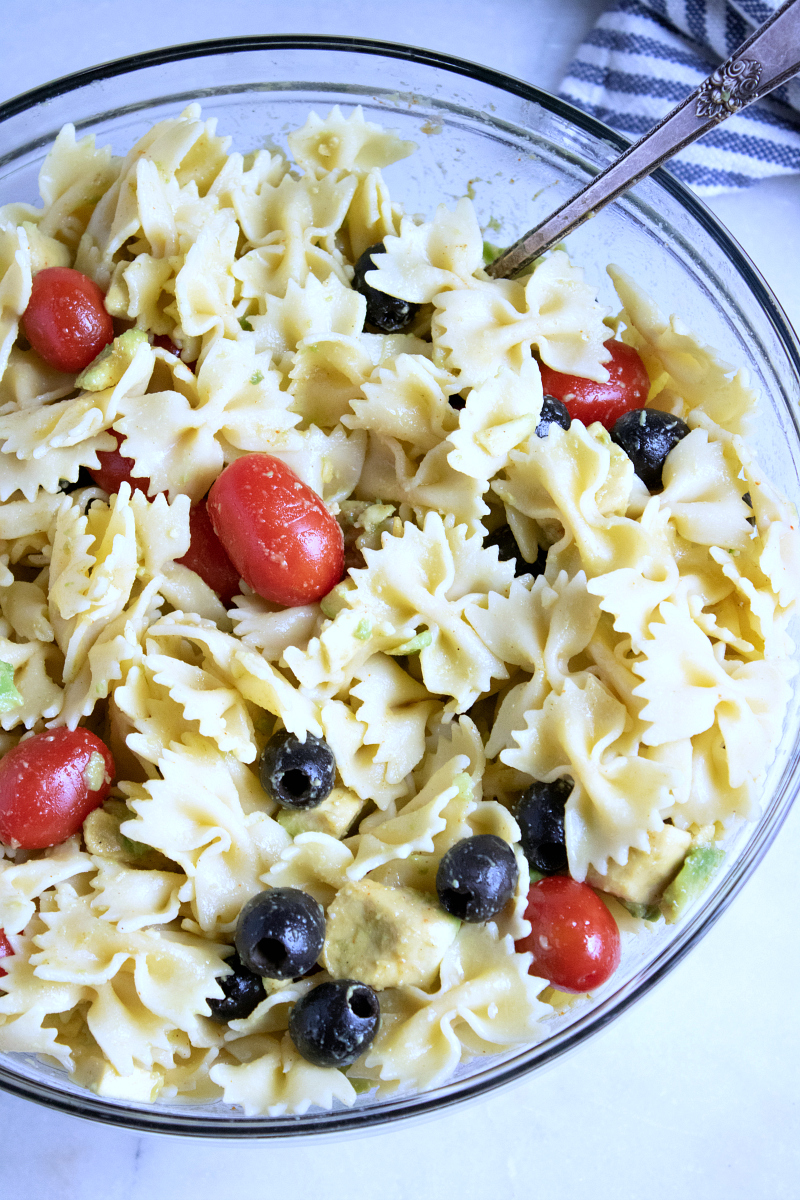 Makes 8 one cup servings
Ingredients:
12 oz. Box Bow Tie Pasta
2 T Extra Virgin Olive Oil
2 large Avocados
12 oz. Grape Tomatoes
2 T Lemon Juice
6 oz. can Whole Black Olives, drained
2 t Granulated Garlic
1 t Salt
¼ t White Pepper
Instructions:
1) Cook bow tie pasta according to package instructions. Drain and stir in olive oil. Refrigerate in a large bowl until chilled.
2) Halve avocados and remove the pits. Slice them in a criss-cross pattern while still in the skin. Then scoop out the avocado and put the diced avocado in a bowl.
3) Mix in with lemon juice, salt, garlic and white pepper.
4) Add the seasoned avocado, tomatoes, and black olives to the cold pasta.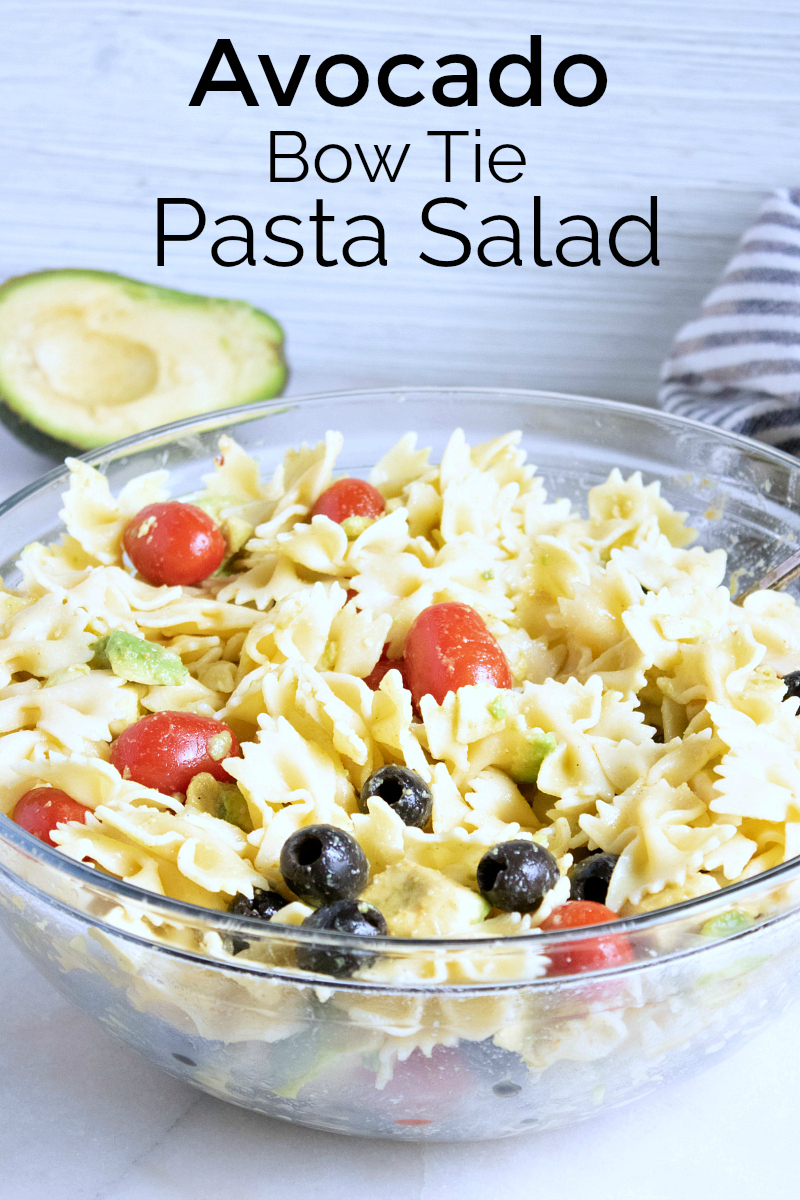 More from Mama Likes To Cook
Check out my salad recipes, so you can get more delicious inspiration.
Following are some of my favorite salad recipes:
Then take a look at the rest of my vegetarian recipes, so you can have even more delicious fun in the kitchen!