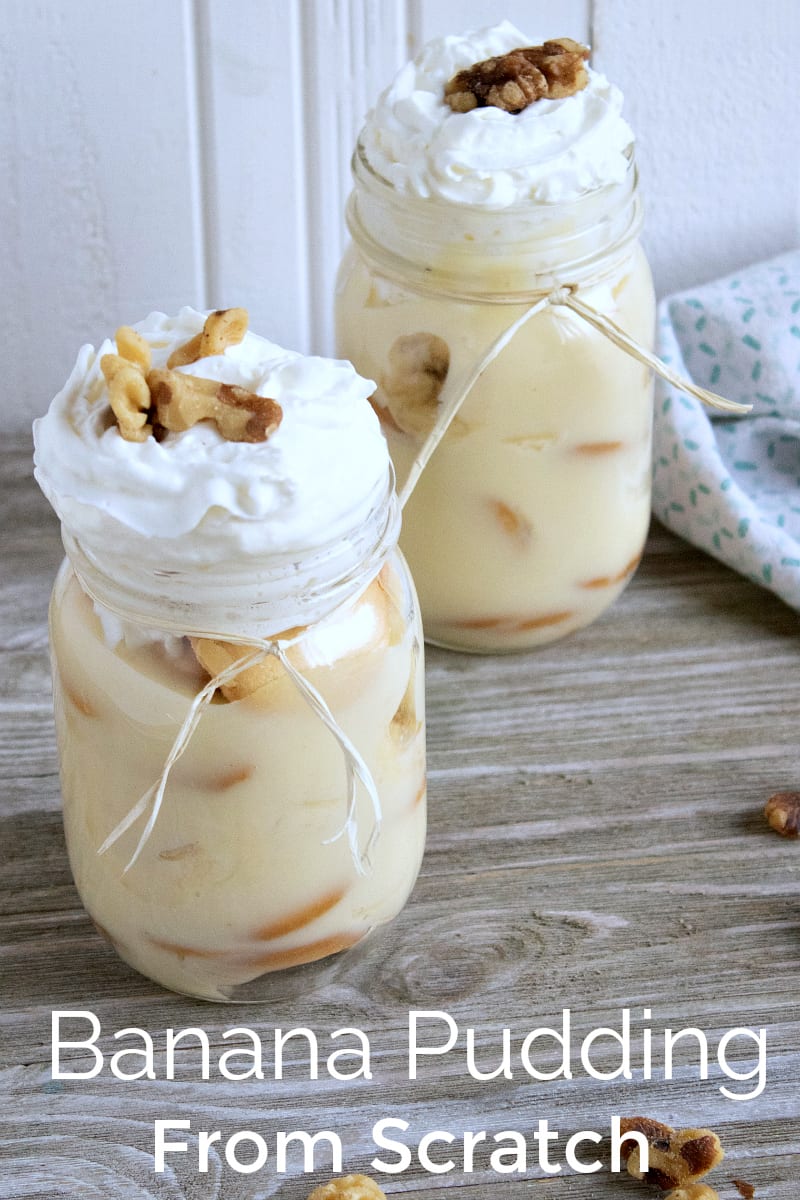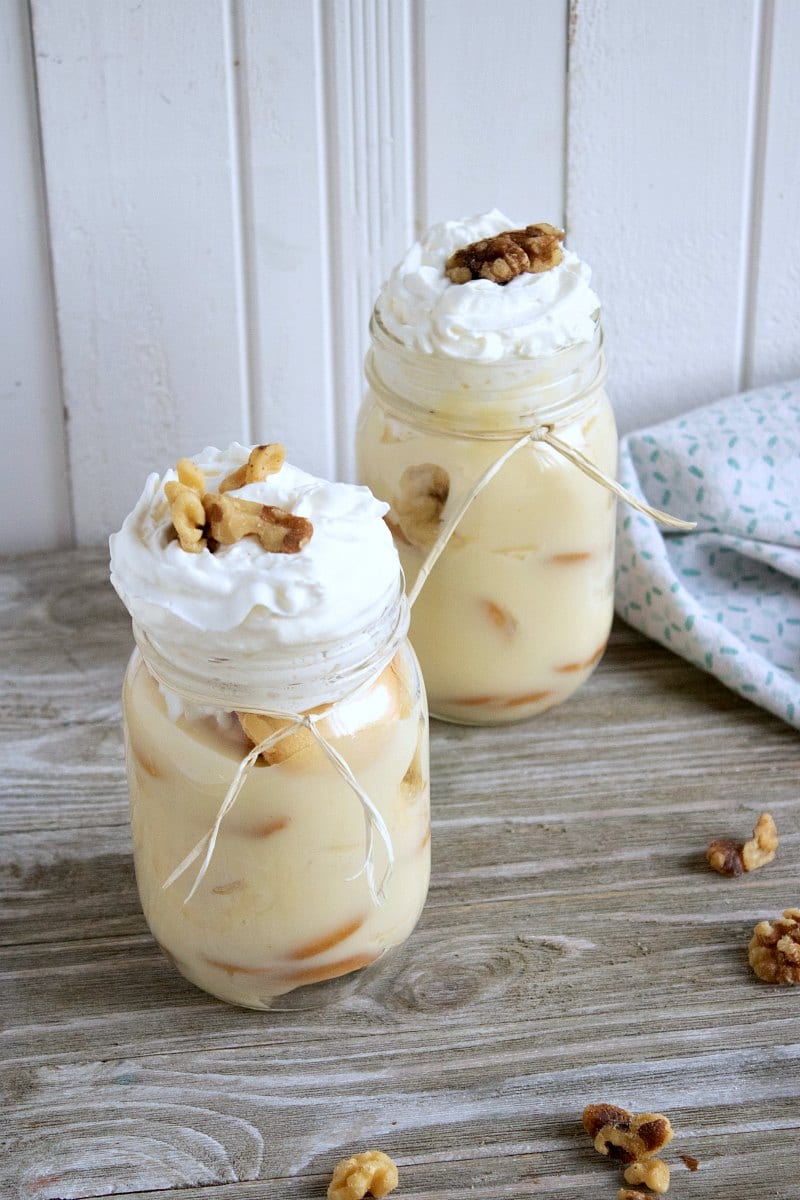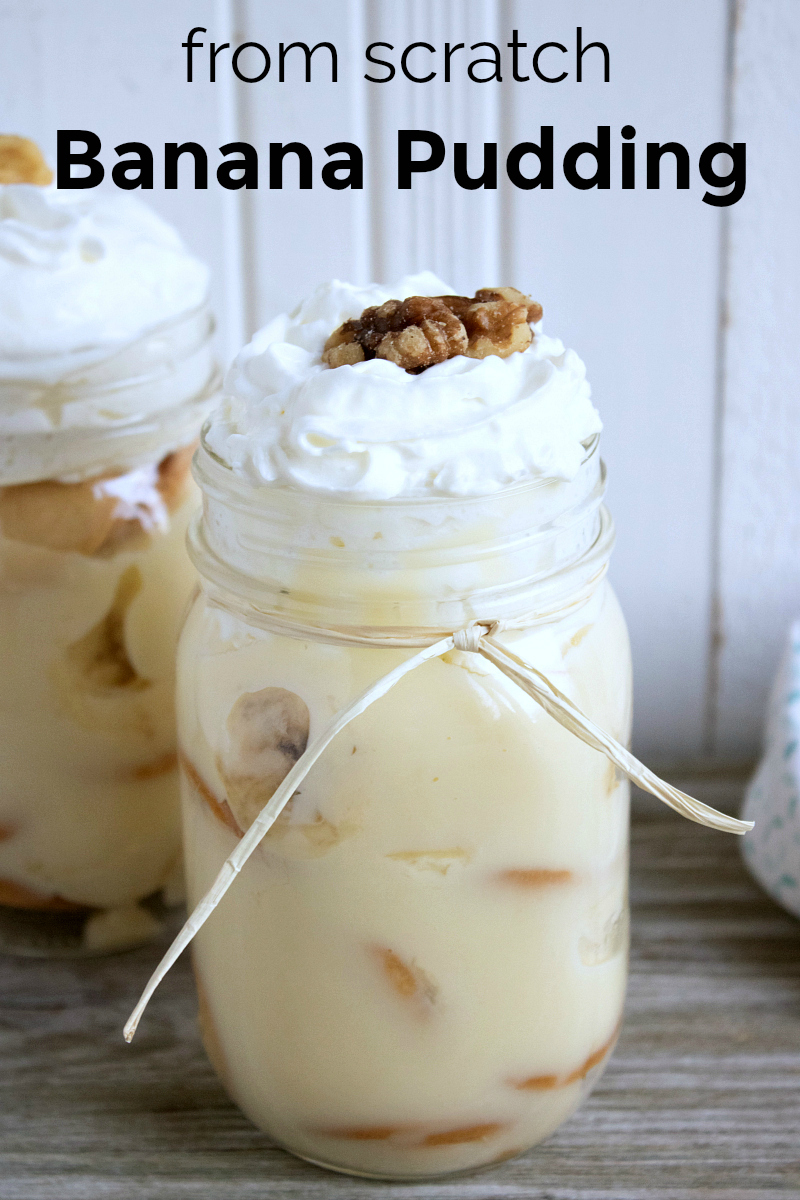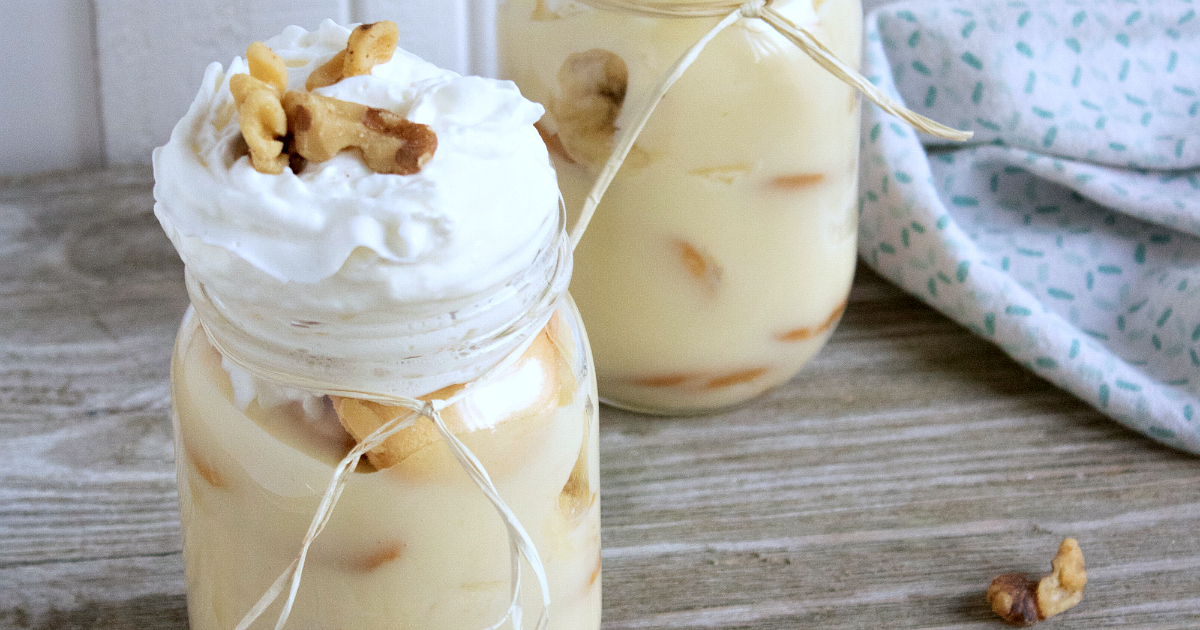 Easy Made from Scratch Dessert
Banana pudding is an American classic.
My mason jar banana pudding elevates the dish, since it is made from scratch and oh so cute!
The dessert is most often thought of as a Southern treat, but it has made its way across the country.
I'm pretty sure someone brought it to every church potluck I went to in California, when I was a child.
Those days, it was often made with instant pudding.
This was a quick way to make the dessert, but not nearly as good as homemade pudding.
It takes just a few minutes longer to make pudding from scratch, but the results are seriously amazing and definitely worth it.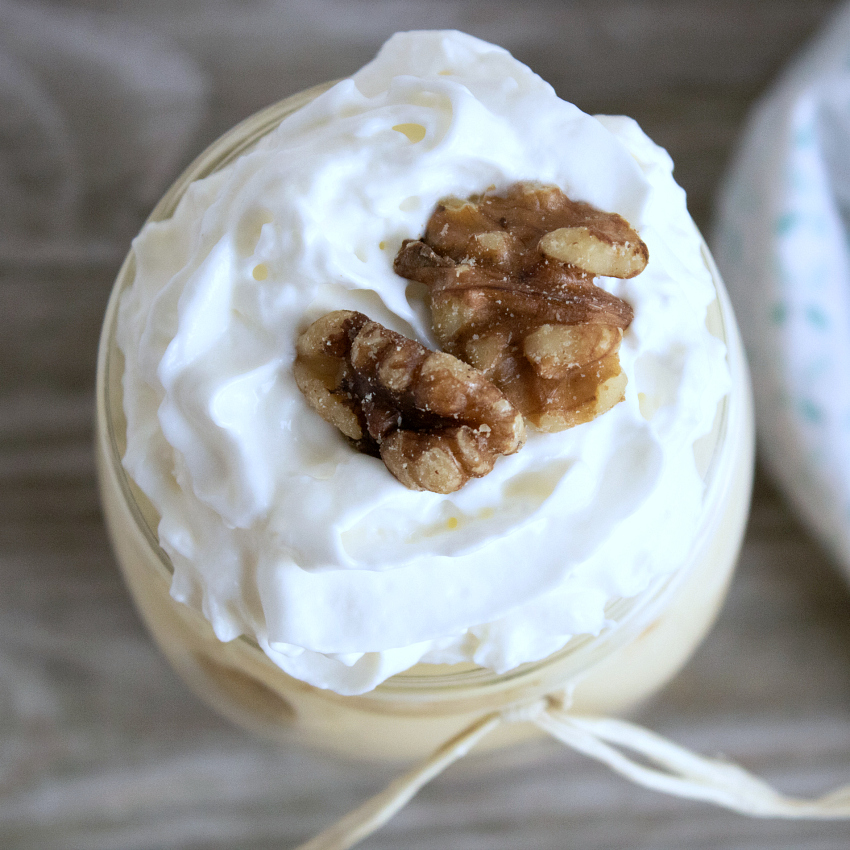 A mason jar makes just about any dessert more fun, so I've got a good supply on hand.
The recipe instructions include enough ingredients to fill six pint sized mason jars, but you can use smaller jars, if you'd like.
Half pint or little four ounce jars are fine, if you prefer smaller portions.
I think that every banana pudding I've had has contained full size Vanilla Wafers and big slices of bananas.
However, if you'd like to crush the cookies and chop the bananas, you may.
Then, your dessert will have more pronounced layers.
Mason jar desserts are fun to serve at a sit down dinner or to set out on a buffet table.
Either way, this banana pudding can bring back comfort food memories while looking and tasting like a modern dessert.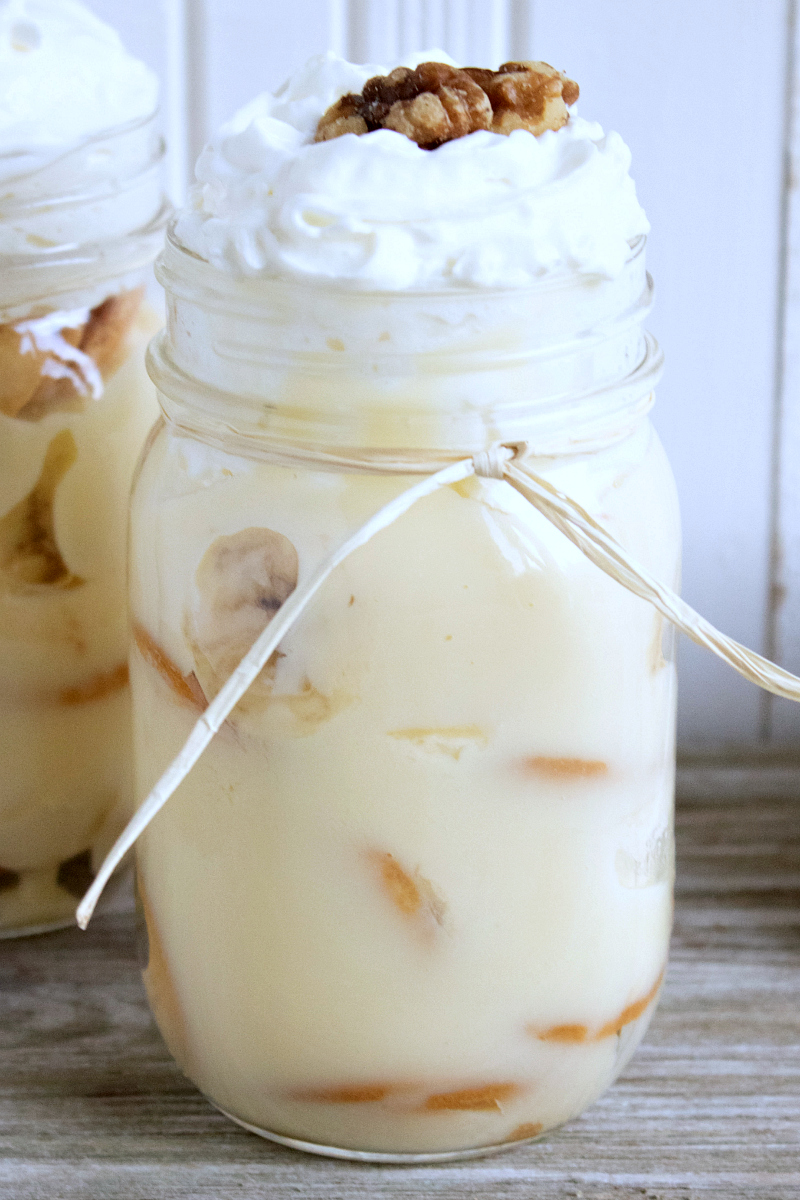 Mason Jar Banana Pudding Recipe
Make 6 Pint Size Servings
Ingredients:
¾ cup Sugar
¼ cup Cornstarch
2 1/2 cups Low-fat Milk
1/2 cup Heavy Cream
3 Large Eggs
2 t Vanilla Extract
2 T Butter
8 oz. Vanilla Wafers
4 Large Bananas
Instructions:
Pudding
1) Whisk sugar and cornstarch together in medium sauce pan.
2) Stir while slowly adding milk, heavy cream and butter.
3) Set pan on a burner and turn heat on to medium.
4) Whisk continuously until thickened (approx. 5 minutes)
5) In a separate bowl, beat the eggs and vanilla.
6) While whisking, slowly add the egg mixture into the pain.
7) Return to heat and cook until thick and bubbly.
8) Remove from stove and then chill the pudding.
Assembly
1) Add vanilla wafers, banana slices and pudding to jars in layers.
2) Top with whipped cream and walnuts or banana slices.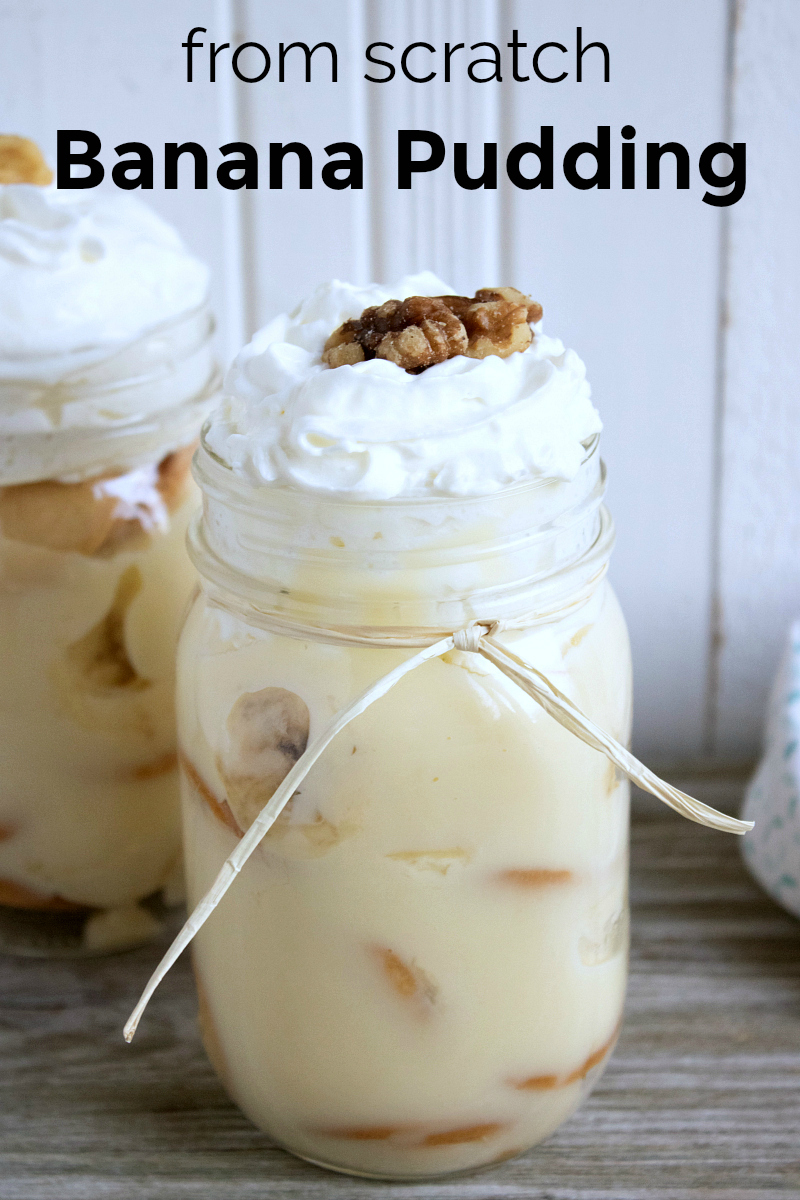 More from Mama Likes To Cook
Check out my vegetarian recipes, so you can get more great ideas for baking, cooking, blending and juicing.
Banana Recipes
Shop Now
For a beautiful assortment of kitchen necessities and food gifts for the whole family, check out the deals at these online stores.
Are you ready to have some delicious fun in the kitchen?