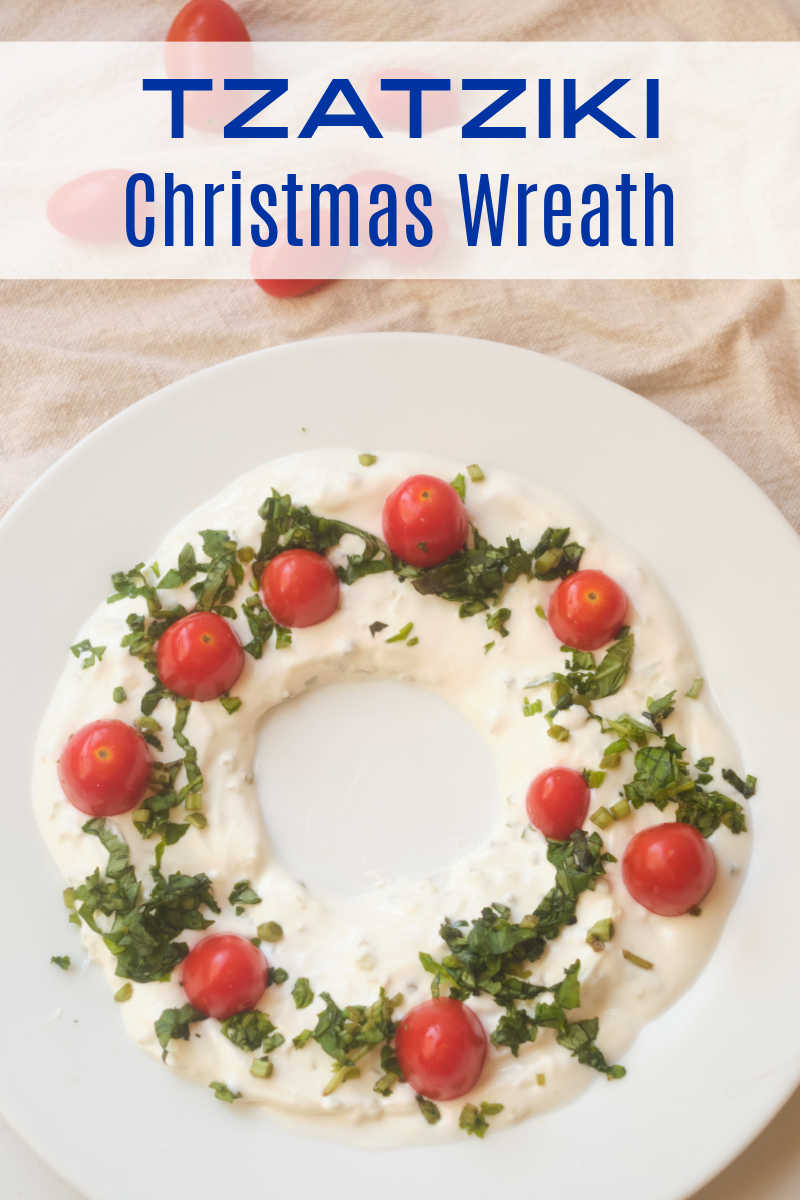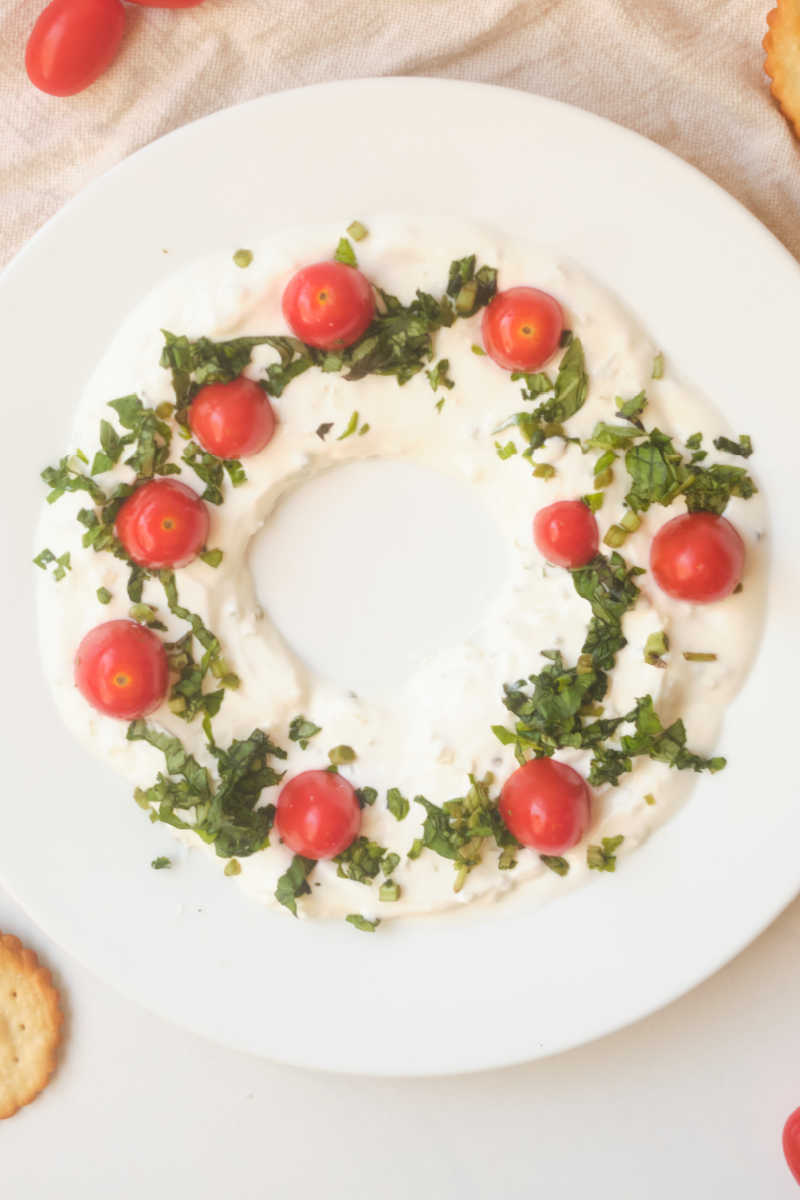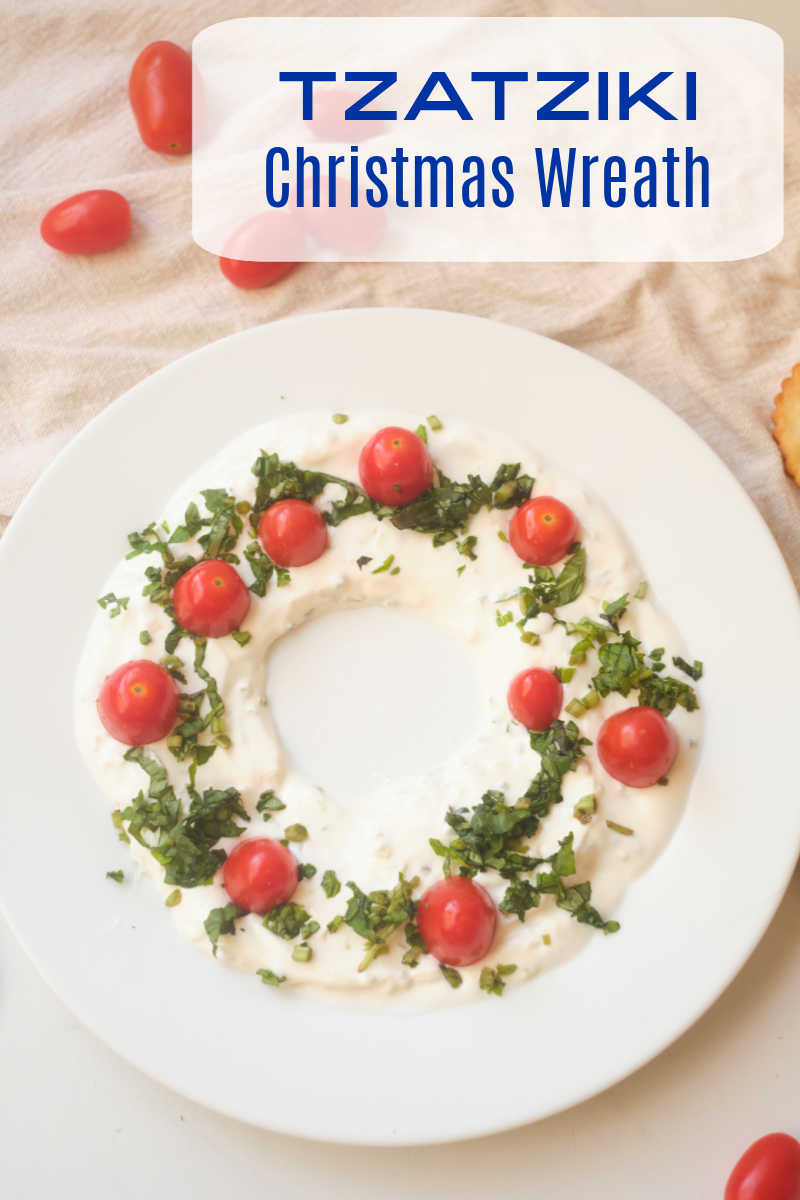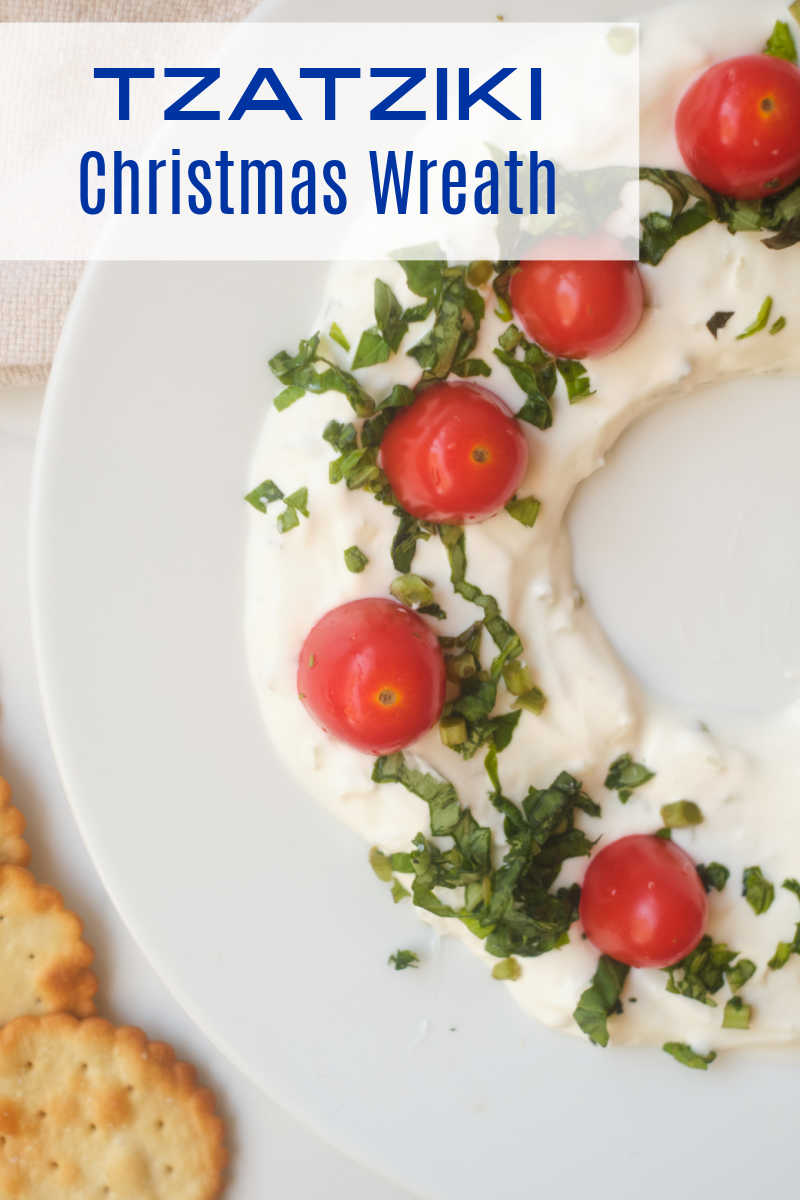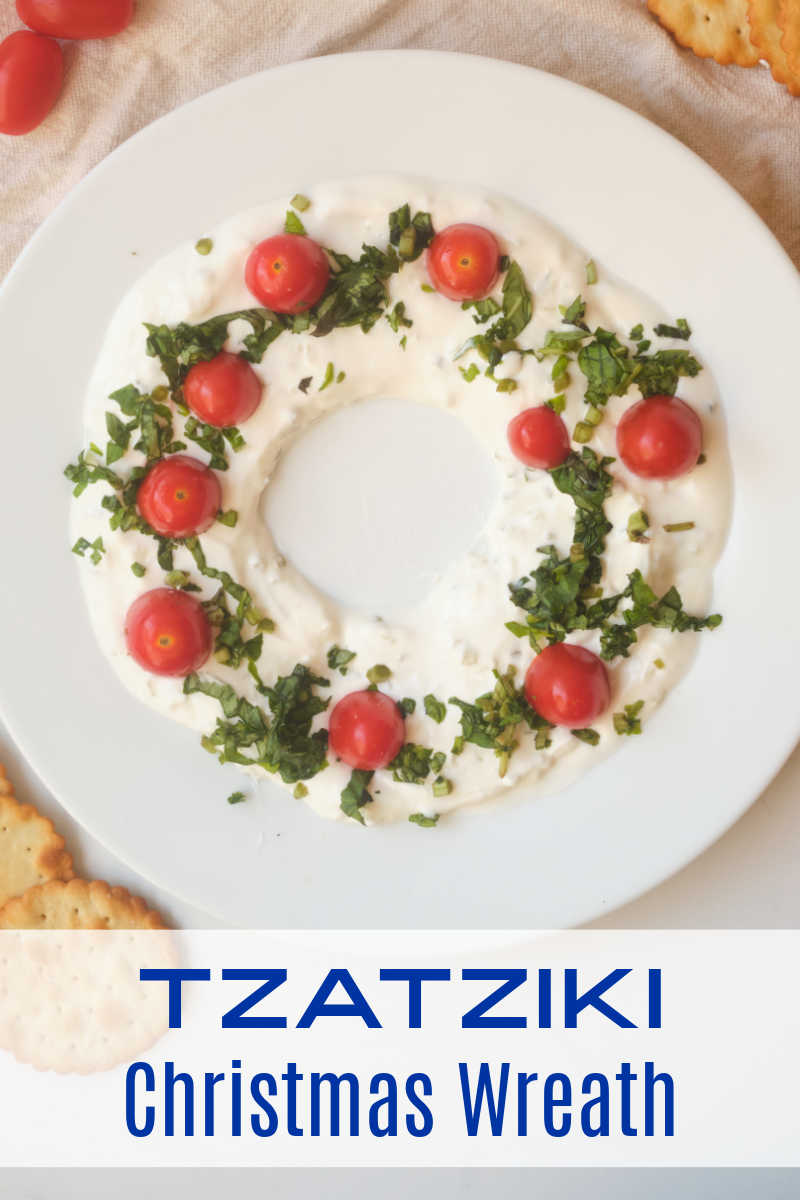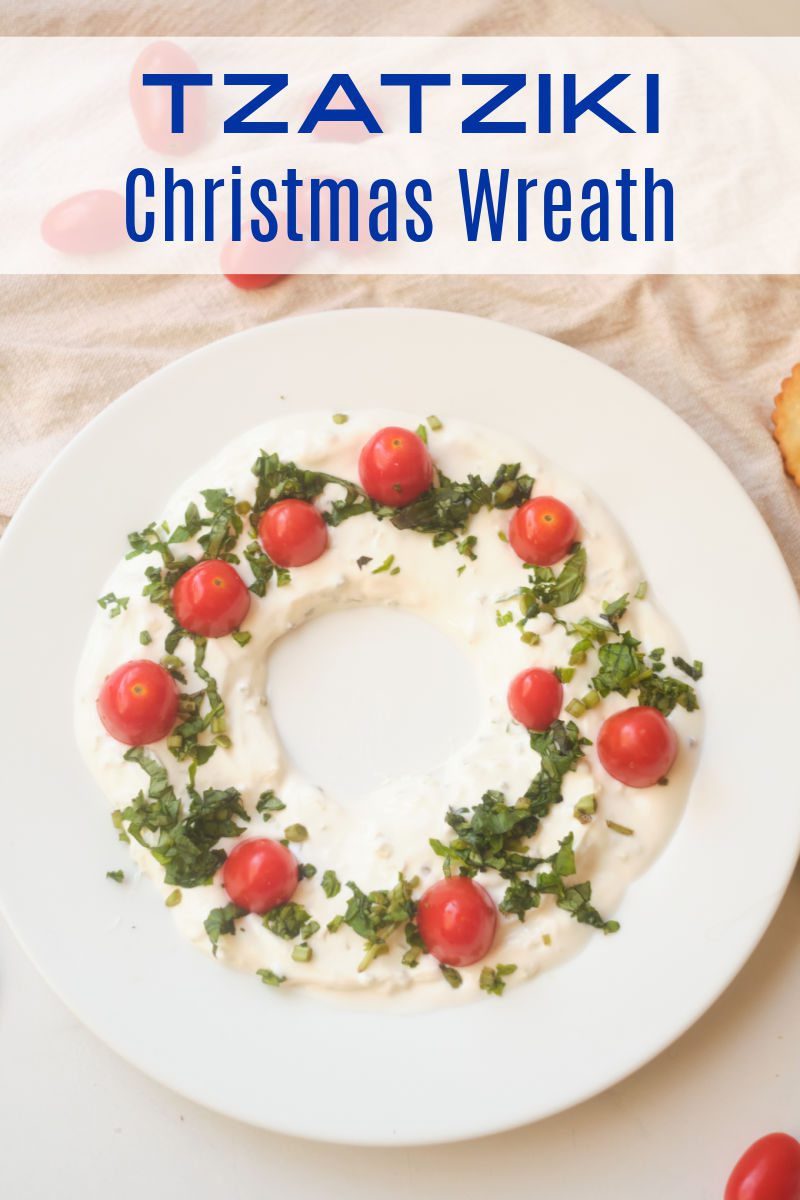 Tzatziki Christmas Wreath Appetizer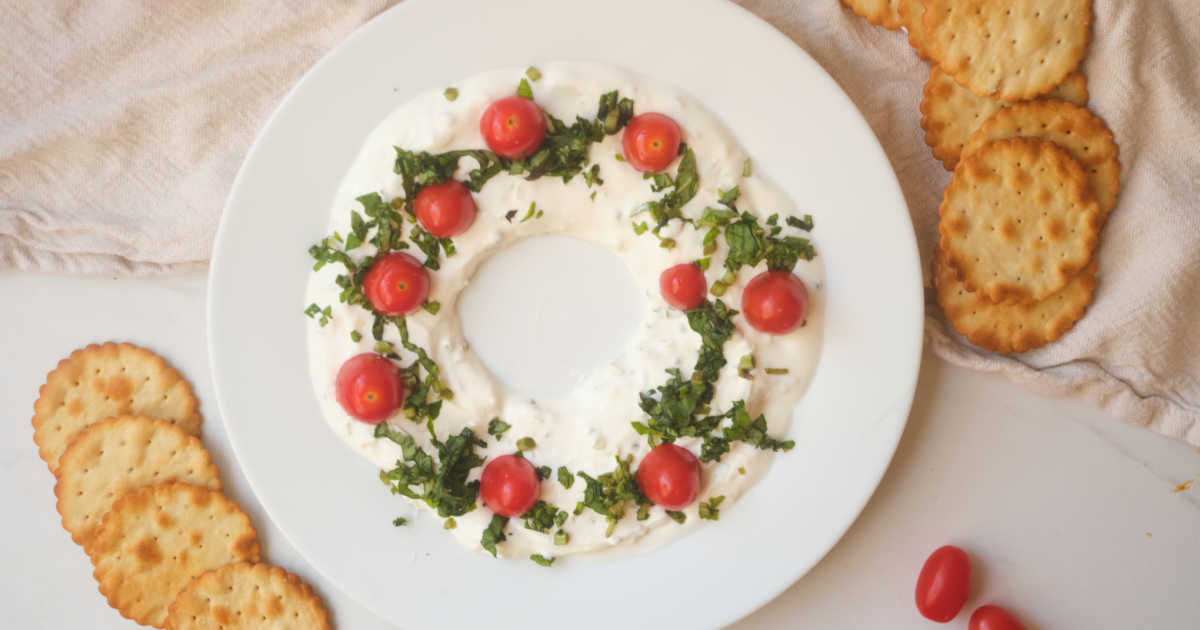 Holiday party food prep can be quick and easy, when you follow the simple instructions for my tzatziki Christmas wreath dip recipe.
Yes, it really only takes a few minutes to create a fun, wreath shaped dip platter that tastes great and looks festive for the holiday.
The delicious dip has fresh basil for the greenery and little red tomatoes as ornaments.
Family and friends will love it, even though it took minimal effort to get it on the table.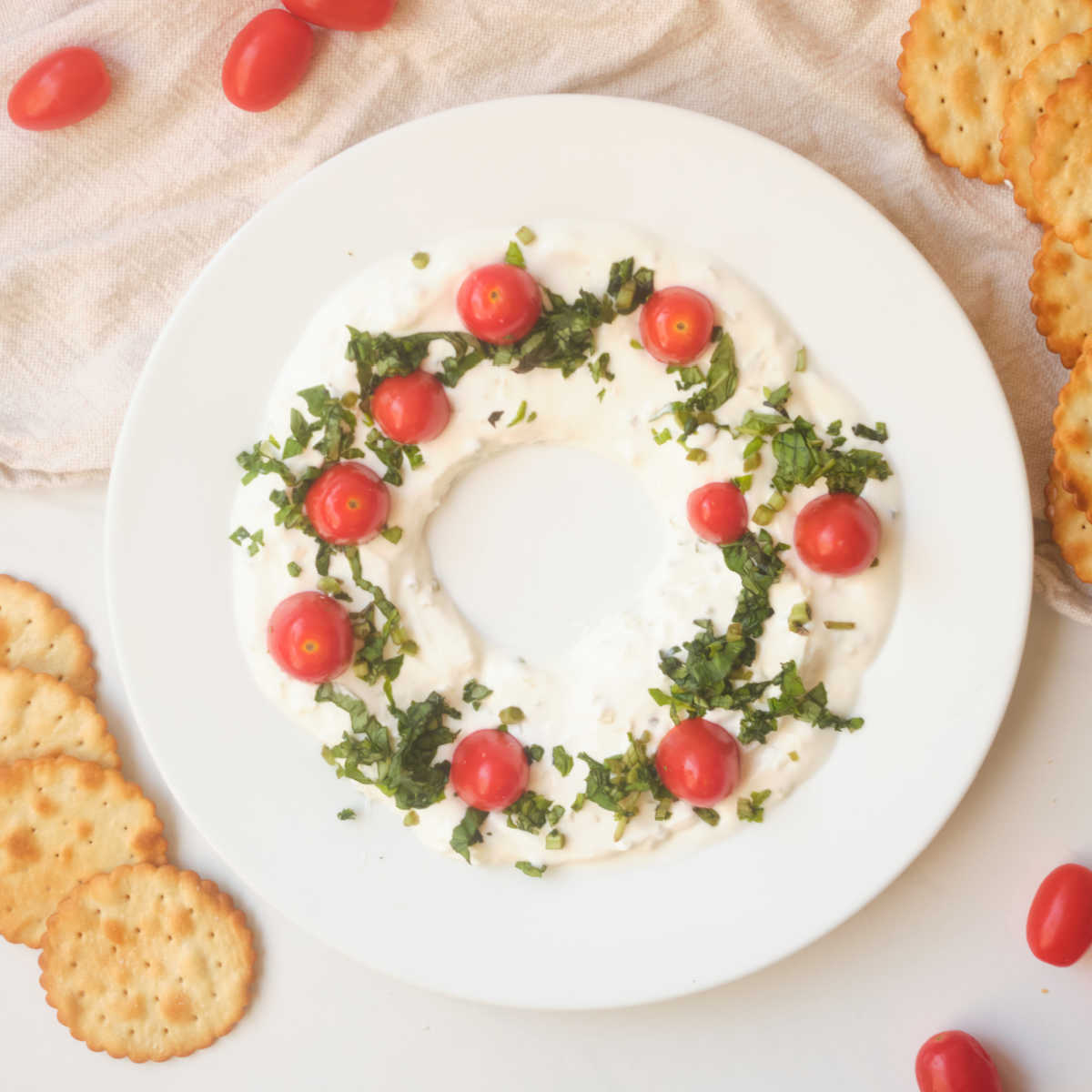 What is Tzatziki?
Tzatziki is a dip or sauce that is quite popular in Mediterranean and Middle Eastern countries.
Fortunately, it has now also made its way to the US, so we can find it served at restaurants and in prepackaged containers in the deli case at grocery stores.
The cold dip can vary a bit, but generally is made with yogurt, cucumbers, garlic, olive oil, lemon juice along with mint, dill or parsley.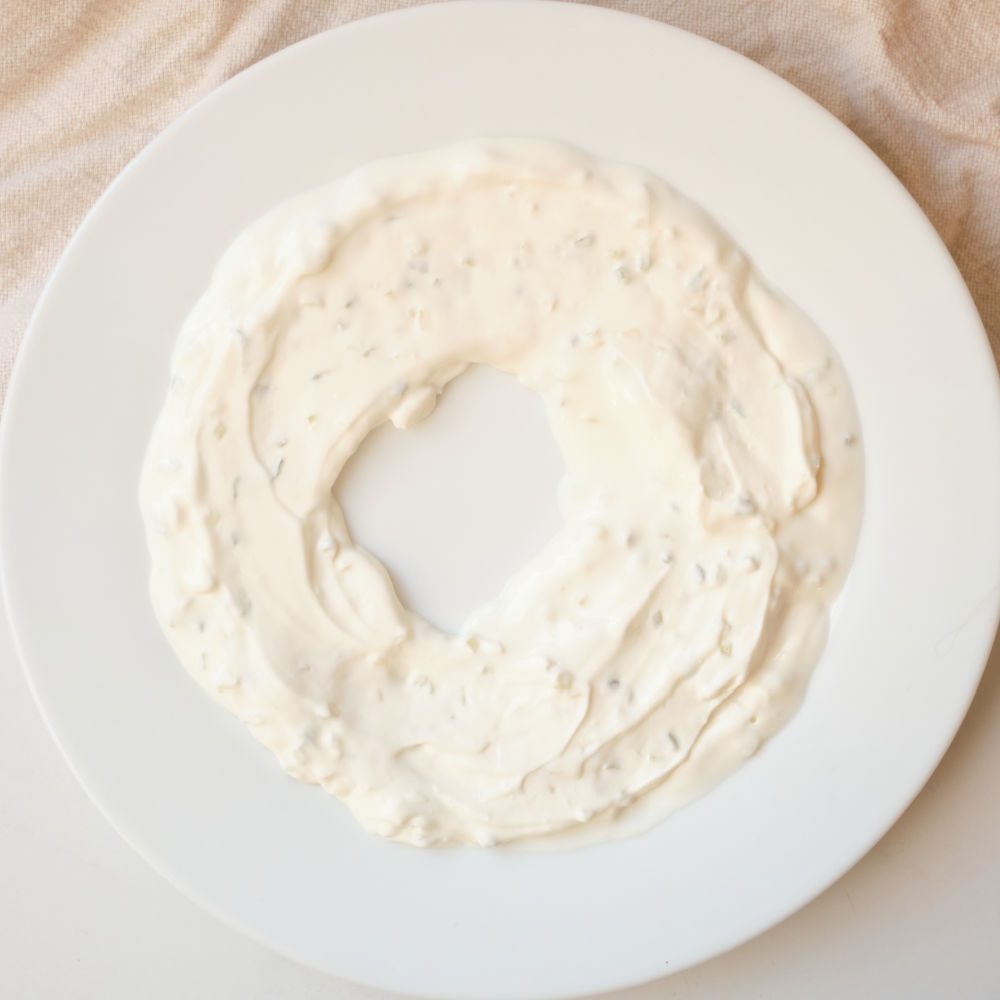 Store Bought or Homemade Tzatziki?
Homemade tzatziki is always great and doesn't take long to make.
However, there are many great options for ready made tzatziki at supermarkets.
Store bought tzatziki is easy to use and can save precious time, when you are prepping for a holiday meal or get together.
Also, I've tried many different brands and have never been disappointed, when I've opted for easy, ready made tzatziki.
Is This Christmas Party Food Vegetarian?
Yes.
This party dip platter is vegetarian, which is why it is a popular choice as a party food.
The dip isn't vegan or dairy-free, since yogurt is a key ingredient.
Is The Christmas Wreath Dip Recipe Gluten Free?
This wreath shaped party dip is made with gluten-free ingredients.
If you need to make sure there is no gluten or cross-contamination possible, make sure you check the labels on any pre-packaged ingredients.
Also, choose veggies or other gluten-free food to dip into the hummus.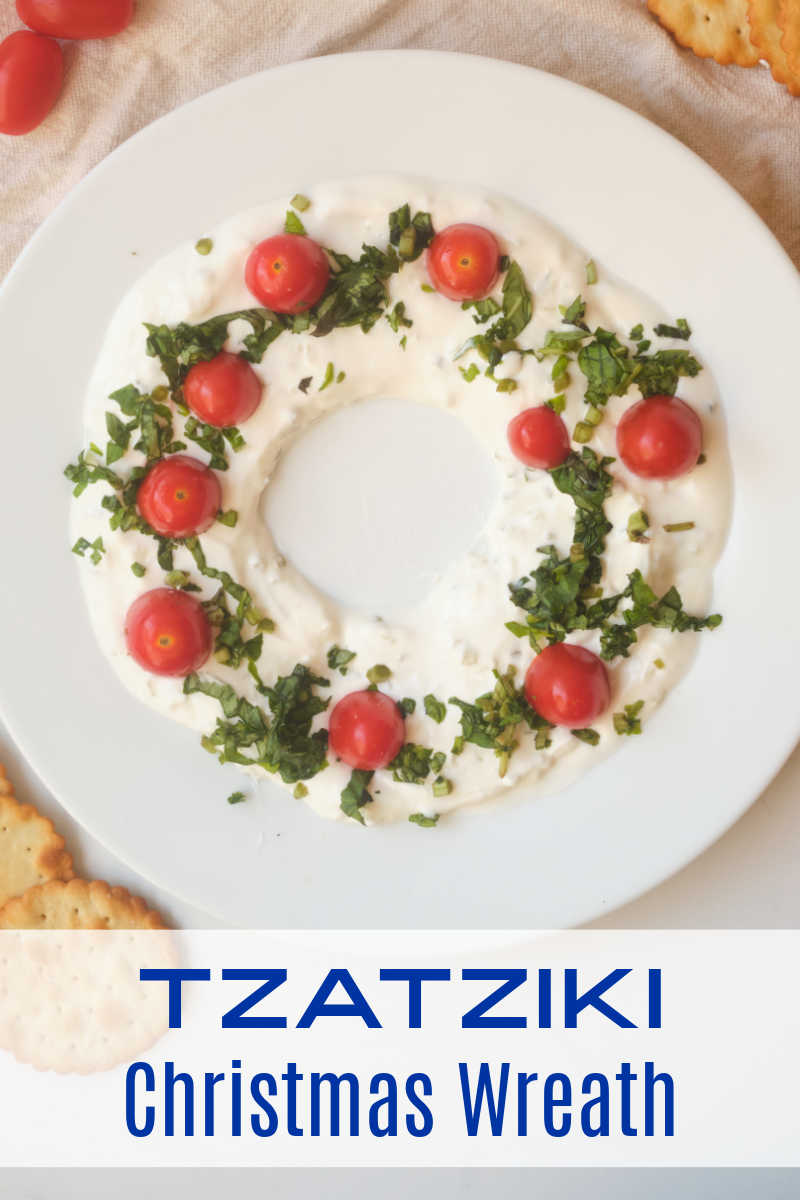 Can Kids Help Make This Christmas Wreath Party Dip?
This festive holiday party recipe is fun and easy to make, so it is great for kids who like to help in the kitchen.
It is also a good choice for adults who aren't exactly skilled at food prep.
A sharp knife is needed to chop the basil, but there is nothing difficult about making an appetizer wreath.
How Long Does It Take to Make The Tzatziki Christmas Wreath Dip Recipe?
When I make this recipe alone, I can easily get it table ready in less than 5 minutes.
If kids or others are helping it may take a little longer, but will still be fast and easy.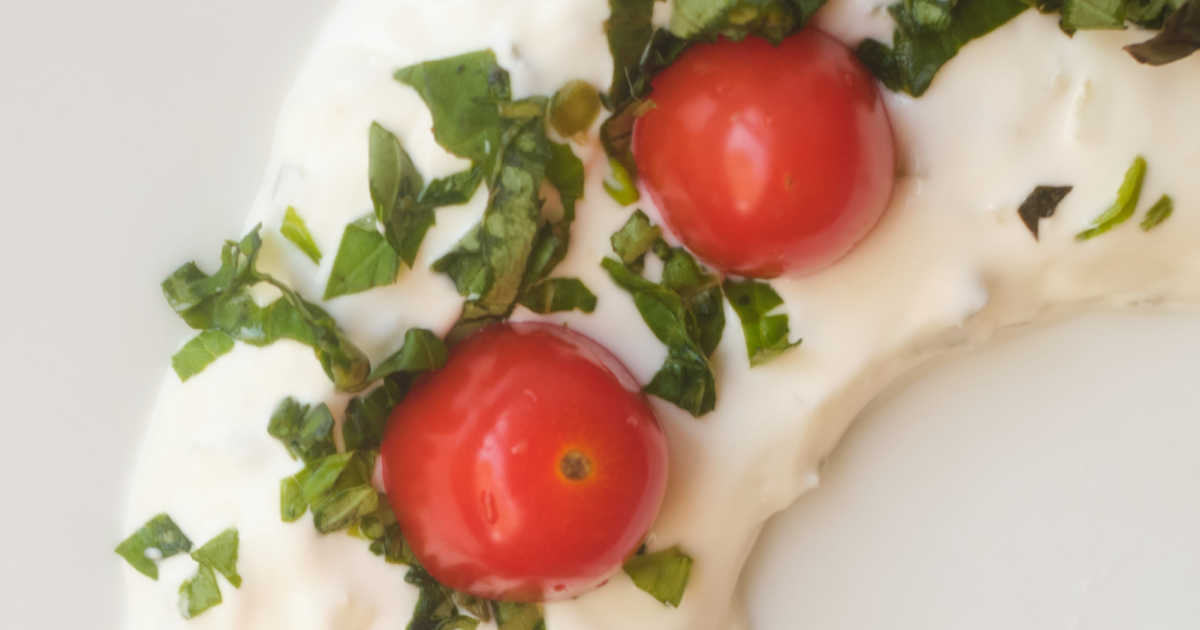 What Can I Use As A Substitute, If I Don't Have Basil?
Basil is great, but another green herb can be used if you don't have basil or just don't care for it.
Dill, parsley or mint would be a good alternative.
Chopped spinach would be great on this wreath appetizer, too.
What Can Be Dipped Into The Tzatziki?
Tzatziki is versatile, so there are a whole lot of options of good things to serve with this Christmas party plate.
Crackers, pita bread, pita chips, or tortilla chips are always popular dipping choices.
Veggies are great with tzatziki, too.
Baby carrots and cucumber slices are my personal favorites, but feel free to try sugar snap peas, celery or whatever other vegetables your family likes to dip.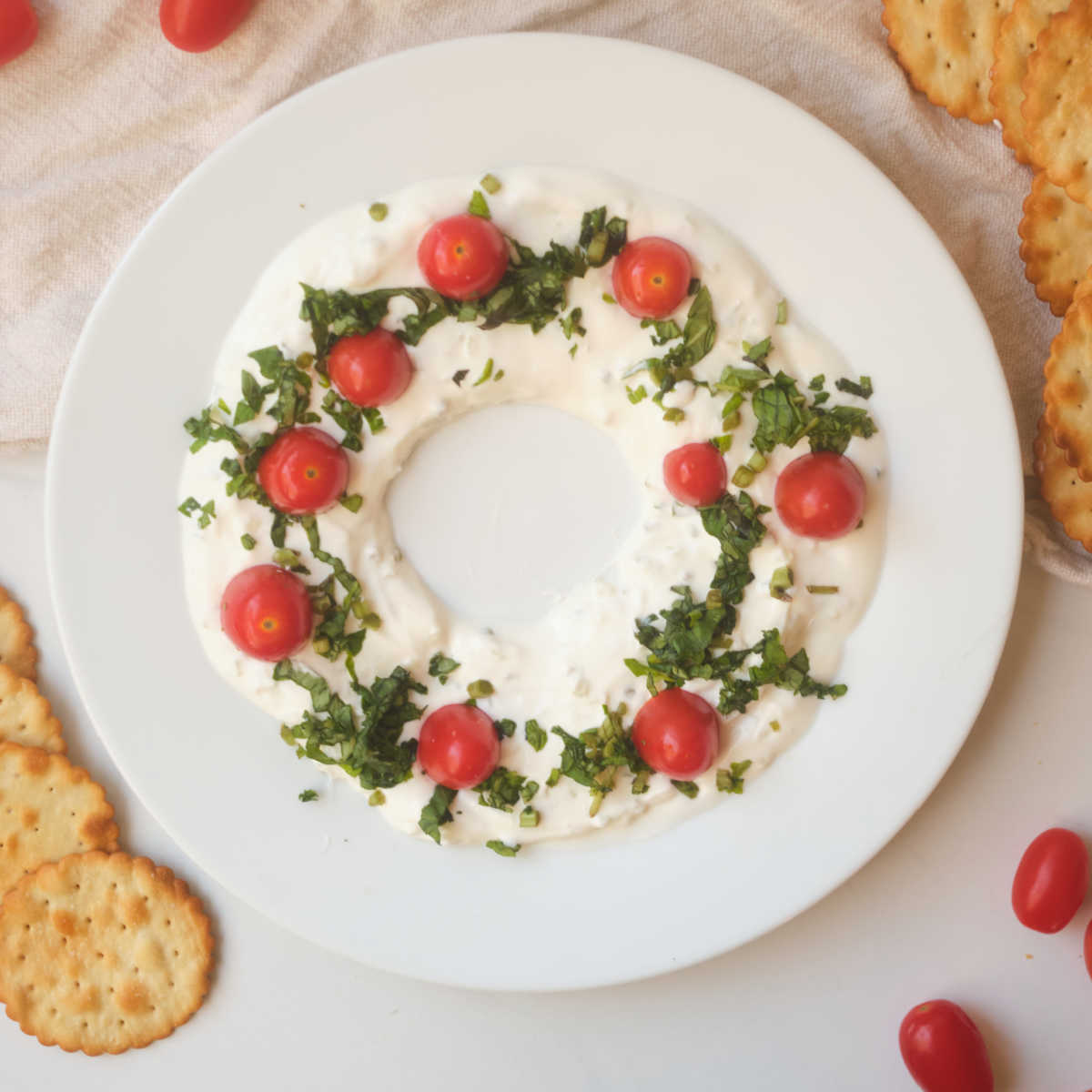 Tzatziki Christmas Wreath Dip Recipe
Prep time: 10 minutes
Total time: 10 minutes
Yield: 4 Servings
Ingredients
1 cup Tzatziki
1/3 cup Basil, Chopped
8-10 Grape Tomatoes or Cherry Tomatoes
Supplies
White Serving Plate
Silicone Spatula
Instructions
1) Scoop the tzatziki onto the plate and use a silicone spatula to form a circular wreath shape.
2) Sprinkle chopped basil evenly around the wreath.
3) Place the little tomato "ornaments" around the wreath.
4) Serve with crackers, pita bread, baby carrots, cucumber slices, celery sticks or other vegetables for dipping.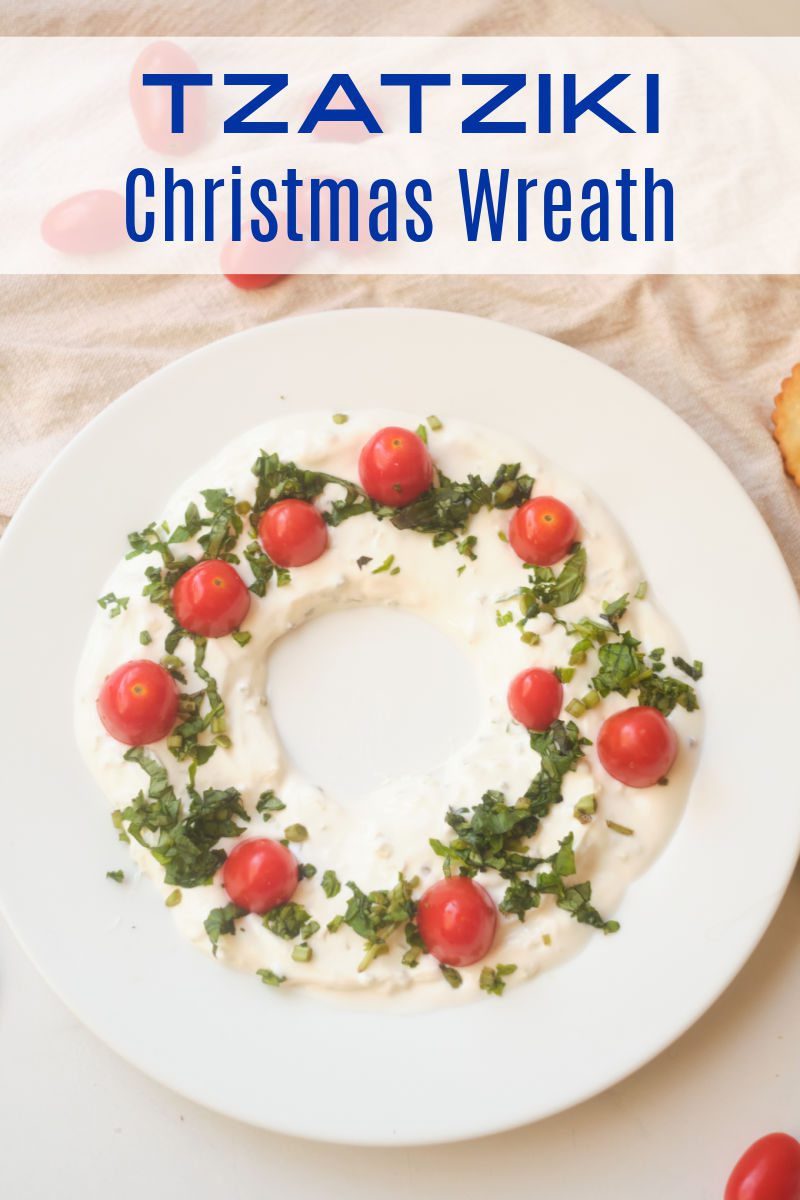 More from Mama Likes To Cook
Check out the rest of my vegetarian recipes, so you can get more great ideas for baking, cooking, blending and juicing.
Party Appetizers
Basil Recipes
Holiday Party Drinks without Alcohol
Shopping Tips
For a beautiful assortment of kitchen necessities and food gifts for the whole family, check out the deals at these online stores.
Are you ready to have some delicious fun in the kitchen?