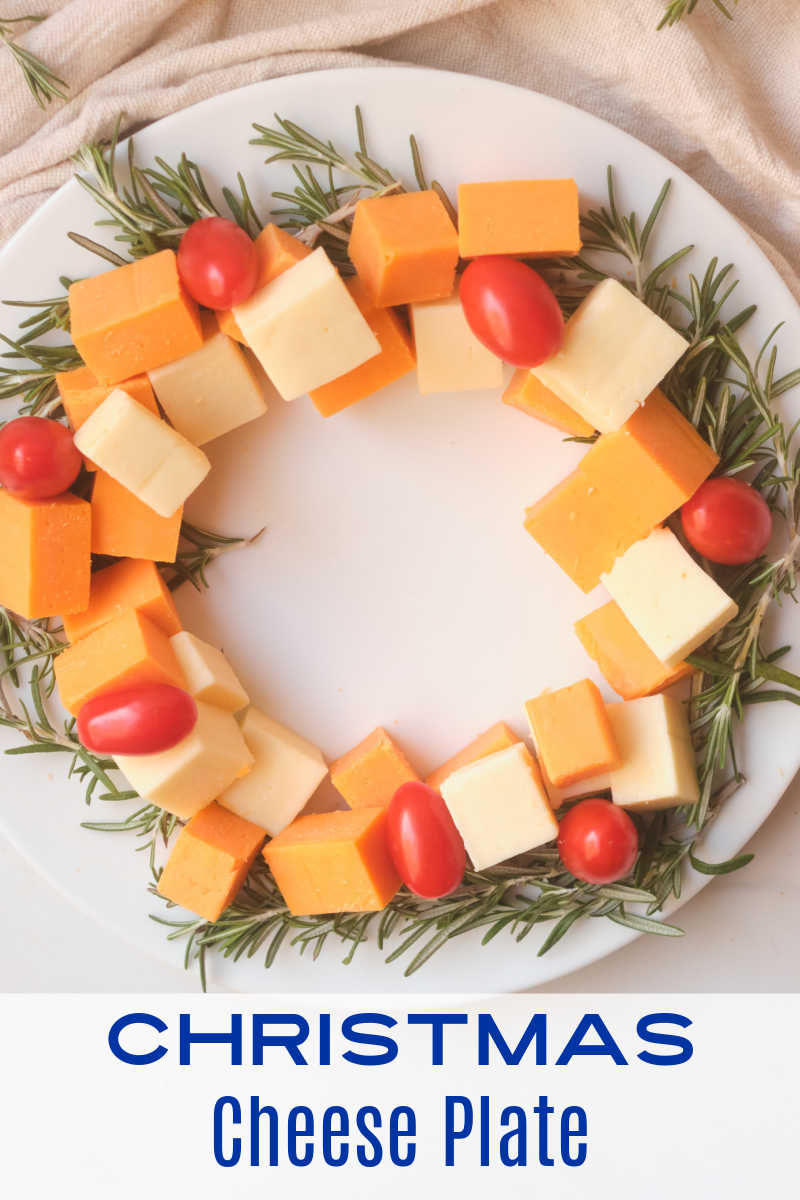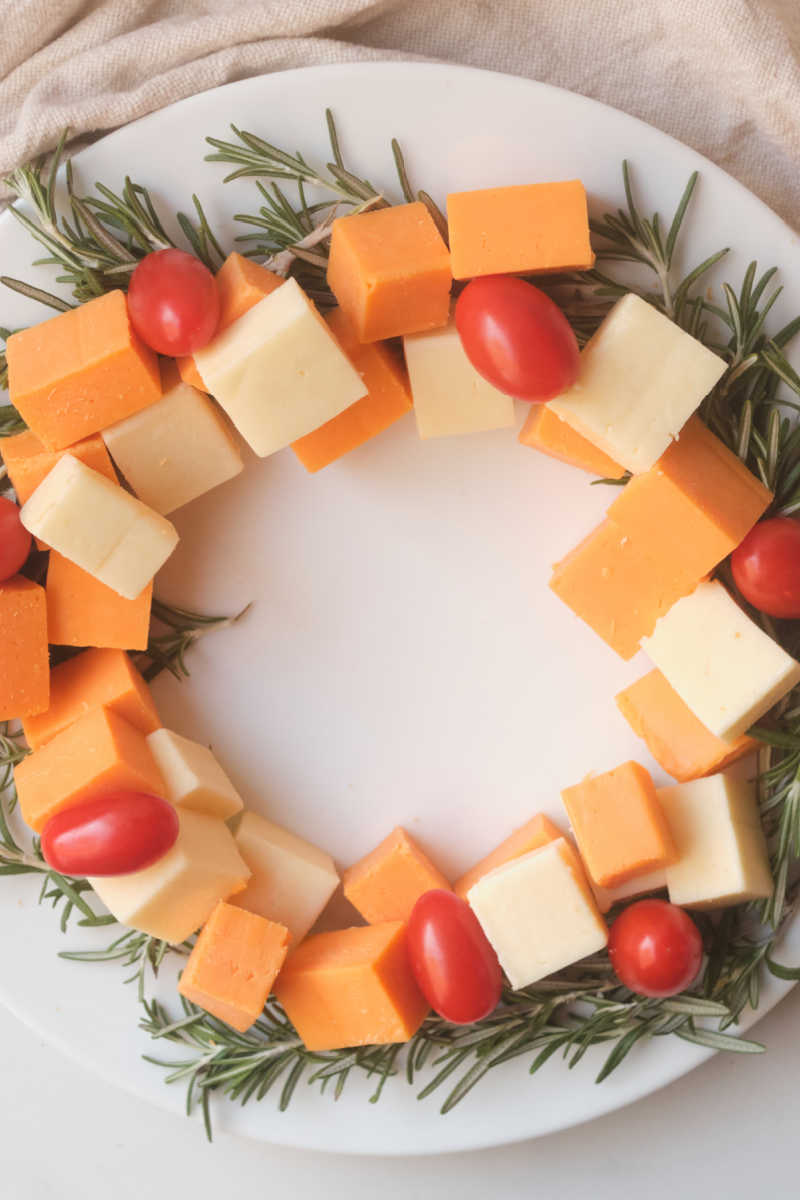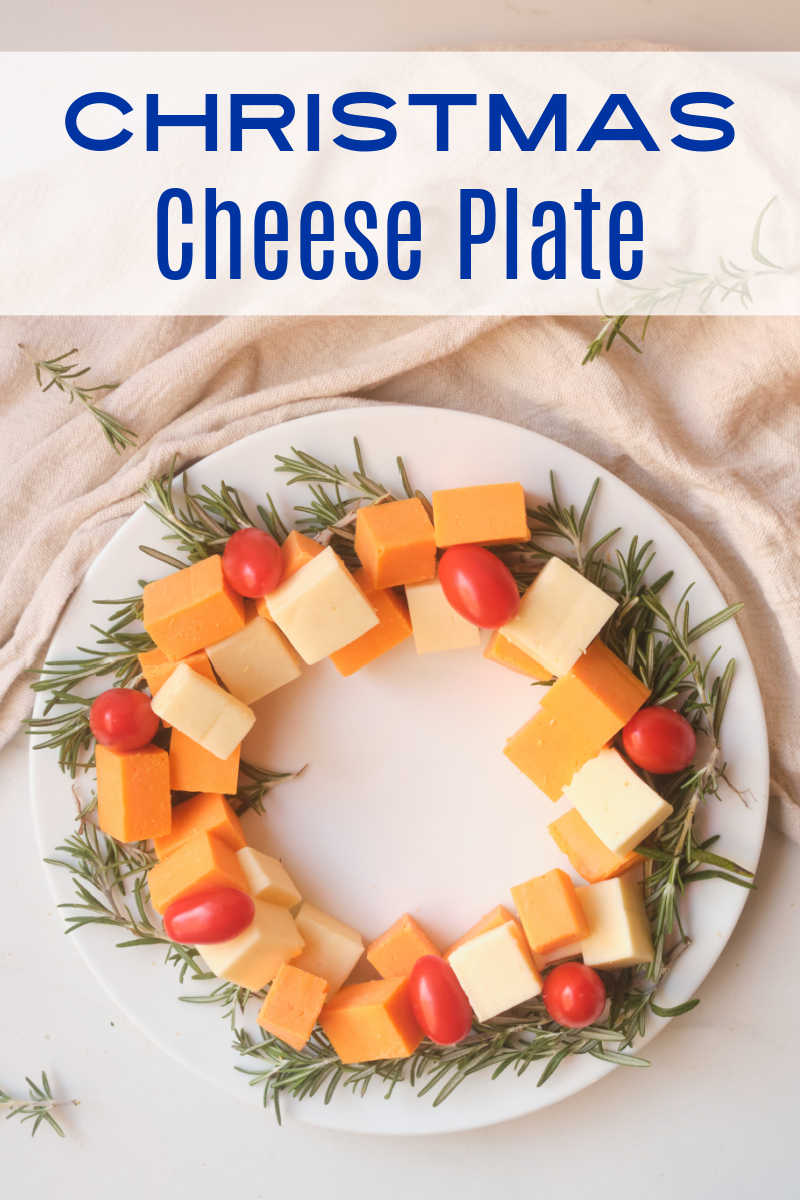 Festive Holiday Cheese Plate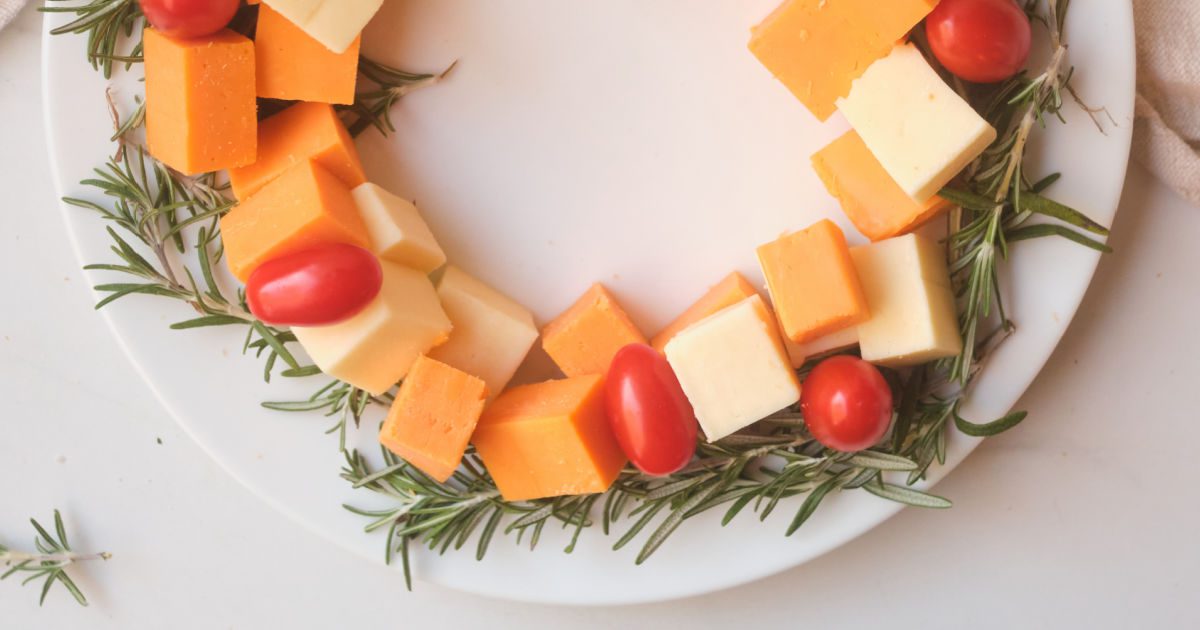 This holiday themed Christmas wreath cheese platter is easy to make and will help make your holiday table look festive.
The cheese and rosemary wreath will be enjoyed by kids and adults, so it is great as you are celebrating the season at home.
Kids and adults will like eating the appetizer, since it tastes great and will help set a lovely Christmas mood.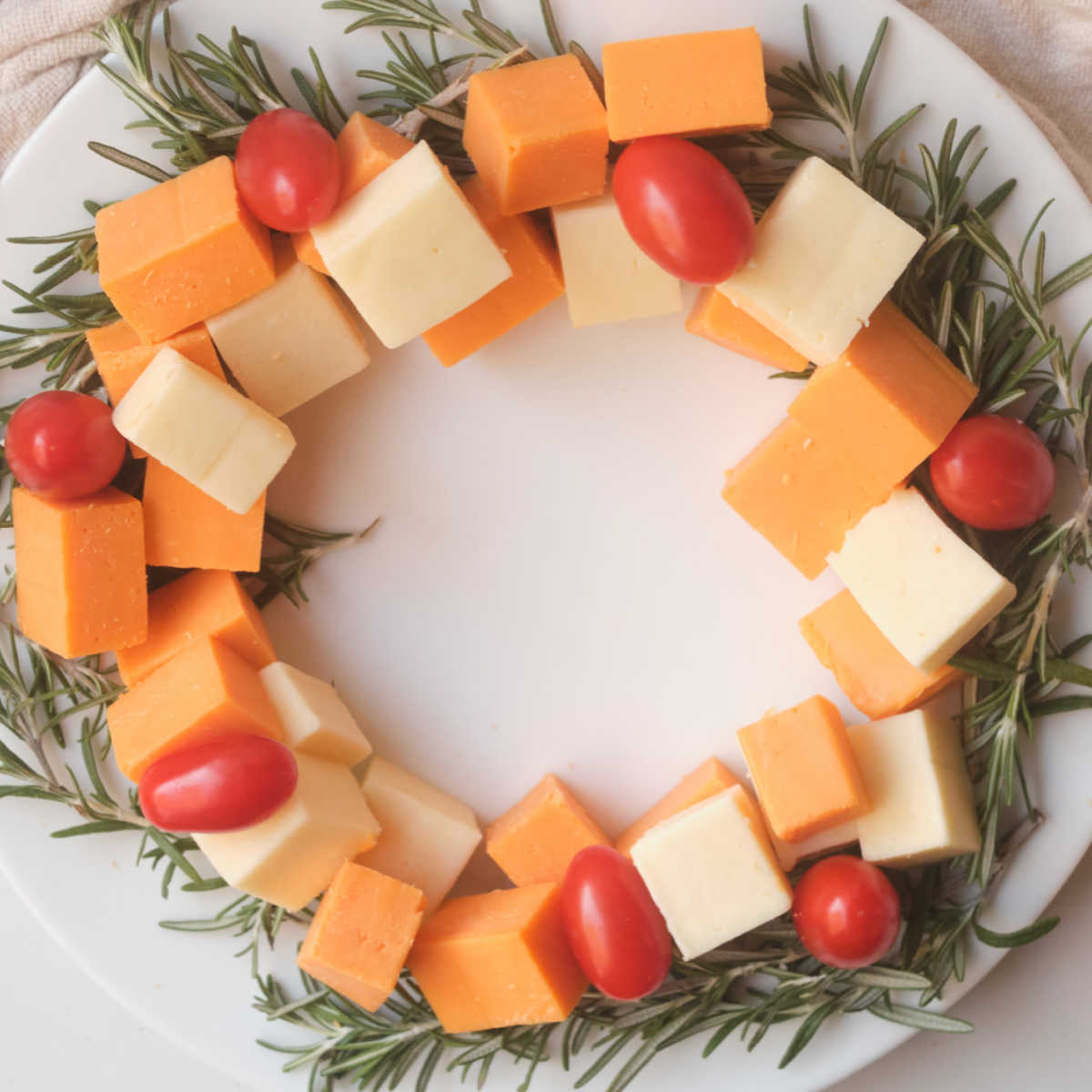 Is This Cheese Platter Easy To Put Together?
Yes, this is an easy holiday cheese plate recipe.
It can be made quickly and doesn't require and special skills or equipment.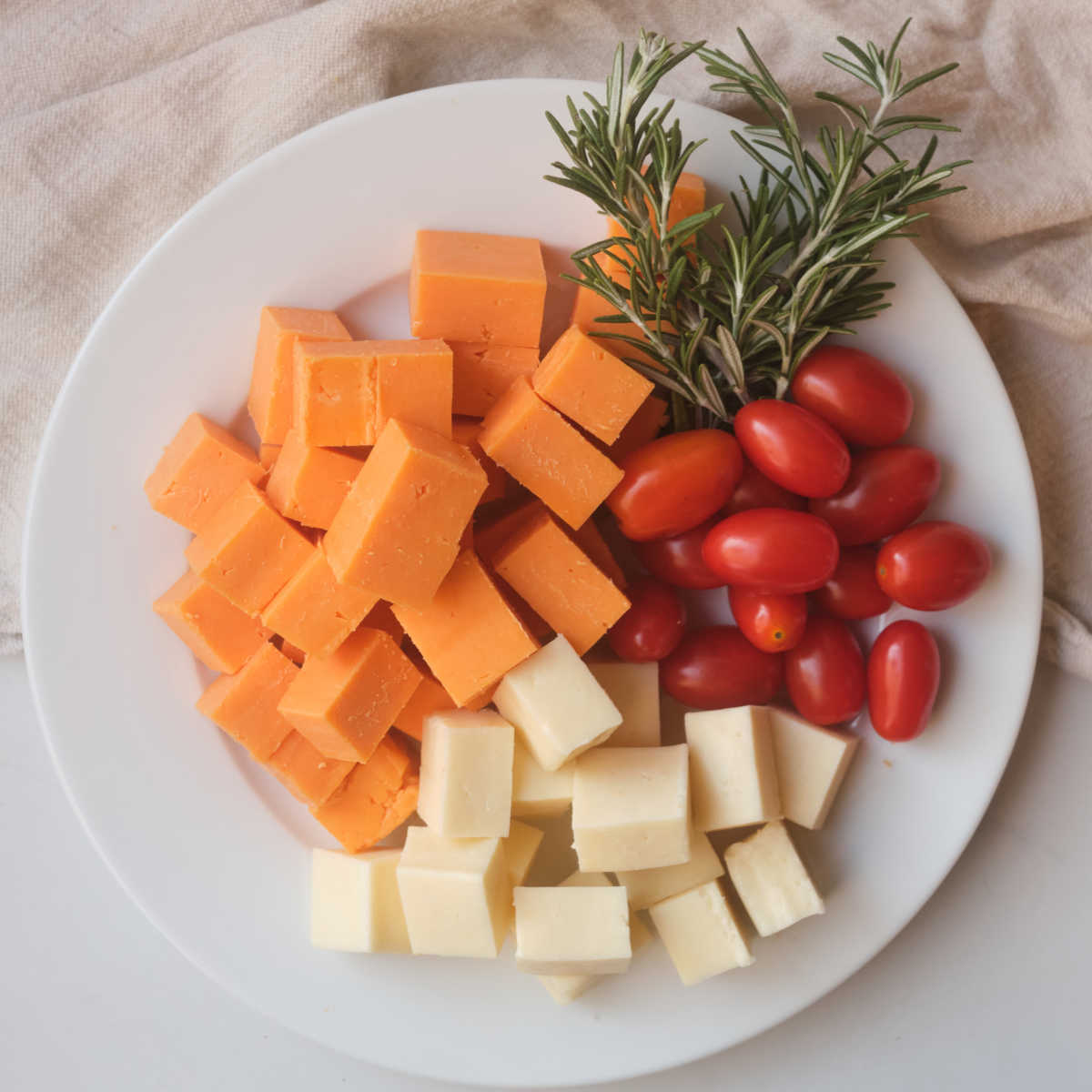 Can I Make The Christmas Wreath Appetizer Ahead of Time?
The holiday cheese platter can be put together quickly at the last minute, if you have the ingredients prepped ahead of time.
Or you can make it ahead of time and cover it completely with plastic wrap.
Then, store it in the refrigerator until it is time to serve.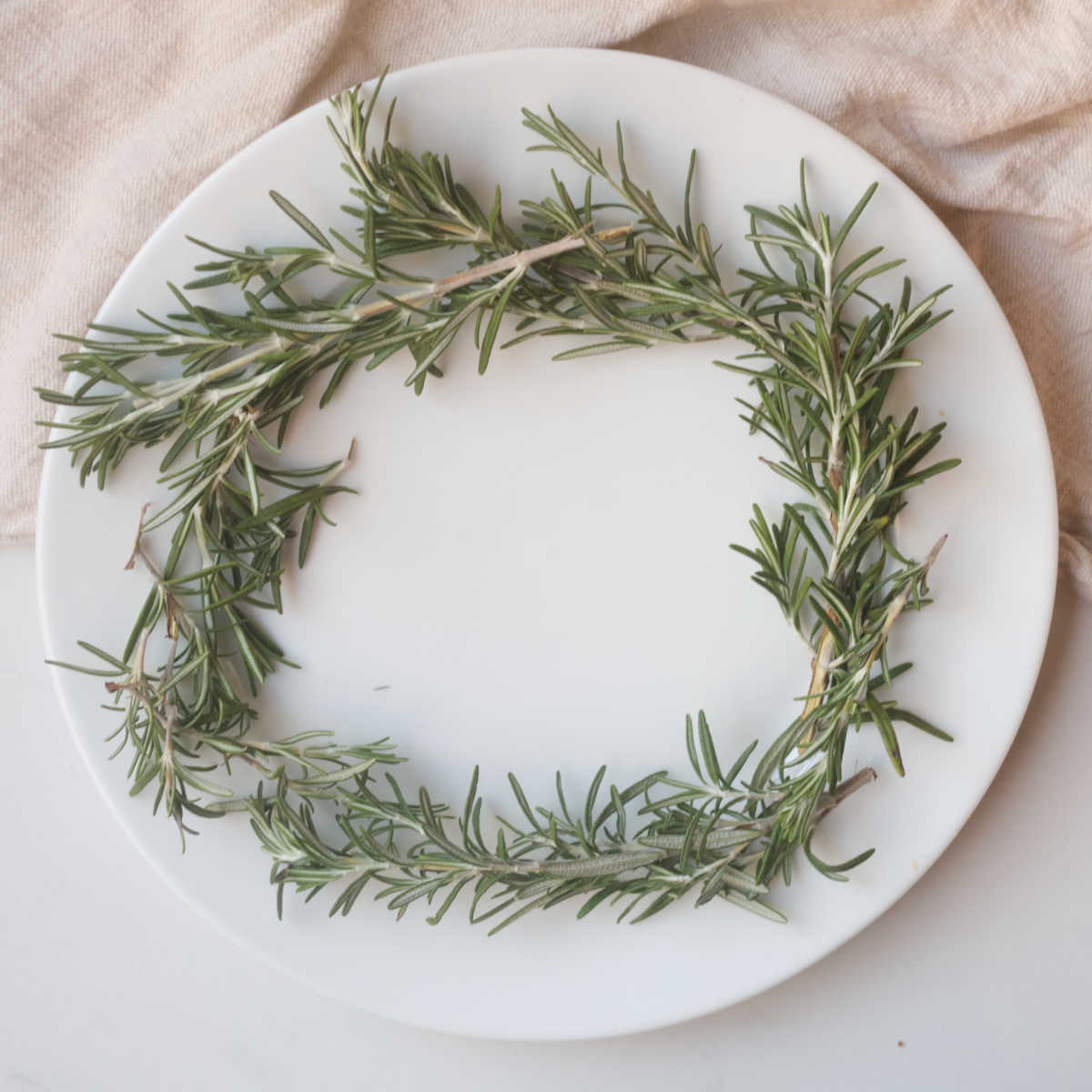 Is The Rosemary Cheese Wreath Vegetarian?
This appetizer is vegetarian, since it doesn't have any meat or fish on the cheese plate.
Can I Make This Cheeseboard Vegan?
Yes, this holiday cheese platter can be made vegan by using vegan cheese that is plant based and dairy-free.
Mine was made with regular cheese, as you can see in the photos.
Vegan cheese tends to look a little different, but will still be fine to use and will look festive.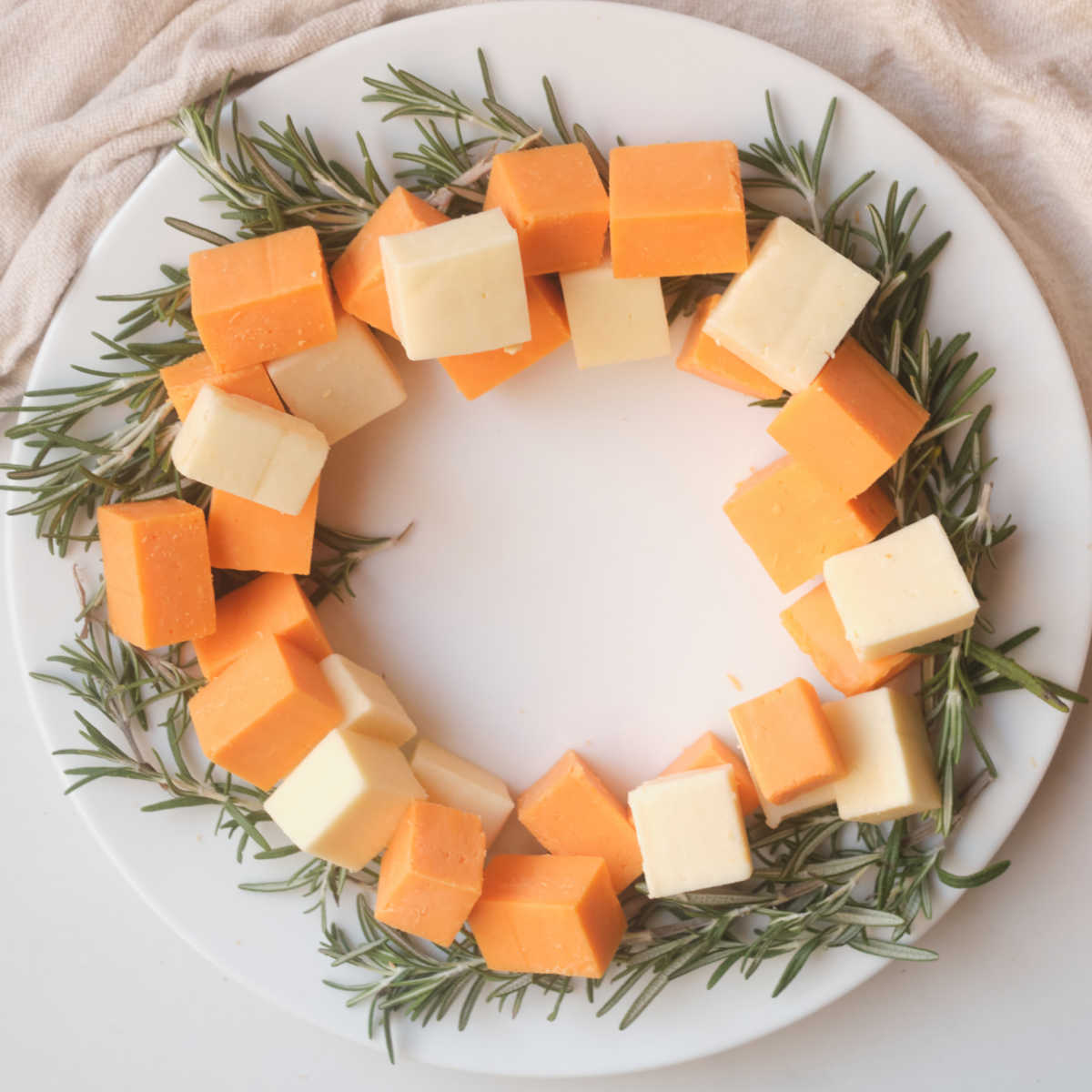 Is The Holiday Cheese Plate Gluten-free?
The recipe is gluten-free as written.
However, as with any packaged product, people should check the cheese labels to make sure there won't be an issue with cross-contamination.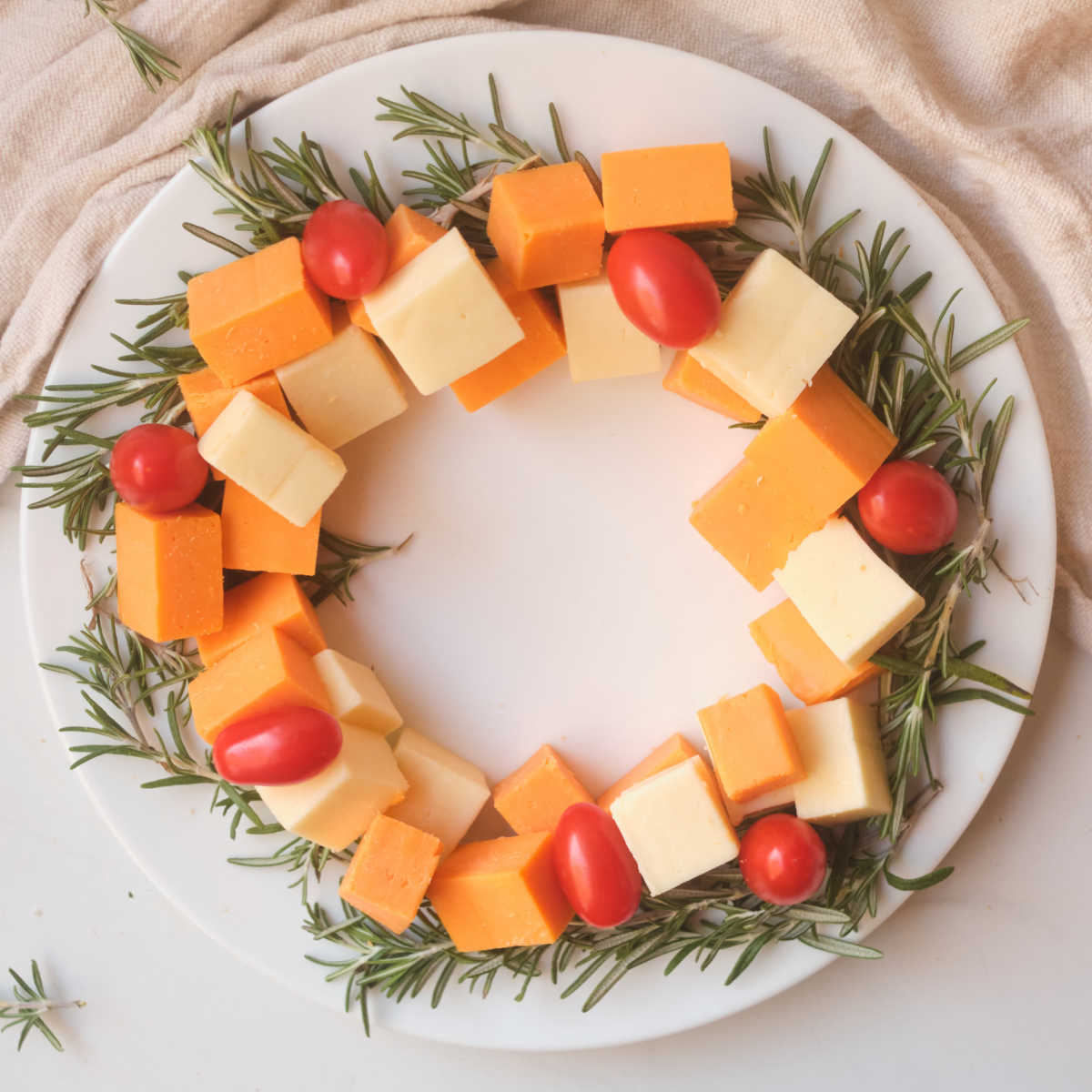 Can Kids Help Make This Cheese Wreath?
Kids can definitely help make this Christmas cheese wreath, and so can adults who want to help and don't have kitchen skills.
If you want to make it really easy, you can purchase pre-packaged cheese cubes that don't need to be cut with a sharp knife.
Then you may be able to let the kids do this entire recipe from start to finish without adult assistance.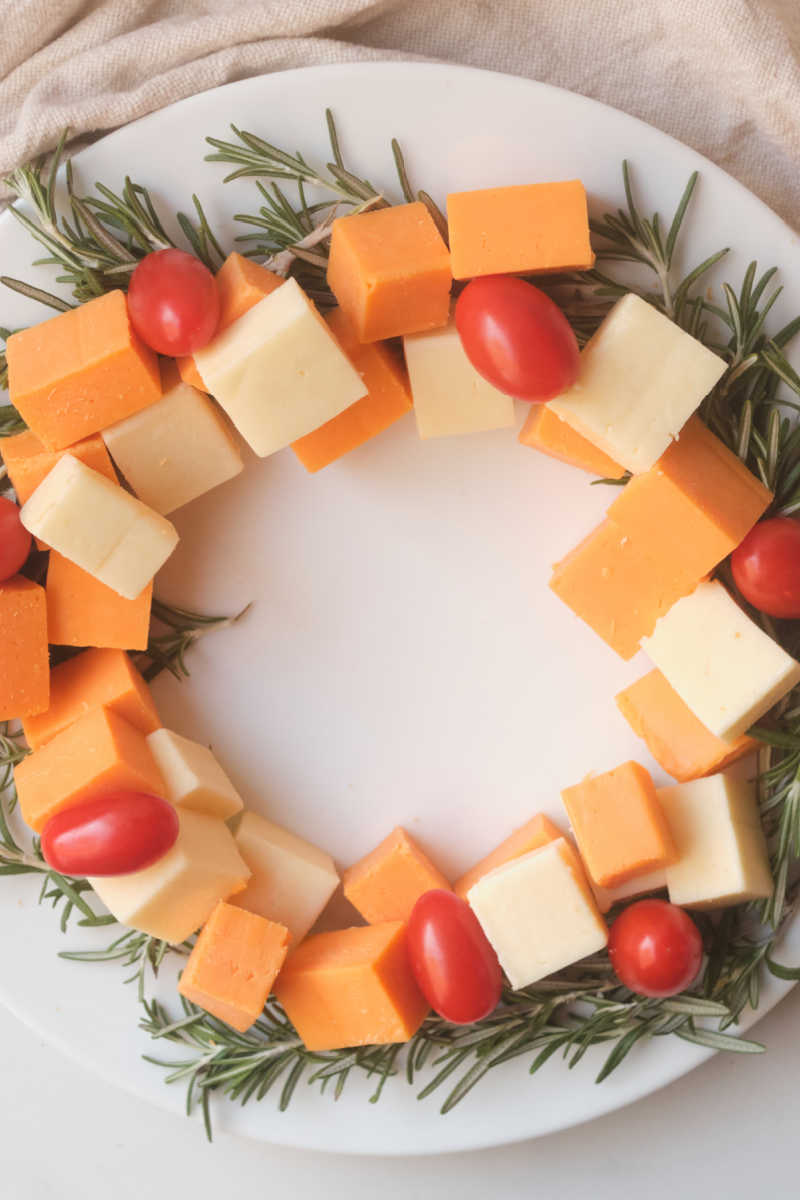 How Long Does It Take To Put Together A Christmas Wreath Cheeseboard?
This cheeseboard can be made quickly, which is a fantastic bonus during the busy holiday season!
If I am doing it by myself, it takes less than 5 minutes.
If others are helping or taking it slow, it will take a little longer.
And, it will take a few extra minutes, if you are harvesting the rosemary from your own backyard.
However, it is still a quick and easy holiday appetizer that looks fantastic when it is served.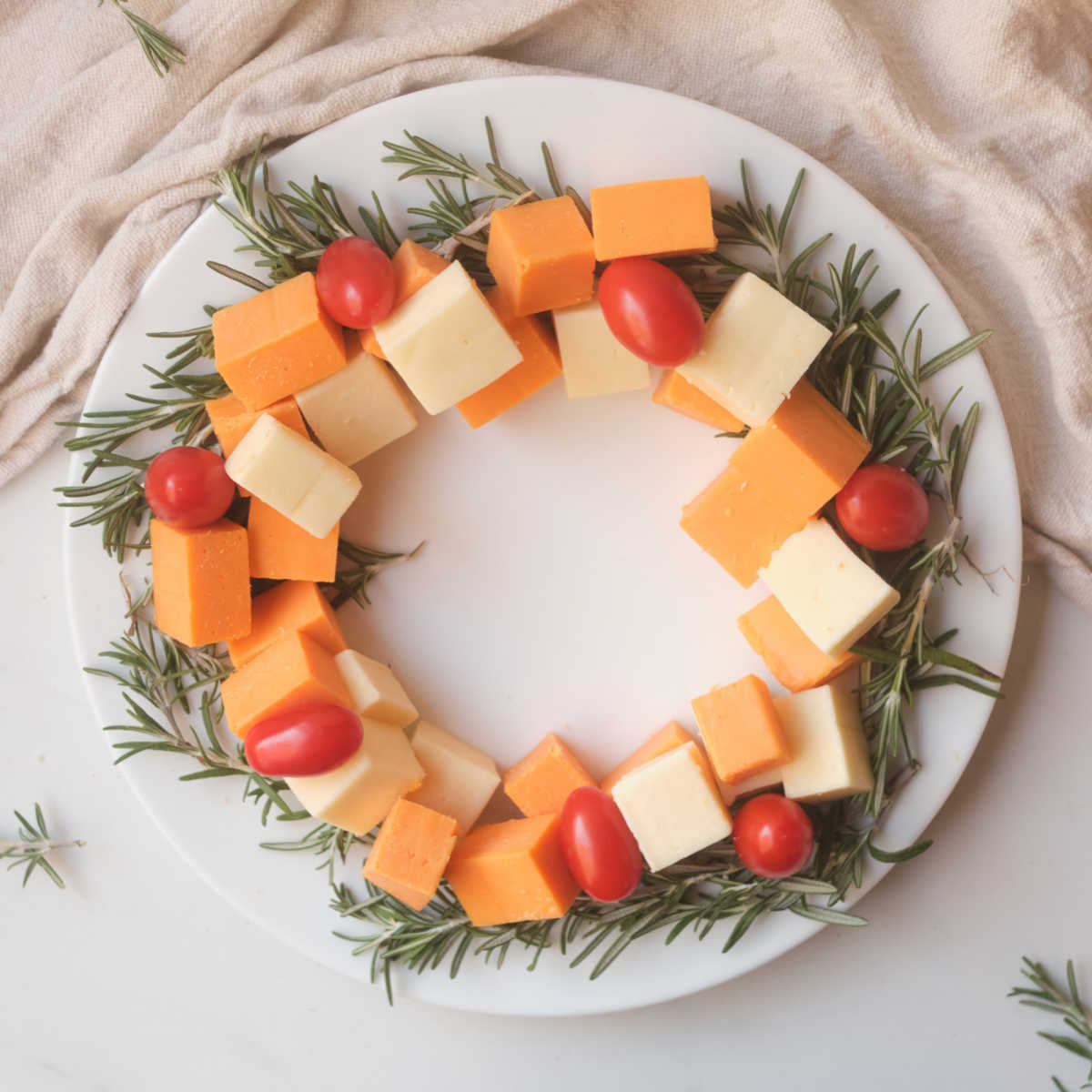 Easy Rosemary Christmas Wreath Cheese Platter Recipe
Prep time: 10 minutes
Total time: 10 minutes
Yield: 4 servings
Ingredients
1½ cups Cheddar Cheese Cubes
1½ cups Mozzarella Cheese Cubes
Bunch of Rosemary
6-8 Grape Tomatoes or Cherry Tomatoes
Supplies
White Serving Plate
Instructions
1) Place rosemary sprigs on the plate in the shape of a Christmas wreath. Use scissors to trim, if some needed to get a good round shape.
2) Arrange cheese cubes on top of the rosemary.
3) Add tomatoes on top of the cheese to look like little red ornaments.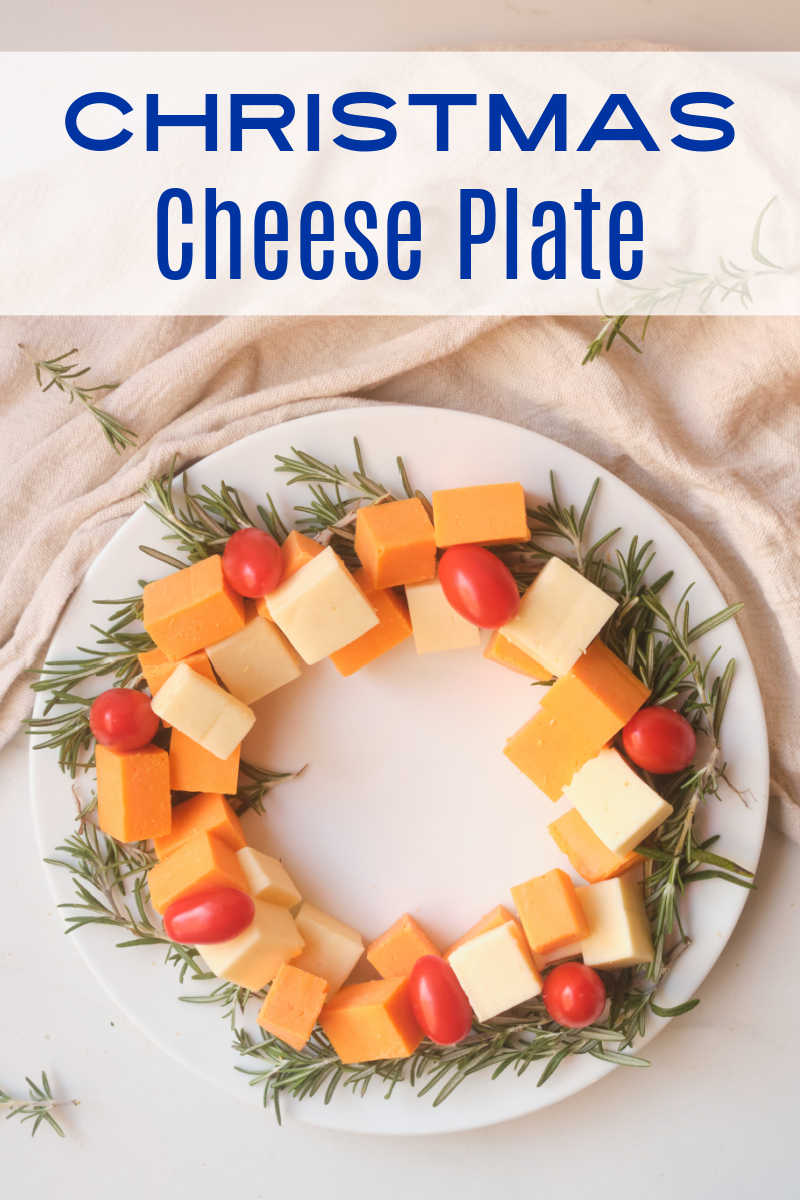 More from Mama Likes To Cook
Check out the rest of my vegetarian recipes, so you can get more great ideas for baking, cooking, blending and juicing.
Party Appetizers
Holiday Party Drinks without Alcohol
Shopping Tips
Check out the deals at these familiar online stores, so you can find a beautiful assortment of kitchen necessities and gifts for the whole family,
Are you ready to have some delicious fun in the kitchen?