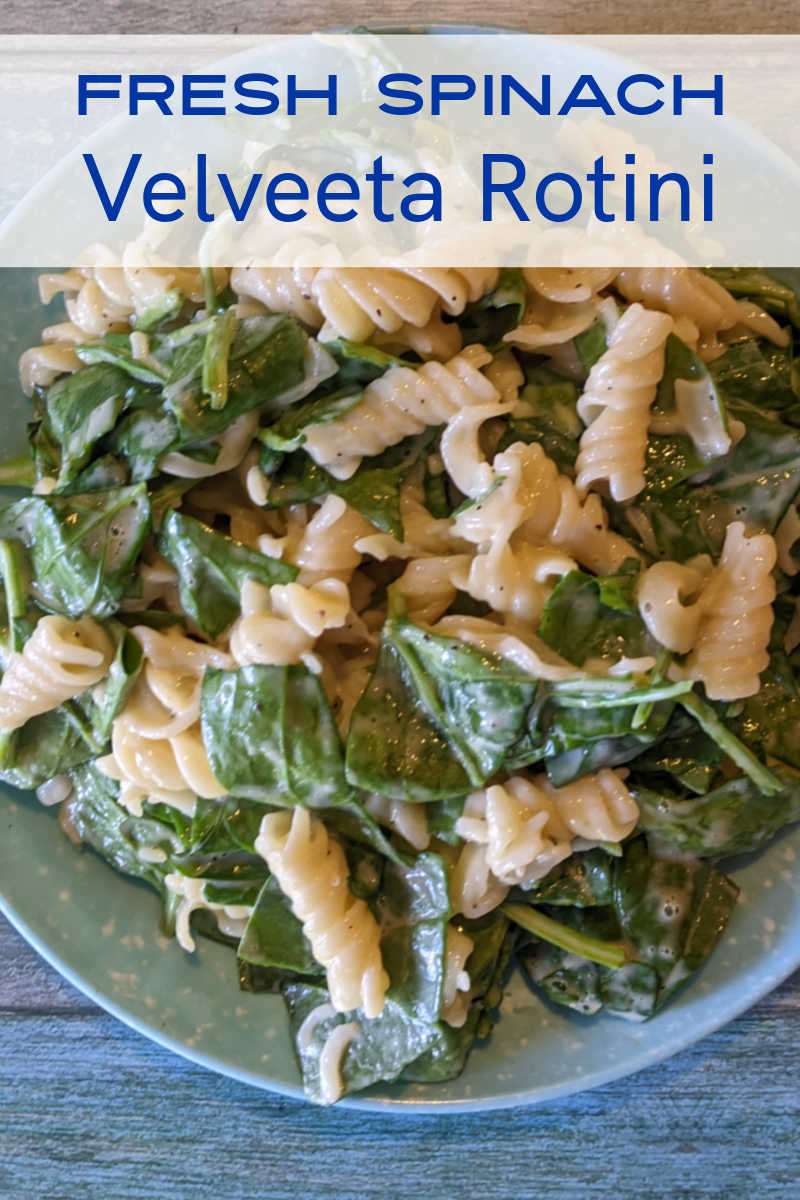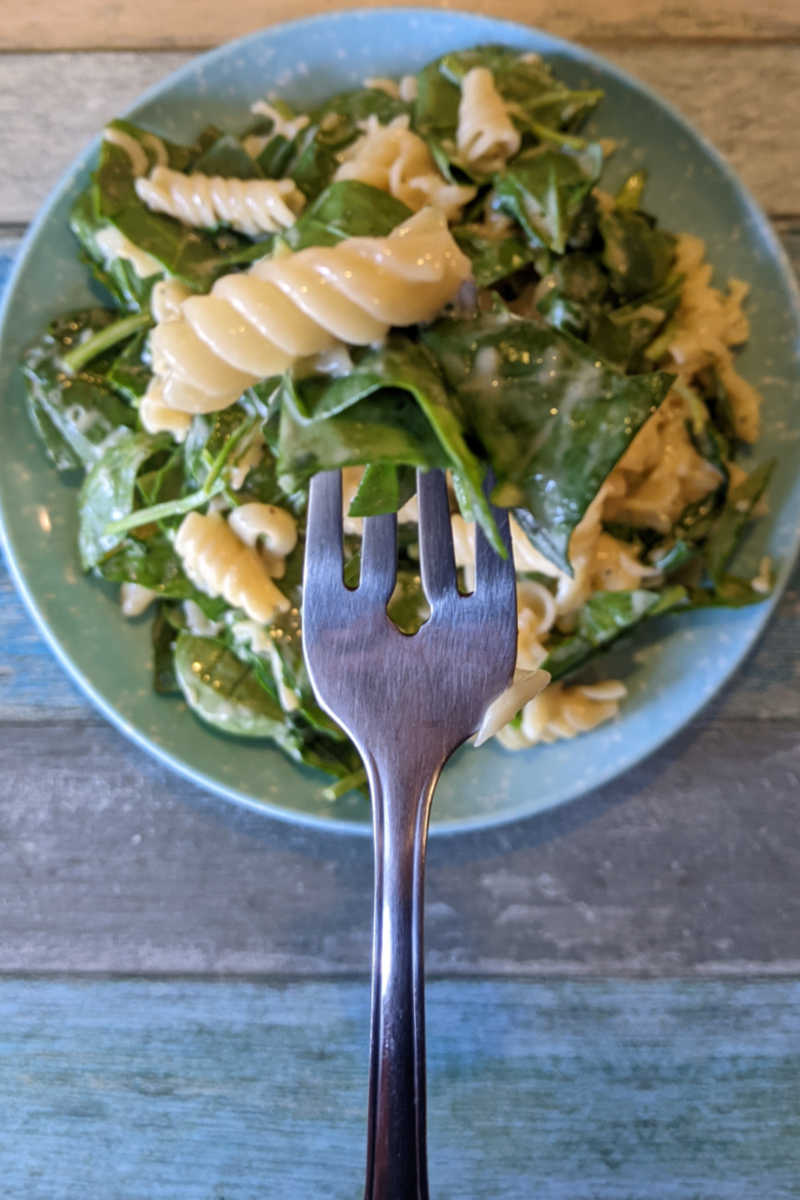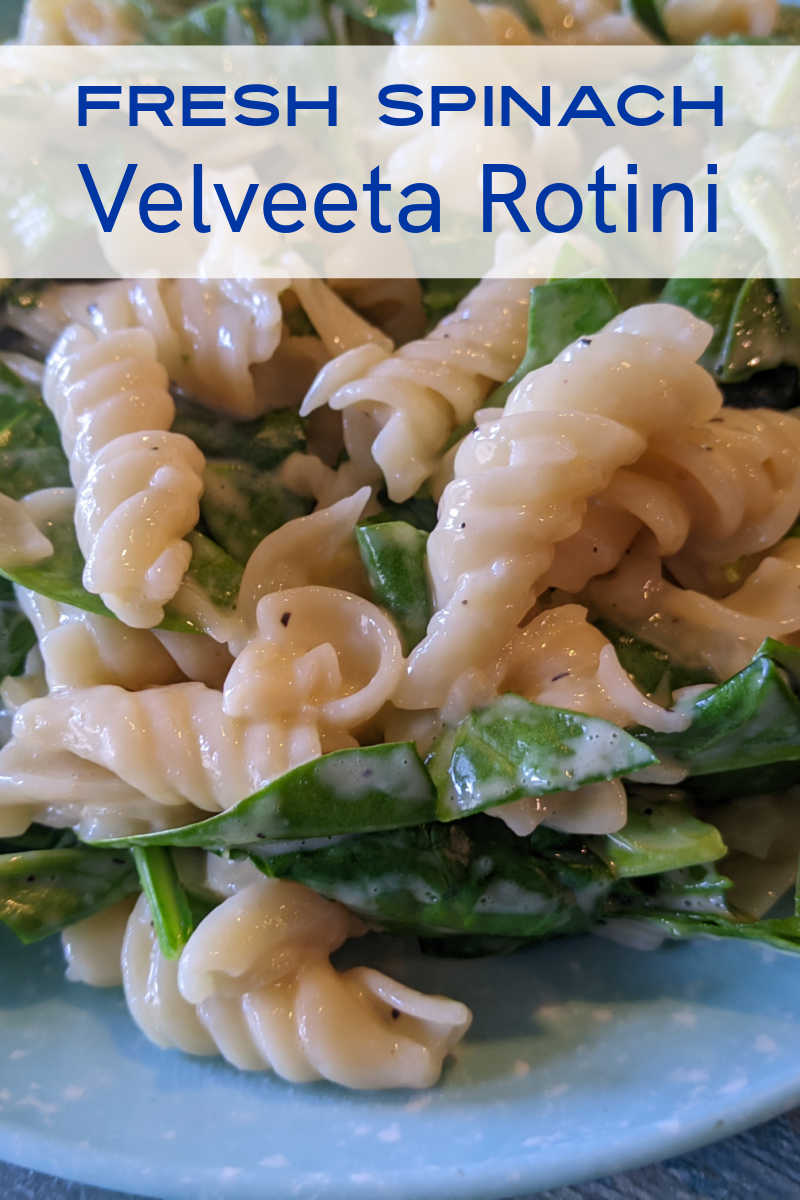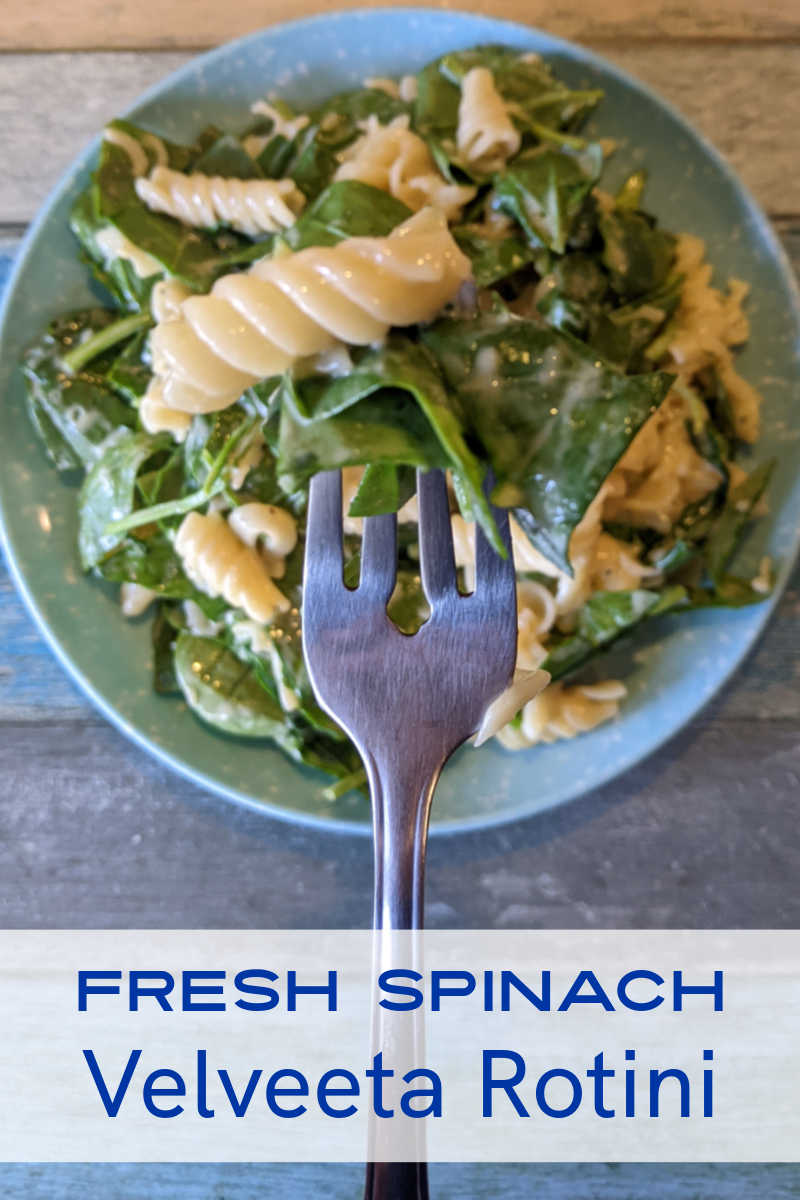 Classic Velveeta Pasta with Lots of Fresh Spinach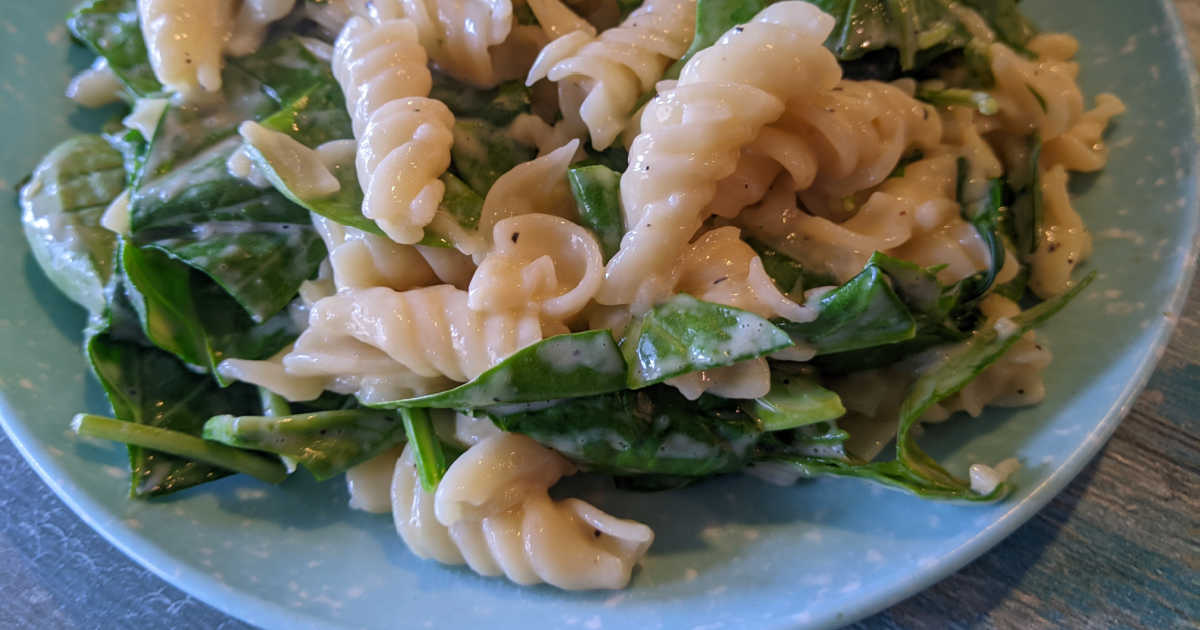 Fresh spinach Velveeta rotini adds nutritious twist to the classic cheesy macaroni comfort food I loved eating as a child.
The pasta is still cheesy, of course.
However, you'll see that there is a whole lot of nutritious fresh spinach in each serving.
This is a quick and easy meal that can be great for lunch or dinner whether you eat it all right away or save the leftovers to enjoy the next day.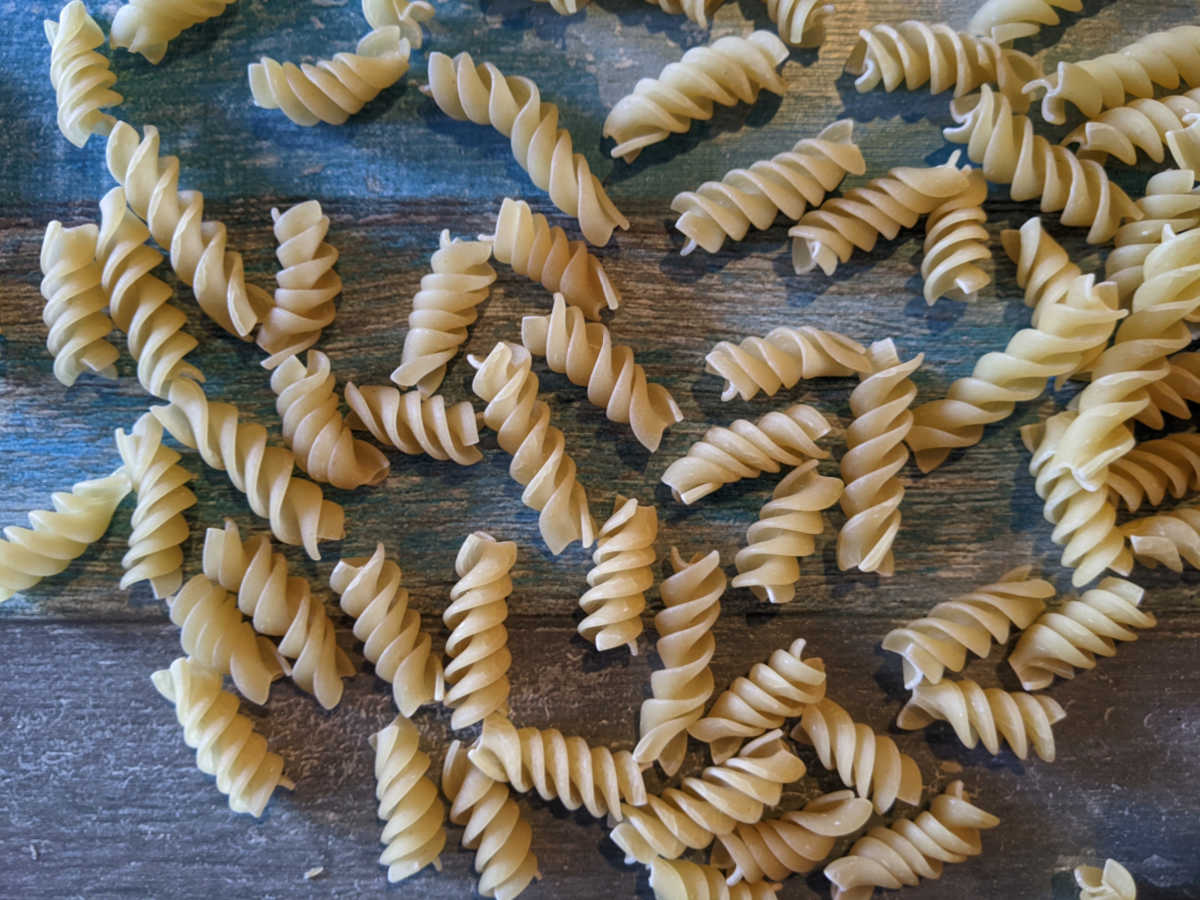 Rotini
This recipe is great with rotini, which is the corkscrew shaped pasta.
The curvy shape is perfect for getting coated with melted Velveeta, so you get good cheesy flavor in each bite.
Also, it's easy to eat with a fork, which makes it great for kids to enjoy for a family meal.
If you don't have rotini, another type of pasta will do.
However, rotini is my first choice for this recipe.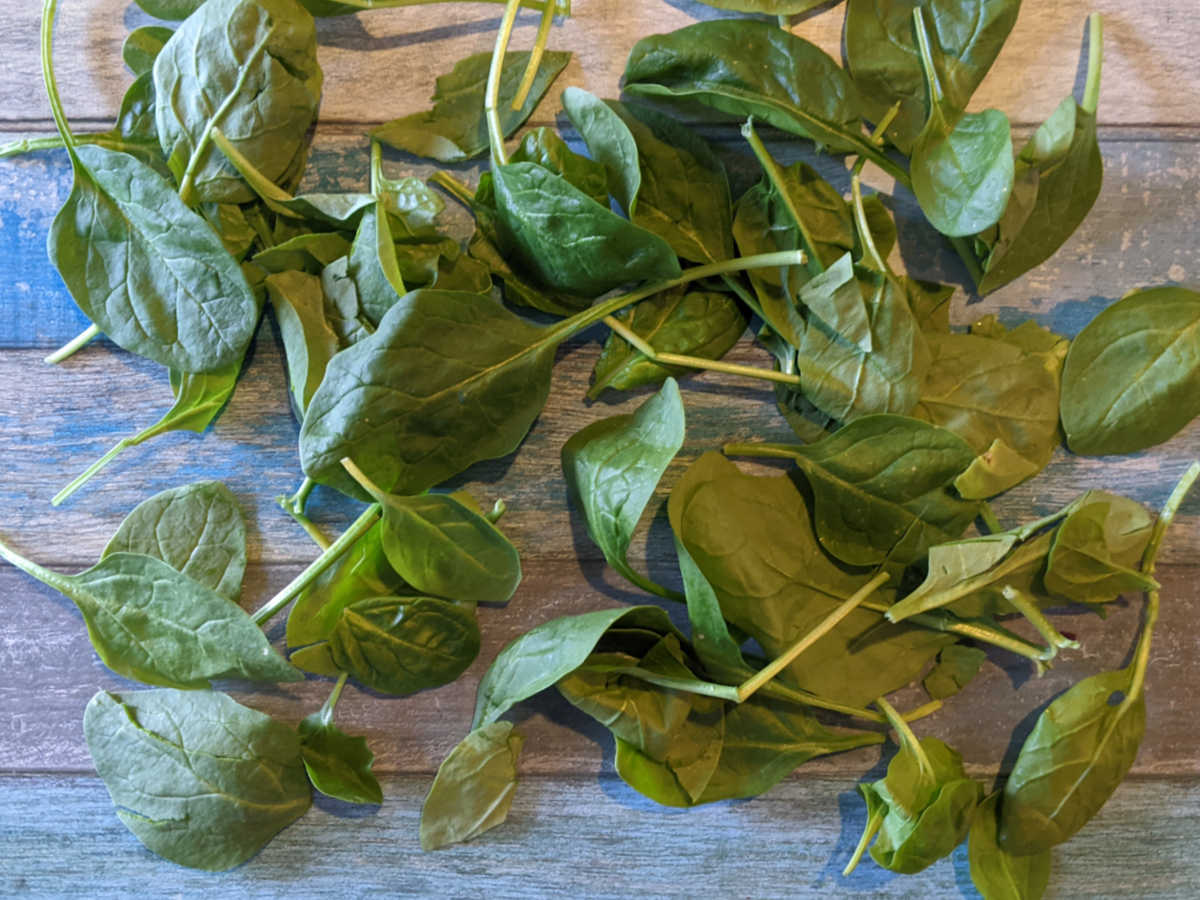 Spinach
A generous amount of fresh spinach is what makes this pasta dish extra delicious and, of course, it also adds nutrition.
Some spinach pasta has a small amount of finely chopped spinach hidden in the dish.
This one isn't sneaky about hidden veggies, but has lots of big, bold pieces of spinach in every bite.
This leafy green has fiber, protein, vitamins and minerals, which are a good part of a healthy diet.
The fresh spinach isn't overcooked, but is just stirred into the hot pasta that has already been coated with cheesy Velveeta.
This means the spinach is warm and a bit wilted, but not mushy like canned or frozen spinach is.
It has a nice texture and delicious fresh taste.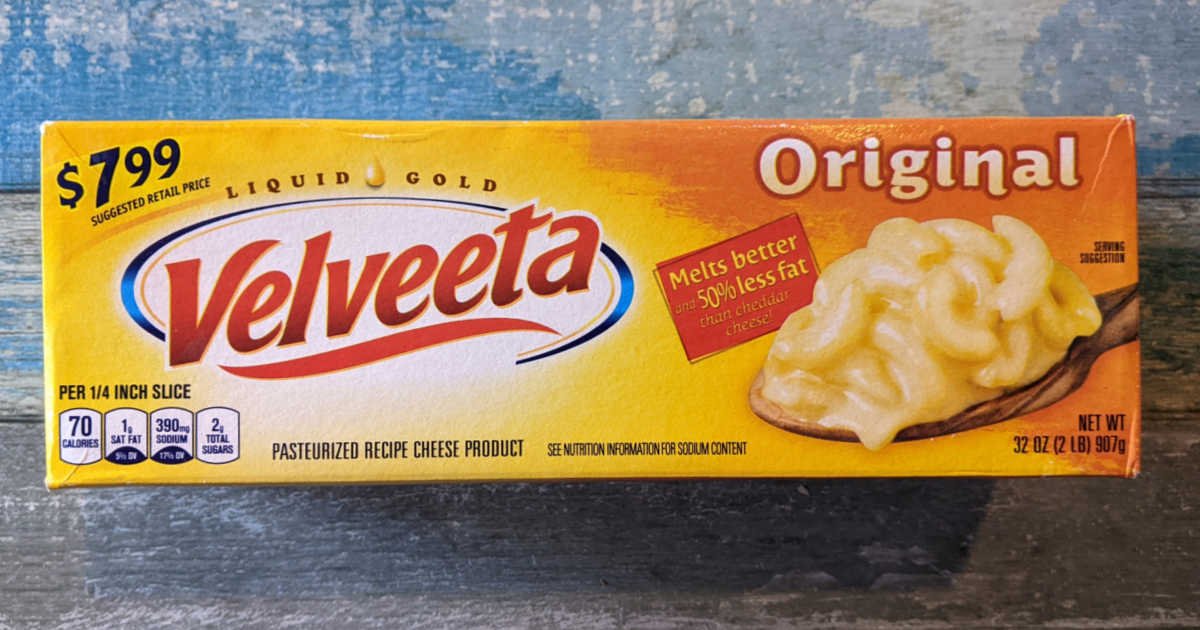 When I was a kid, there was always Velveeta in the house.
My mom used in in recipes, sliced it for sandwiches I took to school and offered it as a between meals snack.
The soft cheese product melts really well, so is great for using in recipes.
Is Velveeta Cheese?
Technically speaking, Velveeta is not actually cheese.
It is a 'processed cheese product' that has a cheesy taste and is made from dairy based ingredients that don't fit the exact FDA requirements to be called cheese.
However, I grew up calling it cheese, so that has stuck with me.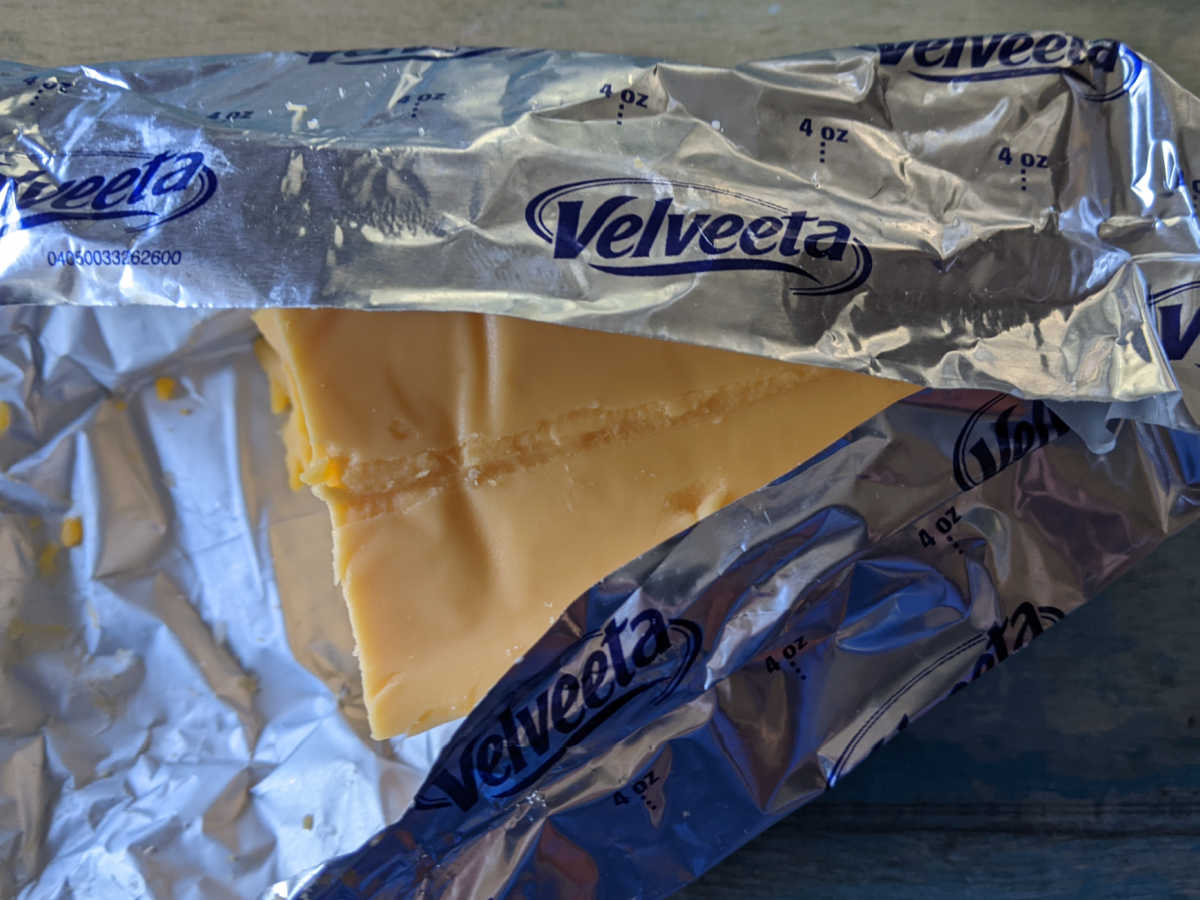 Does Velveeta Need To Be Refrigerated?
No!
Velveeta is shelf stable, so refrigeration is not required for unopened packages.
Grocery stores in my area often keep it in the refrigerator section with other cheeses for convenience, but it doesn't need to be there.
However, you'll want to refrigerate after opening and, in general, refrigeration can keep your Velveeta fresh longer.
As with any food product, be mindful of the best buy date whether in your refrigerator or on a shelf in your pantry.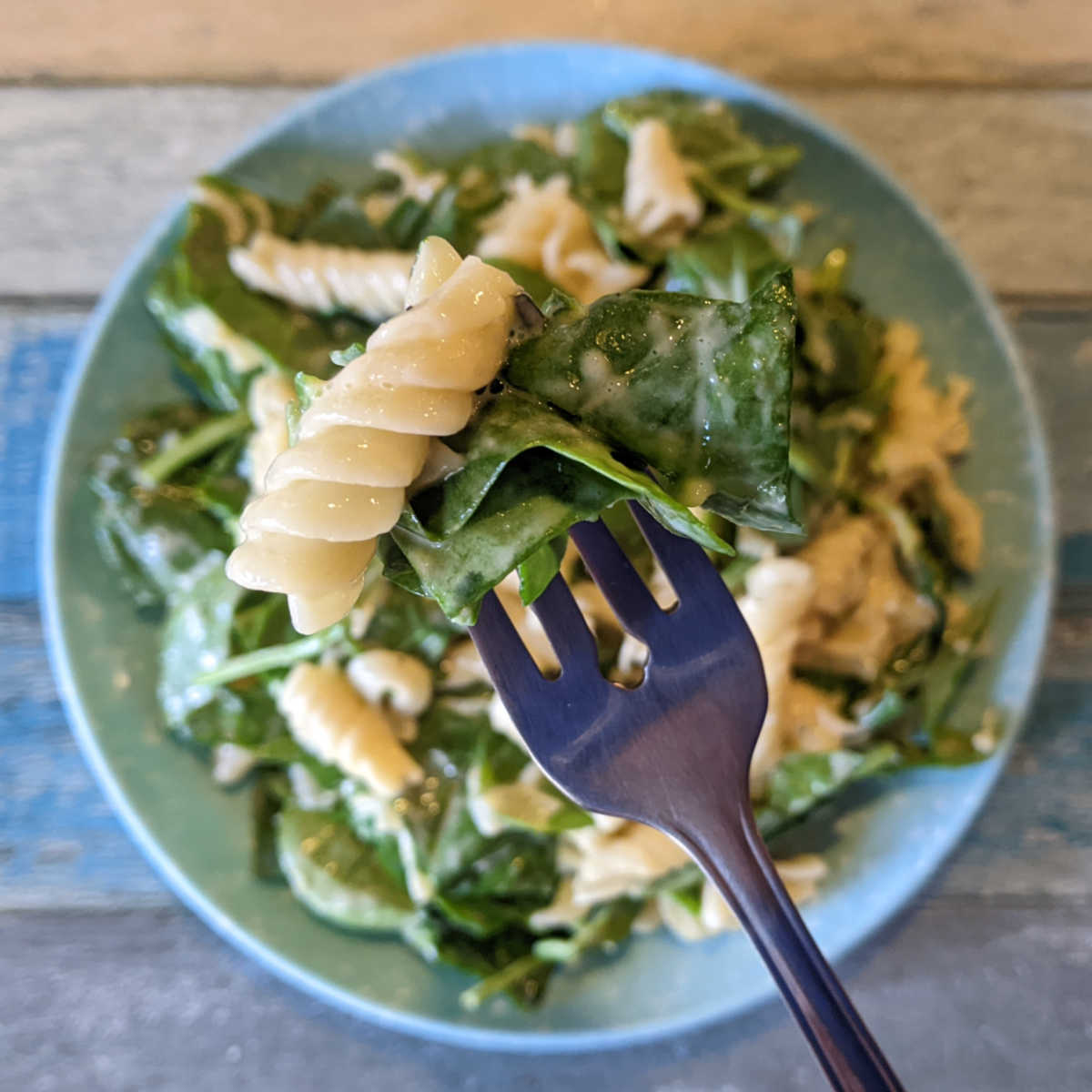 Salt and Pepper?
Velveeta has sodium in it, so we don't need any extra salt added to this dish.
We do, however, like fresh cracked pepper with the pasta.
Feel free to add salt and/or pepper to suit your taste.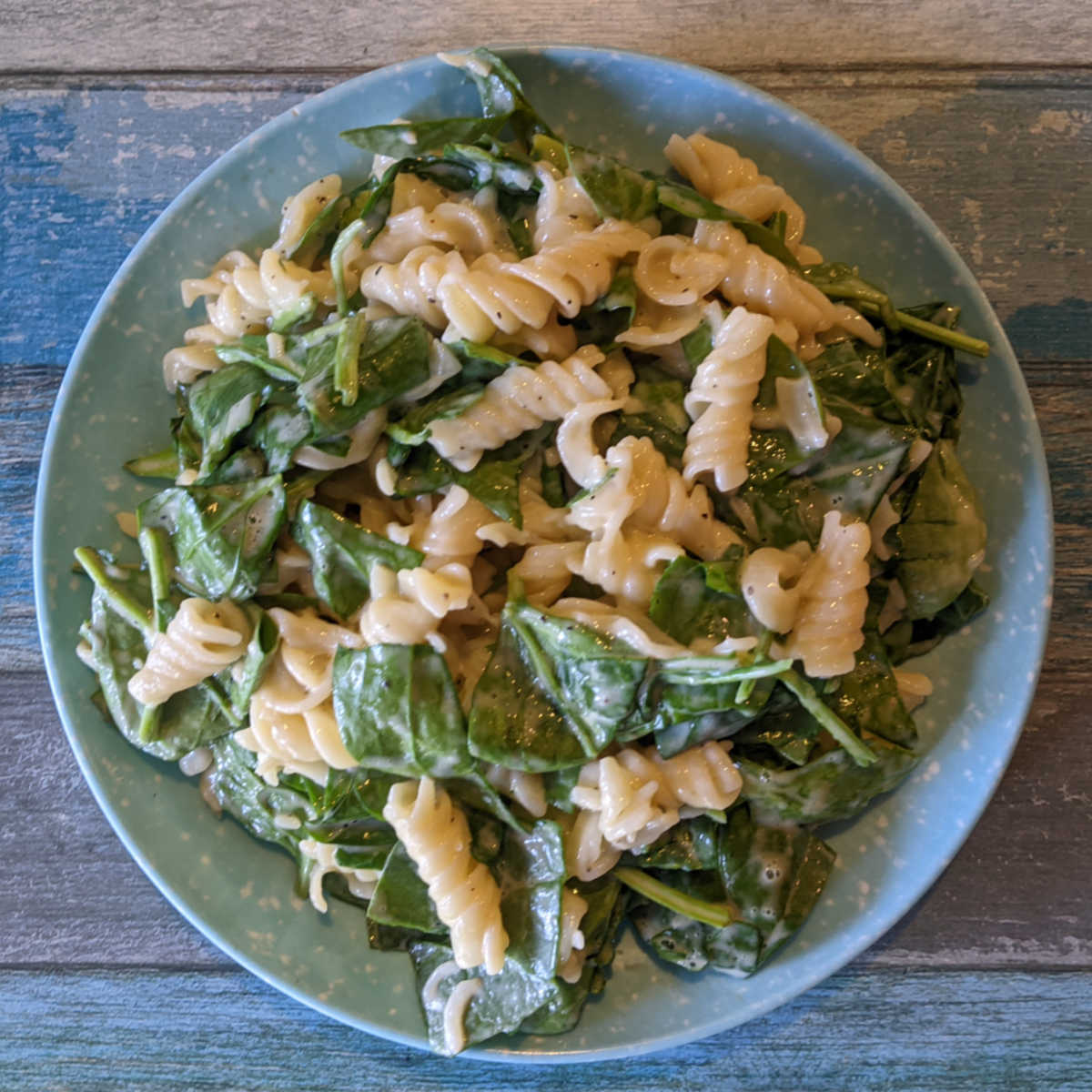 Fresh Spinach Velveeta Rotini Recipe
Prep Time: 5 Minutes
Cook Time: 10 Minutes
Yield: 4 to 6 Servings
Ingredients
16 oz. pkg. Rotini pasta, cooked according to package directions
8 oz. Velveeta
10 oz. pkg. Spinach
Black Pepper to taste
Supplies
Pan with Lid
Colandar
Large Spoon
Knife
Instructions
1) Cook rotini pasta according to package directions.
2) While pasta is cooking, roughly chop the spinach and cut Velveeta into cubes.
3) Drain pasta, reserving some of the liquid to add back in as needed.
4) Return the drained pasta to the pan and stir in Velveeta. Set heat to low and stir occasionally until Velveeta is melted.
5) Add black pepper to taste.
6) Remove from heat and add chopped spinach. Fold in gently, so that spinach is wilted and evenly dispersed.
7) Serve and enjoy your spinach Velveeta rotini!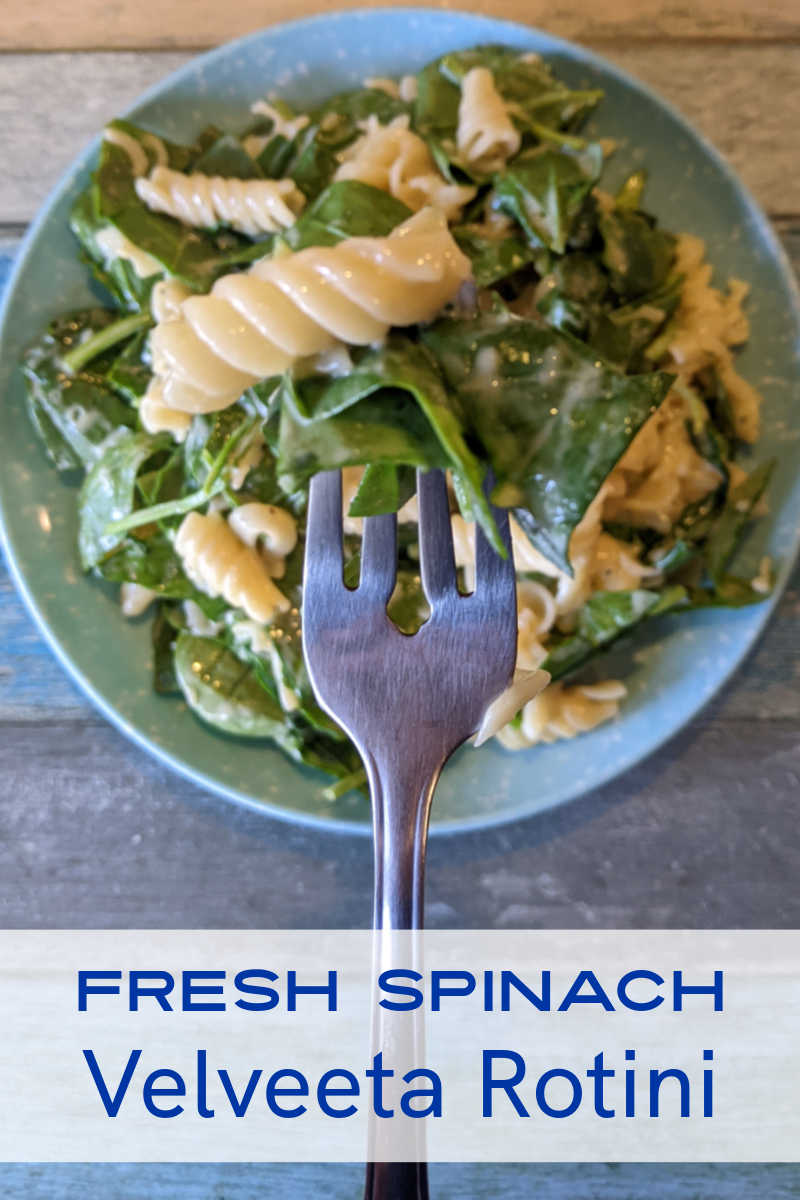 More from Mama Likes To Cook
Check out my vegetarian recipes, so you can get more great ideas for baking, cooking, blending and juicing.
Spinach Recipes
Velveeta Recipes
Pasta Recipes
Shop Now
For a beautiful assortment of kitchen necessities and food gifts for the whole family, check out the current deals at these online stores.
Are you ready to have some delicious fun in the kitchen?