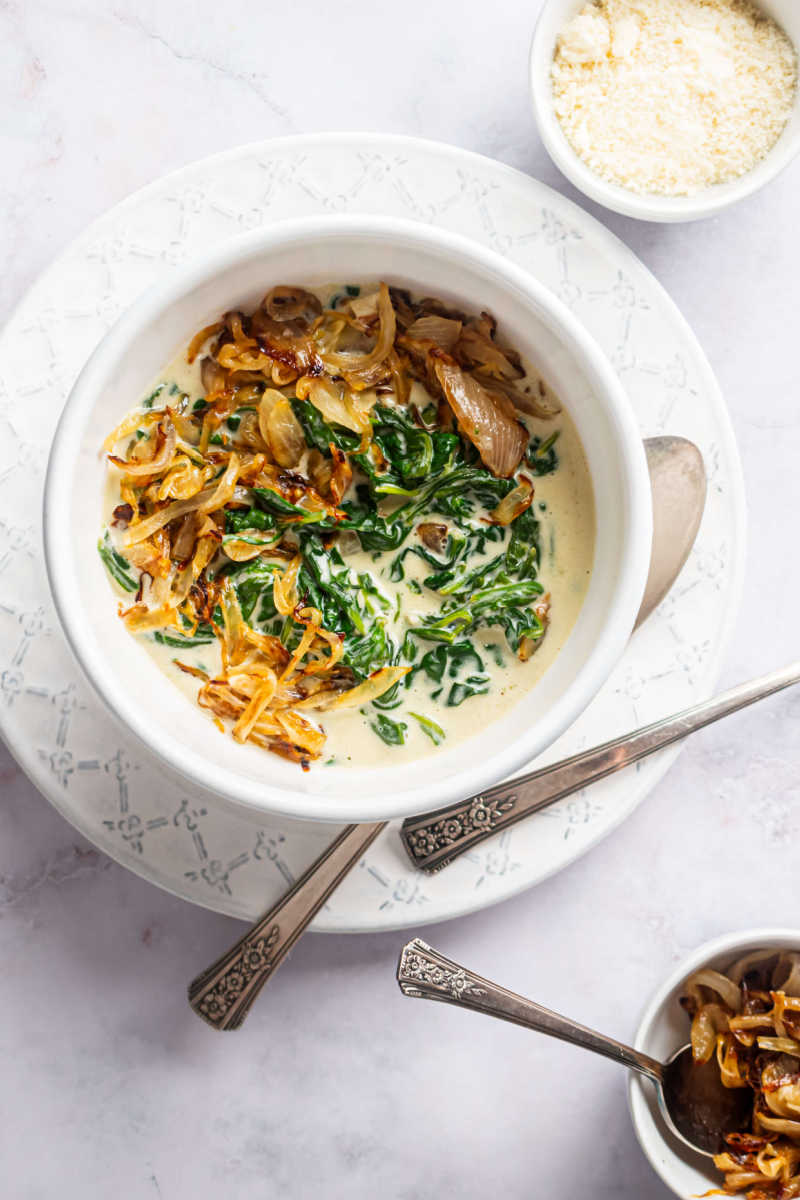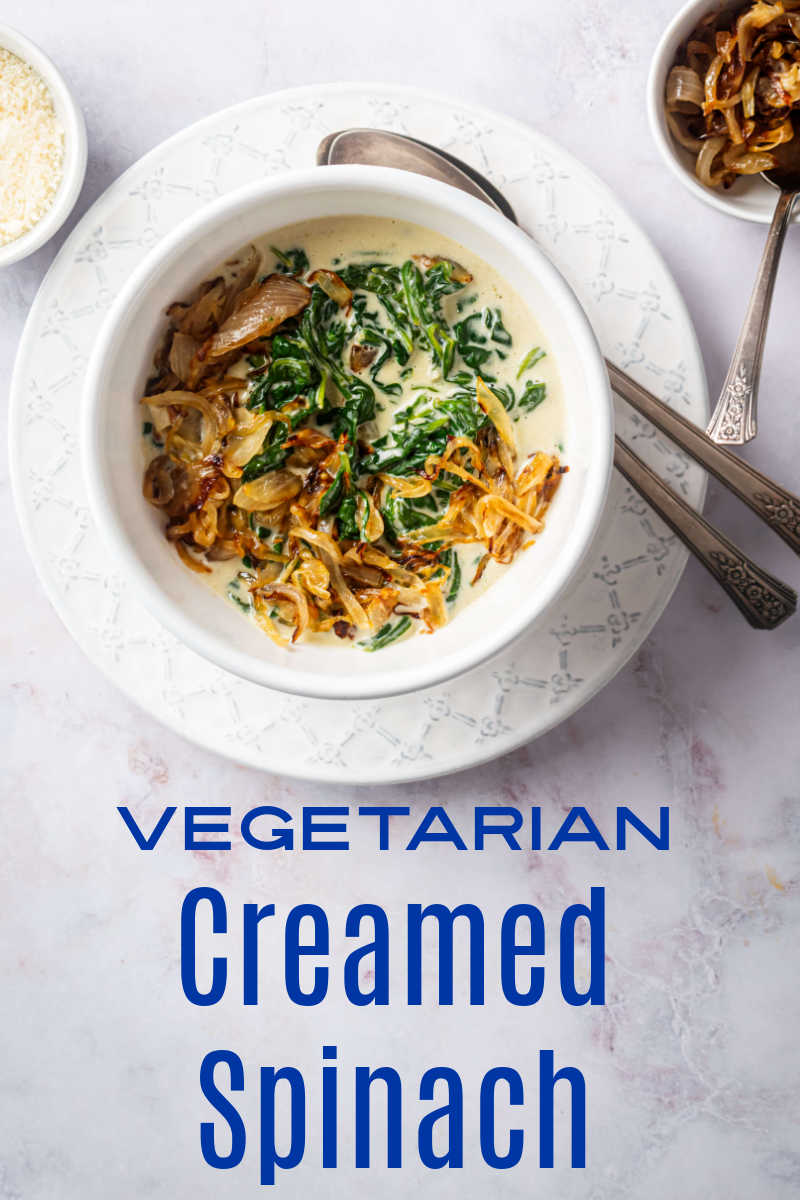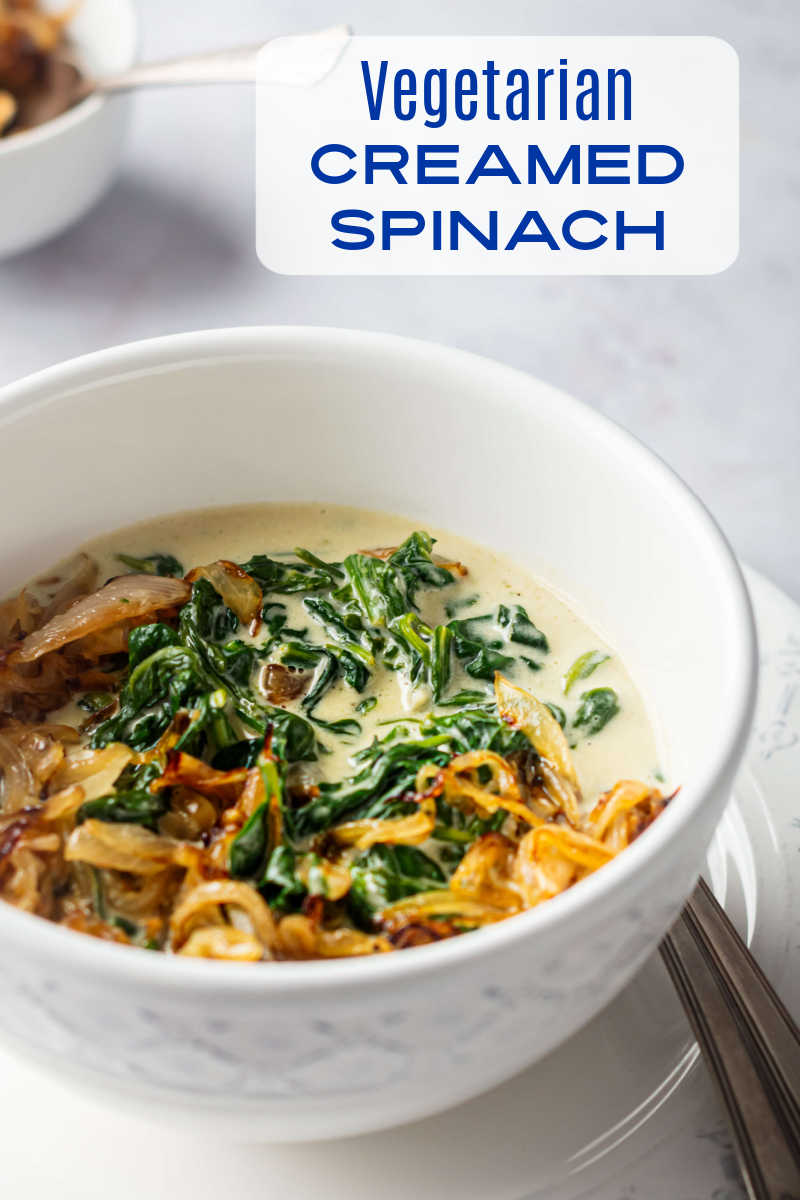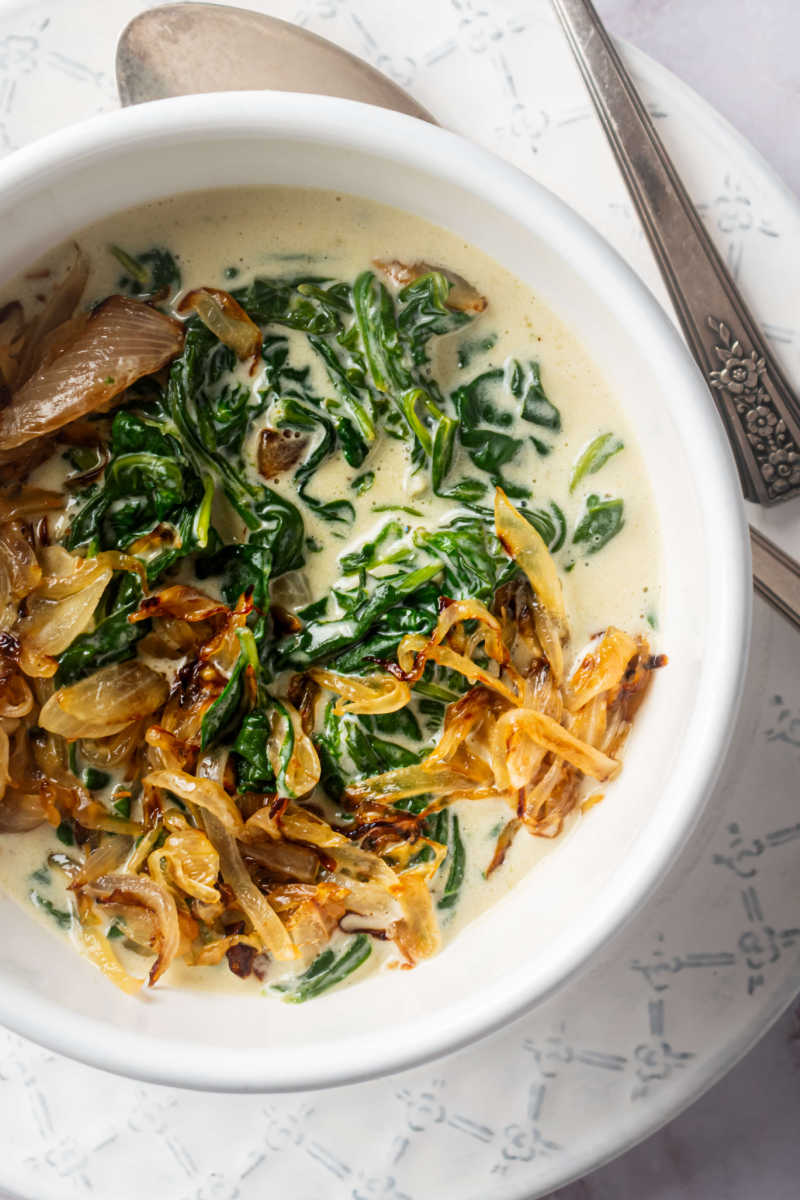 Easy Side Dish The Family Will Love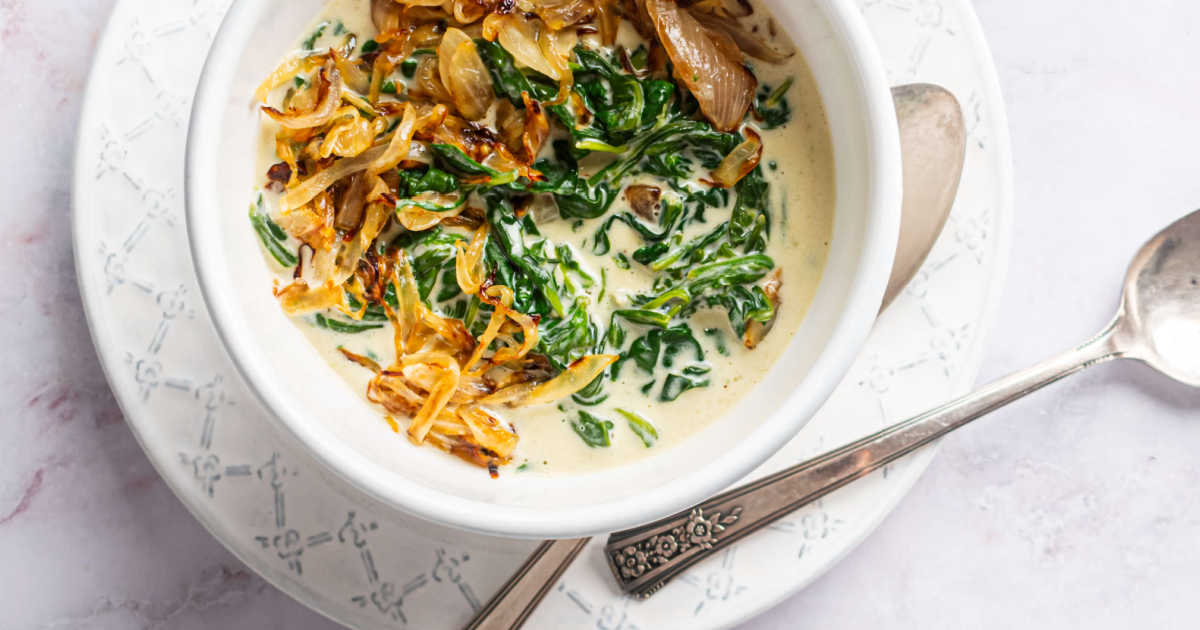 The whole family, including the picky eaters, will love to eat their vegetables, when you serve them my vegetarian creamed spinach side dish.
The creamy spinach is easy enough that you can make it for a weeknight dinner, but also tastes great when served for a special occasion.
It is made with nutritious fresh spinach, not frozen, and there is no flour added.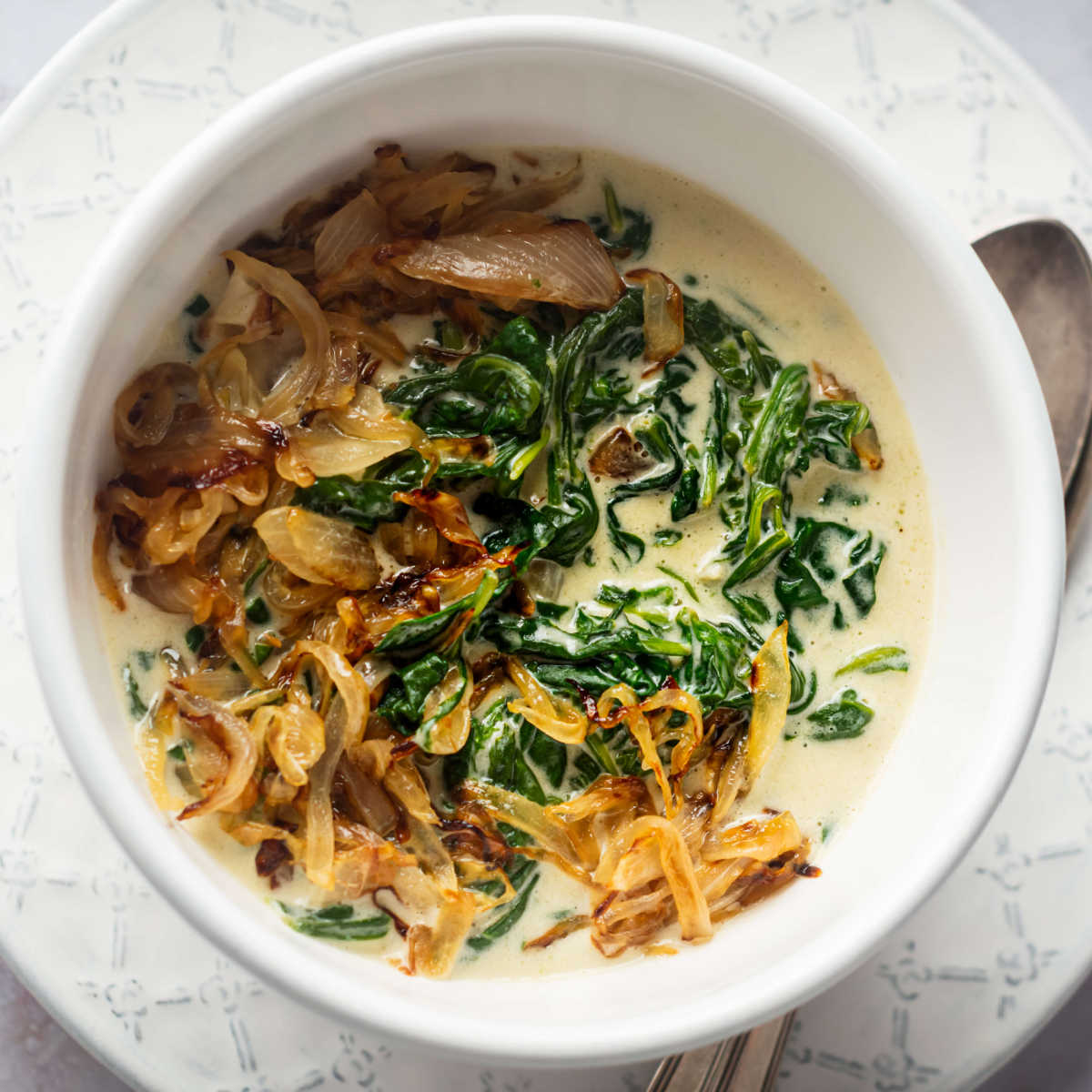 Is This Side Dish Recipe Really Vegetarian?
Yes, this satisfying creamy dish is vegetarian.
There are no meaty ingredients added at all – no bacon, no chicken stock, no duck fat…
It is definitely not vegan or dairy free, since the spinach recipe calls for cream, butter and cream cheese.
However, it is vegetarian.
Is The Creamed Spinach Gluten Free?
This side dish recipe is gluten free, since all of the ingredients do not naturally contain gluten.
Some other recipes use flour as a thickener, but this recipe does not.
As always, you'll want to check labels of any packaged ingredients, if cross contamination is a concern.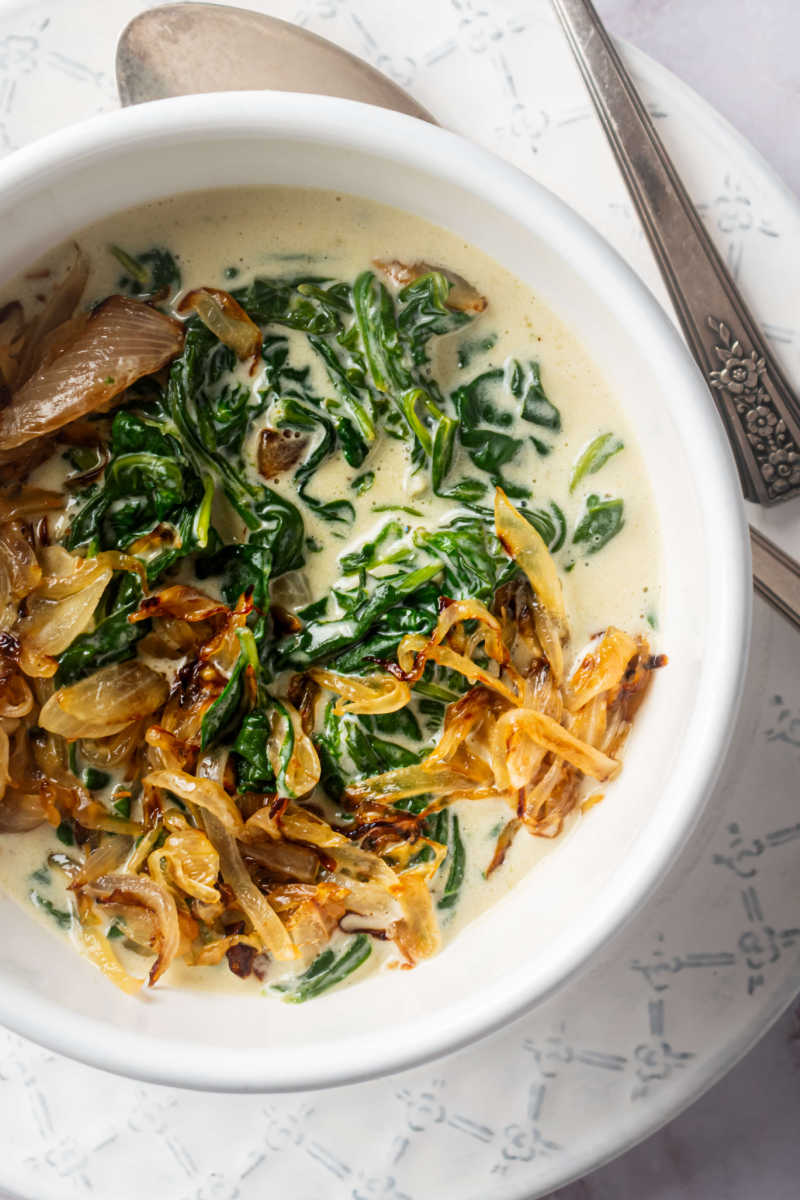 How Can I Make This Creamy Vegetable Side Dish Faster?
Homemade caramelized onions are delicious, but making them is the most time consuming part of preparing this dish.
The flavor of the onions really makes this dish delicious, so I don't recommend skipping the onions completely.
If you'd like to pop open a container of French's Crispy Fried Onions to use instead of caramelizing your own, that is a good option.
Making that easy substitution saves time, so you can get dinner on the table more quickly.
How Do I Store Leftover Vegetarian Creamed Spinach?
If you have any leftovers, you can store them in the refrigerator in an airtight container.
They will still be delicious, when you pack them in your lunch to eat the next day.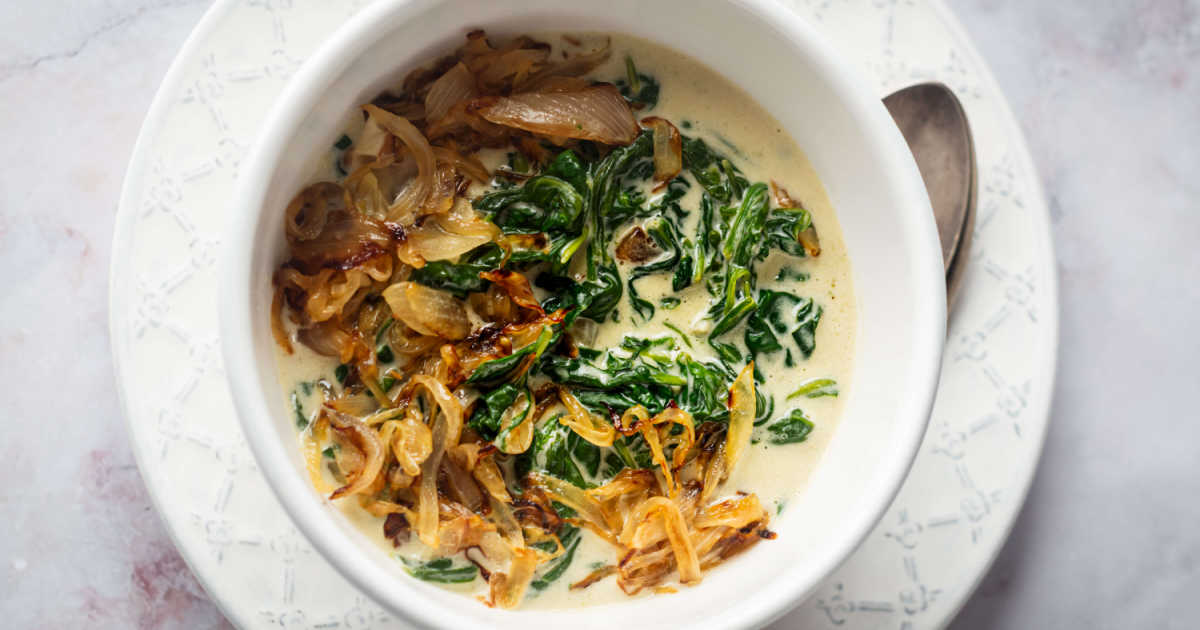 Vegetarian Creamed Spinach Recipe
Prep time: 10 minutes
Cook time: 40 minutes
Yield: 4 Servings
Ingredients
2 T Extra Virgin Olive Oil
3 Medium Onions, halved and thinly sliced
2 lbs. Spinach, cleaned and chopped
2 Garlic Cloves, minced
1 T Butter
8 oz. Cream Cheese
½ cup Heavy Cream
¼ cup Parmesan Cheese, grated
Salt and Black Pepper to Taste
Optional Garnish
Chopped Parsley
Supplies
Skillet
Silicone Turner
Measuring Cup
Chef Knife
Instructions
1) Make caramelized onions. Heat the extra virgin olive oil in a large skillet on medium heat. Add chopped onions. Stir occasionally and cook until the onions are caramelized.
2) Remove the caramelized onions from the skillet and set aside.
3) Using the same skillet, add the chopped spinach to the pan little by little. Stir, so that it wilts and continue adding spinach in until it is all wilted in the pan. Add the minced garlic and continue cooking until cooked down.
4) Stir in the butter, cream cheese, heavy cream and salt and pepper to taste. Continue cooking, so the butter and cream cheese are melted and creamy.
5) Remove skillet from the heat and stir in the grated parmesan cheese.
6) Transfer the creamed spinach to a serving bowl, top with the caramelized onions and garnish with chopped parsley.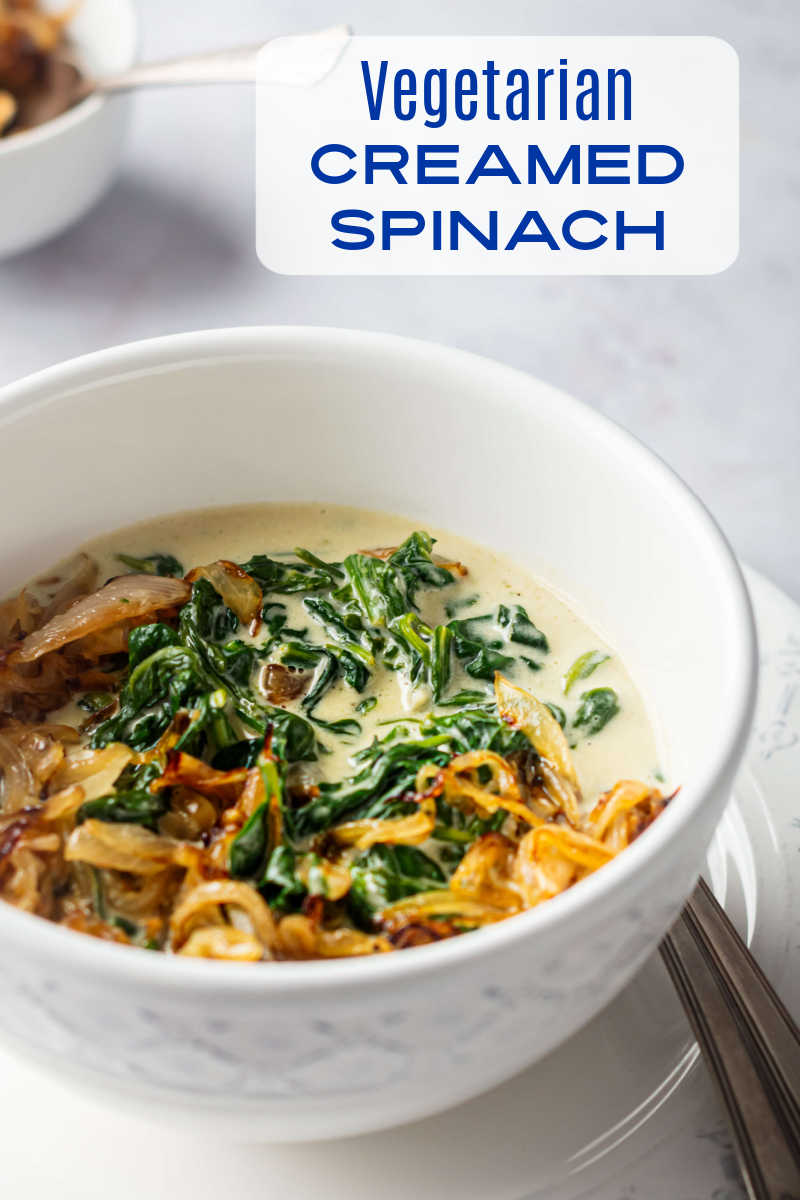 More from Mama Likes To Cook
Check out the rest of my vegetarian recipes, so you can get more great ideas for baking, cooking, blending and juicing.
Spinach Recipes
Vegetable Side Dish Recipes
Shopping Tips
For a beautiful assortment of kitchen necessities and food gifts for the whole family, check out the deals at these online stores.
Are you ready to have some delicious fun in the kitchen?