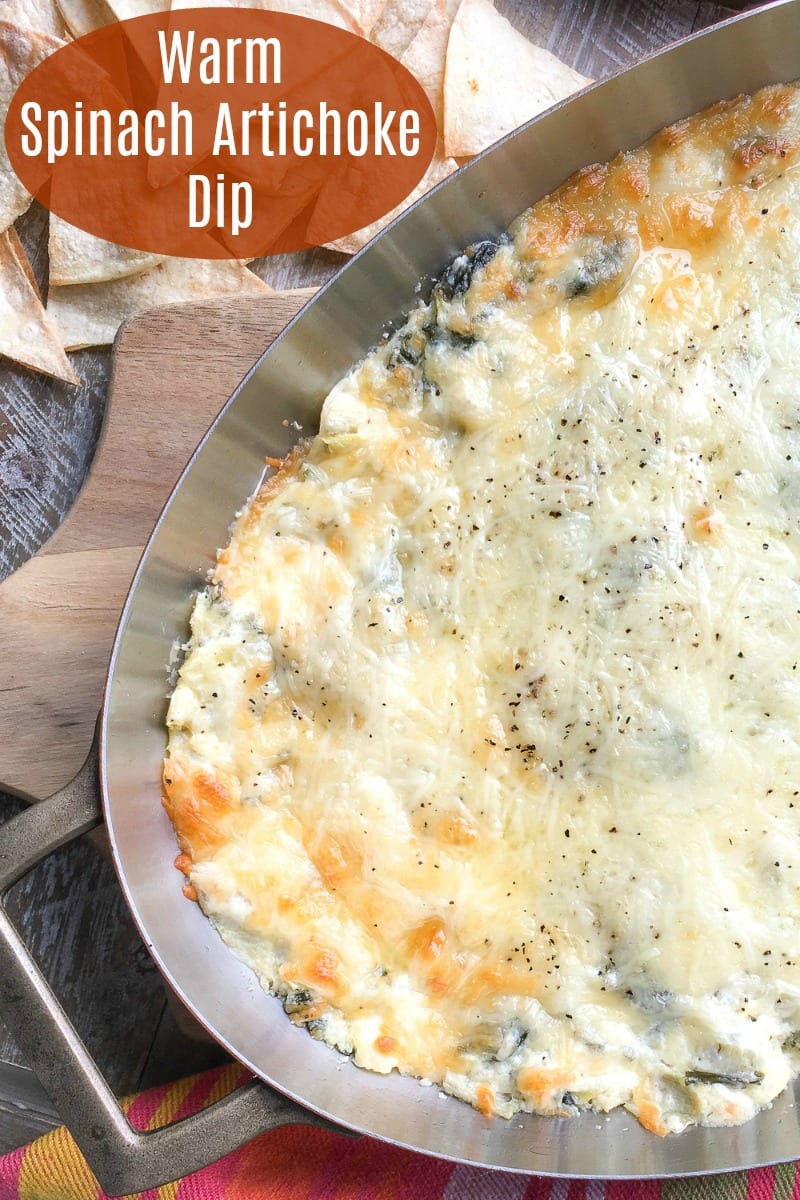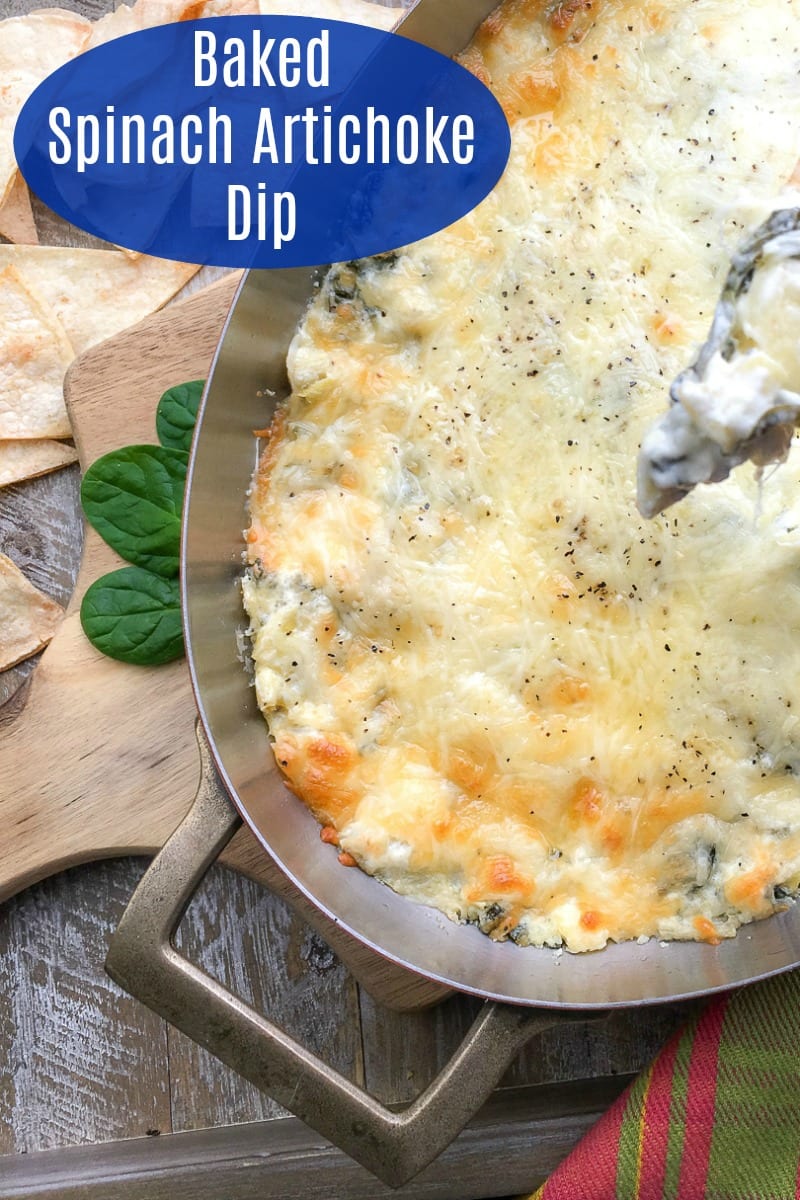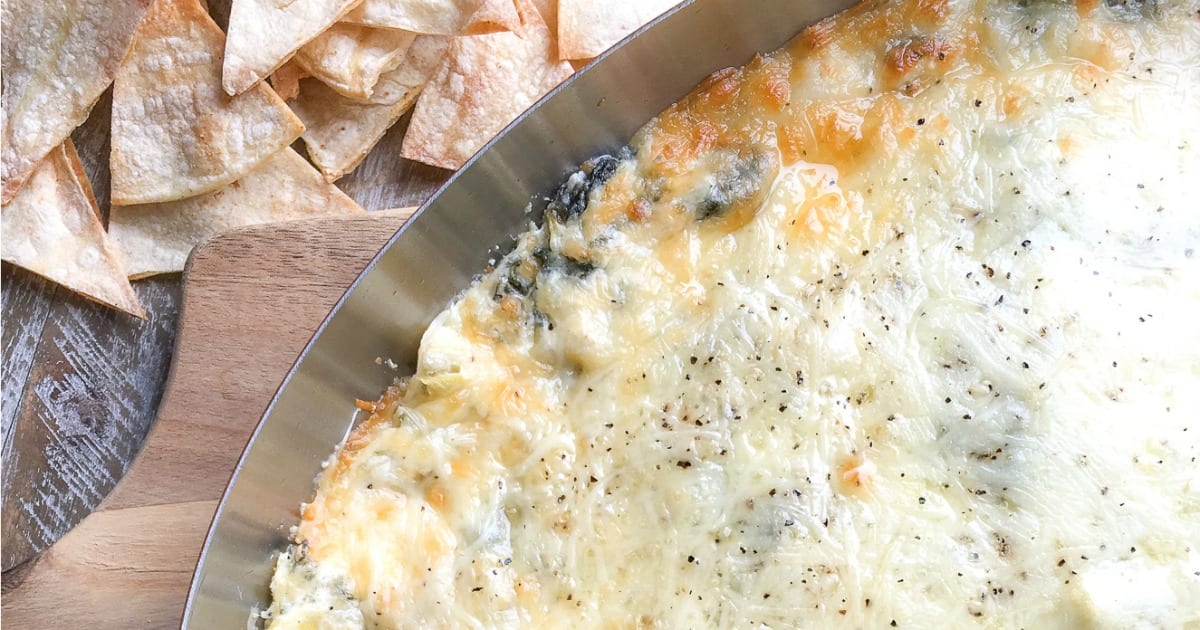 It is easy to make homemade baked spinach artichoke dip, so you can enjoy this comfort food favorite dip in your own home.
The warm cheesy dip can be served as part of a meal or is a great shared dish for movie night or as a family game night snack.
You can serve it with store bought tortilla chips, but you can make simple homemade tortilla gluten free tortilla chips with the included recipe.
The chips don't take much effort at all, so it is an easy addition to this already delicious dip.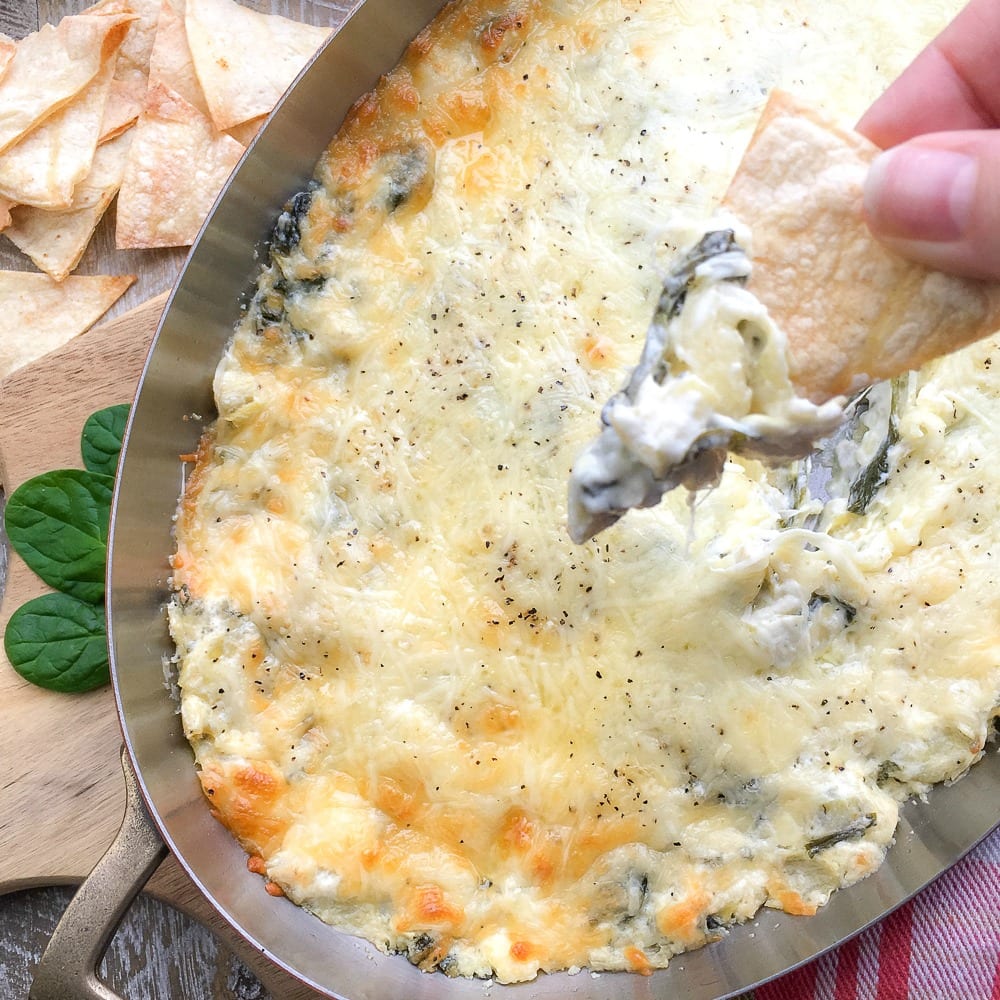 Make sure you use an oven safe skillet, when you bake the spinach artichoke dip.
Cast iron is always a good choice, but there are a lot of other good options these days.
Just make sure the kids (and adults!) know that the pan will still be warm, when the skillet dip is served.
Enjoy!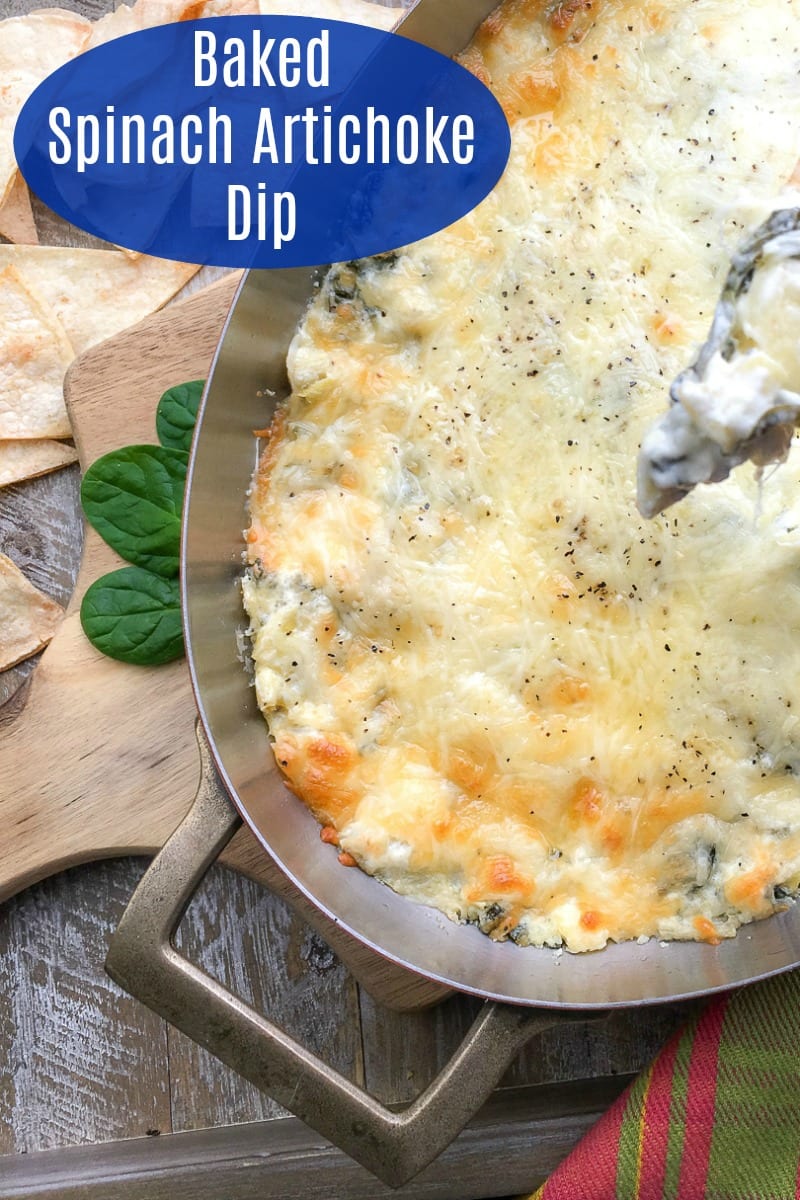 Serves 4
Ingredients
12 Small Gluten Free Corn Tortillas, cut into wedges
Garlic Powder to Taste
Salt to Taste
2 T Extra Virgin Olive Oil
5 cloves Garlic, minced
8 oz. Fresh Spinach, chopped
2 T Fresh basil, chopped
14.5 oz jar Artichoke Hearts, drained and chopped
1/3 cup Sour Cream
8 oz. Cream Cheese, softened
1/4 cup Parmesan Cheese, grated
3/4 cup Mozzarella Cheese, grated
Salt and Pepper to Taste
Supplies
Rimmed Baking Sheet
Parchment Paper
Cheese Grater
Chef Knife
Oven Safe Skillet
Nonstick Cooking Spray
Mixing Bowl
Instructions
1) Preheat oven to 350°. Line the baking sheet with parchment paper and coat the skillet with nonstick spray.
2) Arrange the tortilla wedges on the parchment paper covered baking sheet. Sprinkle with garlic powder and salt. Then flip over to sprinkle the other side. Bake for about 8 to 10 minutes until golden brown and crispy. Stir chips about halfway through the baking time.
3) Begin cooking the dip, while the chips are baking. Add olive oil and minced garlic to the oven safe skillet and heat on the stove on medium. Stir in spinach and basil and cook for approx. 5 minutes until spinach wilts. Add salt, if desired.
4) Add artichokes, cream cheese, sour cream, Parmesan and half of the Mozzarella to a bowl and stir until thoroughly combined. Then add this to the skillet. Stir to combine and top with remaining Mozzarella.
5) Place skillet in oven and bake for 25 -30 minutes. When heated through and cheese begins to turn golden brown, remove from oven and serve with the chips immediately.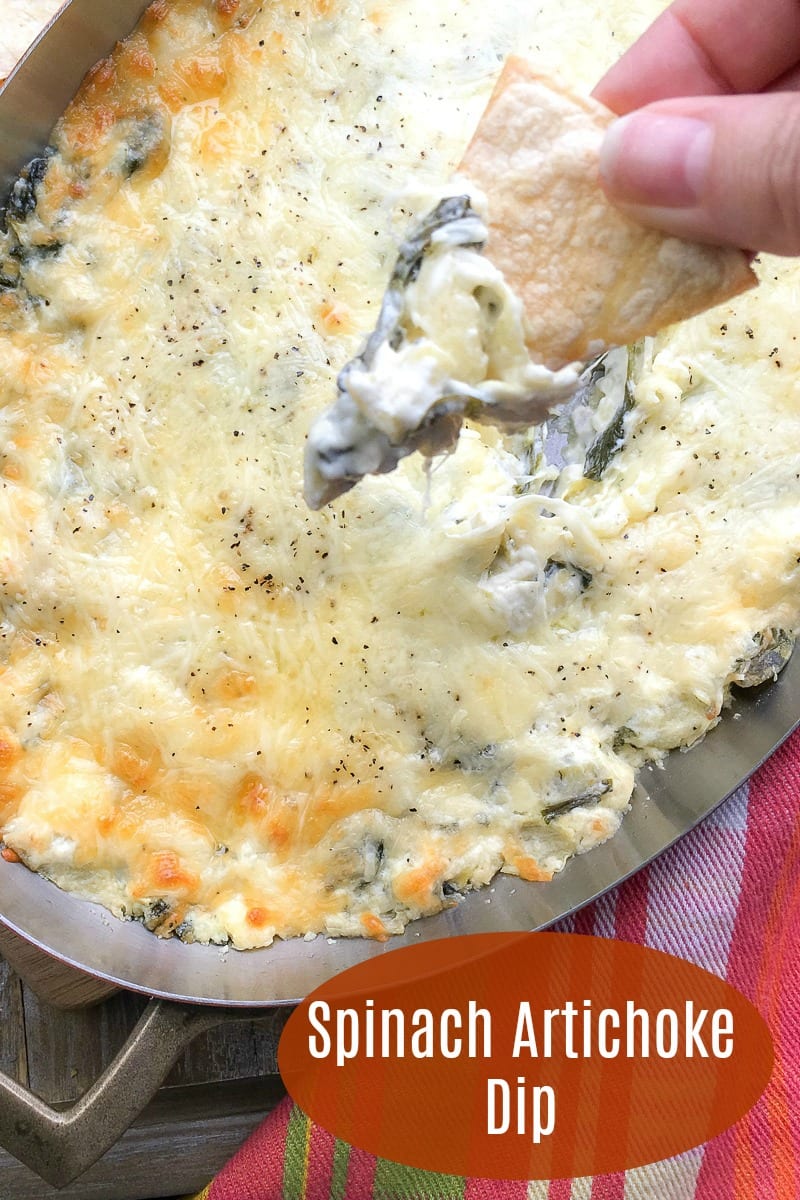 More from Mama Likes To Cook
Check out the rest of my vegetarian recipes, so you can get more great ideas for baking, cooking, blending and juicing.
Spinach Recipes
Shopping Tips
For a beautiful assortment of kitchen necessities and food gifts for the whole family, check out the deals at these online stores.
Are you ready to have some delicious fun in the kitchen?