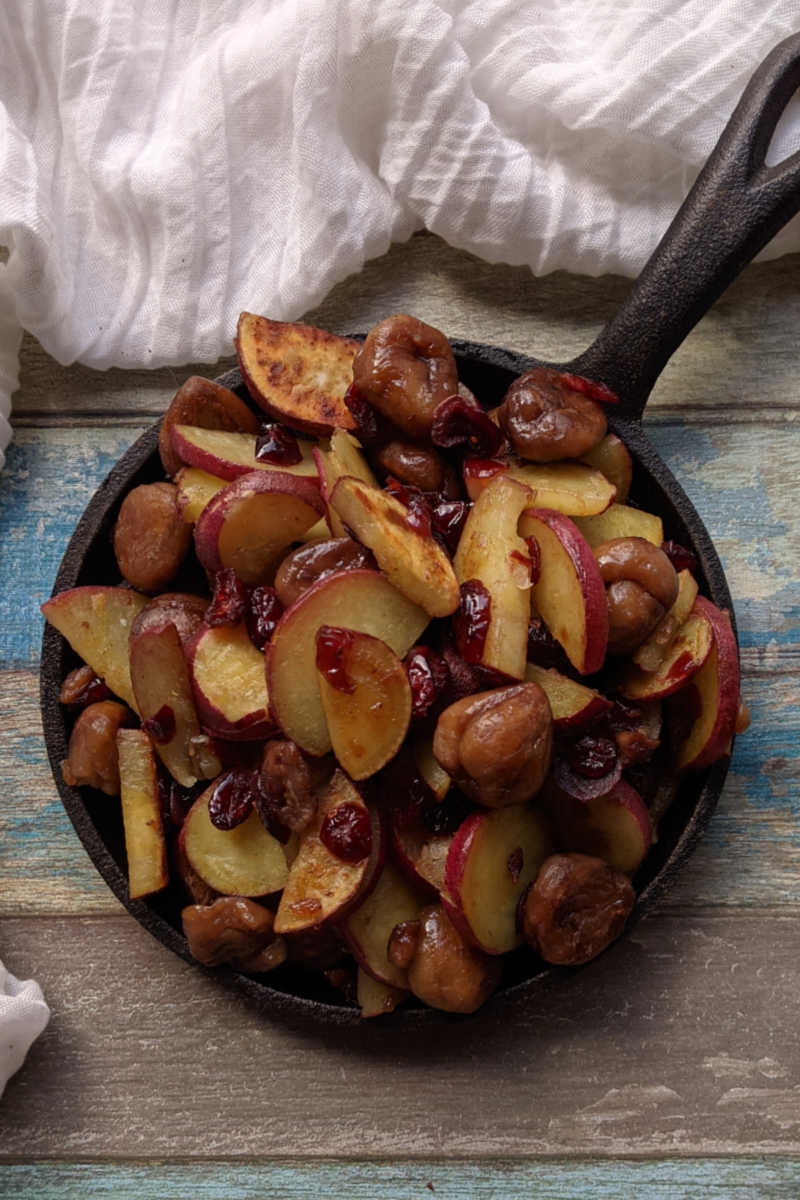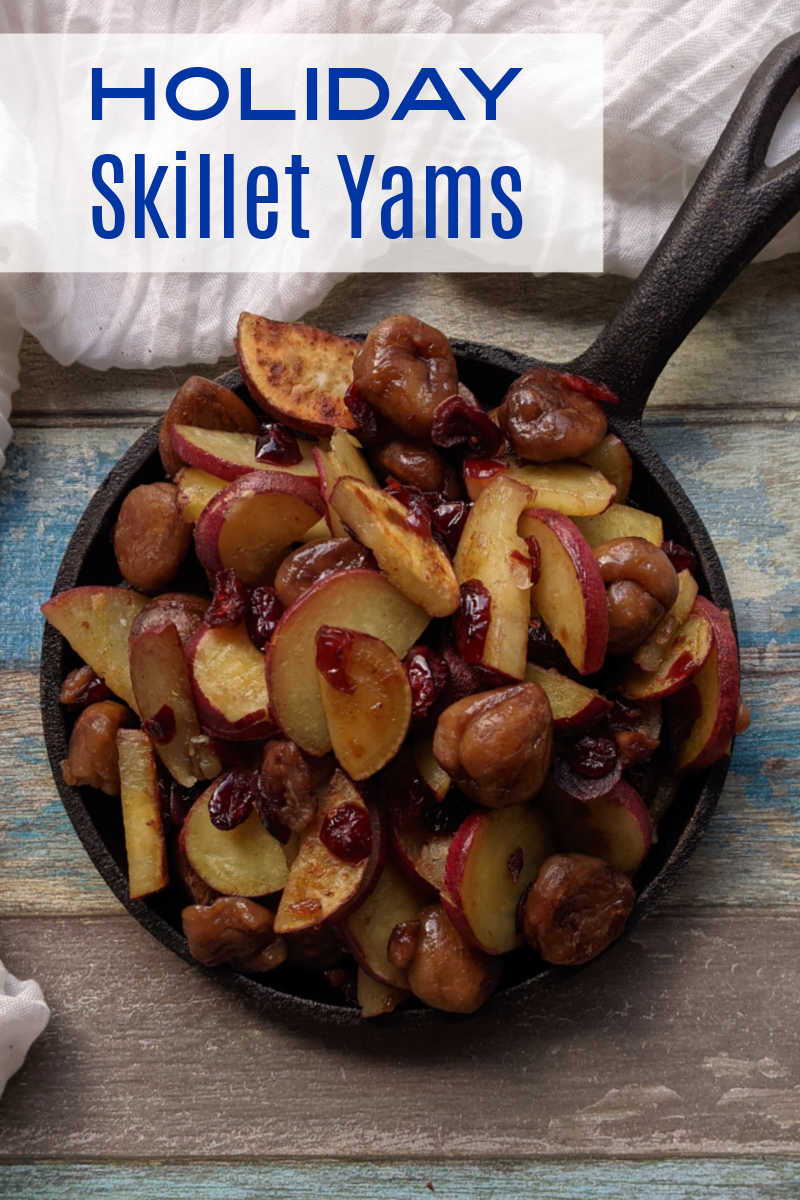 Easy Holiday Side Dish Made in A Skillet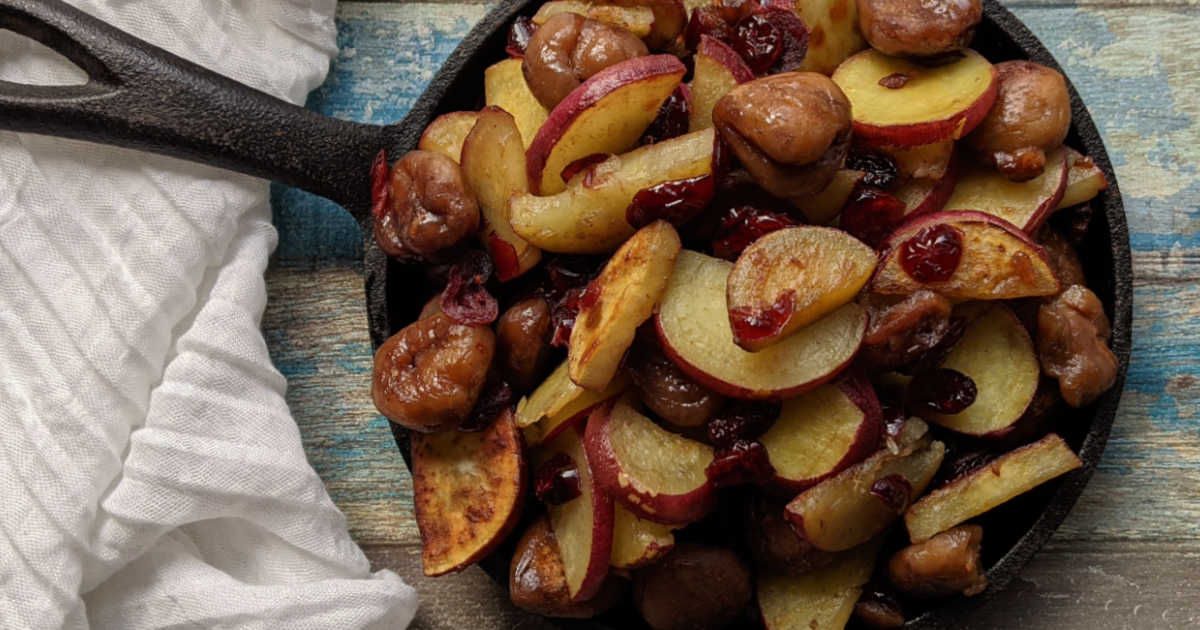 Follow this holiday skillet yams recipe, so you can make an easy and delicious side dish with cranberries, chestnuts and yam.
Yes, this vegetable side dish has seasonal flavors that make it perfect to serve for Thanksgiving, Christmas, New Years or anytime in the Fall or Winter.
However, ingredients can be found year round, so feel free to make it whenever you'd like.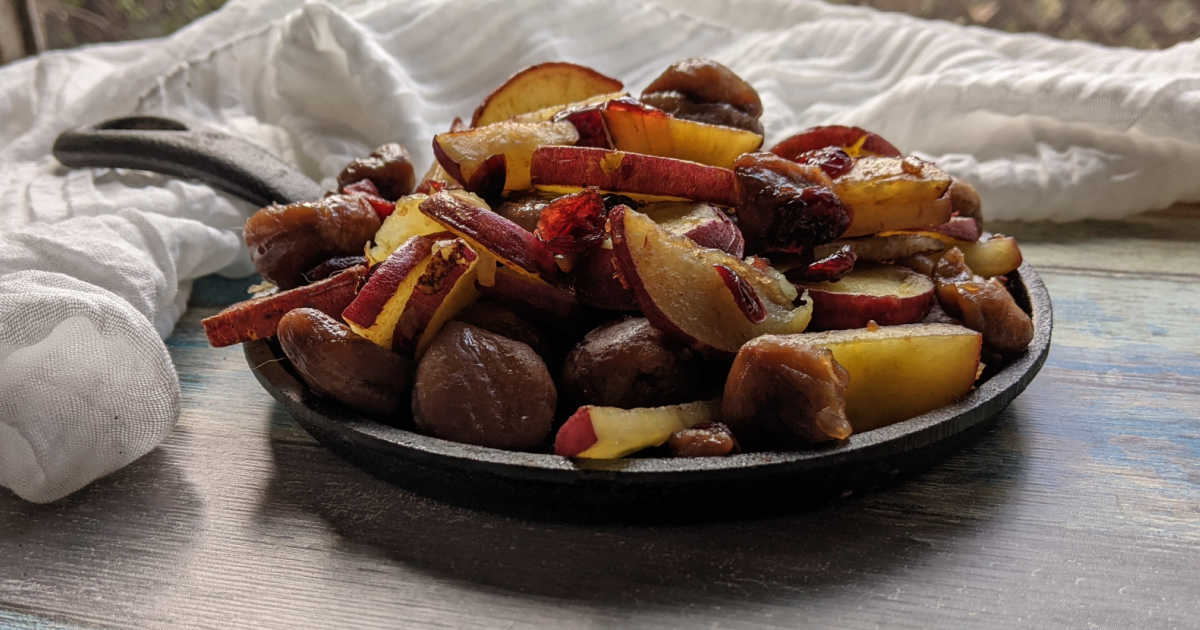 Is This An Easy Side Dish To Make?
This holiday side dish recipe is super easy and no special skills or equipment are needed.
There are only four ingredients, plus salt to taste.
It is simple enough to make for a weeknight dinner, but this flavor combination is great to serve for a special holiday meal.
Are The Skillet Yams Vegan or Vegetarian?
Yes!
This is a vegan and vegetarian recipe.
There are just four ingredients in this recipe (plus salt to taste) and it is 100% plant based.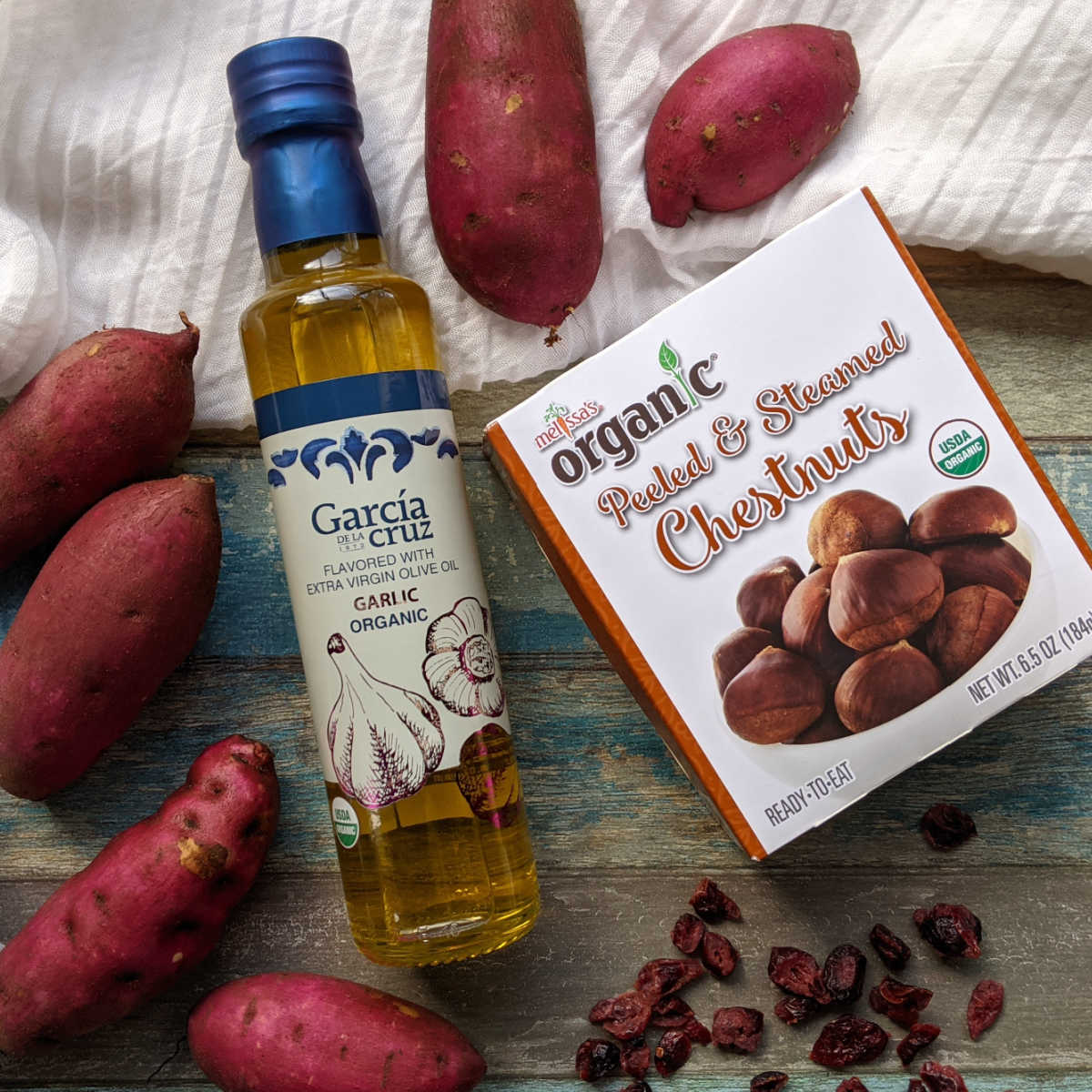 Is This Side Dish Gluten Free?
All of the ingredients in this recipe are naturally gluten-free.
As with any pre-packaged items, make sure you check the labels if cross contamination is a concern for you.
Are Yams and Sweet Potatoes The Same Thing?
The words yam and sweet potato are often used interchangeably, but they are not the same vegetable.
Yams have a more neutral flavor, while sweet potatoes are actually sweet.
They are often mislabeled at grocery stores and many consumers don't know the difference.
We like them both and often use them in the same types of recipes.
Can I Substitute Sweet Potatoes for Yams in This Recipe?
Yes, substitutions are fine in this flexible recipe.
Organic Baby Japanese Yams are tender and delicious, but another type of yam or sweet potato may be substituted.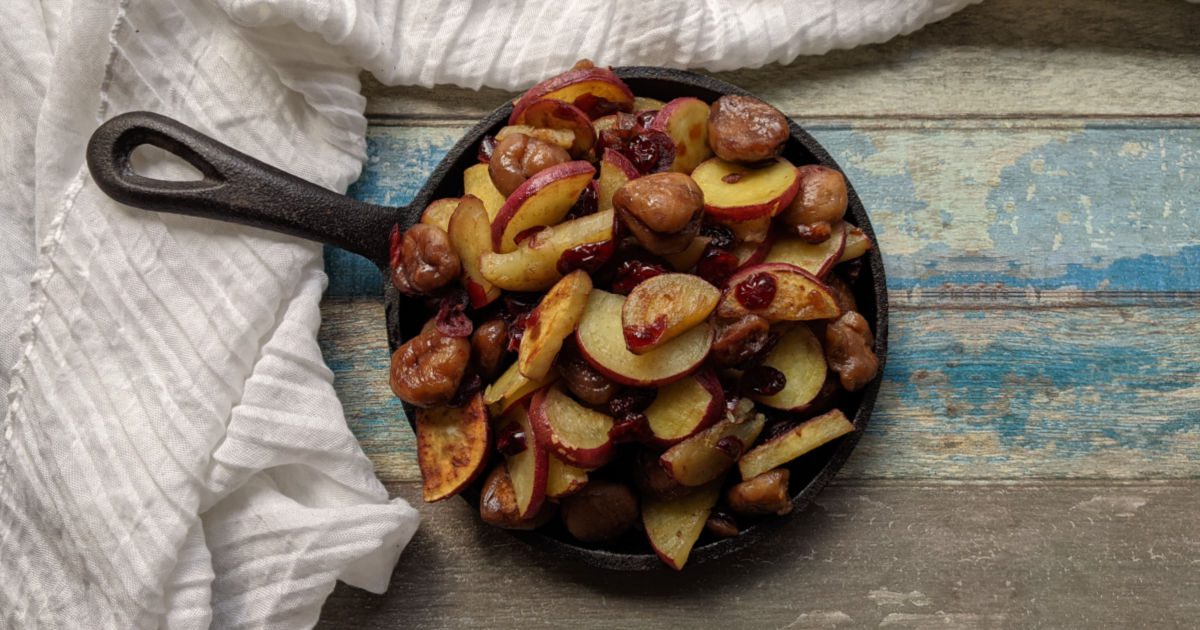 How Do I Rehydrate Dried Cranberries?
It is very easy to rehydrate dried cranberries to use in this recipe and in baked goods.
Simply soak the cranberries in a bowl of warm water for about 15 to 20 minutes.
Then drain off the excess water and use in the recipe.
What Do Chestnuts Taste Like?
Steamed chestnuts are tender and have a lightly sweet flavor.
They add a nice bit of sweetness to the side dish that pairs well with the savory garlic olive oil and earthy yams.
What Is This Garlic Olive Oil?
Garcia de La Cruz Garlic infused Olive Oil is high quality cold pressed extra virgin olive oil with garlic infused into the oil.
The taste of real garlic really comes through, so you can taste it throughout the dish.
Oils from this family owned business are USDA Certified Organic, Non-GMO Project Verified and Certified Gluten Free.
Can I Use Regular Olive Oil Instead of The Garlic Olive Oil?
The garlic olive oil is delicious, but you can use regular olive oil as a substitute.
If you still want garlic in the dish, add a tablespoon of fresh minced garlic to the skillet after you add the sliced yams.
How Do I store Leftover Skillet Yams?
If you have any leftovers, they can be stored in the refrigerator in an airtight container.
They taste good when reheated and can easily be packed in a lunch to take with you to work.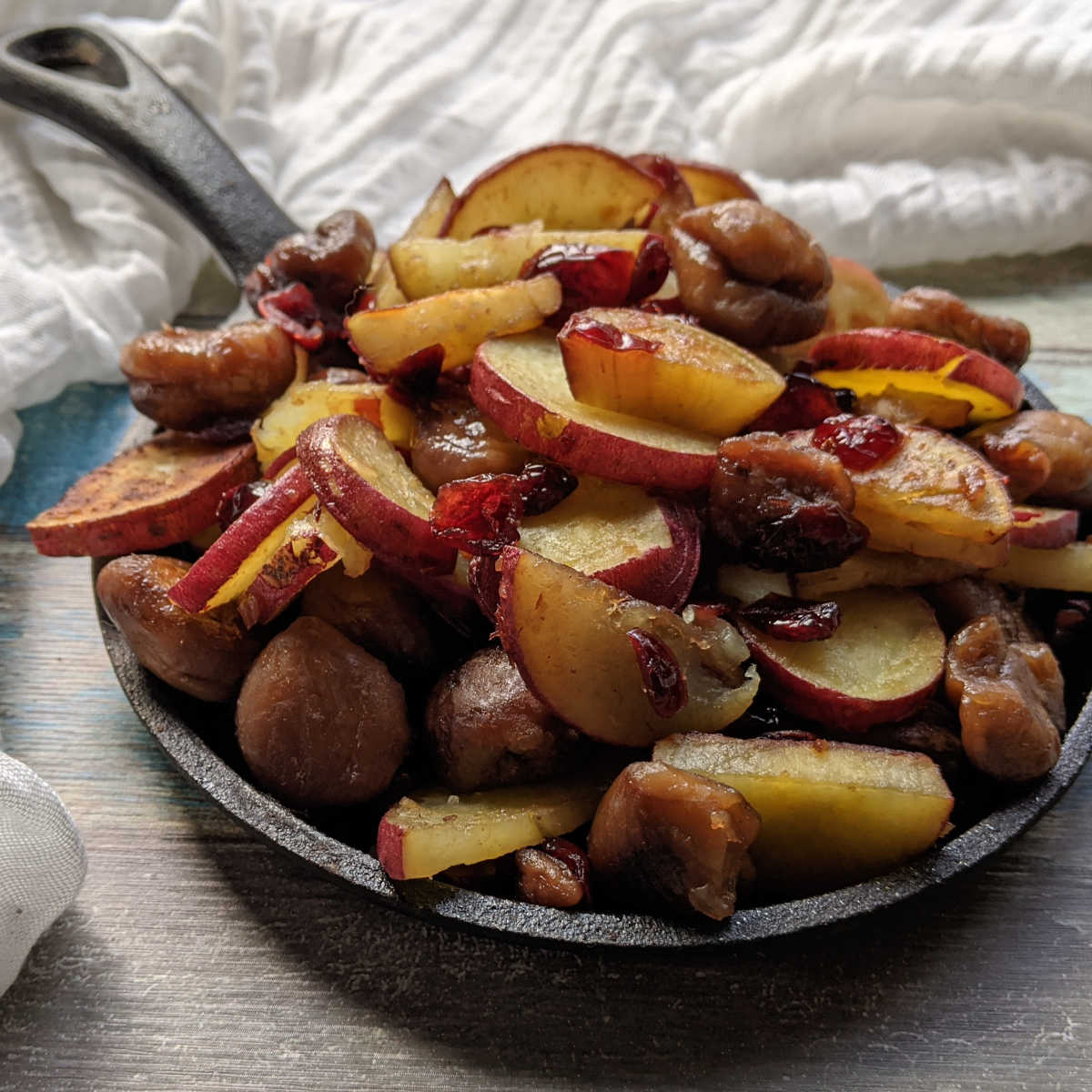 Holiday Skillet Yams Recipe
Prep Time: 20 minutes
Cook Time: 5 minutes
Yield: 4 Servings
Ingredients
1 lb. Yams (I used Melissa's Organic Baby Japanese Yams)
1 pkg. Steamed Chestnuts
1/2 cup Dried Cranberries
2 T Extra Virgin Olive Oil (I used Garcia de la Cruz Garlic Infused Olive Oil)
Salt to Taste
Supplies
Small Bowl
Skillet
Chef Knife
Instructions
1) Soak the dried cranberries in a small bowl of warm water for about 15 to 20 minutes to rehydrate. When they are rehydrated, drain off the excess water.
2) Slice the yams into bite sized pieces and cut the chestnuts in half.
3) Heat the olive oil in a skillet. Add sliced yams and cook for a couple minutes, stirring occasionally.
4) Add the chestnut halves and rehydrated cranberries to the skillet. Cook for a few more minutes, stirring occasionally.
5) Salt to taste.
6) Enjoy!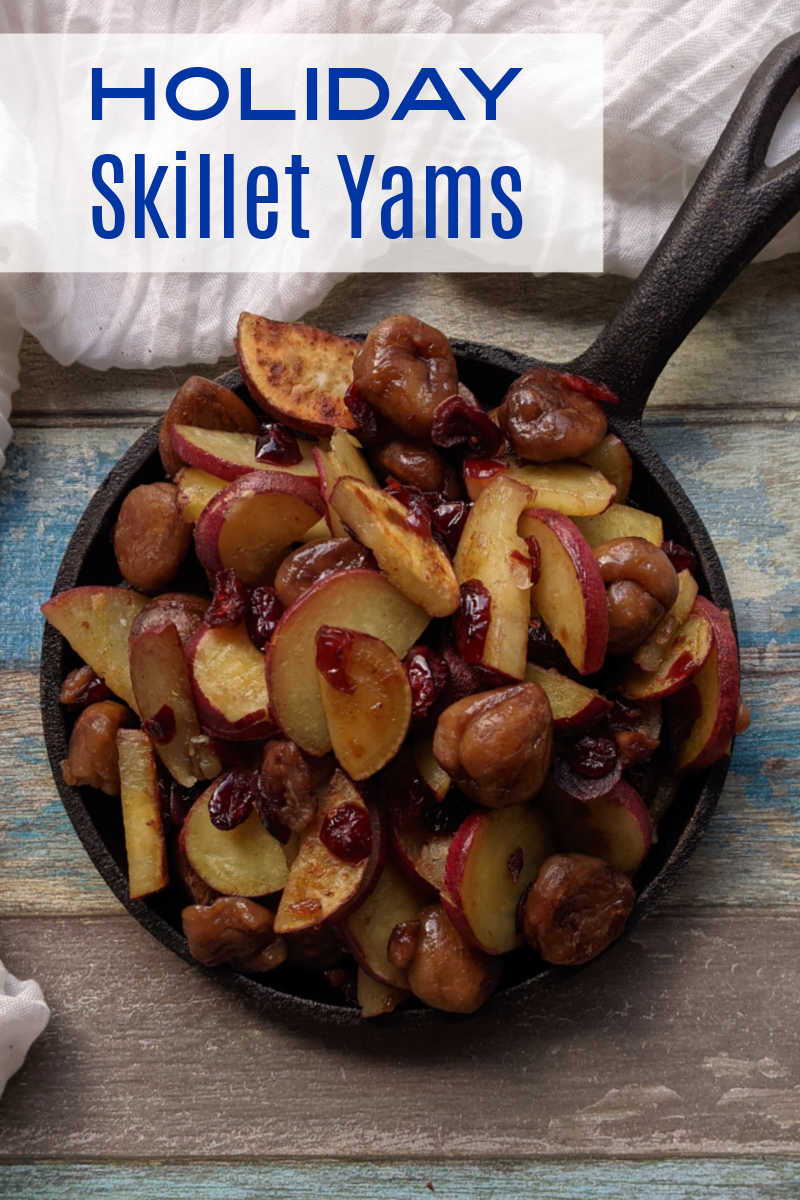 More from Mama Likes To Cook
Check out the rest of my vegetarian recipes, so you can get more great ideas for baking, cooking, blending and juicing.
Yam and Sweet Potato Recipes
Chestnut Recipes
Cranberry Recipes
Shopping Tips
For a beautiful assortment of kitchen necessities and gifts for the whole family, check out the deals at these familiar online stores.
Are you ready to have some delicious fun in the kitchen?