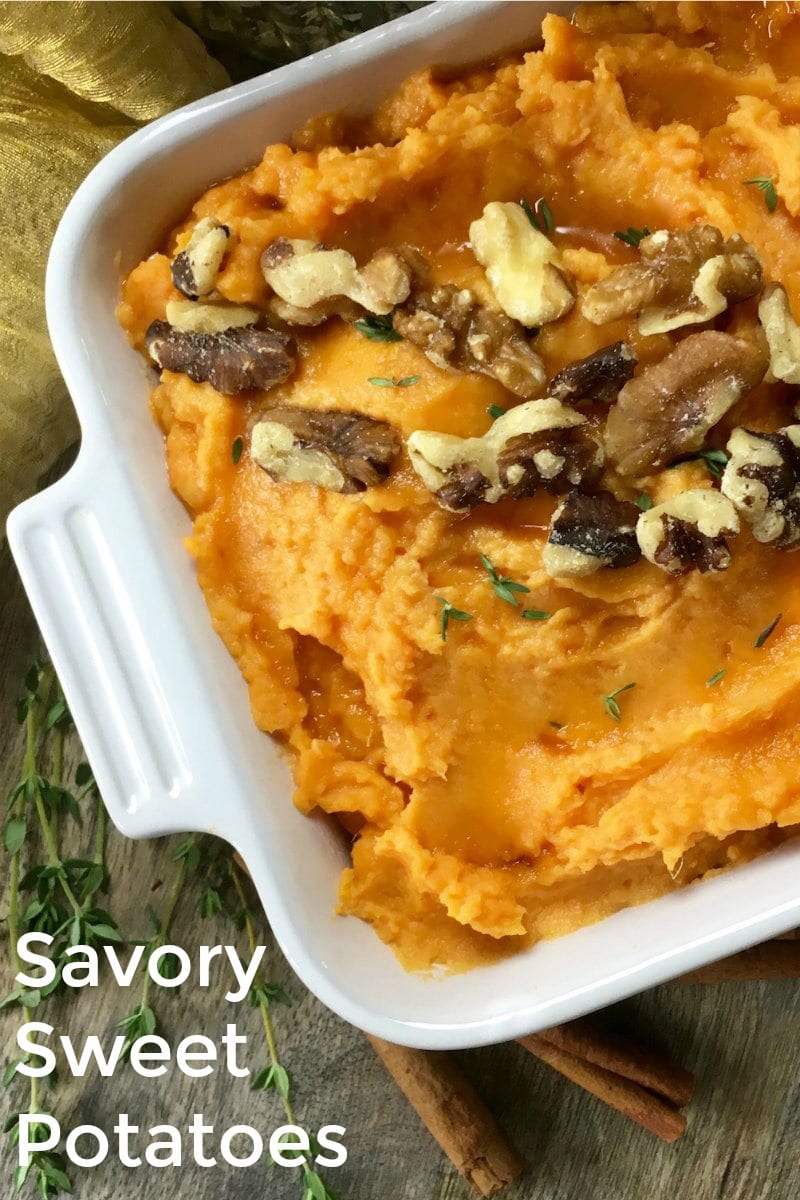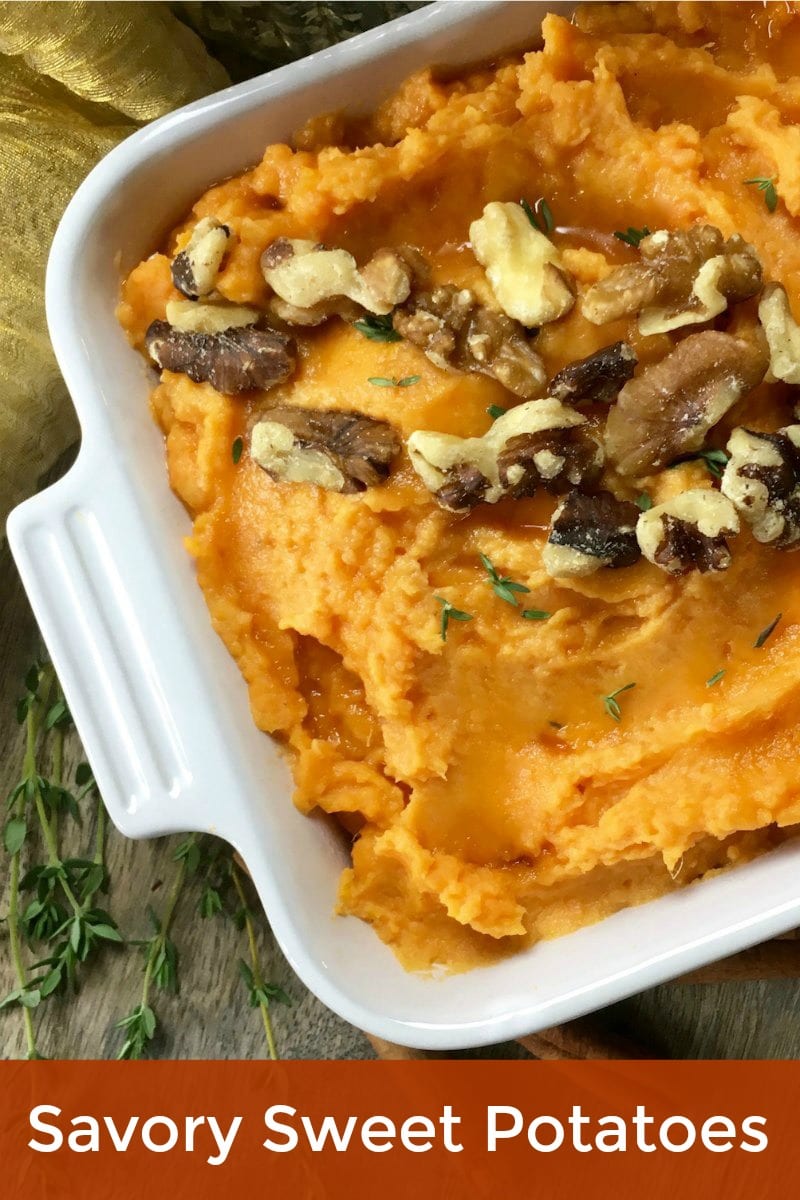 Easy Mashed Sweet Potatoes
The Perfect Creamy Side Dish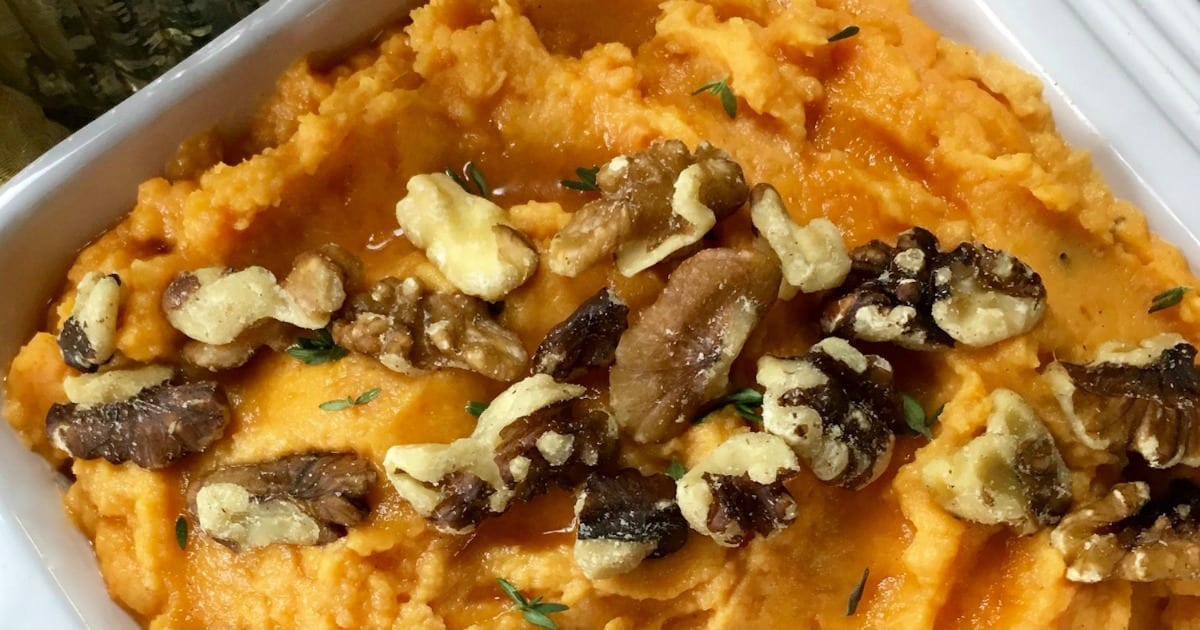 Make a batch of my creamy savory mashed sweet potatoes, when you are hungry for a pretty and satisfying Thanksgiving side dish.
Of course, you can enjoy it the rest of the year, too.
When I was a kid, sweet potatoes came from a can and were served sweetened with sugar and marshmallows.
I know that others like them this way, but I avoided them like the plague thinking that I just didn't like sweet potatoes.
All that changed, when I discovered savory sweet potato dishes.
Now, I enjoy this root vegetable every which way and you can find sweet potatoes in my kitchen just about every week.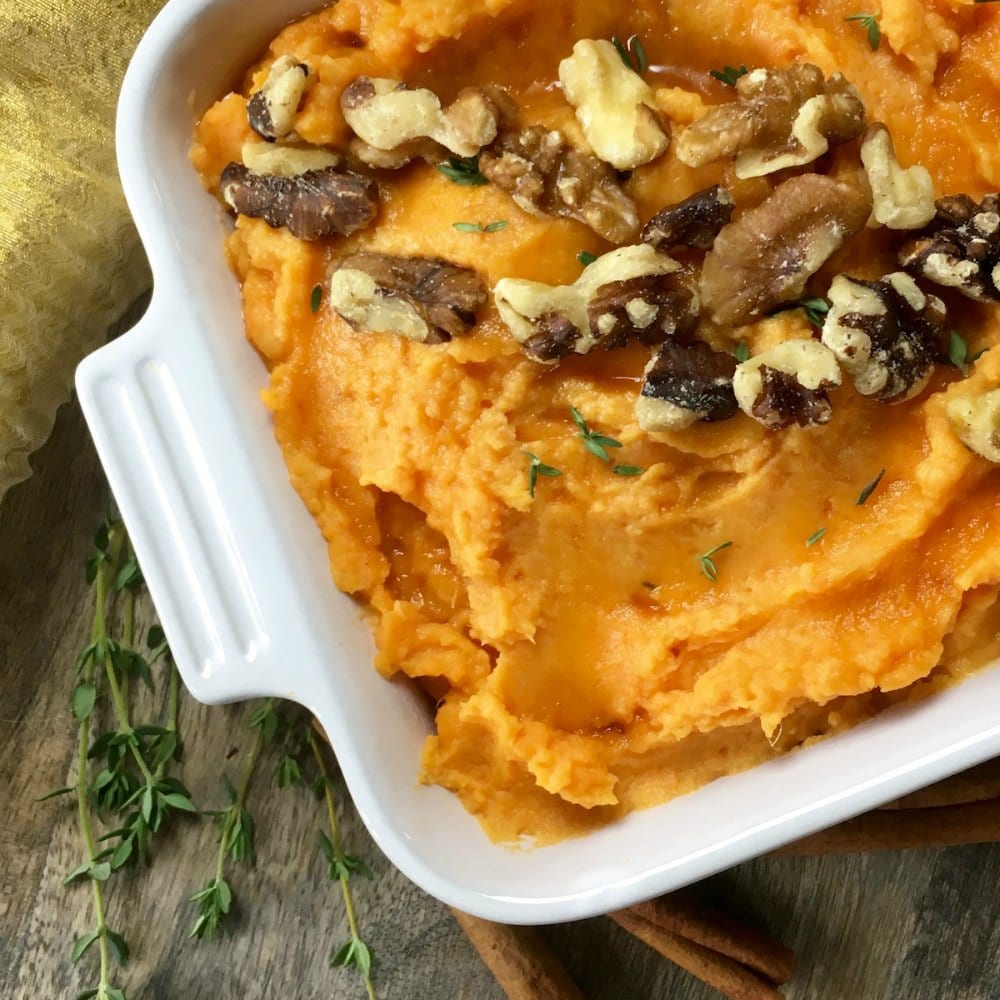 Like many vegetables, sweet potatoes have a natural sweetness to them. But that doesn't mean that we need to add actual sugar to them.
When you eat a sweet potato, you'll get good nutrition including fiber, Vitamin A and Vitamin C.
I also happen to think that they taste better than a 'regular' potato and would much rather enjoy my sugar as dessert.
These mashed sweet potatoes are extra creamy, since they are made with butter, cream and cream cheese.
They look great and will be a popular addition to a holiday feast or a weeknight dinner.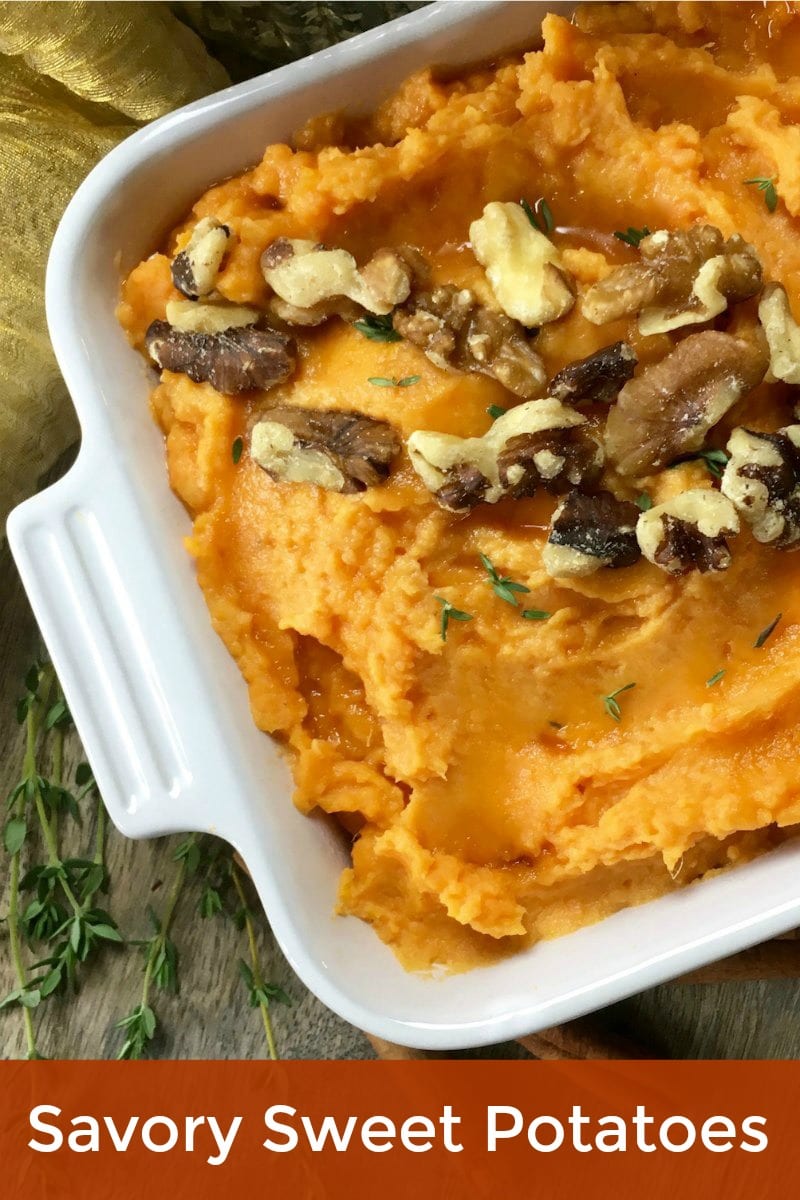 Creamy Savory Mashed Sweet Potatoes Recipe
Prep time – 10 minutes
Cook time – 20 minutes
Serves – 6 to 8
Ingredients
2 lbs. Sweet Potatoes, peeled and cubed
4 oz. Cream Cheese, softened
3 T Unsalted Butter, room temperature
3 T Half & Half or Heavy Cream
1 T Fresh Thyme Leaves, minced
2 t Cinnamon, ground
2 t Nutmeg, ground
Sea salt
Black Pepper (I prefer Watkins)
1/2 cup Walnut Halves **
Supplies
Stock Pot
Colander
Immersion Blender
Optional: Ceramic grater plate, if using whole nutmeg and cinnamon sticks
Instructions
1) Put the sweet potato chunks in a stock pot and add water to cover the potatoes. Bring to a boil and cook for about 15 minutes until potatoes are "fork tender."
2) Drain the sweet potatoes in a colander and then return them to the pot.
3) Add cream cheese, butter and half & half (or heavy cream) to the pot and mash with an immersion blender.
4) Stir in thyme, nutmeg and cinnamon.
5) Top with walnuts.
**Alternate: If you or someone you love avoids tree nuts, top with a dollop of whipped cream cheese.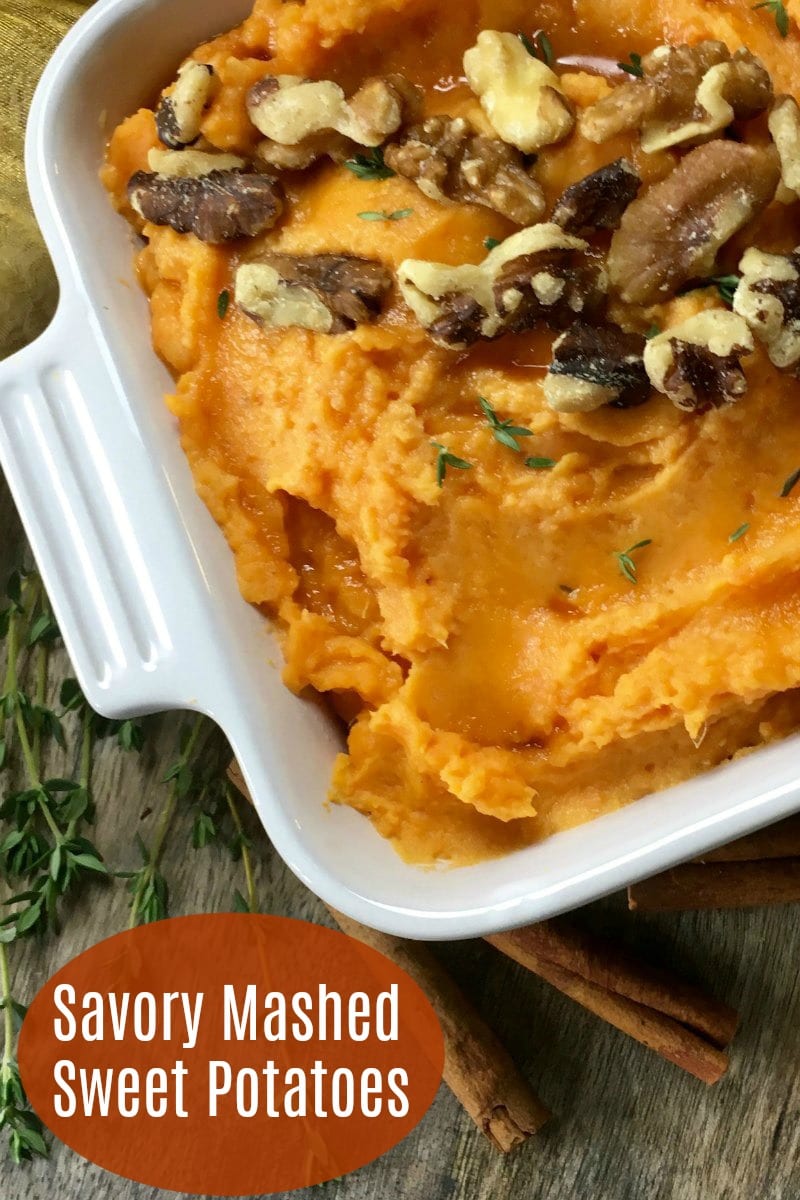 More from Mama Likes To Cook
Check out the rest of my vegetarian recipes, so you can get more great ideas for baking, cooking, blending and juicing.
Sweet Potato Recipes
Shop Now
For a beautiful assortment of kitchen necessities and food gifts for the whole family, check out the deals at these online stores.
Are you ready to have some delicious fun in the kitchen?