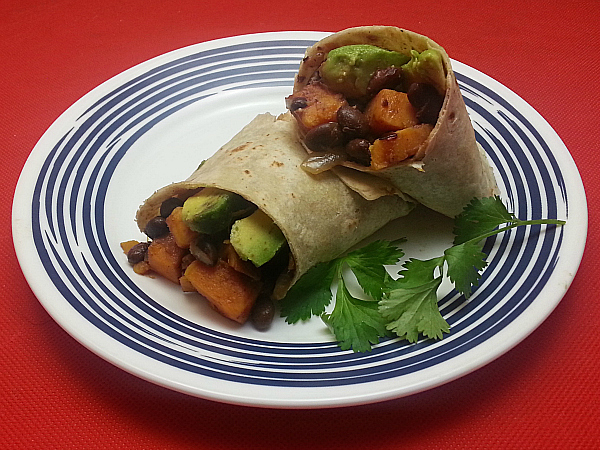 One skillet meals are an easy way to get a satisfying dinner on the table quickly without much mess.
These vegan burritos are a great choice for Meatless Monday or anytime you're looking for a delicious plant based meal. They look and taste great. It's also delicious when you eat it out of a bowl instead of filling a burrito.
Vegan Sweet Potato & Black Bean Burritos
Ingredients:
8 Cups Sweet Potato Cubes
1 Medium Onion, chopped
2 Cloves Garlic, chopped
1 T Coconut Oil
1 t Cumin
Salt to Taste
2 15 ounce cans Black Beans, drained
8 Tortillas or Wraps
1 Large Avocado, sliced
Optional: Cilantro, Salsa or other toppings
Instructions:
Heat coconut oil in skillet.
Add sweet potatoes, onion, garlic and salt. Cook for a few minutes on high. Then reduce heat to medium. Cook for about 15 minutes until tender, stirring occasionally.
Add black beans. Cook for about 5 minutes until warm.
Fill wraps with sweet potato mixture and avocado.
~Thanks to Bfree for the multigrain wraps.~