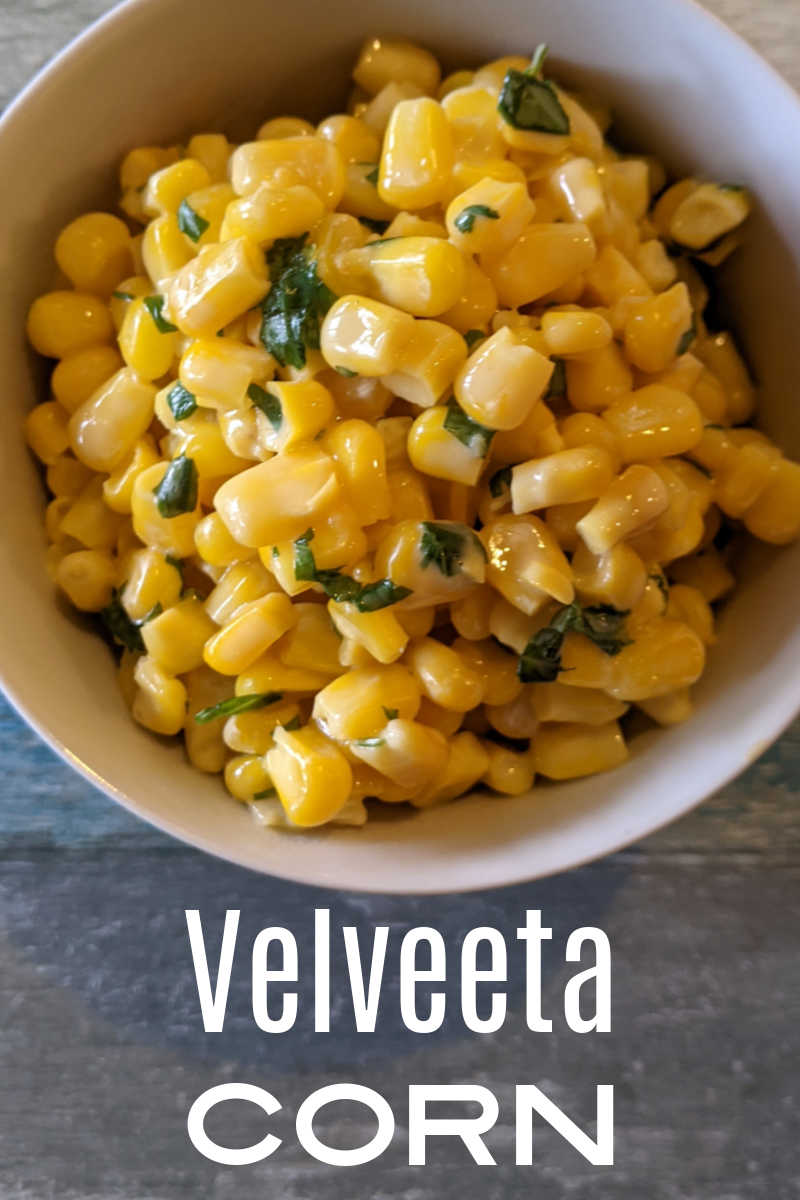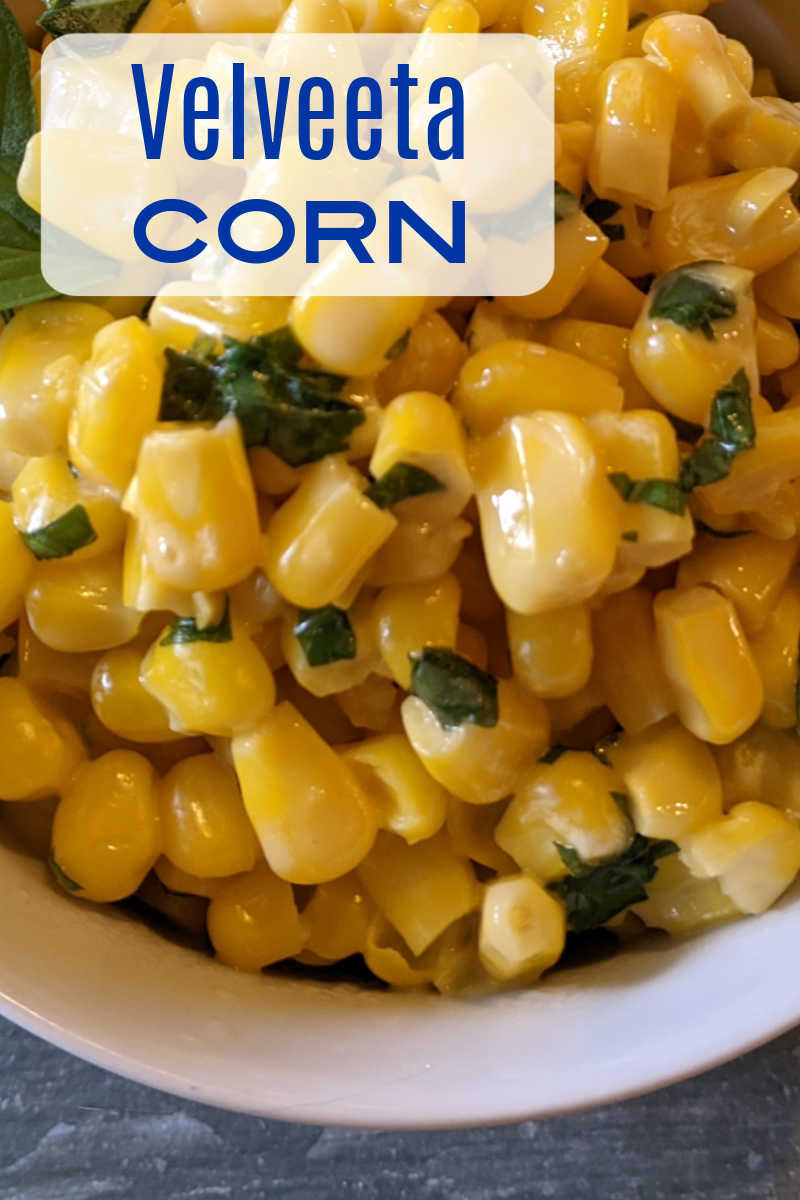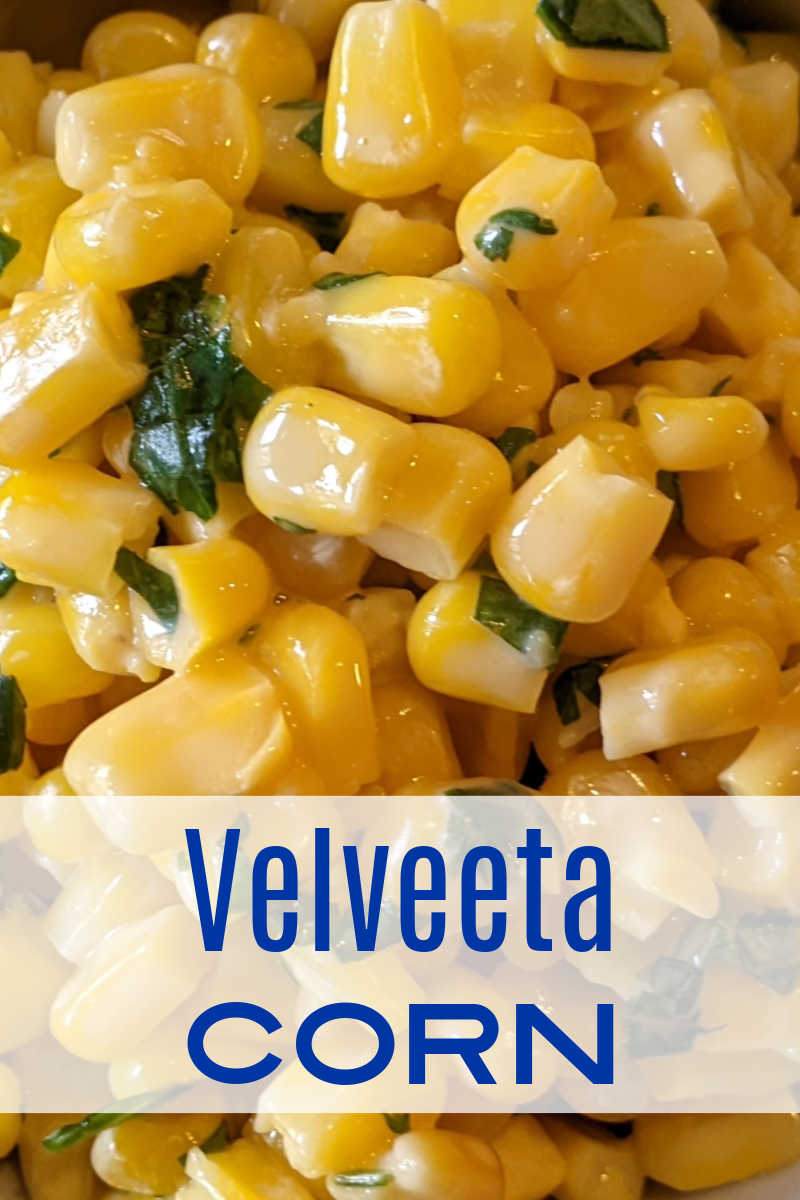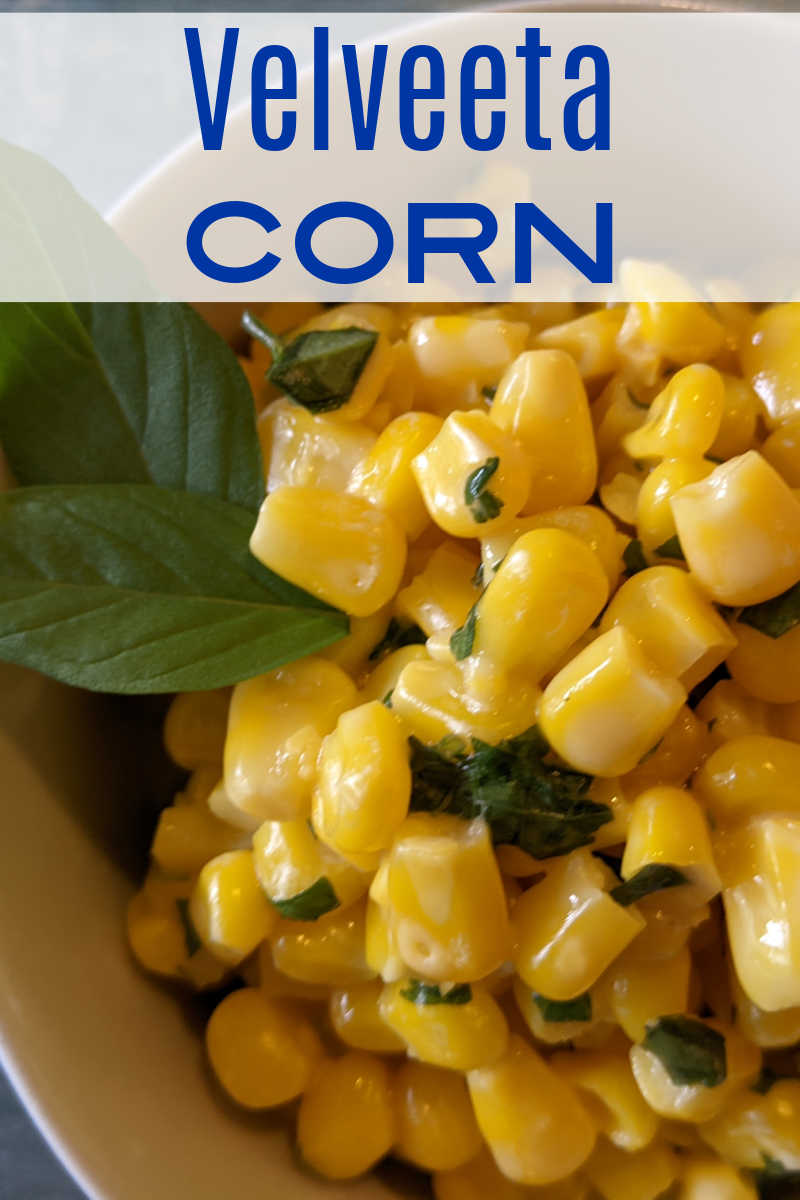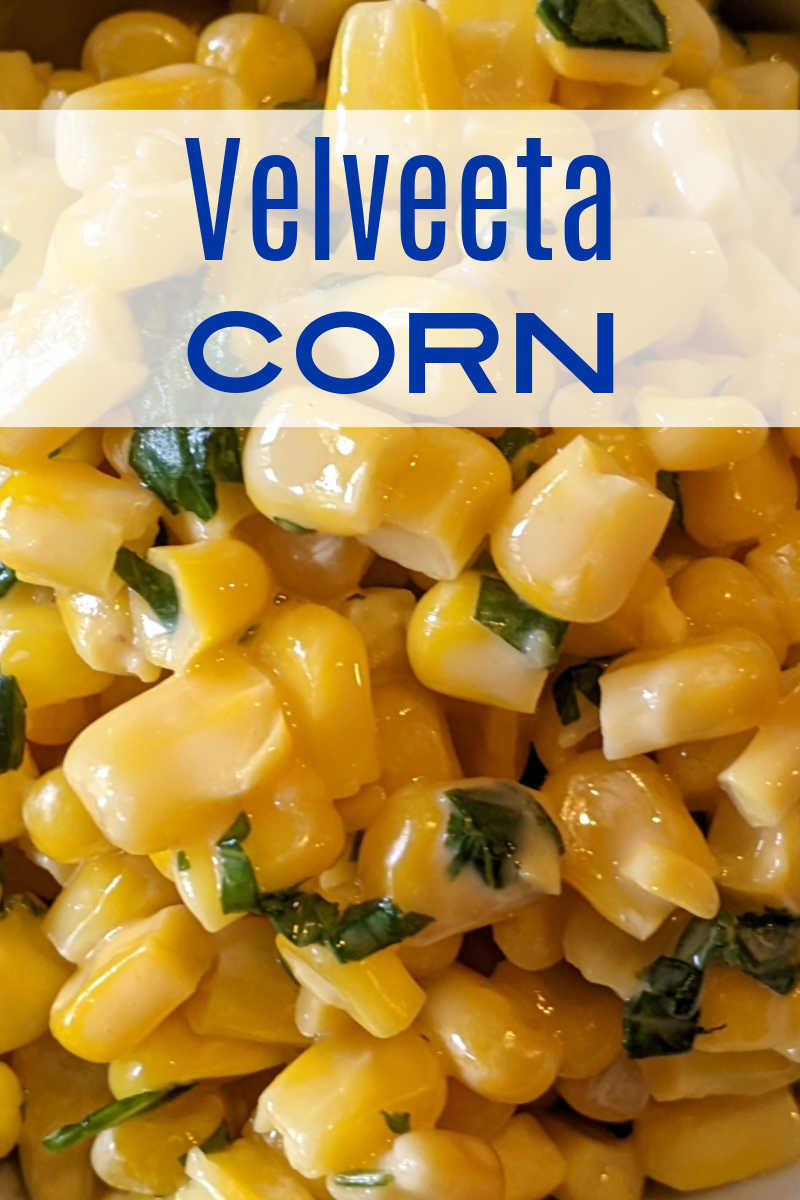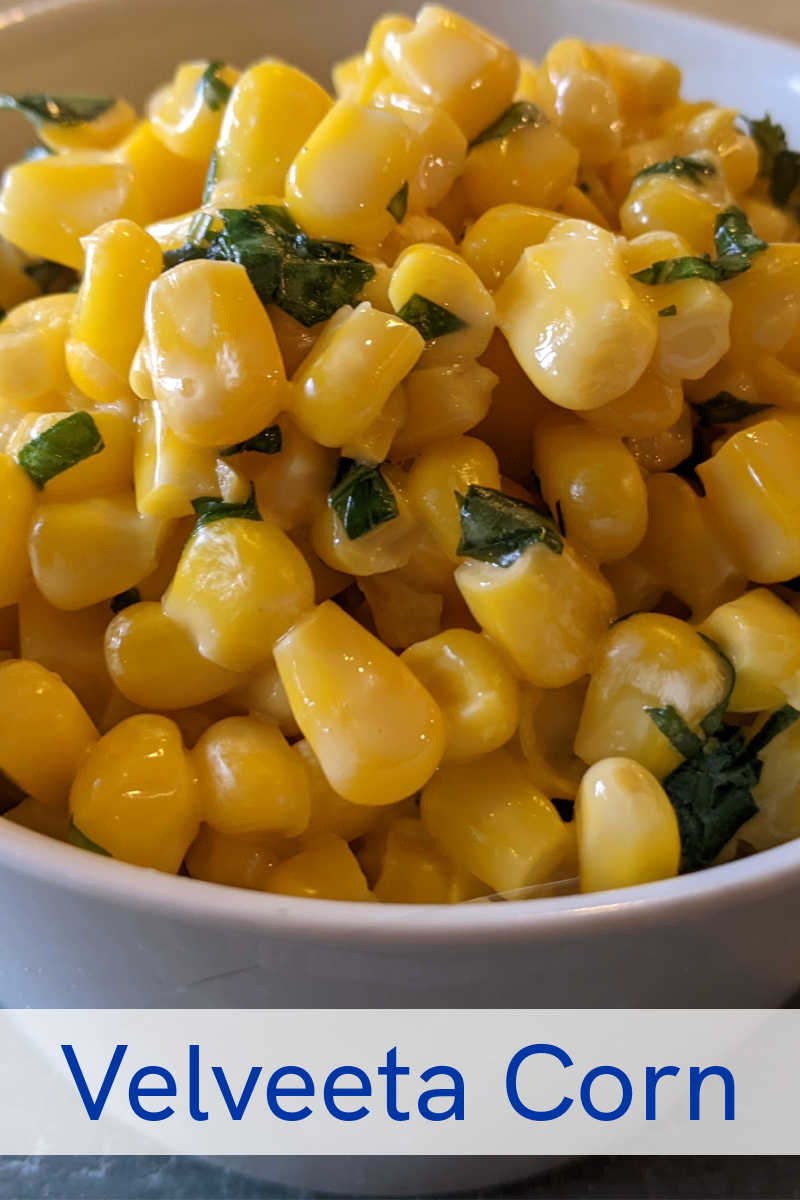 Microwave Velveeta Corn with Basil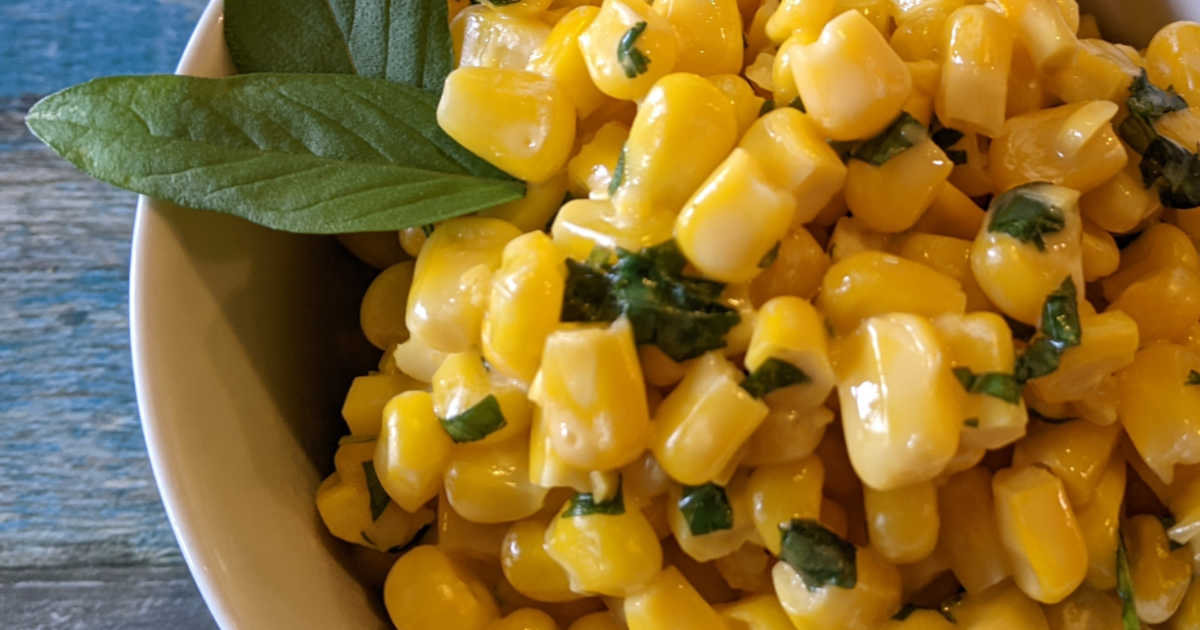 Enjoy cheesy Velveeta corn made in the microwave, when you want to throw together an easy side dish at the last minute.
No special kitchen skills are needed, so anyone with a microwave can easily make this tasty side.
The recipe is made with basic comfort food ingredients, frozen corn and Velveeta, which you may already have on hand at home.
Adding fresh basil to the cheesy dish elevates it to something special and delicious.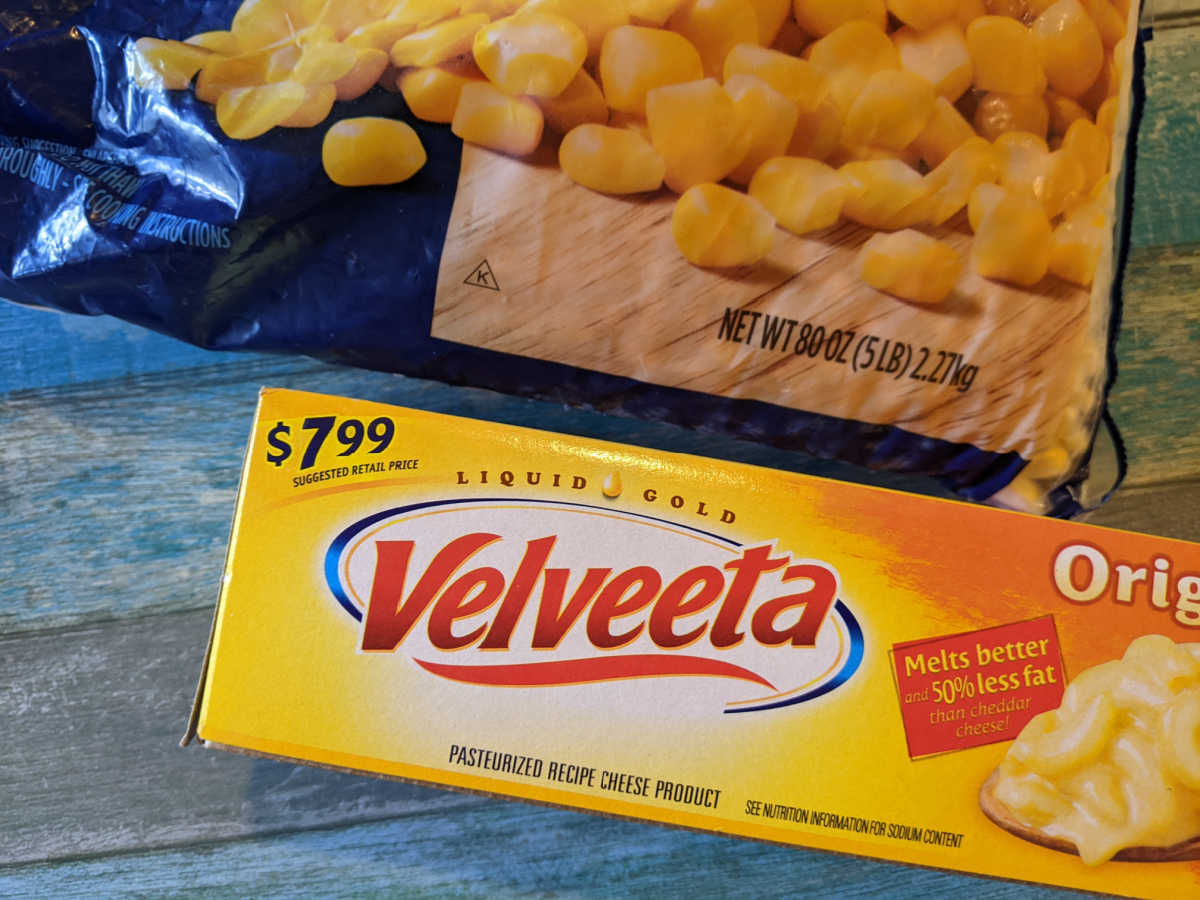 When I was a kid, we almost always had Velveeta in the house.
My mom used in in recipes, sliced it for sandwiches I took to school and offered it as a between meals snack.
The soft cheese product melts really well, so is great for using in recipes.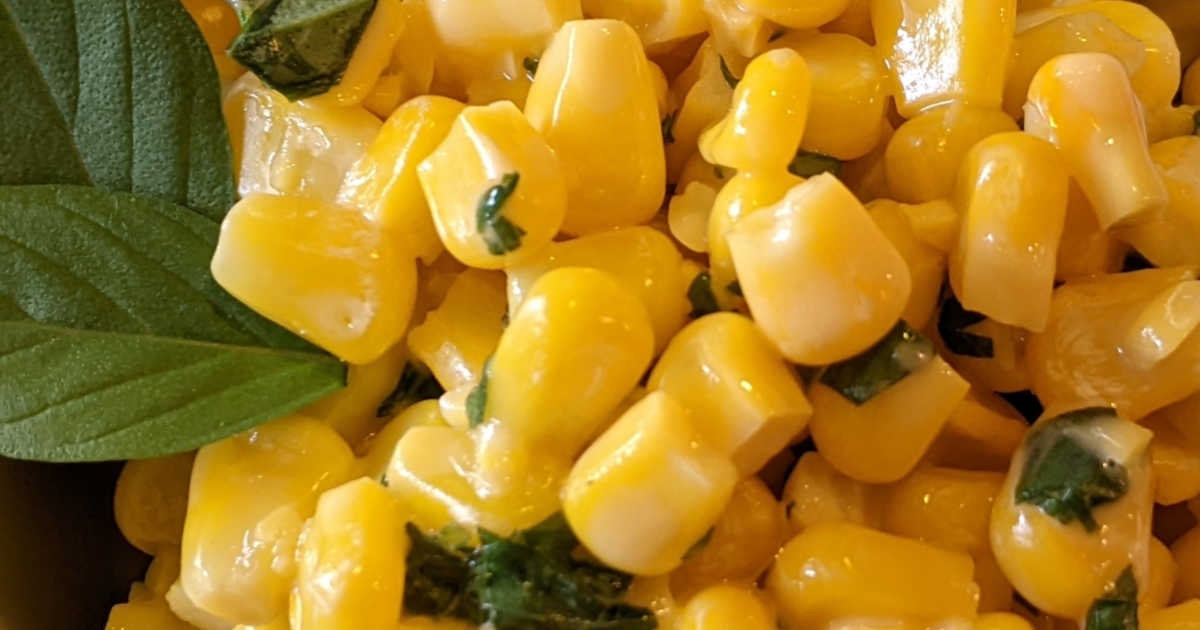 Is Velveeta Cheese?
Technically speaking, Velveeta is not actually cheese.
It is a 'processed cheese product' that has a cheesy taste and is made from dairy based ingredients that don't fit the exact FDA requirements to be called cheese.
However, I grew up calling it cheese, so that has stuck with me.
Does Velveeta Need To Be Refrigerated?
No!
Velveeta is shelf stable, so refrigeration is not required for unopened packages.
Grocery stores in my area often keep it in the refrigerator section with other cheeses for convenience, but it doesn't need to be there.
However, you'll want to refrigerate after opening and, in general, refrigeration can keep your Velveeta fresh longer.
As with any food product, be mindful of the best buy date whether in your refrigerator or on a shelf in your pantry.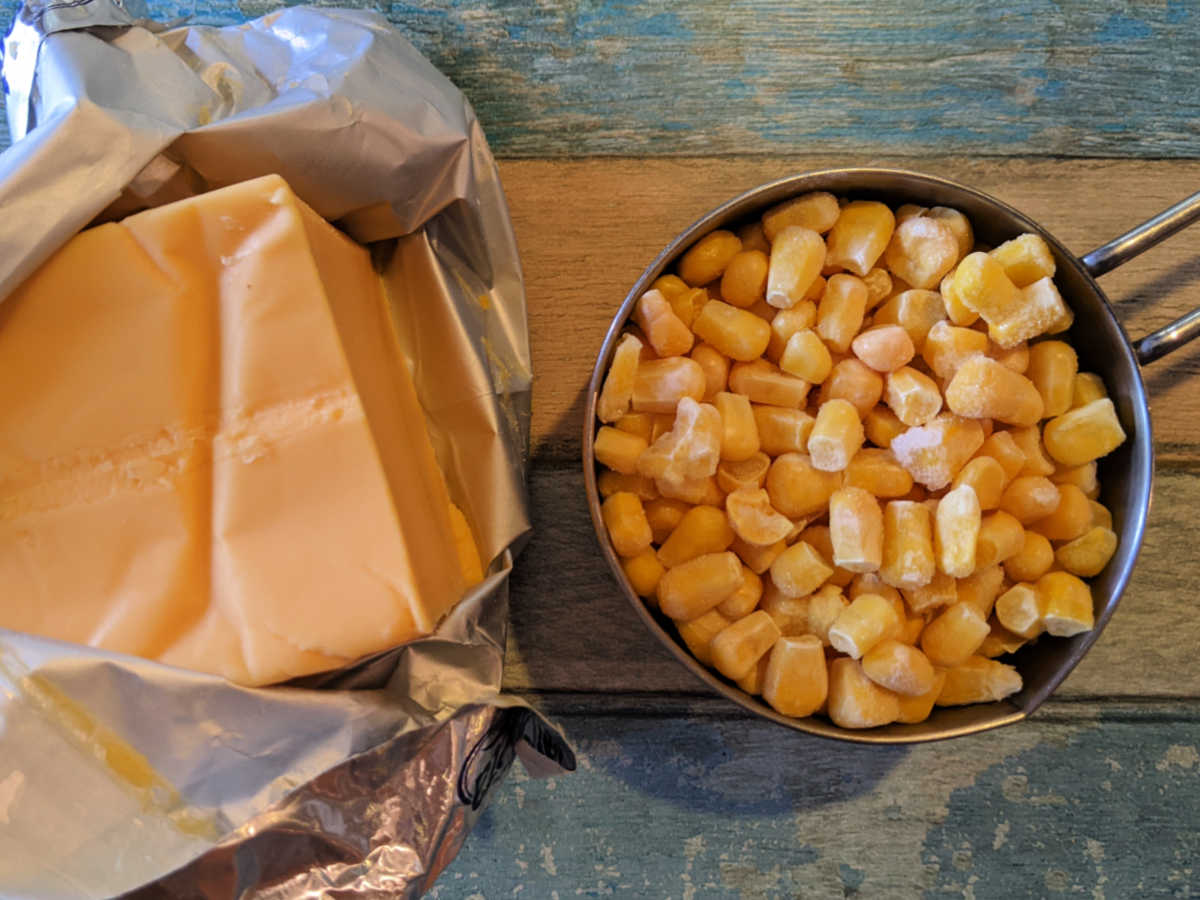 Frozen Corn
Fresh vegetables are great when in season, but I also like to keep a veggie supply in the freezer.
Some vegetables are really not great when frozen.
However, corn is an exception to that as it does really well frozen.
It isn't exactly the same as fresh, but the texture and flavor is good.
And, in my house, we prefer frozen corn to canned.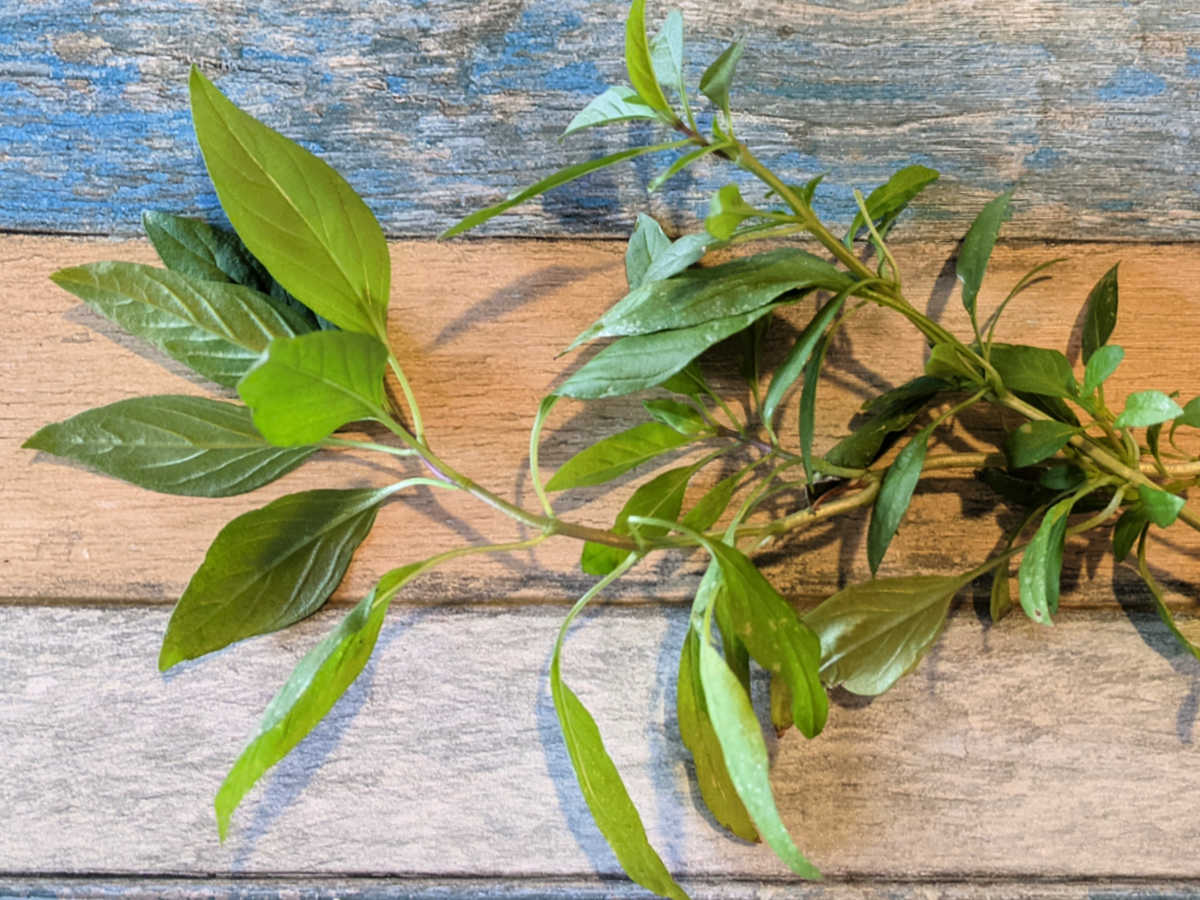 Basil is an herb that is best used fresh, so you get a nice pop of flavor from it.
Pick up prepackaged basil leaves or a cute little living basil plant that is ready to use or grow your own basil in your garden or in a cute pot on your kitchen window sill.
Grocery store basil is typically sweet basil, but there are many different varieties of this herb.
I've got several different types growing in my garden and used Thai basil today, but have also used others in this recipe.
Thai basil has a bit of an anise flavor and is slightly less sweet.
Use whatever type of fresh basil you prefer.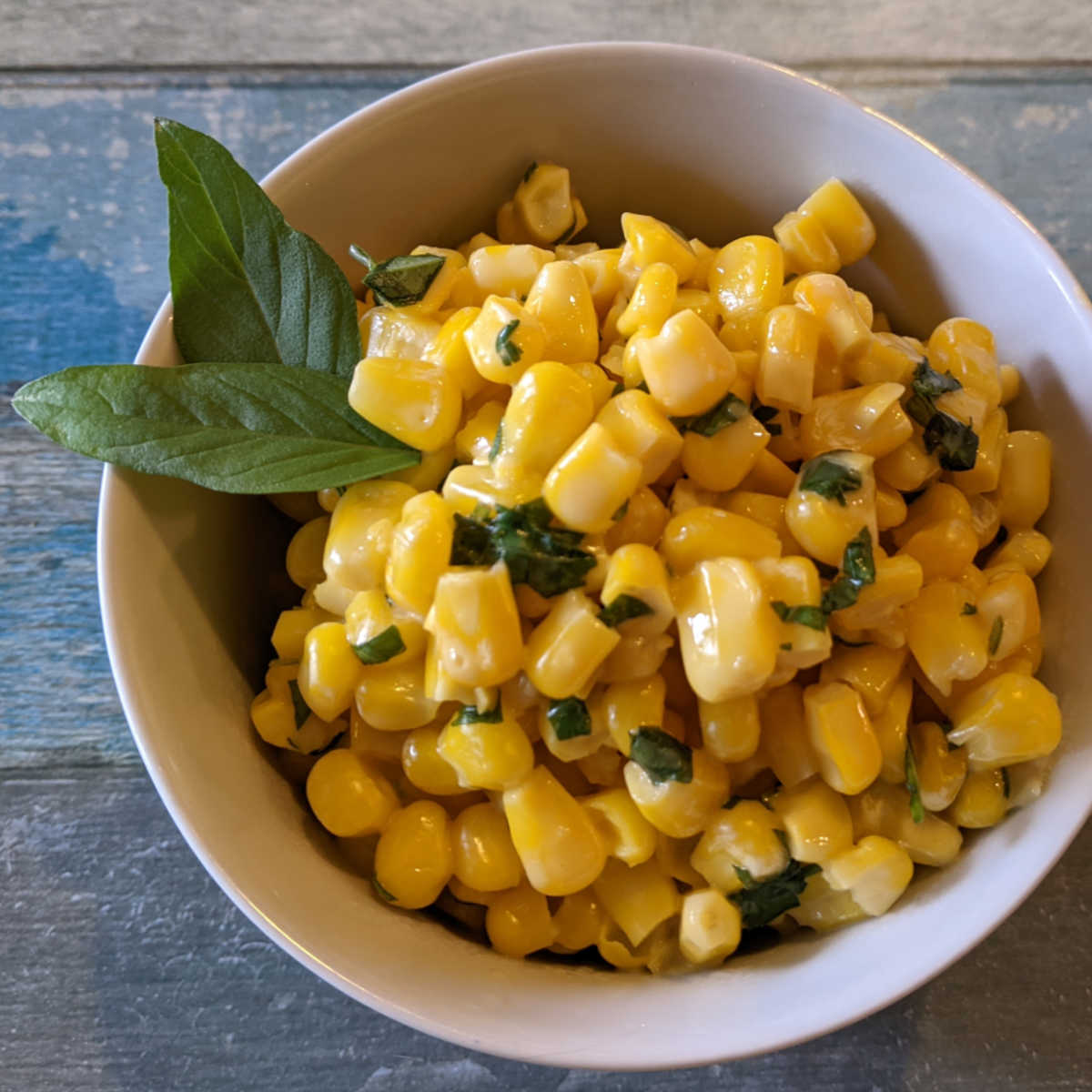 Cheesy Velveeta Corn Recipe
Prep Time: 5 Minutes
Cook Time: 5 Minutes
Yield: 2 Servings
Ingredients
2 cups Frozen Corn
2 T Water
1/2 inch slice of Velveeta Cheese (32 oz. block) cut into cubes
1 T Fresh Basil, chopped
Supplies
Microwave Safe Bowl
Microwave Safe Plate (to use as a cover in the microwave)
Measuring Cup
Sharp Knife
Measuring Spoon
Instructions
1) Add frozen corn and water to the microwave safe bowl. Cover with a plate, to allow some ventilation while keeping the corn from making a mess of the microwave. Cook on high for 2 minutes.
2) Stir and microwave 1 minute more.
3) Add Velveeta, stir and microwave 2 minutes more.
4) Remove from microwave and stir in chopped basil.
5) Serve and enjoy!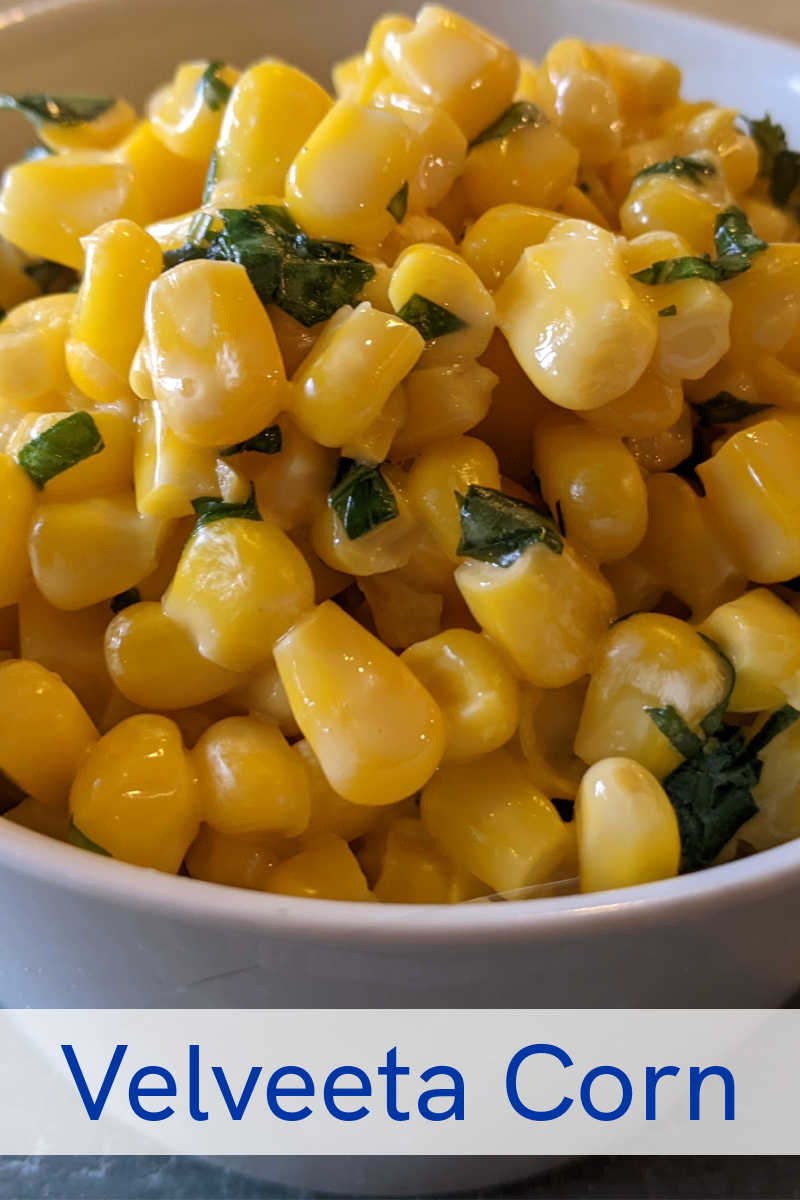 More from Mama Likes To Cook
Check out the rest of my vegetarian recipes, so you can get more great ideas for baking, cooking, blending and juicing.
Corn Recipes
Velveeta Recipes
Basil Recipes
Shop Now
For a beautiful assortment of kitchen necessities and food gifts for the whole family, check out the current deals at these online stores.
Are you ready to have some delicious fun in the kitchen?