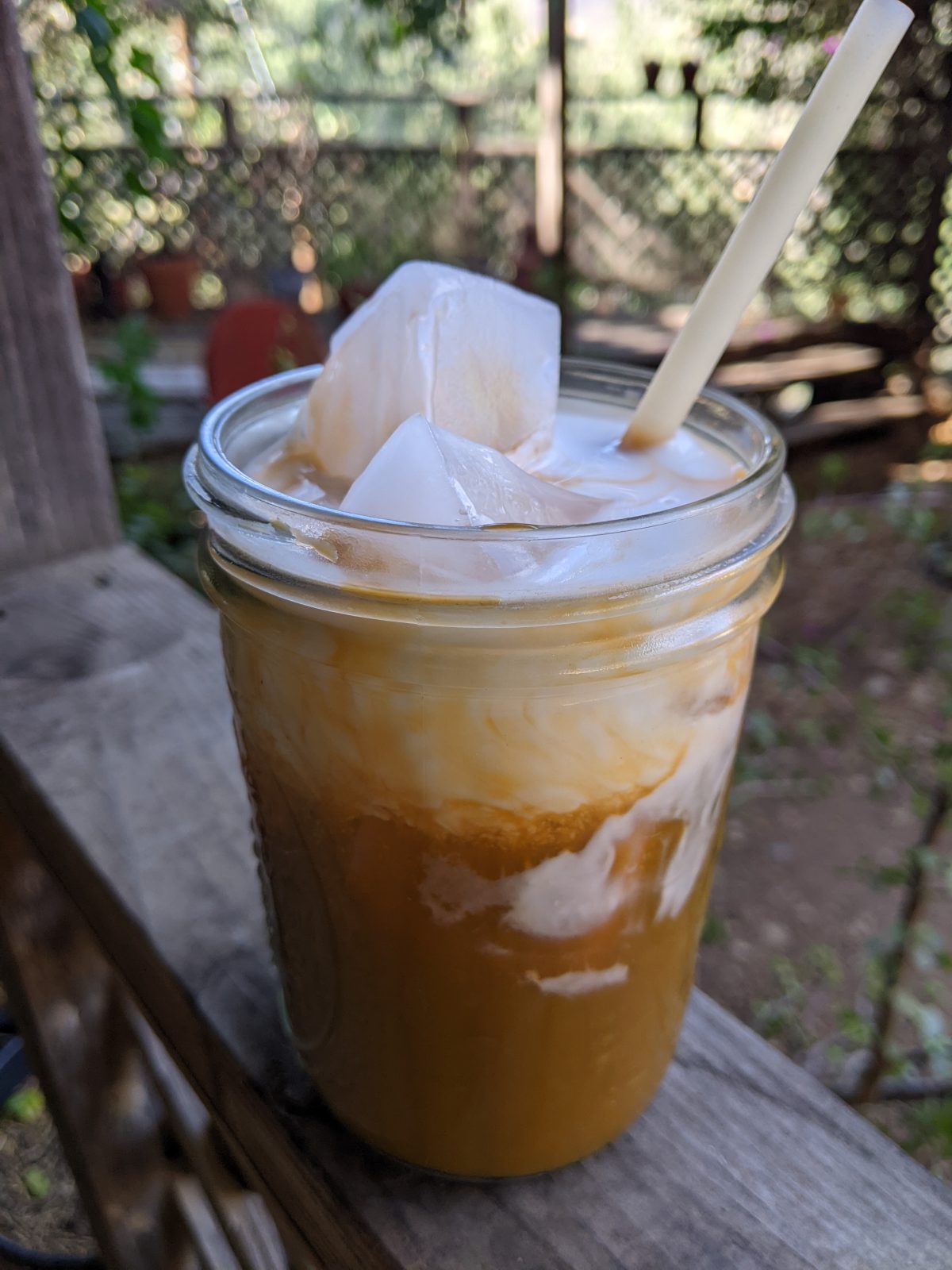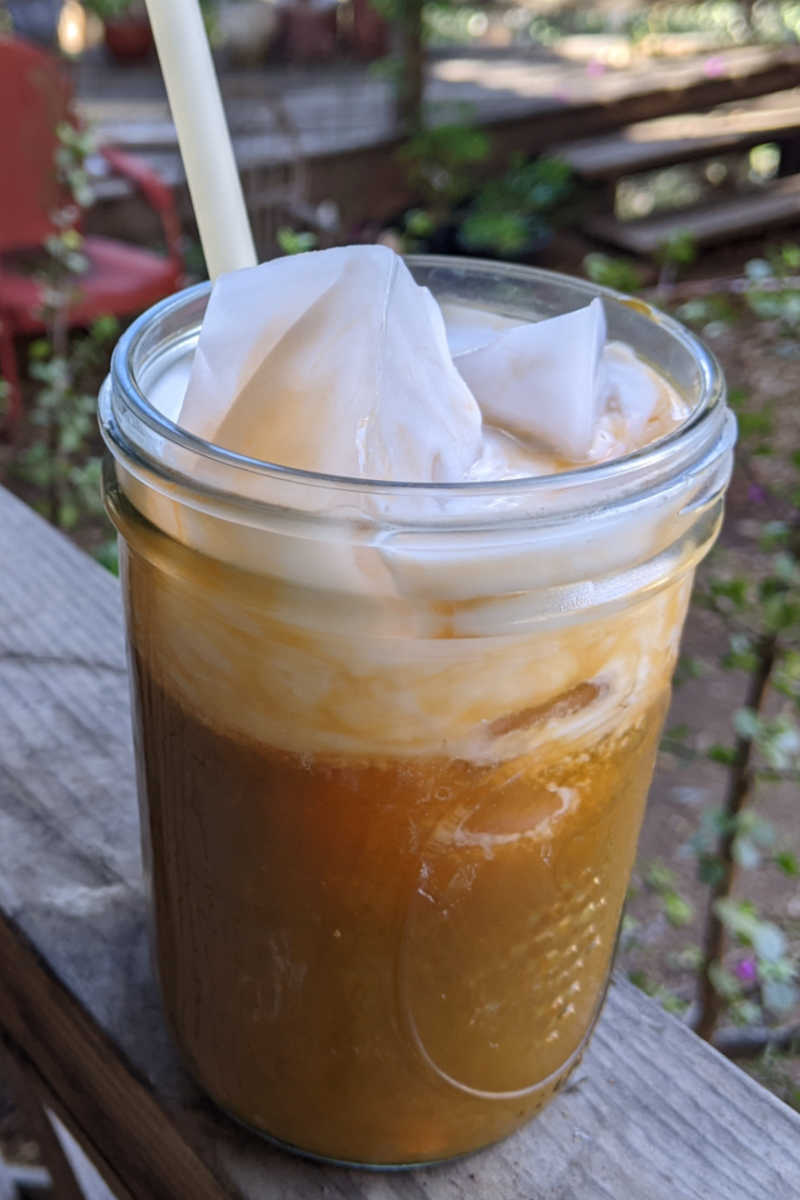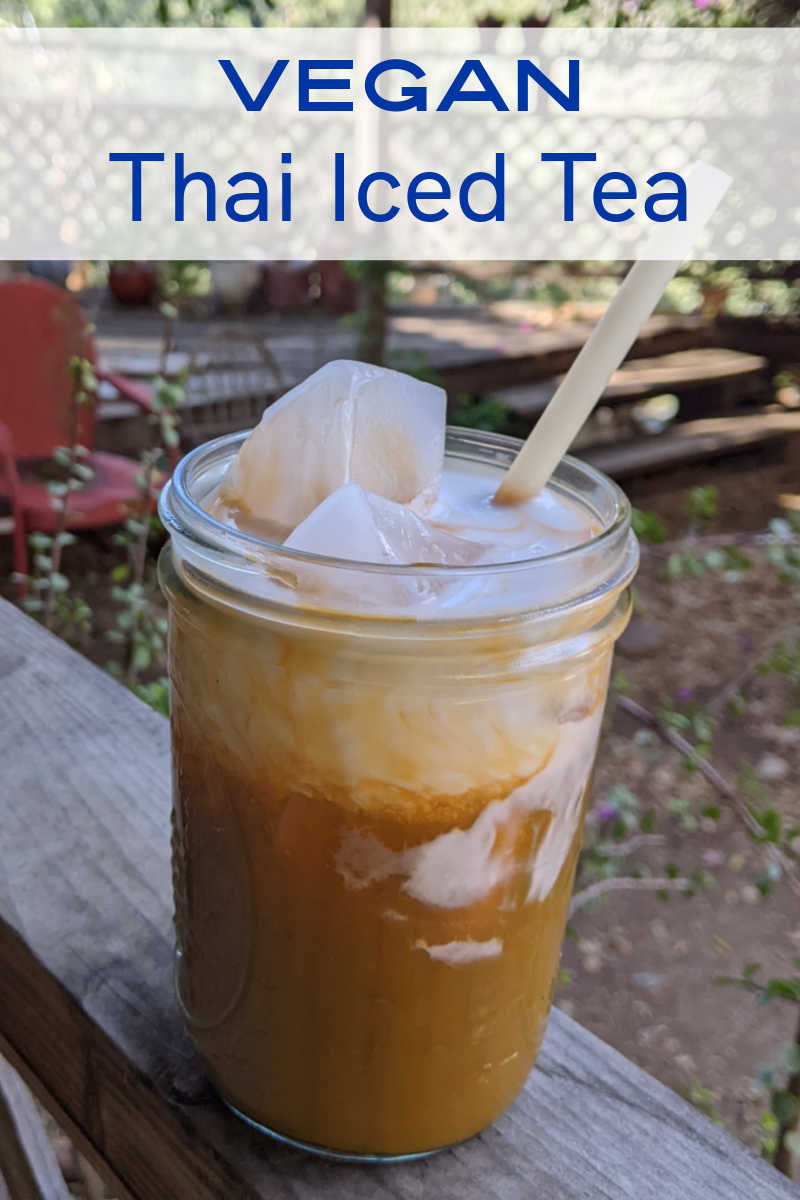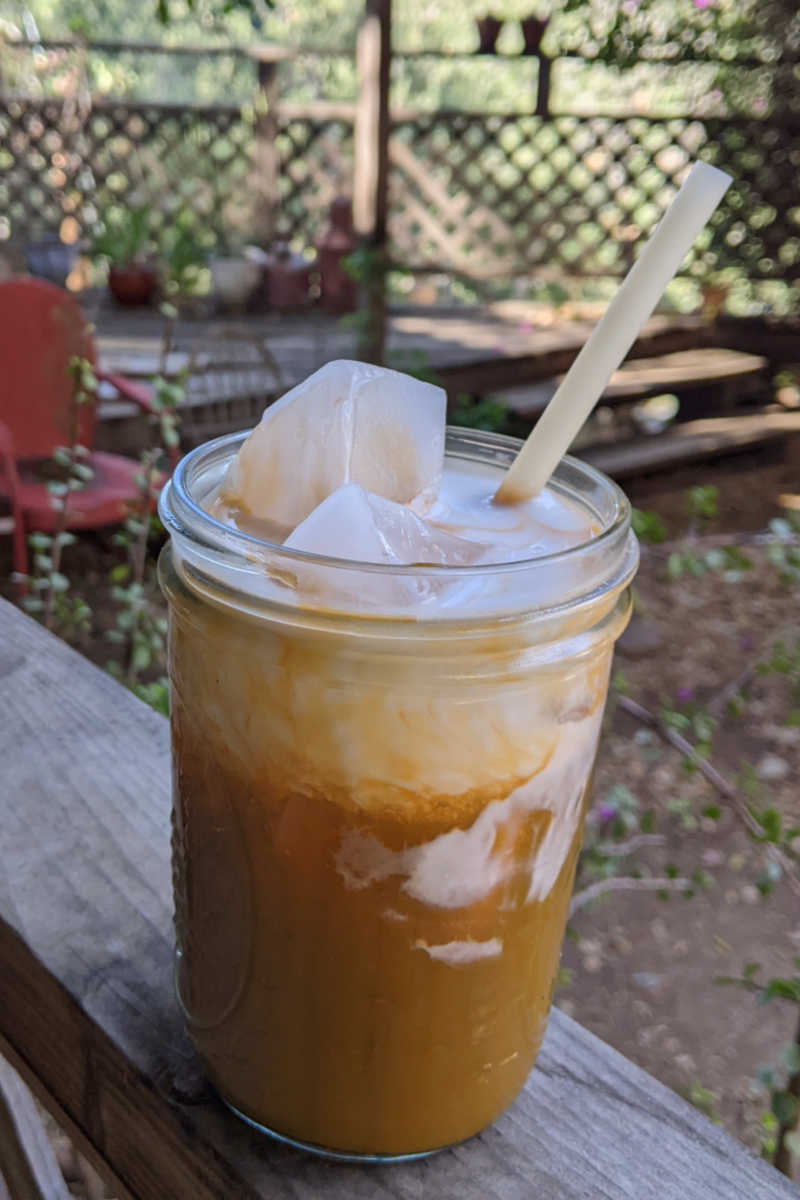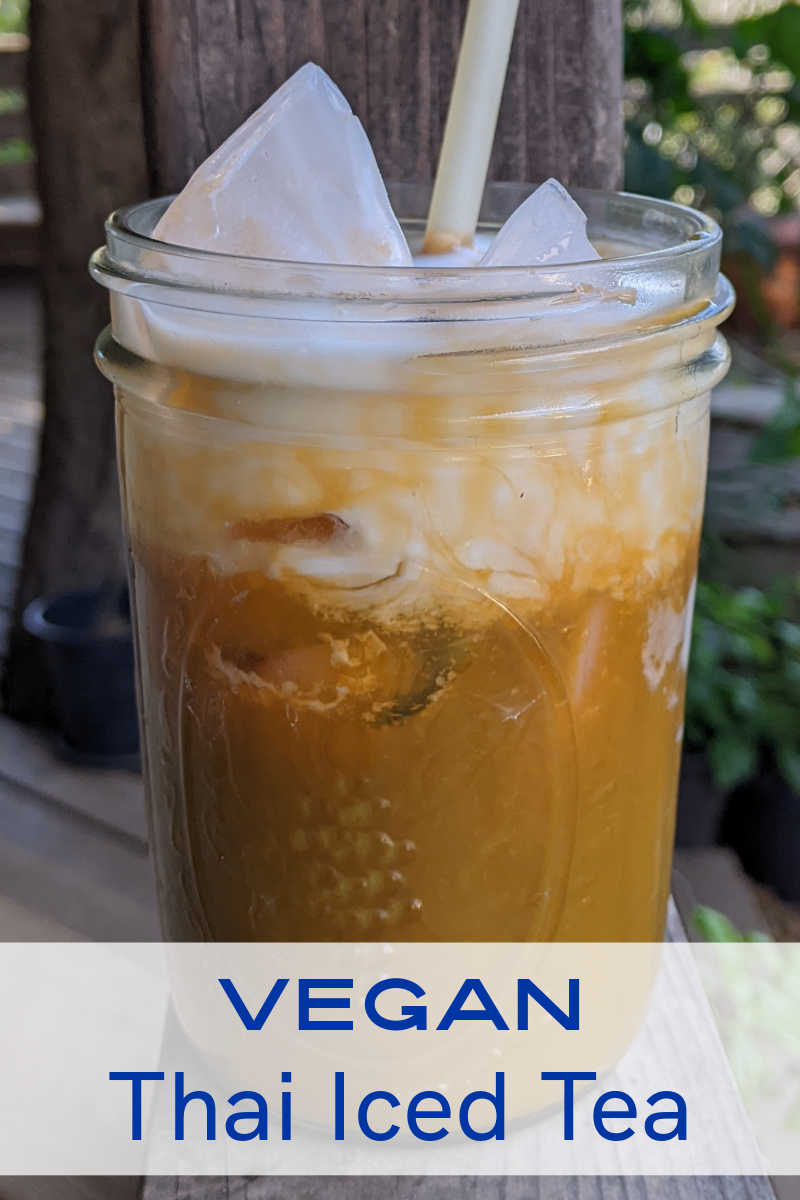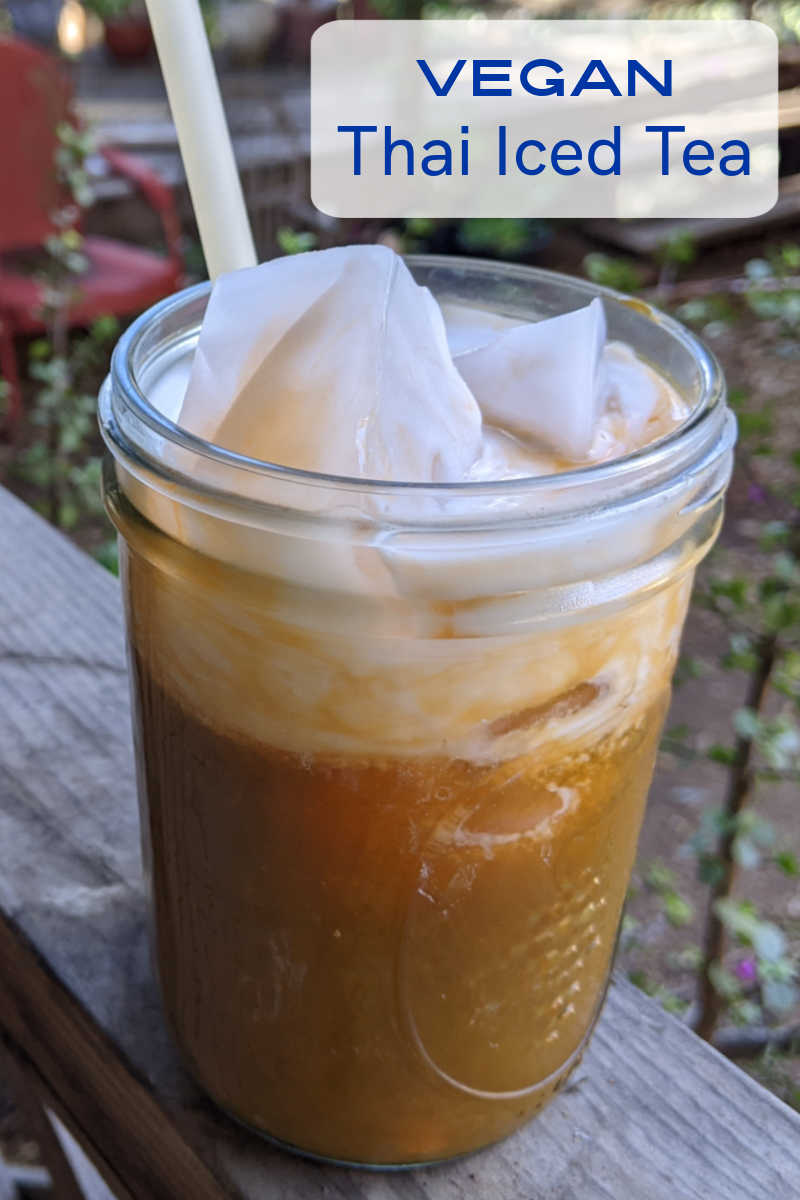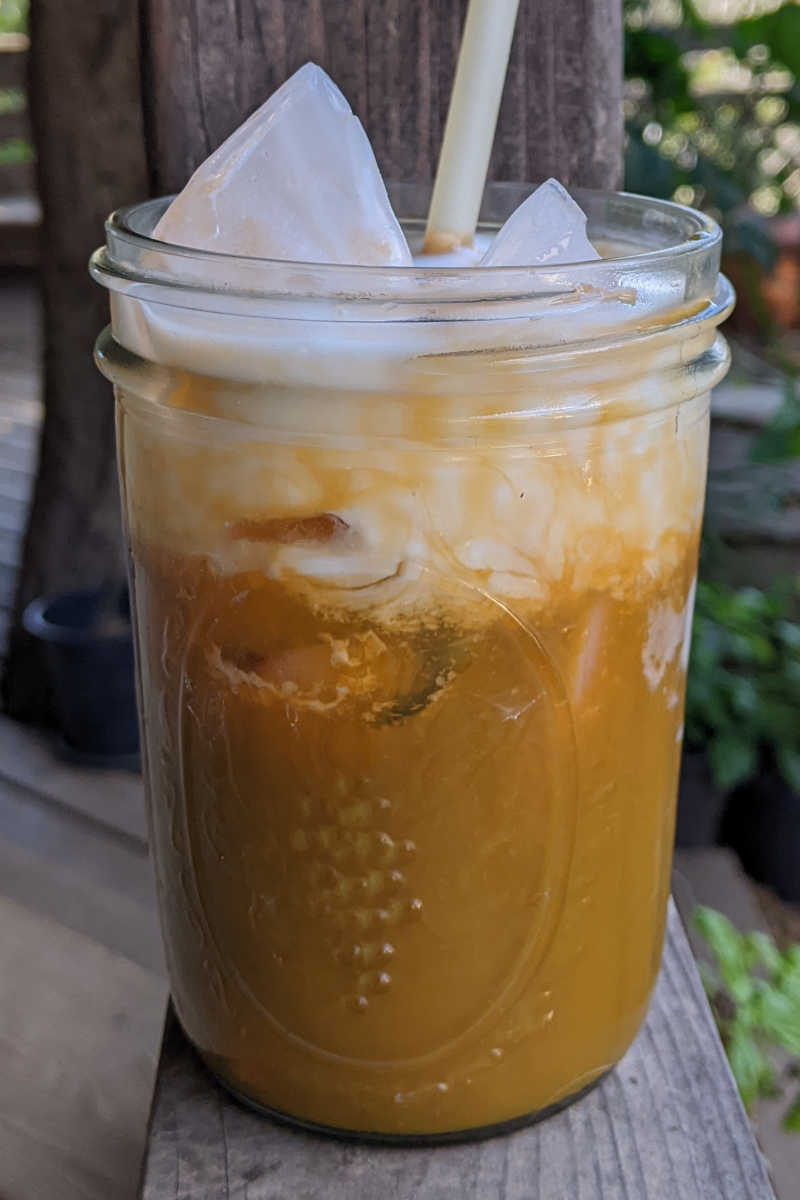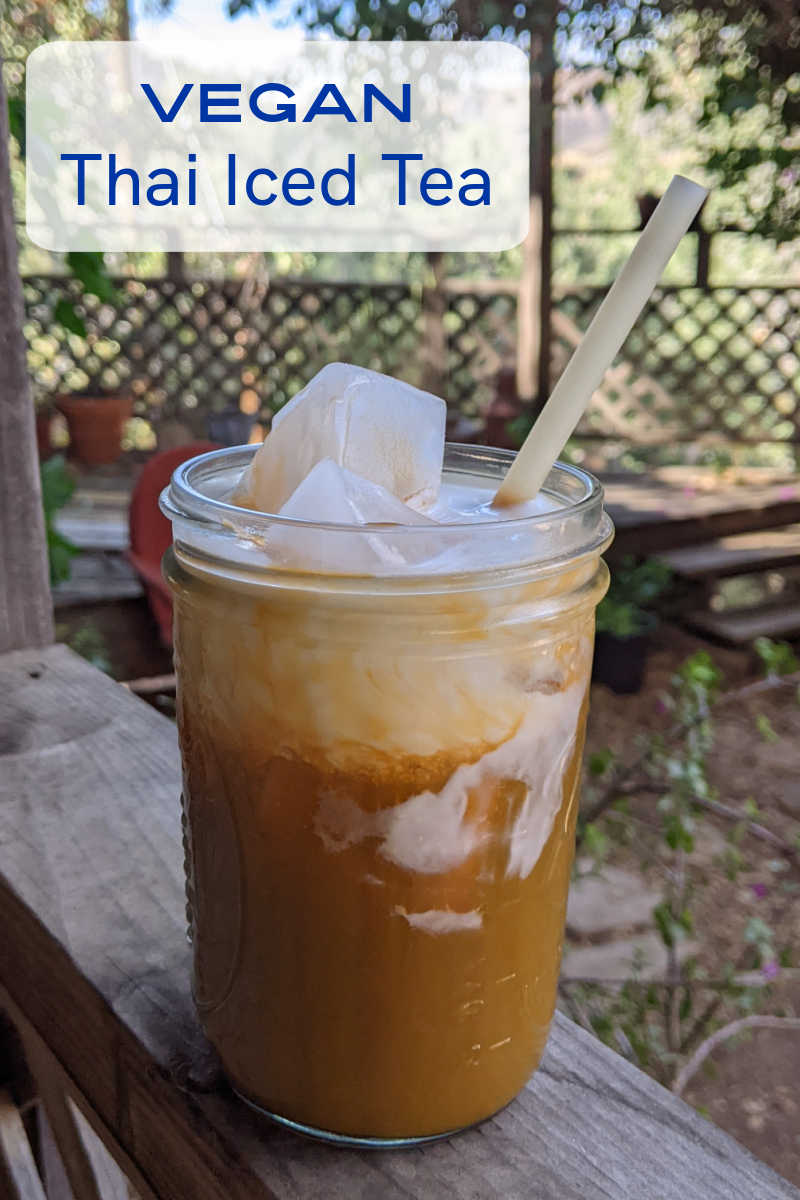 Dairy-free Thai Iced Tea
Thai tea is typically made with dairy, but it is easy to make a tall glass of vegan Thai iced tea that is absolutely delicious.
I love ordering Thai iced tea from restaurants, but this beverage typically contains dairy.
If you leave out the milk, it isn't quite the same thing.
After trying out a variety of milk alternatives in Thai tea, I finally found a vegan combination that is creamy and perfectly delicious.
Be sure to add the tea concentrate first, so that the coconut milk "floats" on top for a beautiful presentation.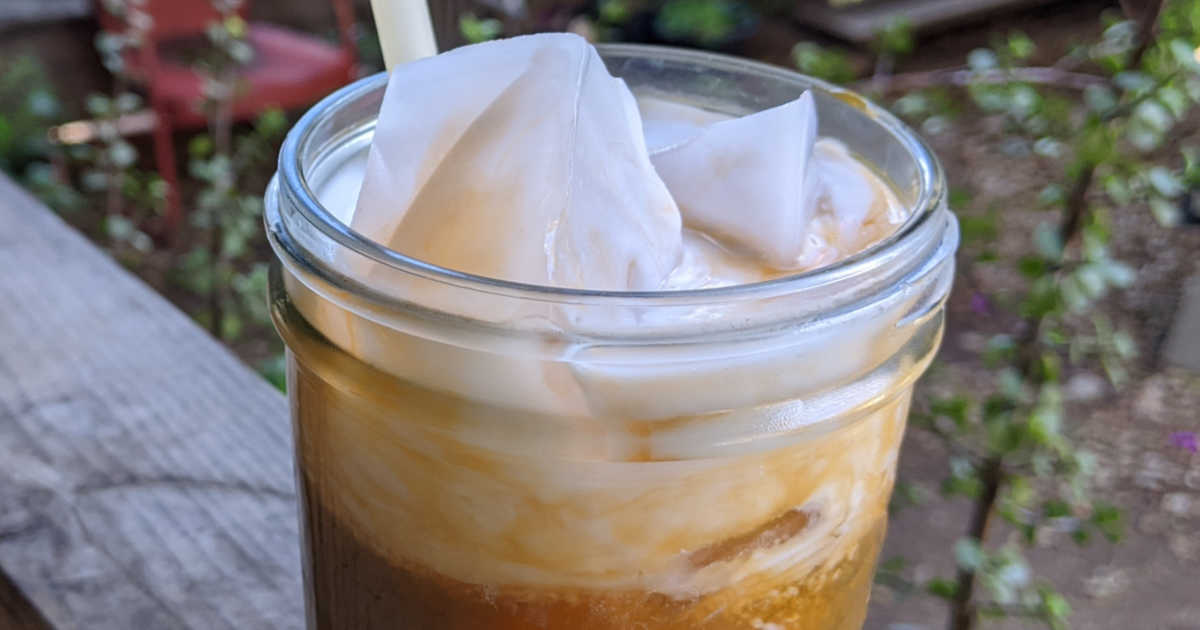 What is Thai Tea?
Thai tea is a flavorful combination of black tea, milk, sugar and spices that originated in Southeast Asia.
It can be served hot or cold, but I prefer it as a cold iced tea all year long.
You can often find Thai tea served at Thai restaurants, but in my area it isn't limited to just Thai restaurants.
Thai tea is often available at Boba shops and other types of restaurants, including my favorite local Vietnamese pho restaurant.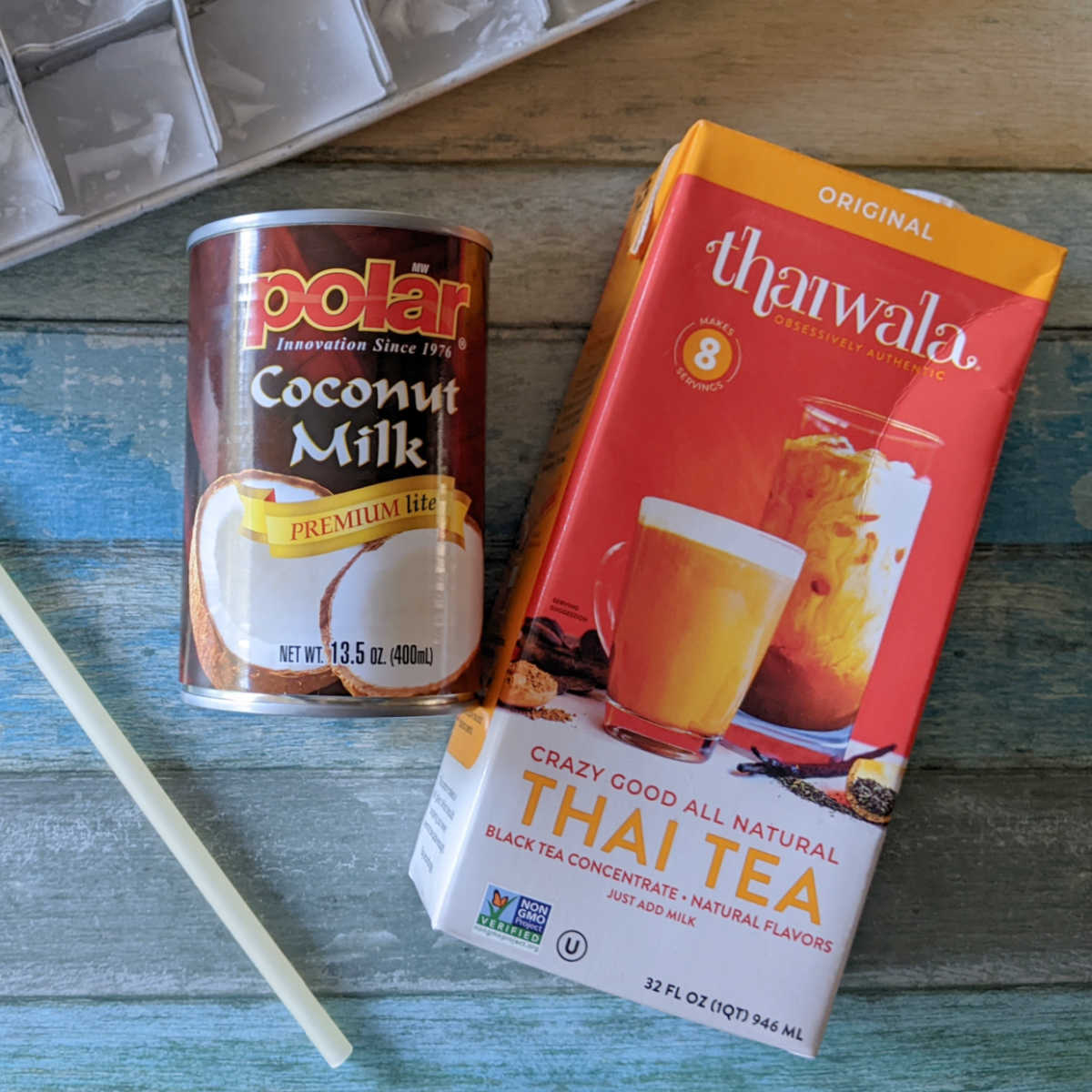 Coconut Milk for Thai Tea
We always have a variety of milk alternatives at my house, so I've tried making Thai tea with a few different types.
Nothing was quite right until I tried coconut milk.
This is the perfect creamy milk alternative for Thai tea.
It doesn't add unwanted flavor to the beverage and there is no odd aftertaste.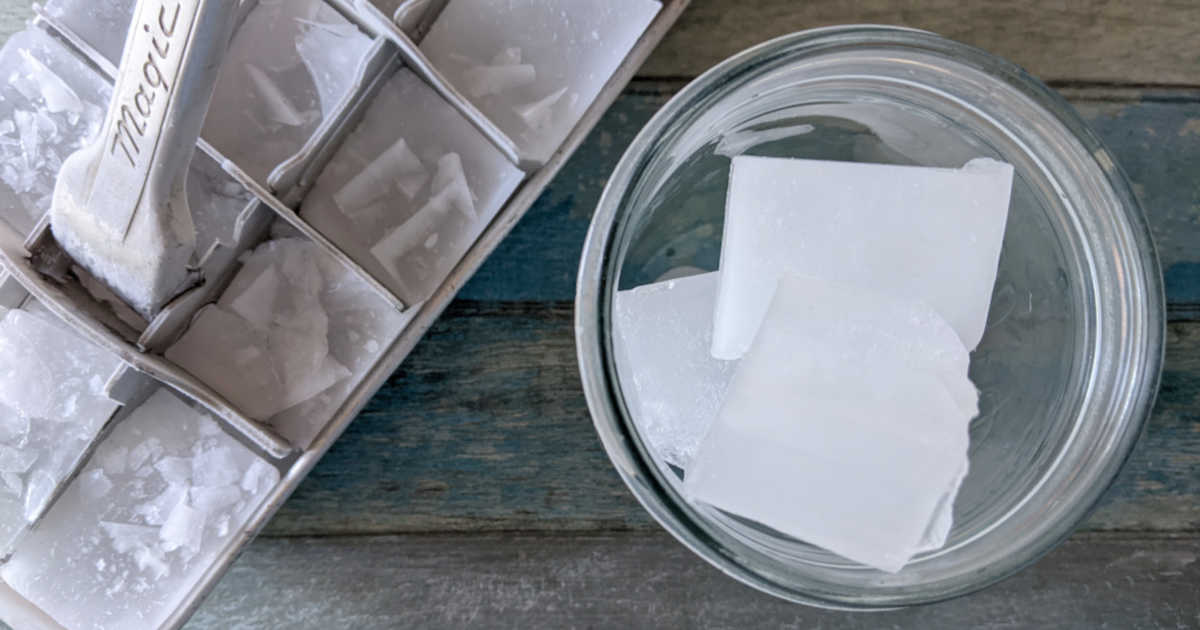 When side by side, you can instantly tell the difference between canned coconut milk and the typical coconut milk in a carton.
Canned coconut milk is thick and has a higher fat content, so it is great for using in recipes including this Thai tea.
Cartons of coconut milk are typically diluted with water, which is nice for drinking but will dilute your recipe.
Coconut milk in a can is not the same as what is in a carton.
If you use the carton for this recipe, it is "ok" but not at all as creamy or flavorful as canned.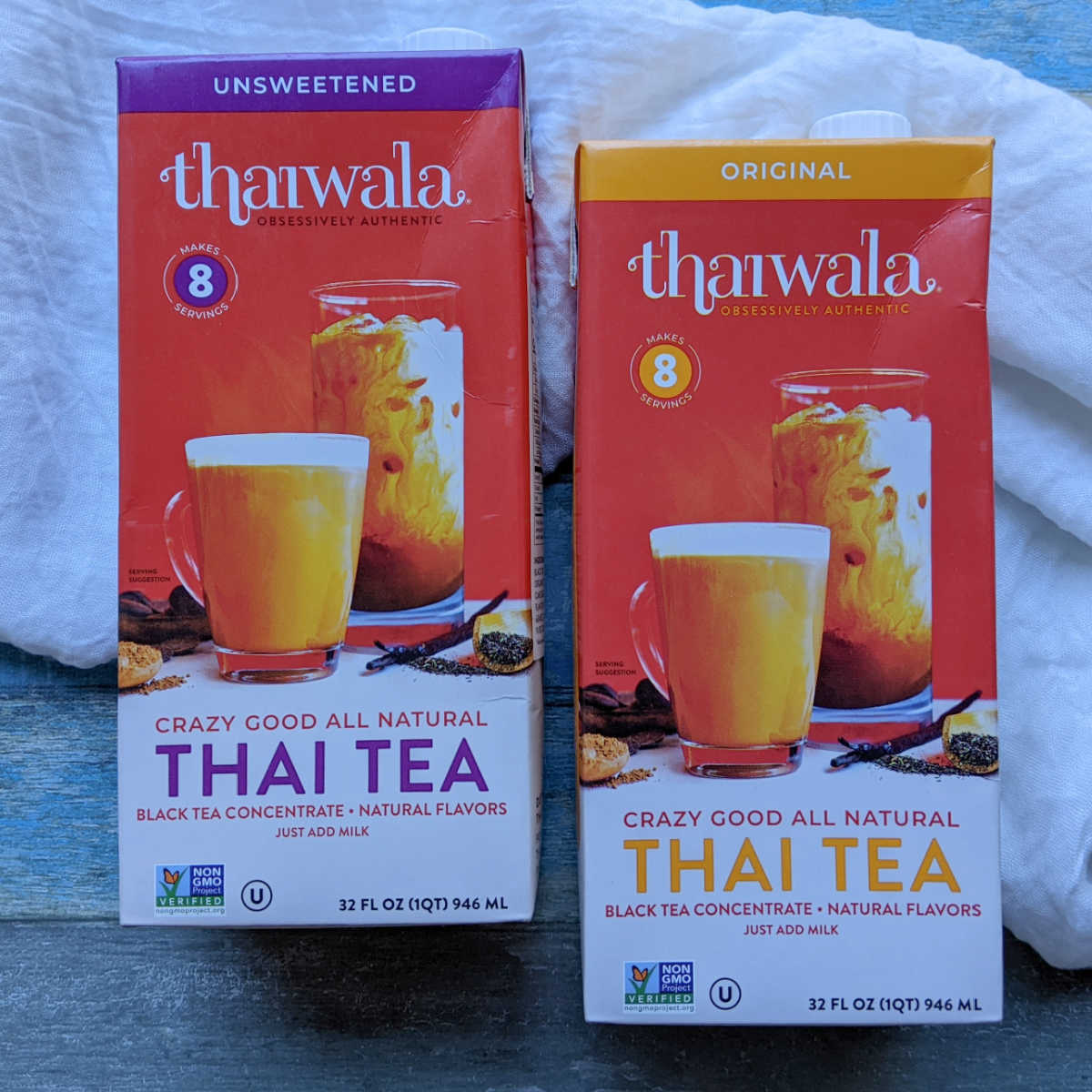 For authentic Thai tea flavor, Thaiwala Tea Concentrate is it.
The cartons of concentrate come in original and unsweetened.
Both of them can be used for this recipe, so it is just a matter of personal preference.
I used the original sweetened version this time, but have also enjoyed iced tea made with the unsweetened.
The package instructions call for mixing the concentrate in equal proportions with either half and half or whole milk.
I found the one to one ratio wasn't quite right for me, when changing the recipe for a vegan version.
My recipe uses 1 part tea concentrate to a half part coconut milk.
Feel free to adjust to suit your taste, but this proportion is perfect for me.
Straws for Iced Tea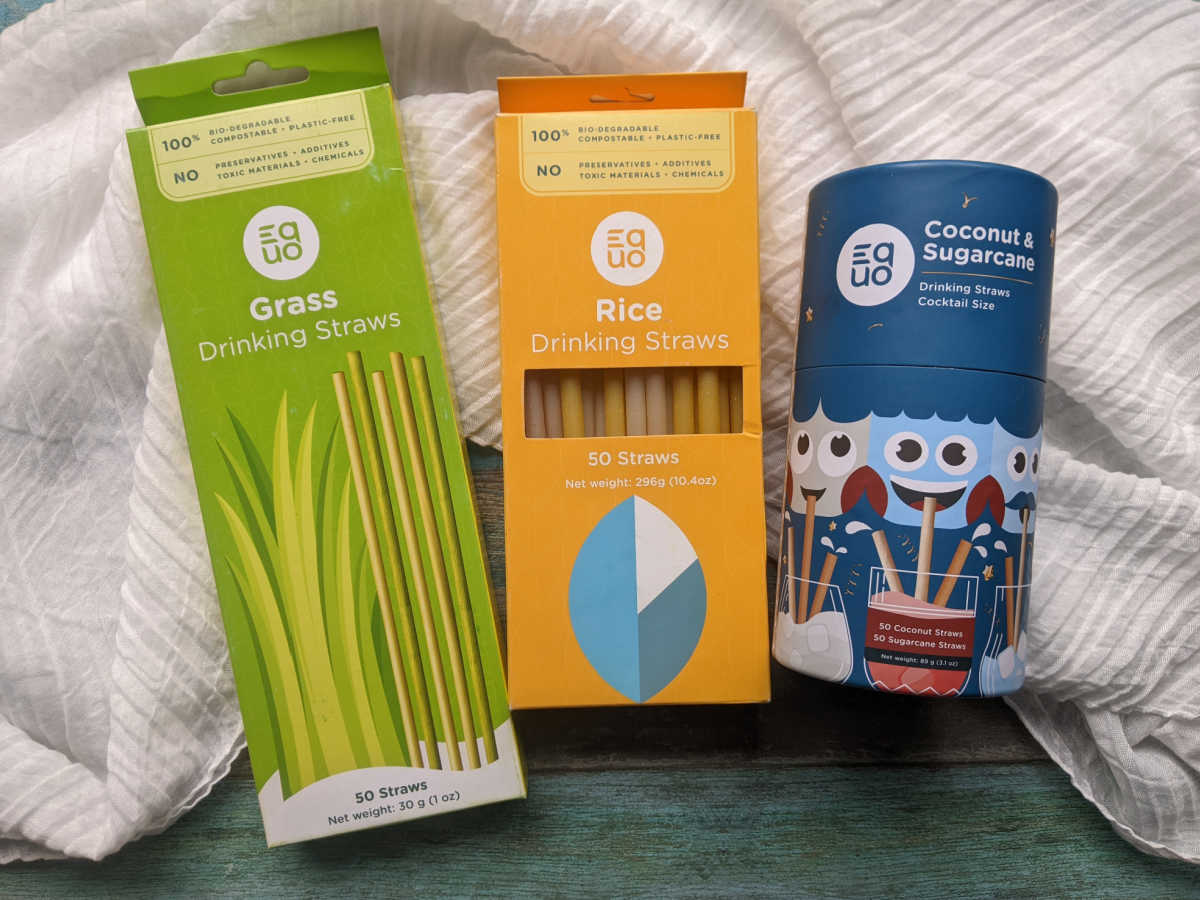 Thai tea is one of those beverages that just seems to need a straw.
Plastic straws are definitely not in style so it's great that we have better options to choose from.
I have glass and metal straws that work well, but it can be hard to keep them clean even with a cleaning brush.
EQUO Rice Straws are my favorites, but they also have some other good options made from other natural materials.
The rice straws are biodegradable and compostable, which is a better choice than typical plastic straws.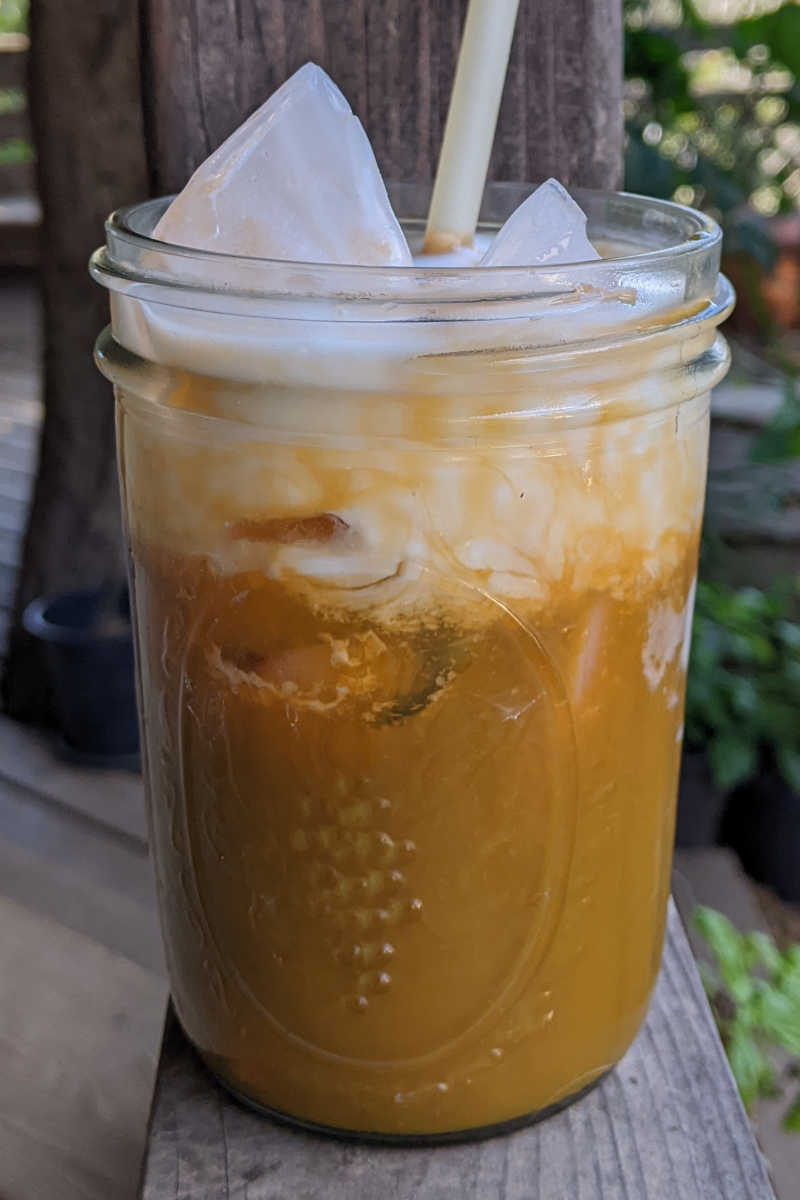 Prep Time: 5 Minutes
Yield: 1 Serving
Ingredients
Ice Cubes
1 cup Thaiwala Thai Tea Concentrate (Original or Unsweetened)
½ cup Coconut Milk
Supplies
Pint Mason Jar
Measuring Cup
Straw
Instructions
1) Fill mason jar with ice cubes.
2) Pour in Thai tea concentrate first and then top it with the coconut milk.
3) Enjoy!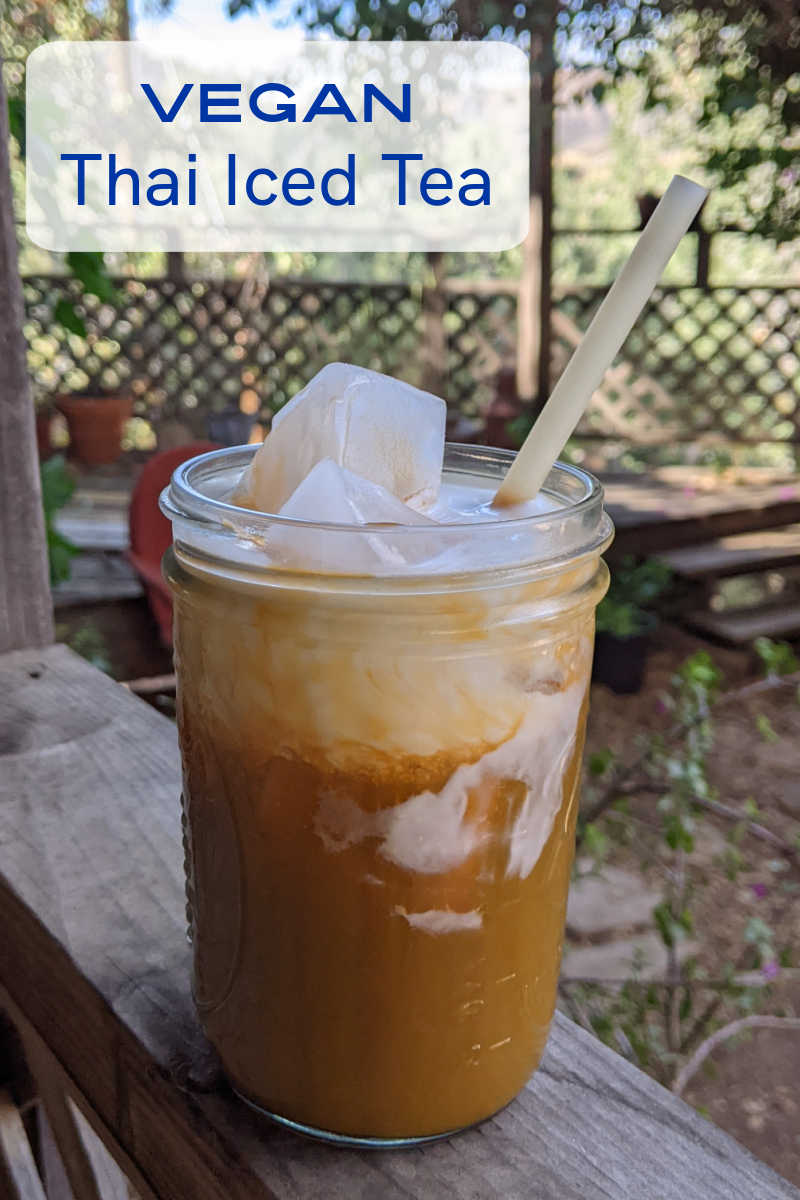 More from Mama Likes To Cook
Check out my vegetarian recipes, so you can get more great ideas for baking, cooking, blending and juicing.
Tea Recipes
Coconut Milk Recipes
Shop Now
For a beautiful assortment of kitchen necessities and food gifts for the whole family, check out the current deals at these online stores.
Are you ready to have some delicious fun in the kitchen?