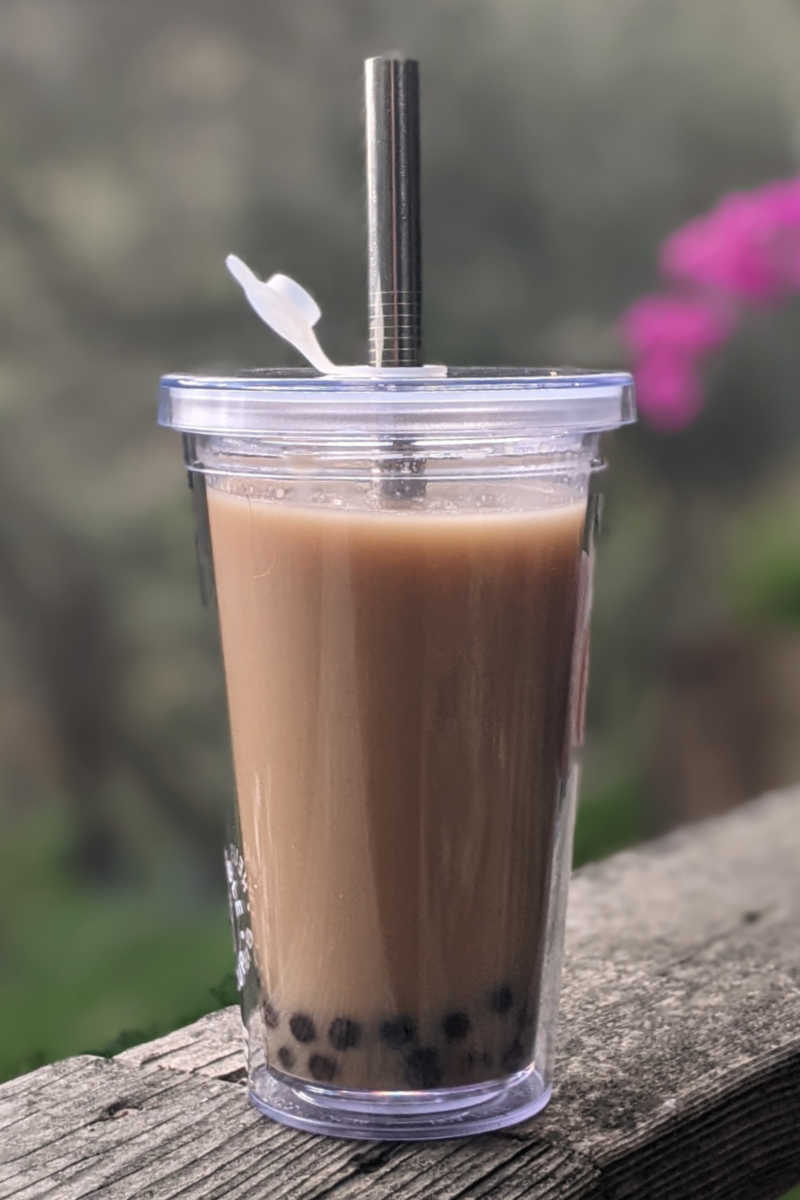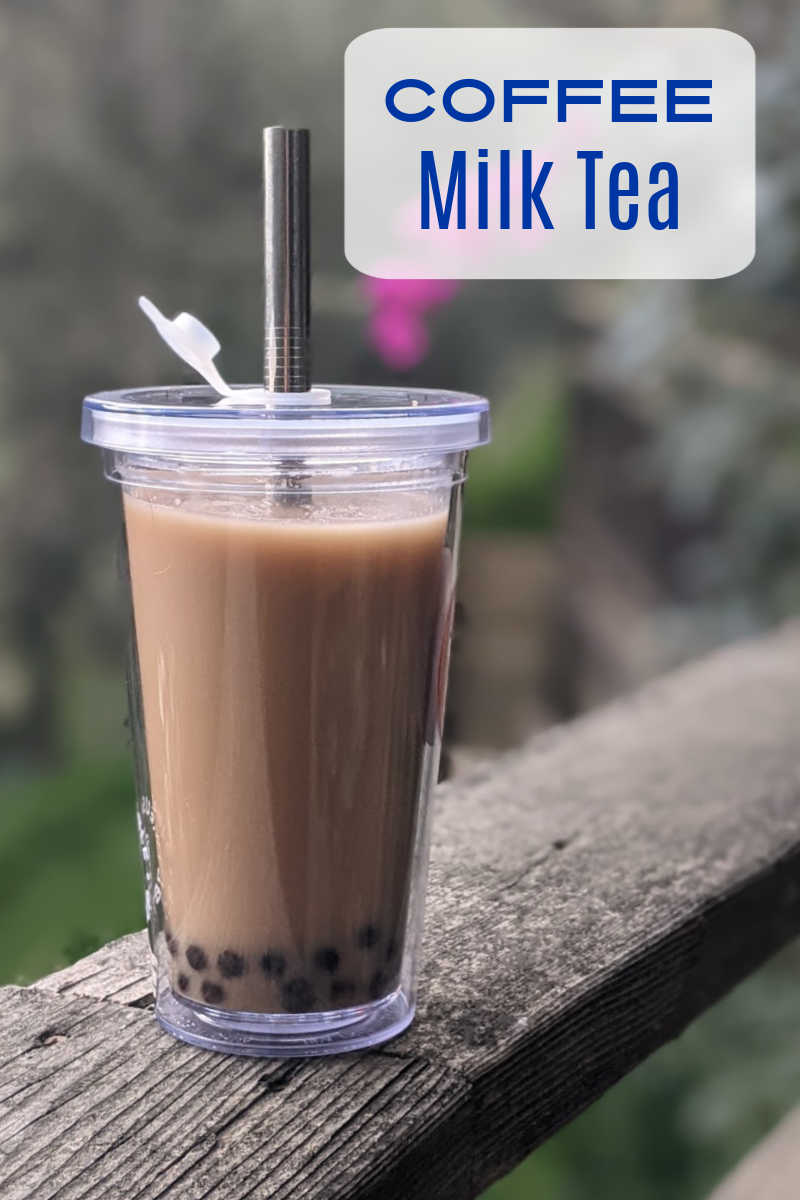 How to Make Boba Bam Milk Tea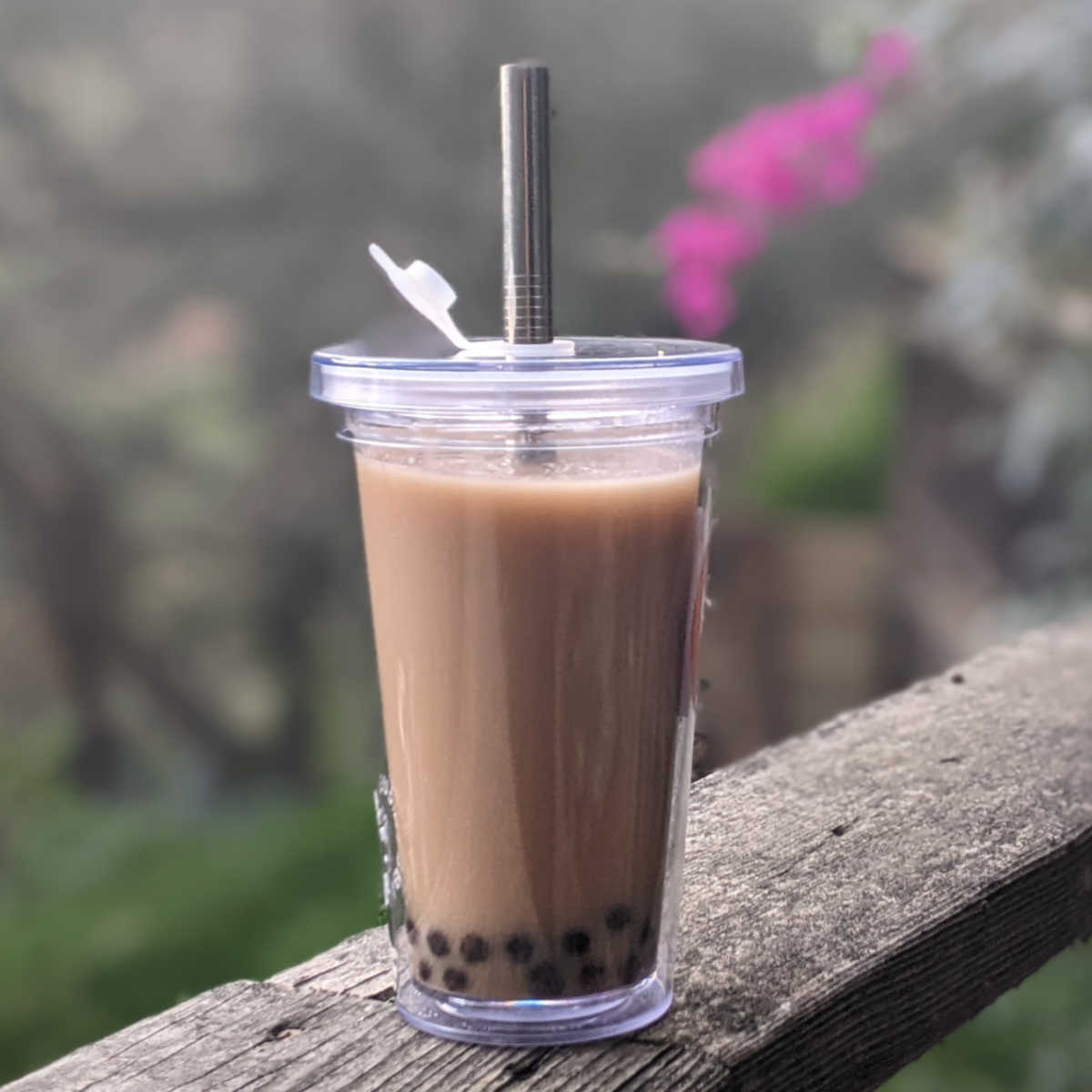 Now, it is quick and easy to make coffee milk tea with boba at home anytime with without having to drive to a bubble tea shop.
I love the taste of milk tea and the chewy boba tapioca pearls in the dink, so it's great to be able to enjoy it without leaving the house.
Boba Bam Instant Boba makes it easy to enjoy homemade coffee milk tea.
History of Bubble Tea
Bubble Tea is a relatively new invention that began in Taiwan in the 1980's.
It then made its way to California, where boba shops popped up in communities with Asian immigrants.
These days, there are many tea houses near me and the trend has spread around the country.
What is Boba?
Boba are little, chewy "pearls" made from tapioca starch, which comes from the cassava root.
The flavor is very mild, so mild that you may not be able to taste it.
It is the texture of the boba pearls that make it special and a nice contrast to a sweet milk tea beverage
What is Boba Bam?
Boba Bam is a frozen, instant boba drink pack.
These single serve packs come in boxes of 4 or 12 and in a variety of flavors.
The packs get heated up in the microwave or on the stove and then you add your choice of milk to make the bubble tea.
I found the texture of the boba to be fantastic and this was a lot easier than boiling tapioca pearls myself.
Coffee milk tea is what I usually order at a bubble tea shop, so it is also my favorite to make at home.
The instructions call for ice to be added to the drink, but I added cold water instead.
Generally, I prefer my beverages watered down a bit, so this was perfect for me.
You can add just ice, if you'd like.
Or you can add a combination of ice and cold water to get the flavor just right for you.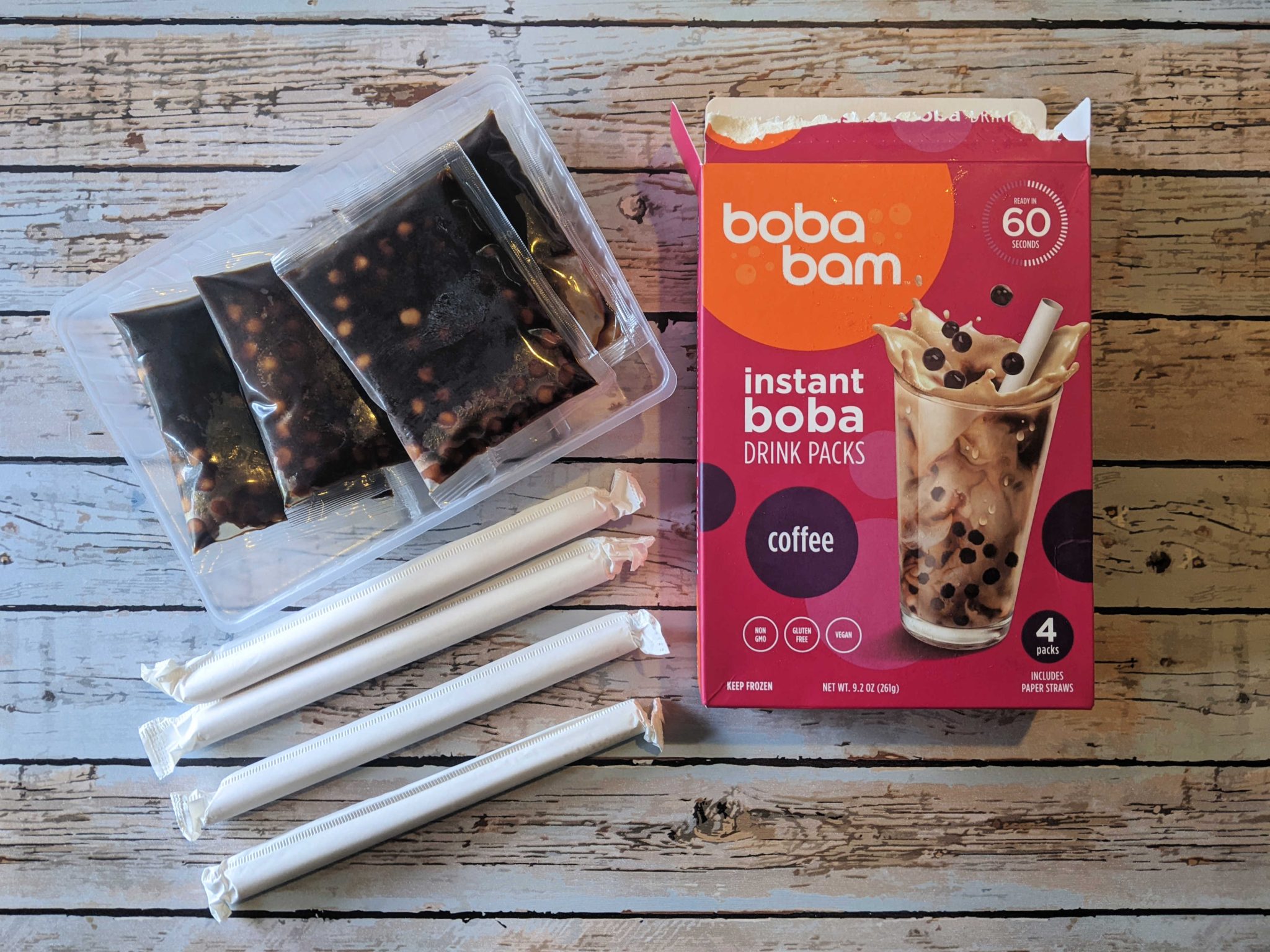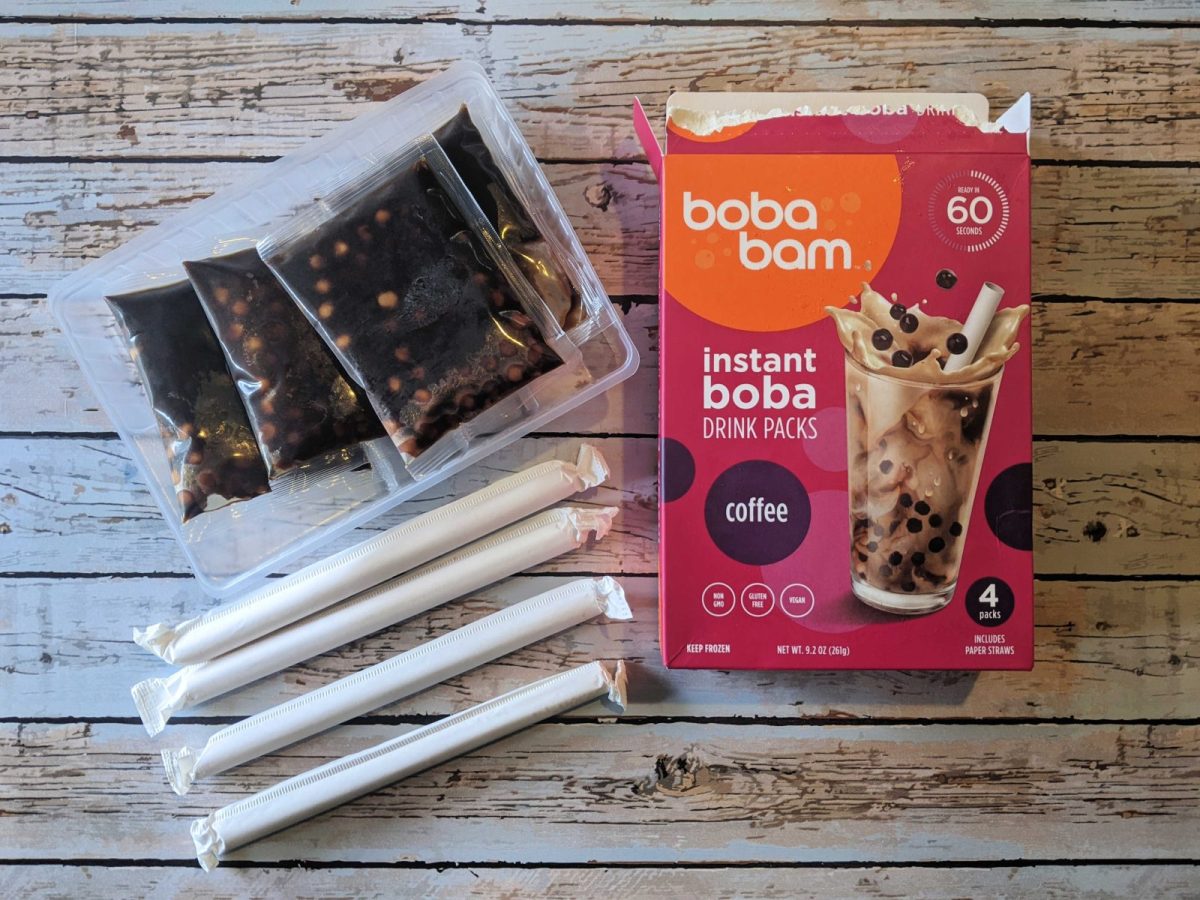 Vegan?
Yes!
The instant boba drink packs are vegan and, also, gluten-free and non-gmo.
Just choose a plant based milk alternative instead of dairy, if you want to keep your bubble tea vegan.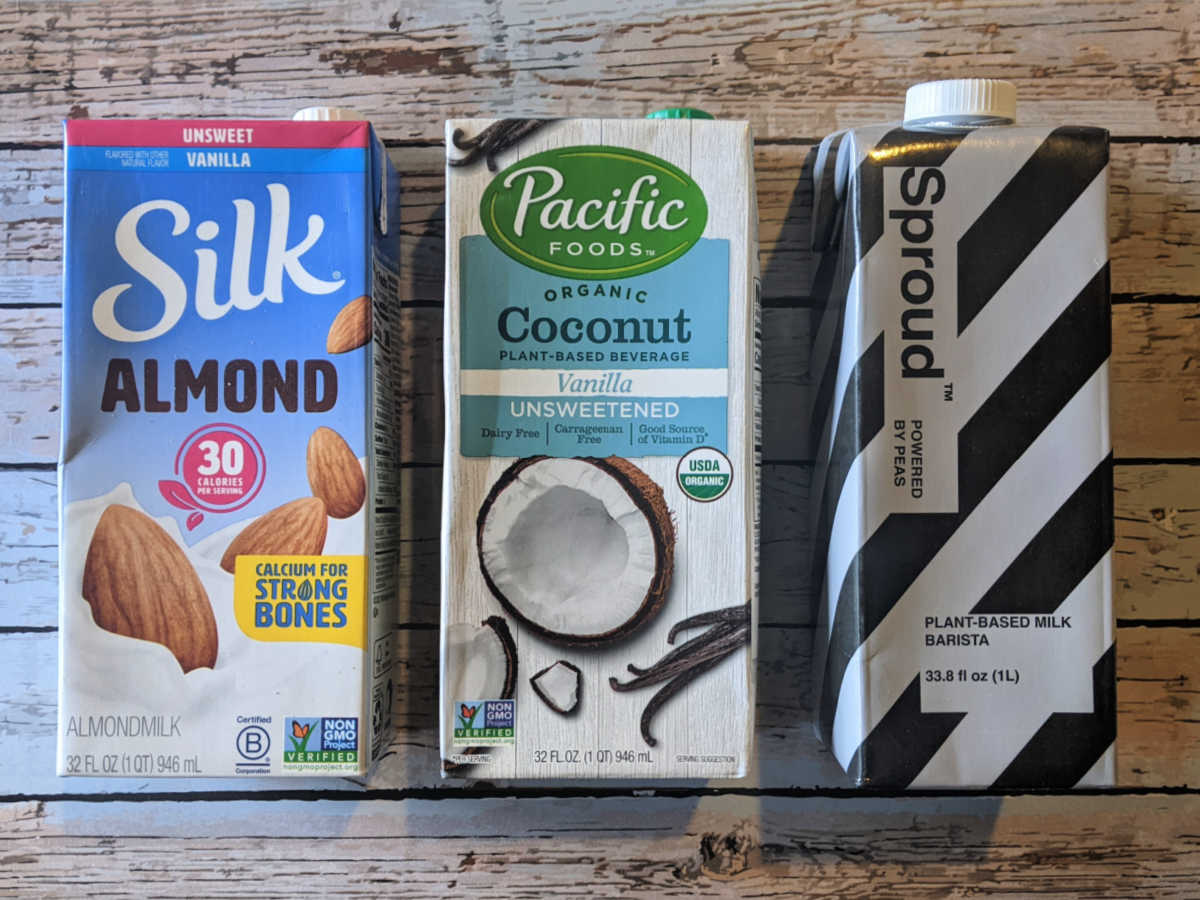 What Kind of Milk to Use for Milk Tea?
Any kind of milk or milk alternative can be used for milk tea.
It will, of course, impact the taste of your beverage.
For this coffee milk tea, I used unsweetened coconut milk and it was delicious.
I've also used a chocolate soy milk that was quite tasty with the coffee.
The instant Boba Bam does have sugar in it, so keep that in mind when choosing your milk or milk alternative.
You may want an unsweetened milk like I did or you may be happy to add extra sweetness.
Serving Milk Tea
You can purchase reusable boba cups that can look very similar to the to-go cups used at boba shops and tea houses.
A mason jar or other glass can work well, too.
Bubble tea is typically sipped through a wide straw, so you can suck up the chewy tapioca pearls.
Disposable straws come in the Boba Bam package, which is handy.
However, I like using a reusable metal boba straw.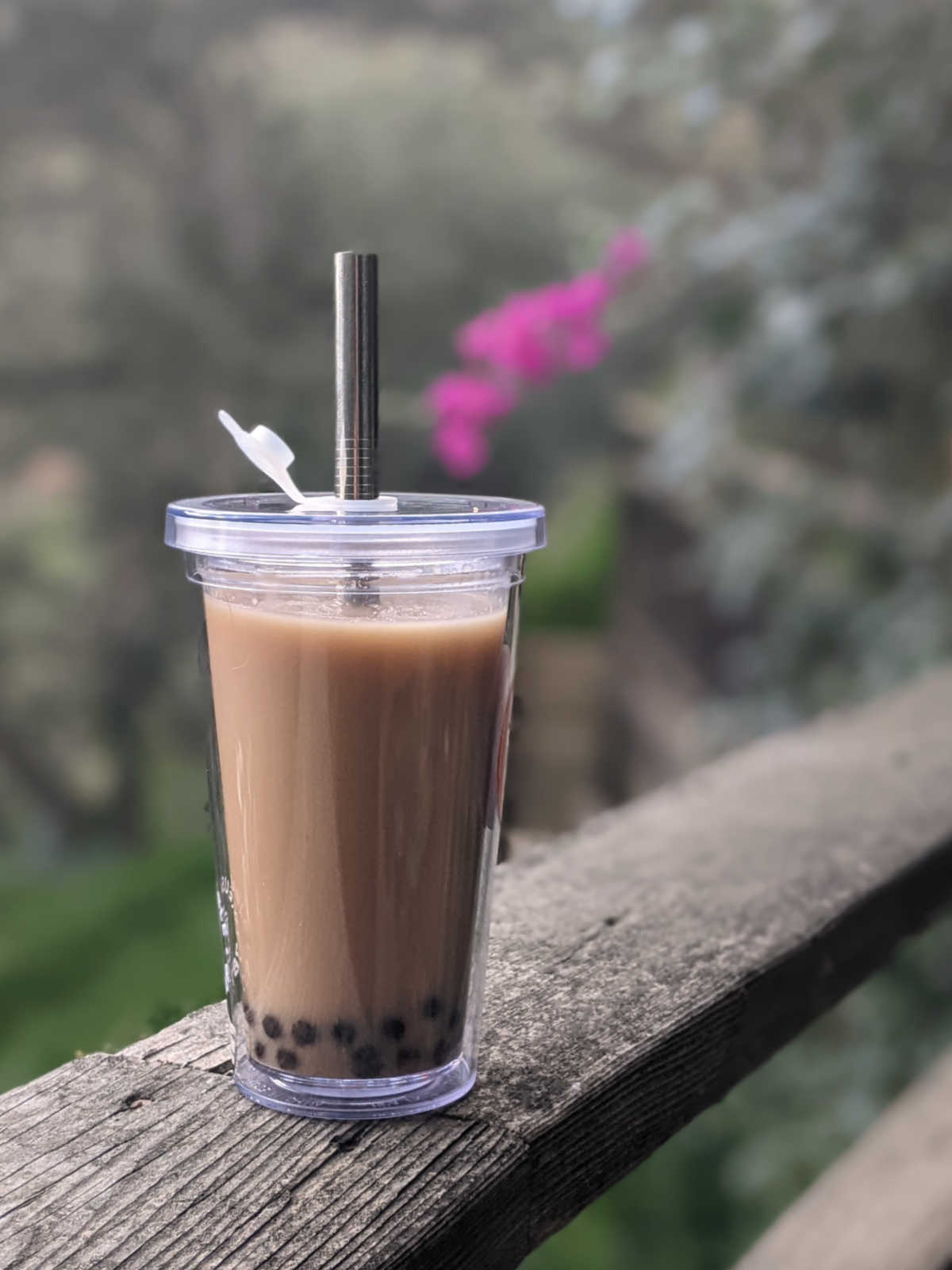 Coffee Milk Tea Recipe
Prep. Time: 2 minutes
Cook Time: 1 minute
Yield: 1 serving
Ingredients
Boba Bam Coffee Instant Boba
1 cup Milk or Milk Alternative (I used Unsweetened Coconut Milk)
1 cup Ice and/or Cold Water
Supplies
Mug
Microwave Oven
Boba Cup
Boba Straw
Instructions
1) Cut a corner off a coffee Boba Bam packet and stand it up in a microwave save mug.
2) Microwave for 45 to 60 seconds.
3) Pour the warm boba mixture into your boba cup. Top with milk and ice and/or cold water.
4) Stir.
5) Enjoy sipping your coffee bubble tea through a wide boba straw.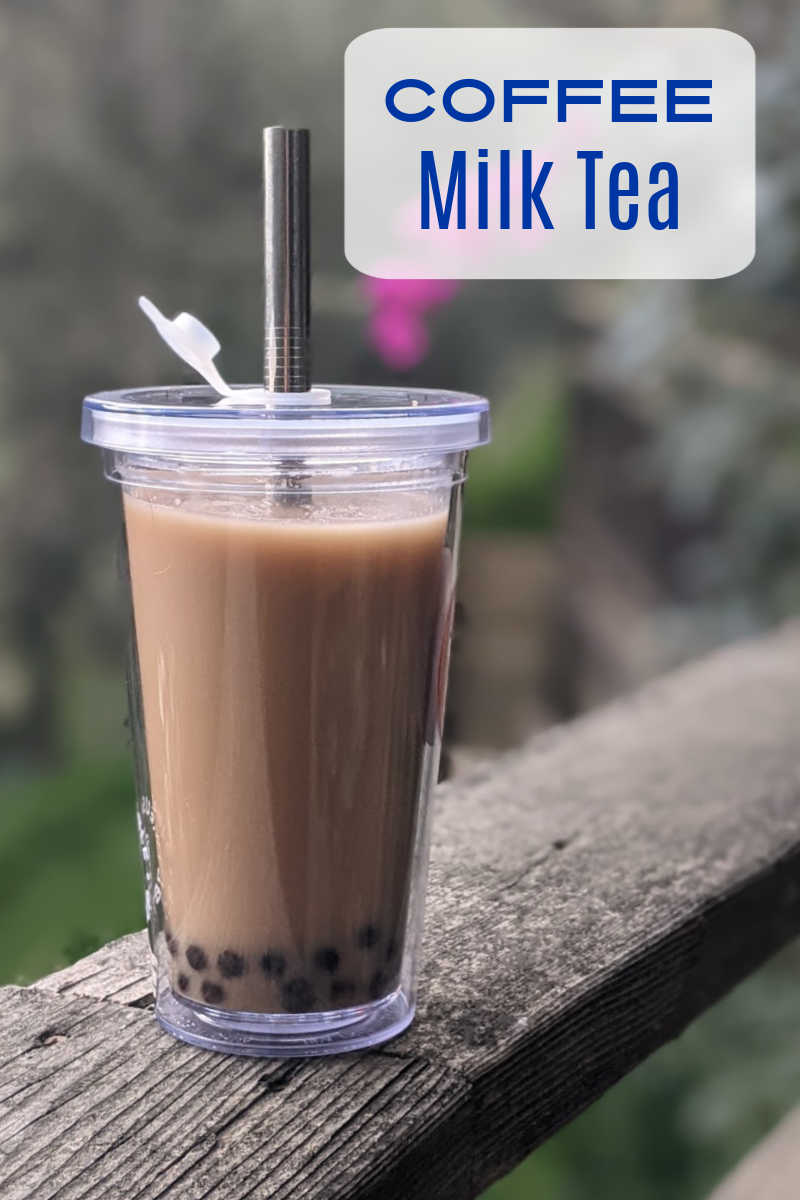 More from Mama Likes To Cook
Check out my vegetarian recipes, so you can get more great ideas for baking, cooking, blending and juicing.
Milk Tea Recipes
Tea Recipes
Coffee Drink Recipes
Coconut Milk Recipes
Shop Now
For a beautiful assortment of kitchen necessities and food gifts for the whole family, check out the current deals at these online stores.
Are you ready to have some delicious fun in the kitchen?