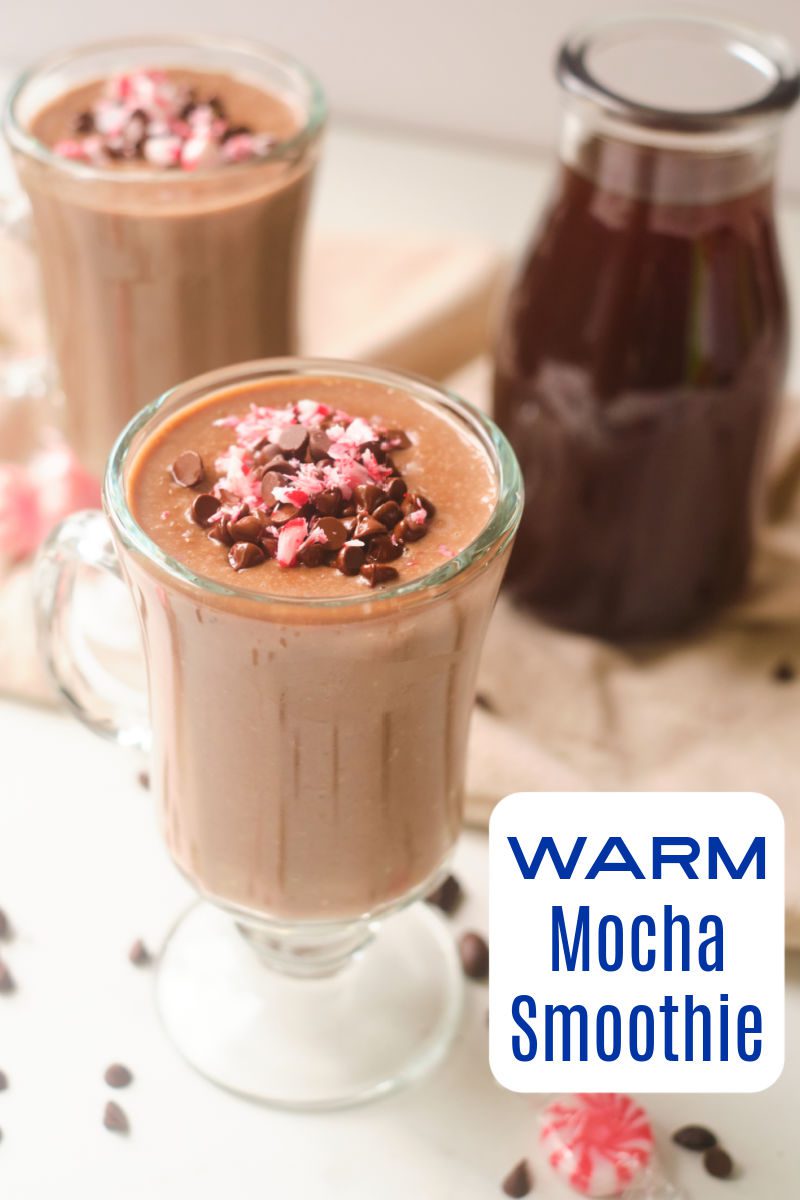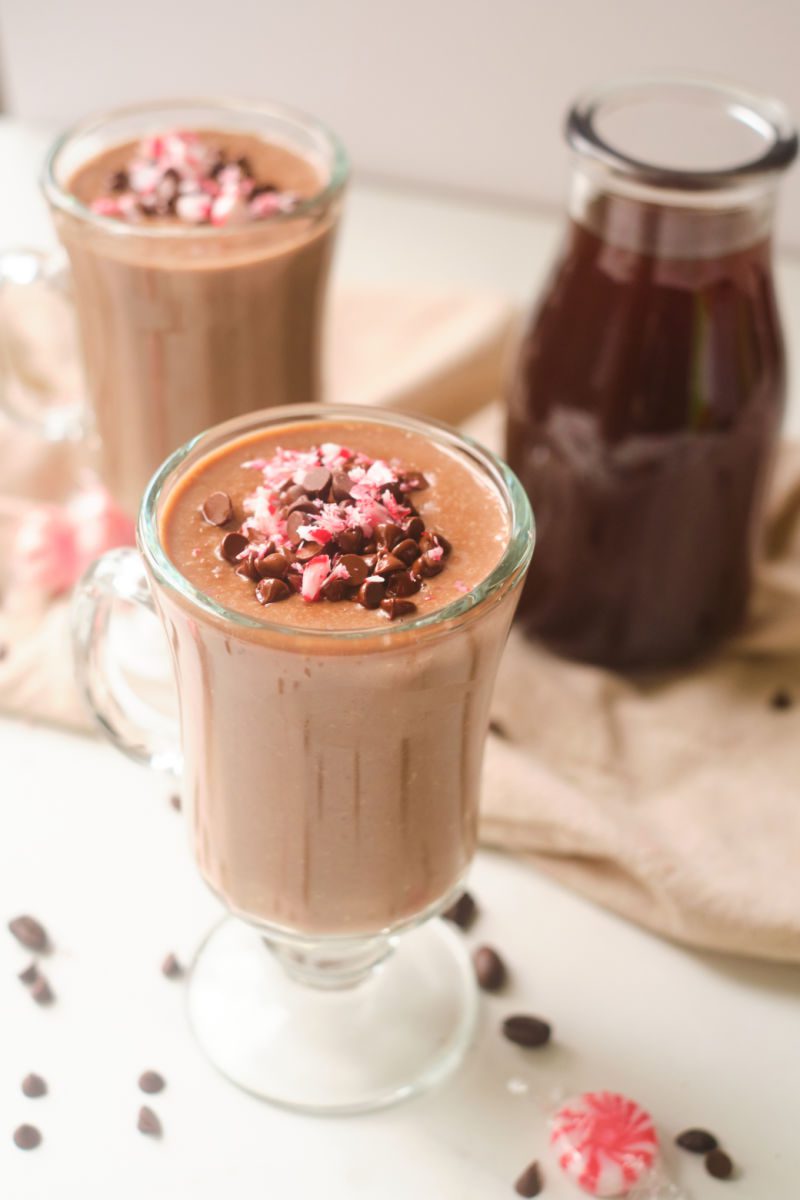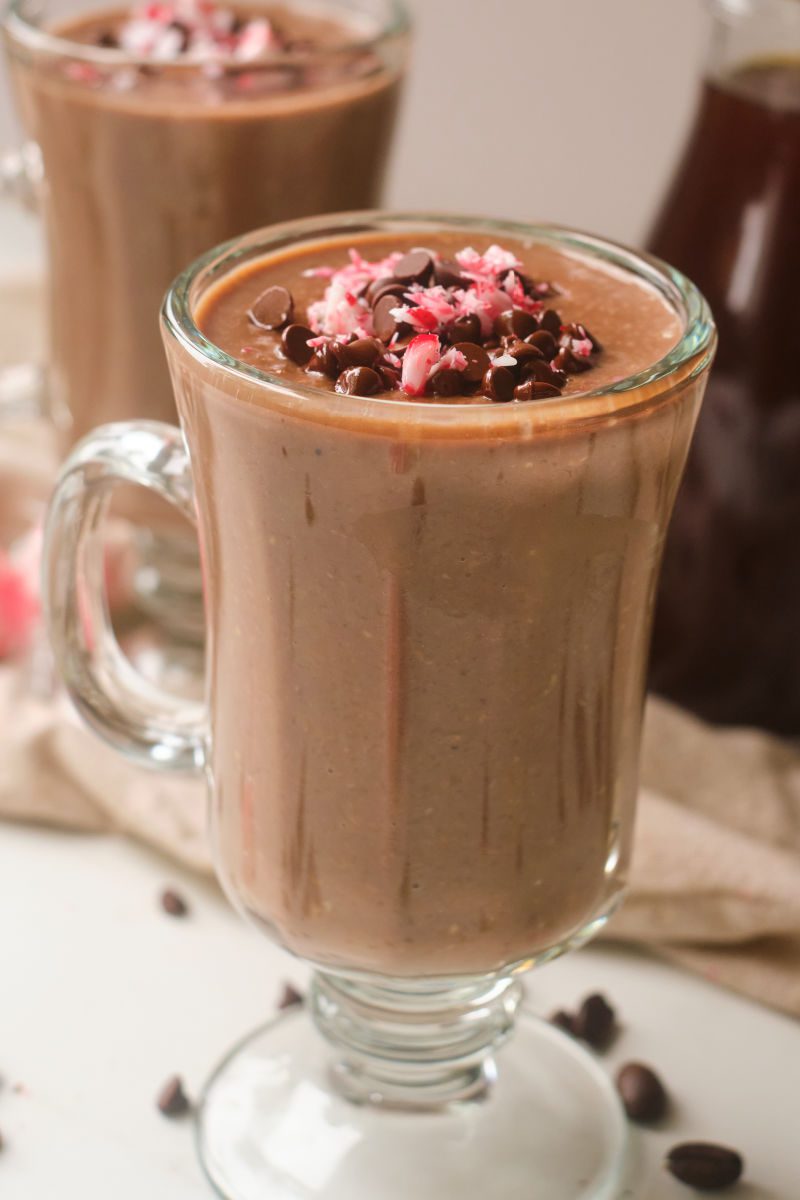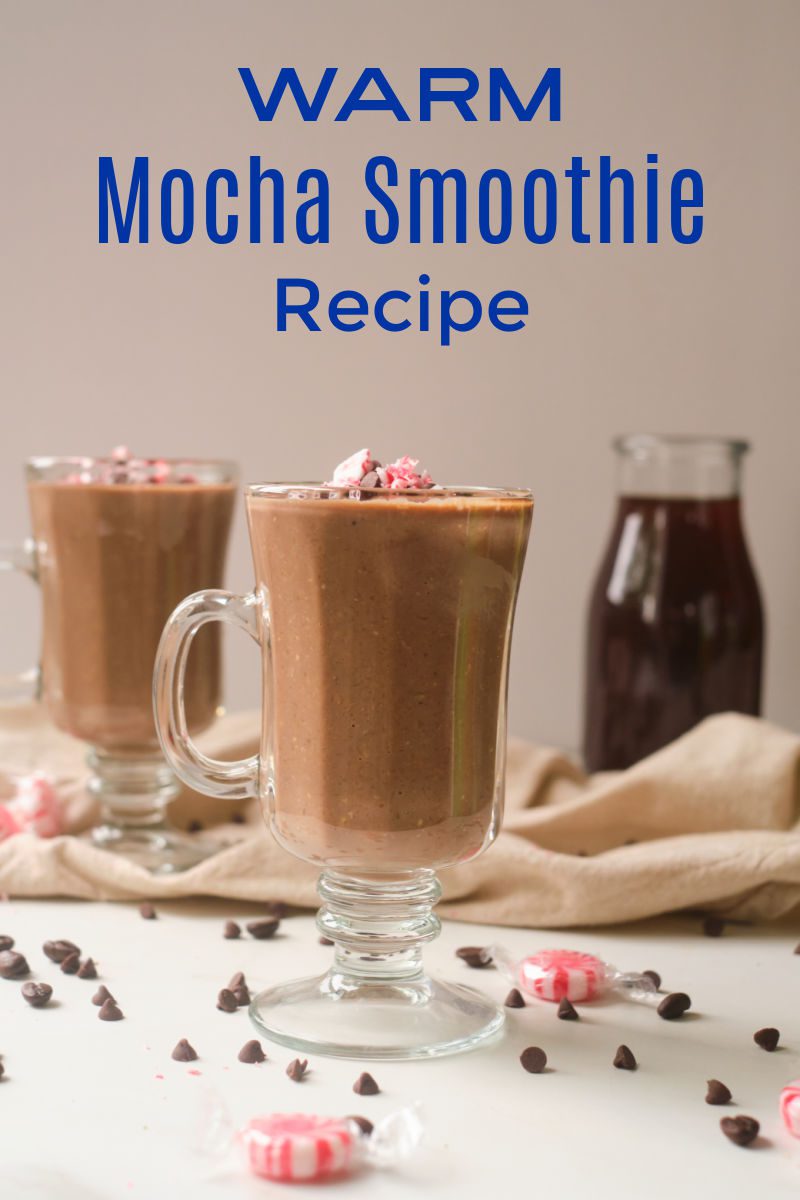 Warm Smoothie
with oats, coffee and protein blended in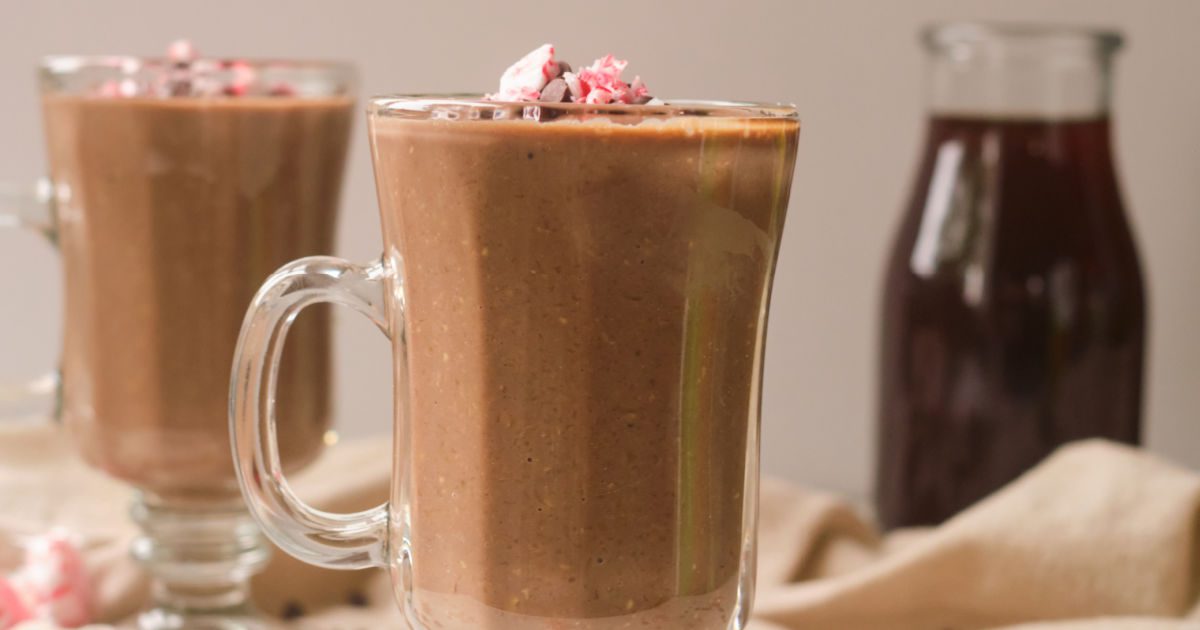 This warm mocha smoothie tastes like dessert, but is packed with nutrition and is a great protein rich breakfast to jumpstart your day on a chilly morning.
My family loves smoothies, so we often drink them for meals or snacks when the weather is warm.
When cool Fall and Winter weather arrive, it is time for us to shift gears and make warm smoothies, instead.
Since this is a coffee smoothie without banana, you aren't adding extra sugar from the fruit.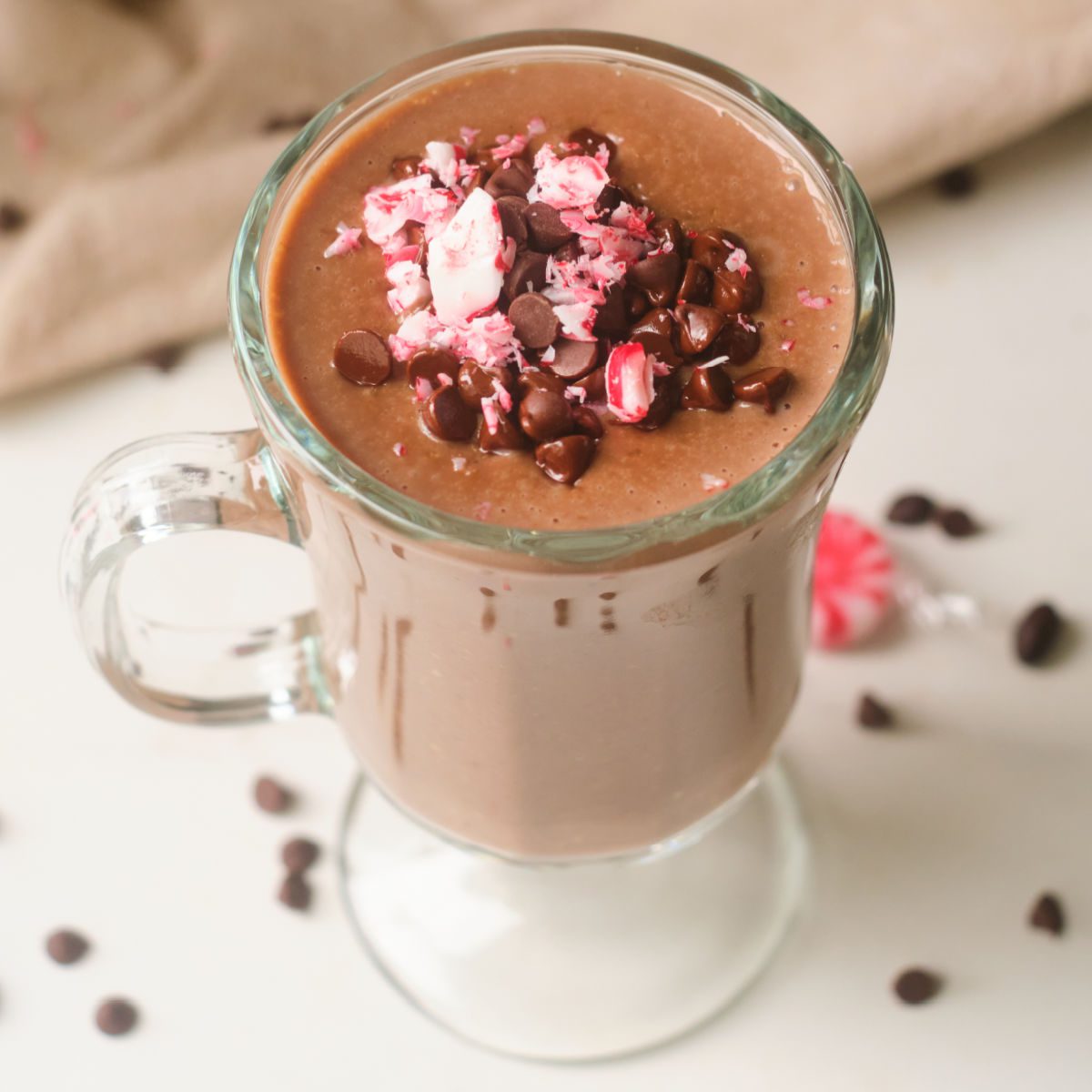 Can I make this smoothie vegan?
Yes, this smoothie is great, when you make it vegan.
Instead of using regular milk, you will want to use a milk alternative.
Also, make sure you choose a chocolate protein powder that is clearly labeled as being vegan.
I'm a vegetarian, not a vegan, so we use both cow's milk and plant based milk alternatives in my home.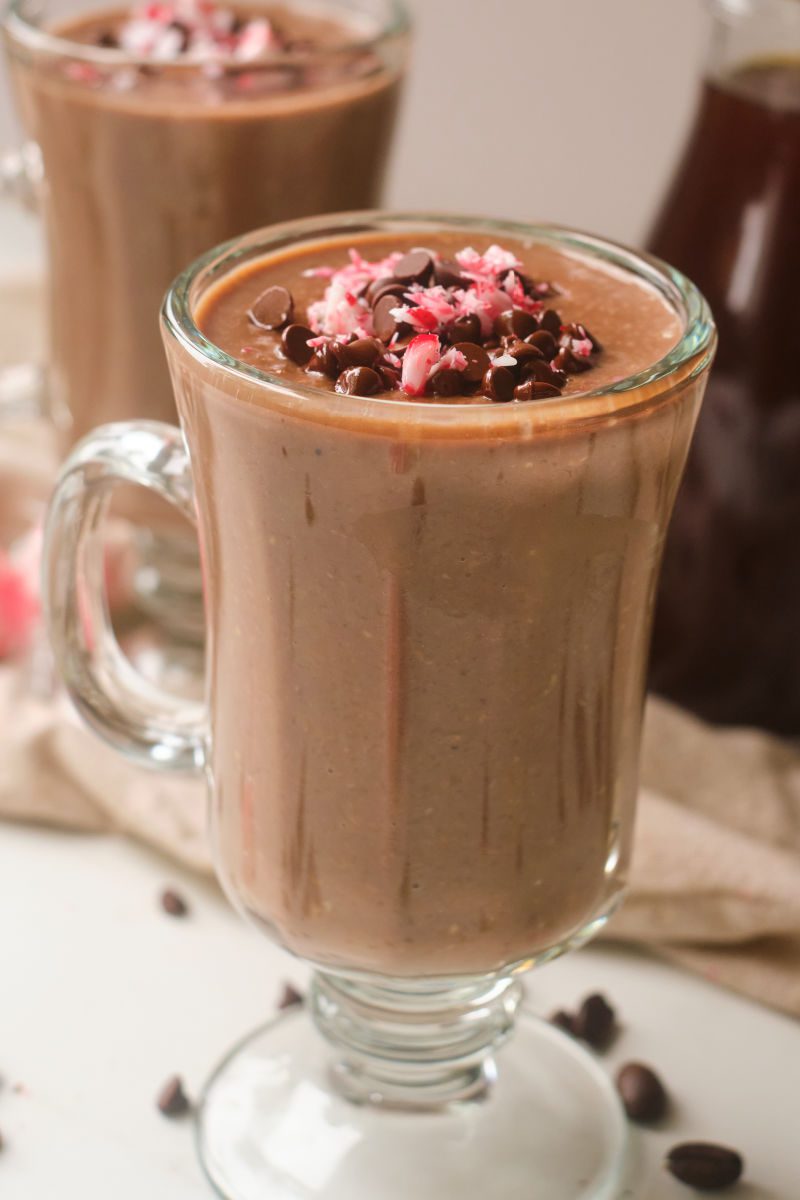 What type of milk alternatives are best in a warm smoothie?
We have a lot of options, when it comes to plant based milk.
I prefer an unsweetened nut-based milk for warm mocha smoothies.
Cashew, almond, macadamia and hazelnut milk are all great choices.
However, feel free to use your own personal favorite.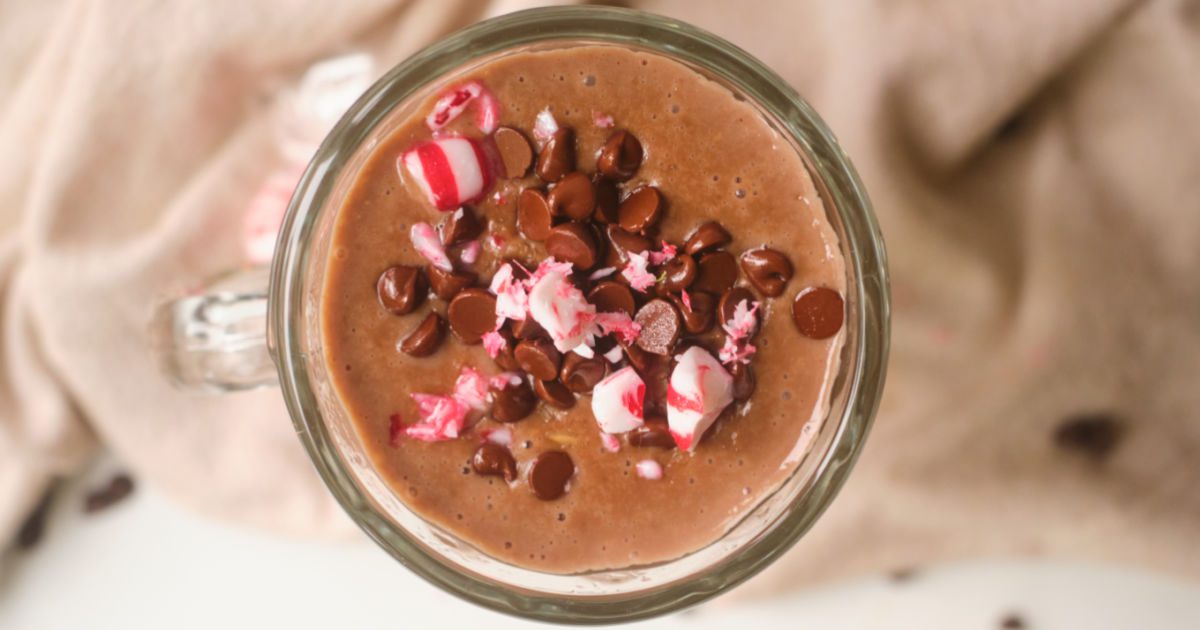 Is a warm smoothie good for an easy weekday breakfast?
Yes!
This recipe is quick and easy to make, when you are rushed in the morning.
If you are heading out to work or school, you can pour it into a travel mug to enjoy on your way.
If you are rushing to your home office in another part of the house, you can easily sip your warm coffee smoothie while you work.
Coffee by itself is great, but this smoothie also has satisfying nutrition from protein powder and oatmeal.
It is a feel good meal with caffeine, protein and healthy nutrients!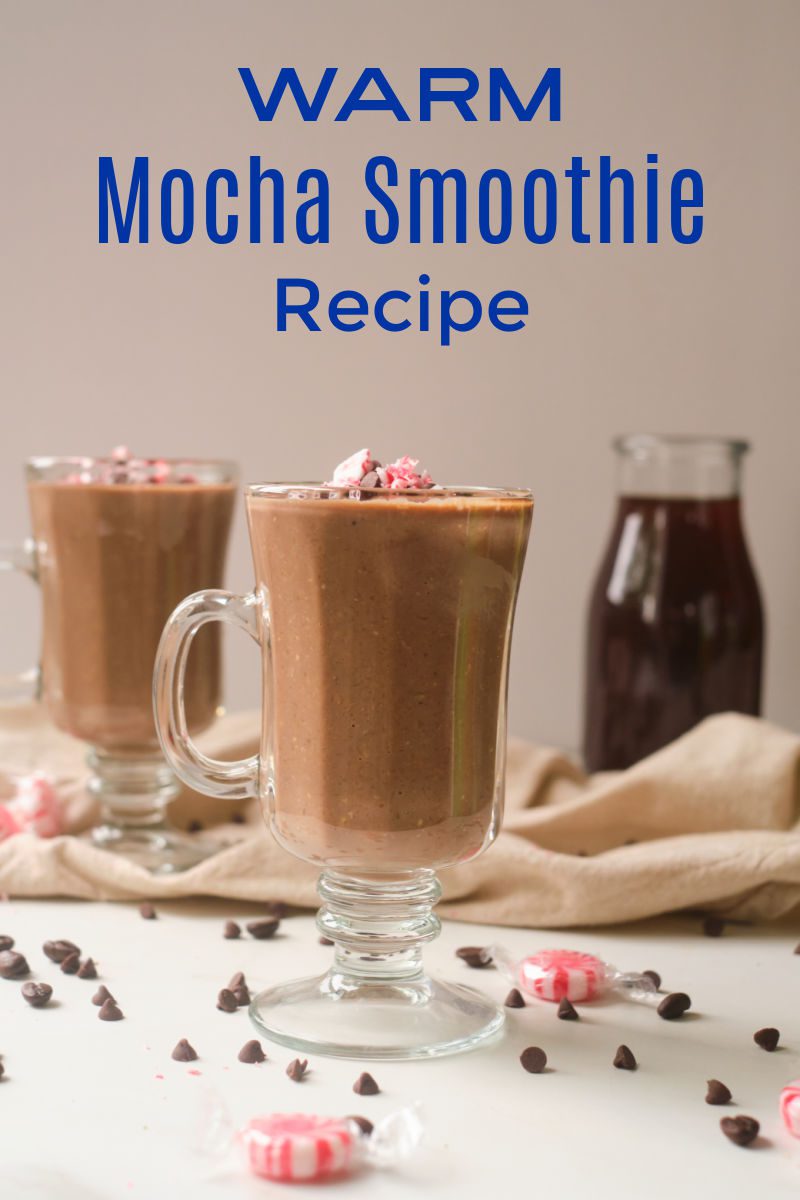 Can I drink a warm smoothie for lunch or a snack?
I think of this as a breakfast smoothie, since it has coffee, oats and protein in it.
You can drink it other times of the day, too.
Just remember that it has caffeine from the coffee, so you may not want to drink it late in the day.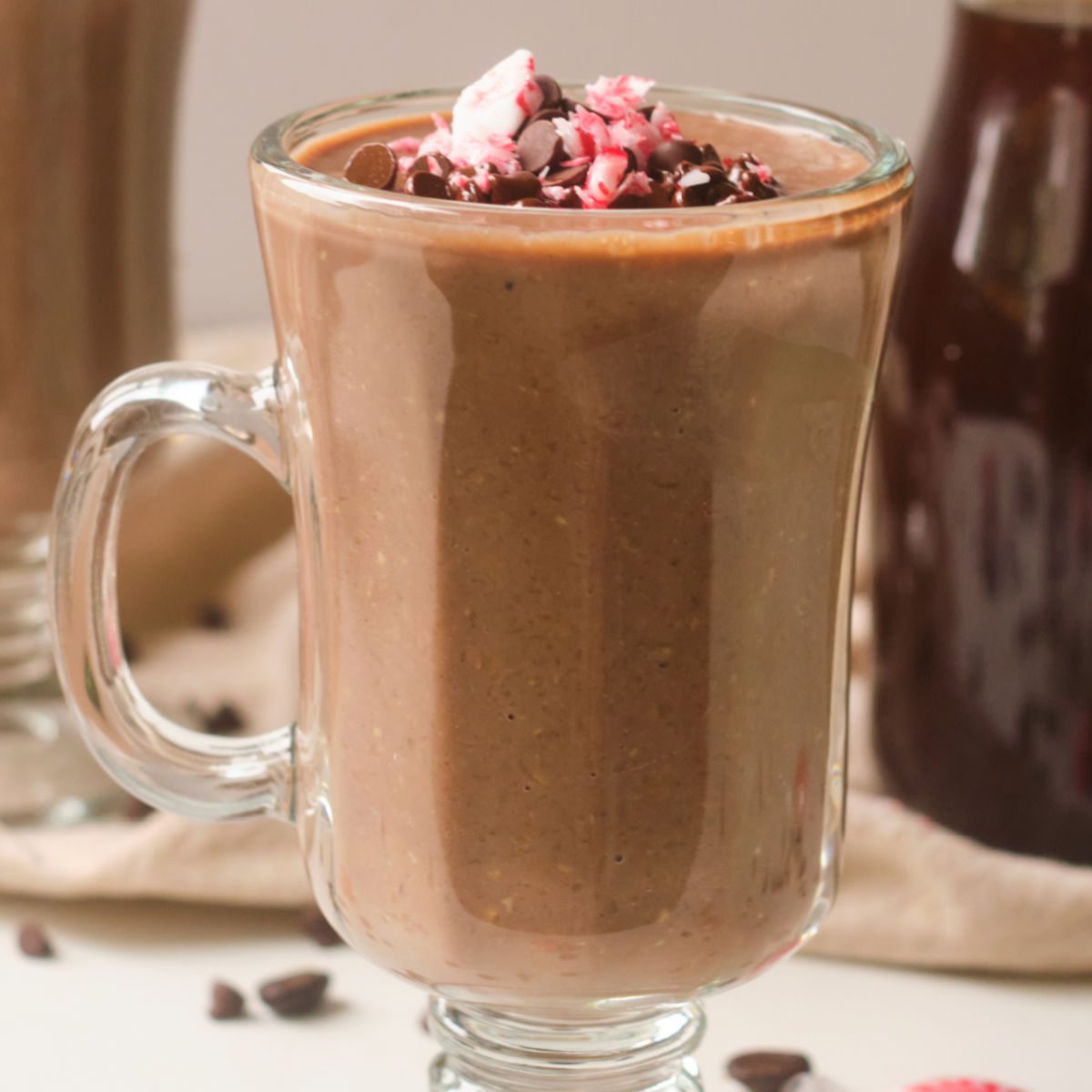 Why use oatmeal in a smoothie?
Oats are an easy way to sneak some healthy whole grains into your breakfast.
Oatmeal is low glycemic index, which means it won't cause a blood sugar spike like other more refined carbohydrates will.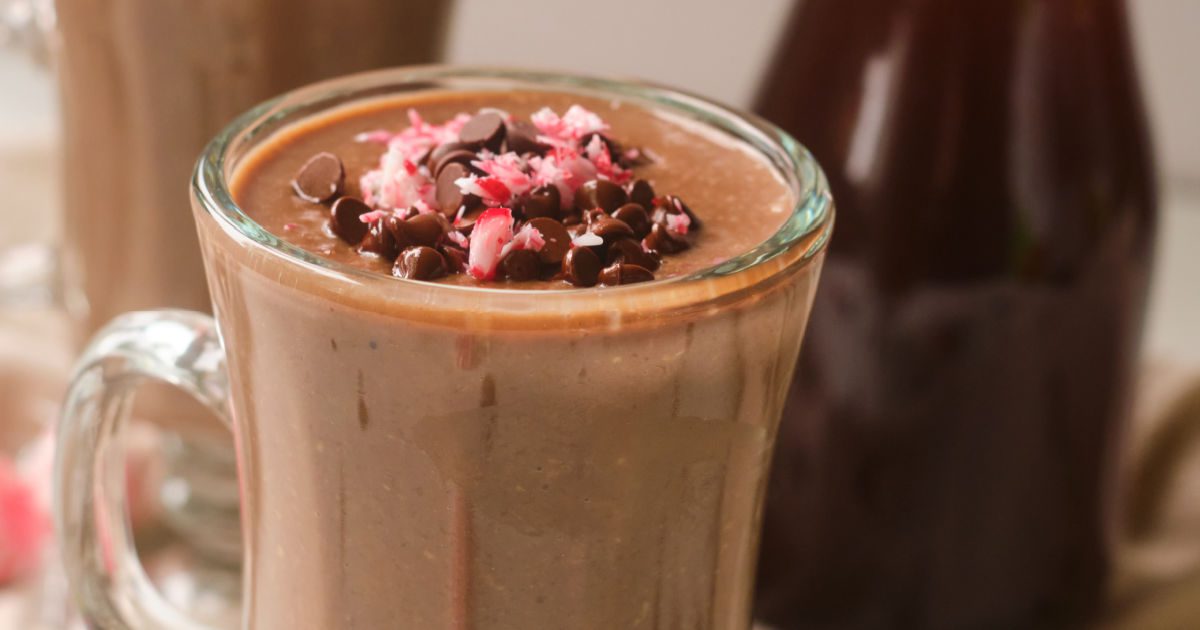 Will healthy oats make a smoothie grainy?
If you like a bit of texture in your smoothie, you can blend it a little less to keep some texture in it.
The rest of us who like our smoothies smooth can easily get a creamy drink without any grainy bits just by blending it well with a good blender.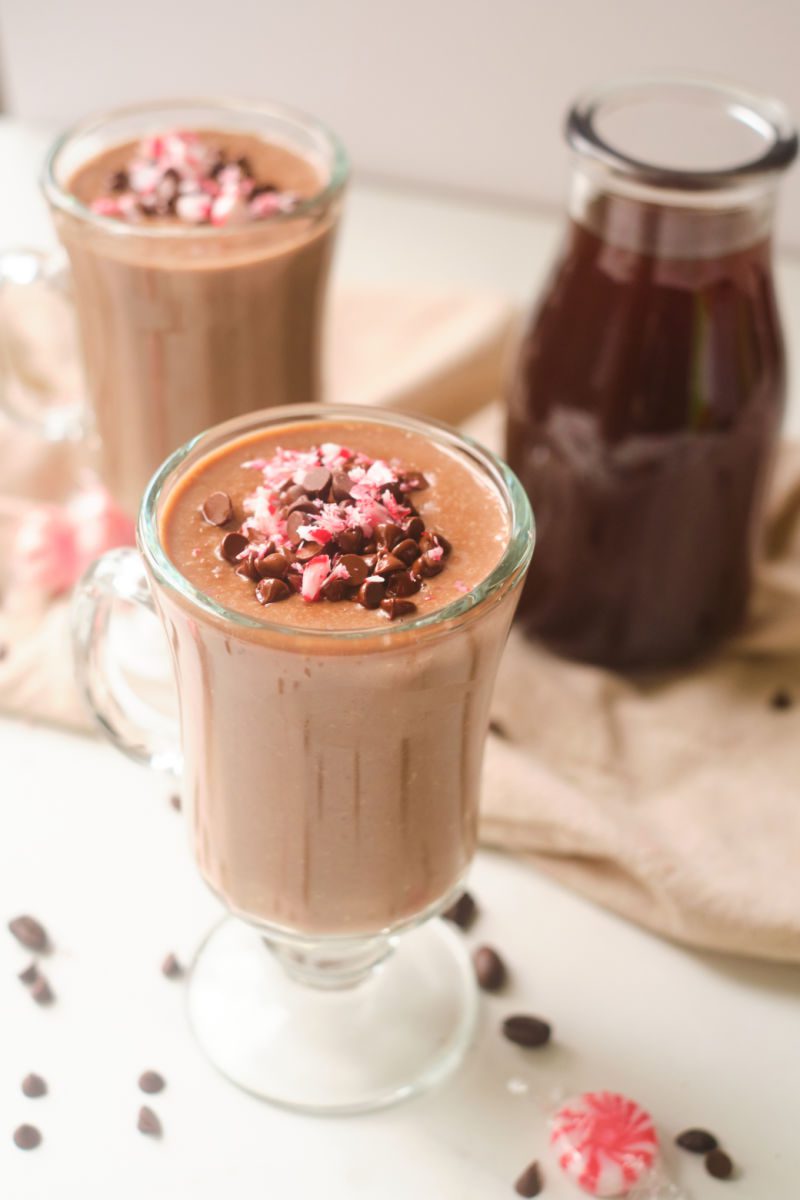 What kind of coffee is best in a smoothie?
This warm smoothie recipes needs a good strong brewed coffee to give it good coffee flavor after you've added all of the ingredients.
If you use weak coffee, you may not even taste it in the smoothie.
Avoid a light tasting coffee and go for something with a bold flavor.
A dark roast or espresso blend are good choices.
We love Death Wish Coffee that is strong and has extra caffeine.
There is plenty of opportunity to personalize this coffee smoothie with your own favorite brew, so go with what sounds good to you.
Just make it strong!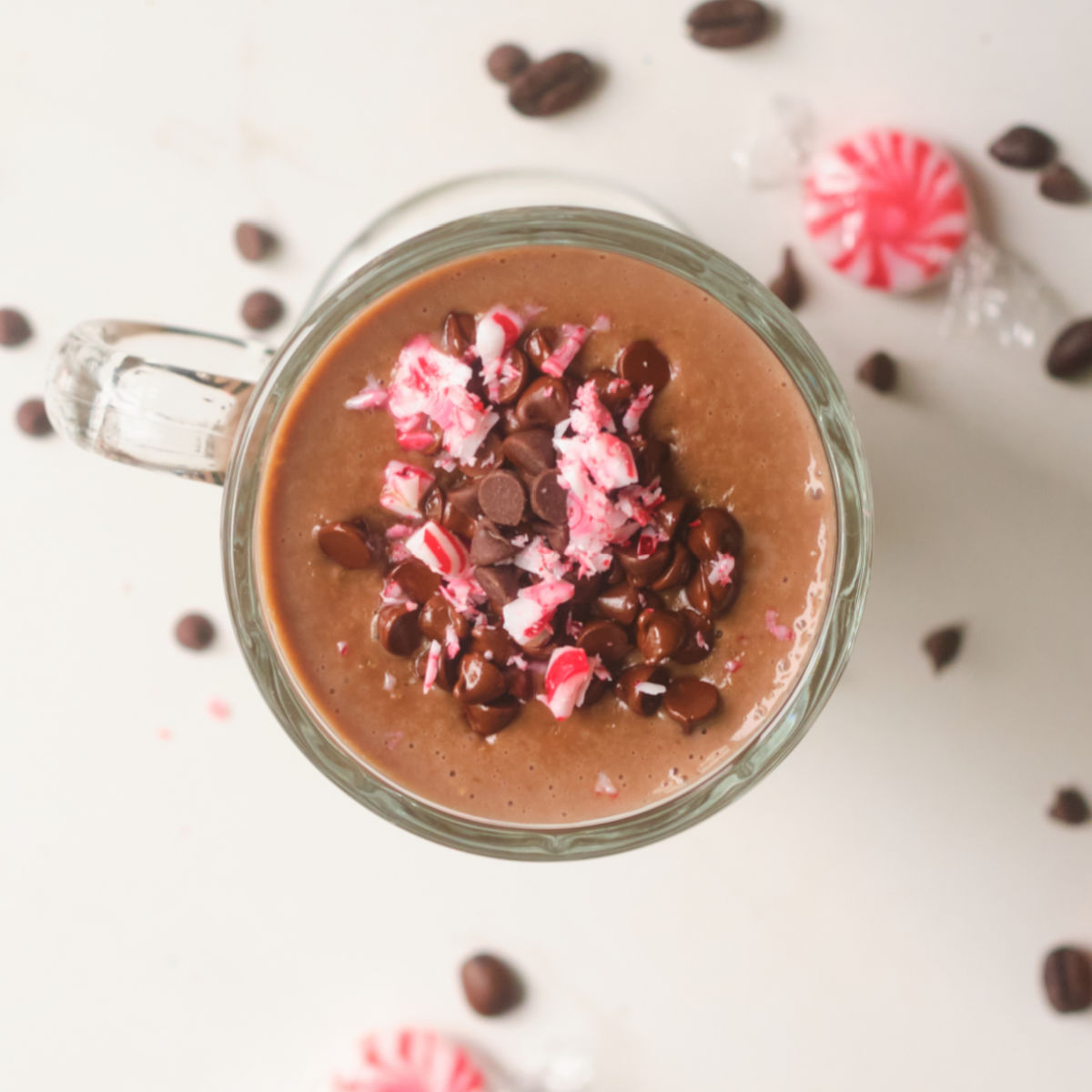 Can I use leftover coffee in a smoothie?
You can absolutely use leftover coffee, when you make this warm mocha smoothie.
I always save the last bit of coffee from my pot in a mason jar in the refrigerator, so it is ready to use.
The ingredients for this smoothie are warmed up in a saucepan, so it's ok if the coffee starts out cold.
Can I skip the sweet garnish?
Of course!
The peppermint candy and mini chocolate chip garnish is fun and delicious, but it isn't mandatory.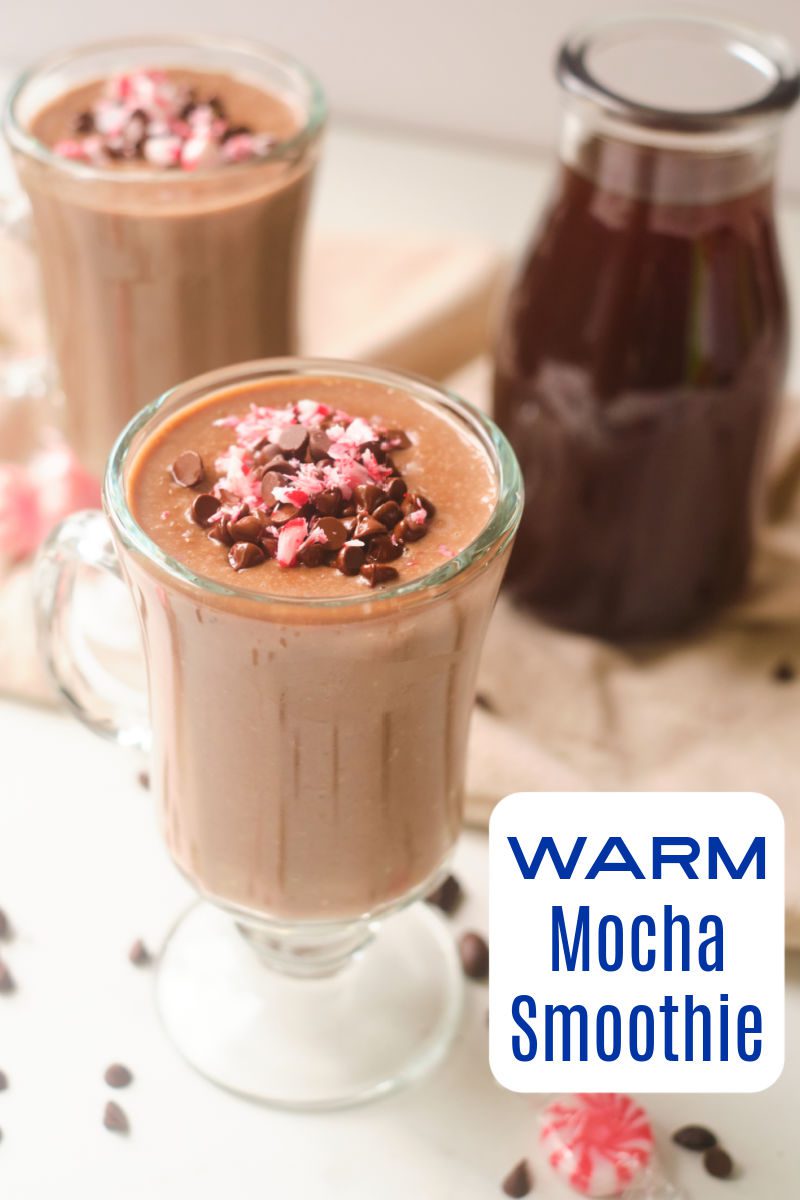 What type of blender should I use?
I always recommend that people invest in a good high-speed blender, so that you can keep it for years and use it often.
However, this is one of those recipes that doesn't need as much power as a smoothie with ice, frozen fruit or other hard ingredients in it.
A blender with less power should be able to blend this warm oat smoothie well enough to pulverize the cooked oats to your desired consistency.
If all you have is a simple blender, use that.
If you are just now looking to purchase a blender, I'd recommend investing in a better one that you will be able to use for more recipes.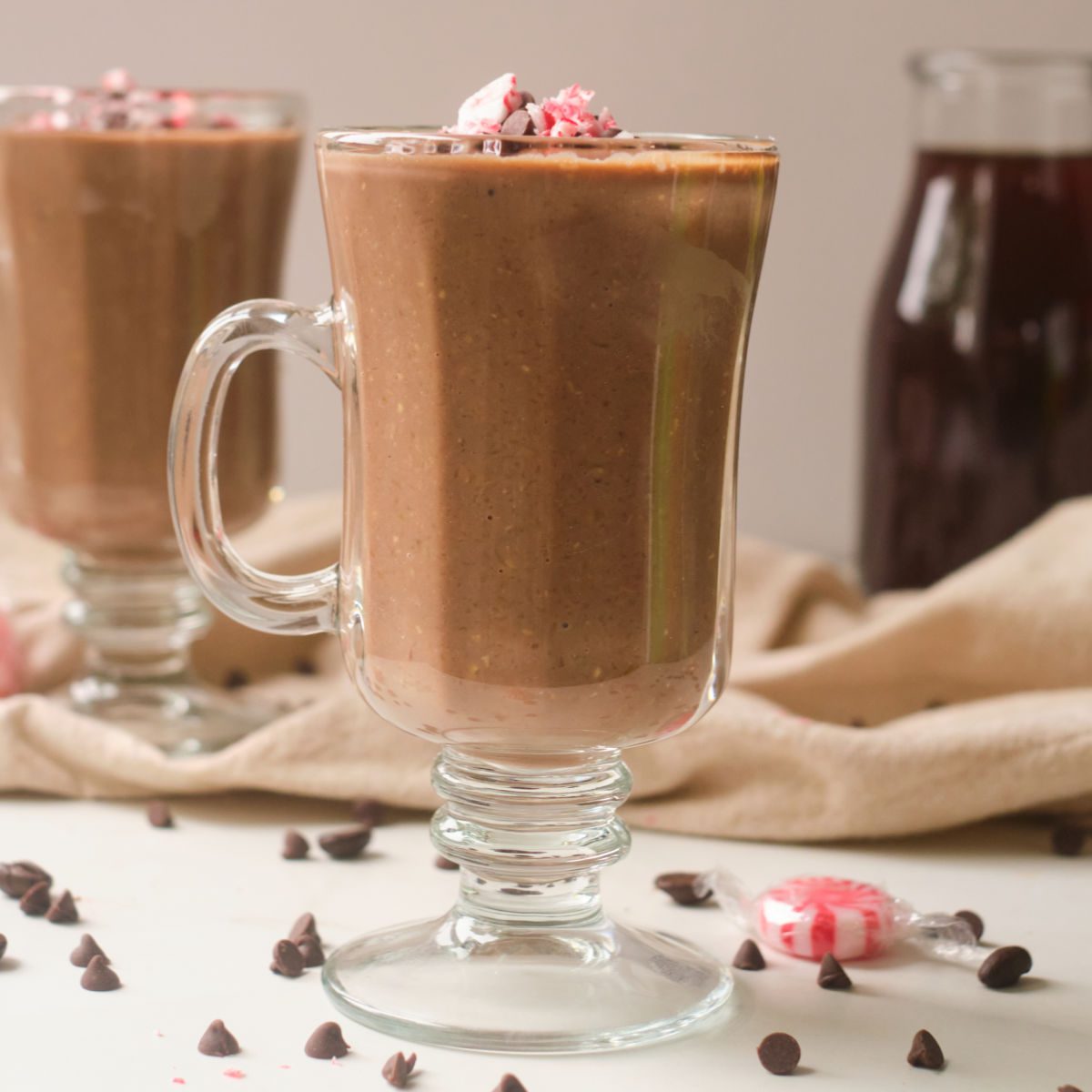 Warm Mocha Smoothie Recipe
Prep time: 10 minutes
Total Time: 20 minutes
Yield: 2 servings
Ingredients
1 ½ cups Milk (or milk alternative)
3 scoops Chocolate Protein Powder
½ cup Rolled Oats
½ cup Strong Coffee
Optional Garnish
Crushed candy canes or peppermint candies
Supplies
Saucepan
Measuring cup
Spoon
Instructions
1) Add milk, protein powder, oatmeal and coffee to a saucepan. Stir together and simmer for about 10 minutes.
2) Carefully pour into your blender and blend until smooth.
3) Pour into Irish coffee mugs and garnish with crushed peppermint candy canes and mini chocolate chips.
Click HERE for printable pdf of the warm mocha smoothie recipe.
More from Mama Likes To Cook
Check out the rest of my vegetarian recipes, so you can get more great ideas for baking, cooking, blending and juicing.
Coffee Drink Recipes
Coffee Food Recipes
Shopping Tips
For a beautiful assortment of kitchen necessities and food gifts for the whole family, check out the deals at these online stores.
Are you ready to have some delicious fun in the kitchen?
This warm chocolate coffee smoothie is easy to make, tastes amazing and satisfies your hunger and need for a caffeine pick me up.