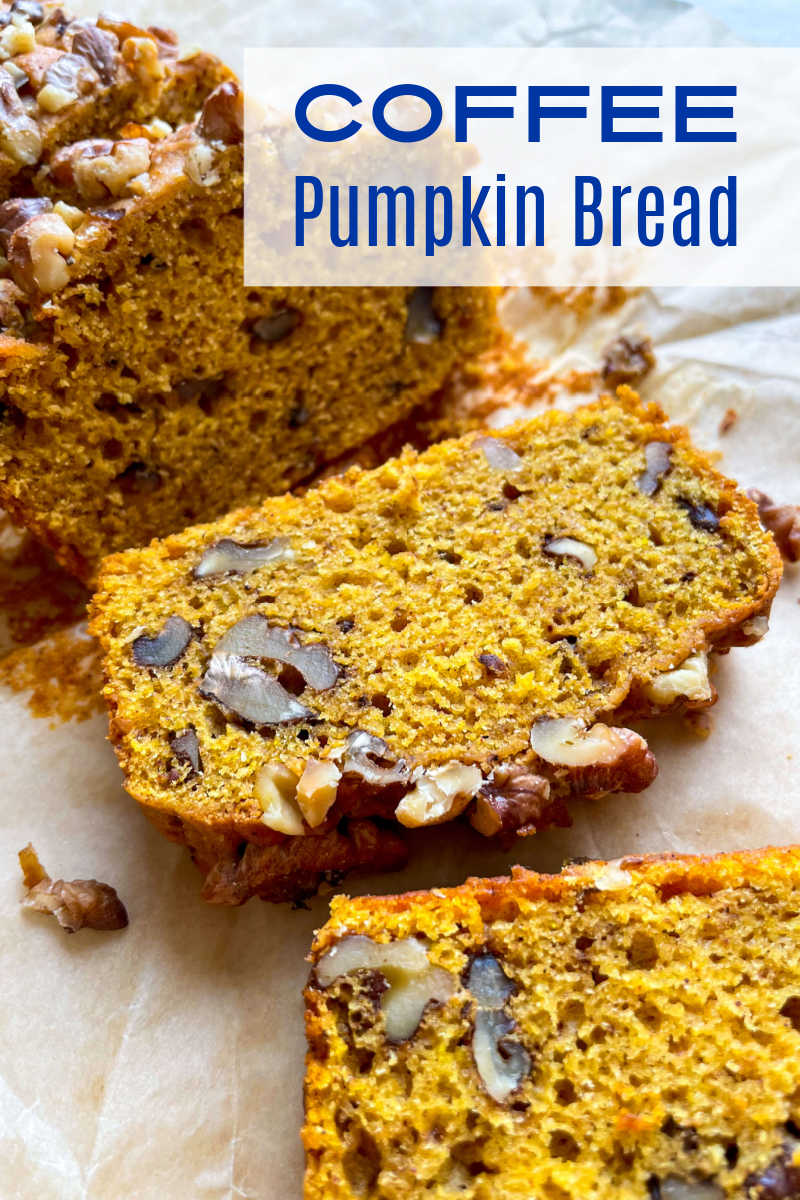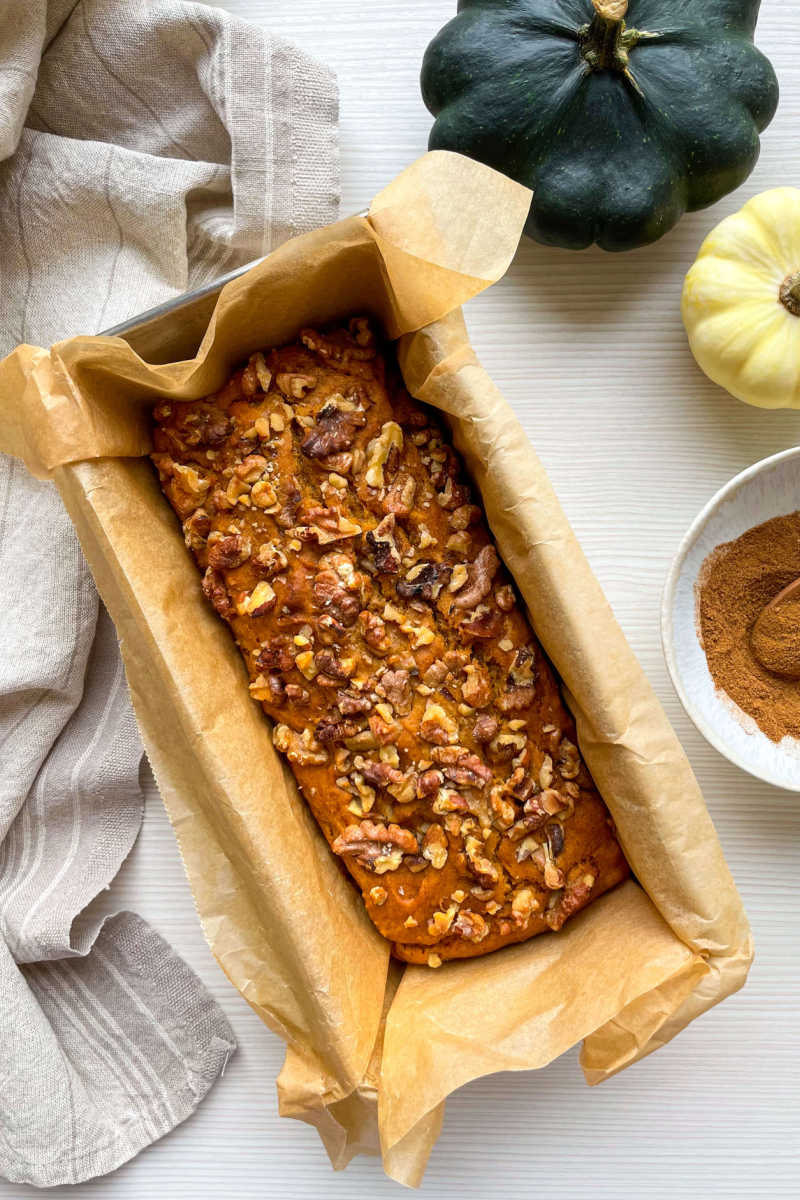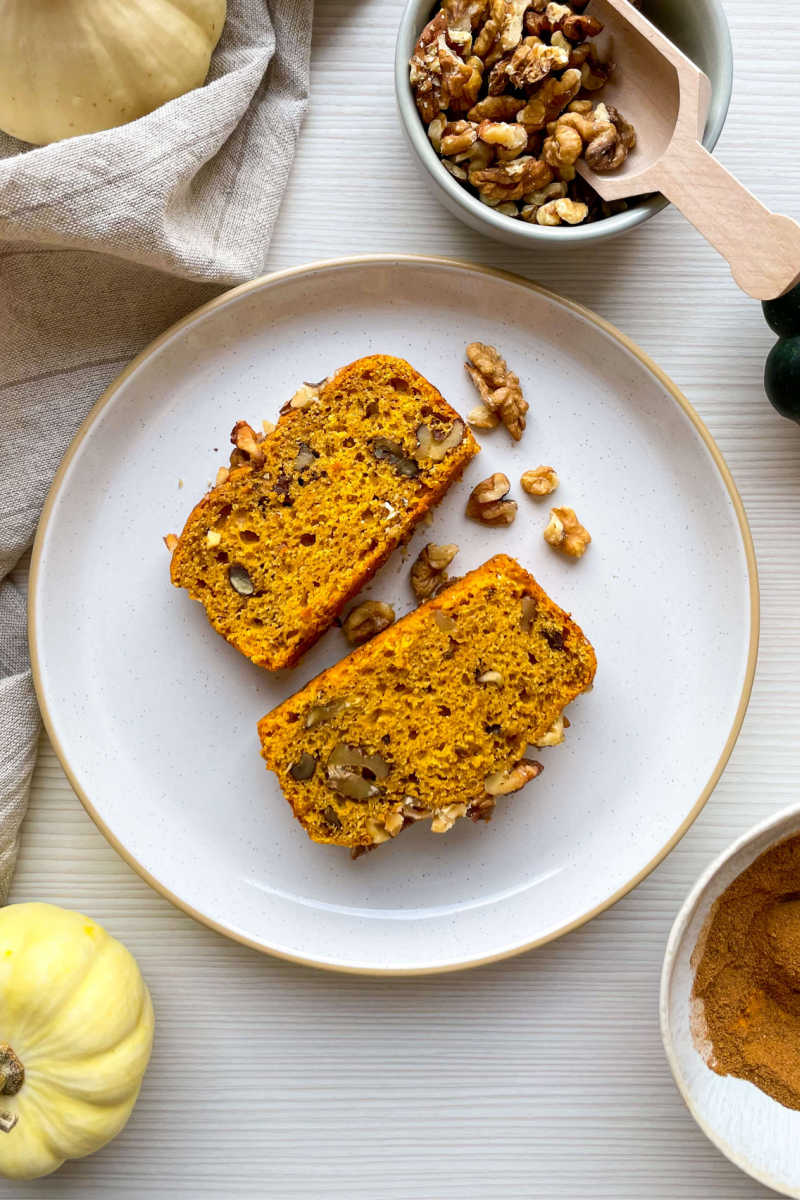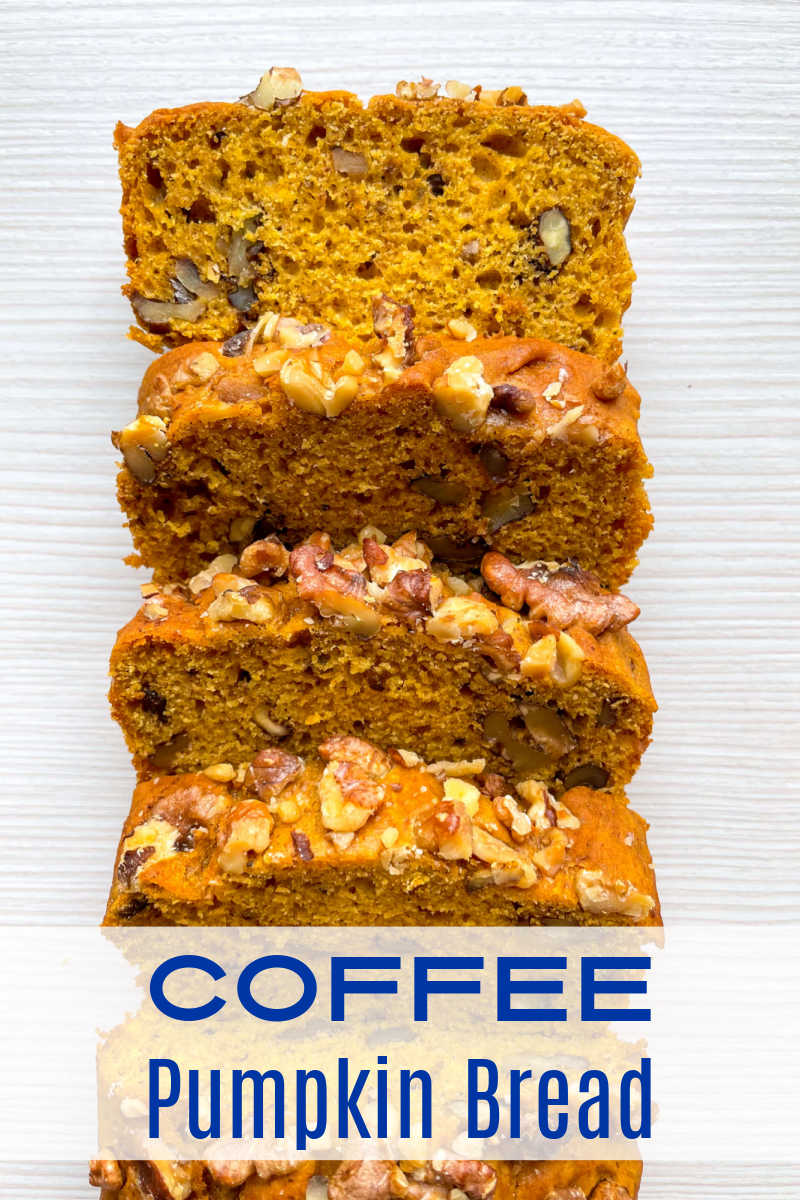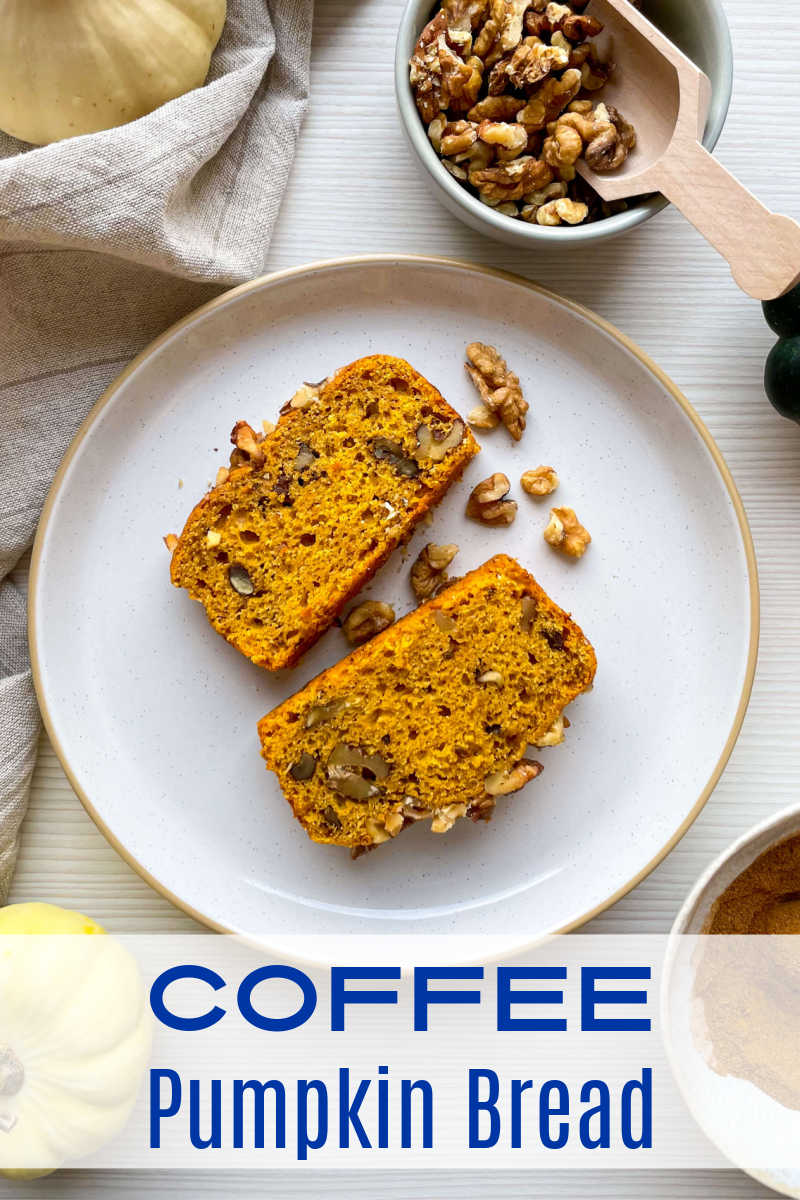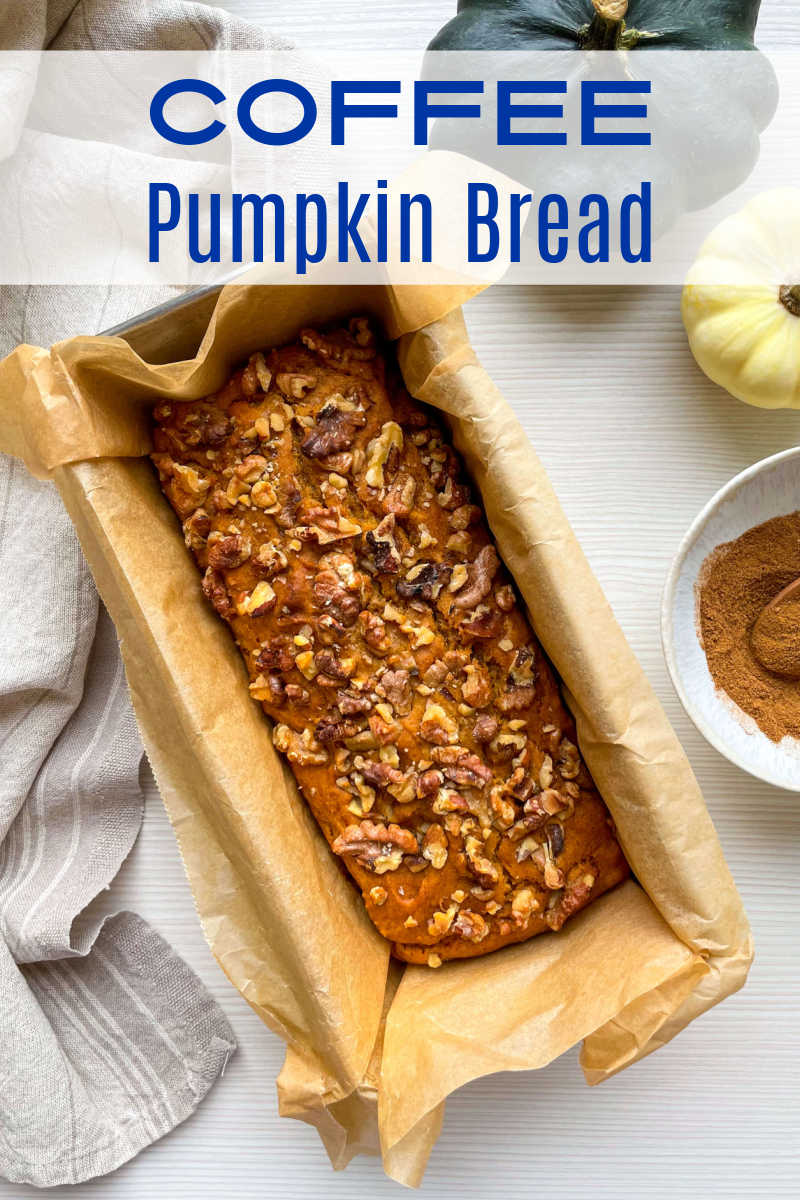 Pumpkin Bread with Coffee Baked In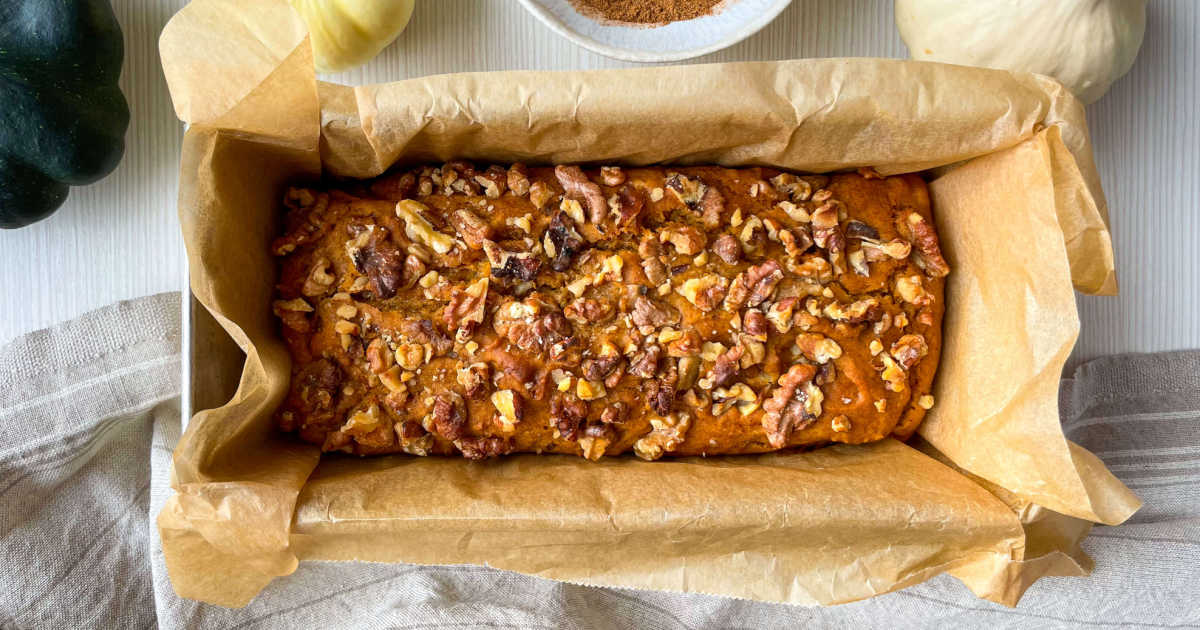 Enjoy a classic sweet comfort food with a twist, when you use my recipe to bake a loaf of coffee pumpkin bread with walnuts.
The made from scratch bread can be enjoyed all year long, not just in the Fall when pumpkin spice is trendy.
A slice of coffee pumpkin bread is good as is or with butter spread on top.
You can eat it at home or pack it as part of a to go lunch for work or school.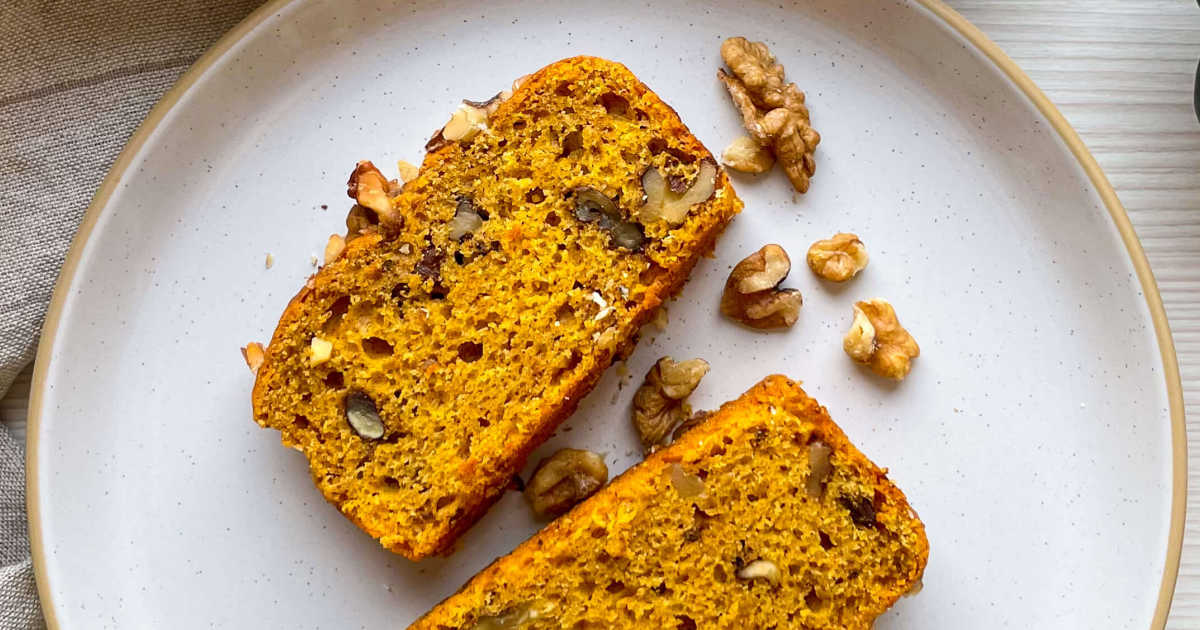 There is Coffee IN This Pumpkin Bread?
Yes!
Instant coffee granules are mixed right into the batter, which adds depth to the overall flavor of the loaf.
It doesn't have an overpowering coffee taste, but does add to the deliciousness of the bread.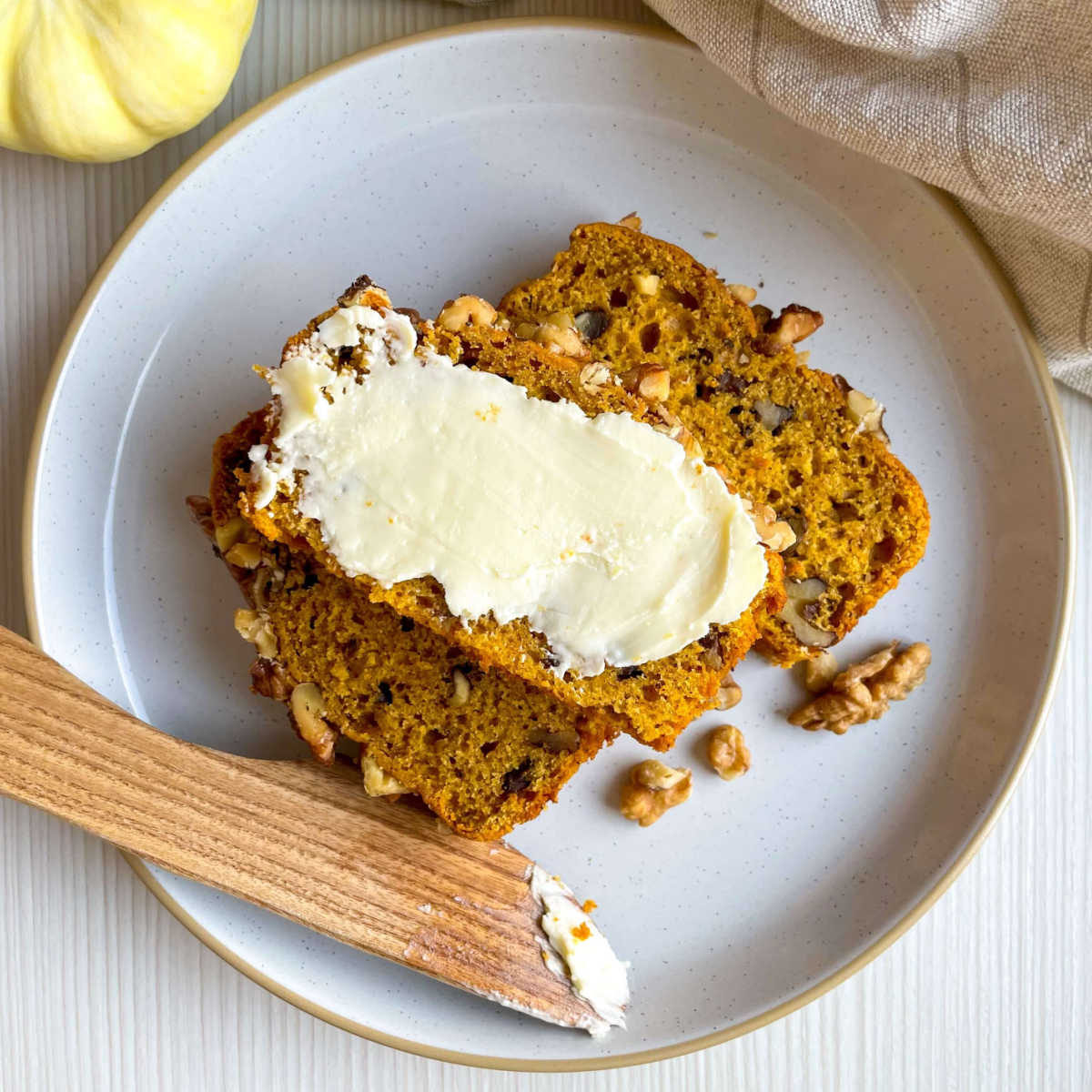 Do I Eat Pumpkin Bread for Dessert Or Breakfast?
When it comes to pumpkin bread, anytime of the day is the right time to eat it.
Pumpkin bread is sweet, but doesn't have as much sweetness as typical desserts.
It also has real pumpkin in it, which means that you'll be getting vitamins and minerals in every bite.
I like pumpkin bread with a cup of coffee in the morning or as a mid-day snack, but you can enjoy the sweet bread whenever you'd like.
Is This Bread Recipe Vegan?
The recipe is vegetarian as written, but not vegan.
If you'd like to make it vegan, there are two simple swaps needed.
First, you'll need to use a vegan egg replacement instead of a chicken egg.
Second, use plant-based butter or coconut oil instead of the 'regular' dairy butter.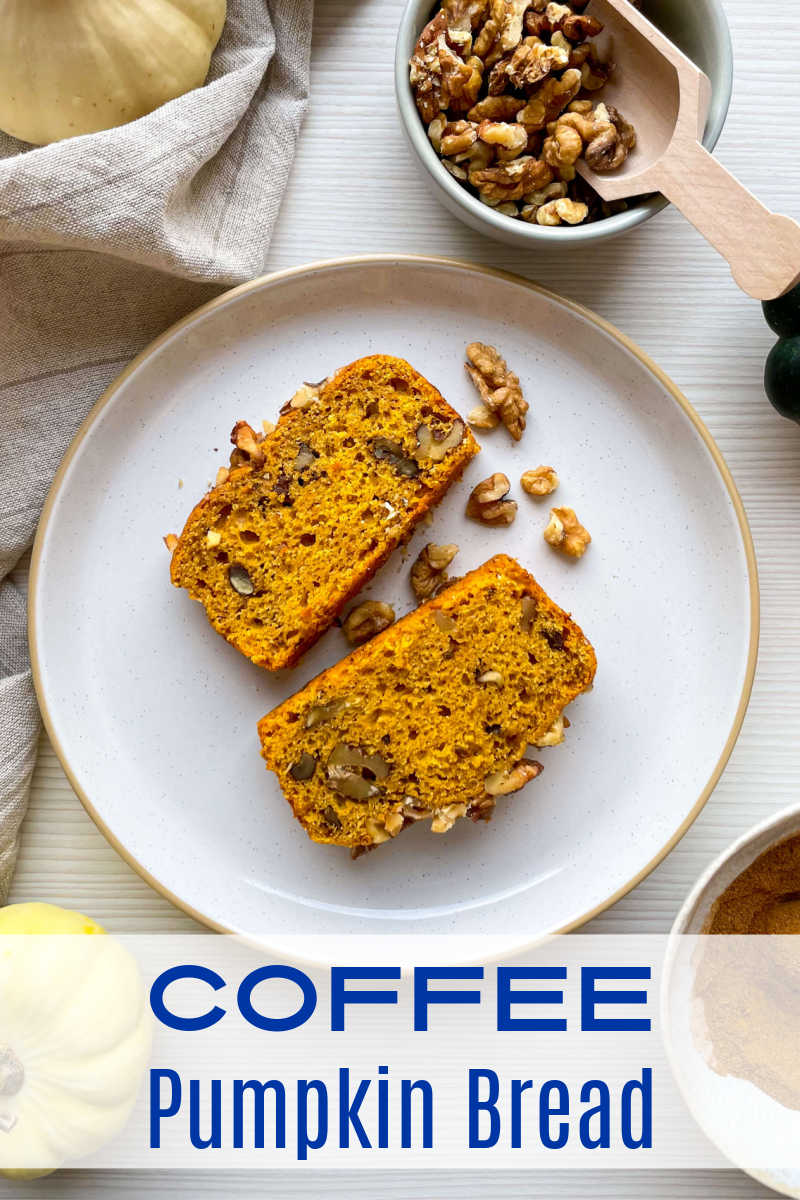 What Is The Difference Between Pumpkin Puree And Pumpkin Pie Filling?
Pumpkin puree and pumpkin pie filling look similar at the grocery store and are often next to each other on the shelf, but they are very different.
Pumpkin pie filling (aka pumpkin pie mix) has sugar and extra ingredients in the can.
100% pure pumpkin puree is just what the label implies – pure pumpkin.
The recipe calls for pumpkin puree, so make sure you don't accidentally use "pumpkin pie filling."
Can This Recipe Be Made Without Nuts?
Yes.
The pumpkin bread recipe calls for walnuts to be added, but the recipe will still be good if you skip them.
If you want to add something crunchy that isn't a tree nut, seeds can be a good option.
Sunflower seeds and pepitas are both good choices to add crunch, flavor and nutrition to the pumpkin bread.
Use walnuts like mine, if you'd like.
Alternatively, add pecans or another type of nut, seeds or just leave out the walnuts without adding in something else.
How To Store Leftover Pumpkin Bread
If you don't eat all of your pumpkin bread while it is still warm from the oven, you can save it to eat later.
The loaf should be completely cool before it is stored.
Wrap it tightly in plastic wrap or foil, so that no air gets in.
It should be fine unrefrigerated for several days or you can refrigerate it to extend the freshness.
If your family is like mine, the coffee pumpkin bread will disappear before it has a chance to get stale.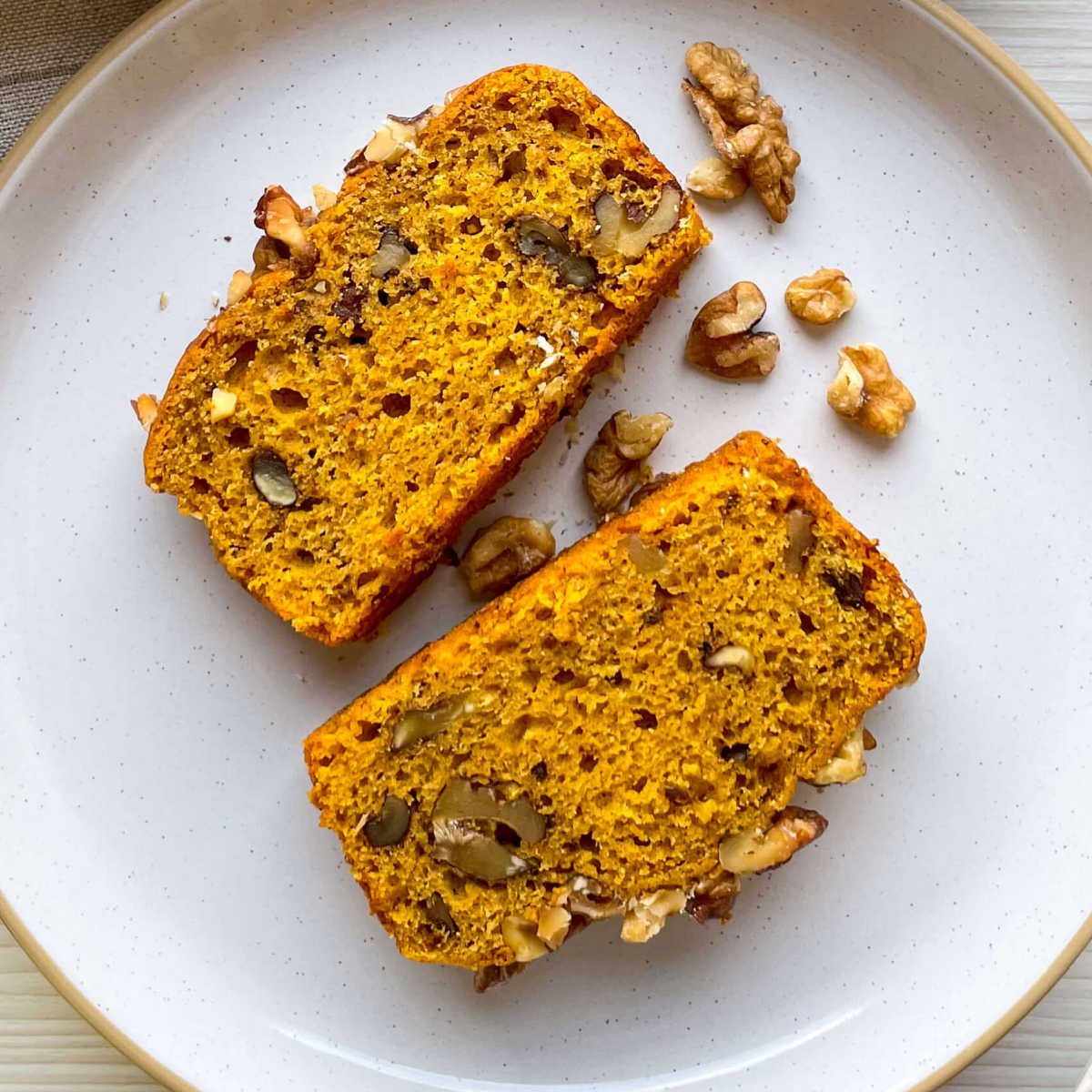 Coffee Pumpkin Bread Recipe
Prep time: 10 minutes
Cook time: 60 minutes
Yield: 1 loaf, 8-10 servings
Ingredients
1 cup All-purpose Flour
2 t Pumpkin Pie Spice
½ t. Instant Coffee Granules
¼ t Baking Powder
½ t Baking Soda
¼ t Salt
1 Egg
1 cup Pumpkin Puree
¼ cup Light Brown Sugar
¼ cup White Sugar
6 T Butter, melted
½ cup Walnuts, chopped
Supplies
8″ x 4″ Loaf Pan
Parchment Paper
Mixing Bowls
Whisk
Spatula
Instructions
1) Preheat oven to 350° and line your loaf pan with parchment paper.
2) Measure flour, pumpkin pie spice, instant coffee granules, baking powder, baking soad and salt into a mixing bowl. Whisk together, so that the dry ingredients are evenly mixed together.
3) In a second bowl, add the egg, pumpkin puree, brown sugar, white sugar and melted butter. Whisk until smooth.
4) Fold the dry ingredients into the wet ingredient with a spatula and mix until just combined.
5) Gently fold the chopped walnuts into the batter.
6) Transfer the batter to the parchment lined loaf pan and bake for about 55 to 60 minutes. The loaf is ready when a toothpick inserted into center comes out clean with a few moist crumbs and top of the loaf is golden brown.
7) Allow the coffee pumpkin bread to cool to room temperature. Then slice to serve as is or topped with butter.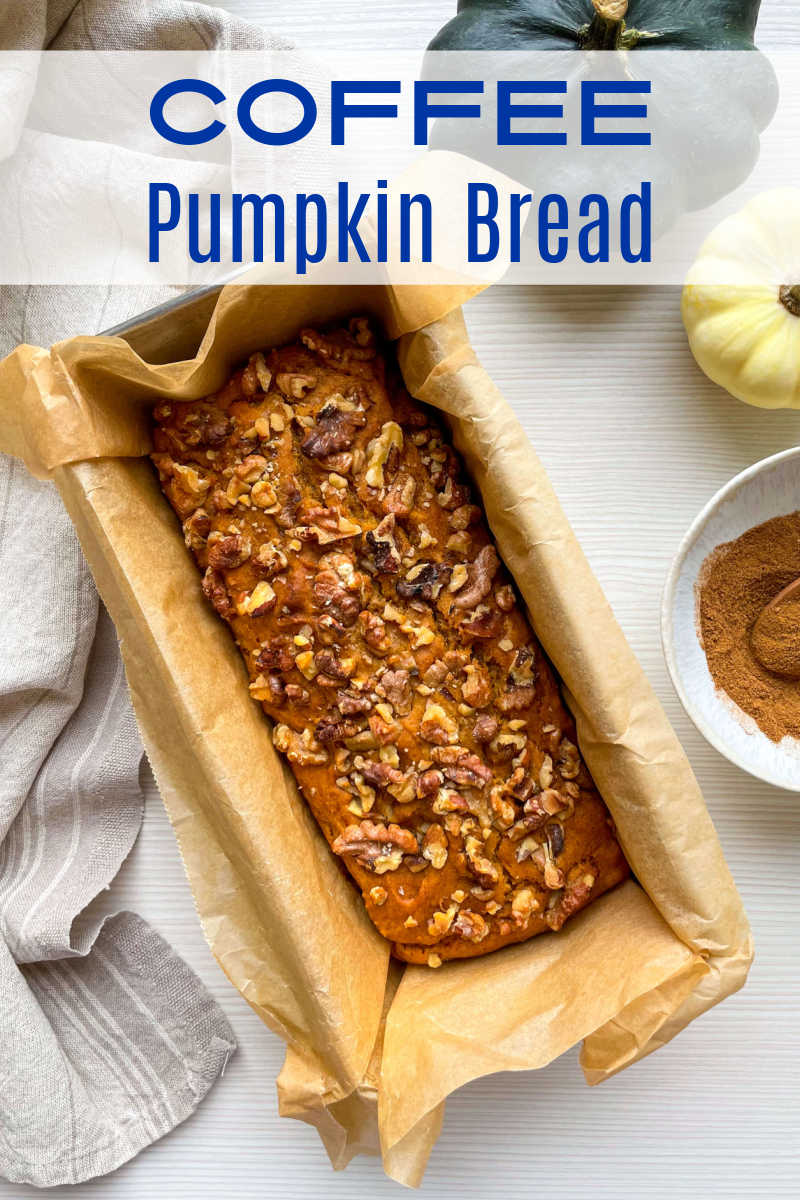 More from Mama Likes To Cook
Check out the rest of my vegetarian recipes, so you can get more great ideas for baking, cooking, blending and juicing.
Pumpkin Breakfast Recipes
Pumpkin Dessert Recipes
Dips Made with Pumpkin
Dinner Recipes with Pumpkin
Coffee Drink Recipes
Coffee Food Recipes
Sweet Bread Recipes
Shopping Tips
For a beautiful assortment of kitchen necessities and food gifts for the whole family, check out the deals at these online stores.
Are you ready to have some delicious fun in the kitchen?