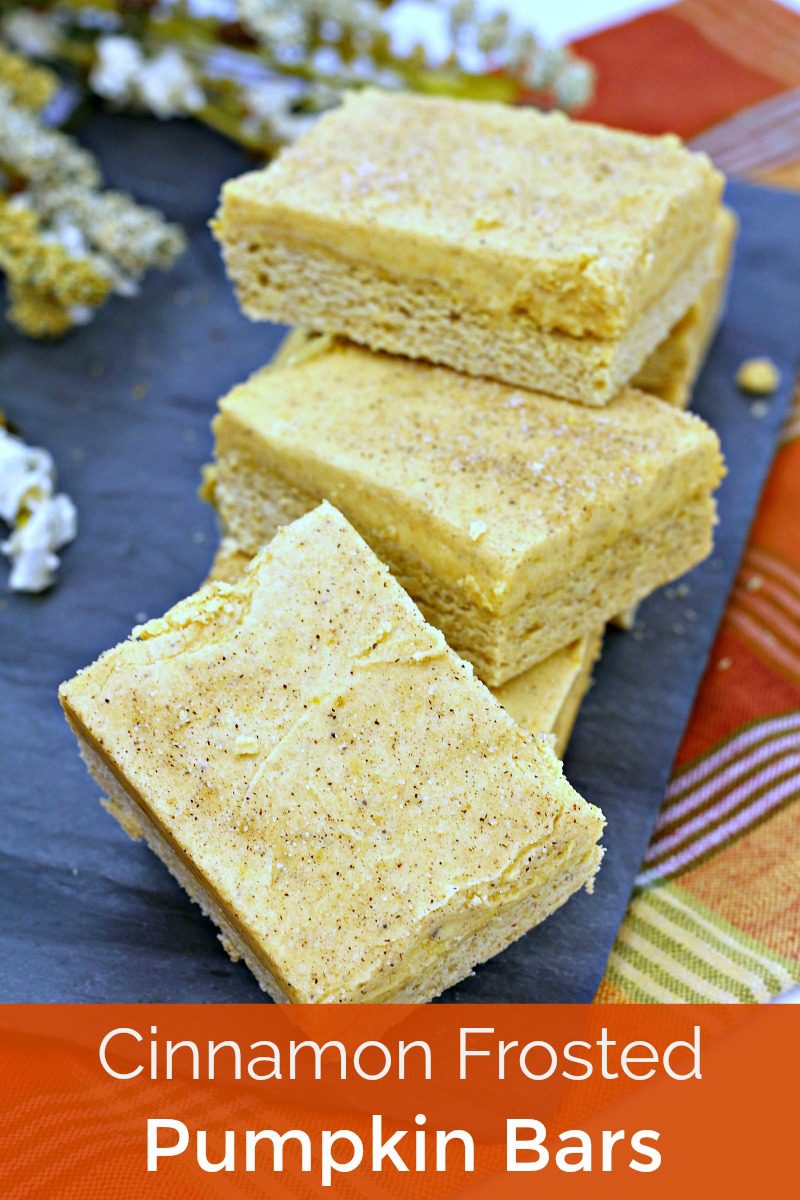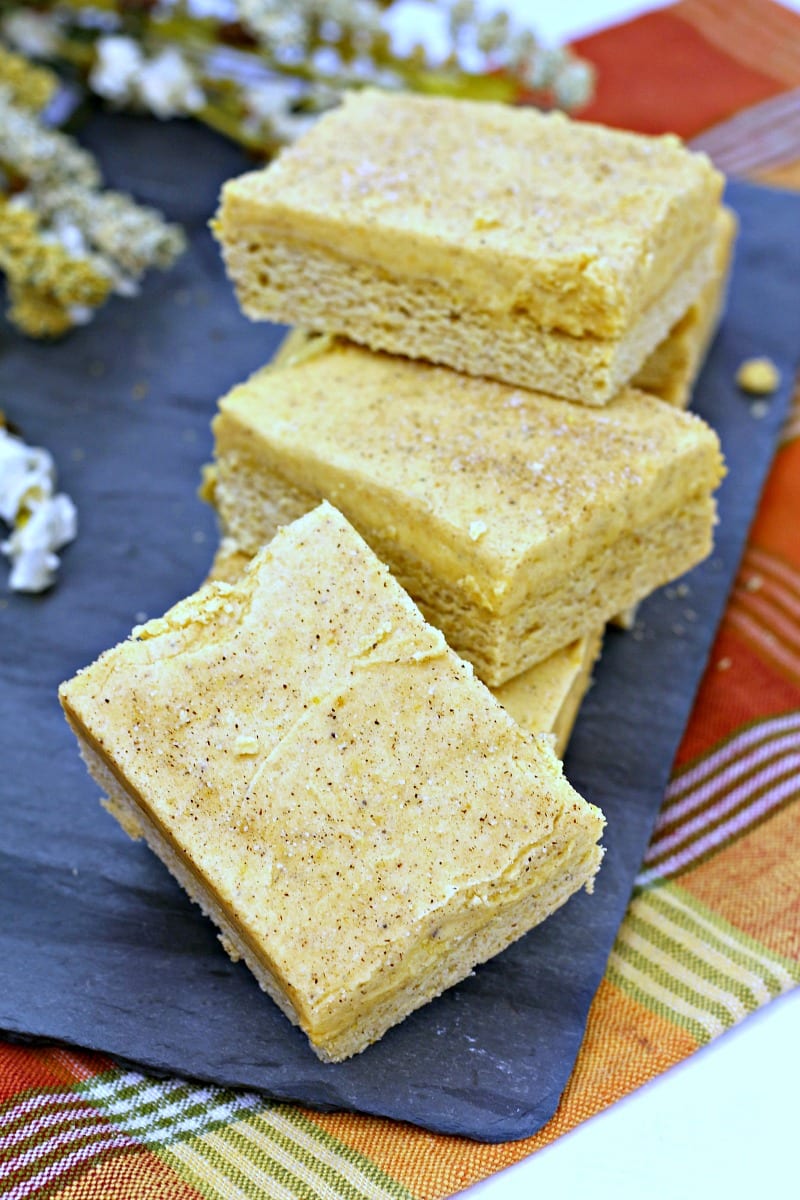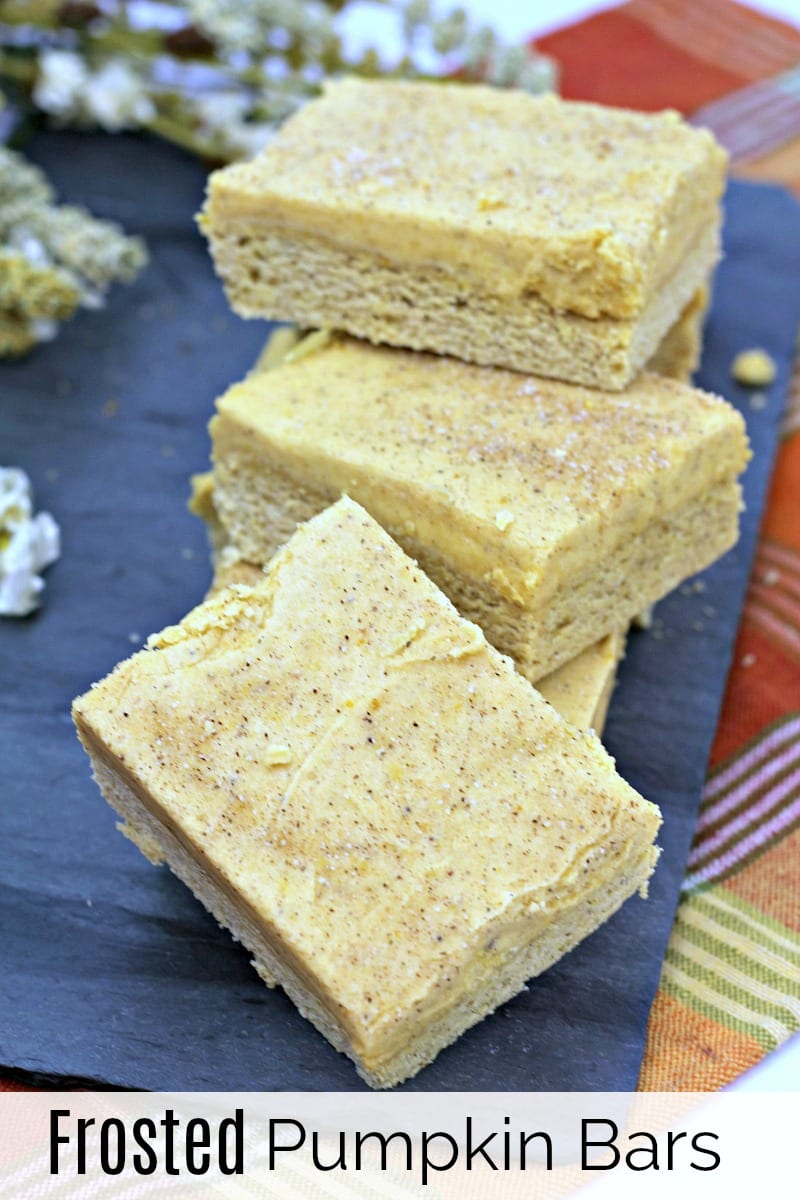 Cookie Bars with Cinnamon Frosting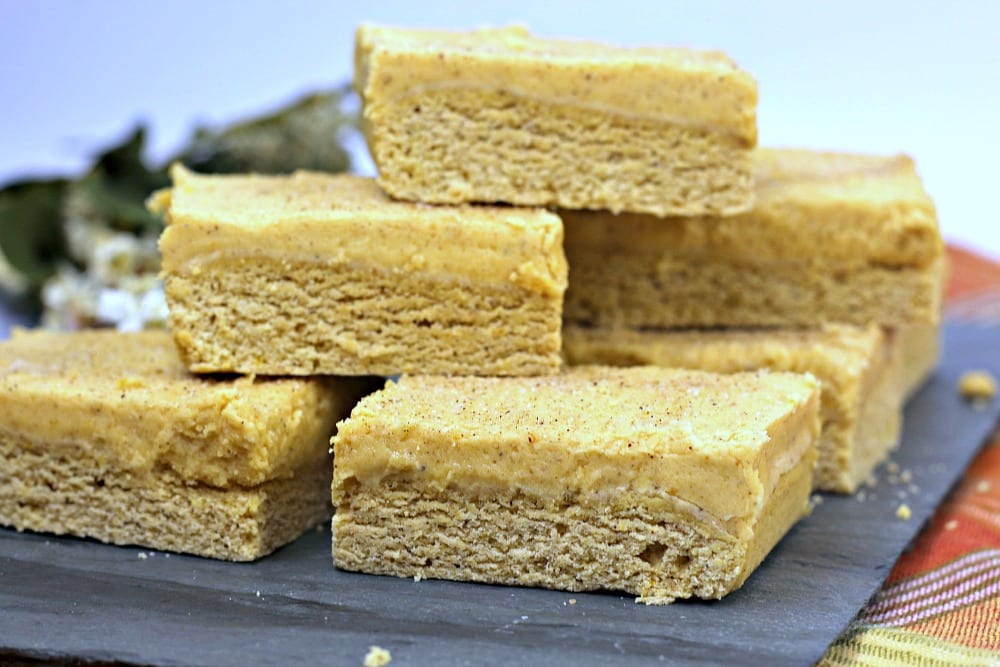 When you want a Fall treat that is big on flavor, make a batch of my frosted pumpkin bars.
They satisfy like a cookie, but the creamy cinnamon frosting elevates them to a new level of deliciousness.
The cookie bar has pumpkin and cinnamon in it, and so does the frosting.
You get the same yummy flavors in the pumpkin cookie bar base as you do in the frosting.
The contrasting textures make each bite a treat.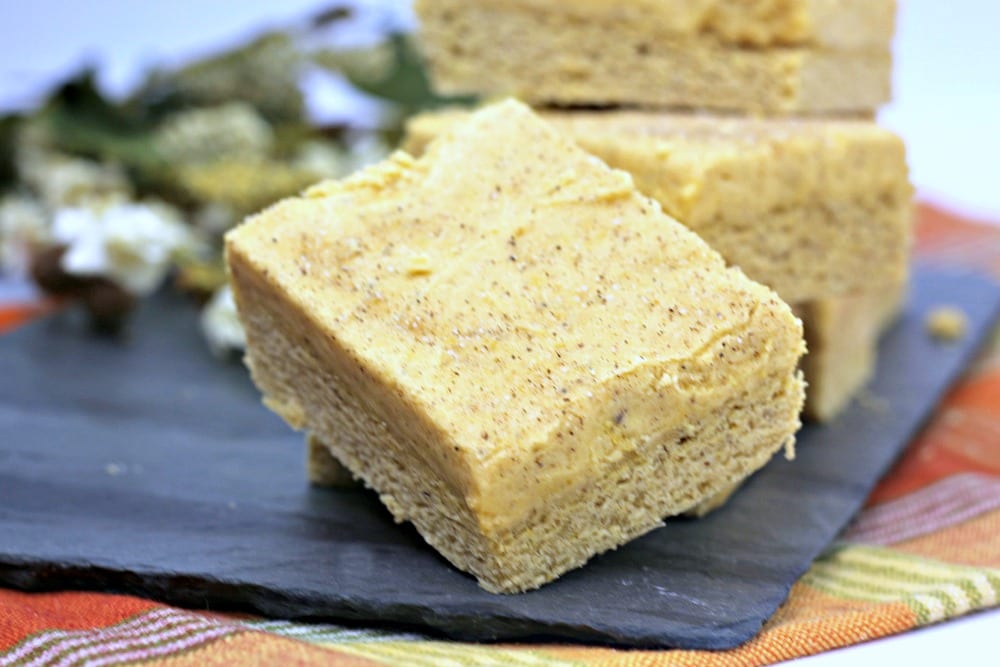 If you are like me and prefer the flavor of freshly ground spices, you can grate your own whole nutmeg and cinnamon sticks.
I've tried many different methods, but my favorite by far is with a ceramic grater plate.
It is simple to use and clean up is a breeze.
Enjoy these frosted cookie bars for holiday gatherings and anytime you'd like a treat.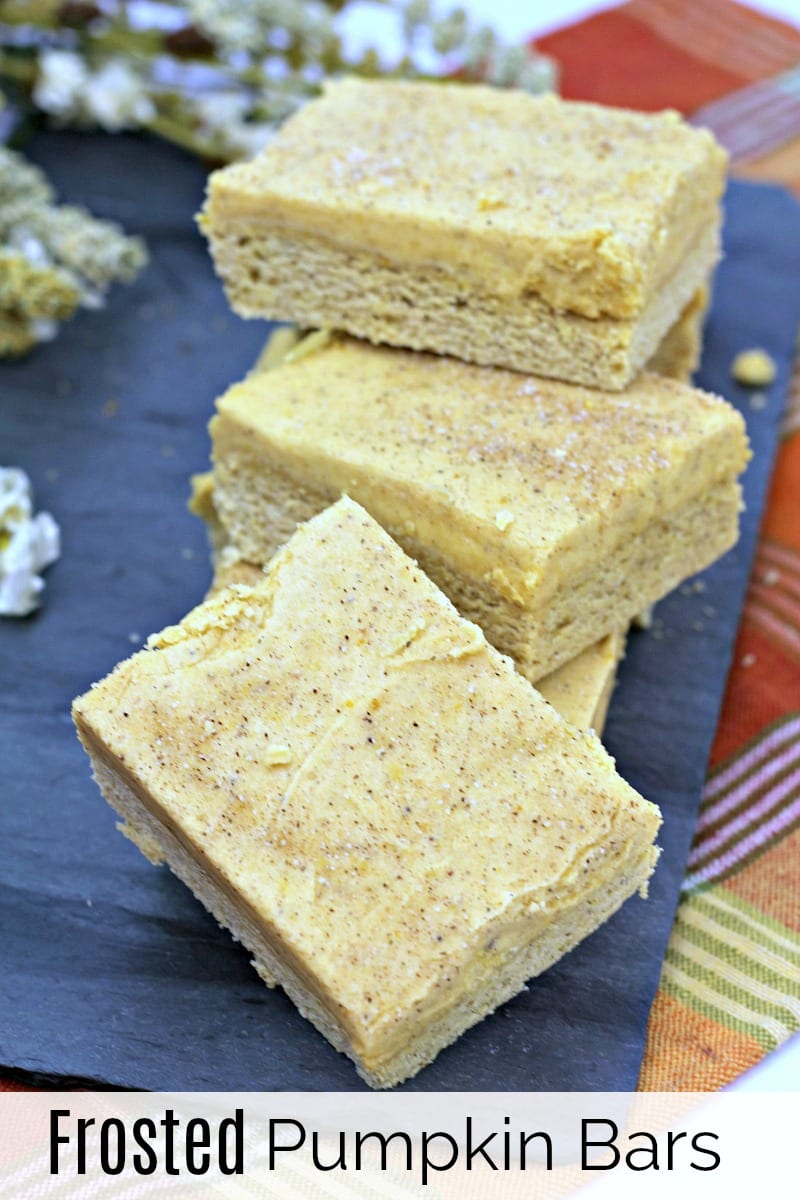 Frosted Pumpkin Bars Recipe
Cookie Bar Ingredients
1/2 cup Butter, softened
3/4 cup Sugar
1/4 cup Pumpkin Puree
1 T Whole Milk
2 t Vanilla Extract
1 Egg
2 1/2 cups All-Purpose Flour
1 1/2 t Cream of Tartar
1/2 t Baking Soda
1/2 t Baking Powder
1 t Cinnamon
3/4 t Nutmeg
1/2 t Ginger
1/2 t Salt
Cinnamon Frosting Ingredients
1/2 cup Butter, softened
2 1/2 cups Powdered Sugar
2 T Pumpkin Puree
1/2 t Nutmeg
1/2 t Cinnamon
1 T Cinnamon Sugar
Supplies
9″ x 13″ Baking Dish
Parchment Paper
Mixer with Mixing Bowl
Large Bowl
Whisk
Wire Cooling Rack
Instructions
1) Pre-heat oven to 350° and line baking dish with parchment paper.
2) Cream butter and sugar together with an electric mixer.
3) Add pumpkin puree, vanilla extract, milk and egg and continue to beat until thoroughly combined and creamy.
4) In a separate bowl, add flour, cream of tartar, baking soda, baking powder, nutmeg, cinnamon, ginger and salt. Whisk to blend ingredients together.
5) With the mixer on low speed, slowly add the dry ingredients to the wet ingredients until combined.
6) Press the dough evenly into the bottom of the parchment lined baking pan.
7) Bake in pre-heated oven for 15-20 minutes until the center is cooked through.
8) Lift the parchment paper and bars from the baking dish and cool on a wire cooling rack.
9) To make the frosting, mix the butter and powdered sugar together with an electric mixer.
10) Slowly add the pumpkin, nutmeg and cinnamon and mix until creamy. If you'd like a firmer frosting, add a little more powdered sugar.
11) Frost the bars after they have completely cooled.
12) Sprinkle with Cinnamon Sugar and cut into bars.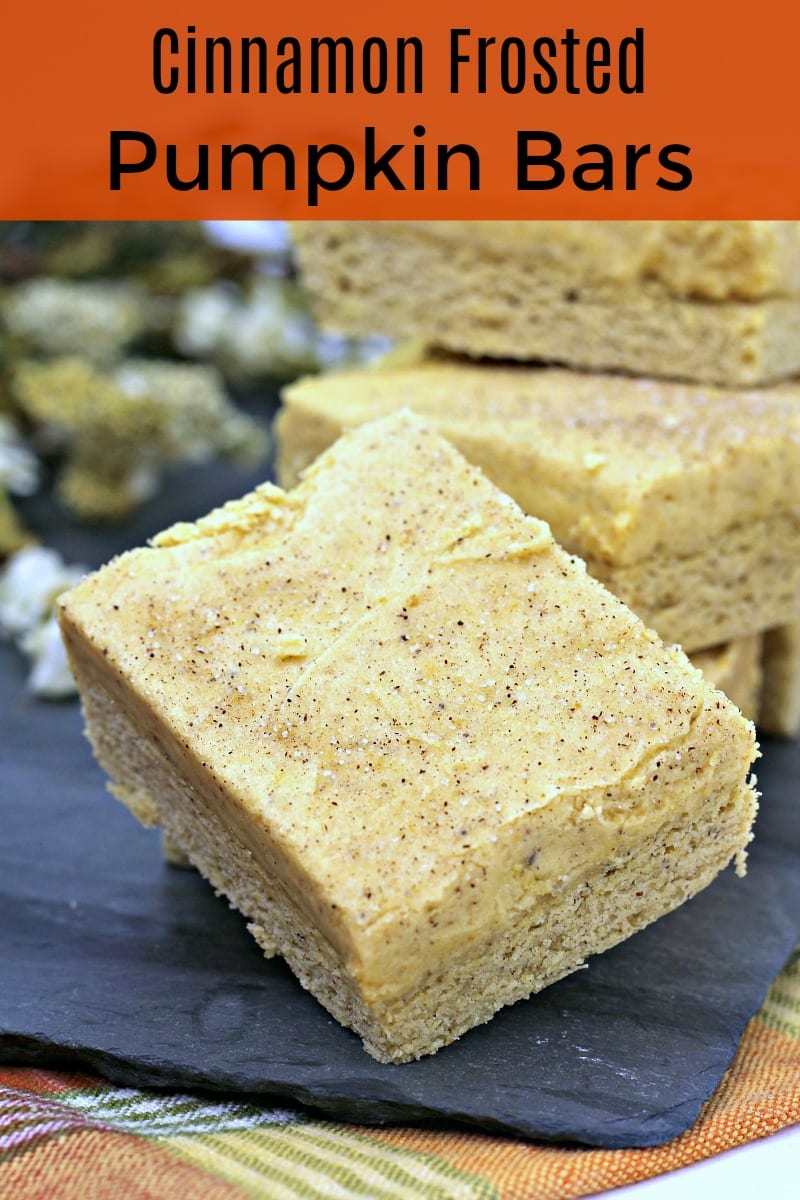 More from Mama Likes to Cook
Check out the rest of my vegetarian recipes, so you can get more great ideas for baking, cooking, blending and juicing.
Pumpkin Breakfast Recipes
Pumpkin Dessert Recipes
Dips Made with Pumpkin
Dinner Recipes with Pumpkin
Shopping Tips
For a beautiful assortment of kitchen necessities and food gifts for the whole family, check out the deals at these online stores.
Are you ready to have some delicious fun in the kitchen?