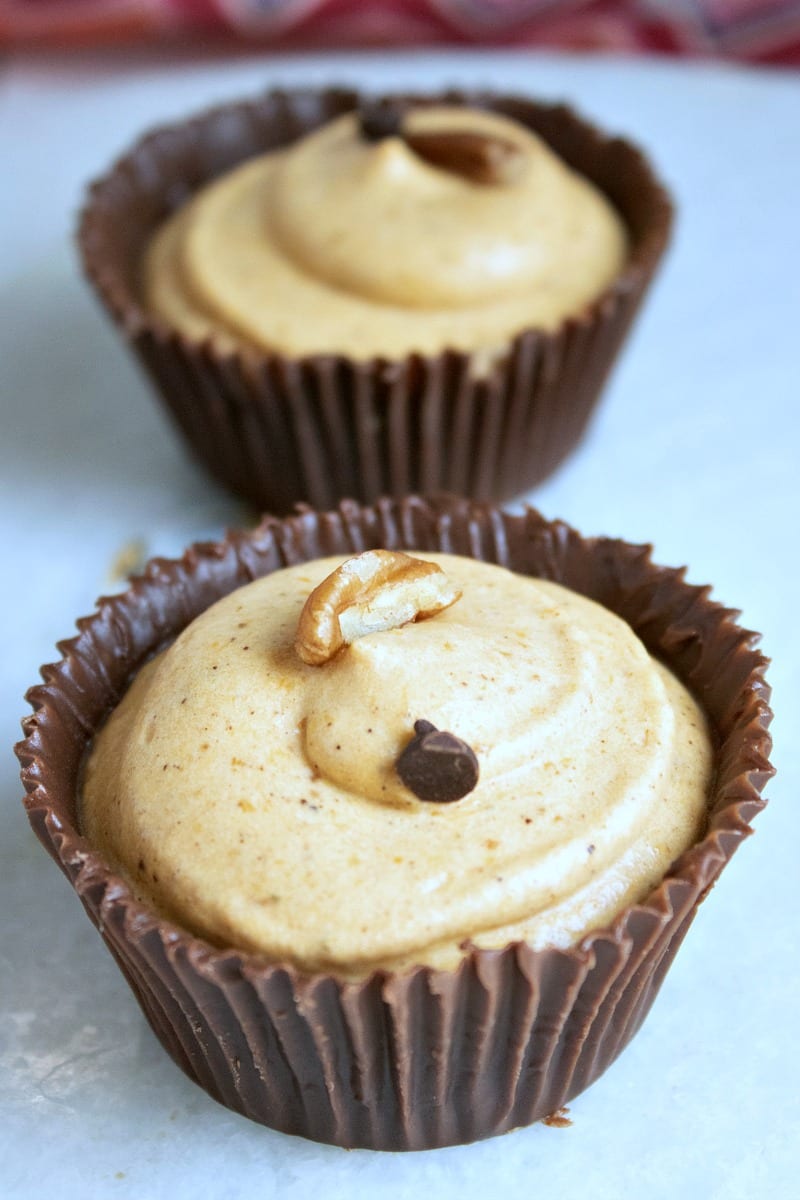 Pumpkin Chocolate Dessert
Edible chocolate cups filled with light and fluffy pumpkin mousse are absolutely delicious, so you'll want to serve them at your holiday parties.
Pumpkin and chocolate are always popular dessert flavors, so it is a good thing the flavors go together so well.
When you serve this no bake dessert at a party, guests will rave at your creative kitchen skills.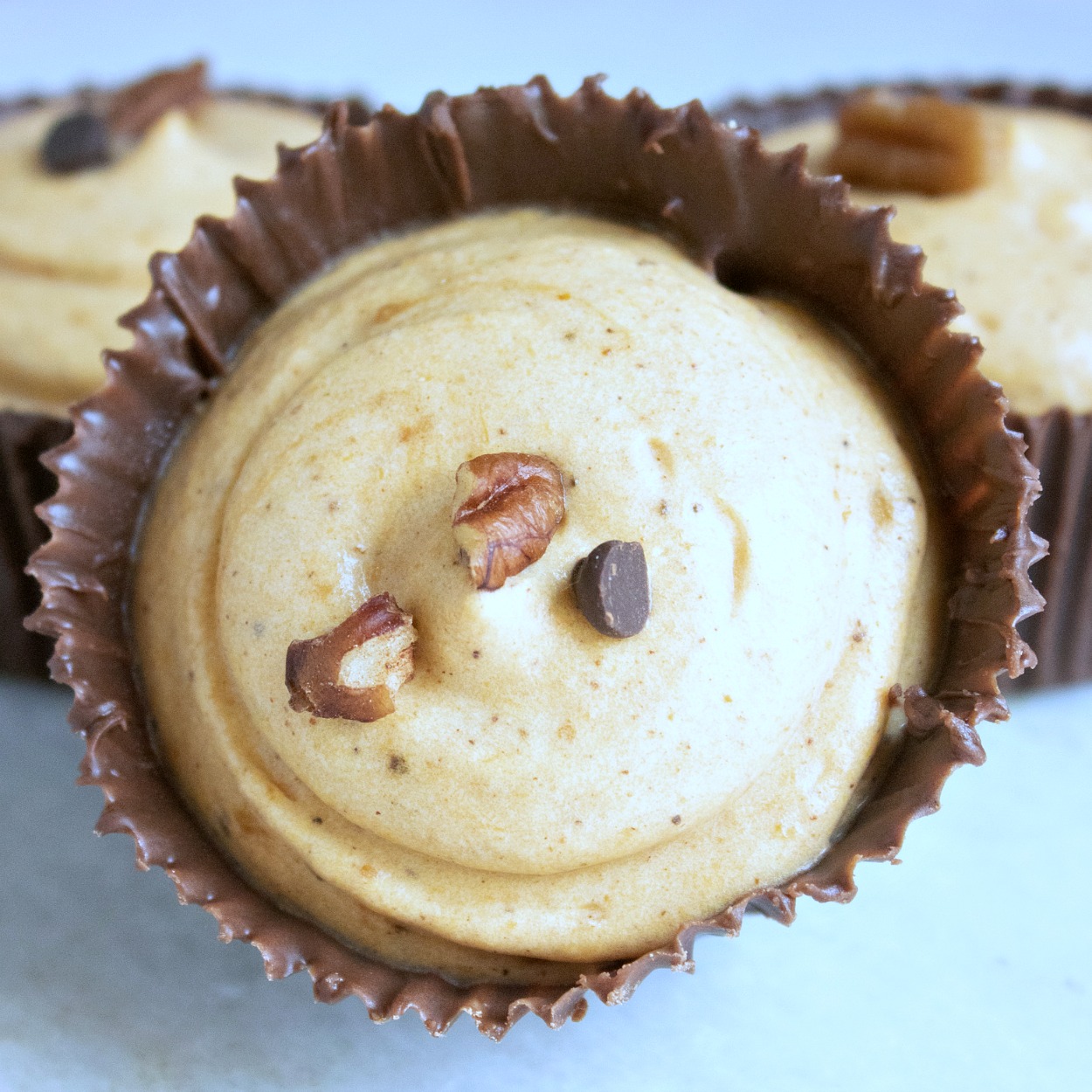 If you want to get a head start on this dessert the night before your party, you can.
Prepare the chocolate cups ahead of time. Then, add the mousse the day you will be serving them.
The entire dessert is quick and easy to make, but you do need to allow time for the chocolate cups to set.
If your kids want to help, painting the chocolate cups and piping the mousse into the cups are both fun, kid-friendly steps.
Older kids may be able to make this no bake recipe all by themselves.
Pumpkin mousse chocolate cups definitely look impressive, when you serve them.
However, they really are simple to make.
They are pretty enough to serve to guests either on a buffet table or plated individually.
Or you can make them as a special treat after your regular family dinner.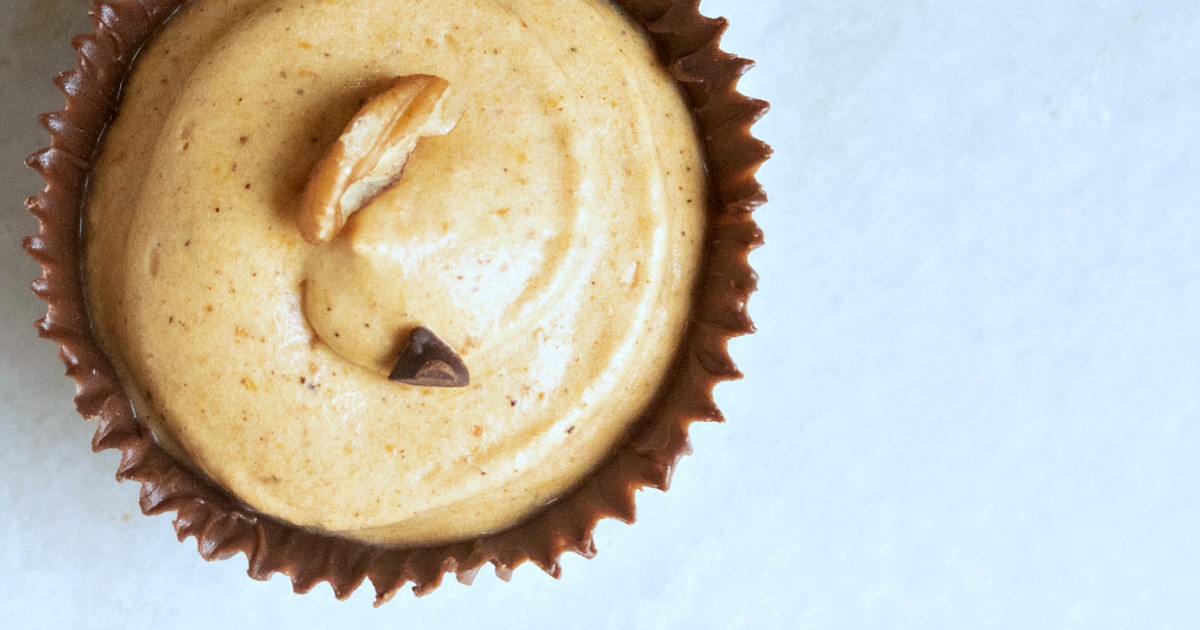 Chocolate Cups with Pumpkin Mousse Recipe
Makes 12
Chocolate Cups Ingredients:
12 oz. pkg. Chocolate Chips
Mousse Ingredients:
Can Pumpkin Puree (15 oz.)
Pkg. Instant Vanilla Pudding Mix (3.4 oz.)
1 cup Low-fat Milk
2 t Sugar
1 t Ground Cinnamon
1 t Ground Nutmeg
1/2 t Ground Cloves
1 1/2 cups Heavy Cream
Optional Garnish: Walnuts, Pecans or Chocolate Chips
Supplies
Cupcake pan with 12 cavities
Silicone cupcake liners or paper baking cups
Basting brush
Whisk
Mixer
Piping bag
Instructions:
Chocolate Cups
1) Melt the chocolate chips in a microwave safe glass bowl. Microwave for 1 minute and then stir. Repeat in 30 second increments until chocolate is creamy and completely melted.
2) Line cupcake pan with reusable silicone cupcake liners or paper baking cups. Add melted chocolate to each cavity about 1/4 of the way full. Paint the chocolate up the sides of the liner with the basting brush.
3) Place the cupcake pan in the refrigerator and chill for at least 4 hours to set. You can leave them overnight, if you'd like.
4) Remove the chilled chocolate cups from the liners. If they don't just pop out, you can gently prod them with a toothpick to remove.
Pumpkin Mousse
5) Whisk together the pudding mix, pumpkin puree, sugar, milk and spices until they are lump-free and smooth.
.
6) In a separate bowl, beat the heavy cream with with a mixer set to high speed until it is thick.
7) Fold the whipped cream into the pudding mixture.
.
8) Fill a piping bag with the mousse and then pipe into the chocolate cups.
More from Mama Likes to Cook
Check out the rest of my vegetarian recipes, so you can get more great ideas for baking, cooking, blending and juicing.
Pumpkin Breakfast Recipes
Pumpkin Dessert Recipes
Dips Made with Pumpkin
Dinner Recipes with Pumpkin
Shopping Tips
For a beautiful assortment of kitchen necessities and food gifts for the whole family, check out the deals at these online stores.
Are you ready to have some delicious fun in the kitchen?