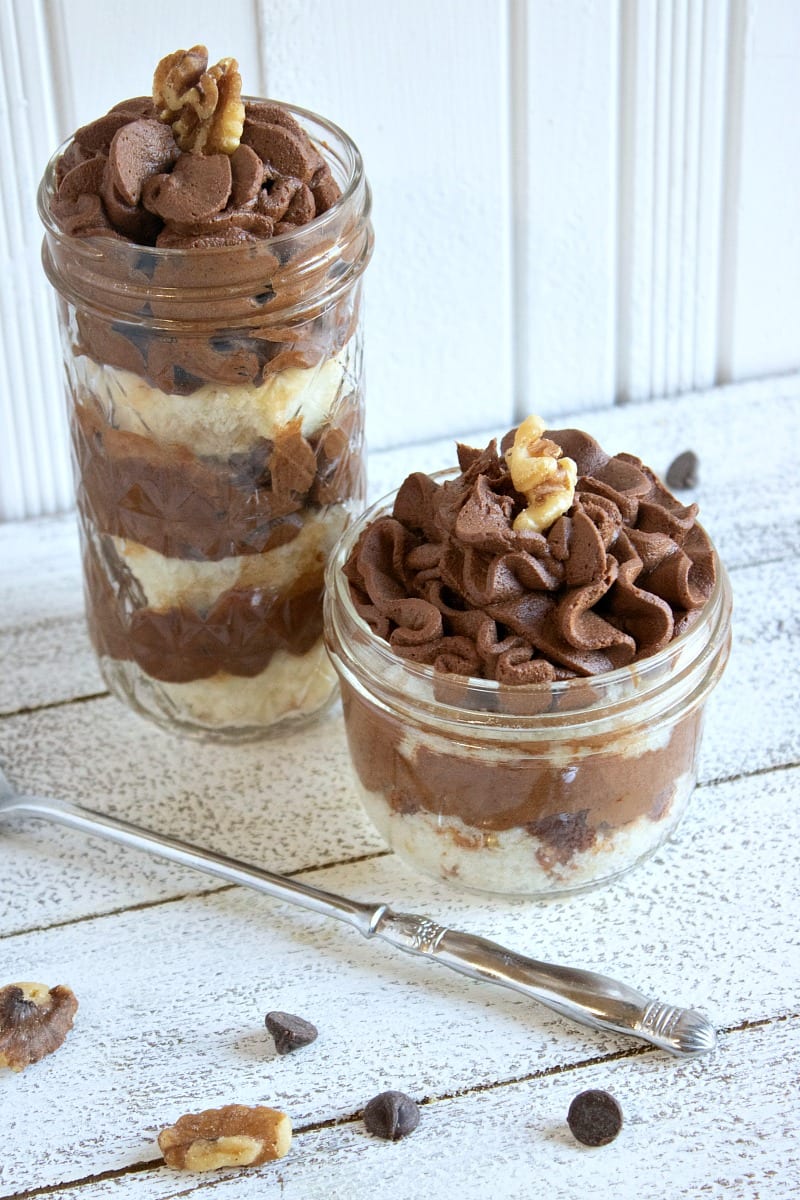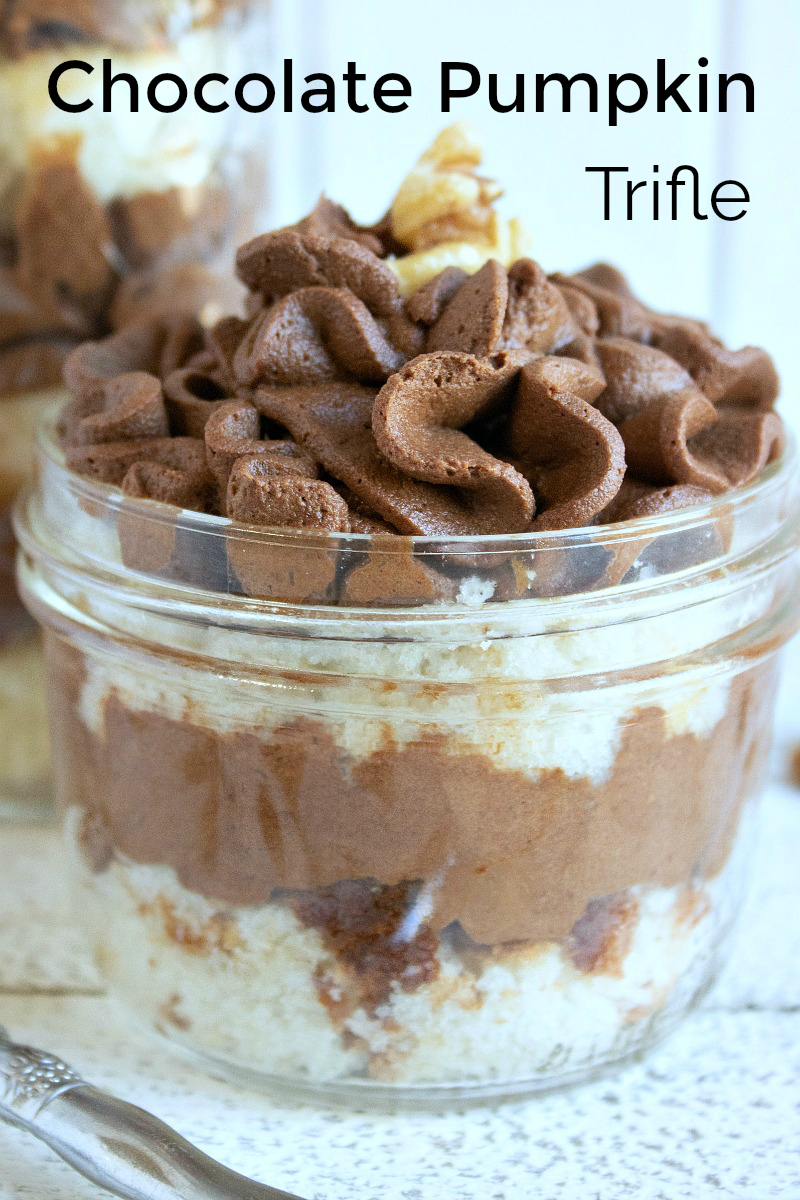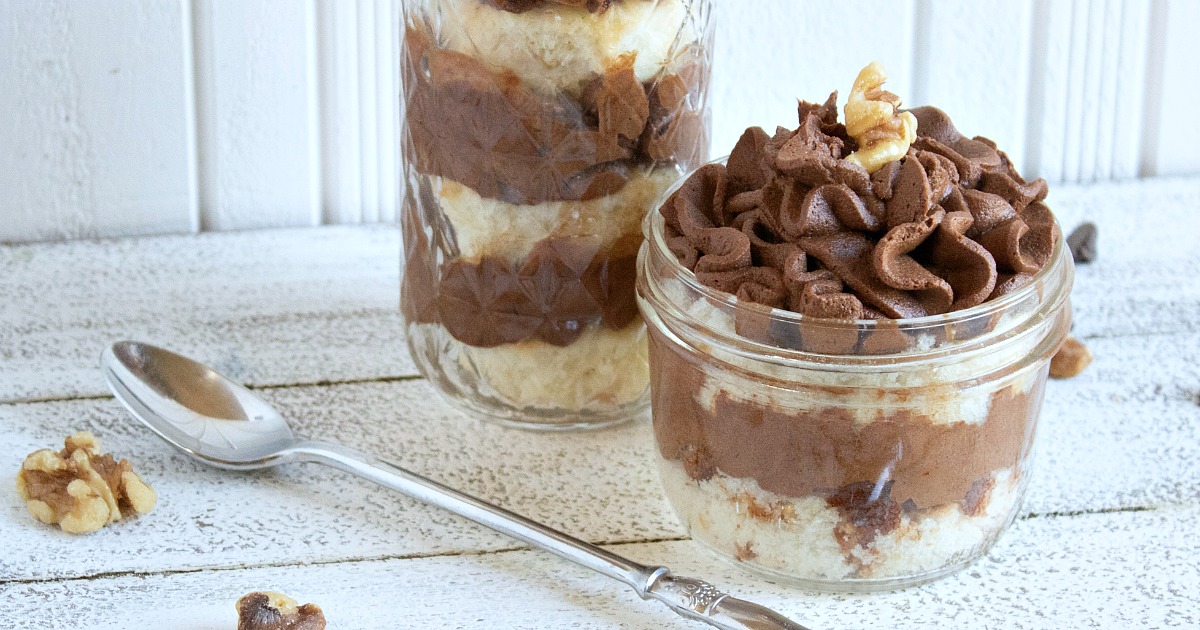 Individual Mason Jar Desserts
Two of my favorite flavors come together, when you make my mason jar chocolate pumpkin trifle recipe.
The individual sized dessert has delicious flavor in each bite.
There are many desserts that have chocolate sauce or chocolate chips with the pumpkin, but this recipe actually combines them.
The chocolate and pumpkin are whipped together into one glorious mousse that is light and fluffy.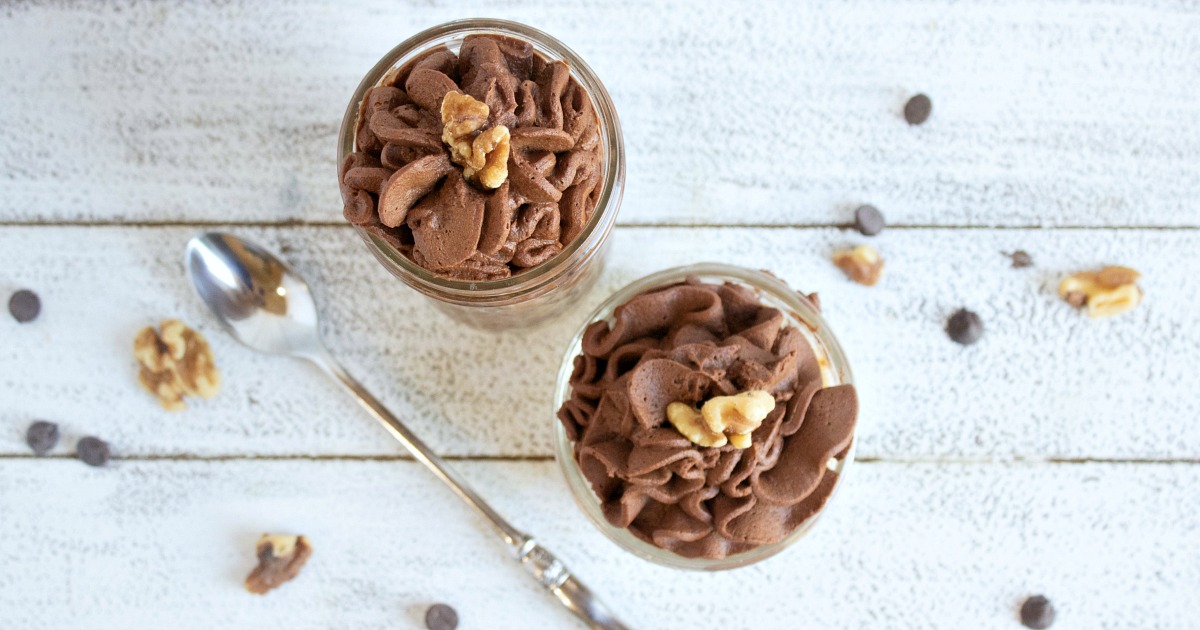 Layers of cake are added to complete this tasty treat.
White cake is used in these photographs, but the recipe is good with other types of cake, too.
Spice cake or a dark chocolate cake would both be excellent flavor combinations, but the trifle will look different.
If you do substitute, the layers won't have the same color contrast.
They will, however, taste wonderful.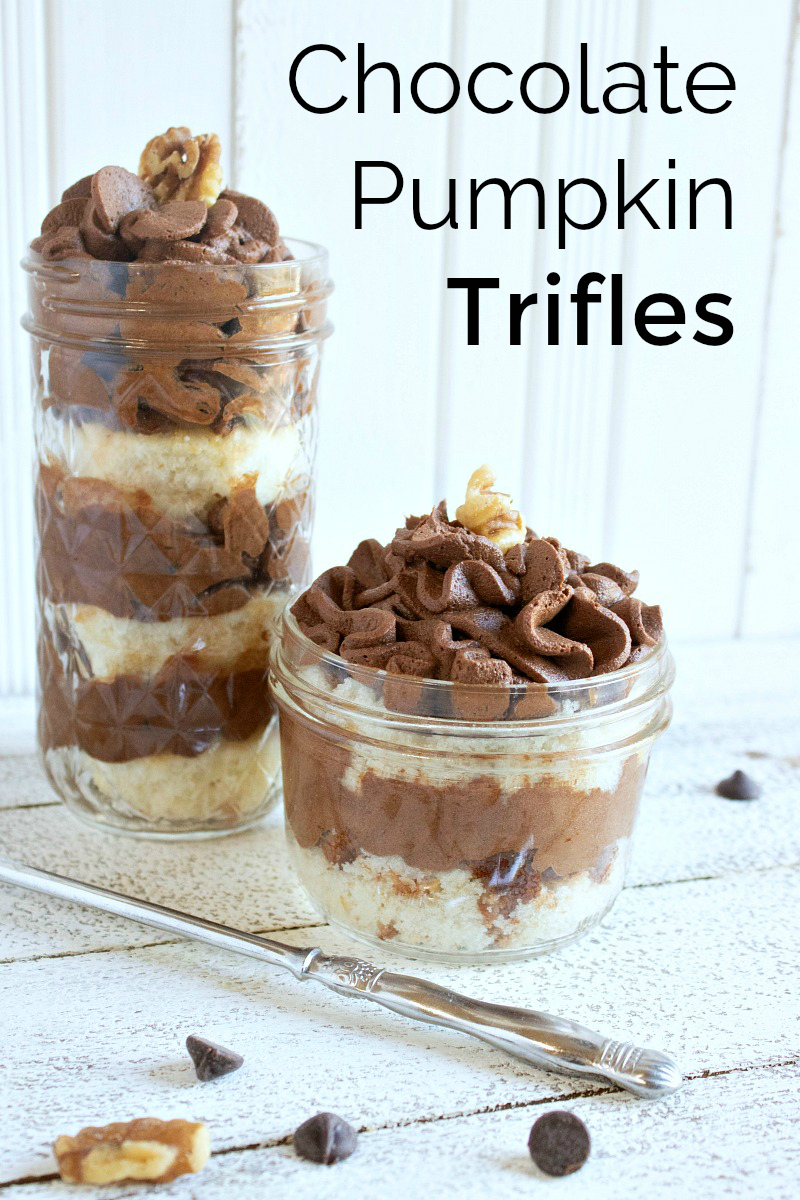 The recipe can be made in different sizes of mason jars, depending upon who will be eating it.
If you are doing a sit down dinner for adults with big appetites, you may want pint size jars.
If you are making dessert for kids or setting up a buffet, you may want half pints or those cute little 4 ounce jelly jars.
A buffet can also be fun, if you want to make a variety of sizes.
That way your guests can choose the right size for themselves.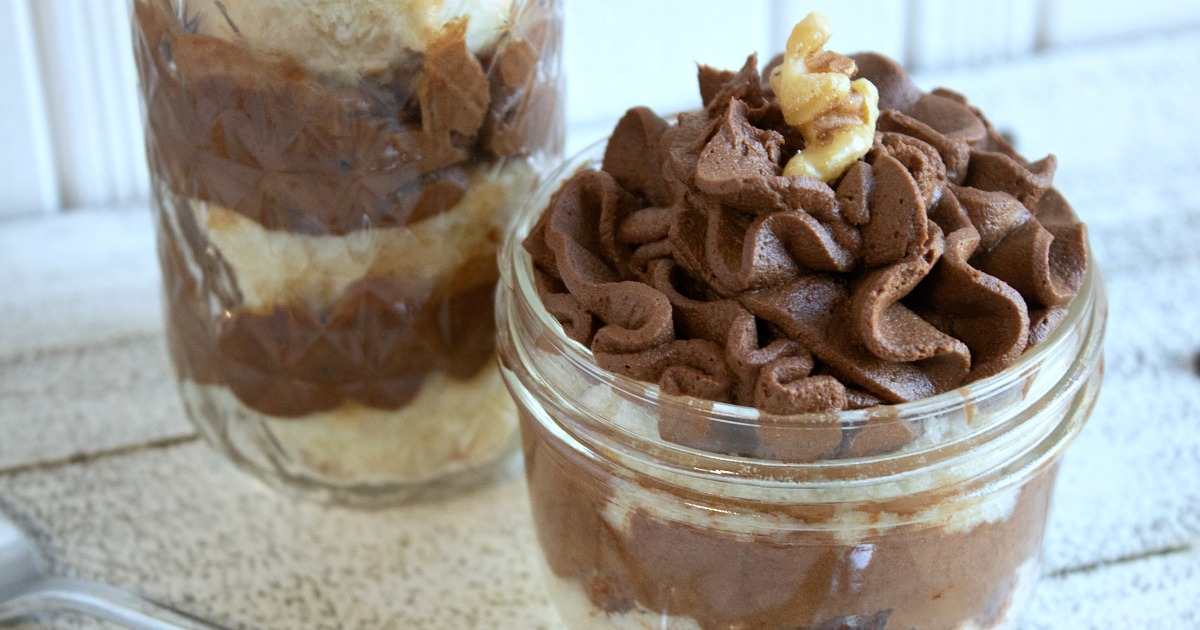 This recipe is definitely fun, if you have kids who like to help in the kitchen.
Assembling the trifles just may be the most fun for kids.
You can use a piping bag for a decorative looking mousse.
But it also looks just fine, if you prefer to spoon it into the mason jars.
This dessert is great to serve in Fall or Winter for the holidays, but I am happy to eat pumpkin and chocolate all year long.
Enjoy!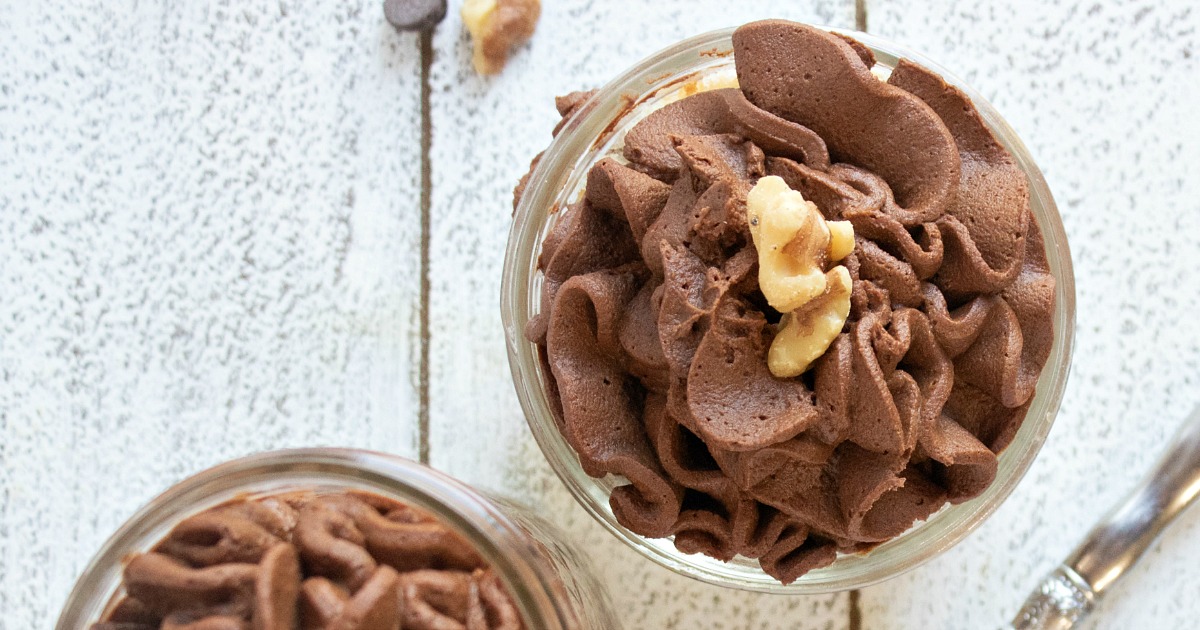 Mason Jar Chocolate Pumpkin Trifle Recipe
Makes 8 1 pint servings
(or 16 half pints or 24 4 oz. jars)
Ingredients:
1 Boxed White Cake Mix
1 cup Water
½ cup Light Olive Oil
4 Egg Whites
2 cups Semi-Sweet Chocolate Chips
1 cup Pumpkin Puree
1 ½ cups Heavy Cream
½ t Cloves, ground
1 t Cinnamon, ground
Supplies
Muffin tins with 24 cavities
Mixer
Baking cups or nonstick baking spray
Mason jars
Piping bag and tip (optional)
Instructions:
1) Pre-heat oven to 350° and prepare muffin tins. Either coat with nonstick baking spray or line with baking cups.
2) Beat together cake mix, water, oil and egg whites until thoroughly combined
3) Fill each muffin tin cavity about 1/2 full with batter.
4) Add chocolate chips, pumpkin, cream, cloves and cinnamon to a medium saucepan.
5) Cook on medium, while stirring constantly until chips are melted and mixture thickens.
6) Refrigerate chocolate pumpkin sauce for 2 hours or more until chilled.
7) Beat the cold sauce with a mixer until it becomes a light and fluffy mousse.
8) Layer chocolate pumpkin mousse and cupcakes in mason jars. Use a piping bag, if you'd like a decorative top.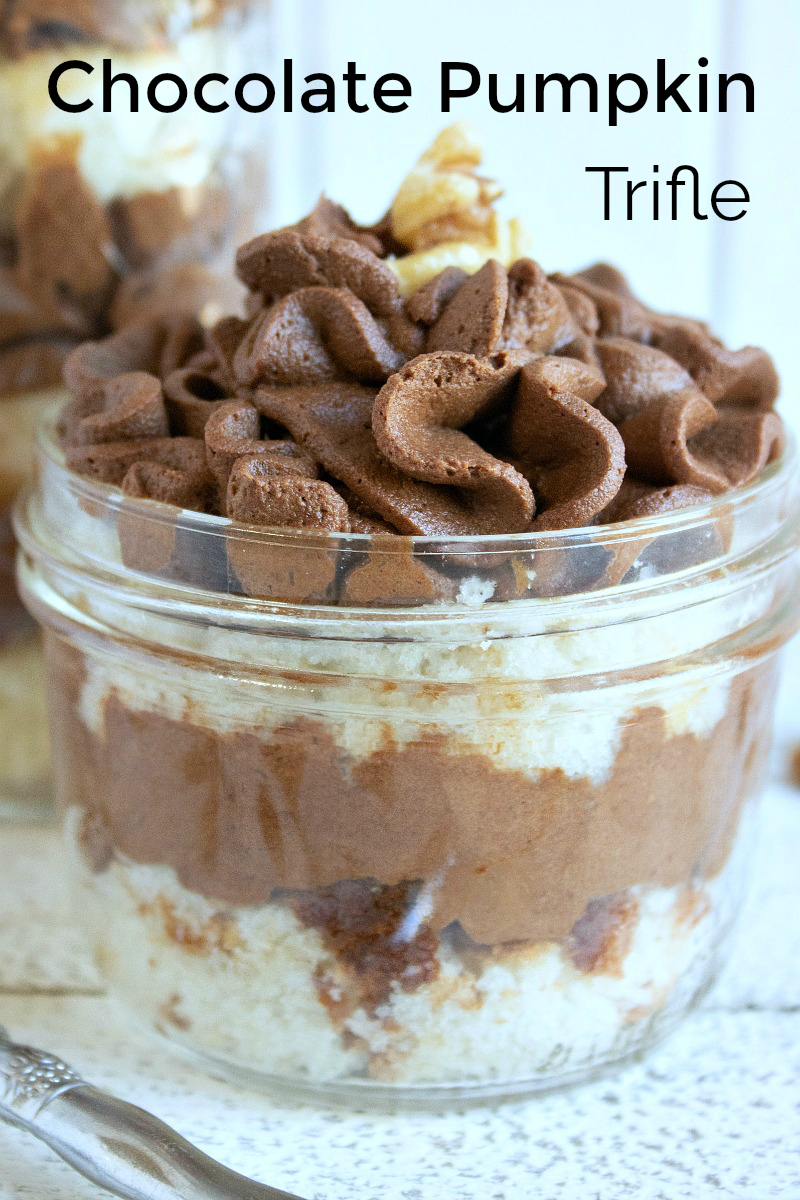 More from Mama Likes to Cook
Check out my vegetarian recipes, so you can get more great ideas for baking, cooking, blending and juicing.
Pumpkin Breakfast Recipes
Pumpkin Dessert Recipes
Dips Made with Pumpkin
Dinner Recipes with Pumpkin
Cake Mix Recipes
Shop Now
For a beautiful assortment of kitchen necessities and food gifts for the whole family, check out the current deals at these online stores.
Are you ready to have some delicious fun in the kitchen?