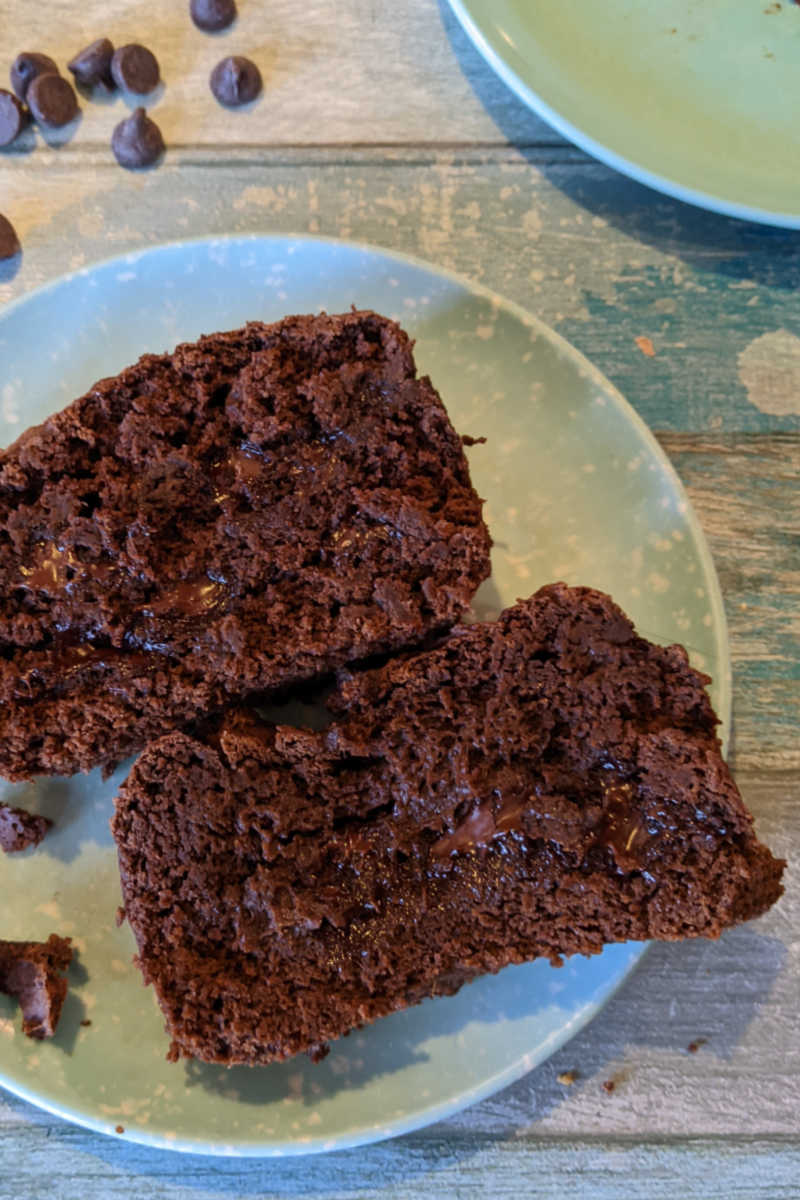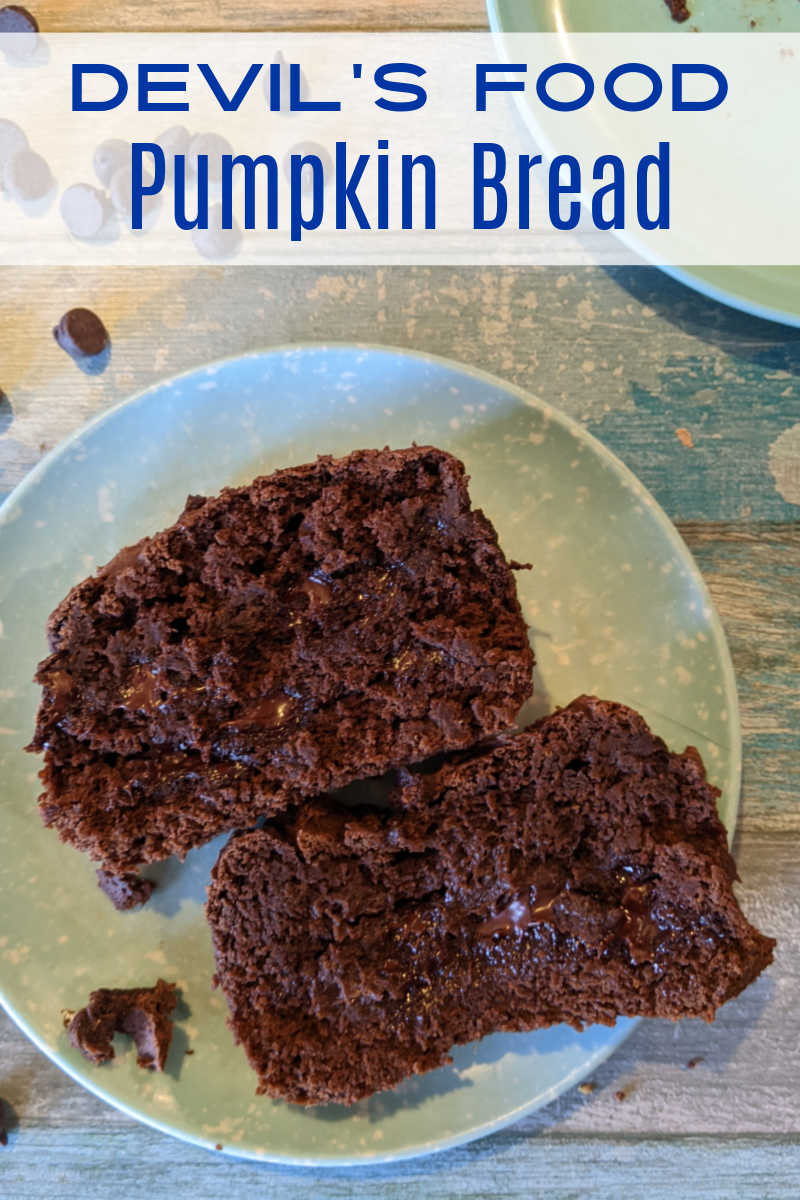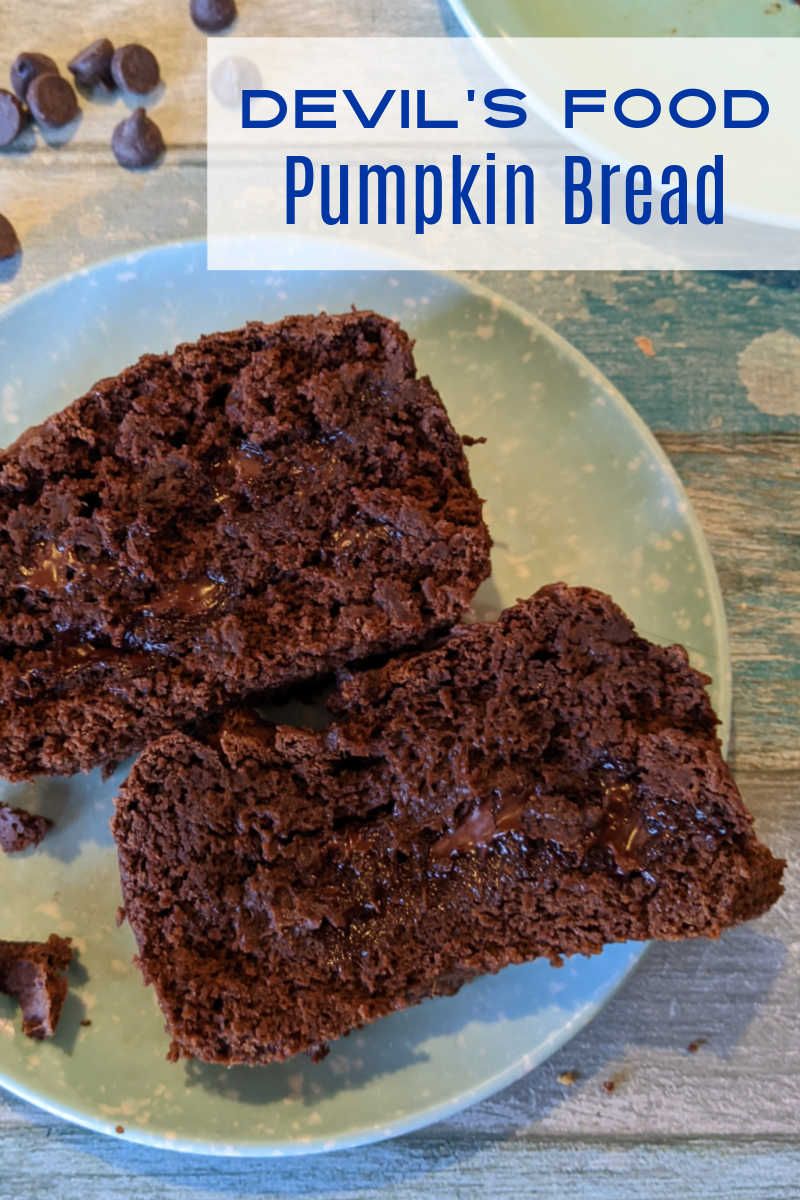 3 Ingredient Chocolate Cake Mix Pumpkin Bread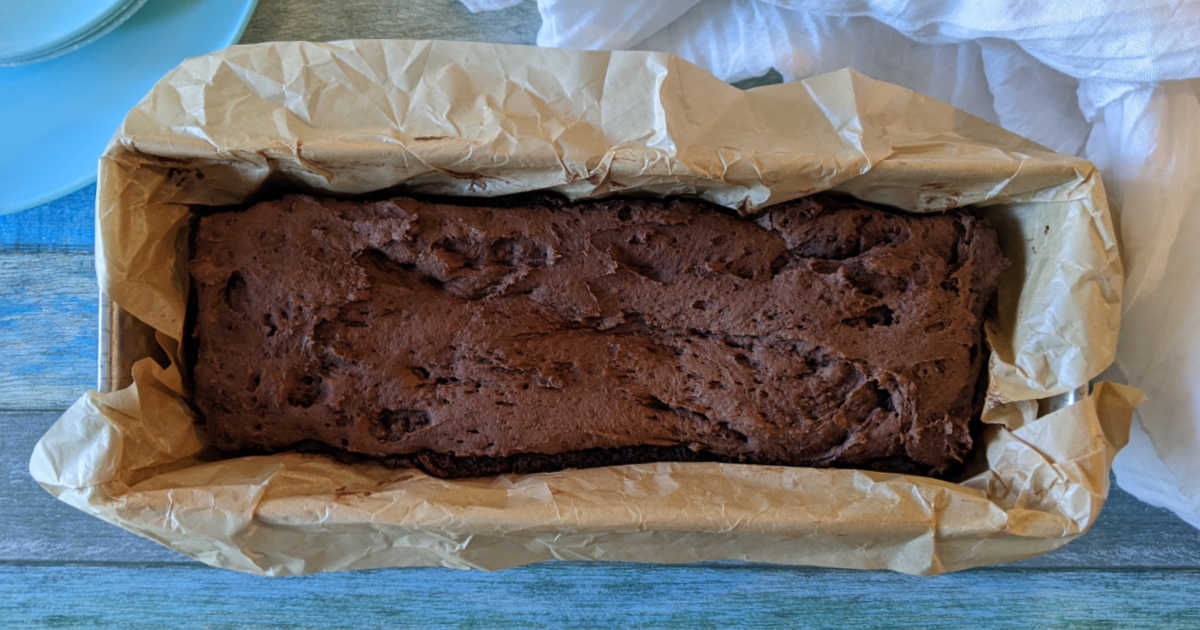 Bake a decadent loaf of devil's food pumpkin bread with just 3 ingredients – cake mix, pumpkin and chocolate chips.
It is really easy to throw together this delicious sweet bread recipe, even if you are short on time.
In fact, you may already have the ingredients in your pantry.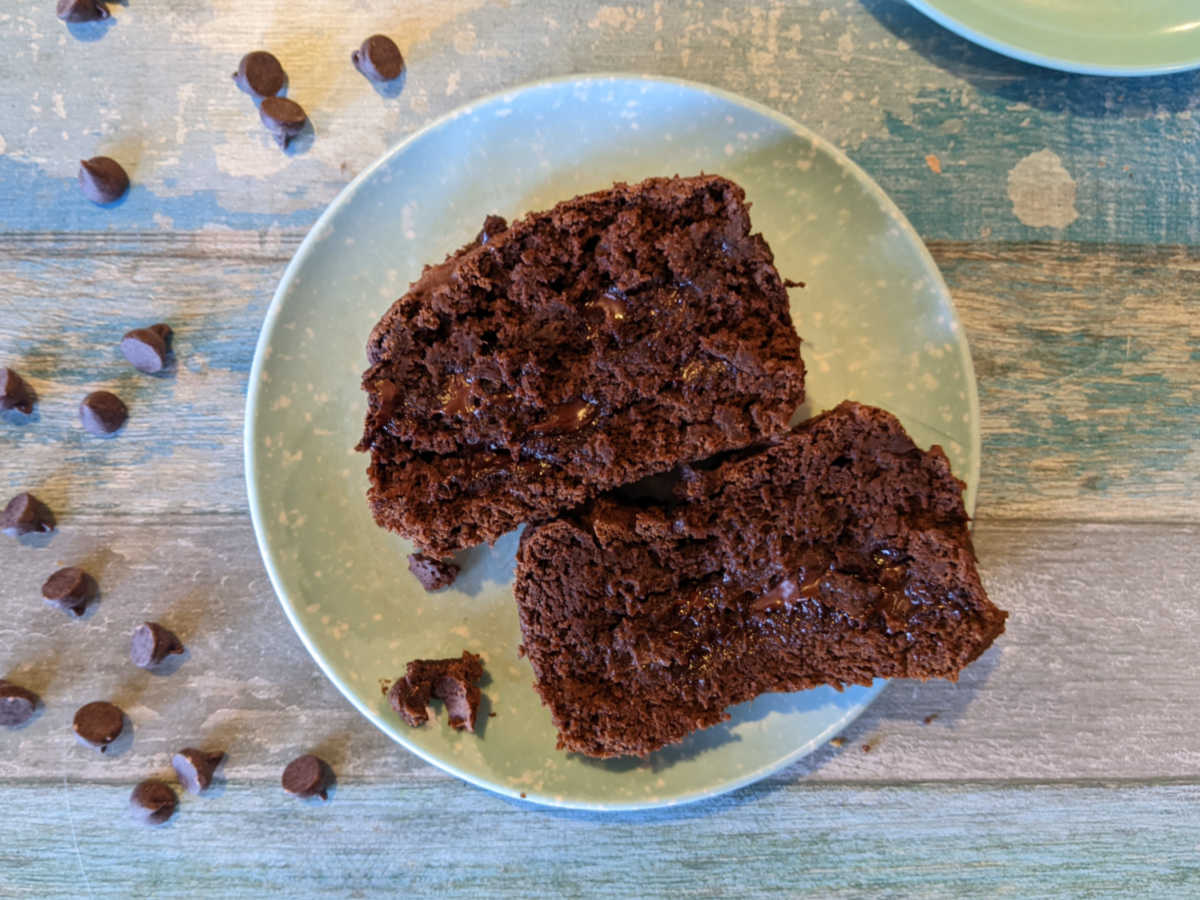 Devil's Food Cake Mix
This recipe is delicious, when you start with a devil's food cake mix.
This type of cake is very rich and fluffy, so it pairs nicely with the pumpkin.
If you prefer another cake mix (chocolate or other), feel free to substitute.
However, I think this combination is wonderful.
What Type of Boxed Cake Mix for Pumpkin Bread?
A regular, inexpensive boxed cake mix is perfect for this simple pumpkin bread recipe.
Use a name brand (Duncan Hines, Pillsbury, Betty Crocker…) or a store brand, whichever one you prefer.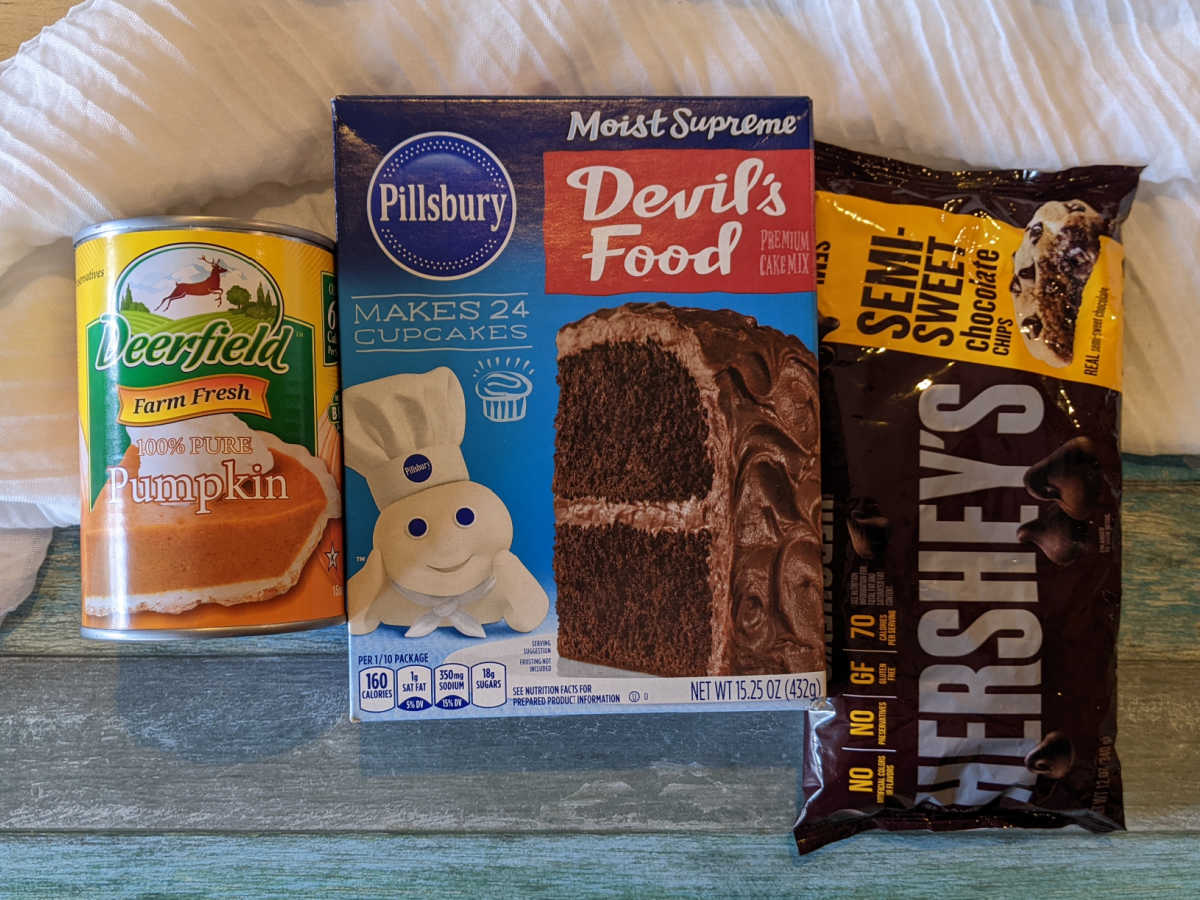 Canned Pumpkin
Any brand of canned pumpkin puree will do, when you are making cake mix pumpkin bread.
Just make sure you choose 100% pumpkin puree and not pumpkin pie filling or something else with extra ingredients or fillers added in.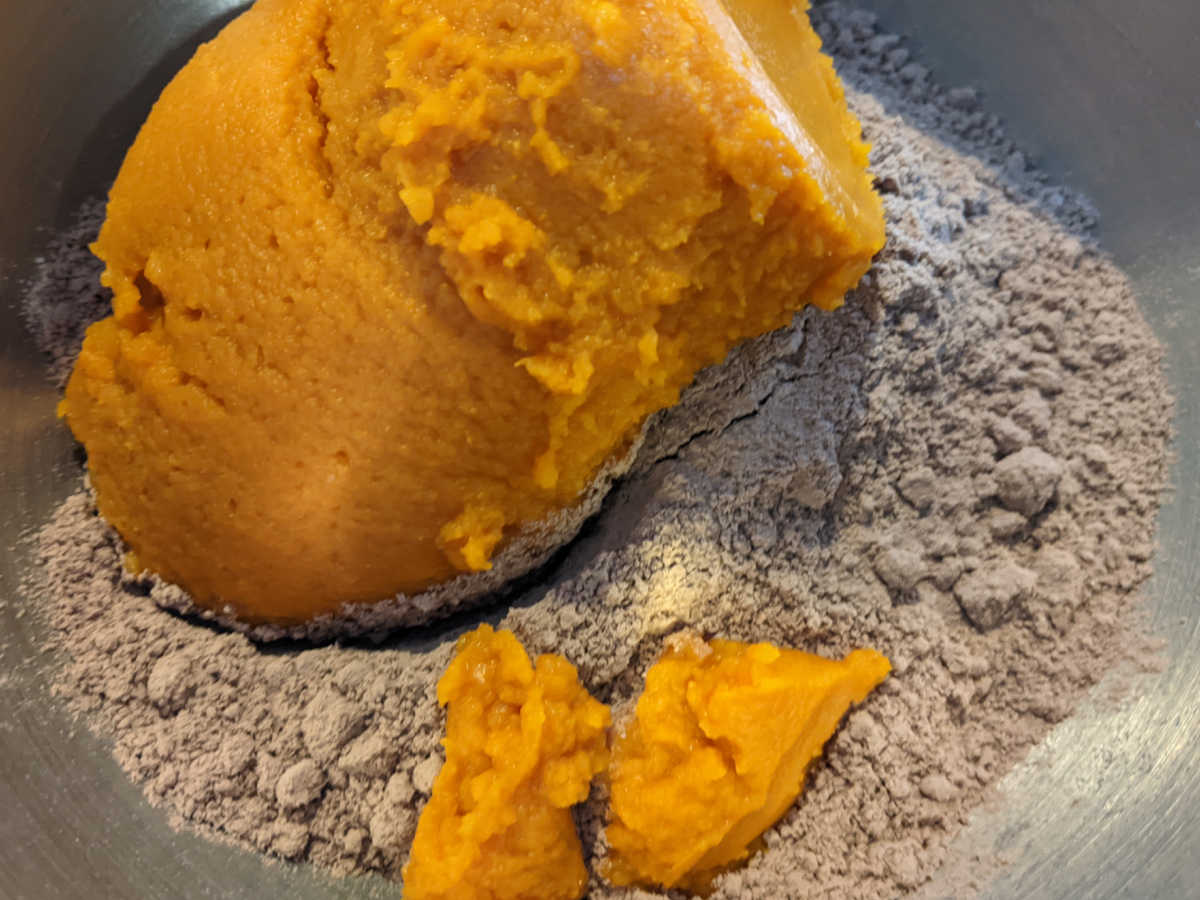 Chocolate Chips
My first choice for this recipe is to use semi-sweet chocolate chips, since they go well with the rich devil's food cake mix.
However, feel free to substitute milk chocolate chips or dark chocolate chips.
You could also use white chocolate, if you'd like.
How to Keep Chocolate Chips Evenly Dispersed in Pumpkin Bread
When you mix chocolate chips into batter, they can end up unevenly dispersed in the bread.
Some bites will have lots of chocolate chips, while others will end up with none.
To solve that issue, I don't mix the chips into the batter.
Instead, I add layers of chocolate chips on top of batter layers in the baking pan.
This way, each piece will have lots of chocolate chips.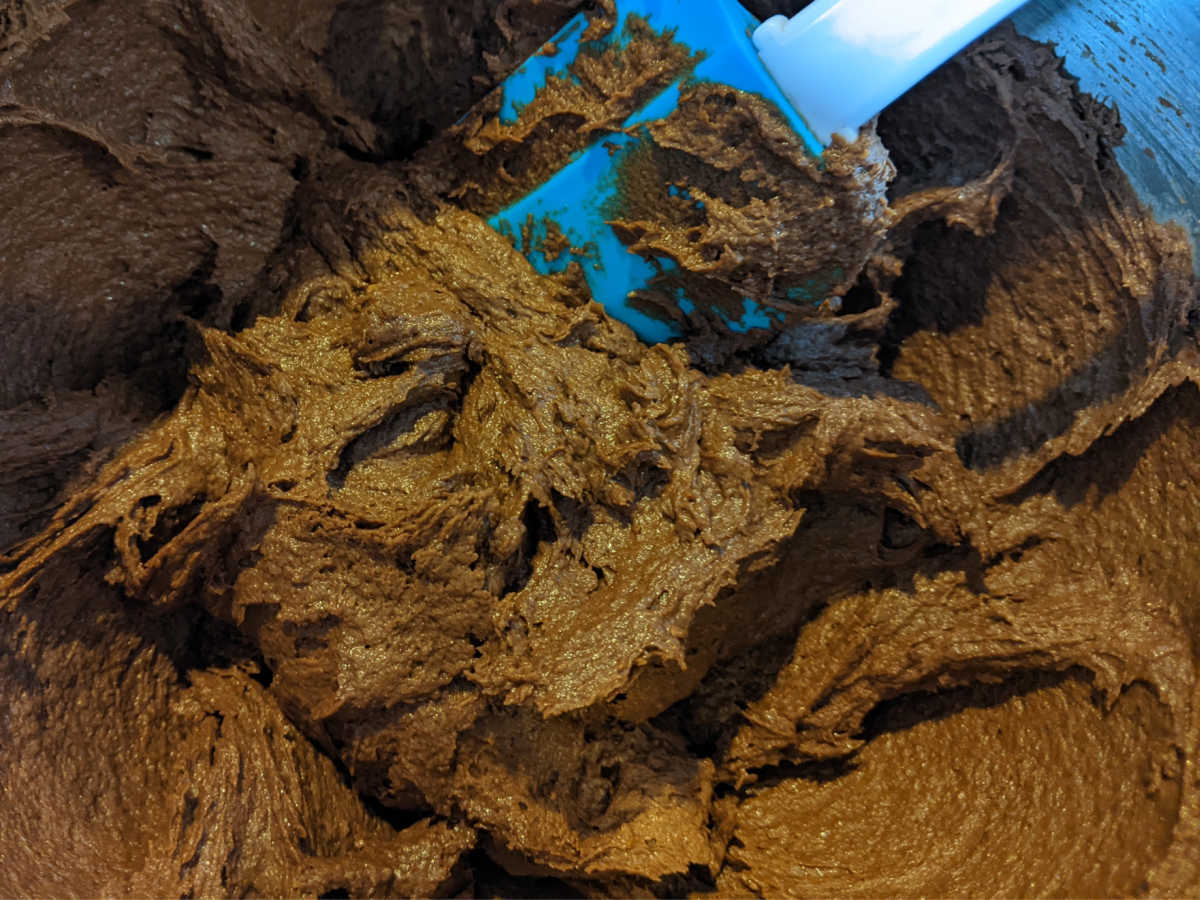 What Type of Mixer for Pumpkin Bread?
You can use either a stand mixer or a hand mixer, when you make your loaf of pumpkin bread.
It doesn't need to be high powered and no special attachments are required.
However, if it is in your budget and you have space in your kitchen, I recommend investing in a nice KitchenAid stand mixer.
It will serve you well for all your mixing needs and can last for decades.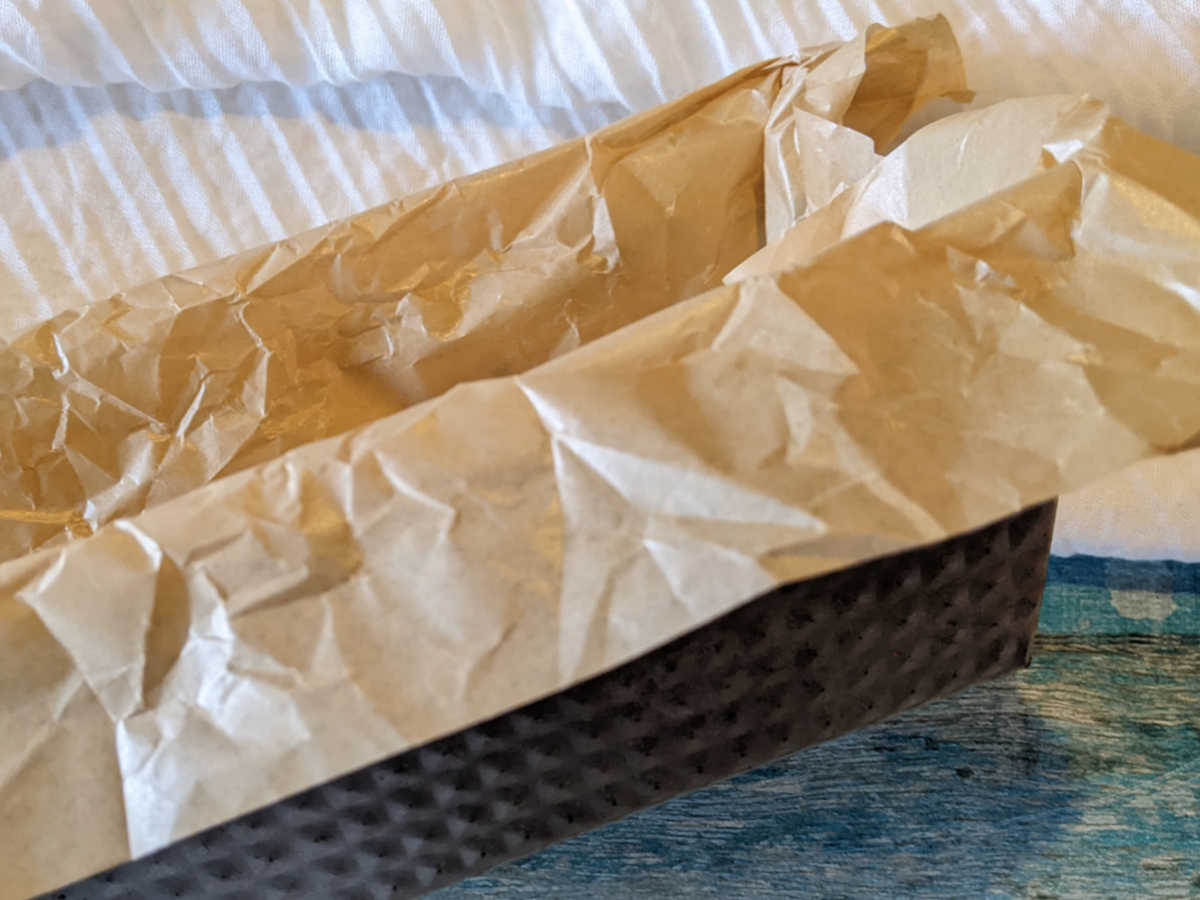 Parchment Paper
I'm a big fan of parchment paper, since it makes baking and cleaning up a breeze.
You can buy it in sheets or in a roll that you can cut to size.
Crinkle it up before placing in your loaf pan, so it will stay put when you begin to fill the pan with batter.
Once my loaf was done baking, I simply lifted the paper and loaf out of the pan to cool.
Then I was able to peel it back from the sides to slice.
This is a time saver that will give you a nice looking loaf and make clean up easy.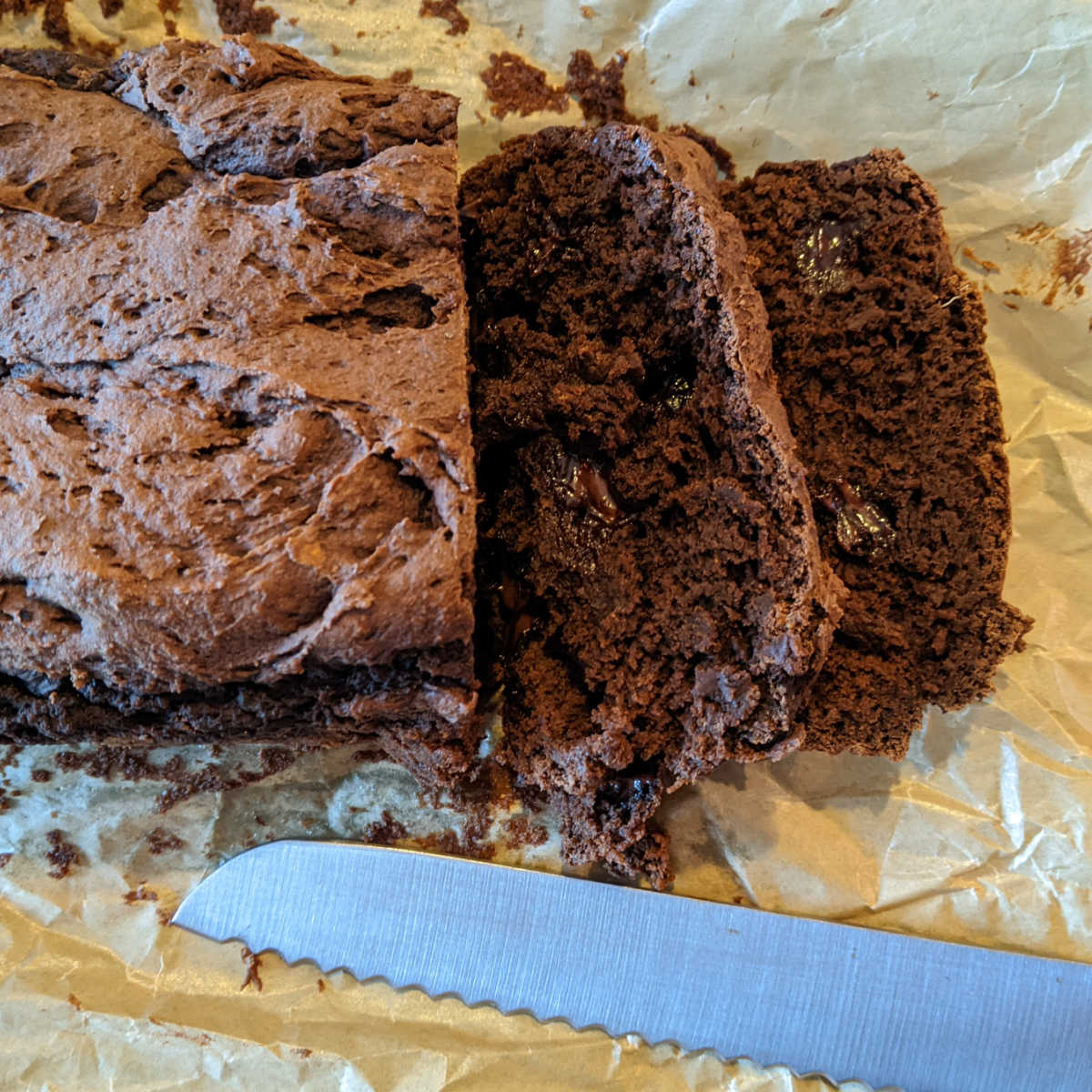 Devil's Food Pumpkin Bread Recipe
Prep Time: 5 Minutes
Bake Time: 30-35 Minutes
Yield: 8 Servings
Ingredients
1 Box Devil's Food Cake Mix
1 Can Pumpkin Puree (15 oz.)
½ cup Chocolate Chips
Supplies
Can Opener
Stand Mixer or Hand Mixer and Mixing Bowl
Spatula
Loaf Pan
Parchment Paper
Measuring Cup
Instructions
1) Preheat oven to 350°.
2) Add devil's food cake mix and canned pumpkin to your mixing bowl and mix for a few minutes until thoroughly combined.
3) Line your loaf pan with parchment paper.
4) Pour 1/3 of the batter into the lined loaf pan and top evenly with ¼ cup chocolate chips.
5) Add another layer of 1/3 of the batter and the remaining ¼ cup chocolate chips.
6) Top with the remaining batter.
7) Bake in the preheated oven for approx. 30-35 minutes until cooked through.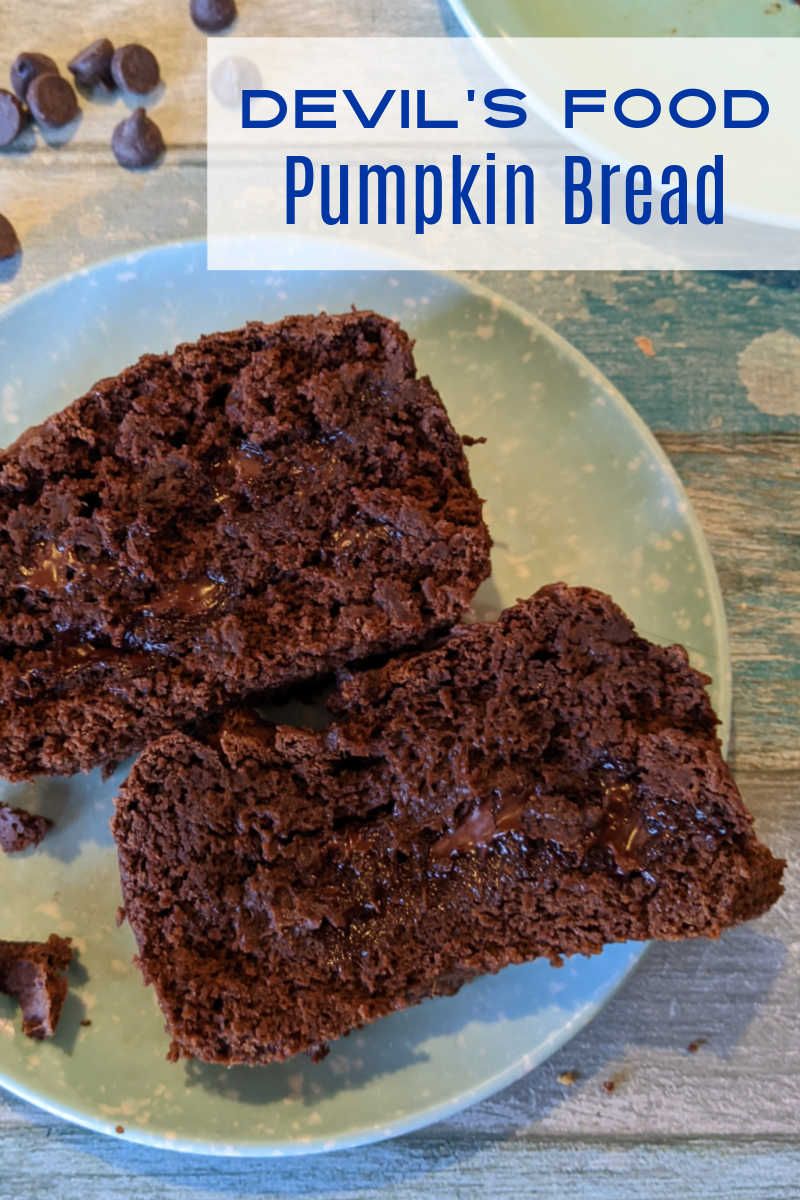 More from Mama Likes To Cook
Check out my vegetarian recipes, so you can get more great ideas for baking, cooking, blending and juicing.
Cake Mix Recipes
Pumpkin Breakfast Recipes
Pumpkin Dessert Recipes
Dips Made with Pumpkin
Dinner Recipes with Pumpkin
Chocolate Chip Recipes
Shop Now
For a beautiful assortment of kitchen necessities and food gifts for the whole family, check out the current deals at these online stores.
Are you ready to have some delicious fun in the kitchen?