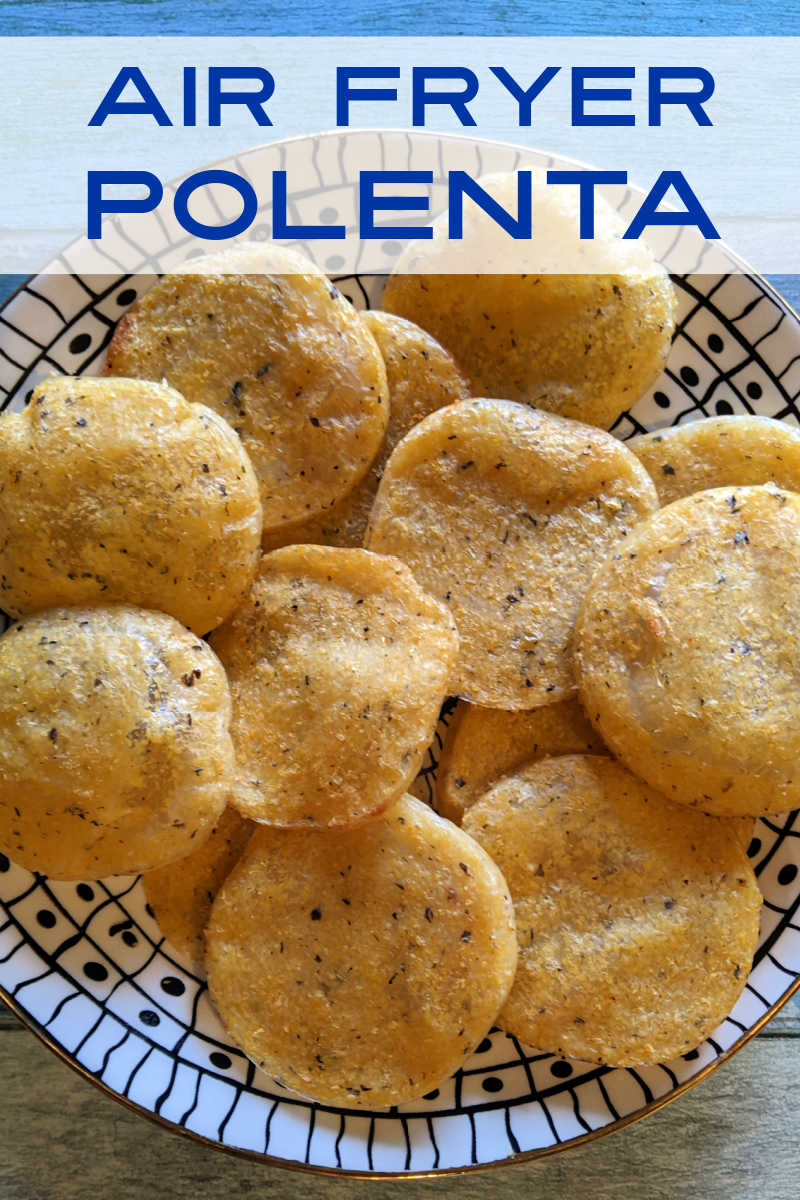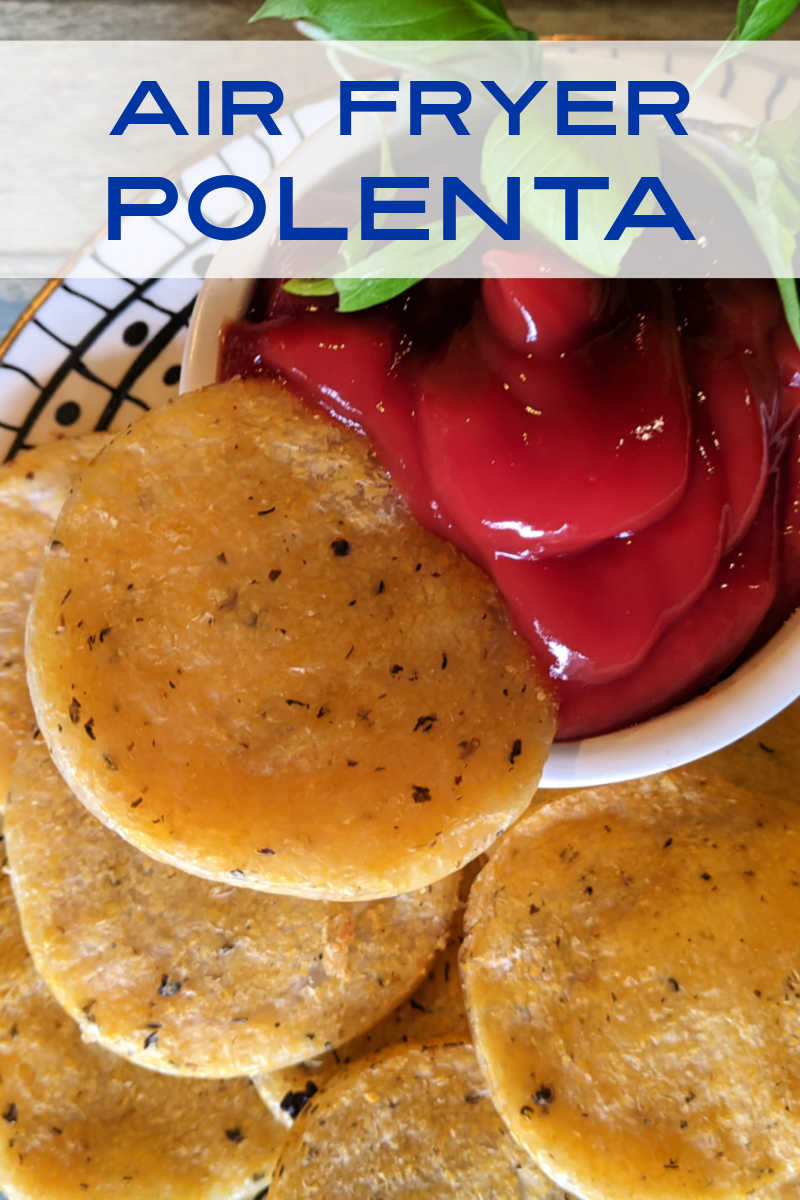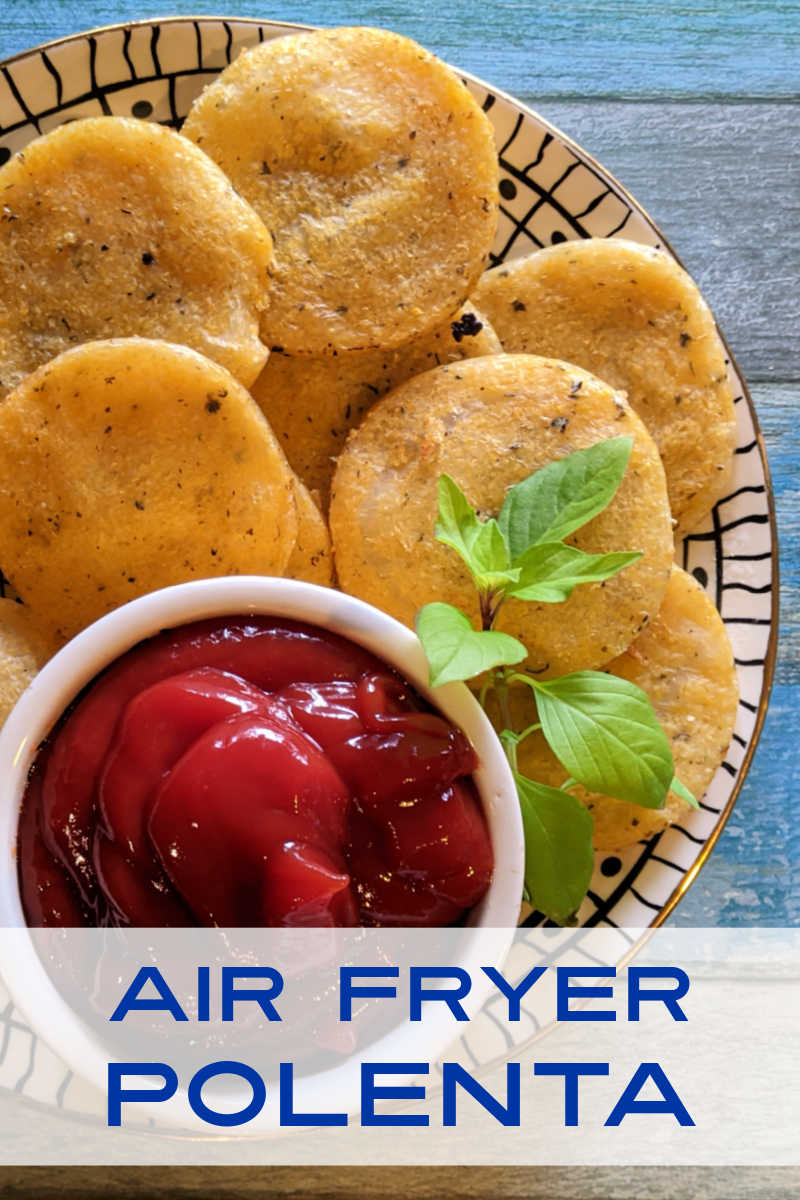 Polenta Medallions Cooked in an Air Fryer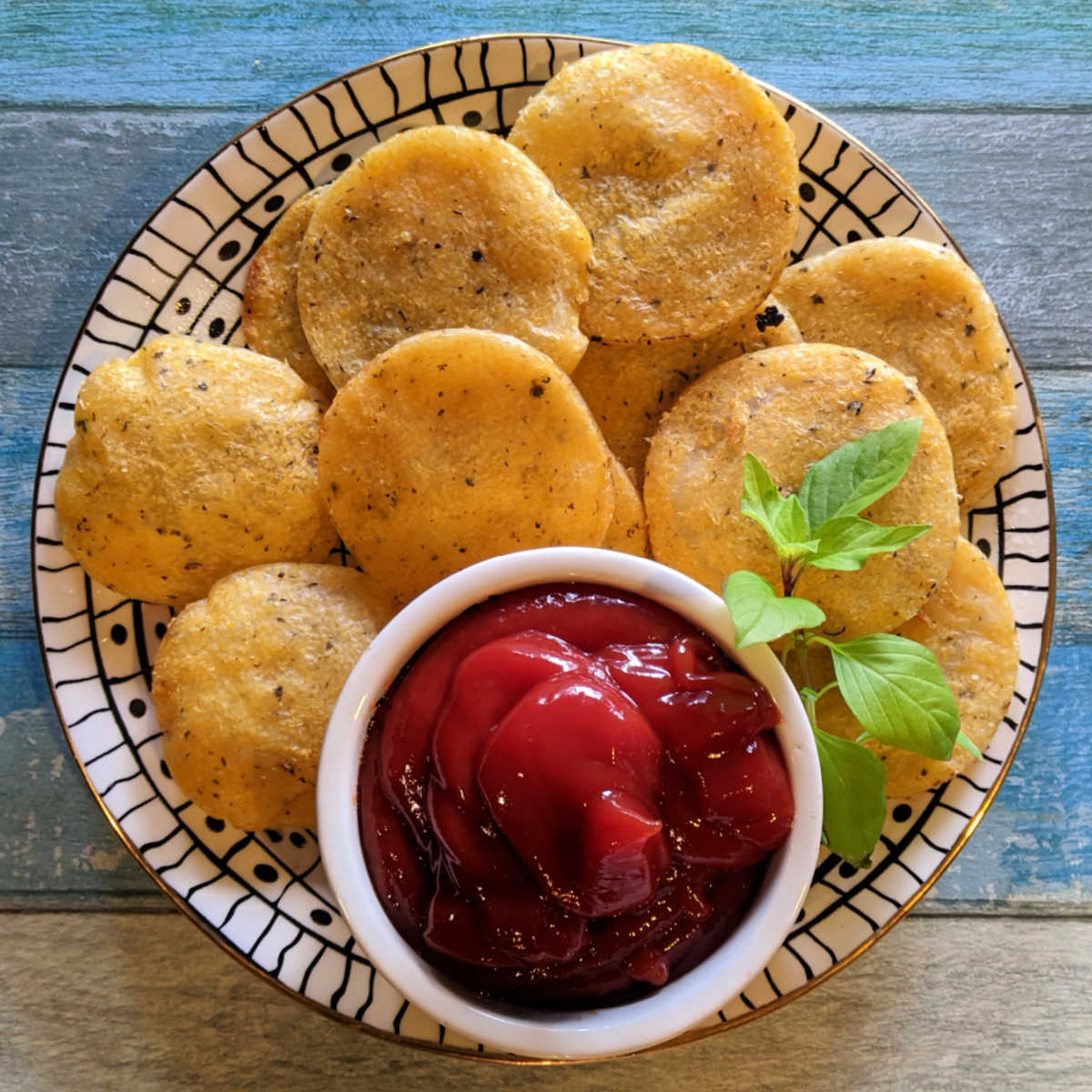 You can make easy and delicious air fryer polenta medallions, when you start with shelf stable pre-cooked polenta in a tube.
This is a simple snack or side dish that doesn't require any advanced cooking skills.
Teens who are capable of using a knife and an air fryer will have no problem making their own snack that is healthier than a bag of chips.
The recipe makes about 6 to 7 air fried polenta medallions, which is what fits in a single layer in a standard air fryer.
If you need more, you can do as many batches as you'd like.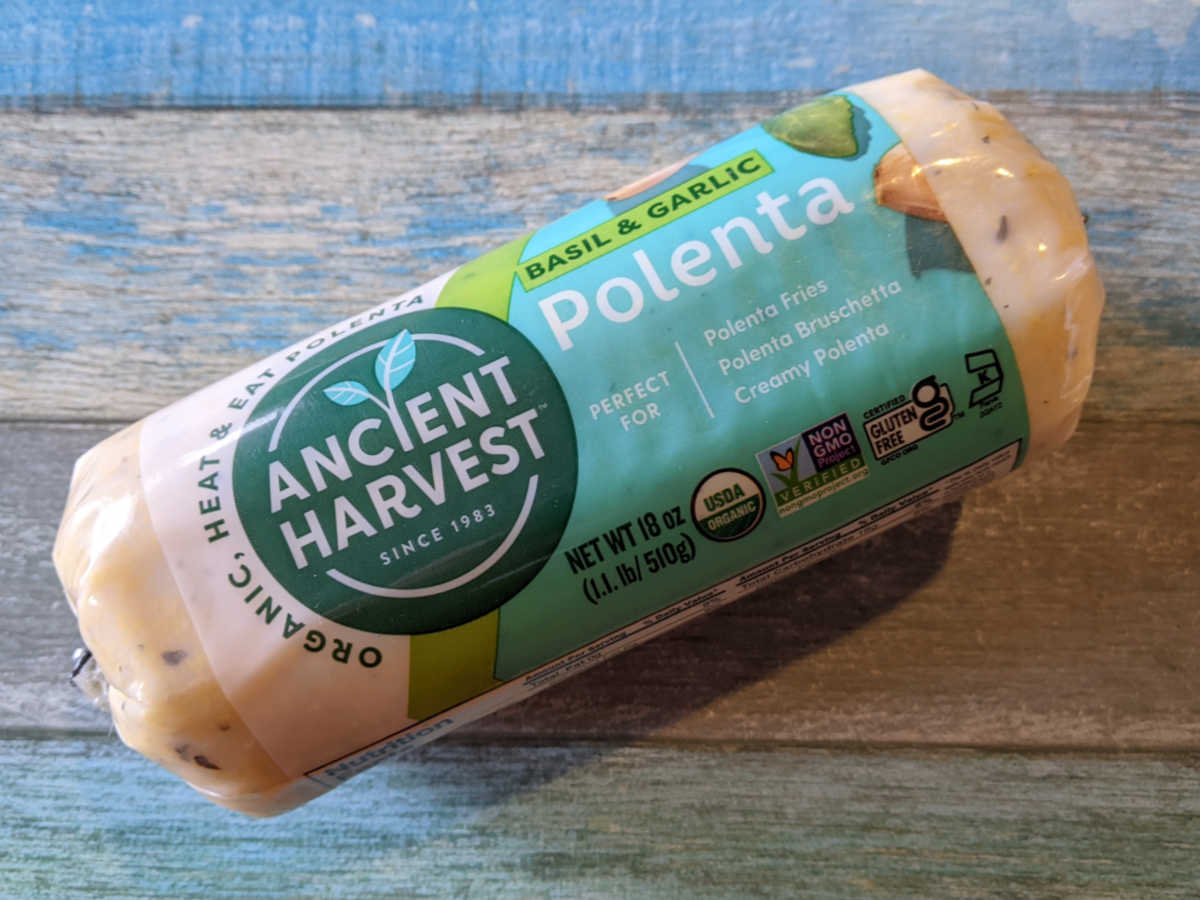 What is Polenta?
Polenta is an Italian dough or paste that is made from cornmeal.
The cornmeal is similar to grits, but polenta is typically made from yellow corn and grits are made from white field corn (hominy).
It isn't as finely ground as corn flour that is used for making tortillas.
Polenta is naturally gluten free and contains protein, fiber and complex carbs.
It is low in calories and fat, so can be a healthier choice than pasta, especially for people concerned about simple carbs and blood sugar levels.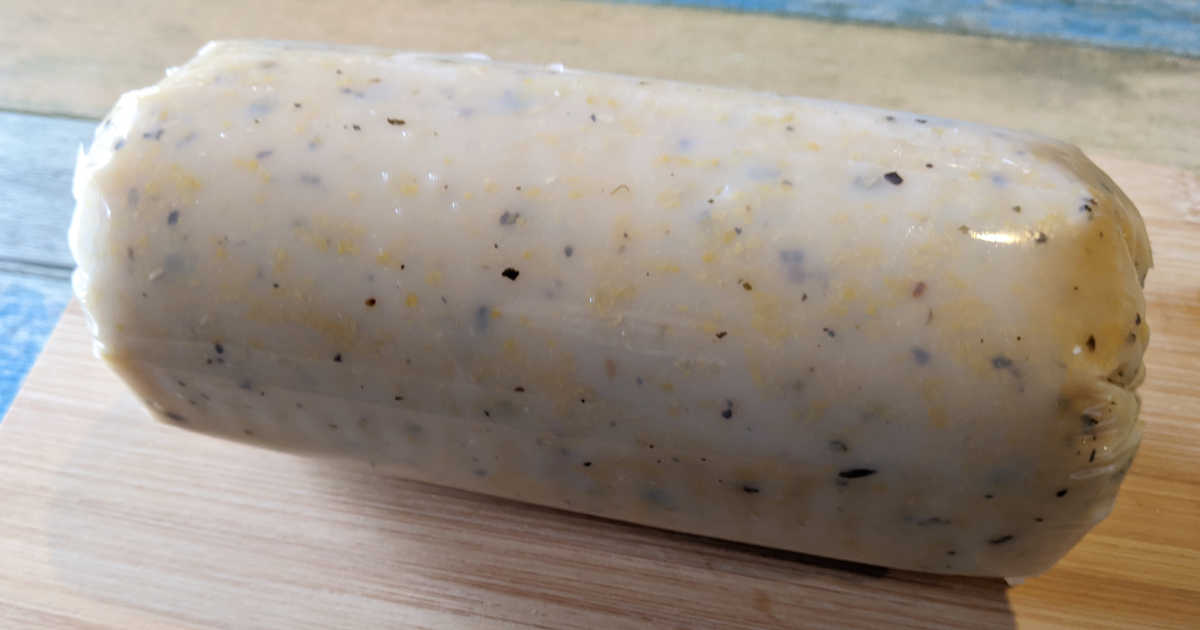 I am a big fan of pre-cooked, ready to use, shelf stable polenta tubes.
They are a wonderful pantry staple to keep on hand to cook in the air fryer or prepare some other delicious way.
Once you open the package, it is ready to be sliced and prepared.
Today, I used a garlic and basil polenta.
There are other flavor varieties available and, of course, plain.
Any of them will work just fine in this recipe, so choose whichever one you prefer.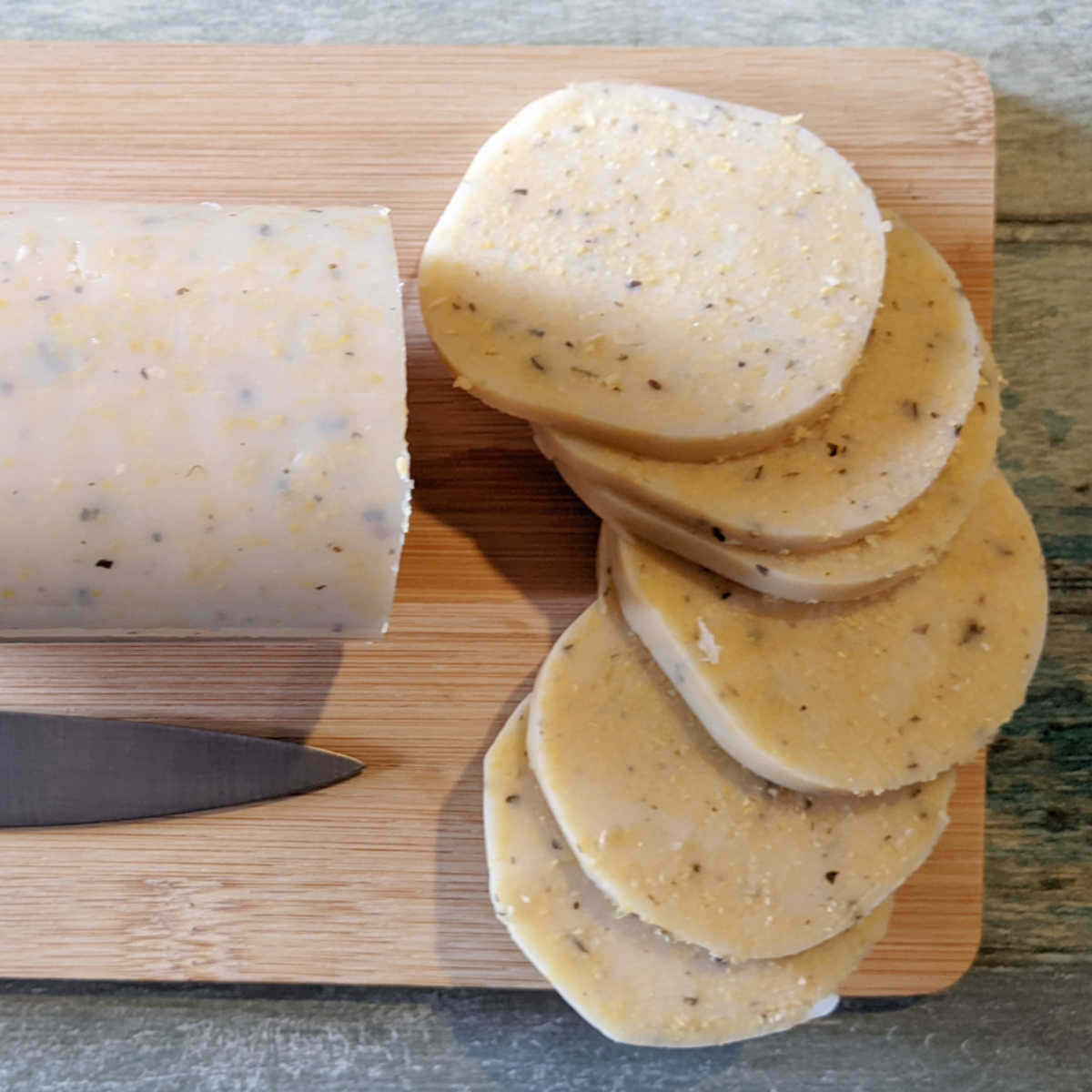 What Kind of Sauce with Polenta?
The air fried polenta medallions can be eaten as is or you can serve them with your favorite dipping sauce.
Whatever you like to dip your French fries into will probably be just fine with polenta.
As you can see from the photos, regular ketchup is just fine for dipping.
You could also opt for pasta sauce to keep the flavor in line with the polenta's Italian heritage.
Stick with something simple like ranch or level up with truffle mayonnaise or Laoganma aioli.
Anyway you choose to dress them up, this polenta is delicious.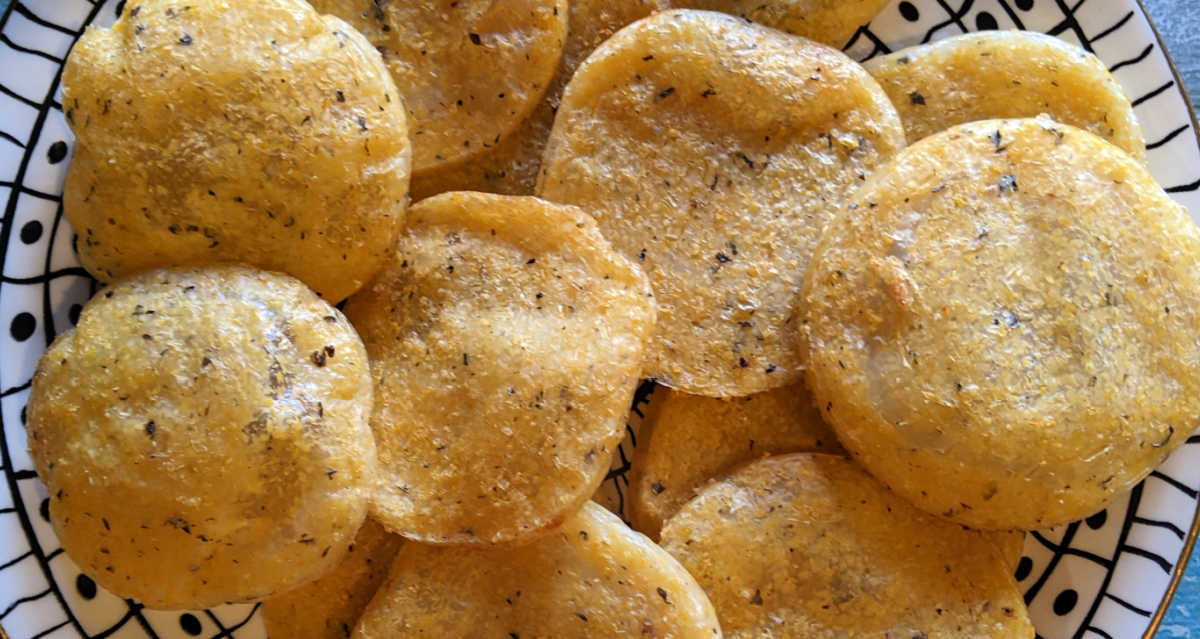 Air Fryer
Years ago, I was content with what I had and thought I did not need another kitchen appliance cluttering up my kitchen.
Then I tried an air fryer and was hooked.
Now, we used ours just about every day.
It gives food a crispy texture that tastes great.
And it allows us to cook small batches of food quickly without using the oven.
This is my favorite feature during hot Summer weather when I absolutely do not want to turn on the oven.
There are plenty of air fryers to choose from ranging from inexpensive to pricey ones with extra features.
My air fryer is a basic cheap one that I haven't had any issues with for the years we have been using it.
This recipe works just fine in a basic air fryer, but you may need to adjust the time a bit depending upon how powerful yours is.
Parchment Paper
I am a fan of parchment paper in general, but I especially like using it in the air fryer.
It keeps food from sticking and makes clean up quick and easy.
The precut air fryer sized parchment comes in sizes to fit round or square air fryer baskets and you can get it in a solid sheet or with ventilation holes.
It can be a flat sheet or a basket style with sides.
I used flat parchment with holes for this, but you can also use a solid sheet or the basket style parchment paper.
Air Fryer Polenta Recipe
Prep. Time: 2 minutes
Cook Time: 10 minutes
Yield: 1-2 servings
Ingredients
6 slices Polenta
Supplies
Air Fryer
Parchment Paper
Knife
Instructions
1) Slice polenta into six slices that are roughly the same thickness.
2) Place parchment paper in the air fryer and arrange polenta slices in a single layer.
3) Set heat to 375 and cook for about 5 minutes.
4) Flip the polenta medallions over and cook for about another 5 minutes.
5) Serve warm as is or with your favorite dipping sauce.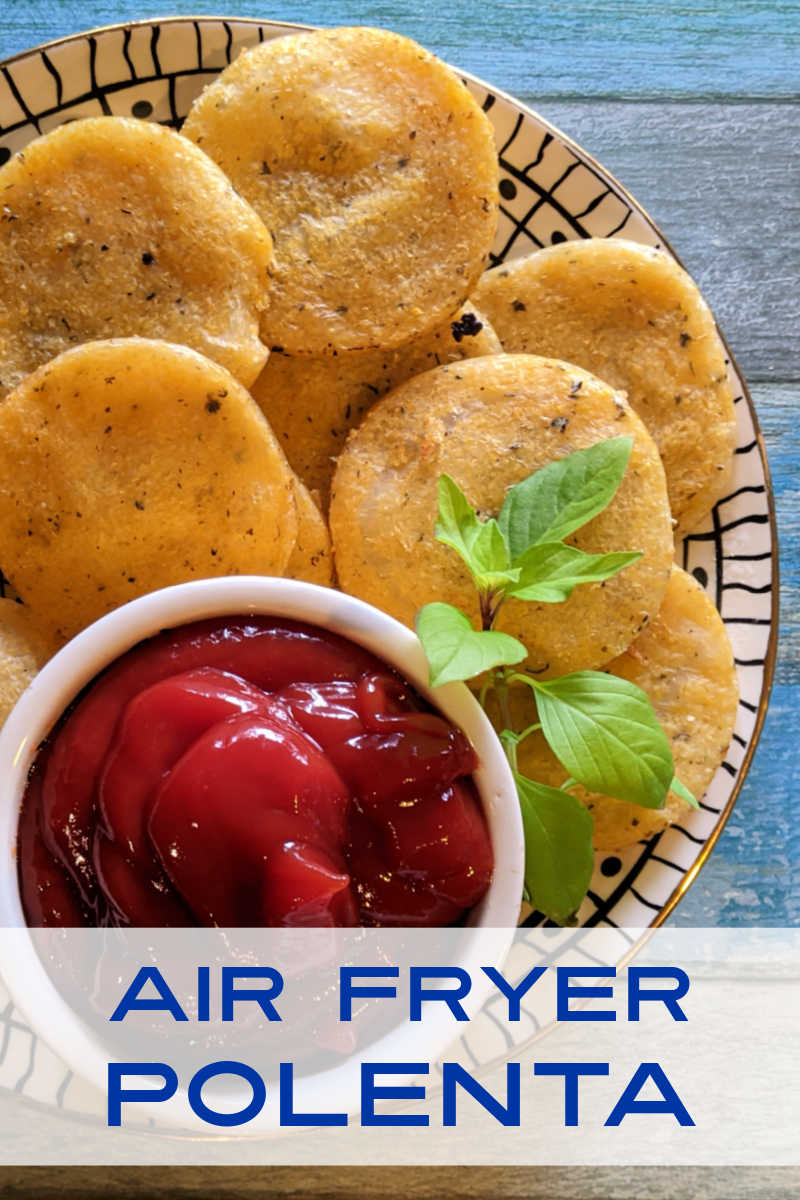 More from Mama Likes To Cook
Check out my vegetarian recipes, so you can get more great ideas for baking, cooking, blending and juicing.
Air Fryer Recipes
Polenta Recipes
Shop Now
For a beautiful assortment of kitchen necessities and food gifts for the whole family, check out the current deals at these online stores.
Are you ready to have some delicious fun in the kitchen?