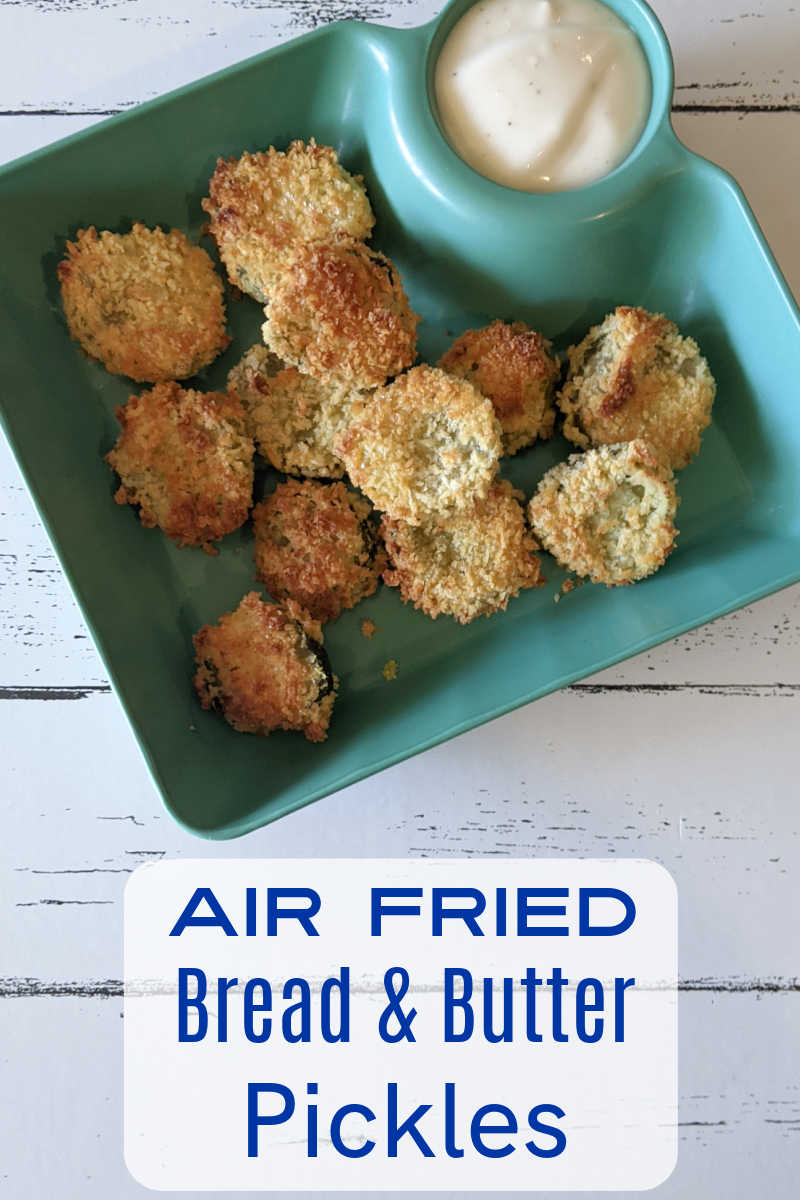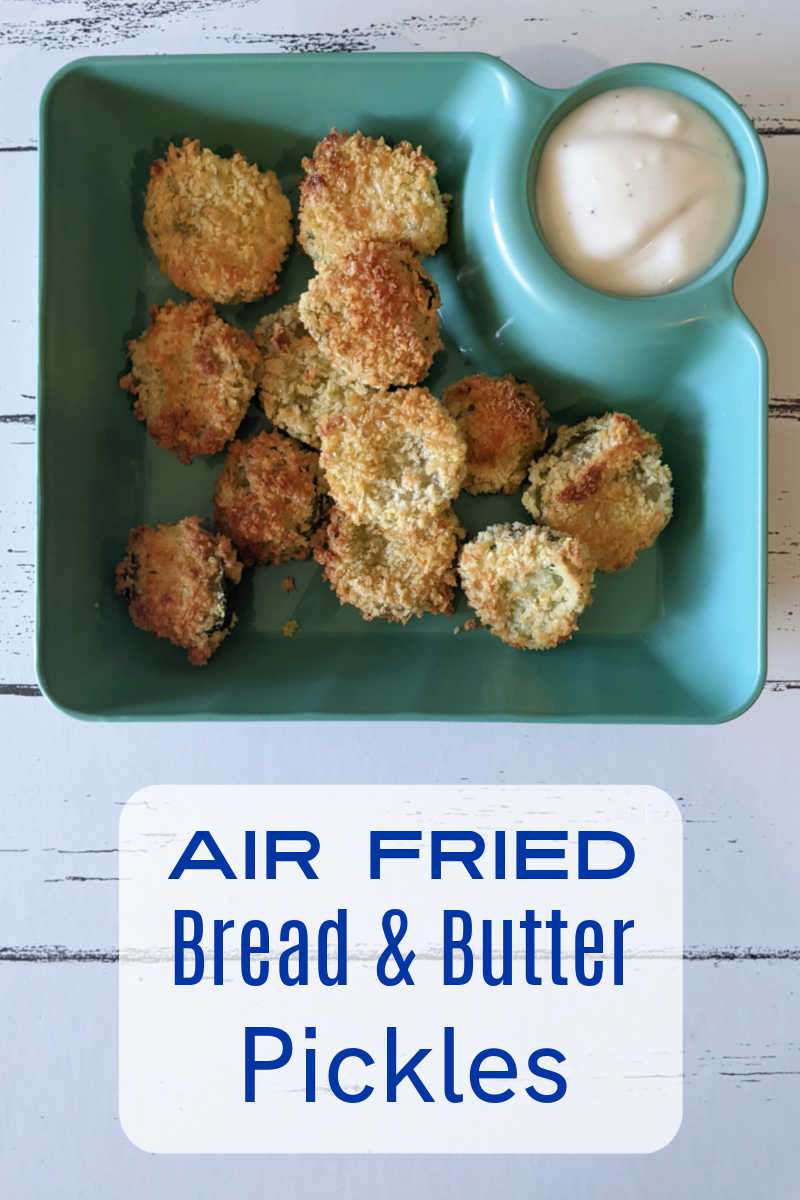 Air Fryer Bread and Butter Pickles: The Ultimate Easy Snack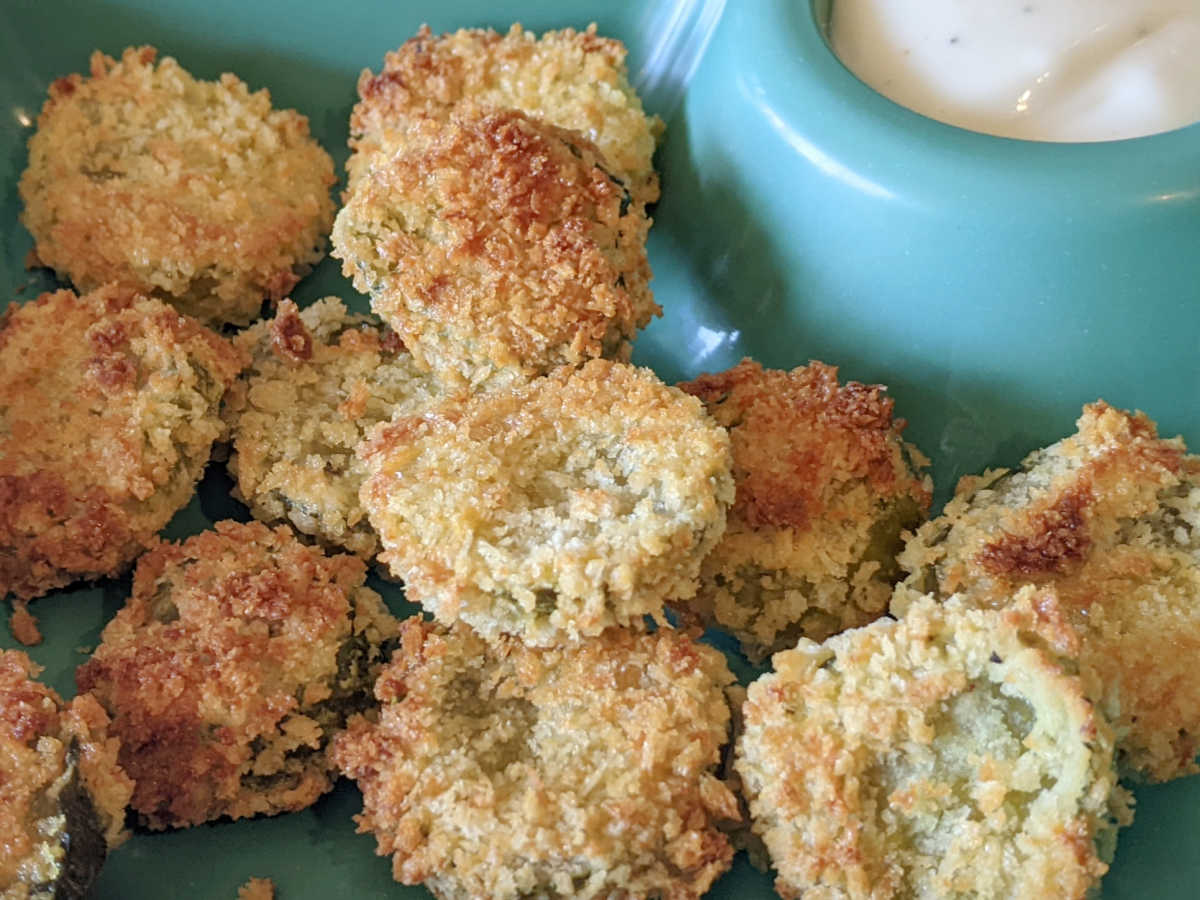 These air fried bread and butter pickles are the perfect snack or appetizer.
They're easy to make and only require a few simple ingredients.
Serve them with your favorite dipping sauce and enjoy!
Air fryer bread and butter pickles are a great appetizer for parties, game days, or just a quick and easy snack.
They are also a healthier option than traditional deep fried pickles, since they are cooked in air instead of being dunked in hot oil.
The appetizer is made with just a few simple ingredients, including bread and butter pickles, panko bread crumbs, an egg and all-purpose flour.
So next time you are looking for a delicious and easy snack, try air fried bread and butter pickles!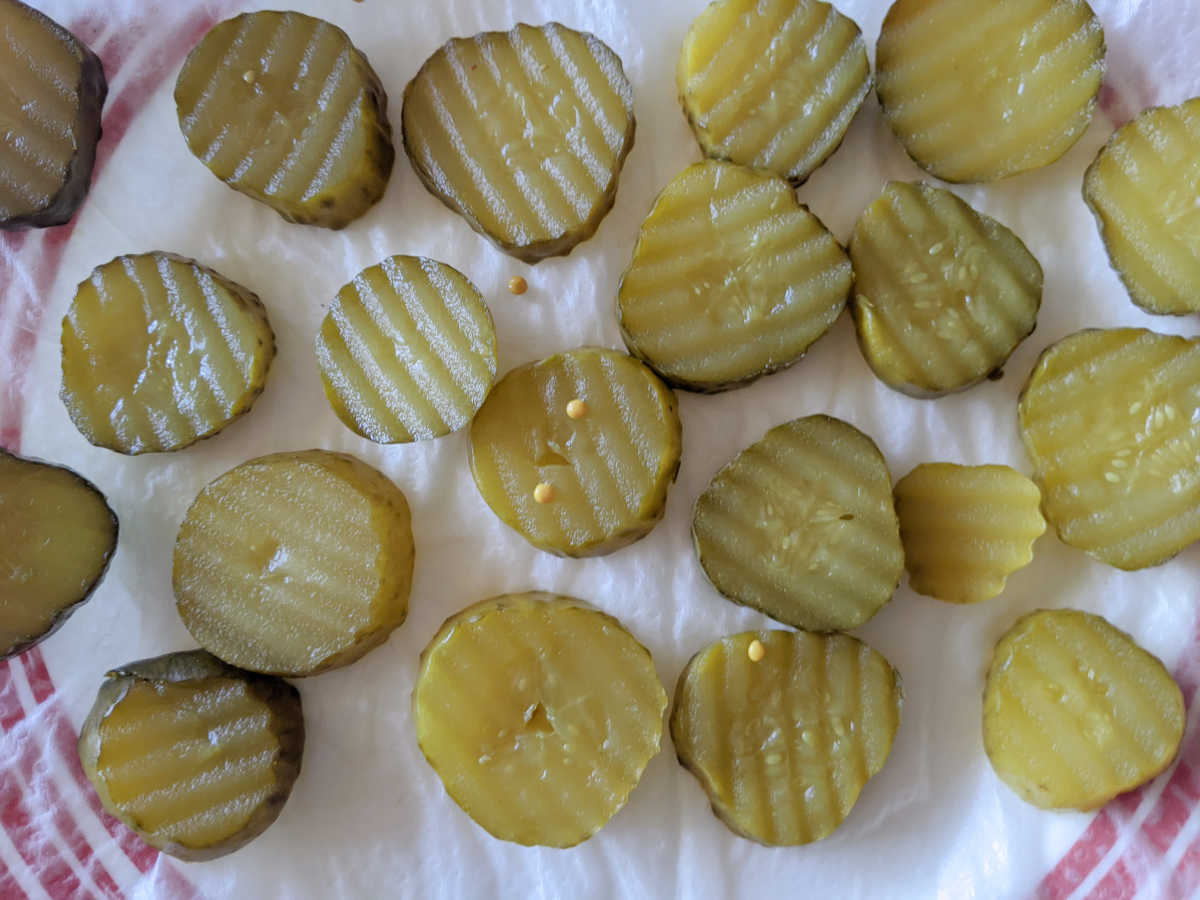 Bread and Butter Pickles vs Dill Pickles
Bread and butter pickles and dill pickles are two of the most popular types of pickles in the United States.
They are both made with cucumbers, vinegar, and spices, but they have different flavors.
Bread and butter pickles are sweet and tangy, with a slightly buttery flavor.
Dill pickles are sour and salty, with a strong dill flavor.
Which type of pickle you prefer is a matter of personal taste.
I am a fan of pickles of all kinds, but used bread and butter pickles when I made this recipe.
You can use another type of pickle, if you'd like.
Your snack will taste different, but will be delicious.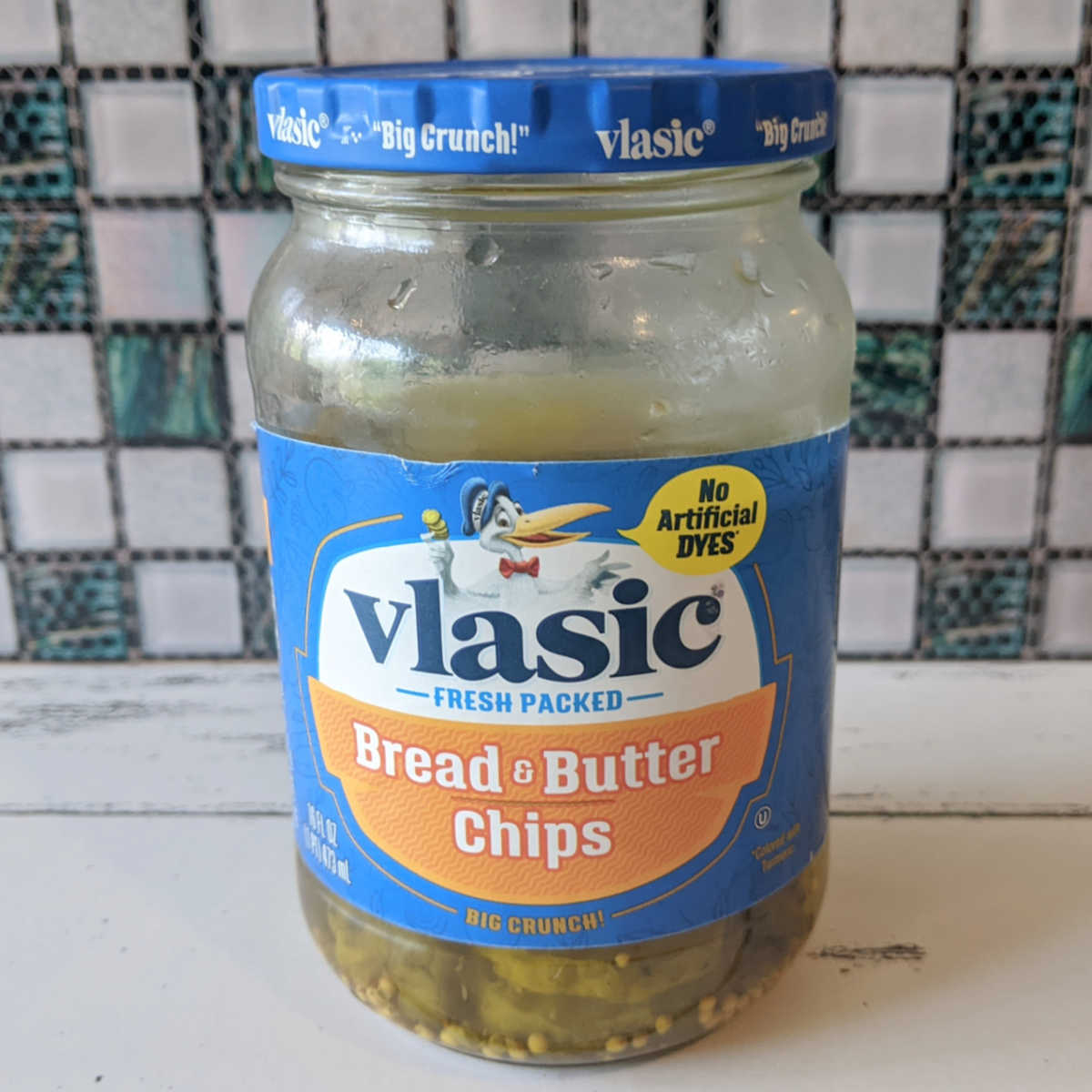 The Breading
It's the breading that gives the air fried bread and butter pickles their crispy texture and delicious flavor.
For this recipe it includes flour, panko bread crumbs, egg, granulated garlic, and salt and pepper to taste.
The flour helps to absorb the moisture from the pickles, while the panko bread crumbs provide a crispy coating.
The egg helps to bind the breading ingredients together, so it stays intact.
Garlic, salt and pepper are added to the flour, which adds flavor to the breading.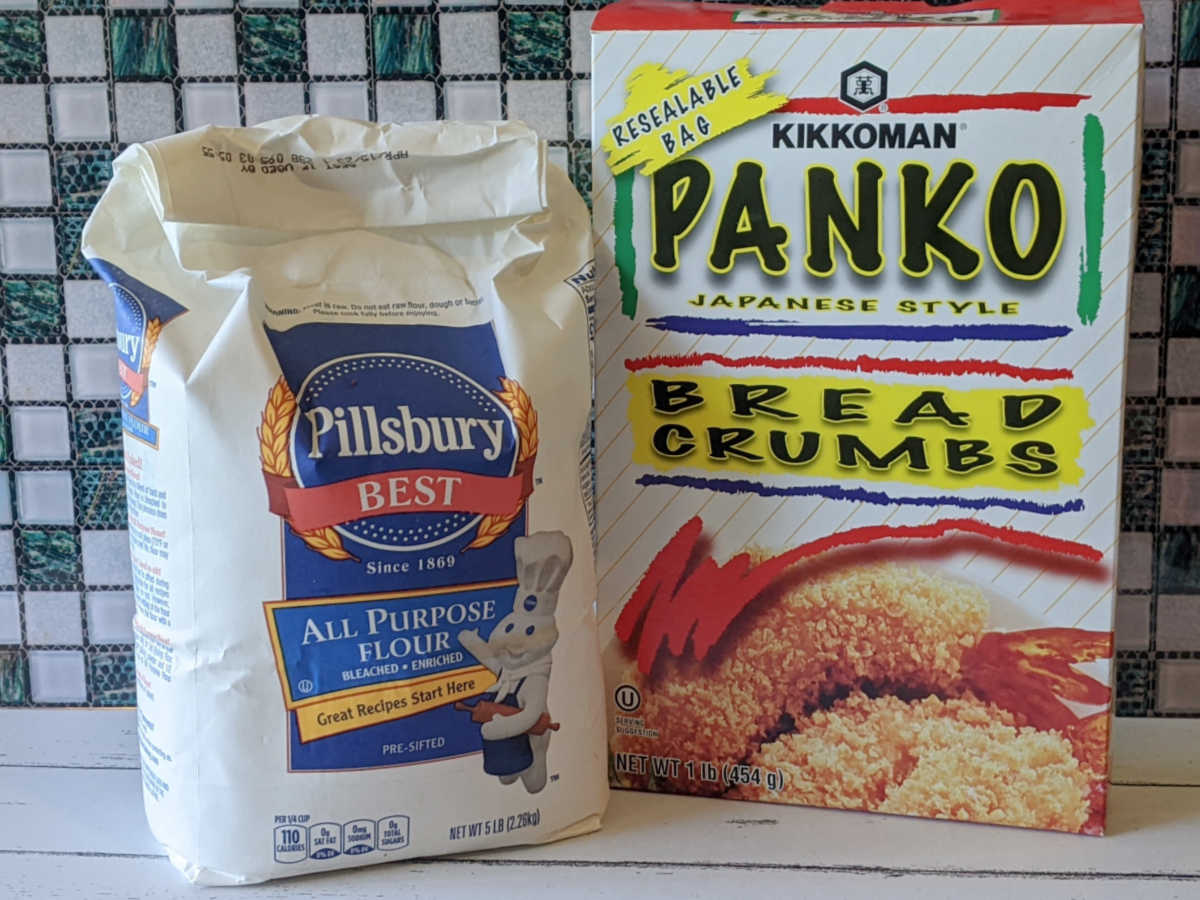 Air Fryers: A Healthy and Convenient Way to Cook
Air fryers are a type of kitchen appliance that cooks food using hot air.
They have become increasingly popular in recent years, since many of us are looking for healthy and convenient ways to cook.
Air fryers work by circulating hot air around the food, which cooks it evenly and quickly.
This method of cooking uses less oil than traditional frying, which makes air fried foods healthier.
Here are some of the benefits of using an air fryer:
Cooks food evenly and quickly
Uses less oil than traditional frying
Convenient for cooking a variety of foods
Can be used to make healthier versions of fried foods
Air fryers are becoming increasingly affordable, and there are many different models available to choose from.
Mine is a simple, inexpensive air fryer, which is all that is needed to make these air fried snack.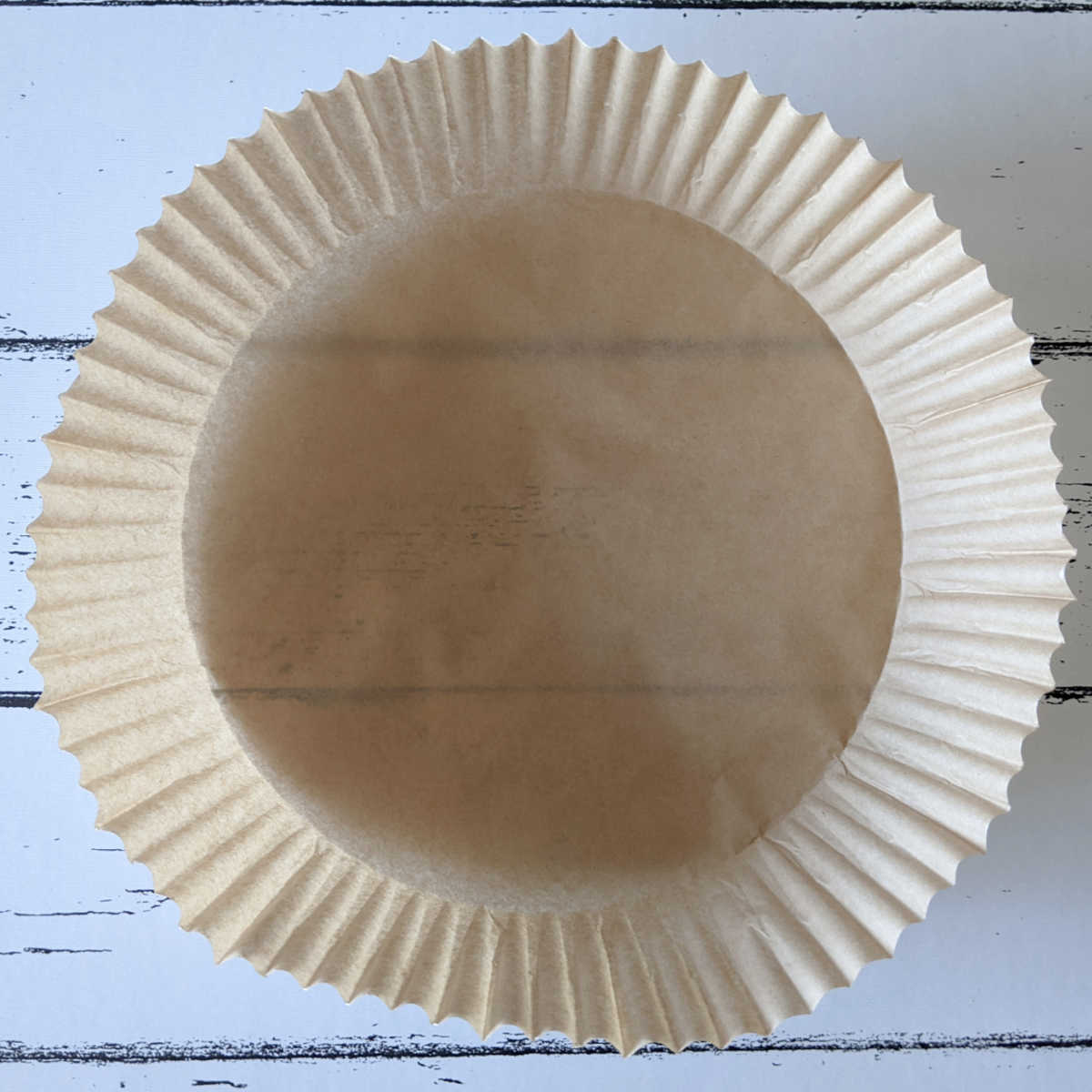 Using Parchment Paper in an Air Fryer
Parchment paper is a great way to keep food from sticking to the air fryer basket and make cleanup a breeze.
It is made of coated paper that is heat-resistant and, also, non-stick.
Parchment paper comes in pre-cut sizes to fit round or square air fryer baskets, and you can choose between solid sheets or sheets with ventilation holes.
It can be a flat sheet or a basket style with sides, which is what I use for this snack recipe.
Parchment paper allows the hot air to circulate more evenly, so it can help to ensure that your food cooks evenly and is crispy on the outside and tender on the inside.
It is a simple and effective way to improve your air frying experience and the quality of your food.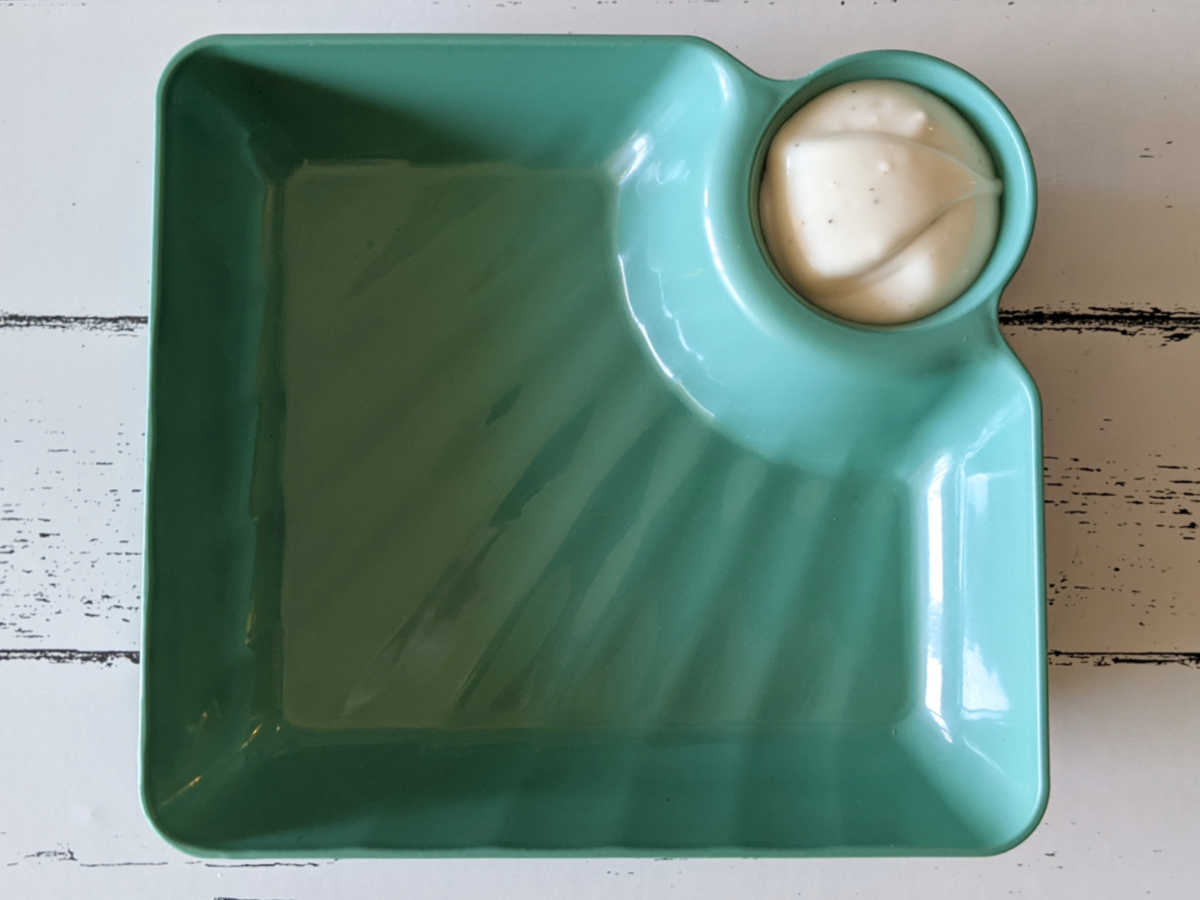 Dipping Sauces for Air Fried Bread and Butter Pickles
Today, I enjoyed my air fryer pickles with blue cheese, but I also like mustard dips to go with the sweet pickle taste.
It's fun to have an appetizer plate with a built in bowl to hold the dip.
Following are pickle dip options, but anything sounds good to you is worth trying:
Ketchup
Mustard
BBQ sauce
Sour Cream
Experiment with different dipping sauces to find your favorite.
Make these delicious and easy Air Fried Bread and Butter Pickles today!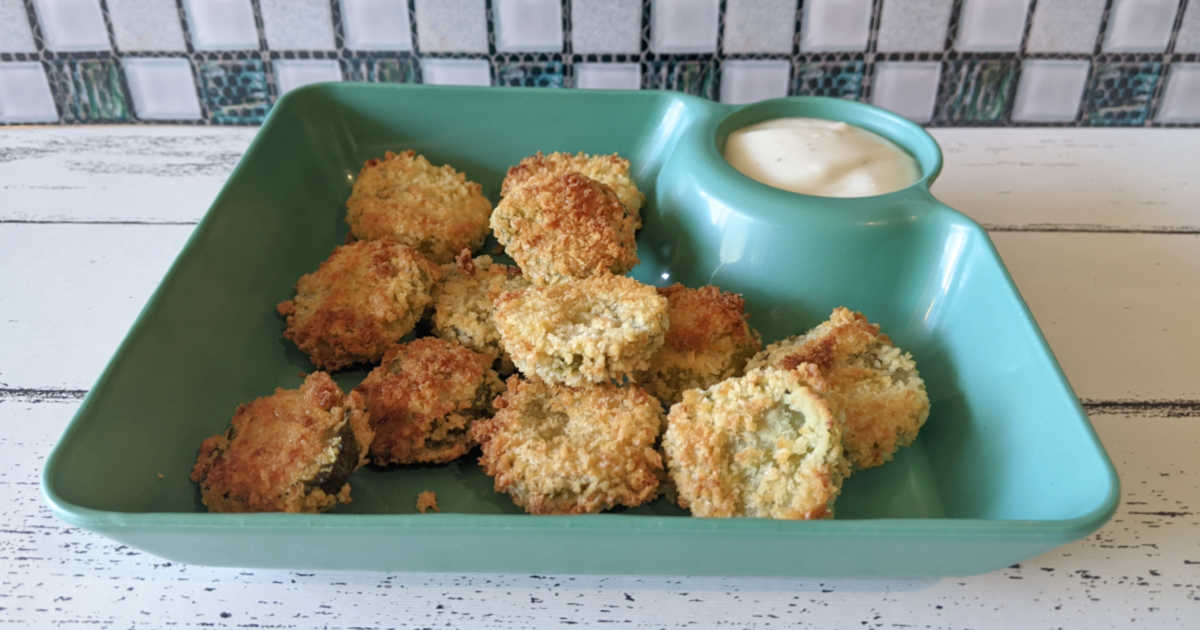 Prep Time: 2 minutes (+ 10 minutes to drain pickles)
Cook Time: 12-15 minutes
Yield: 1 batch, 1-2 servings
Ingredients
12 Bread and Butter Pickle Slices
½ cup All-purpose Flour
1 T Granulated Garlic
Salt and Pepper to Taste
1 Egg
½ cup Panko Bread Crumbs
Cooking Oil Spray
Supplies
Paper Towel
Air Fryer
Basket Style Parchment
3 Small Bowls
Tongs
Instructions
1) Place a paper towel on a plate and arrange the pickle slices in a flat layer to drain off the excess liquid.
2) Measure the flour, garlic, salt and pepper into one bowl and stir to mix together. Add the egg to another bowl and beat it. Measure the panko bread crumbs into the third bowl.
3) Place parchment paper in the air fryer basket.
4) Dip a pickle slice into the flour, followed by the egg and then the panko. Place on the parchment in the air fryer basket.
5) Repeat with the other pickles arranging them in a single layer on the parchment. Spritz with cooking oil spray.
6) Set your air fryer to 350 and cook for 6-7 minutes.
7) Use tongs to carefully flip the pickles over and spritz with cooking oil spray to crisp the other side. Cook for another 6-7 minutes until golden brown.
8) Serve hot with your favorite dipping sauce.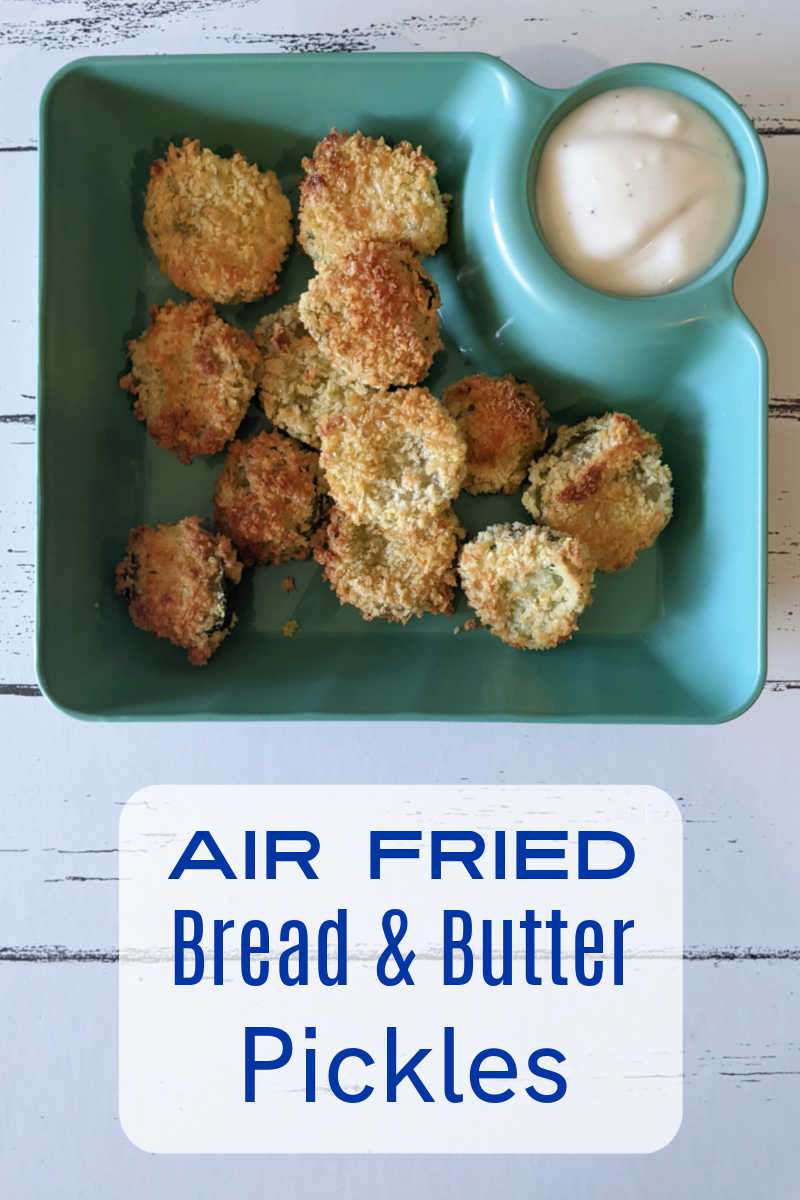 More from Mama Likes To Cook
Check out my vegetarian recipes, so you can get more great ideas for baking, cooking, blending and juicing.
Air Fryer Recipes
Shop Now
For a beautiful assortment of kitchen necessities and food gifts for the whole family, check out the current deals at these online stores.
Are you ready to have some delicious fun in the kitchen?