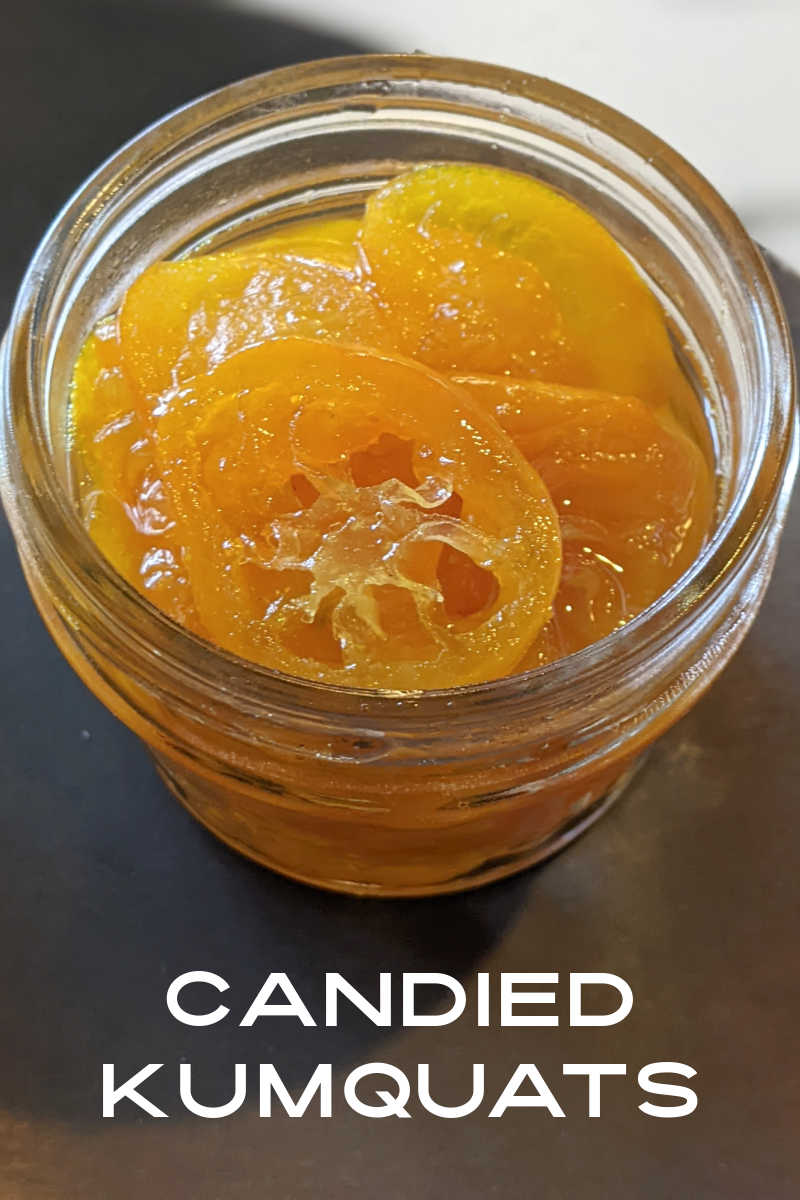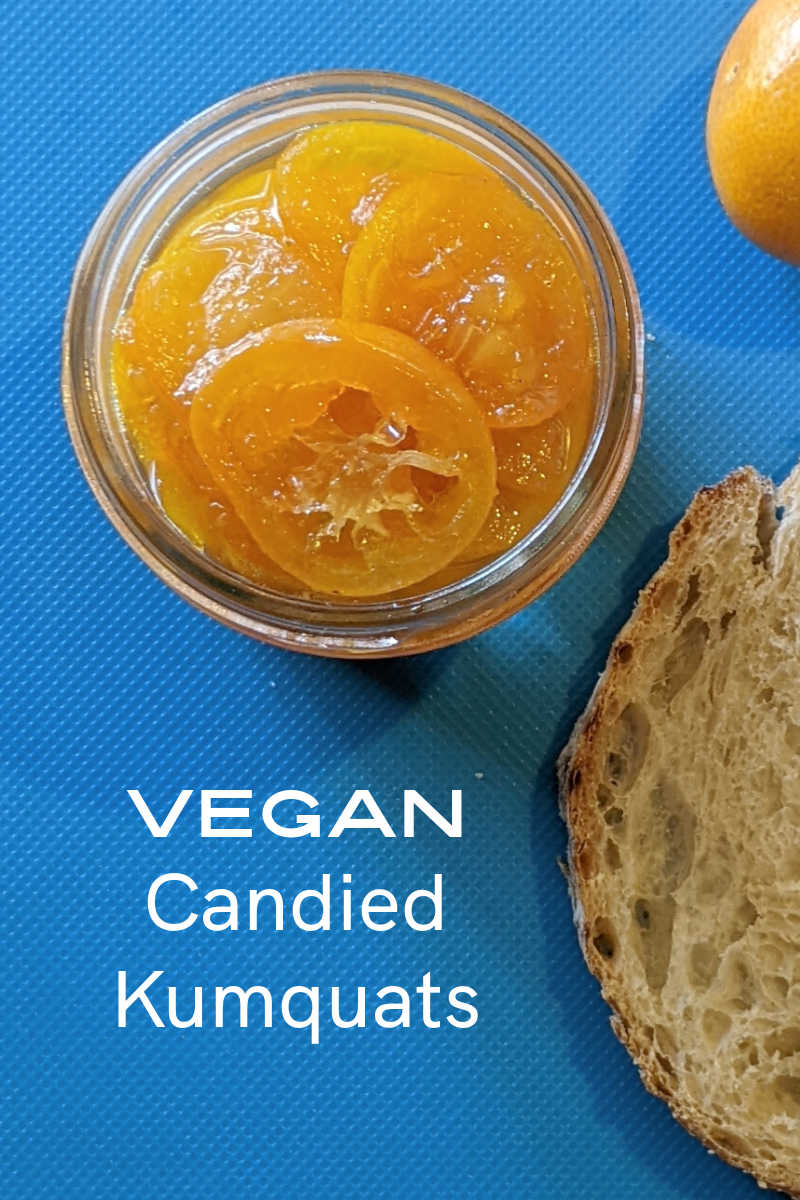 Candied Kumquats: An Easy Vegan Treat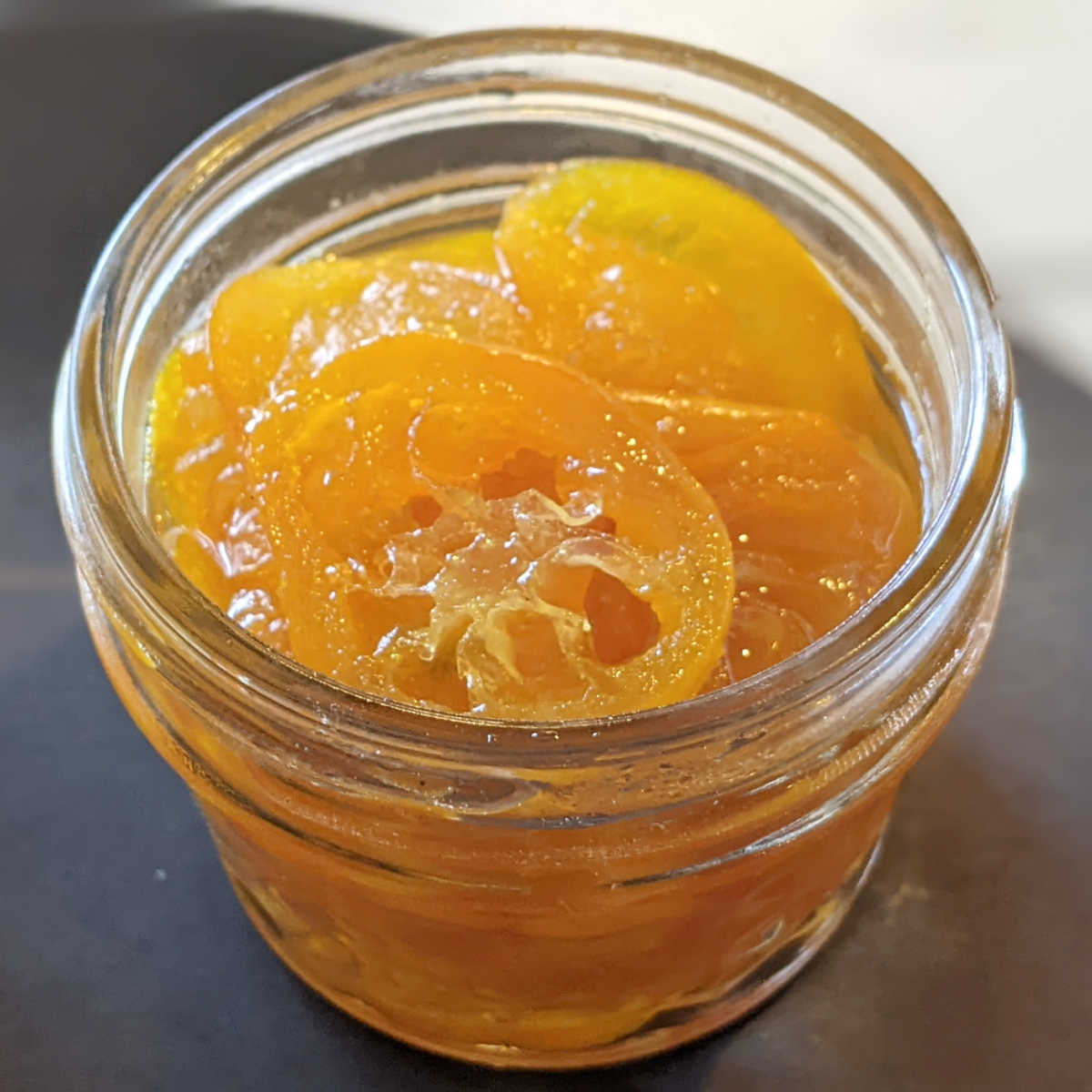 Make this easy vegan candied kumquats recipe for a sweet treat that is bursting with the taste of fresh citrus.
The recipe is made with simple ingredients including fresh kumquats and agave nectar, so it is both vegan and gluten-free.
Candied kumquats have a bright sweet and tart citrus flavor that is a treat for your tastebuds.
Additionally, the bold orange color is beautiful.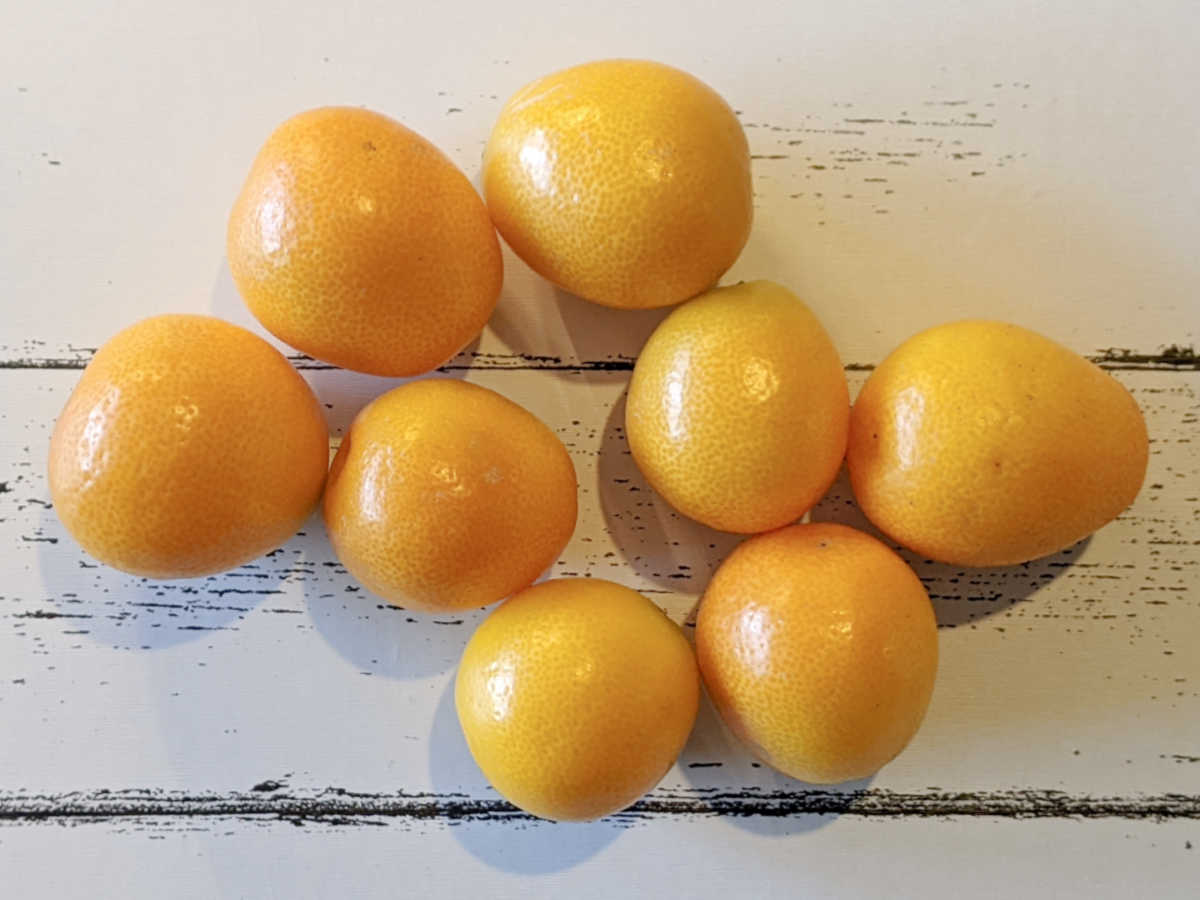 Kumquats
Kumquats are a small, orange-sized citrus fruit that is native to China and also grows well here in California.
The fruit is known for its sweet and sour flavor, and edible peel.
Kumquats can be eaten fresh as is or used in recipes.
They look similar to an orange or mandarin, but are smaller.
Flavor
Kumquats have a sweet and sour flavor that is unique to this fruit.
The peel is sweet, while the pulp is tart.
When you bite into a whole kumquat, you get a sweet tart flavor explosion in your mouth.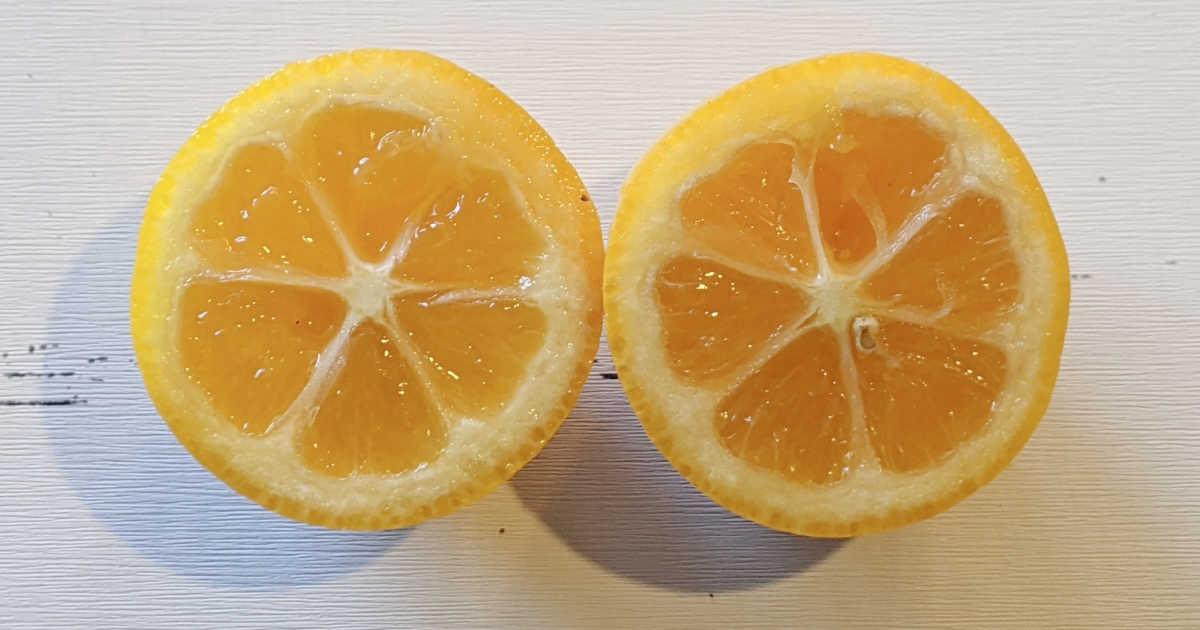 Meiwa Kumquats
The variety of kumquats I used for this recipe are Meiwa kumquats, which are a natural hybrid of two other varieties, Nagami and Marumi.
They are larger than other kumquat varieties and have a sweeter, tangy flavor.
Like other kumquats, the peel of the Meiwa kumquat is also edible.
If you have a Meiwa tree or can find this variety at a local farmer's market, it is my favorite.
Fortunately, I have a generous friend with a prolific tree and I'm hoping to get my own Meiwa tree soon.
However, any type of kumquat from the grocery store or your own backyard is delicious when candied.
Agave Nectar: A Vegan Alternative to Honey
Candied citrus is often made with honey, but my recipe is vegan and uses agave nectar instead of honey.
This was an easy recipe swap that results in delicious candied kumquats that don't taste like they are missing anything.
Agave nectar is a natural sweetener that is made from the sap of the blue agave plant.
It is a clear, golden liquid that is similar in taste to honey, but is vegan.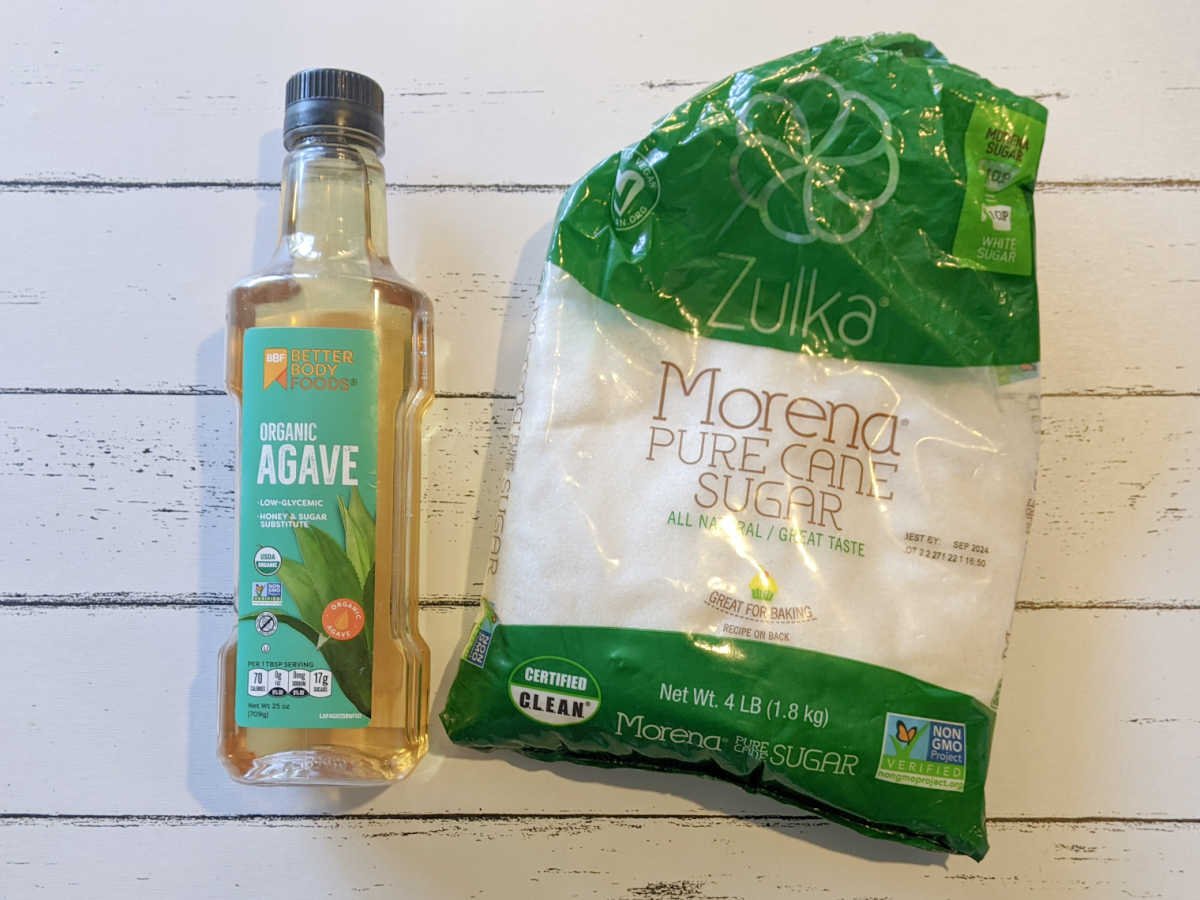 Uses for Candied Kumquats
Candied kumquats are a delicious, beautiful and versatile treat that can be enjoyed in many different ways.
They can be eaten as is, added to desserts, or used in a variety of other ways.
Today, I enjoyed the kumquats with a rustic sourdough bread.
Another type of bread, biscuits, scones or croissants would be good, too.
Use them as a topping for yogurt, cottage cheese or oatmeal, when you want to add a pop of color and flavor to your meal.
You may also enjoy adding them to cocktails or mocktails or using them in other savory or sweet recipes.
However you decide to enjoy your vegan candied kumquats, they are delicious!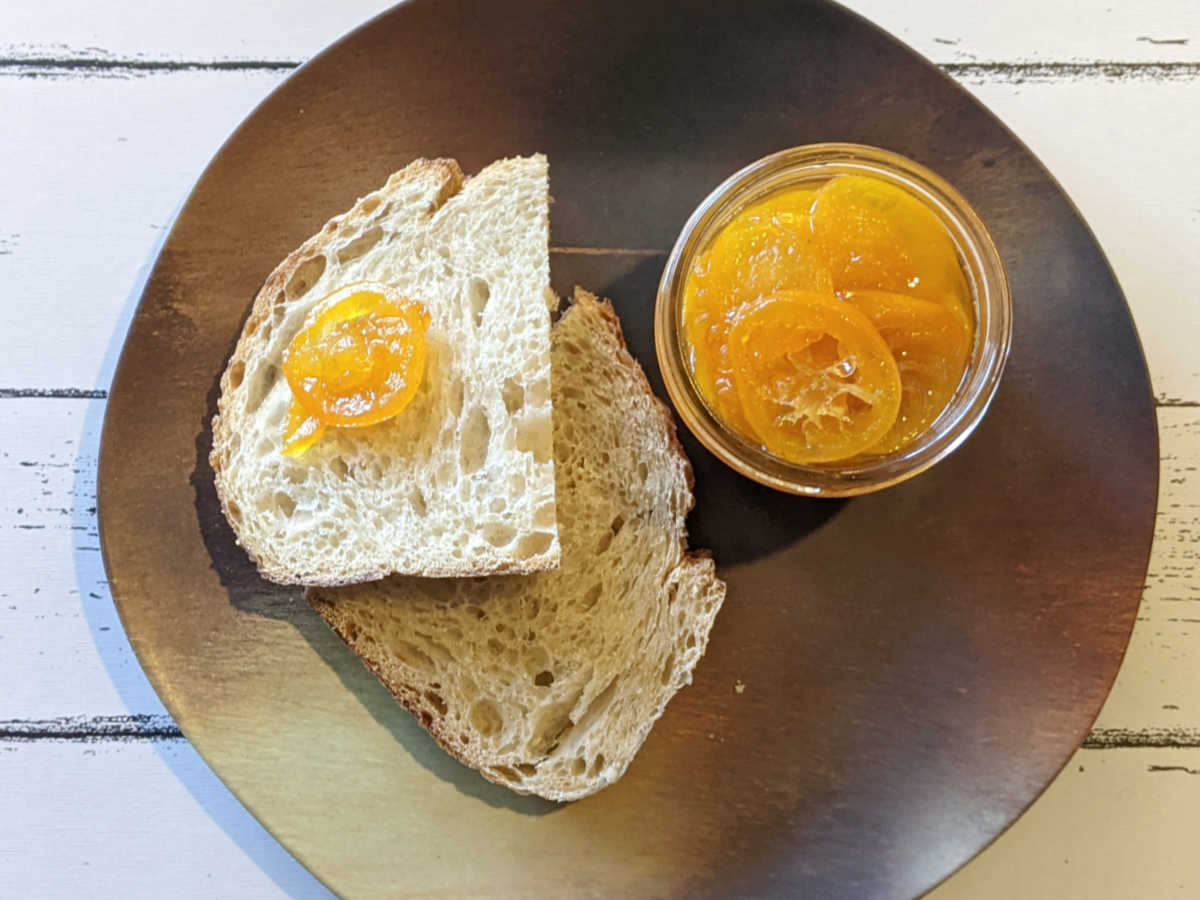 Vegan Candied Kumquats Recipe
Prep Time: 5 minutes
Cook time: 15 minutes
Yield: 2 to 4 servings
Ingredients
1 cup Kumquats, sliced thin
1/4 cup Granulated Sugar
1/4 cup Water
2 T Agave Nectar
1 t Vanilla Extract
Supplies
Knife
Measuring Cup
Measuring Spoon
Saucepan
Heat Resistant Spoon (Stainless Steel, Silicone…)
Mason Jar
Instructions
1) Cut kumquats into thin round slices and remove any seeds.
2) Measure sugar, water and agave into saucepan and bring to a boil, stirring frequently so that sugar dissolves and doesn't stick.
3) Remove from heat. Add kumquat slices to the pan in a flat layer so they are mostly covered with liquid.
4) Return to the stove and set the heat to low. Cook for about 5 minutes, stirring occasionally.
5) Stir in the vanilla and scoop the kumquat slices out of the hot liquid and into a mason jar.
6) Return the saucepan to the stove and cook the liquid for about 5 minutes to reduce and thicken it. Add part or all of the thick liquid to the jar on top of the kumquats as needed to cover the fruit.
7) Let cool.
8) Serve immediately or store in the refrigerator.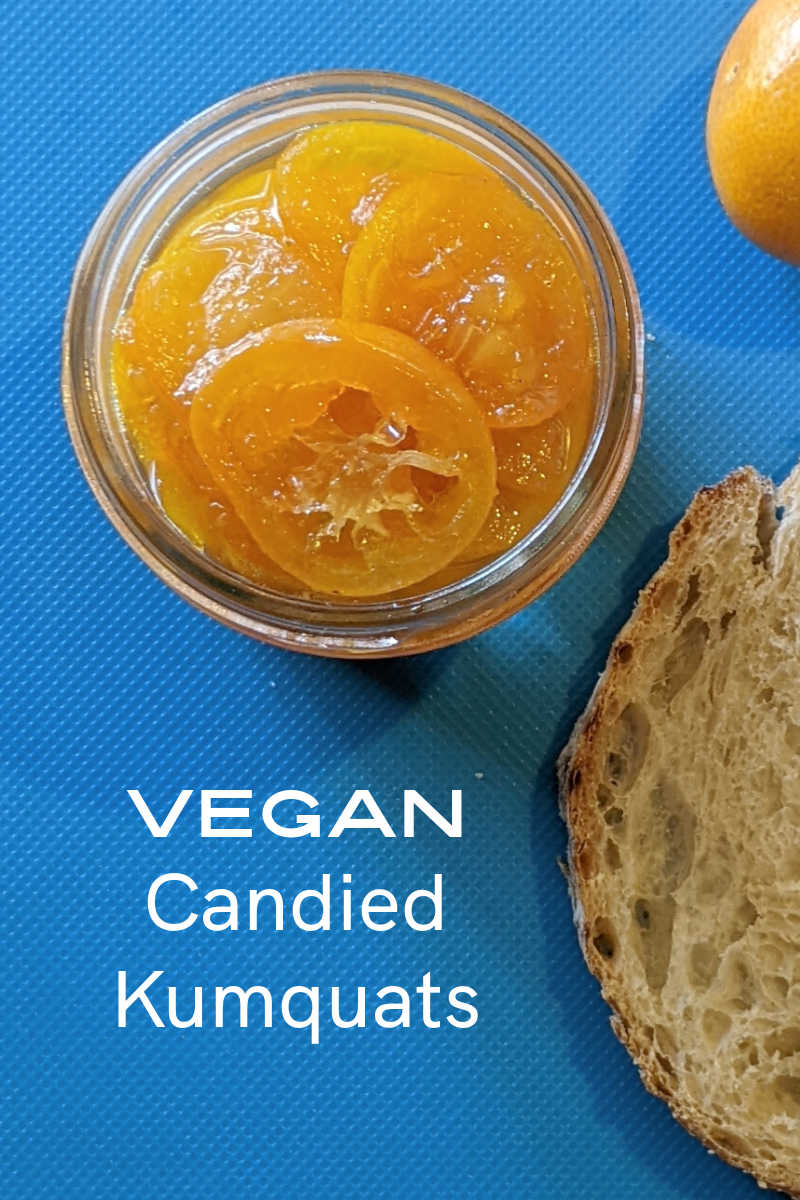 More from Mama Likes To Cook
Check out my vegetarian recipes, so you can get more great ideas for baking, cooking, blending and juicing.
Orange Recipes
Jam Recipes
Marmalade Recipes
Shop Now
For a beautiful assortment of kitchen necessities and food gifts for the whole family, check out the current deals at these online stores.
Are you ready to have some delicious fun in the kitchen?