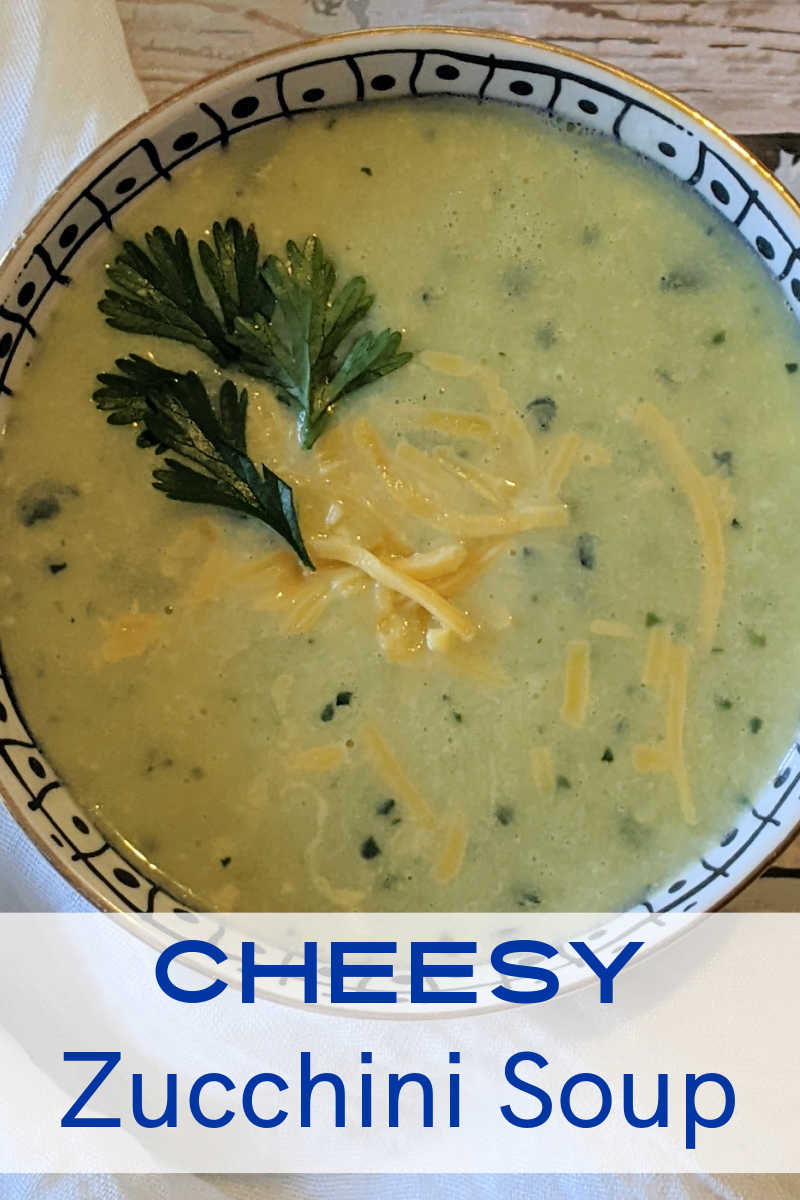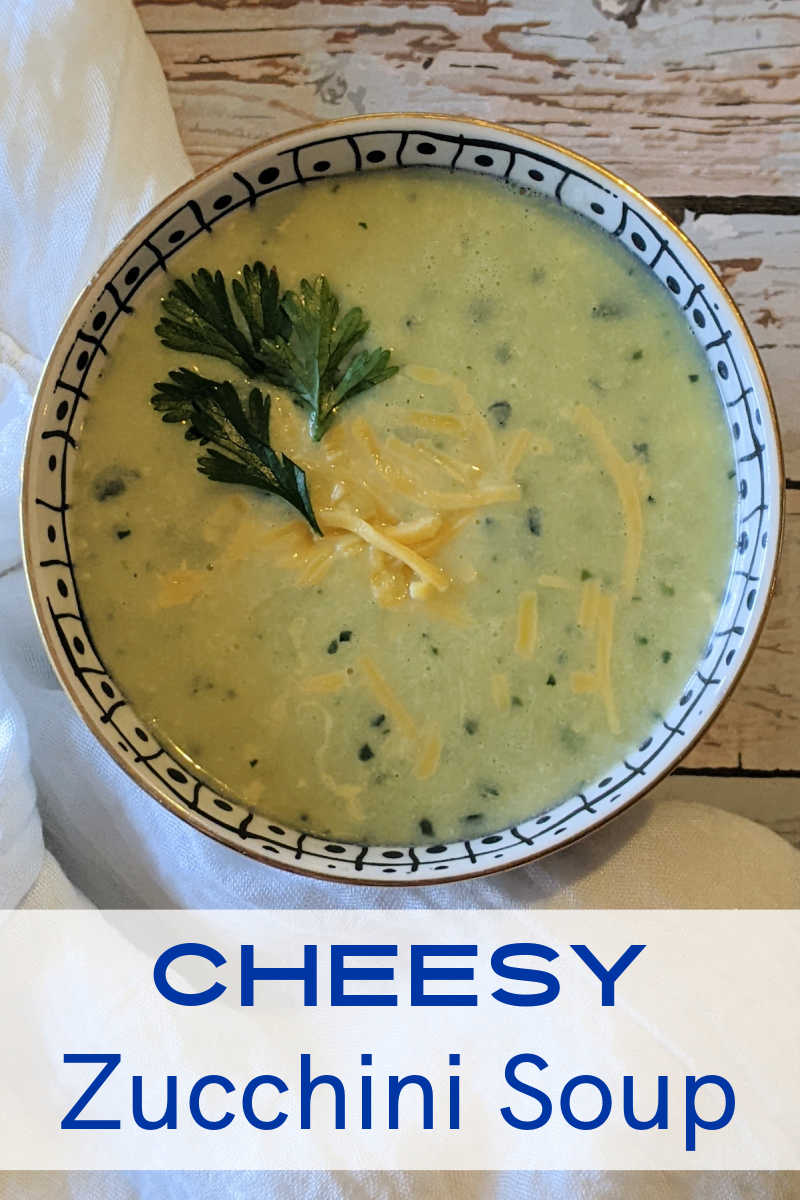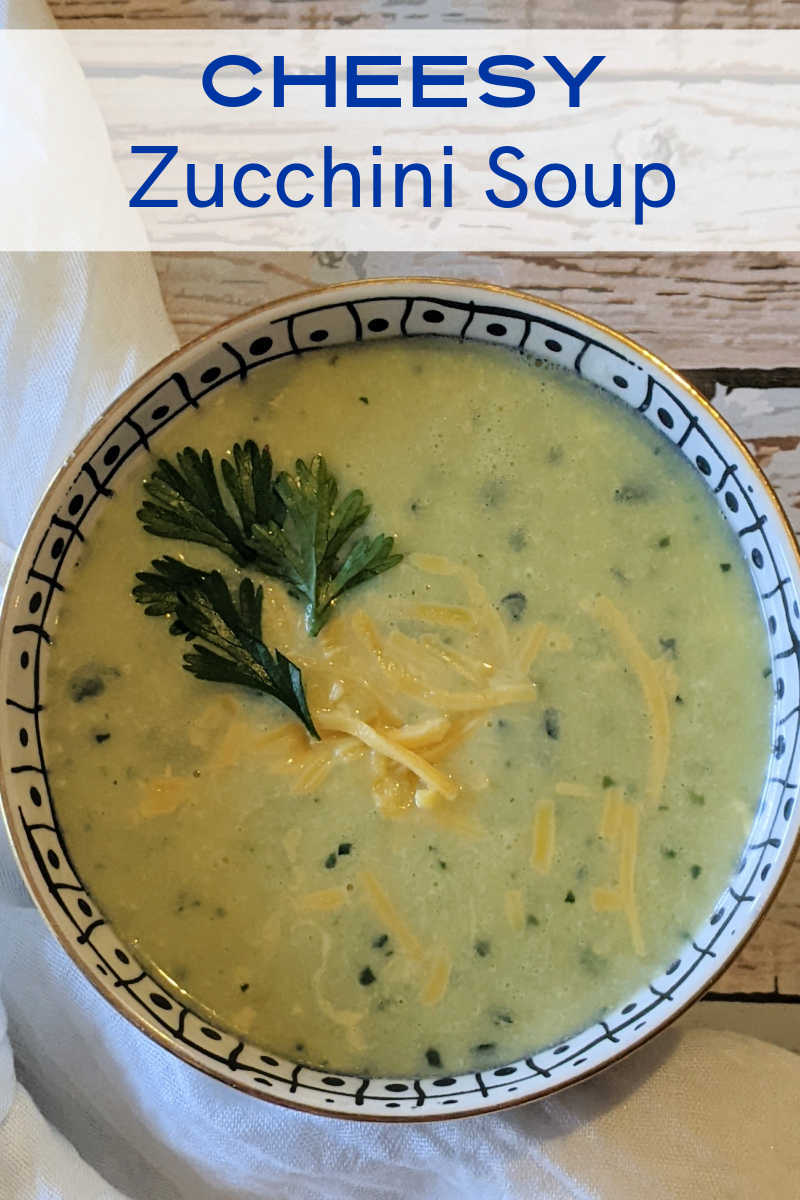 Cheesy Zucchini Soup: A Healthy and Delicious Way to Use Up Zucchini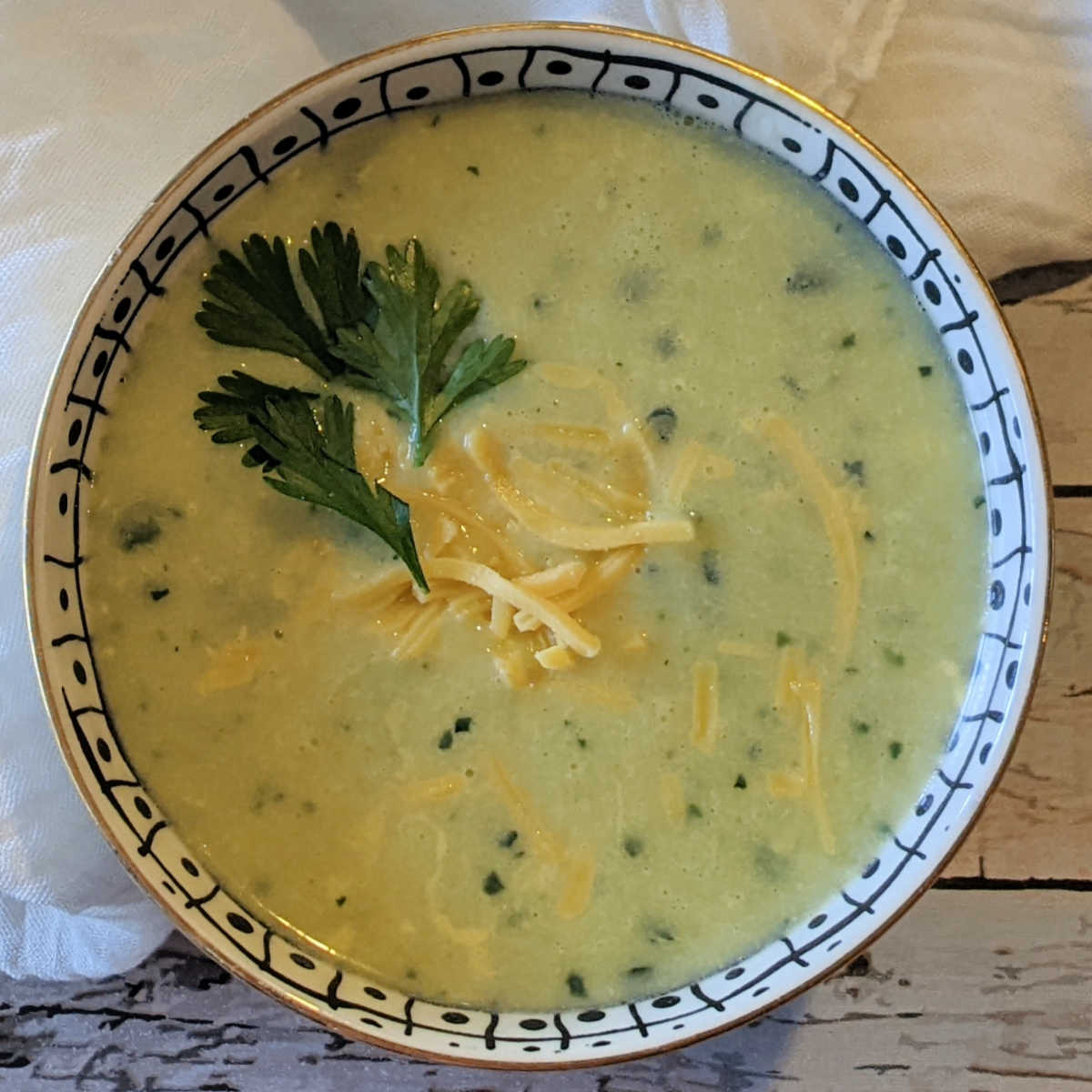 This creamy and flavorful cheesy zucchini soup is the perfect and easy way to use up too much zucchini from your garden.
The quick soup recipe is made with simple ingredients, including zucchini and coconut milk, so it can be ready in under 30 minutes.
This easy zucchini soup is a great option for a light meal or as part of a bigger meal, and it's also a healthy way to get your daily dose of vegetables.
The coconut milk adds a creamy richness to the soup, while the cheese adds a touch of decadence.
Zucchini is a delicious and versatile vegetable that can be used in a variety of dishes.
One of my favorite ways to use zucchini is in soup.
This cheesy zucchini soup recipe is easy to make on the stovetop and is perfect for when your garden is giving you lots of zucchini.
It is also a great way to get your kids to eat their vegetables.
So next time you have a bumper crop of zucchini, be sure to make this cheesy zucchini soup.
Your family will love it!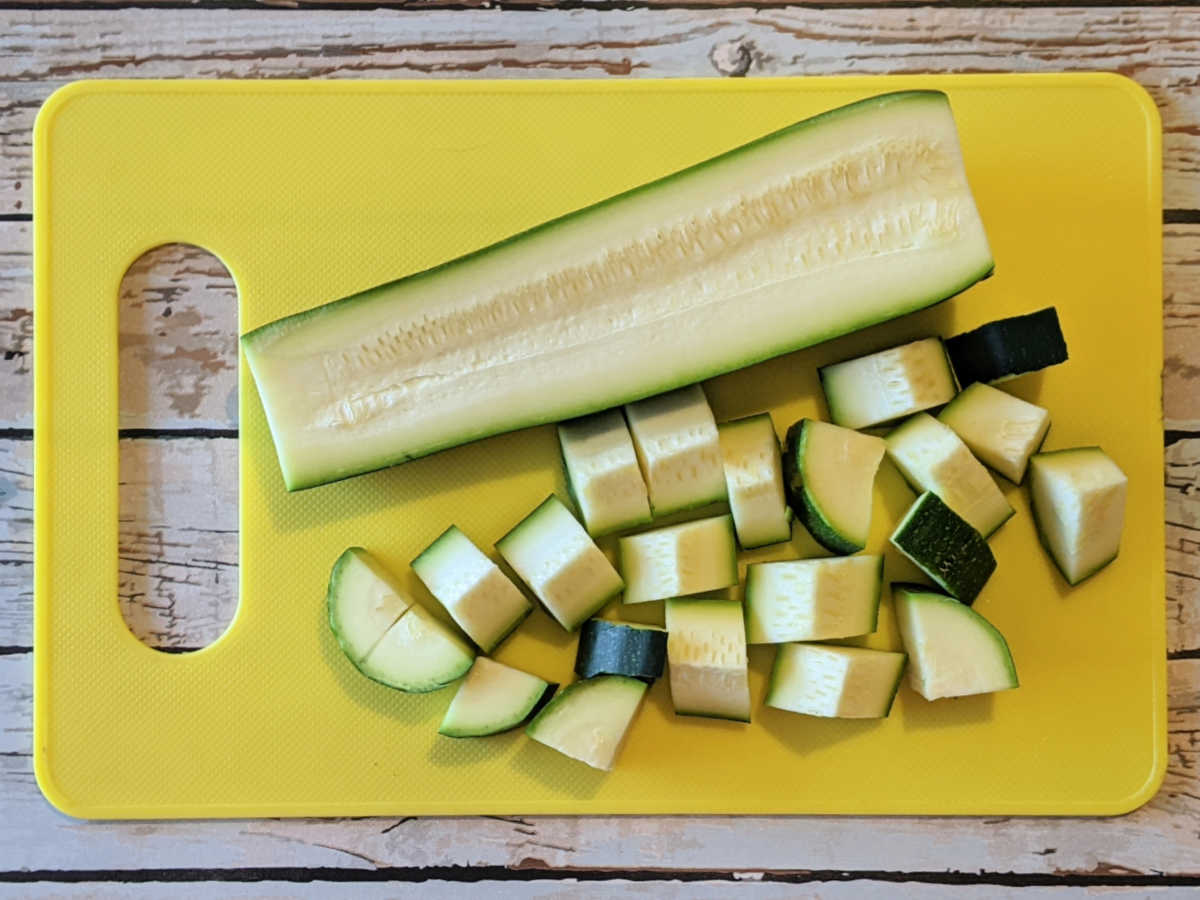 Zucchini
Zucchini is a delicious and nutritious vegetable that is popular with kids and adults alike.
It is also easy to grow in the garden, making it a great choice for home gardeners.
Zucchini is a member of the squash family and is related to cucumbers, melons, and pumpkins.
It is a summer squash, which means that it is best harvested when it is young and tender.
This healthy vegetable can be eaten raw, cooked, baked or as the main ingredient for soup.
Zucchini is a good source of vitamins A, C, and K, as well as fiber and potassium.
It is also low in calories and fat, making it a healthy choice for people of all ages.
If you are looking for a delicious, nutritious, and easy-to-grow vegetable, zucchini is a great choice.
It is a versatile vegetable that can be used in a variety of dishes like this healthy zucchini soup recipe and is a good source of vitamins, minerals, and fiber.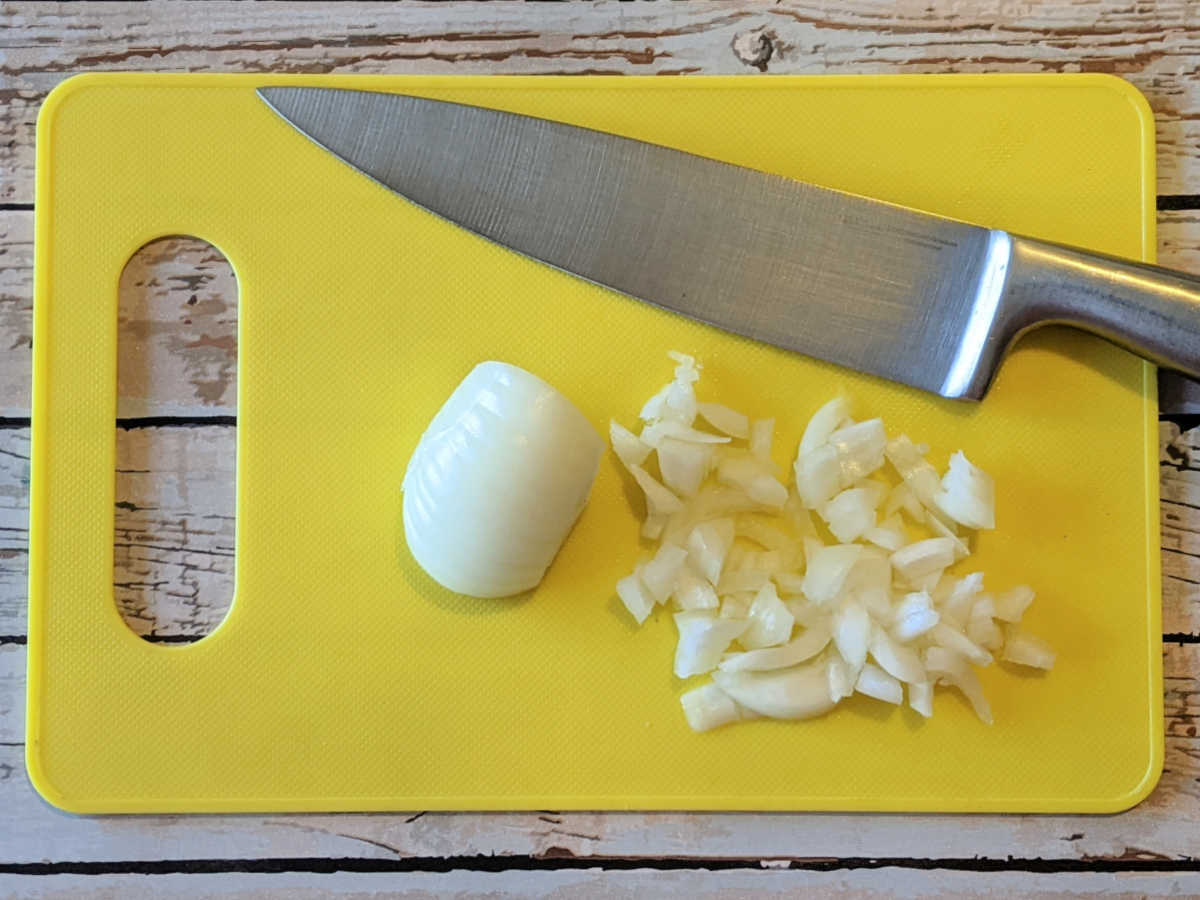 Onions
Onions are a member of the Allium family, which also includes garlic, leeks, and shallots.
They are a popular vegetable that is used in many different cuisines around the world.
Onions are a good source of dietary fiber, vitamin C, and potassium.
Additionally, they also contain quercetin, an antioxidant that has been linked with a number of health benefits, including reduced inflammation and improved heart health.
There are many different types of onions, each with its own unique flavor profile. Some of the most common types of onions include:
I used a sweet white onion, when I made this quick soup recipe, but another type would also be good.
No matter what type of onion you choose, onions are a versatile and delicious vegetable that can be used in a variety of dishes.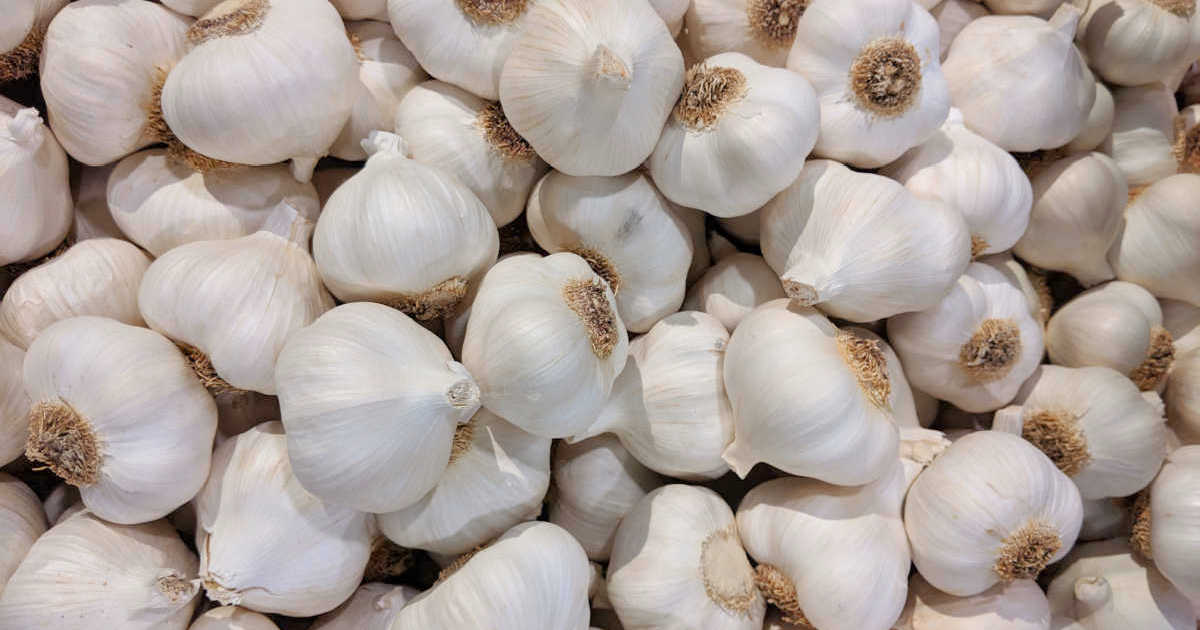 Garlic
Garlic is a perennial plant that is native to Central Asia.
It is a member of the Allium family, which also includes onions, leeks, and shallots.
This popular spice and herb is used in cooking all over the world.
Garlic is a good source of vitamins A, C, and B6, as well as selenium and manganese.
It also contains allicin, a compound that has been shown to have antibacterial, antifungal, and antioxidant properties.
Garlic is a delicious and healthy ingredient that can be enjoyed in a variety of ways, including to add flavor and nutrition to this vegetable soup recipe.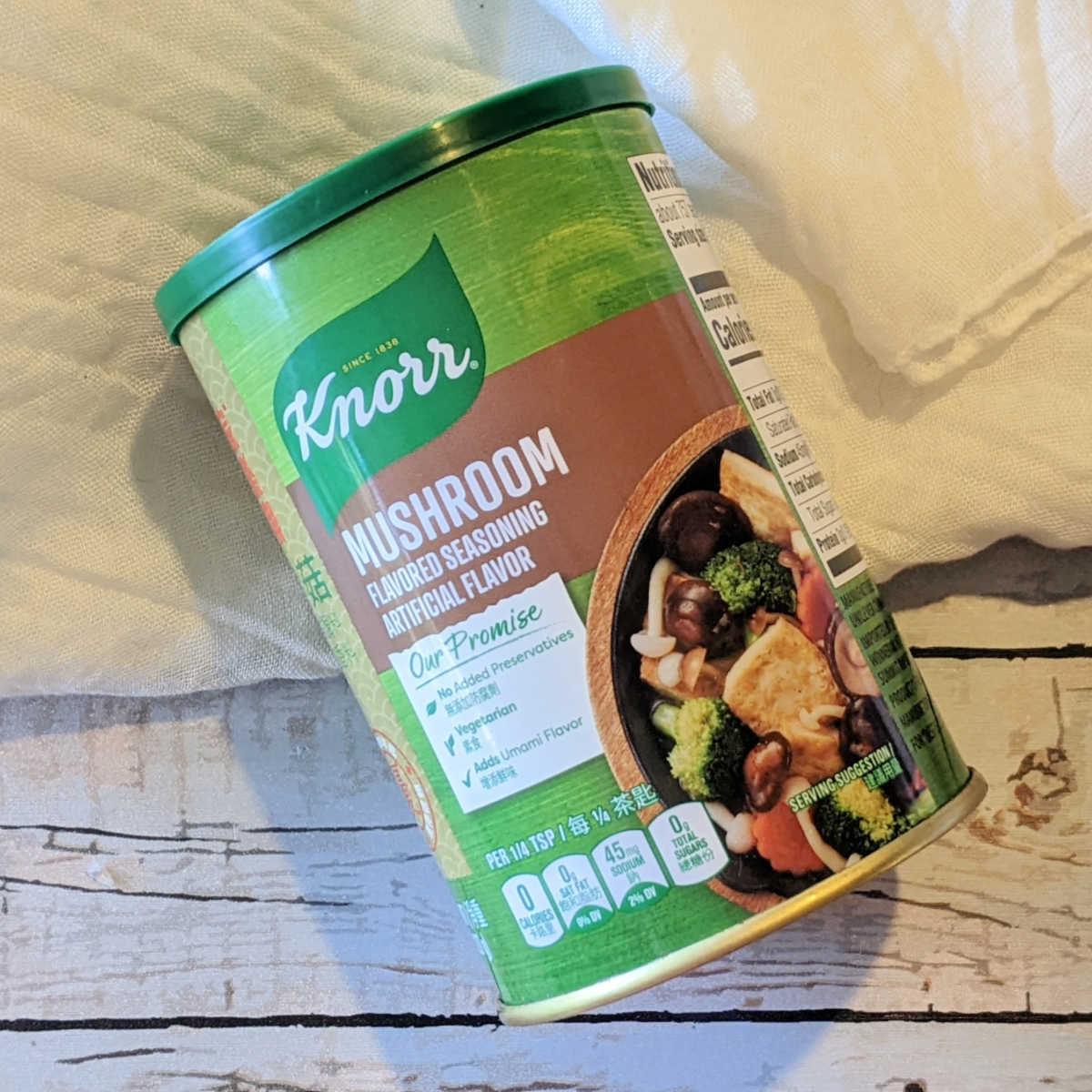 Mushroom Seasoning
Knorr Mushroom Seasoning is a popular seasoning that is made with dried mushrooms and can be used in a variety of dishes, including soups, stews, sauces, and marinades.
It is a good source of umami, a savory flavor that is often described as "meaty" or "brothy" even though it is vegetarian and vegan.
Umami is one of the five basic tastes, along with sweet, sour, salty, and bitter.
This type of flavor is often used to enhance the flavor of food to make the whole dish more flavorful.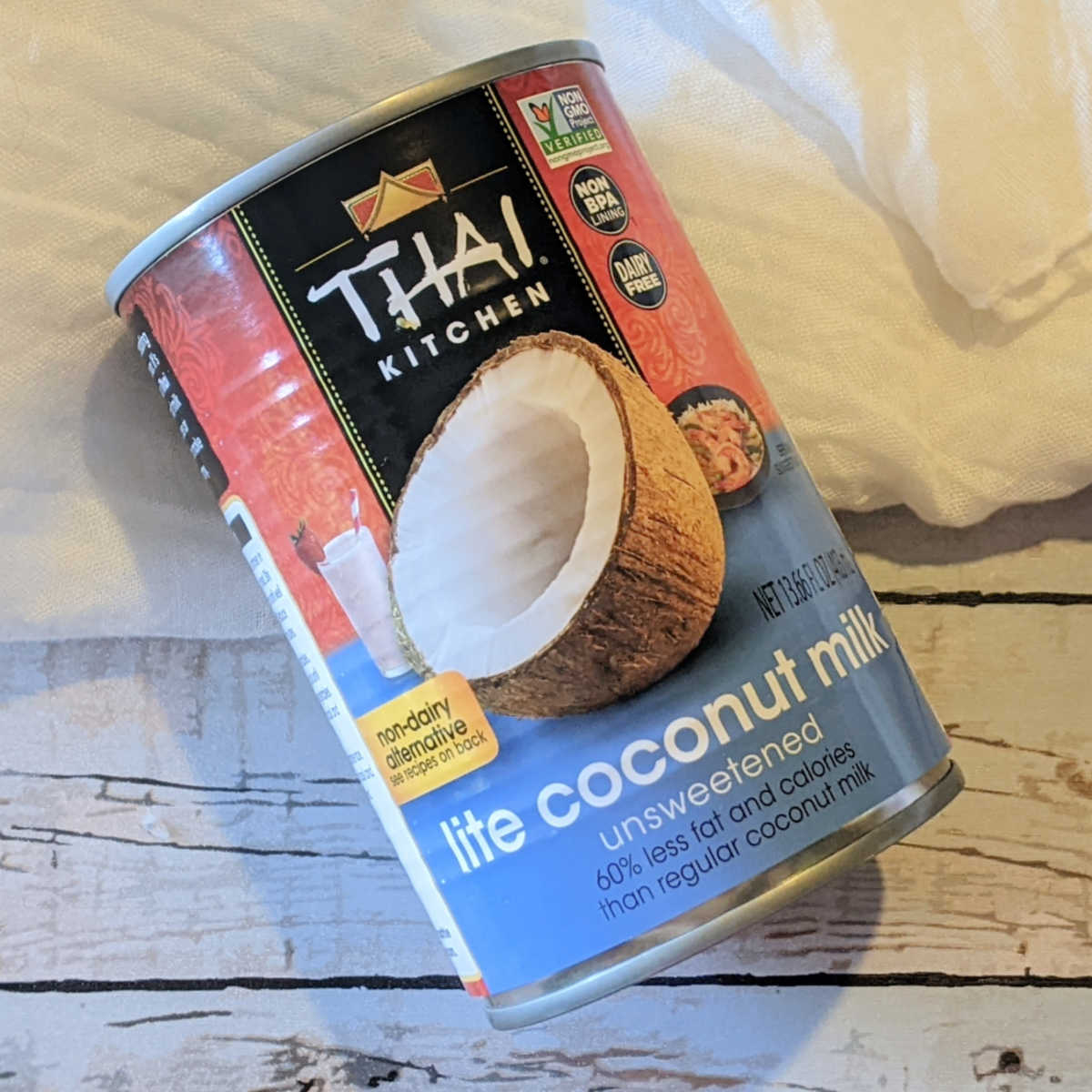 Lite Coconut Milk
Canned unsweetened lite coconut milk is a popular ingredient in many Southeast Asian dishes.
It is made from the flesh of mature coconuts that have been grated and then soaked in water.
The resulting liquid is then strained to remove the coconut meat, leaving behind a thick, creamy milk.
Lite coconut milk is lower in fat and calories than regular coconut milk, making it a healthier option for those who are watching their weight.
It is also a good source of dietary fiber and protein.
Lite coconut milk has a mild, sweet flavor that pairs well with a variety of dishes.
If you do not have lite coconut milk, you can substitute regular coconut milk.
However, it is rich, so you may need to adjust the amount of coconut milk you use by thinning it with water.
Lite coconut milk is great for this easy zucchini recipe right out of the can.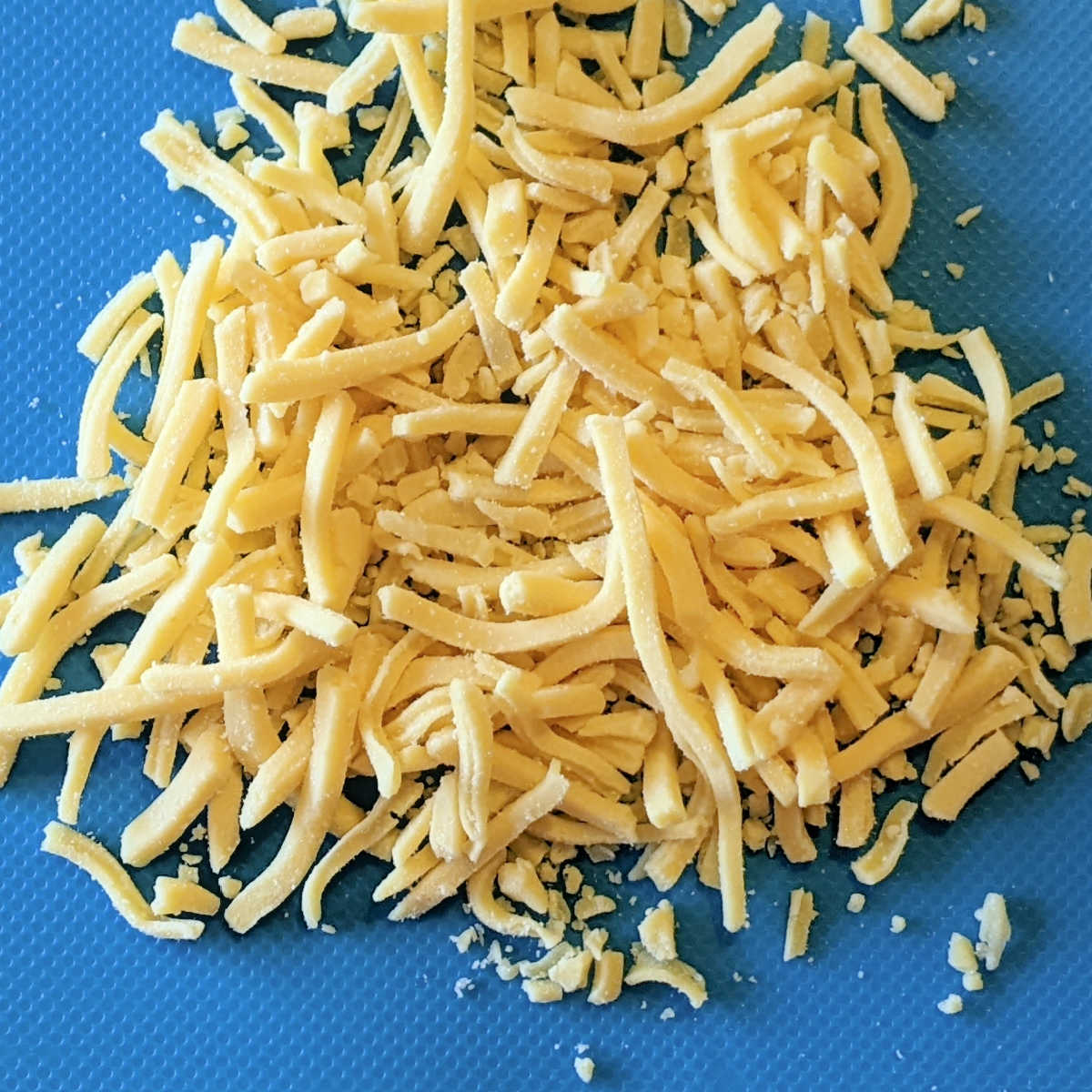 Cheese
When I made this cheesy soup, I used Land O'Lakes shredded cheese that melts very well and has a flavor that goes well with zucchini.
You are welcome to use a different type of cheese, if you'd like.
When choosing cheese for this recipe, it is important to consider the flavor and texture of the cheese.
Some cheeses, such as cheddar, are good for melting, while others, such as parmesan, are better for grating.
Mozzarella, cheddar, or Monterey Jack are good choices for this soup.
You can also use American cheese or Velveeta, since they melt quickly and will give your zucchini soup a smooth texture.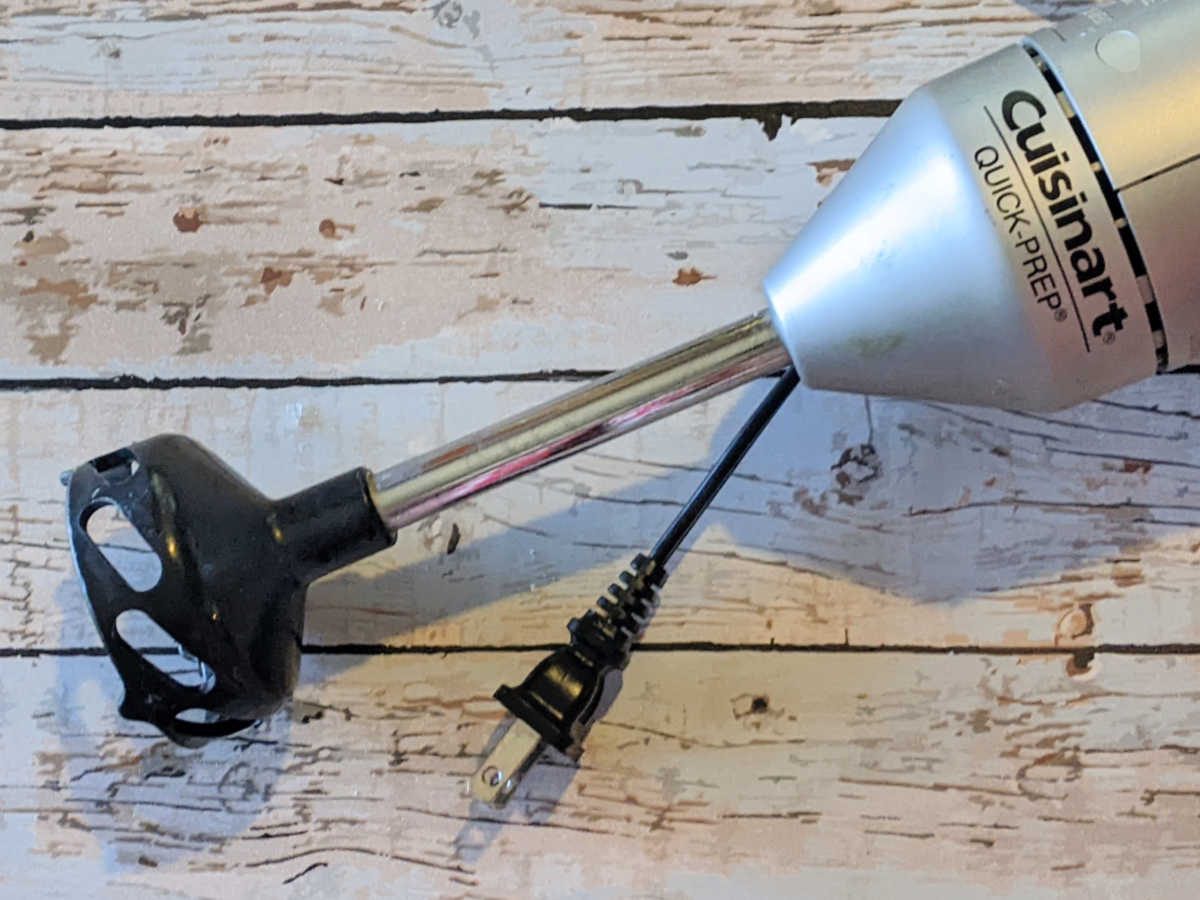 Immersion Blender
A handheld immersion blender, also known as a stick blender, is a small, handheld kitchen appliance that is used to puree, emulsify, and mix foods.
It is a versatile tool that can be used for a variety of tasks, such as blending soups, sauces, smoothies, and vinaigrettes.
Handheld immersion blenders are typically made up of two parts: a motor base and a blending wand.
The motor base is the power source for the blender, and it can be corded or cordless.
The blending wand is the part of the blender that does the actual blending.
It is typically made of stainless steel or plastic, and it has a variety of attachments that can be used for different tasks.
Handheld immersion blenders are a convenient and easy-to-use tool that can be used for a variety of tasks.
They are a great addition to any kitchen, and they can save you time and effort when cooking.
I hope you enjoyed the recipe for Creamy Zucchini Soup.
This is a great way to enjoy zucchini in a fresh, new way!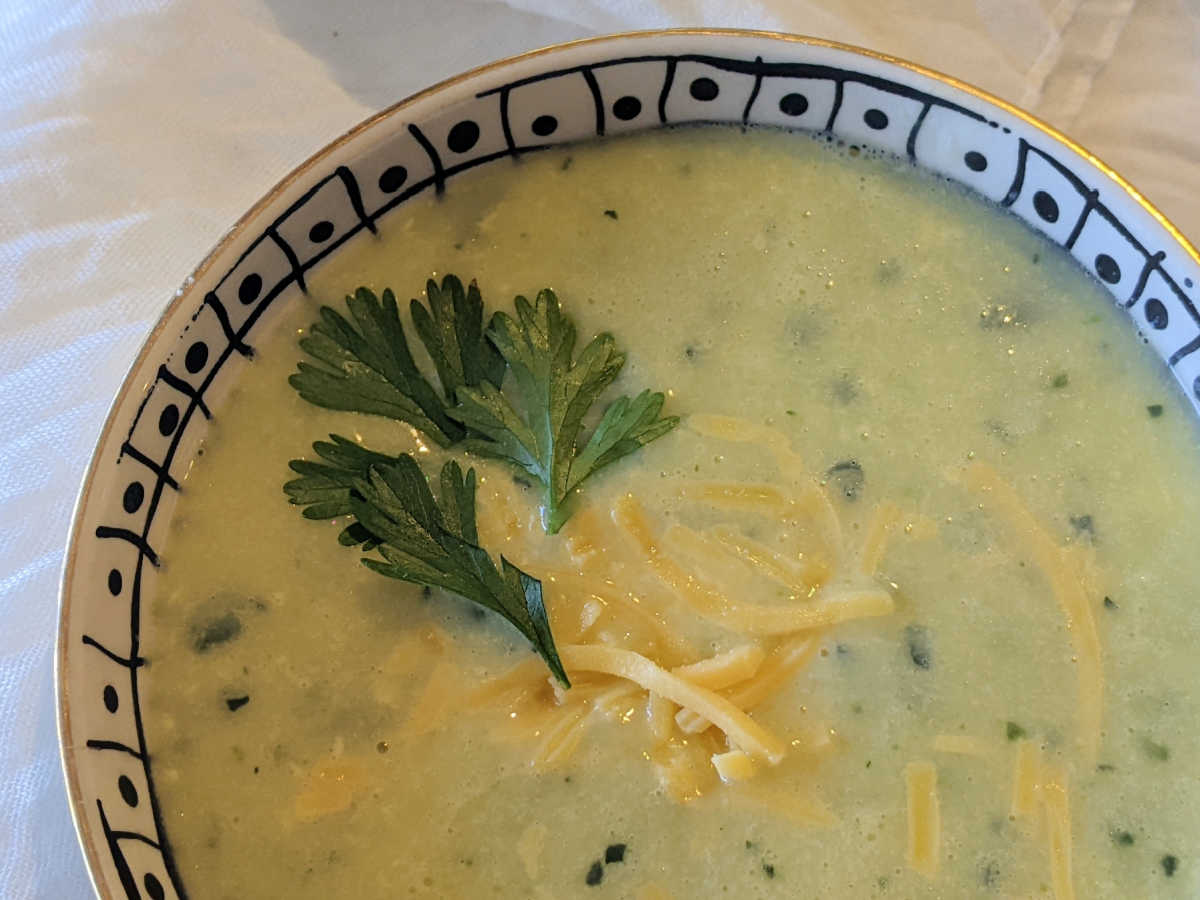 Cheesy Zucchini Soup Recipe
Prep time: 5 minutes
Cook time: 20 minutes
Yield: 4 servings
Ingredients
3 cups Zucchini, cubed
1/4 cup Onion, chopped
2 cloves Garlic, minced
3 cups Water
2 t Mushroom Seasoning Powder (or another Bouillon Powder)
1 can Unsweetened Lite Coconut Milk
1 cup Shredded Cheese
Supplies
Knife
Measuring Cup
Measuring Spoon
Soup Pan
Spoon
Immersion Blender
Instructions
1) Cut the zucchini into cubes, chop the onion and mince the garlic. Smaller pieces of zucchini will cook faster than larger ones.
2) Add the prepared zucchini, onion, garlic and water to your pan and bring to a boil.
3) Reduce heat to a simmer and cook for 10-15 minutes stirring occasionally, so that the zucchini is tender.
4) Remove from stove and blend with the immersion blender.
5) Return to the stove and stir in mushroom seasoning, coconut milk and shredded cheese. Cook for a few minutes more, so the cheese is melted and all ingredients are thoroughly combined.
6) Optionally, top each serving with cheese and/or a fresh herb garnish.
7) Enjoy!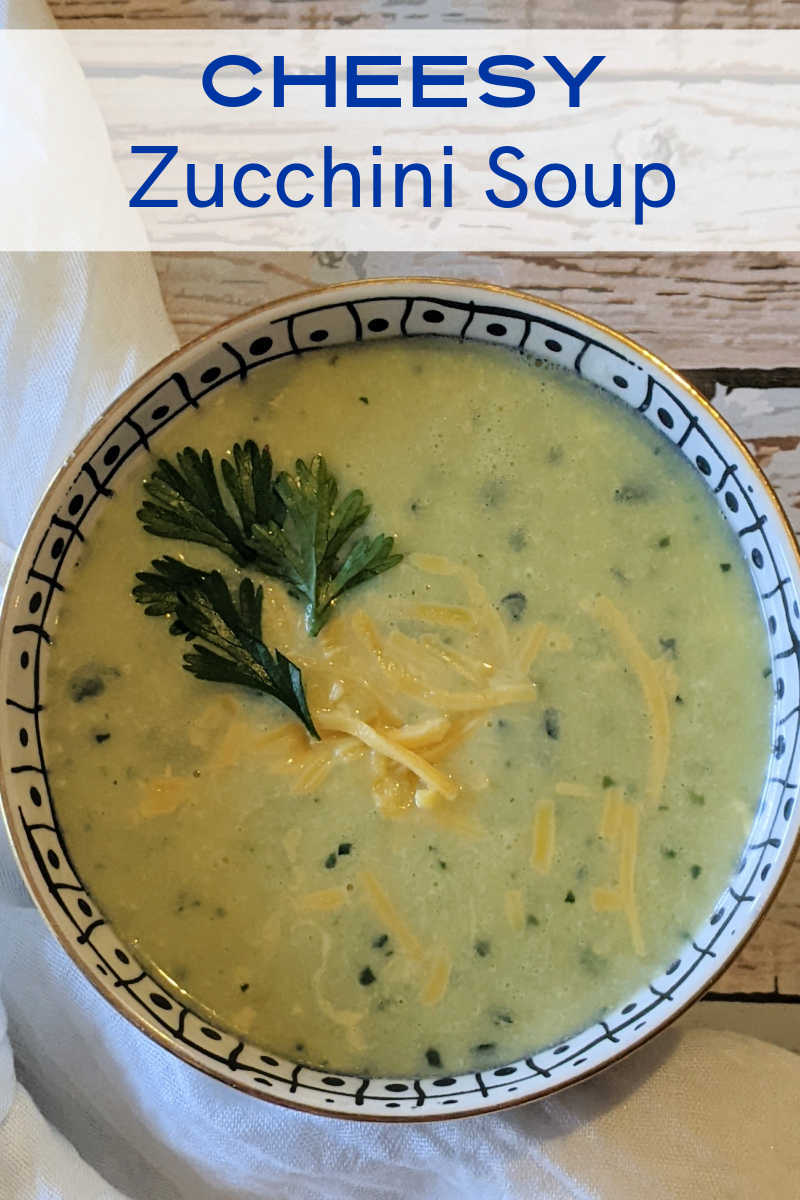 More from Mama Likes To Cook
Check out my vegetarian recipes, so you can get more great ideas for baking, cooking, blending and juicing.
Zucchini Recipes
Slow Cooker Soup Recipes
Stovetop Soup Recipes
Instant Pot Soup Recipes
Cold Soup Recipes
Coconut Milk Recipes
Shop Now
For a beautiful assortment of kitchen necessities and food gifts for the whole family, check out the current deals at these online stores.
Are you ready to have some delicious fun in the kitchen?