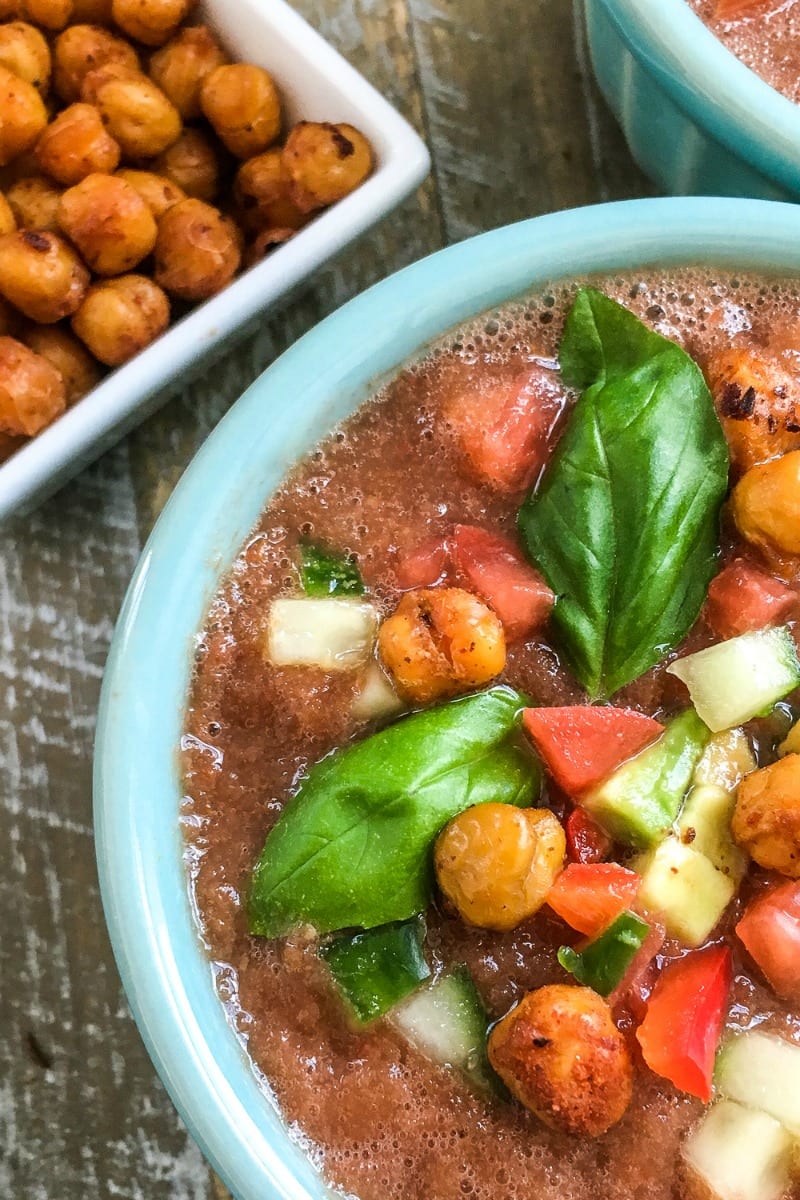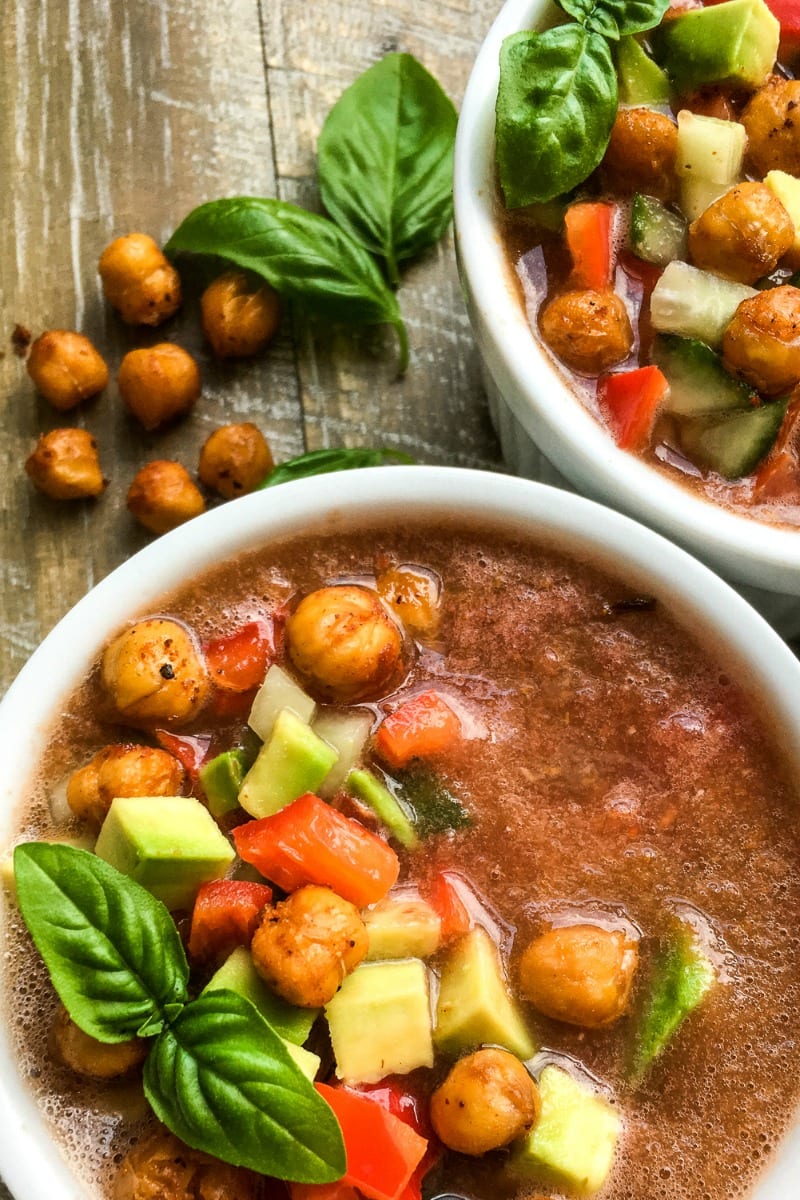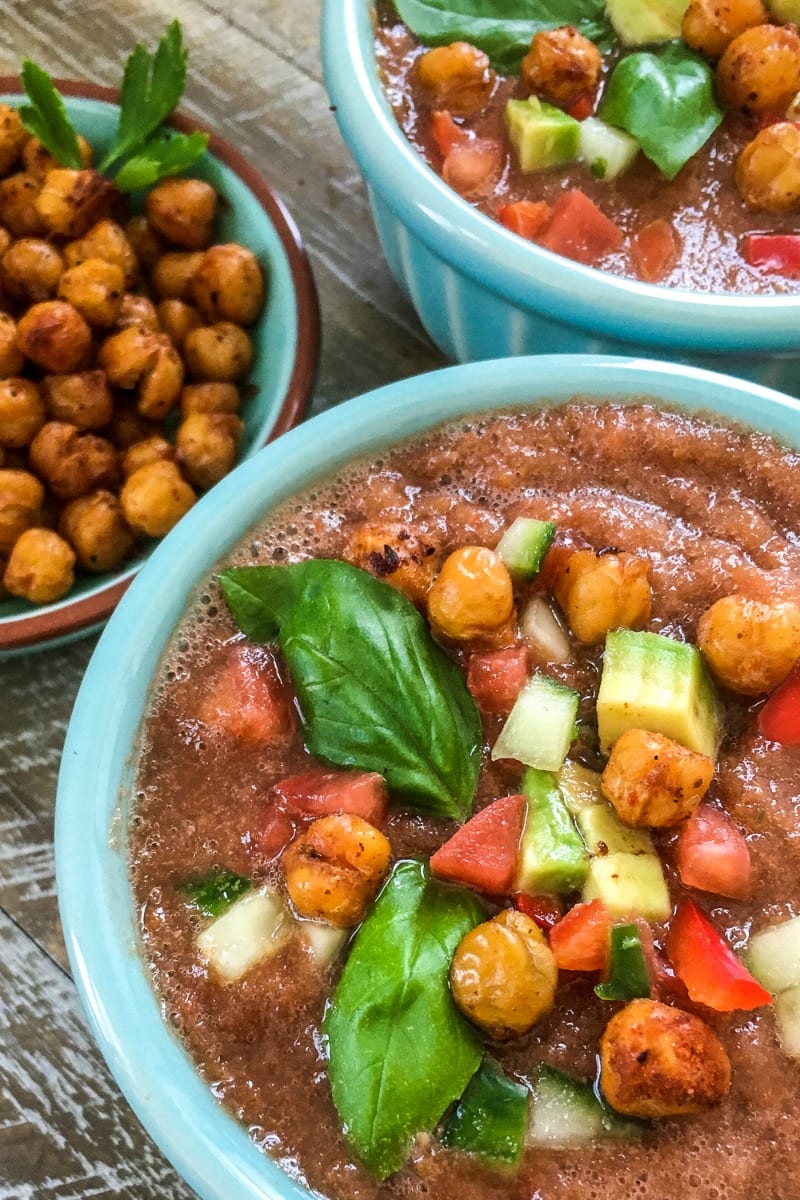 Traditional Italian Gazpacho
with Crunchy Seasoned Chickpeas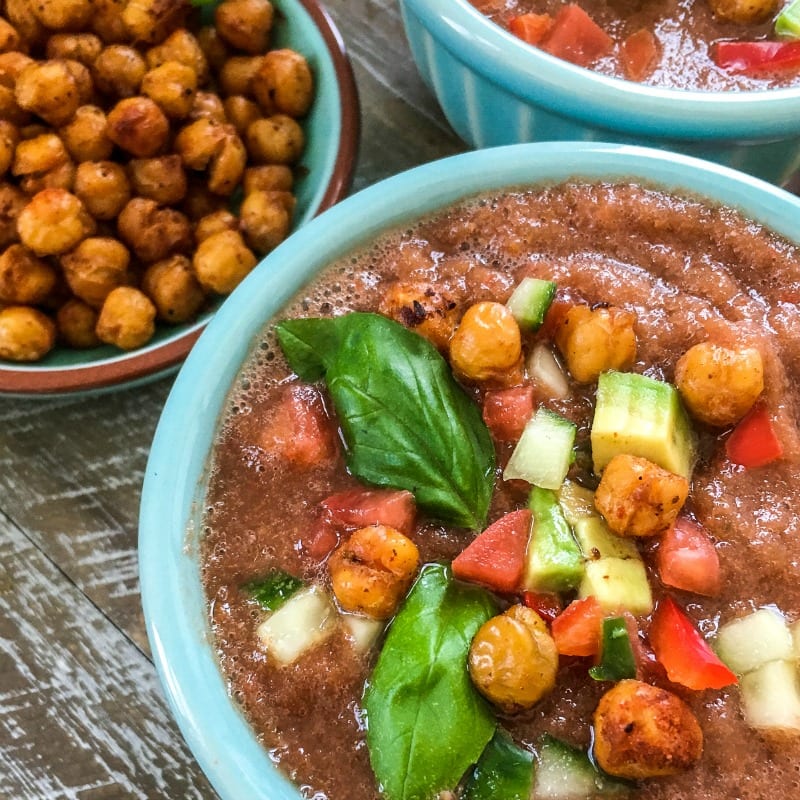 A refreshing bowl of chilled gazpacho with roasted chickpeas is perfect, when the weather is warm.
It is also gluten free and vegan, which is an added bonus!
Soup is a tasty comfort food, so it makes sense to enjoy it cold with this traditional Italian dish.
My recipe includes instructions for roasting your own seasoned chickpea 'croutons,' which is a flavorful gluten free alternative to regular bread.
They are crunchy and the seasoning compliments the gazpacho nicely.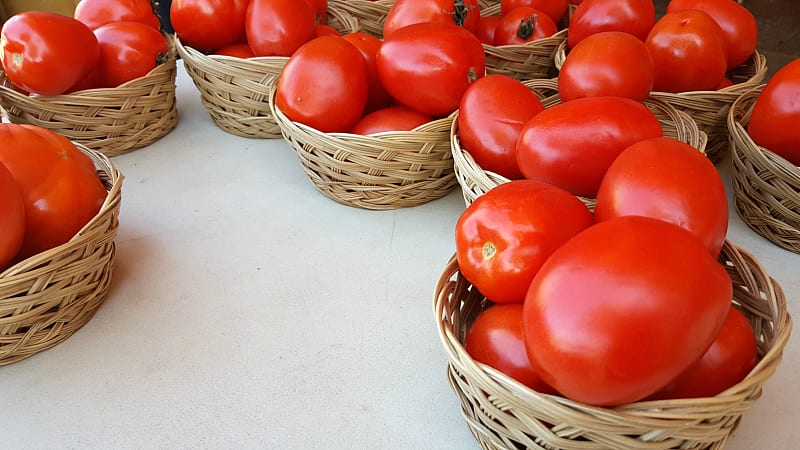 The soup has fresh parsley and basil blended in, so each taste gets a lovely herb flavor boost.
If you would like the soup to be a more vibrant red color, you can add minced herbs after the blending instead of blending them in.
I prefer blending, but to each his own.
The gazpacho does need to chill for at least 30 minutes before serving.
If you'd like to make it ahead of time, it can chill overnight.
Enjoy!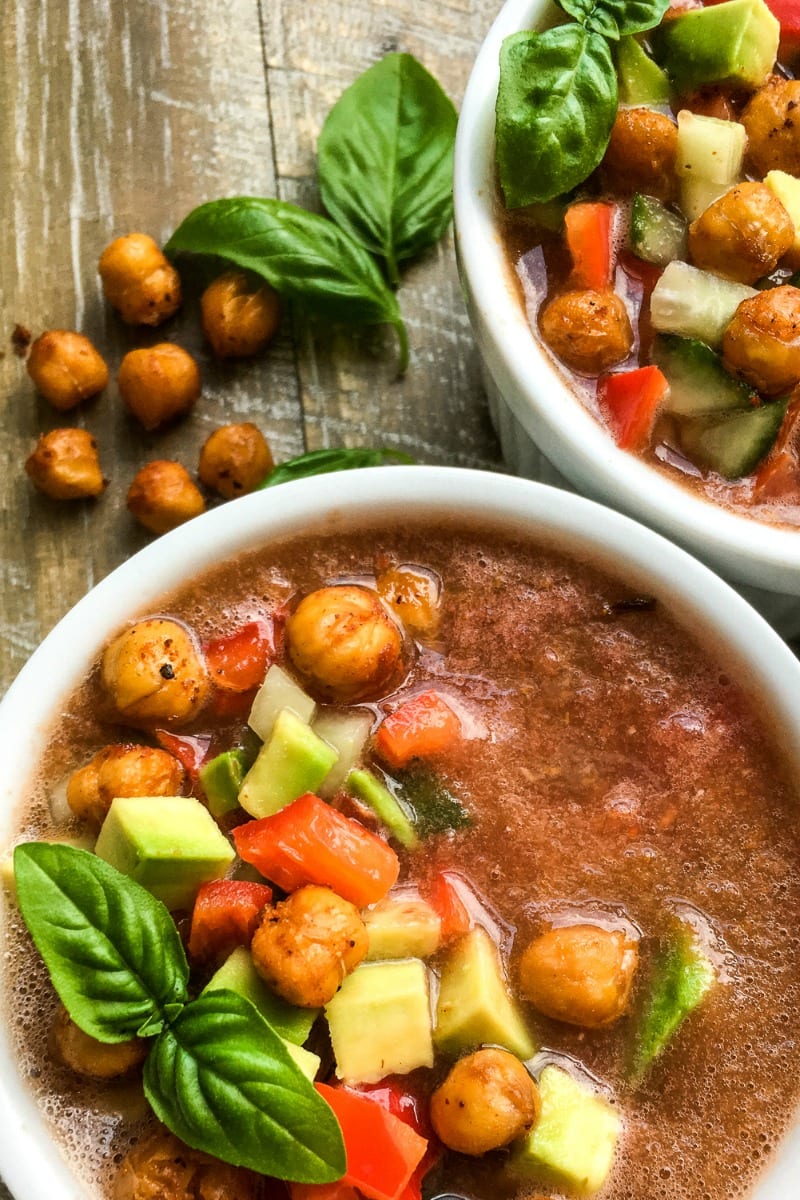 Chilled Gazpacho with Roasted Chickpeas Recipe
Prep time 20 minutes + chill time
Cook time 15-20 minutes
Serves 4-6
Ingredients
1 can Chickpeas (15.5-oz.)
3 T Extra Virgin Olive Oil
1 t Granulated Garlic
1½ t Ground Cumin
Salt and Pepper to taste
Gazpacho
1 Red Onion
5 Large Tomatoes
1 Large Red Bell Pepper
1 Large Cucumber
3 cloves Garlic
1 cup Water
3 T Lemon Juice
2 T Red Wine Vinegar
¼ cup Fresh Basil + extra for garnish
½ cup Fresh Parsley
Salt and Pepper to Taste
1 Avocado
Supplies
Rimmed Baking Sheet
Parchment Paper
Mixing Bowl
Measuring Spoons
Measuring Cup
Non-reactive Bowl
Instructions
1) Preheat oven to 400° and line the baking sheet with parchment paper.
2) Drain the chickpeas and pour into a mixing bowl. Toss the chickpeas with 1 T olive oil, granulated garlic and cumin. Add salt and pepper to taste, if desired.
3) Arrange the seasoned chickpeas in a single layer on the parchment paper covered baking sheet. Roast for 15 to 20 minutes until crispy and golden brown. Let them cool and then store in an airtight container, if not using them right away.
4) Dice about a quarter of the red onion, cucumber and bell pepper and refrigerate until ready to use.
5) Roughly chop the remaining onion, cucumber, bell pepper, garlic and tomatoes and add to your high-powered blender. Add water, red wine vinegar, fresh herbs and 2 T lemon juice. Season with salt and pepper to taste. Blend until smooth.
6) Transfer the soup to a large non-reactive bowl. Cover and chill in the refrigerator for 30 minutes or more.
7) When ready to serve, taste the gazpacho and add additional salt and pepper, if needed. Divide the soup between individual serving bowls.
8) Dice the avocado and toss with remaining 1 T lemon juice. Top each bowl with diced avocado, red onion, bell pepper and cucumber. Garnish with fresh basil and roasted seasoned chickpeas.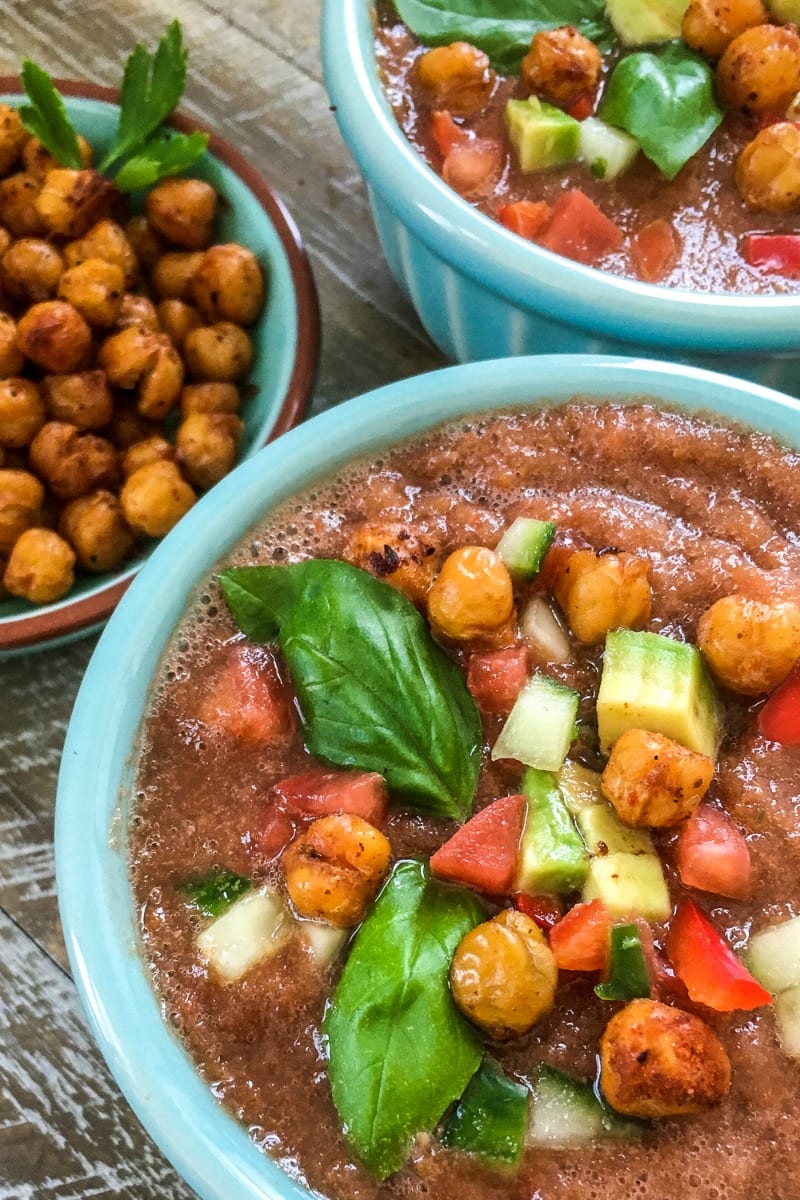 Check out my other dinner recipes, so you can get more tasty inspiration.
Following are a few of my delicious soup recipes.
Then take a look at the rest of my vegetarian recipes, so you can have even more delicious fun in the kitchen!