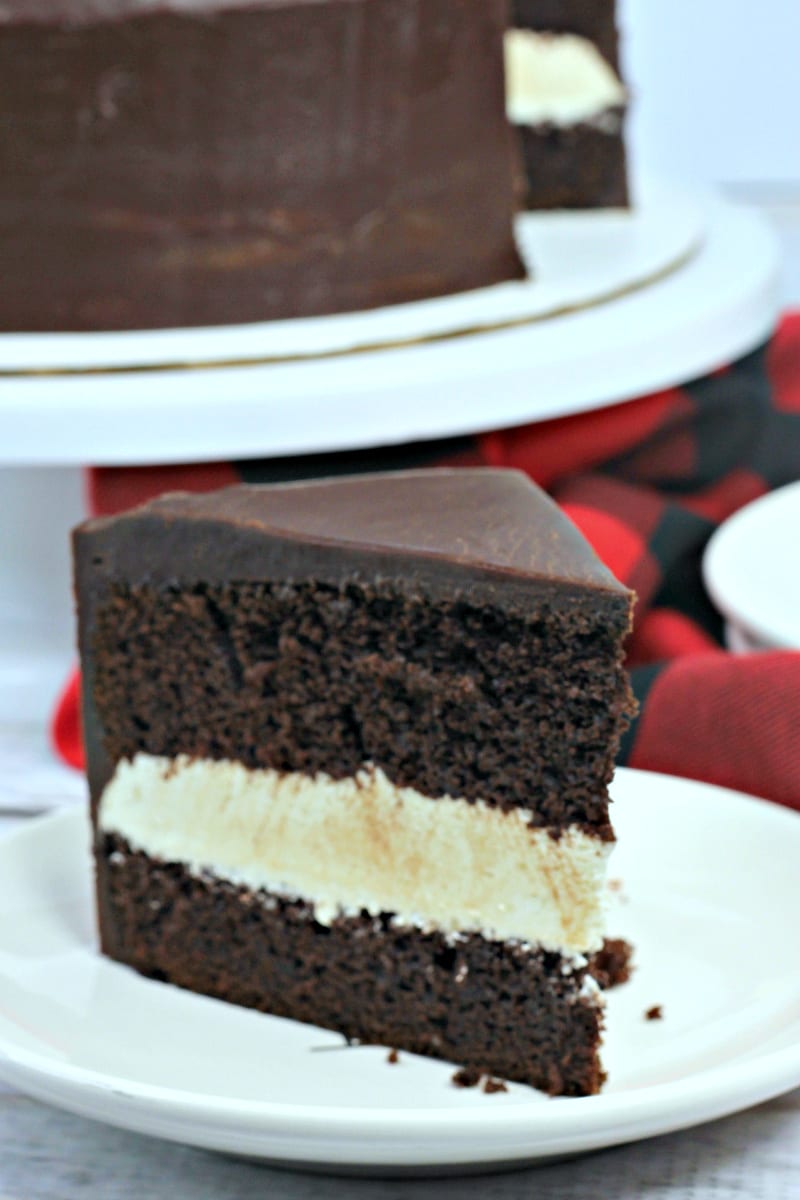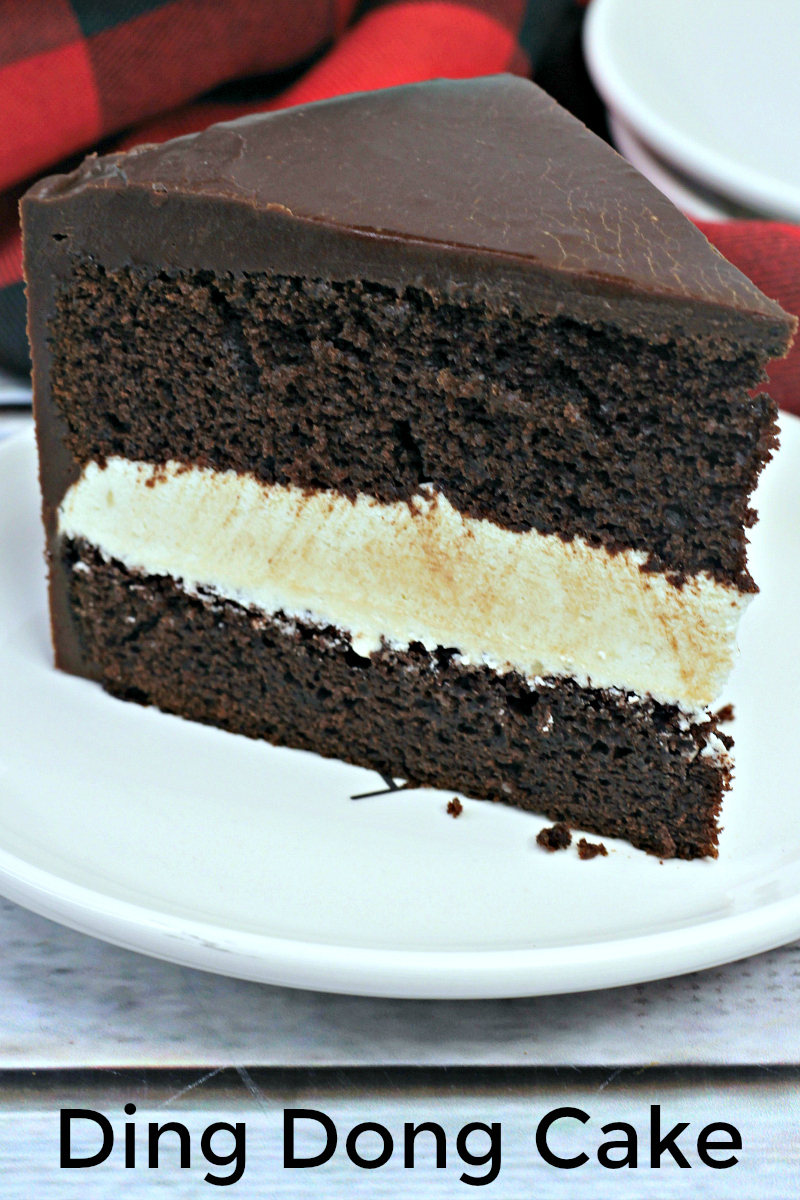 Hostess Inspired Giant Cake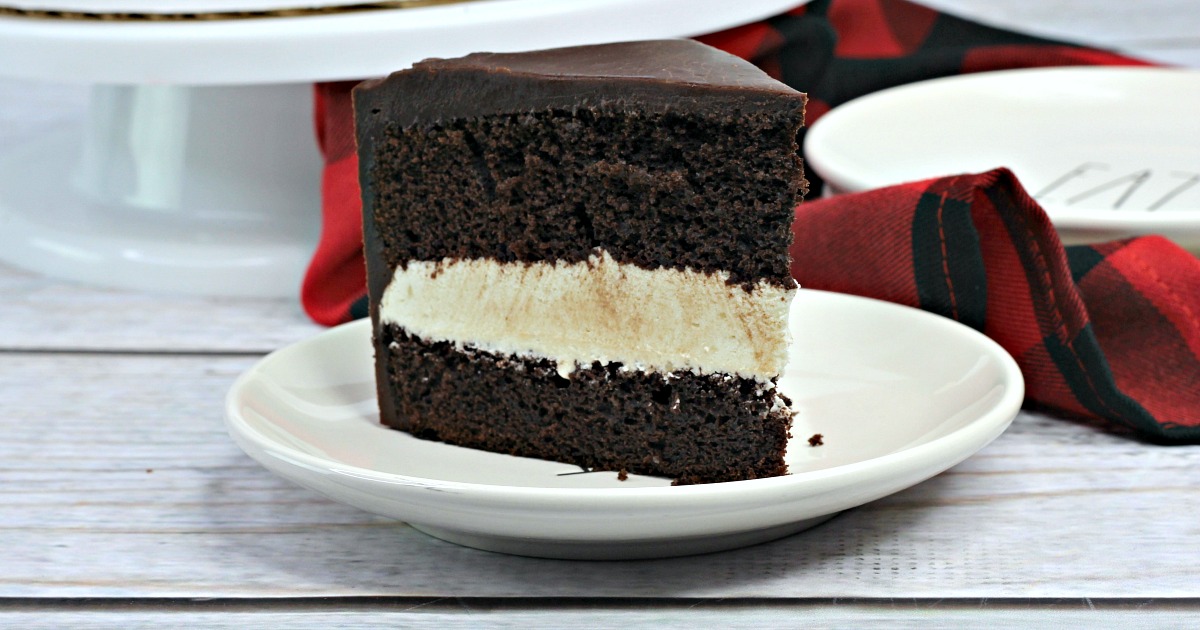 A regular sized Ding Dong or Cupcake is great for a tasty snack, but this giant Hostess inspired Ding Dong cake is fun for a party.
It looks and tastes similar to the original, so it is perfect for a snack cake fan.
There are two layers of chocolate cake, fluffy cream filling, chocolate ganache and white frosting loops, like the ones that are on Hostess Cupcakes.
This super sized cake is guaranteed to make family and friends smile, since it looks and tastes amazing.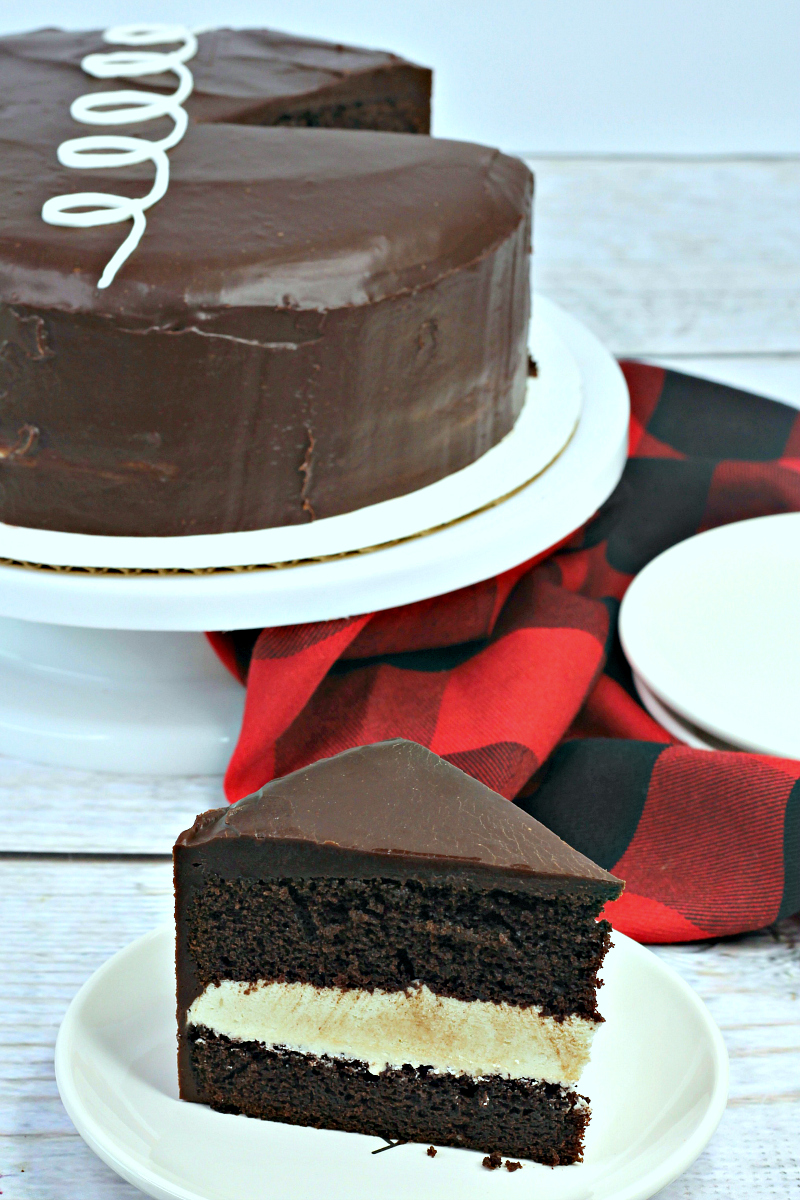 When I was a kid, Hostess snack cakes were a rare treat.
I'm fairly certain that I asked for one just about every time I did the grocery shopping with my mom.
She was not amused by my begging, but I still tried.
On those special occasions, when she did say yes, my choice was either a Ding Dong or Hostess Cupcake.
These iconic Hostess snack cakes still bring back good, childhood memories.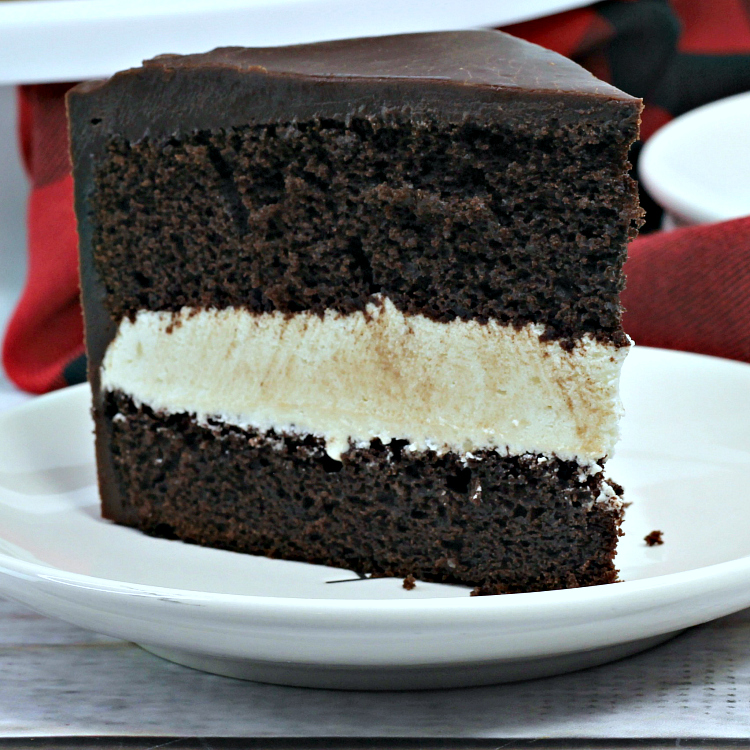 If you haven't every tried a cake project like this before, don't be frightened by the number of steps.
With the cake, filling, ganache and decoration, the instructions may look daunting.
However, it isn't as difficult as you might think.
Just take care to follow each step, so you can amaze your friends and family with this impressive cake.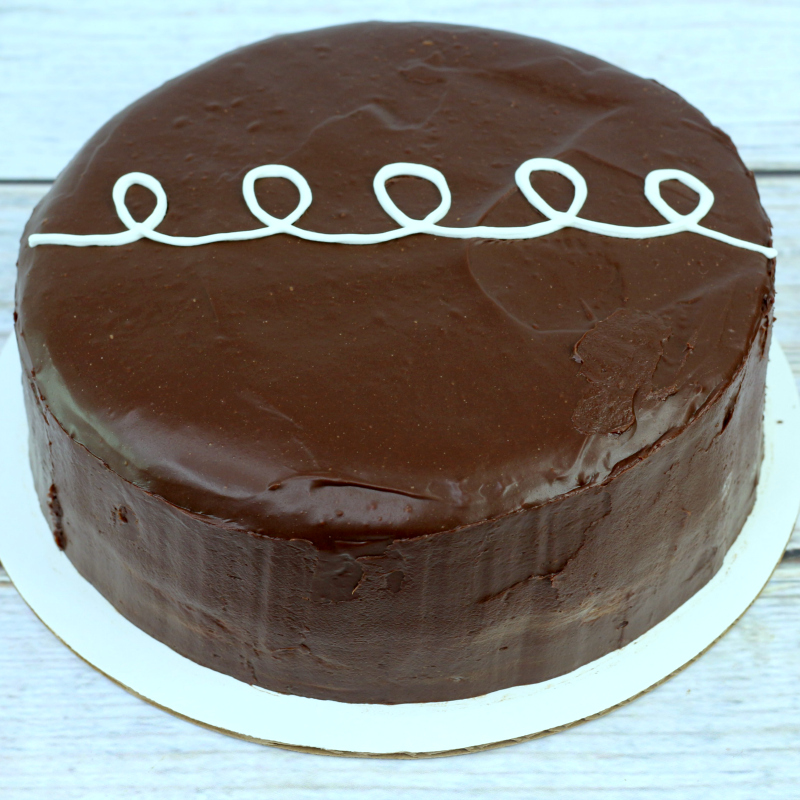 The Hostess inspired cake is a perfect way to celebrate a birthday.
It has the look and taste of a devil's food Ding Dong, but it also has the white frosting loop design of a Hostess Cupcake.
These are my two favorites from Hostess, so it's fun to give a nod to both of them.
Eat it at home or take it to a party.
Enjoy!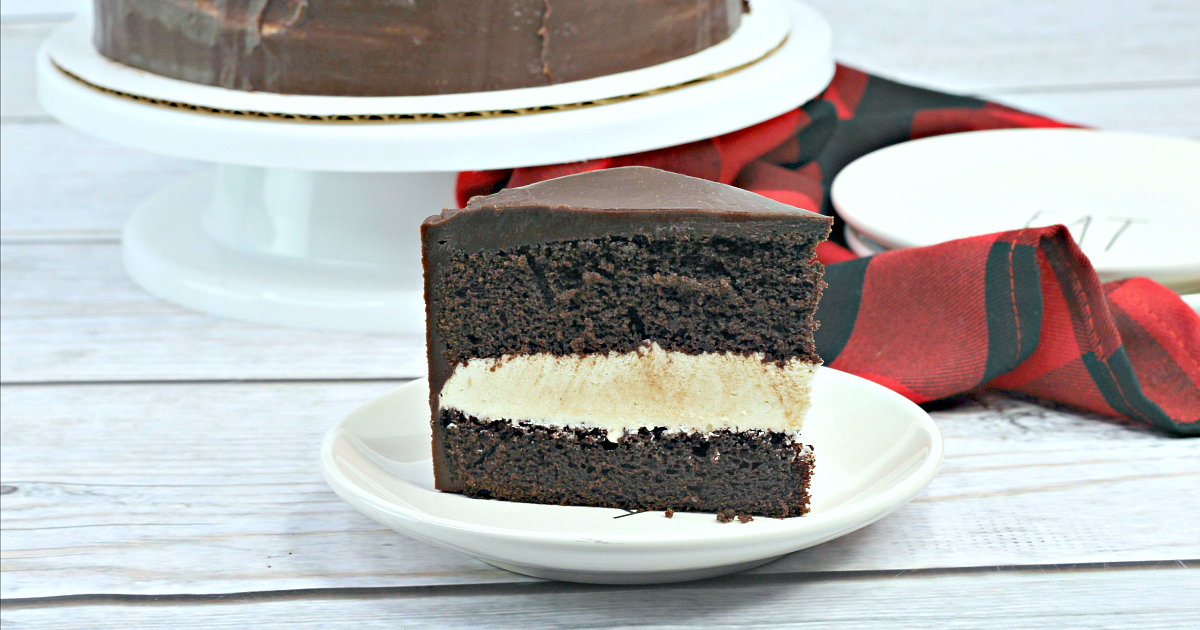 Ding Dong Cake Recipe
Serves 12
Ingredients:
Cake Ingredients
1 3/4 cups All Purpose Flour
2 cups Sugar
3/4 cups Cocoa Powder
1 t Baking Powder
2 t Baking Soda
1 t salt
1/2 cup Extra Virgin Olive Oil
1 cup Buttermilk
2 Eggs
2 t Vanilla Extract
1 cup Hot Coffee
Filling Ingredients
1 cup Sugar
1 cup Butter, unsalted, softened
5 T All Purpose Flour
1 cup Whole Milk
1 t Vanilla Extract
Ganache & Decoration Ingredients
16 oz. pkg. Semi Sweet Chocolate
2 cups Heavy Cream
1 Tube White Cookie Icing
Supplies
2 9″ Round Baking Pans
Non-stick Baking Spray
Mixing Bowls
Stand Mixer
Cooling Rack
Microwavable Bowl (quart size)
Instructions:
Cake
1) Preheat oven to 350° and coat cake pans with non-stick baking spray.
2) Sift flour, sugar, cocoa powder, baking powder, baking soda and salt into the mixer bowl.
3) In a second bowl, combine the buttermilk, oil, eggs, and vanilla extract.
4) Turn the mixer on low and slowly add the wet ingredients to the dry ingredients.
5) Then, add the coffee and mix until completely blended together.
6) Pour half of the batter into each cake pan
7) Bake at 350° for approx. 30 minutes or until a toothpick comes out clean
8) Let cakes cool in the pans for at least 30 minutes. Then, transfer to a cooling rack to cool completely.
Filling
9) Add the cold milk to a small saucepan and whisk in the flour until smooth.
10) Put the pan on a burner set to medium low. Stir continuously until thick. Then, remove from heat.
11) Stir in the vanilla and let it cool.
12) Add butter and sugar to a mixing bowl and beat until fluffy (approx. 7 minutes).
13) Add the cooled milk and flour mixture to the butter and sugar. Then, beat on medium until it is the texture of whipped cream.
14) Spread the filling over the bottom layer of the cooled cake and top with the second layer. Move to the refrigerator to chill.
Ganache
15) Chop the chocolate.
16) Put the heavy cream into a microwave safe bowl. Heat for 3 to 4 minutes until the cream begins to simmer. Watch, so that it doesn't boil over.
17) Stir the chocolate into the hot cream.
18) Cool for a few minutes, so that it will thicken. Whisk briefly and then pour over the cake.
19) After the ganache has set, make the iconic white icing Ding Dong loops on top of the cake.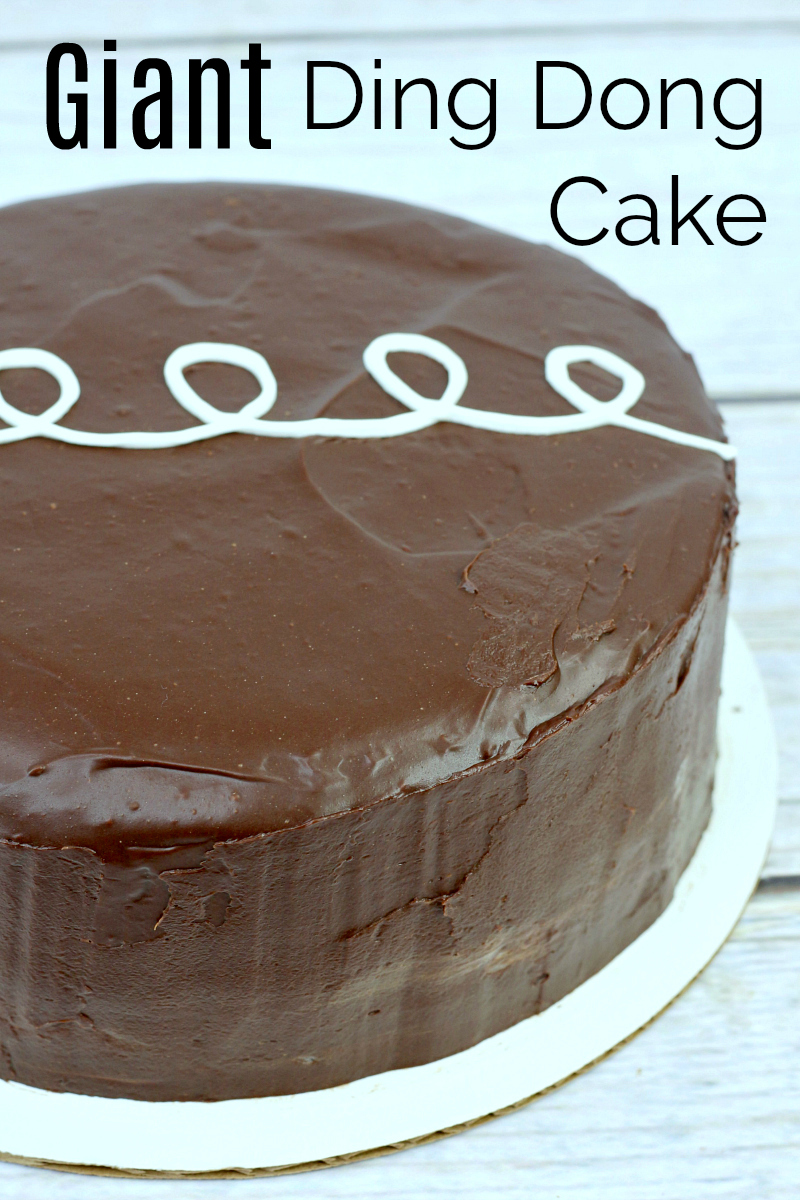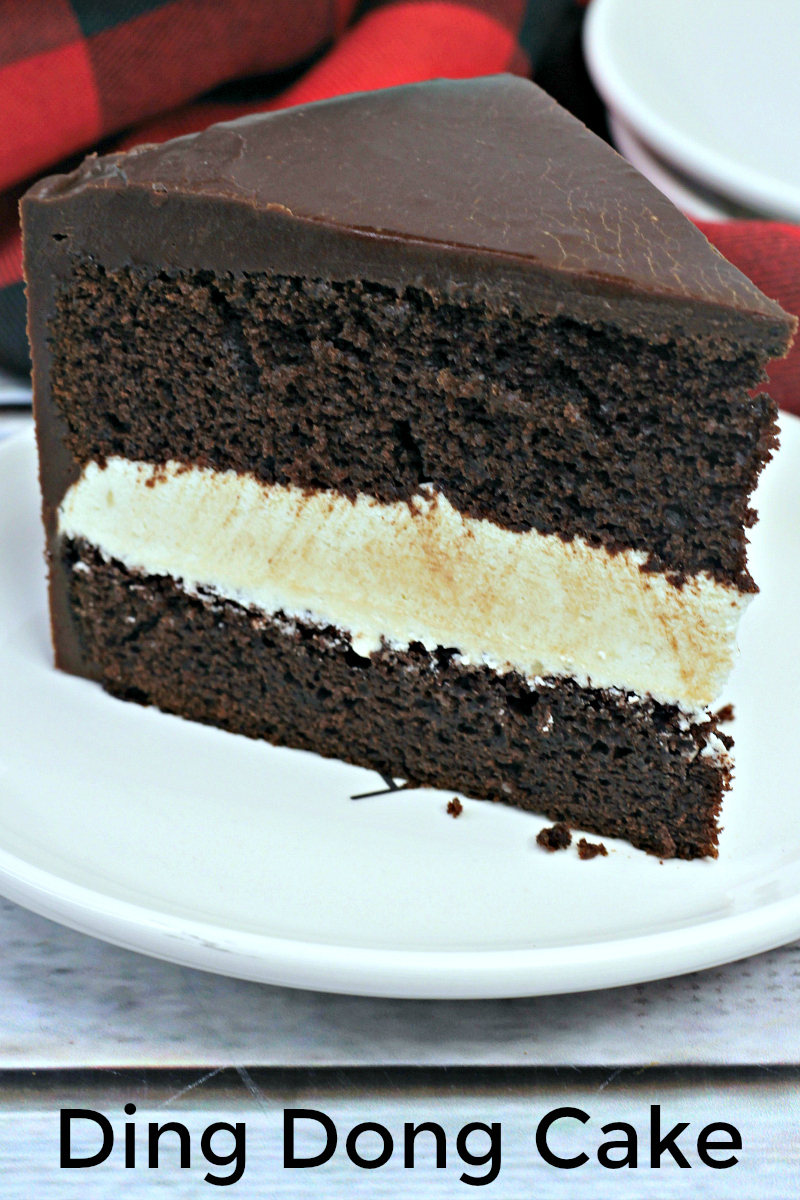 More from Mama Likes To Cook
Check out the rest of my vegetarian recipes, so you can get more great ideas for baking, cooking, blending and juicing.
Frosting Recipes
Cake Recipes
Cupcake Recipes
Shop Now
For a beautiful assortment of kitchen necessities and food gifts for the whole family, check out the deals at these online stores.
Are you ready to have some delicious fun in the kitchen?