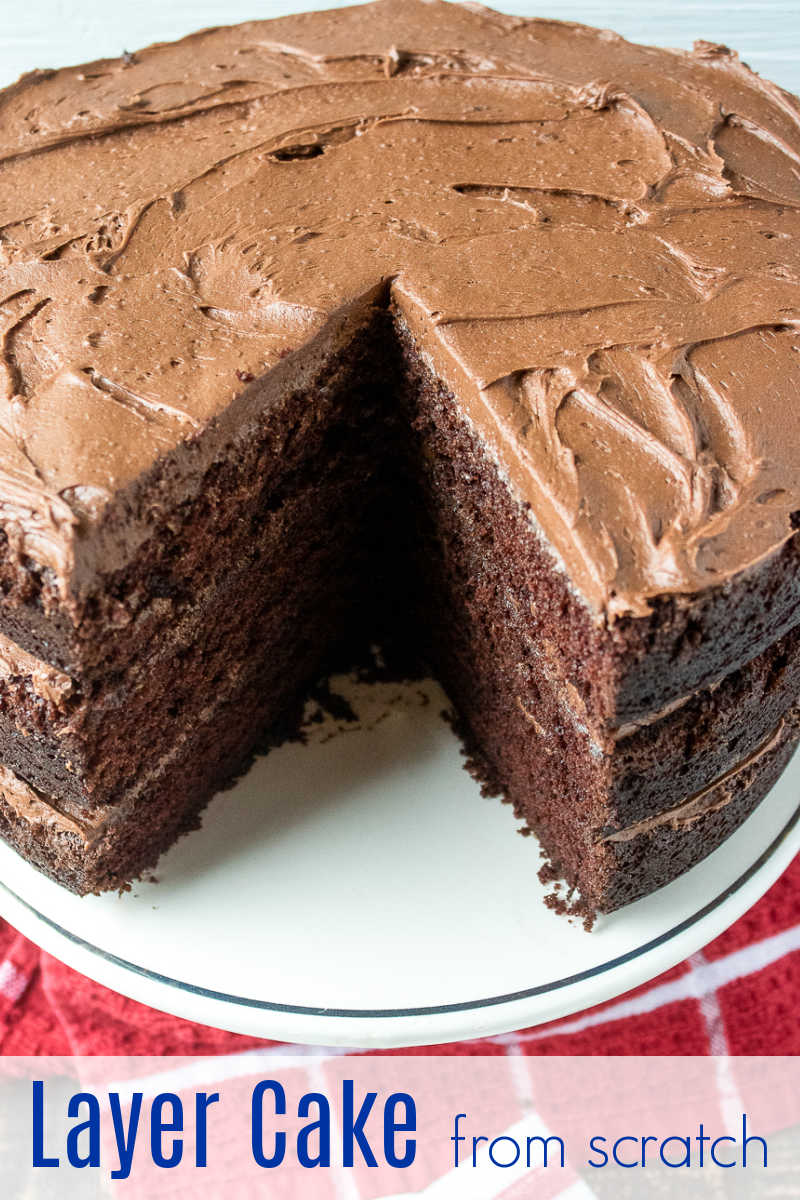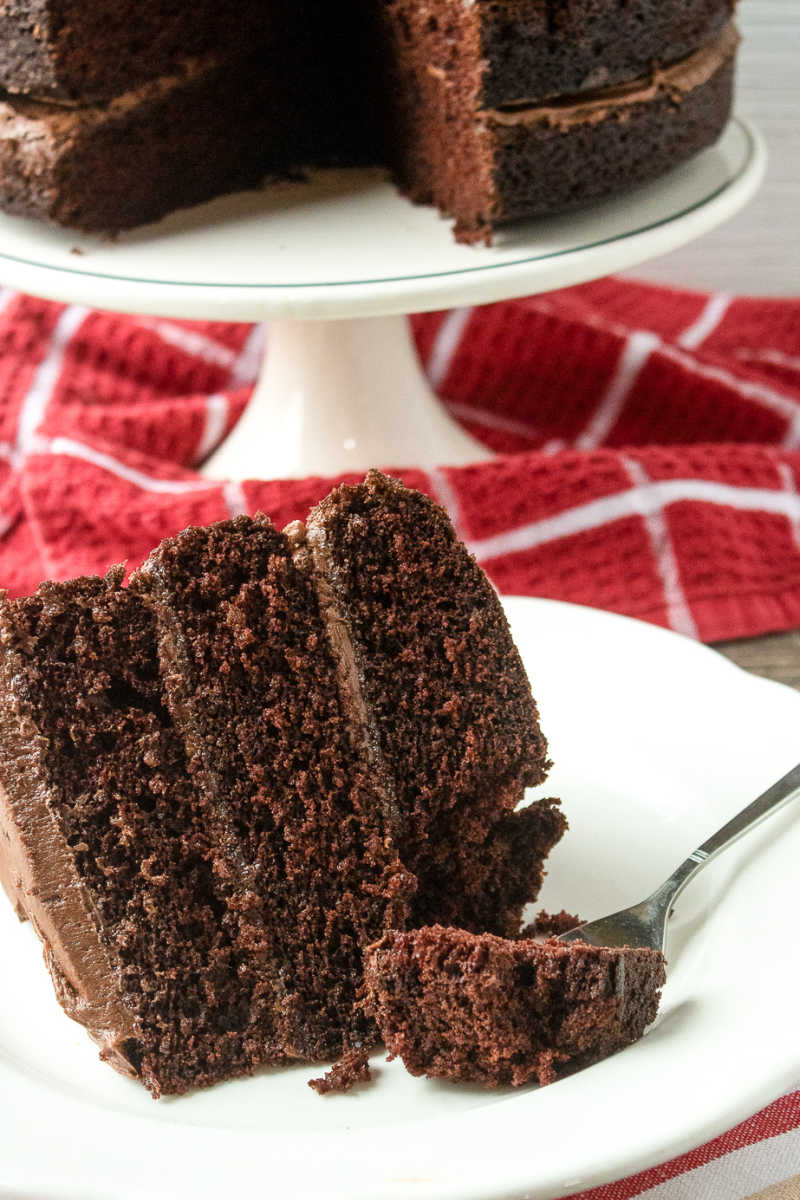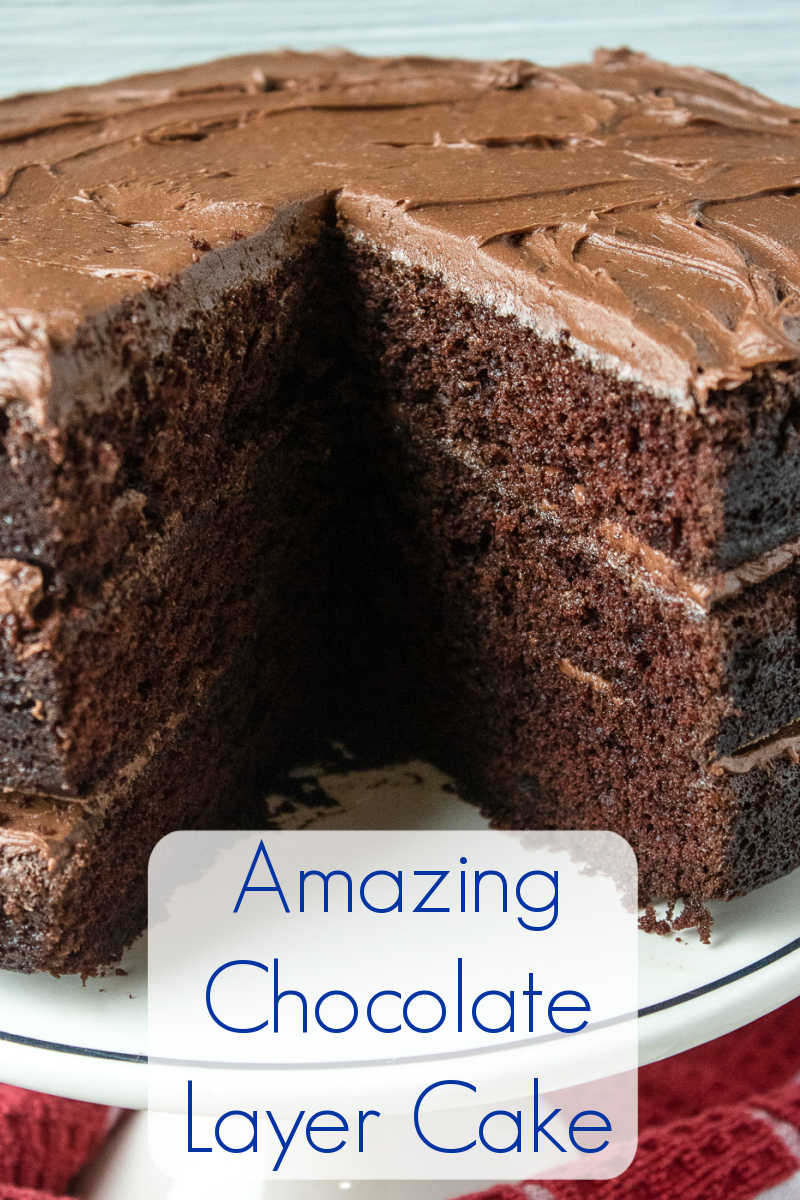 3 Layer Cake
Made from Scratch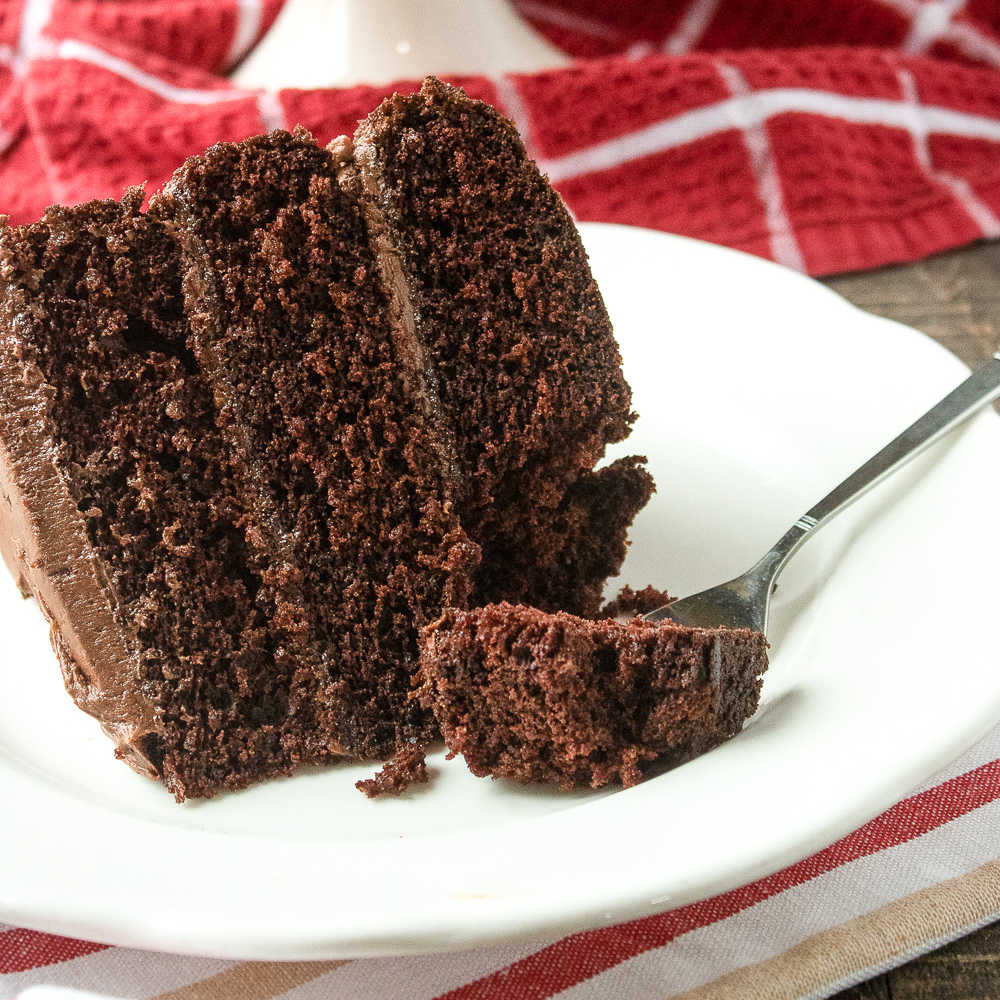 This gorgeous chocolate layer cake has three layers and is made from scratch, so you will enjoy every decadent bite.
You can use my buttercream frosting recipe or another one, but this cake is going to have the most wonderful flavor and texture.
If you'd like to bake the cakes the night before your special occasion, you can do that and frost just before serving.
Just make sure you cover the cakes after they have cooled, so that they will be ready to frost when you are.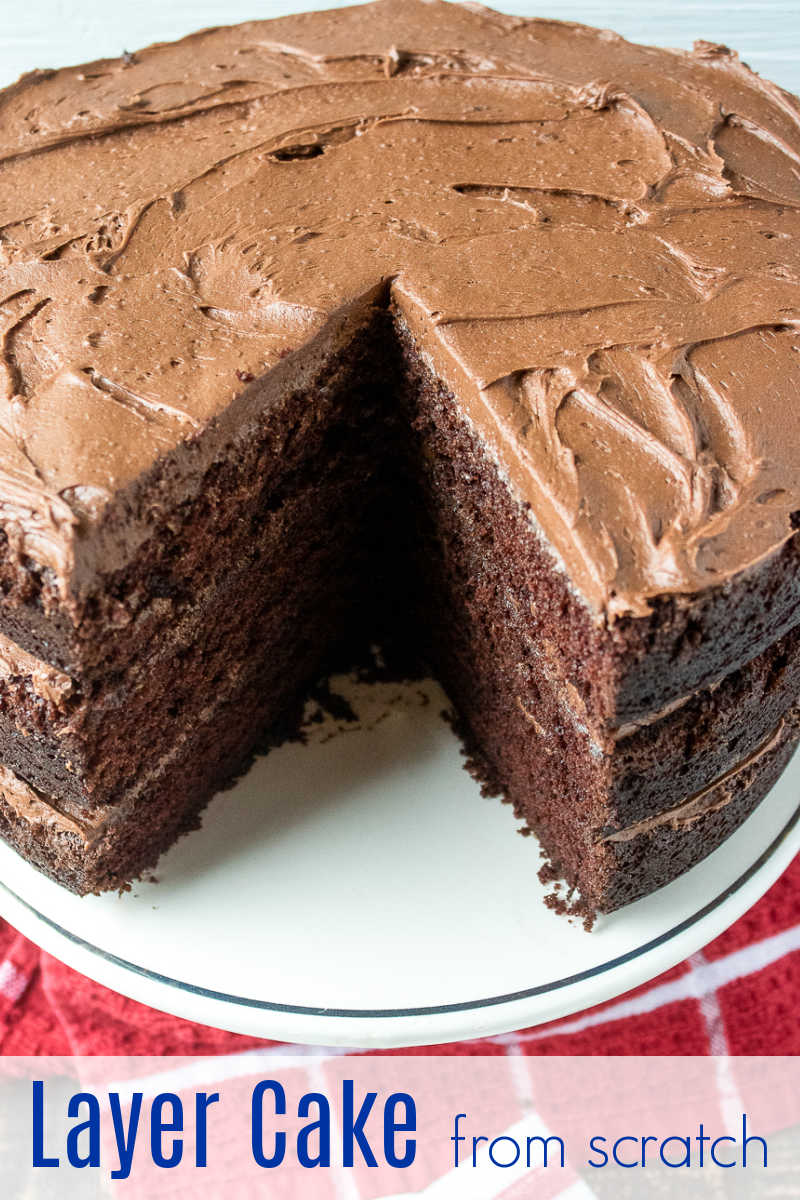 If can 'feel' a bit scary, if you have never assembled a layer cake before.
The trick to getting your cake just right is to make sure the layers are level, when you put them together.
When your cakes bake the tops become rounded, which would cause issues as the cake layers are stacked.
Use a cake leveling tool or a knife to slice off the rounded tops, so that you have flat surfaces that stack nicely.
This will keep your layer cake straight and even, so it looks good and doesn't tip or slide.
A layer cake is fun to make, looks impressive and tastes wonderful!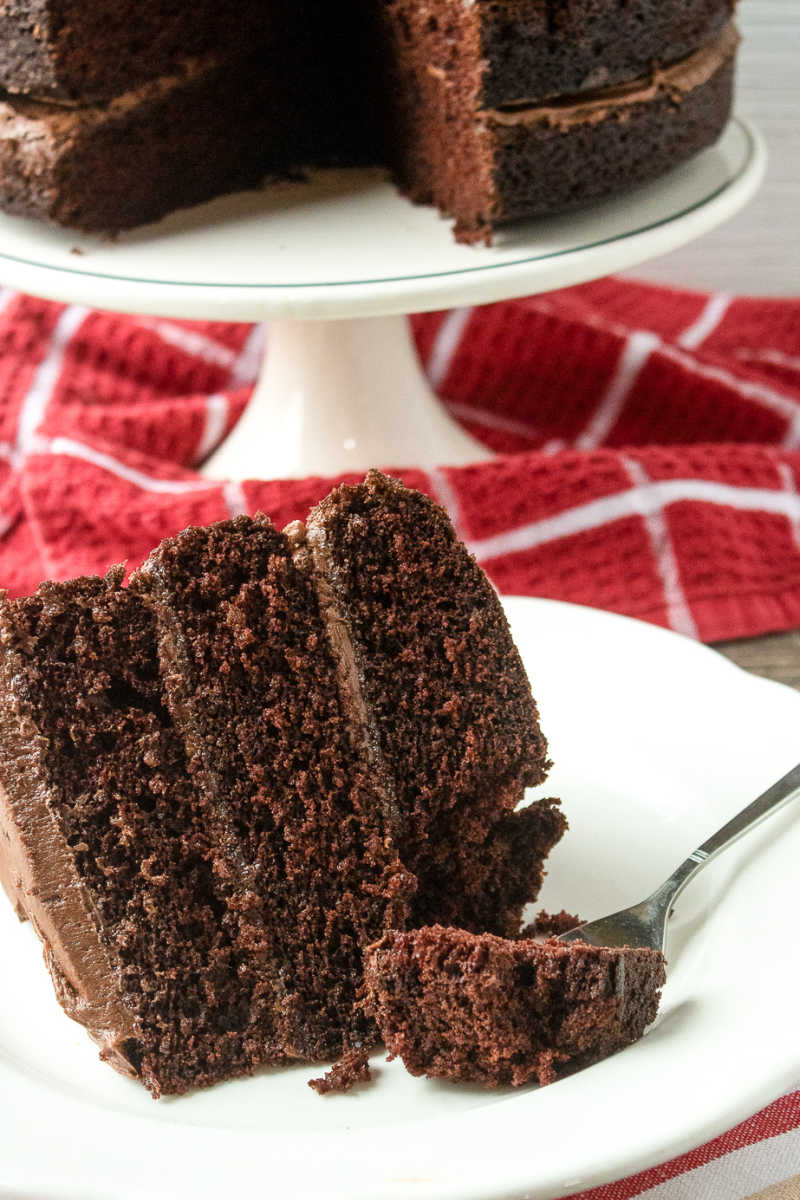 Prep time: 20 minutes + 20-25 minutes for cakes to cool before frosting
Baking time: 22-28 minutes
Yields 12 servings
Ingredients
2½ cups Sugar
1 cup Butter, room temperature
4 Eggs
2 t Vanilla Extract
3 cups All-purpose Flour
2 t Baking Soda
1 t Baking Powder
½ t Salt
1 cup Cocoa Powder, unsweetened
2¼ cups Water
1 Batch of my Chocolate Frosting recipe
Supplies
3 Round Cake Pans (8″)
Nonstick Baking Spray OR Grease and Flour
Parchment Paper (cut to fit the bottoms of the round pans)
Measuring Cup
Measuring Spoons
Mixing Bowls
Mixer
Whisk
Wire Cooling Rack
Cake Leveler or Knife
Instructions
1) Preheat oven to 350° and prepare the round cake pans. Spray with nonstick baking spray or grease and flour. Then place a round piece of parchment paper in the bottom of each pan.
2) Cream the sugar and butter with your mixer. Slowly add in the eggs and vanilla extract, so that they are well blended.
3) Add the flour, baking soda, baking powder and salt to a separate bowl and whisk together.
4) Boil the water and pour into a medium bowl. Mix in the cocoa powder until smooth and lump-free.
5) Turn the mixer on low and slowly add the dry ingredients and the chocolate mixture to the creamed sugar butter a little bit at a time. Alternate between the dry ingredients and the chocolate until everything is incorporated.
6) Divide the cake batter evenly between the three cake pans and bake in the
preheated oven for about 22-28 minutes. Insert a toothpick into the center, so that it comes out clean when the cakes are done.
7) Remove the cakes from the oven and set aside to cool for about 10 minutes. Then transfer the cakes from the pans to a wire rack, so that they can finish cooling. Cakes need to be cool to the touch, when you frost them.
8) Assemble the cake, when the layers are cool. Place the first layer top side down on a cake plate and spread frosting evenly on top of it.
9) Level the rounded top of the next cake layer with a cake leveler or knife and place it on top of the frosted first layer top side down. Spread frosting on this layer. Repeat this process with the third layer. Frost the outside of the cake.
10) Slice and serve!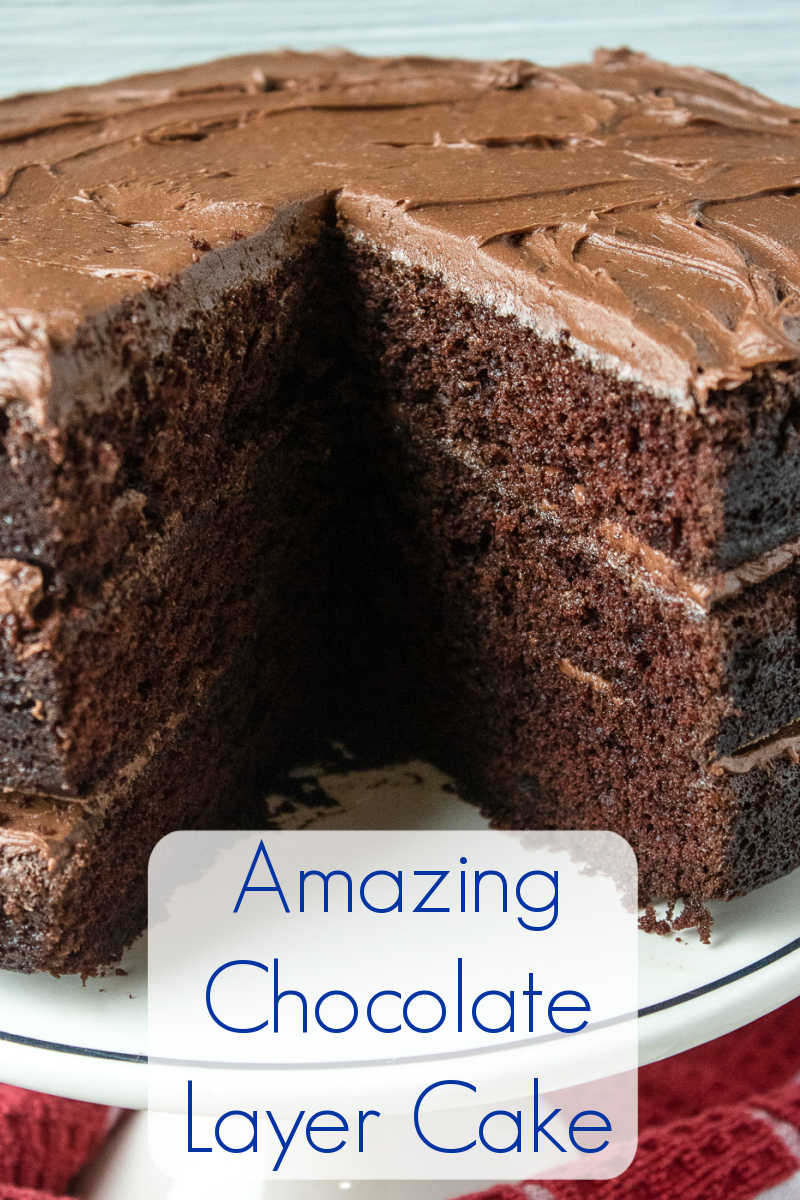 More from Mama Likes To Cook
Check out the rest of my vegetarian recipes, so you can get more great ideas for baking, cooking, blending and juicing.
Frosting Recipes
Cake Recipes
Cupcake Recipes
Shopping Tips
For a beautiful assortment of kitchen necessities and food gifts for the whole family, check out the deals at these online stores.
Are you ready to have some delicious fun in the kitchen?