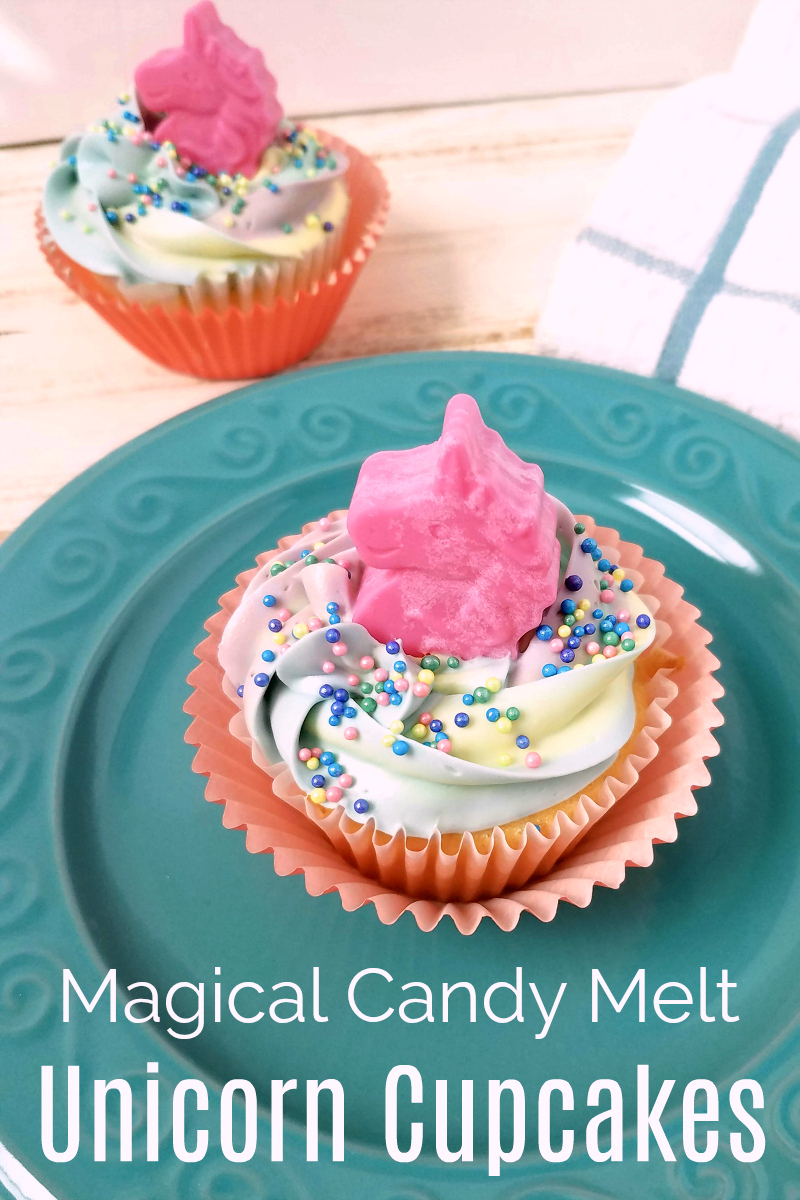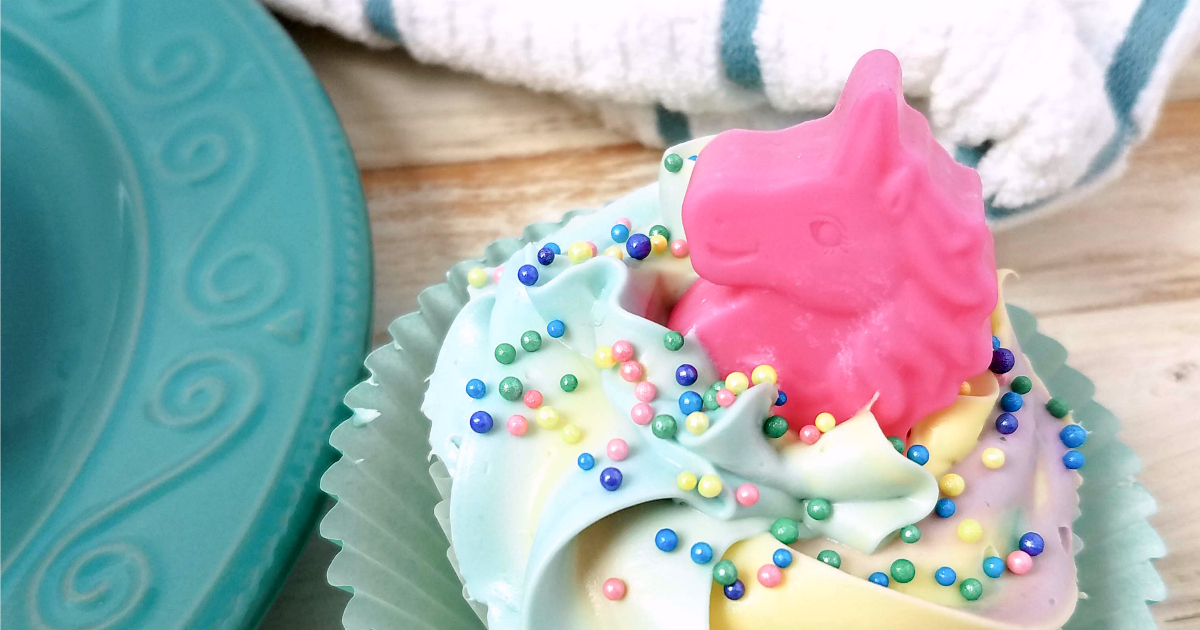 Easy Unicorn Cupcakes with Multicolored Frosting
When you see these candy melt unicorn cupcakes, you can't help but smile!
They are perfect for a birthday party, baby shower or anytime you need a magical treat.
The DIY instructions will help you turn any cupcake into a unicorn themed treat.
This same process will work for mermaid cupcakes, if you use a mermaid candy mold instead.
Your cupcakes can be homemade from scratch, made from a box mix or store bought.
Whatever cupcakes you choose for the base, these decorations will be super cute.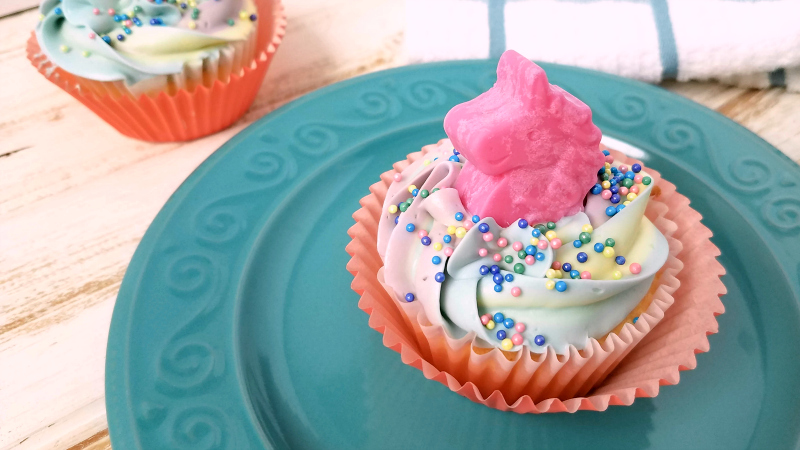 It is easy to get good results, when you follow my simple DIY tutorial
First, take a look at the in process photos. Then get the complete supply list and step by step instructions below.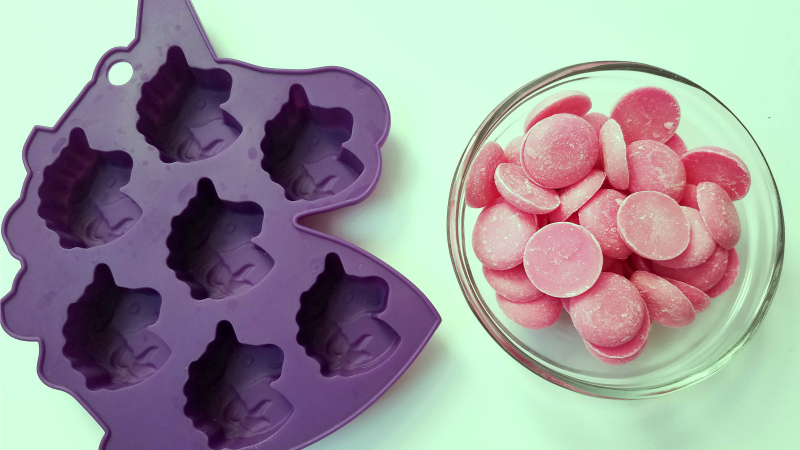 Silicone molds are easy to use to turn candy melts into cute shapes.
They look great and, also, are fun to eat.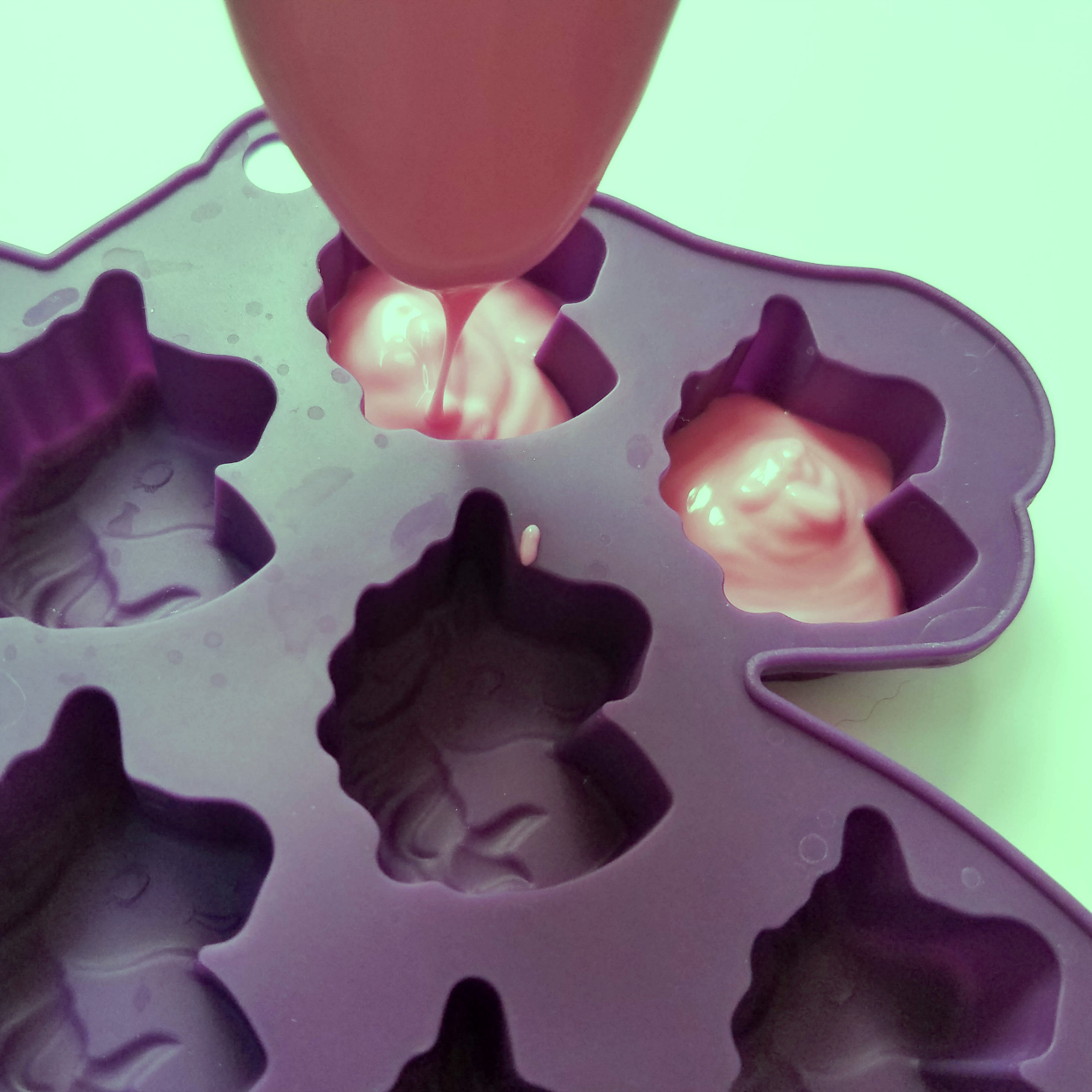 After dividing the white frosting into four separate bowls, you'll add food coloring to make the unicorn colors.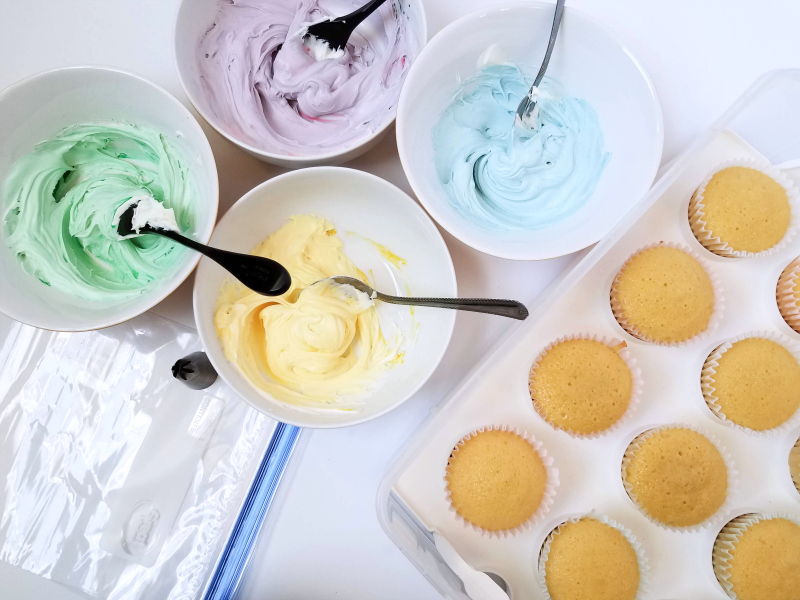 All four colors go into one piping bag, so you'll be using them all at the same time to get the unicorn effect.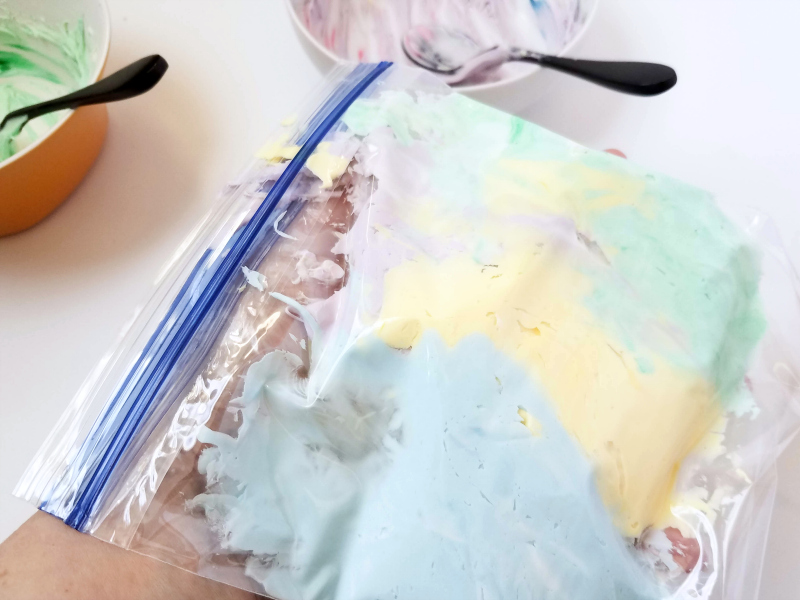 When piping the frosting, you'll start at the outer edge and move in a circular motion towards the middle.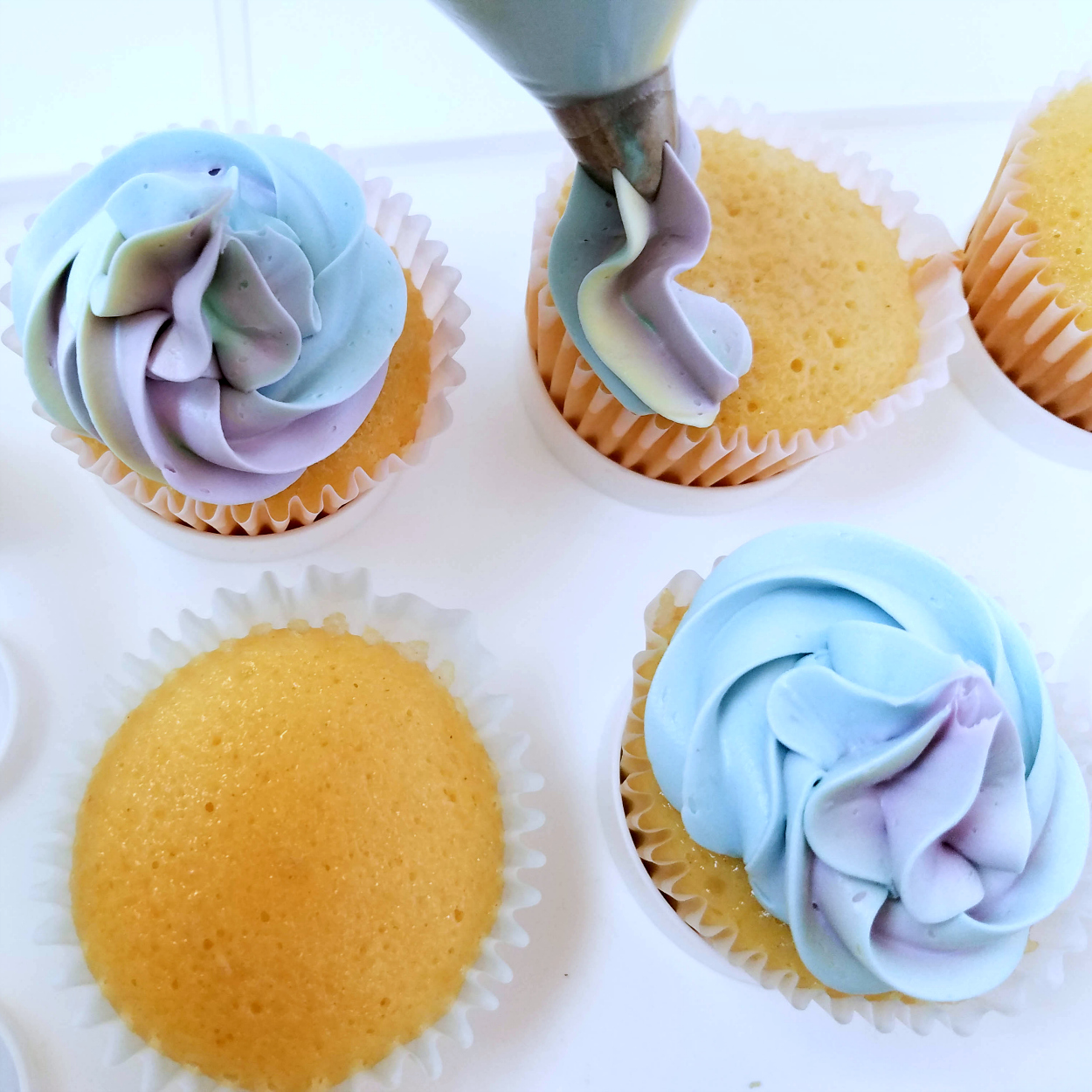 When the cupcakes are frosted, it is time to add the finishing touches.
First, you'll position a unicorn on top of the frosting. Second, you'll add colorful sprinkles.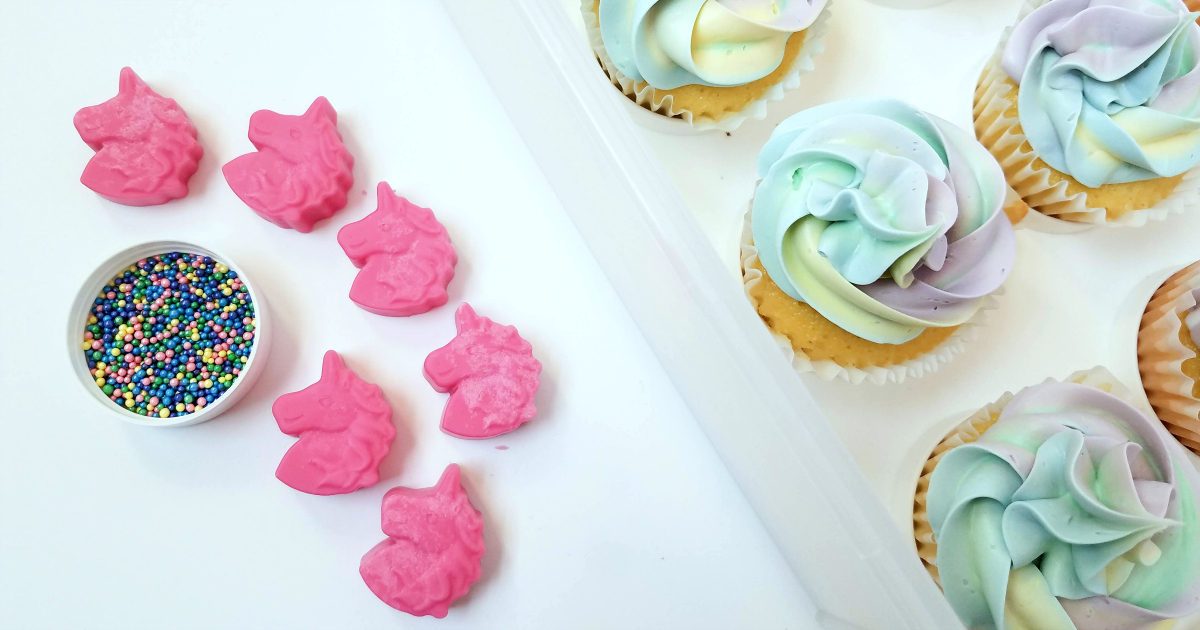 Little ones can help with the final decorating step.
If your kids have some kitchen skills, they may even be able to help pipe the frosting.
Candy Melt Unicorn Cupcake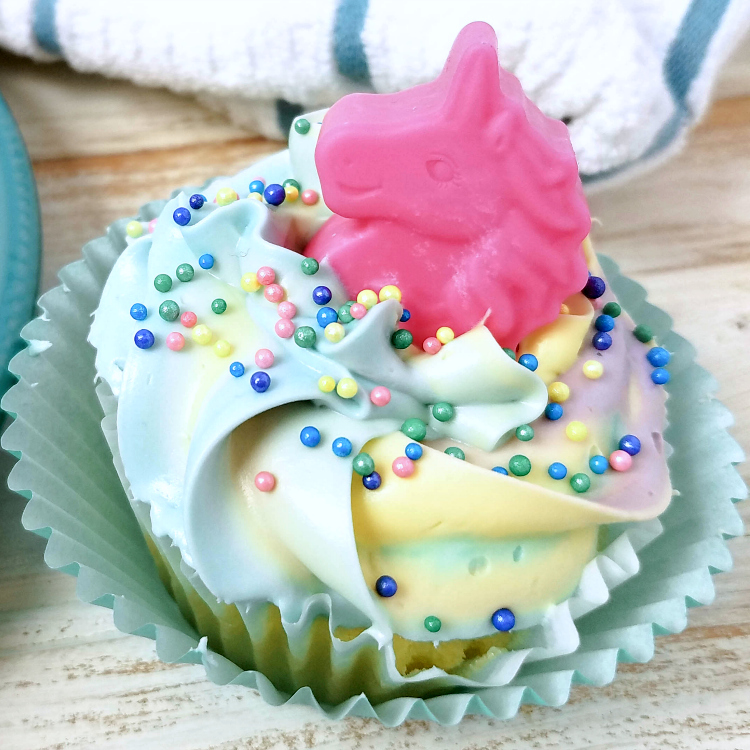 Magical DIY Candy Melt Unicorn Cupcakes
Ingredients and Supplies:
Unicorn Candy:
Cupcakes:
Directions:
Melt the candy melts according to directions on package.
Pour into candy mold and let set for about an hour.
Remove unicorns from mold.
Divide frosting into 4 bowls.
Use food coloring to color frosting.
Blue: 1-2 drops of blue food coloring
Yellow: 1-2 drops of yellow food coloring
Purple: 1-2 drops of red food coloring AND 1-2 drops of blue food coloring
Green: 1-2 drops of green food coloring
Insert piping tip into a plastic baggie or piping bag, with the tip snipped off.
Then layer each color side by side. (See photo above)
Start at the edge of the cupcake and pipe frosting.
Work your way around the cupcake and move towards the middle on your next turn around.
Place a unicorn candy into the center of each.
Top with colorful sprinkles.
<di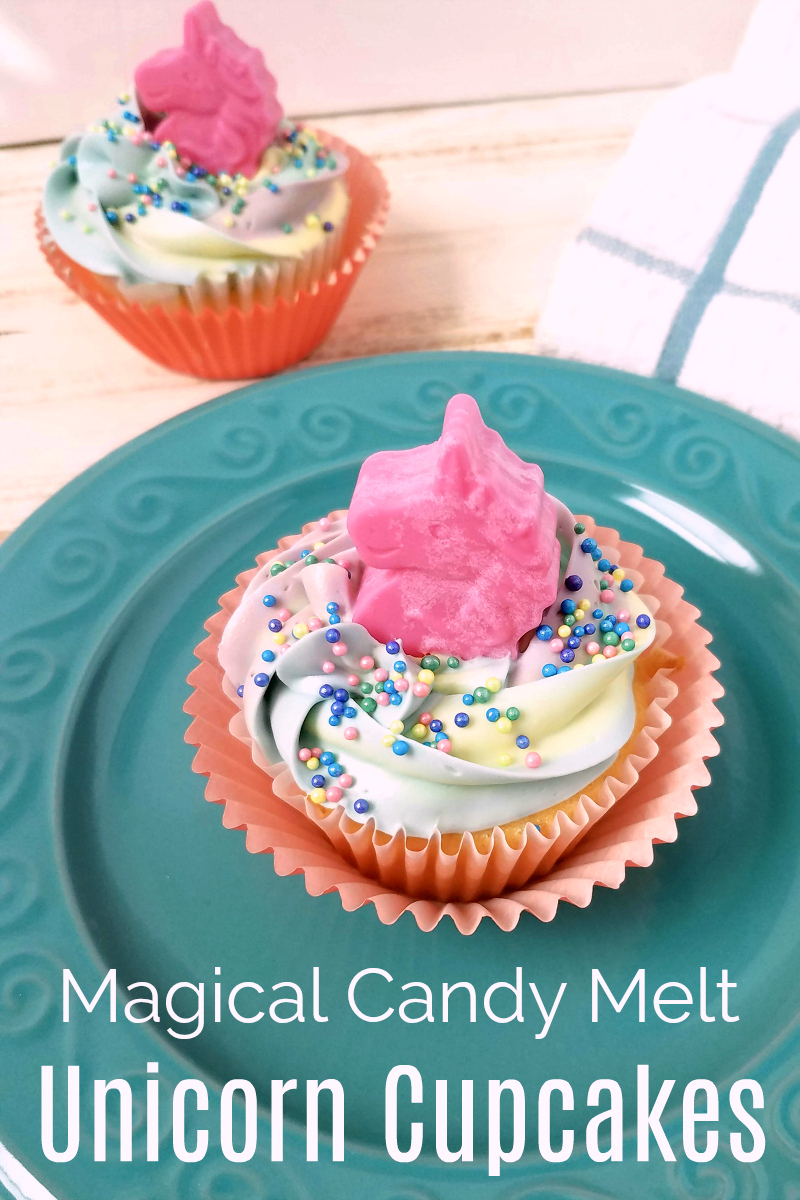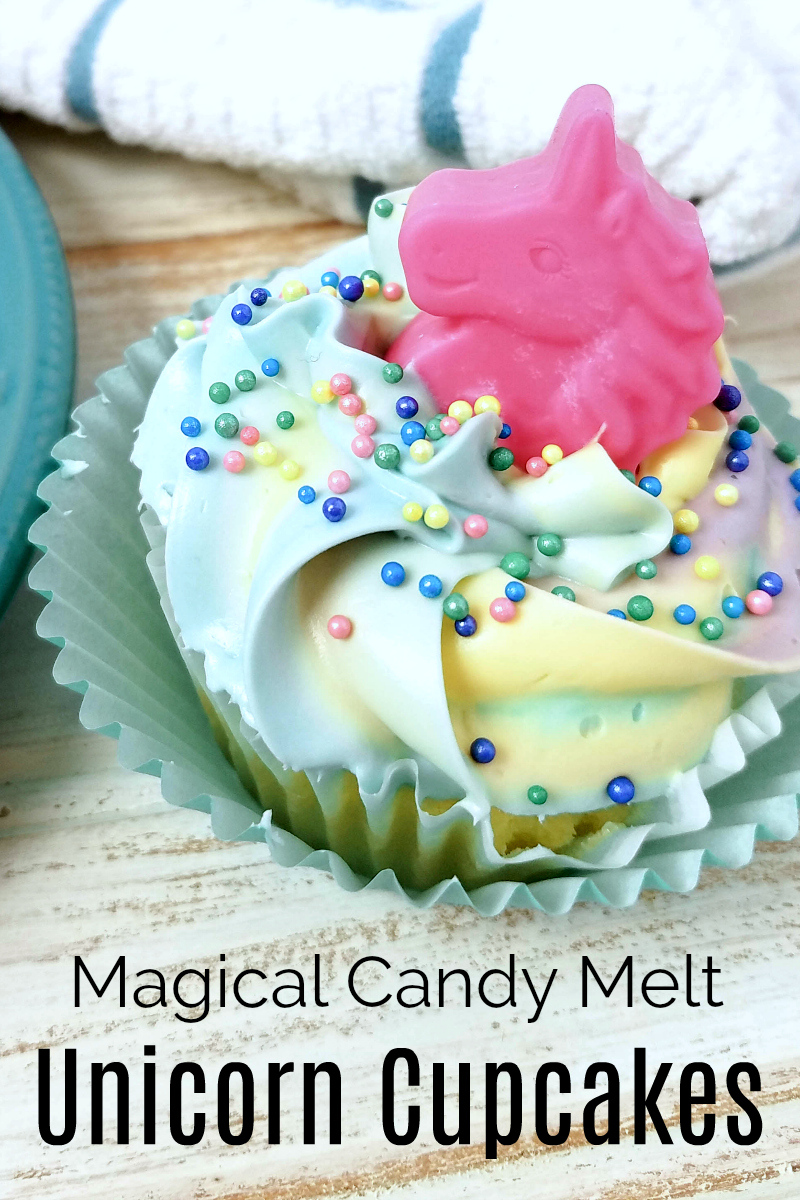 More from Mama Likes To Cook
Check out the rest of my vegetarian recipes, so you can get more great ideas for baking, cooking, blending and juicing.
Frosting Recipes
Cupcake Recipes
Cake Recipes
Shopping Tips
For a beautiful assortment of kitchen necessities and food gifts for the whole family, check out the latest deals at these online stores.
Are you ready to have some delicious fun in the kitchen?