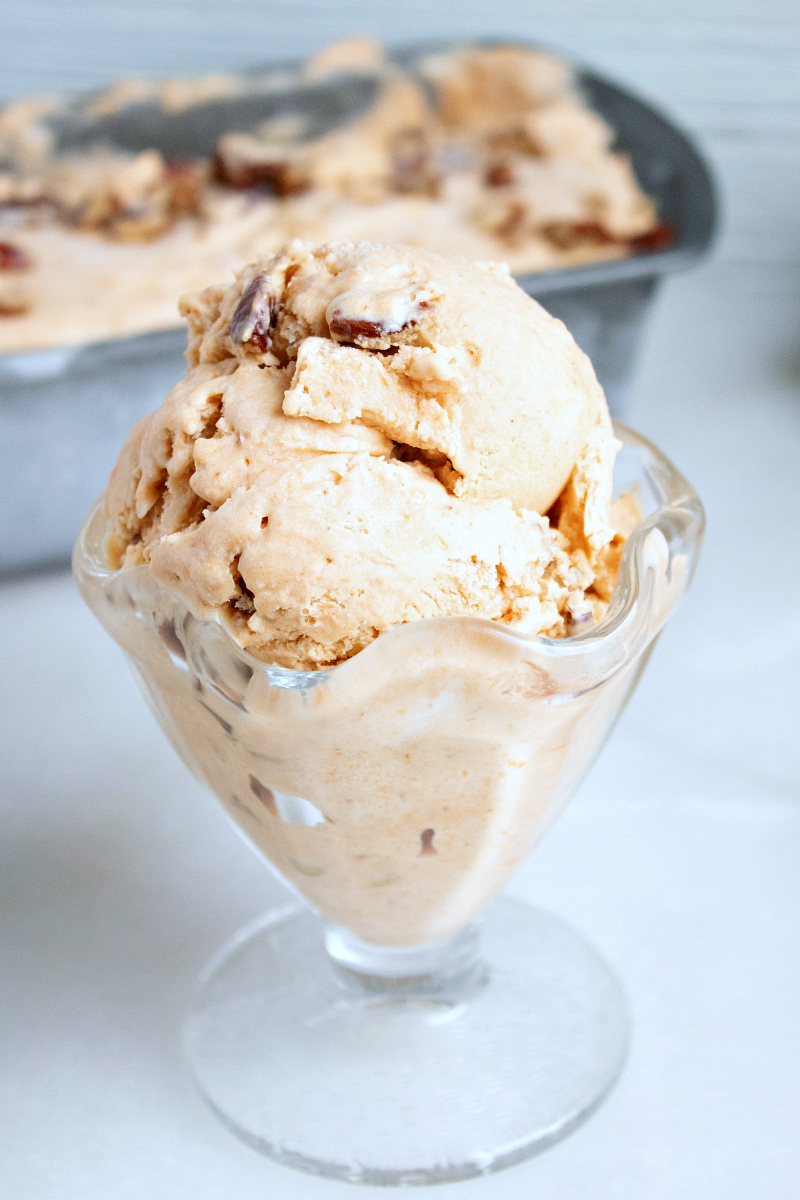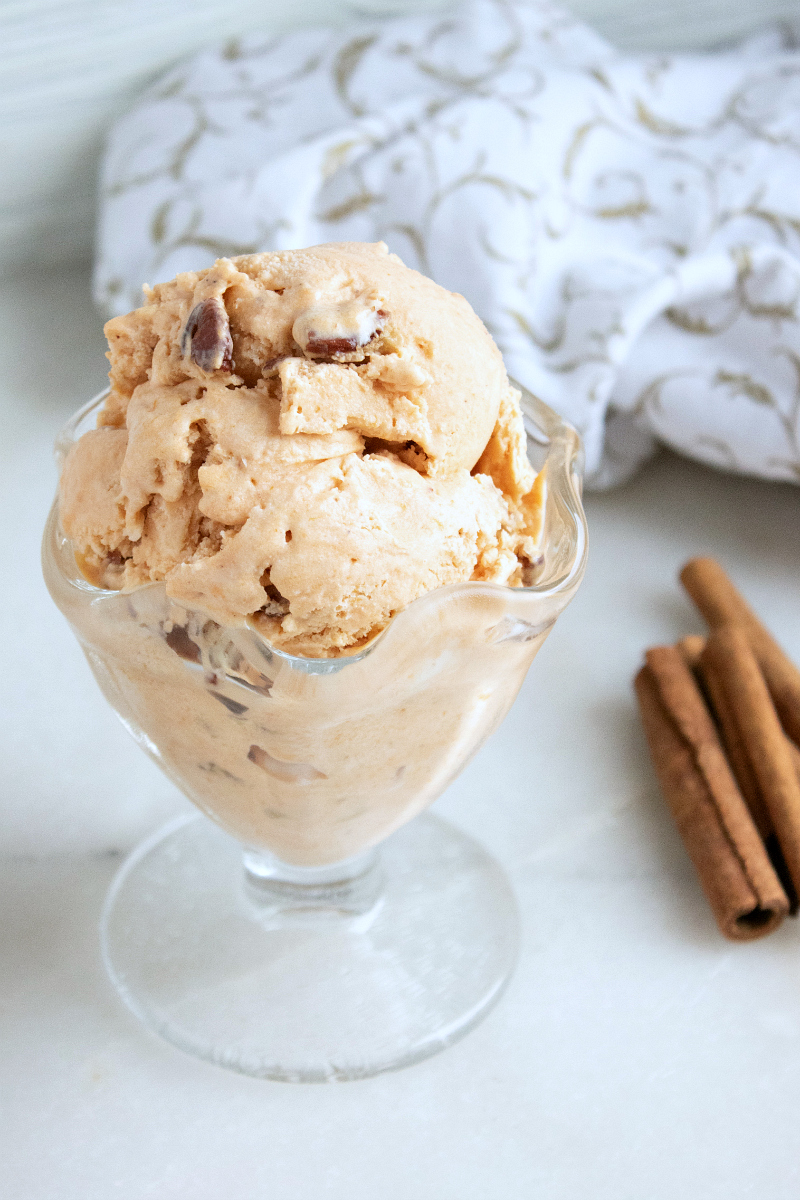 Easy Homemade Pumpkin Pecan Ice Cream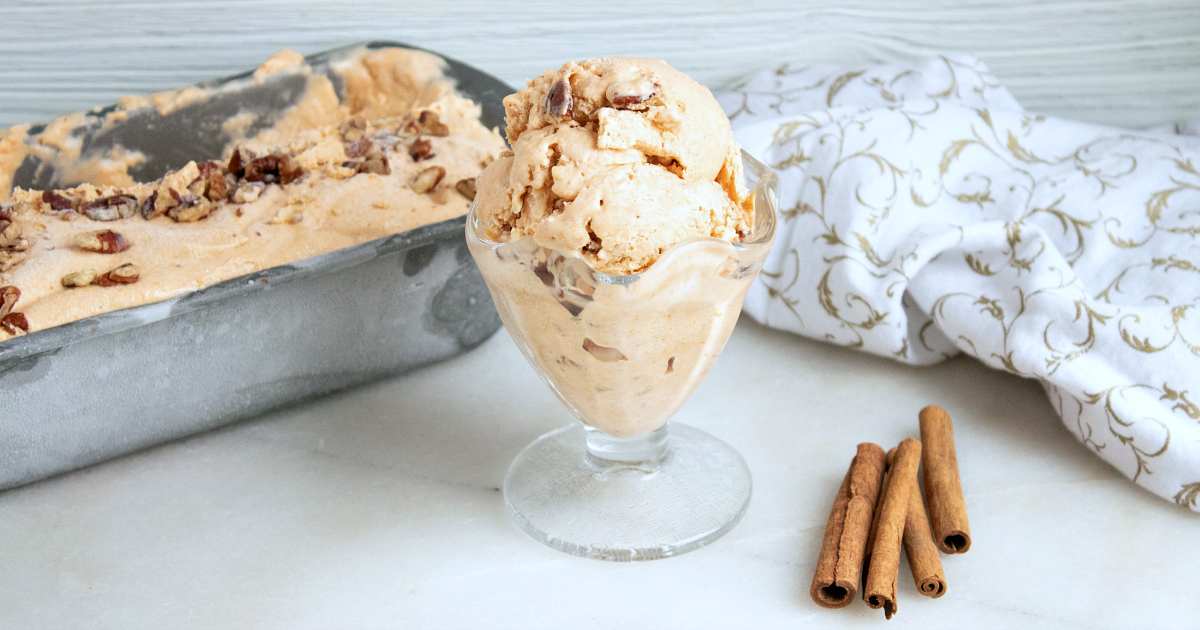 Pumpkin spice is typically most popular in the Fall, but this easy no churn pumpkin pecan ice cream is delicious all year long.
It is made with real pumpkin, spices and has little bits of pecans for added flavor, nutrition and texture.
If you don't do nuts, you can leave them out and it is still amazing.
However, I don't have an allergy, and I love pecans.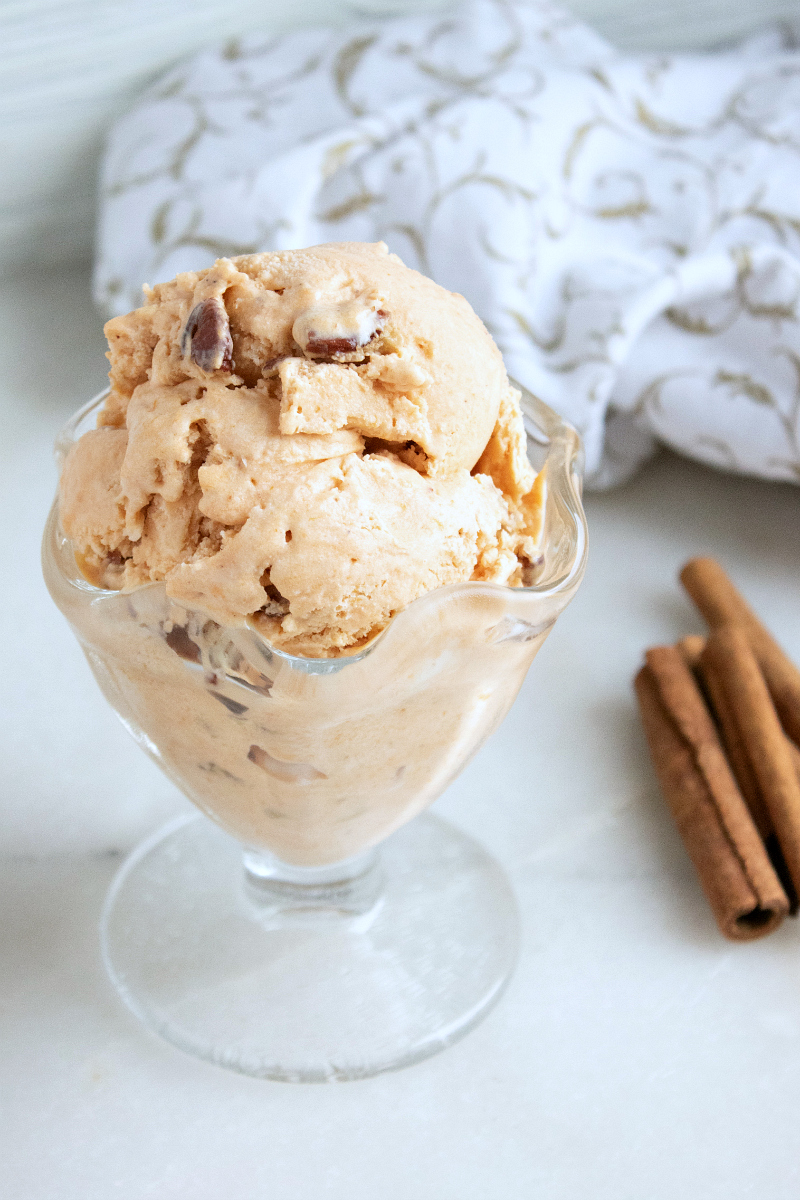 Childhood Memories of Pumpkin Ice Cream
I first experience pumpkin ice cream, when I was in junior high oh so many years ago.
There was a little ice cream shop near the Hermosa Beach Pier that is responsible for my love of this flavor.
The ice cream shop closed many years ago, but I still remember it fondly.
At that time, I saved up my babysitting money for scoops and literally roller skated nearly 5 miles to get to the shop.
Yes, it was that good.
I still think of those good times on the California coast, whenever I eat pumpkin ice cream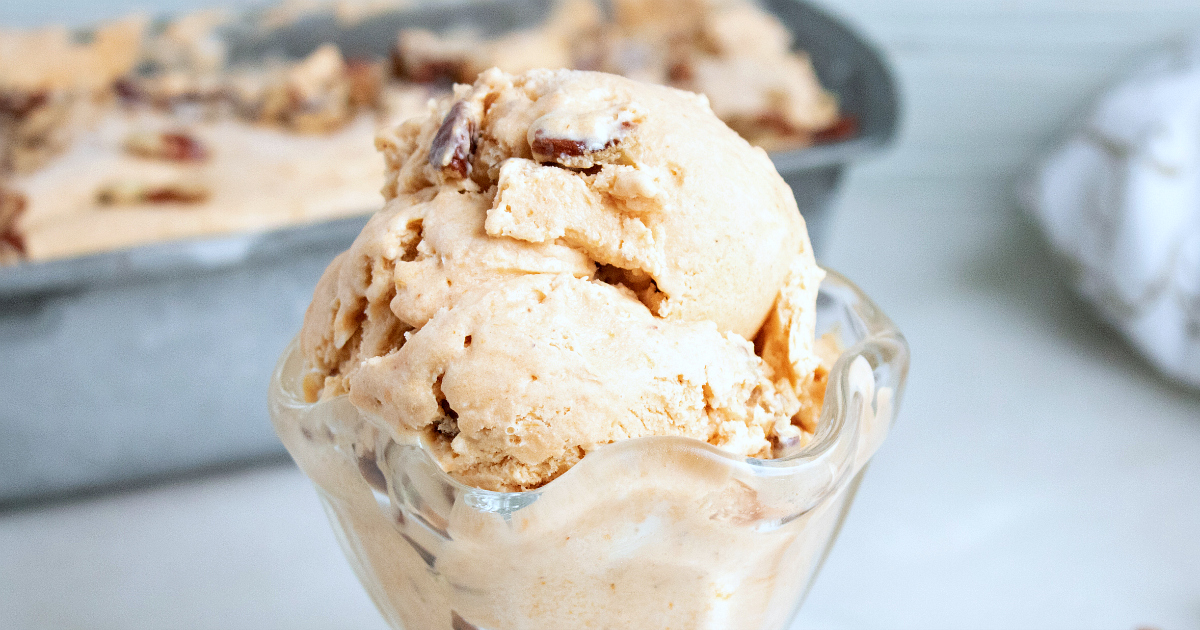 No Churn Ice Cream
I used to shy away from homemade ice cream, since it seemed like such a bother.
Hand cranking and rock salt did not sound like fun.
And, I didn't want to purchase and store one of the newer automatic ice cream makers.
Fortunately, it is really easy to make homemade no churn ice cream with a mixer and a freezer.
It is so rich and creamy that you'll wonder why you haven't been making it this way for years.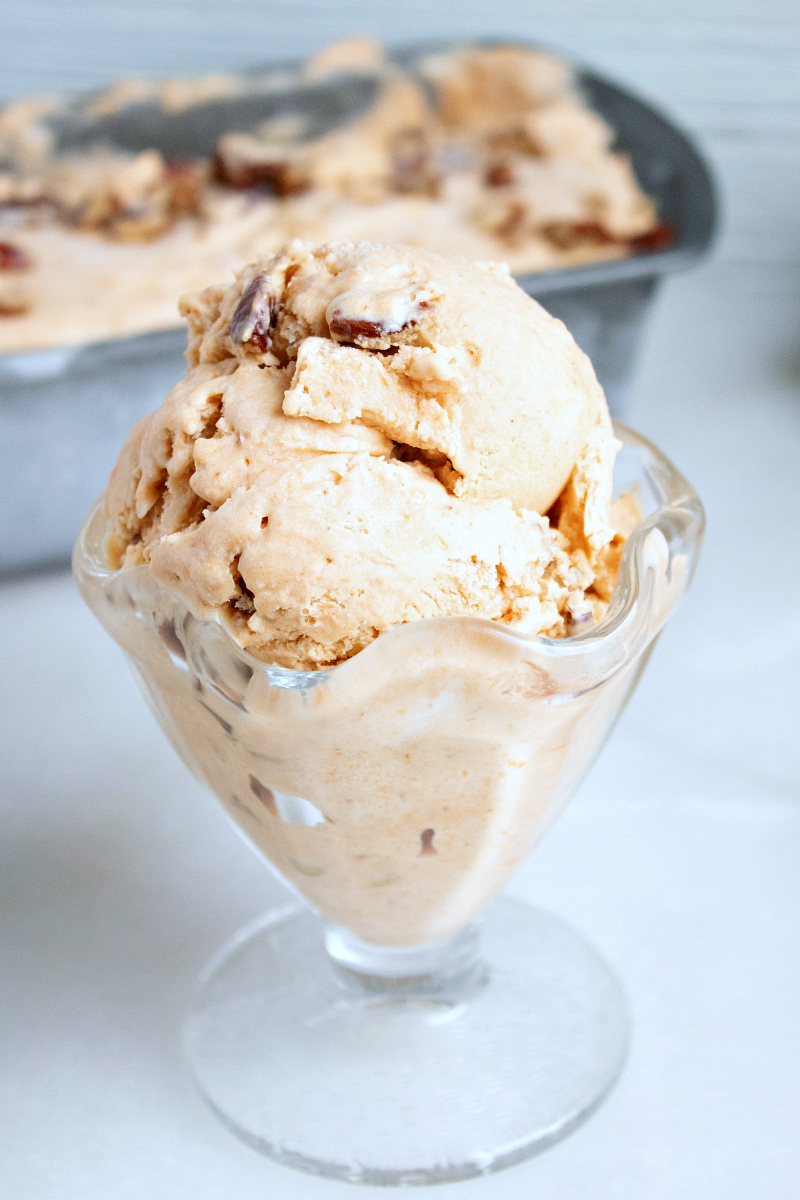 Each Fall, I get excited to see all of the pumpkin spice items arrive in grocery stores and restaurants.
Many of them are great, but many are either just the spice or they use pumpkin flavor instead of real pumpkin.
This easy pumpkin pecan ice cream has plenty of pumpkin spice, and the bold flavor of real pumpkin.
Are you ready to surprise your family with no churn pumpkin pecan ice cream?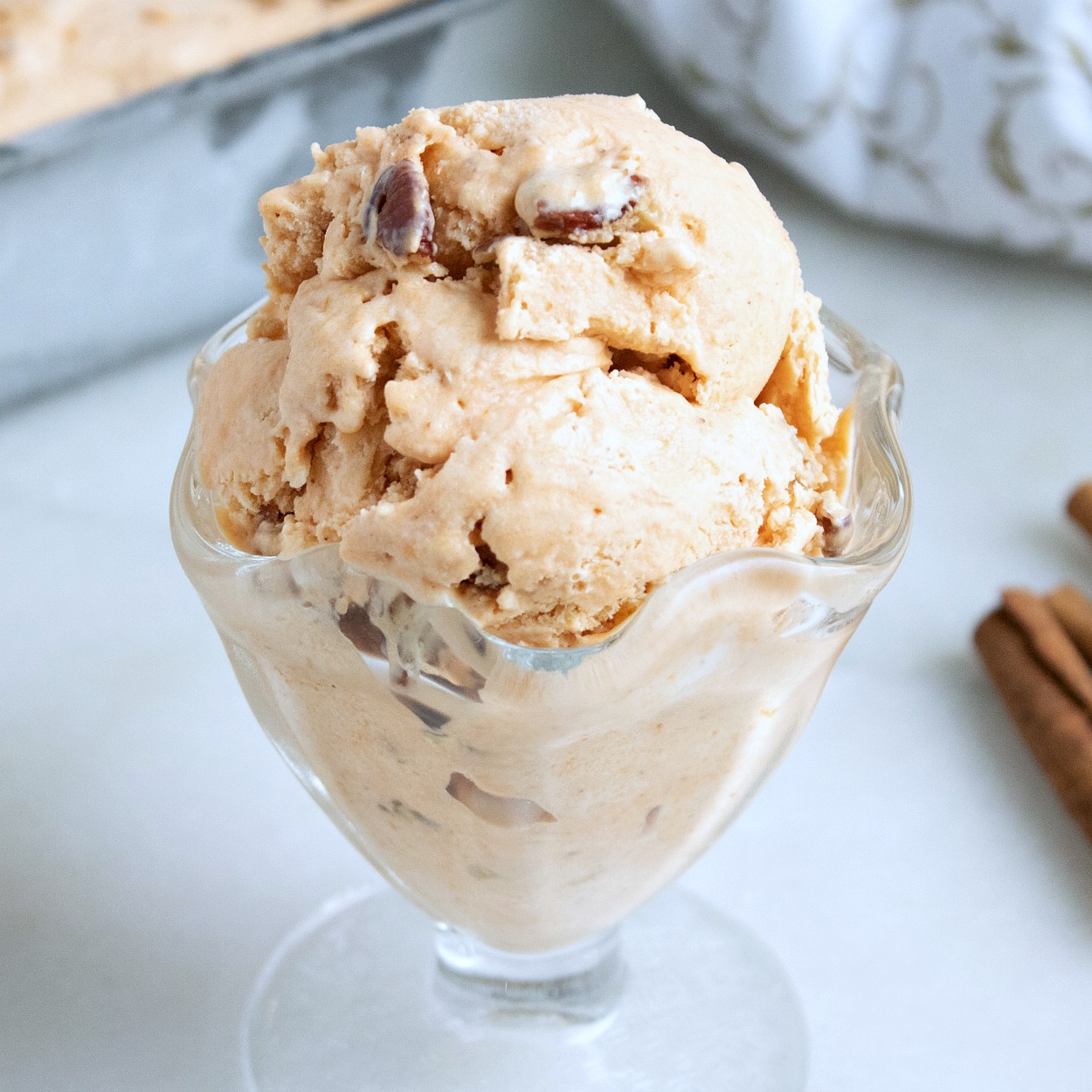 No Churn Pumpkin Pecan Ice Cream Recipe
Makes 8 half cup servings
Ingredients:
2 cups Heavy Cream
1 can Sweetened Condensed Milk (14 oz.)
1 cup Pumpkin Puree
1/8 t Ground Cloves
1/4 t Ground Cinnamon
1/8 t Ground Allspice
1/8 t Ground Ginger
1 t Vanilla Extract
1/2 cup Chopped Pecans
Optional Garnish
Additional Pecans
Whipped Cream
Supplies
Stand Mixer or Hand Mixer
Large Mixing Bowl
Spatula
Large Spoon
Loaf Pan
Instructions:
1) Beat heavy whipping cream with a mixer until thick.
2) Pour in sweetened condensed milk, pumpkin and vanilla extract. Then fold in with a large spoon until smooth.
3) Next, spoon half of the ice cream into a loaf pan. Top with half of the chopped pecans. Add the remaining ice cream and top with the rest of the pecans.
4) Freeze for 5 or more hours. When you are ready to serve, remove the container from the freezer. Soften it prior to scooping by letting it sit on the counter for 5 to 10 minutes.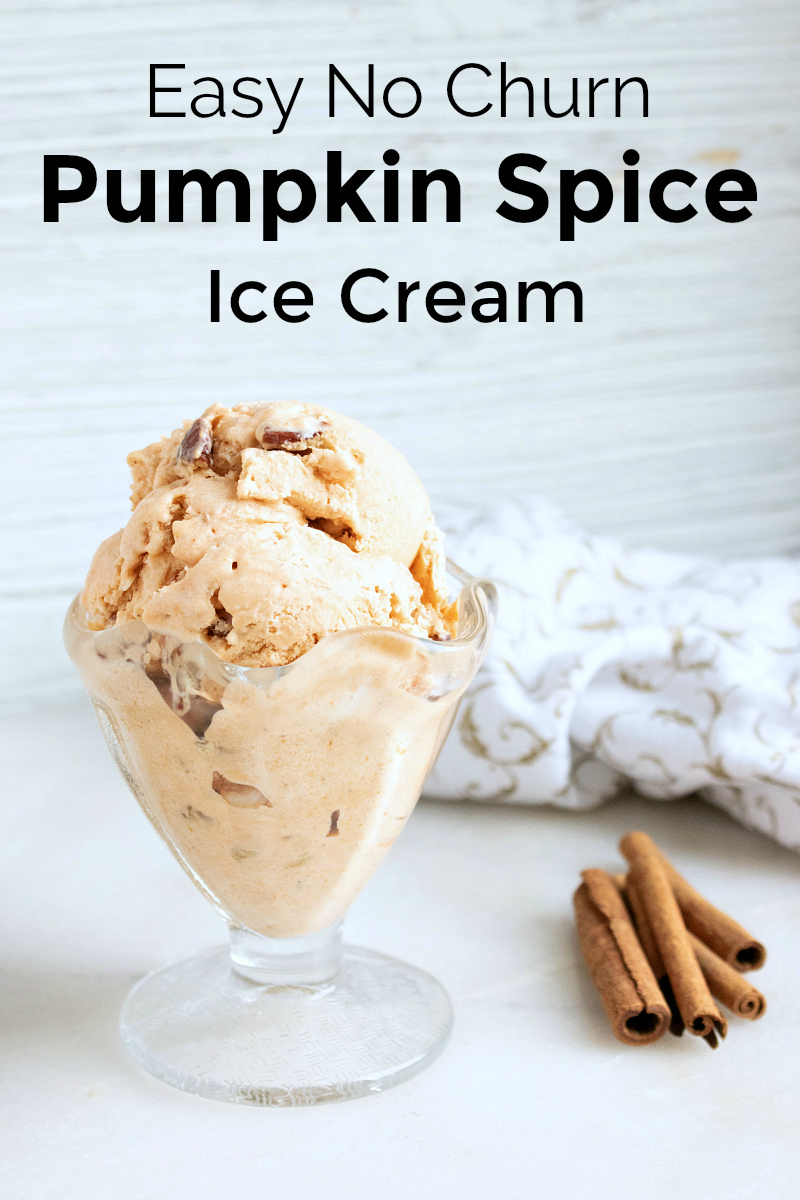 More from Mama Likes to Cook
Check out the rest of my vegetarian recipes, so you can get more great ideas for baking, cooking, blending and juicing.
No Churn Ice Cream Recipes
Pumpkin Breakfast Recipes
Pumpkin Dessert Recipes
Dips Made with Pumpkin
Dinner Recipes with Pumpkin
Shopping Tips
For a beautiful assortment of kitchen necessities and food gifts for the whole family, check out the deals at these online stores.
Are you ready to have some delicious fun in the kitchen?