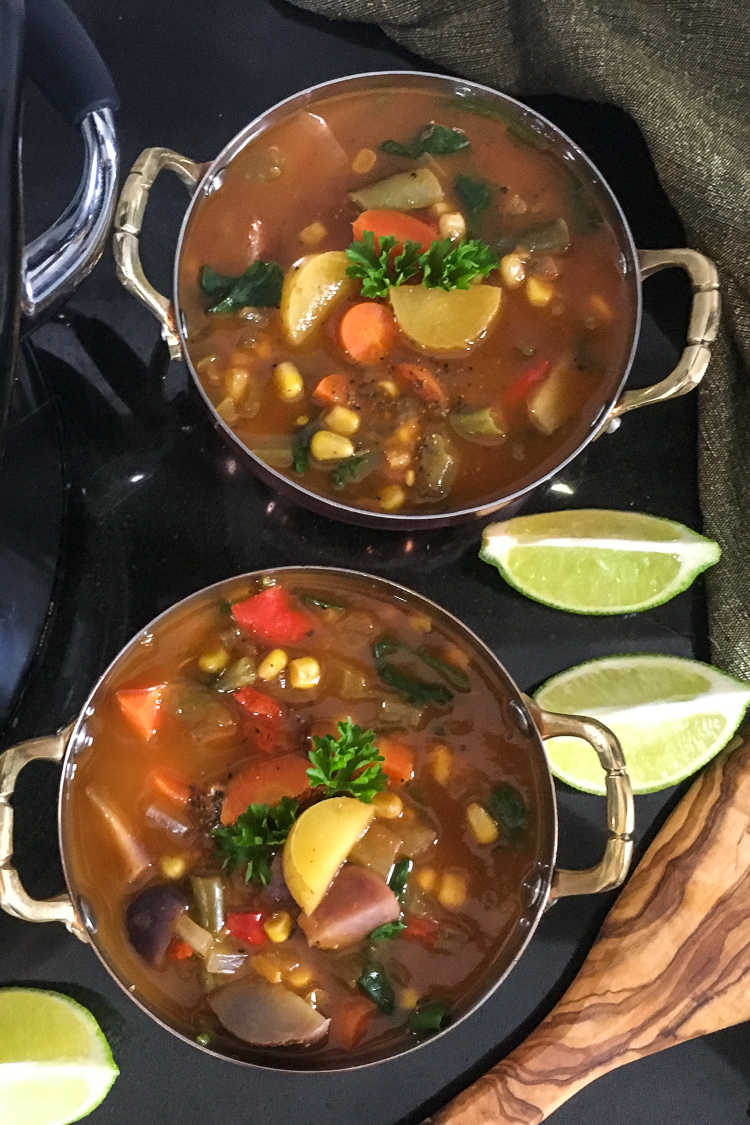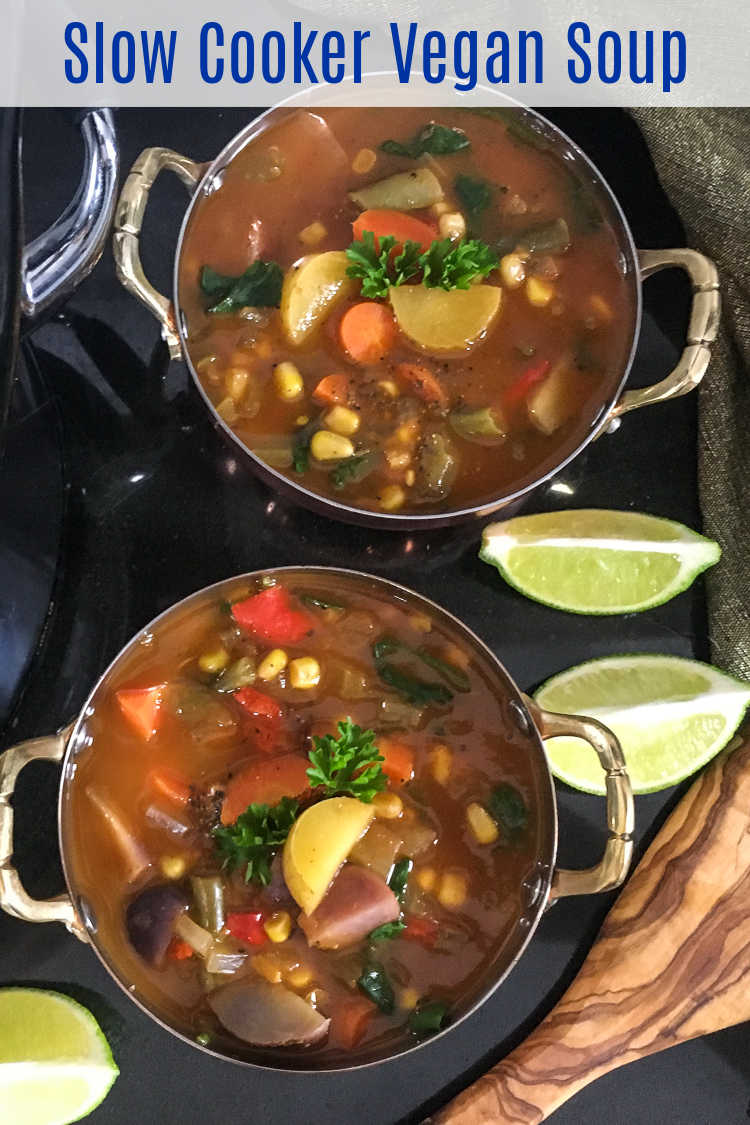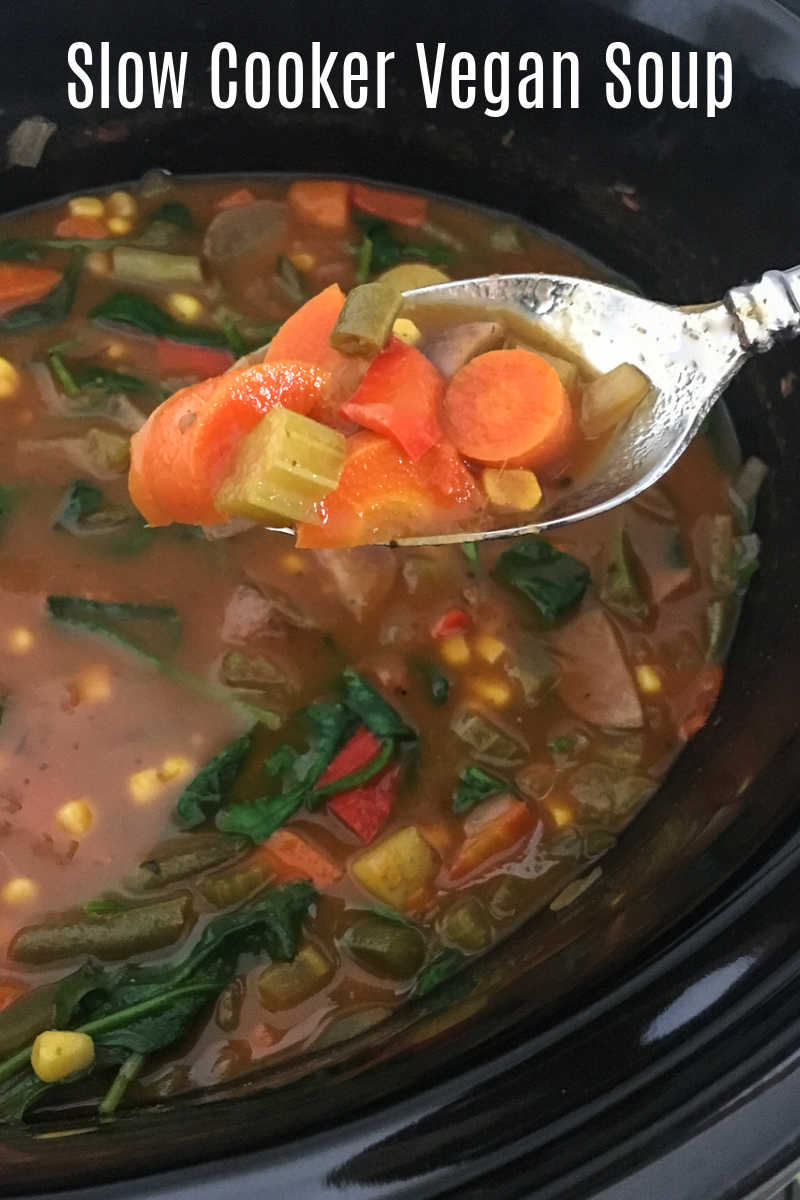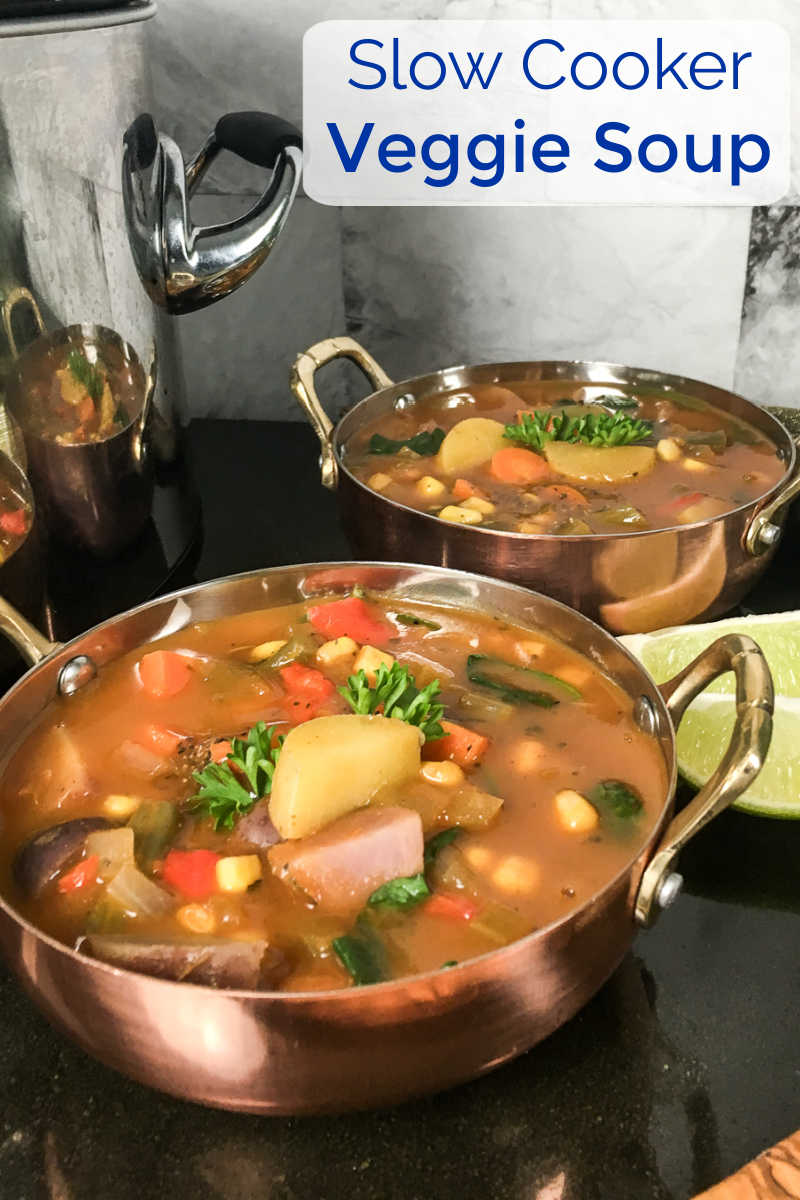 Vegan Vegetable Soup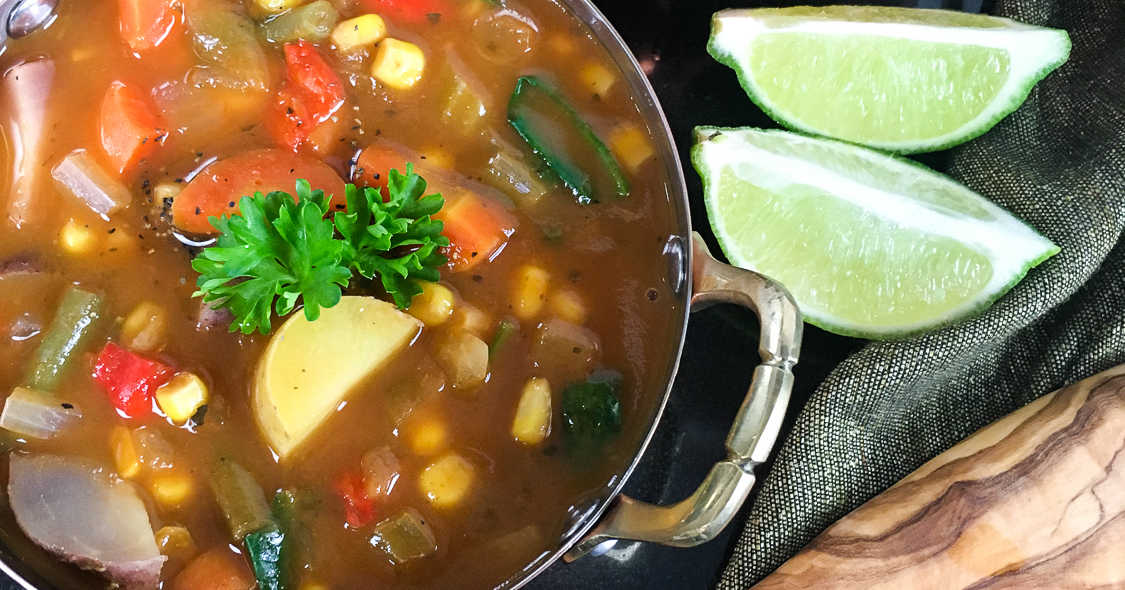 Nourishing fresh vegetables are the star of this slow cooker veggie soup, so the vegan dish is a tasty comfort food lunch or dinner.
I love making crock pot soup, when the weather is cool.
This cooking method is generally easy, but this recipe is especially easy.
I can add the ingredients and start it up.
Then, I can pretty much forget about it until the aroma lets me know the soup is ready.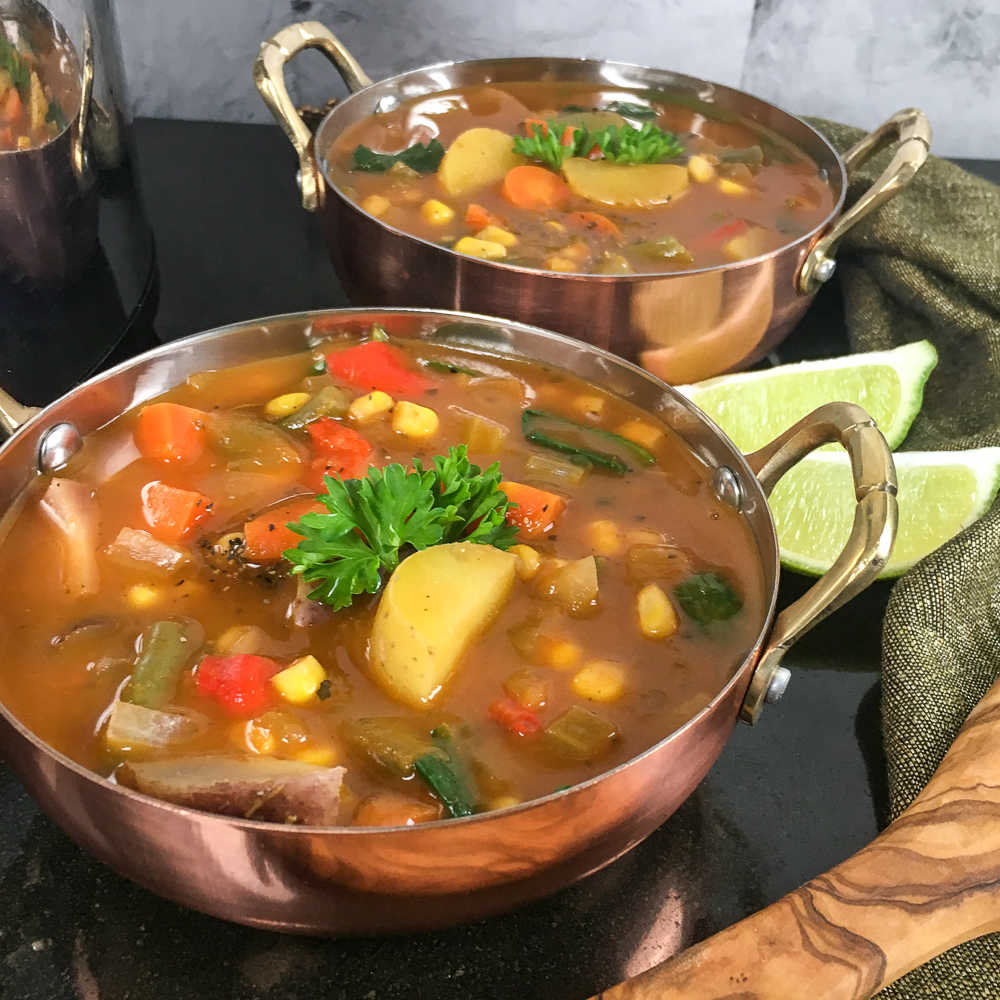 You can make this recipe exactly as written or you can adjust based on your personal taste and what you happen to have on hand.
When the vegetables are tender and the soup is ready, fresh lime juice is added to brighten up the flavors.
If you happen to have leftovers, this soup can be frozen or stored in the refrigerator to savor another day.
It really is delicious!
Enjoy.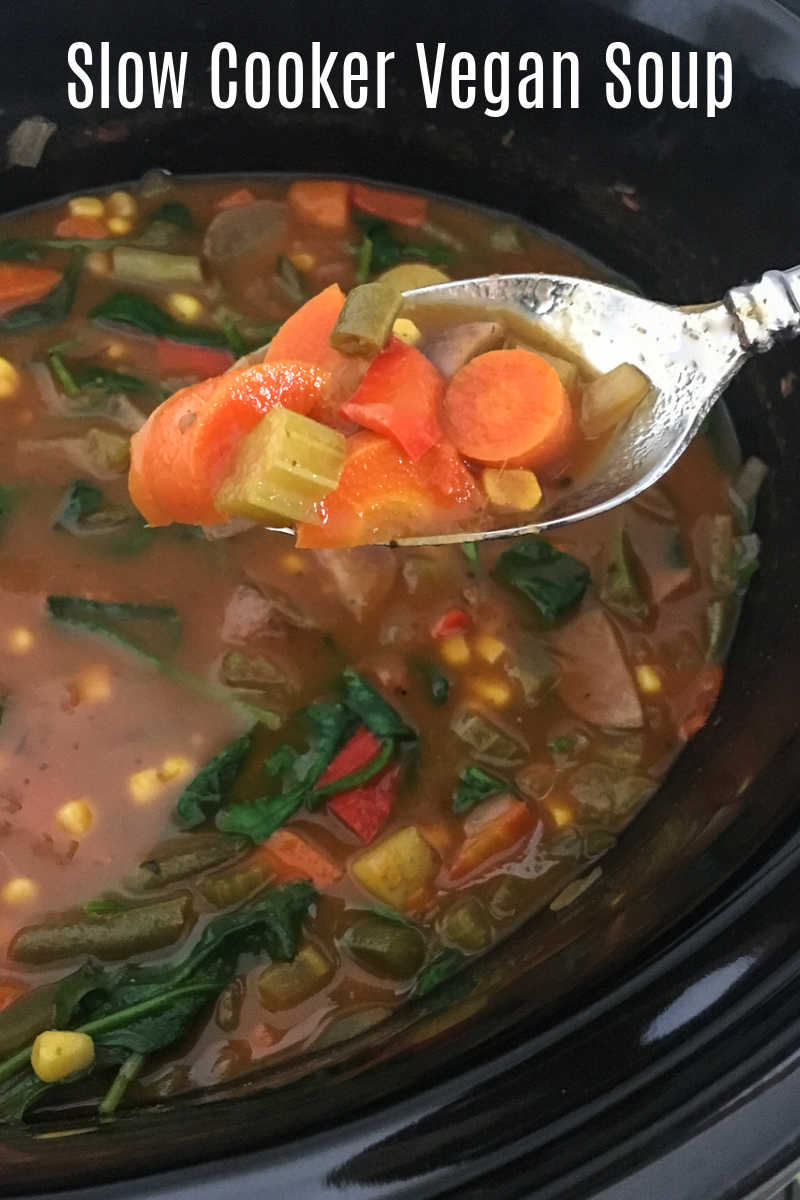 Vegan Slow Cooker Veggie Soup Recipe
Prep time: 20 minutes
Cook time: 4 hours on high or 8 hours on low
Serves: 6-8
Ingredients
½ White Onion
3 Large Carrots
1 Red Bell Pepper
3 Celery Stalks
1 cup Green Beans
1 cup Corn (fresh, frozen or canned)
¾ lbs. Baby Potatoes
1 cup Tomato Sauce
3 cups Vegetable Broth
1 T Italian Seasoning
1 t Garlic Powder
Salt and Pepper to Taste
2 cups Baby Spinach, roughly chopped
3 T Lime Juice
Optional Garnish:
1 large Lime, sliced
3 T. Fresh Parsley, chopped
Supplies
Slow Cooker (6 quart or larger)
Chef Knife
Measuring Cup
Measuring Spoons
Large Spoon
Instructions
1) Chop the vegetables into bite sized pieces and add to the crock pot.
2) Pour in the tomato sauce and vegetable broth. Sprinkle in the Italian seasoning, garlic powder, salt and pepper.
3) Cover and cook on high for 4 hours or on low for 8 hours.
4) Stir in baby spinach and lime juice. Season with additional salt and pepper, if needed. Cover and simmer for a few more minutes, so that the spinach is wilted.
5) Serve immediately. Optionally, garnish with fresh parsley and lime.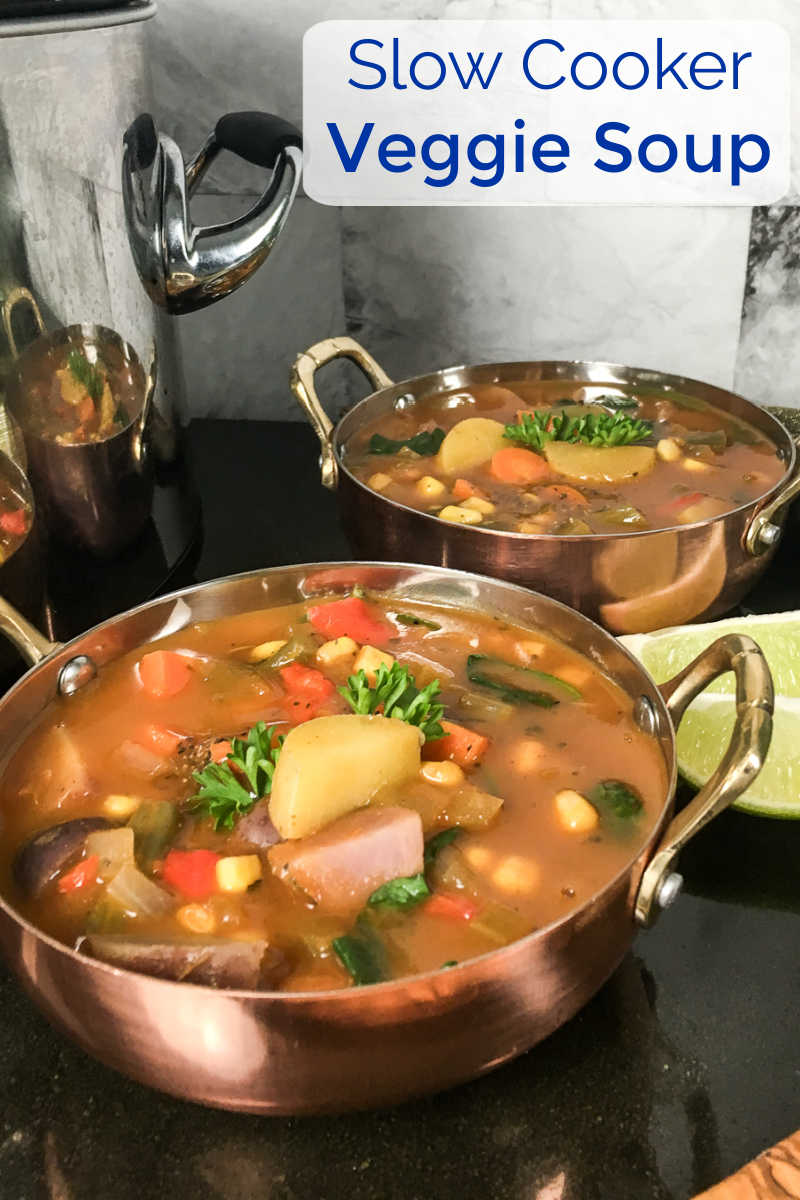 More from Mama Likes To Cook
Check out my other
dinner recipes
, so you can get more foodie inspiration.
Slow Cooker Soup Recipes
Stovetop Soup Recipes
Instant Pot Soup Recipes
Cold Soup Recipes