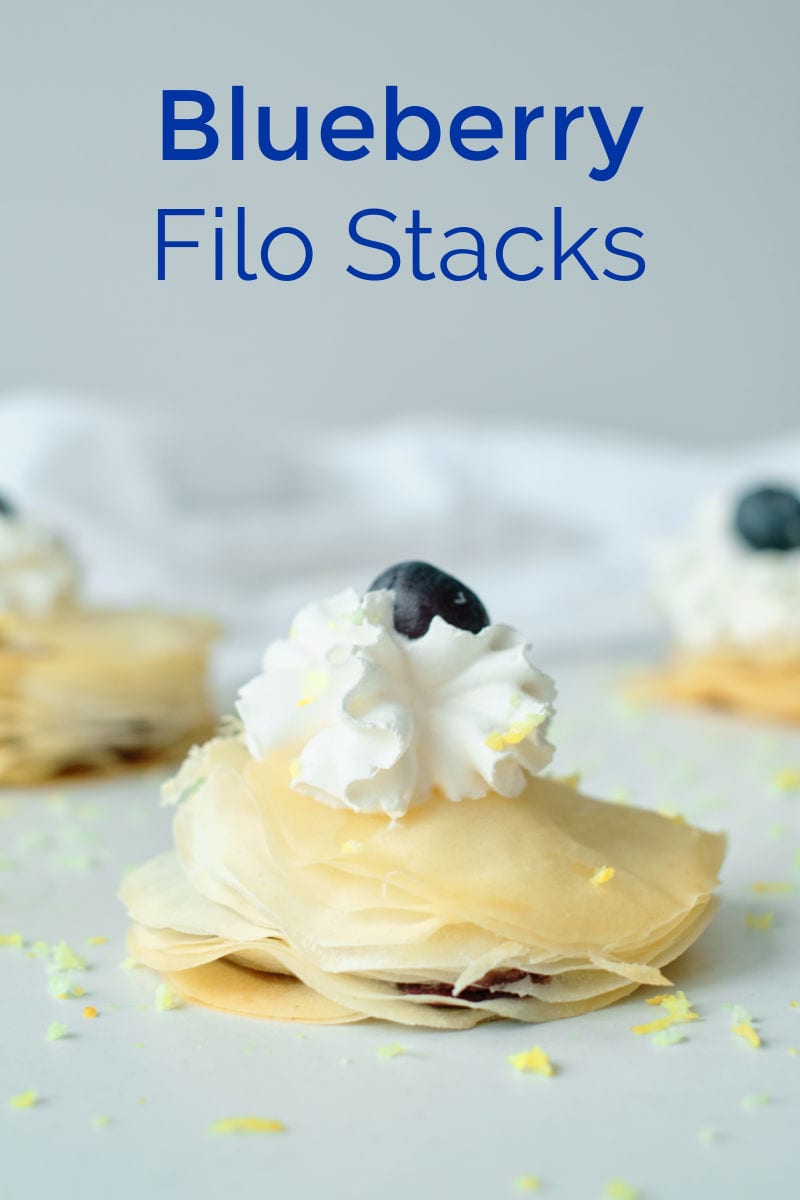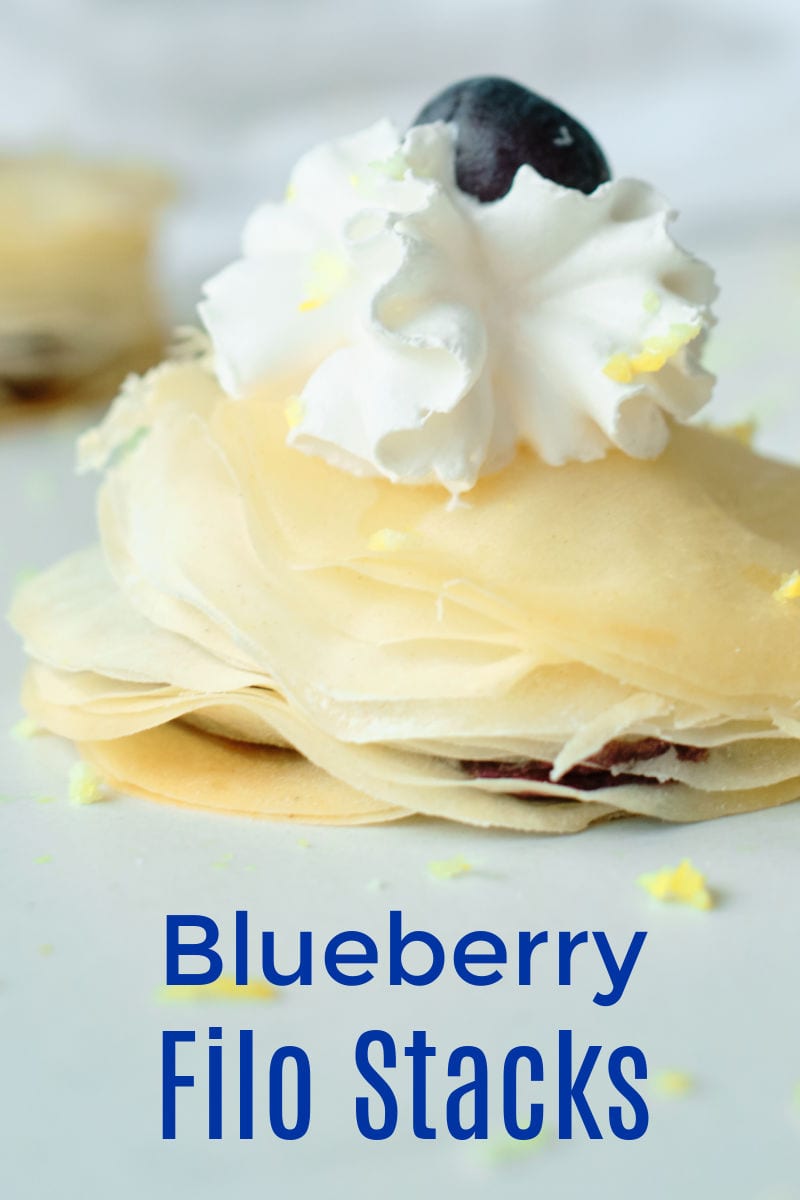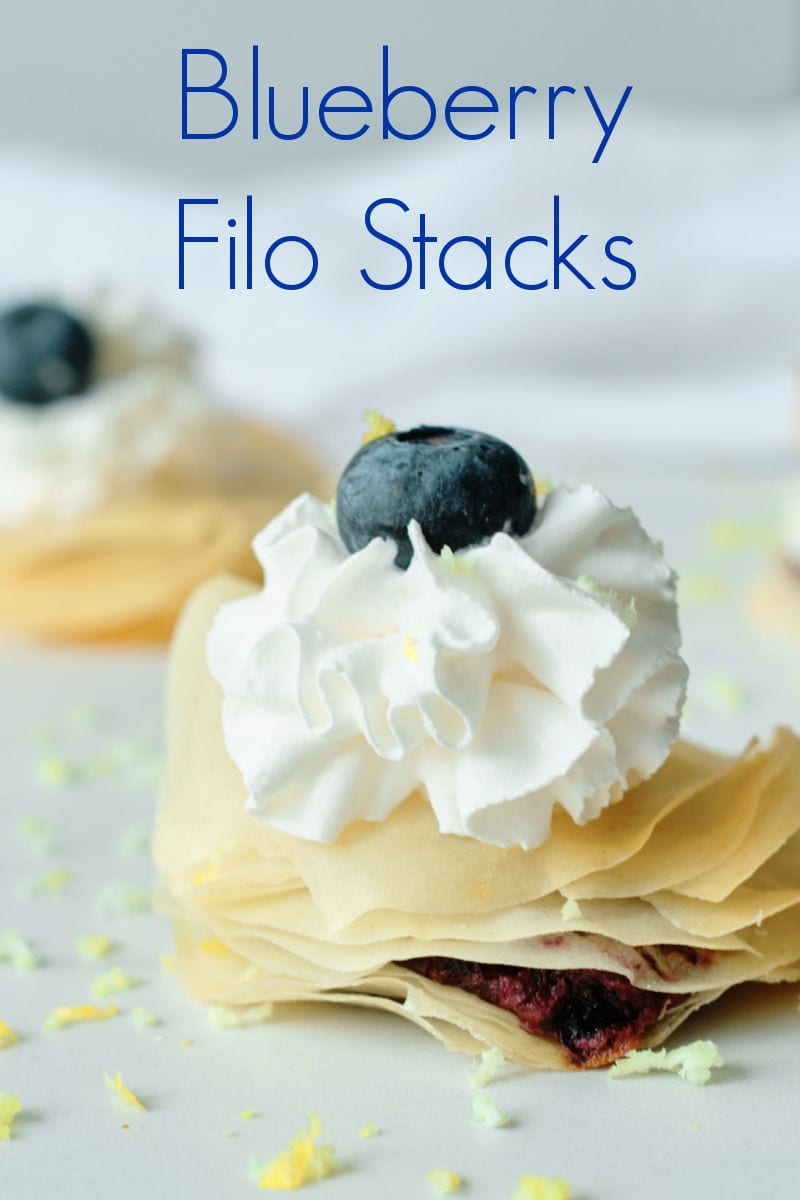 Quick and Easy Pastries
made with blueberries and filo dough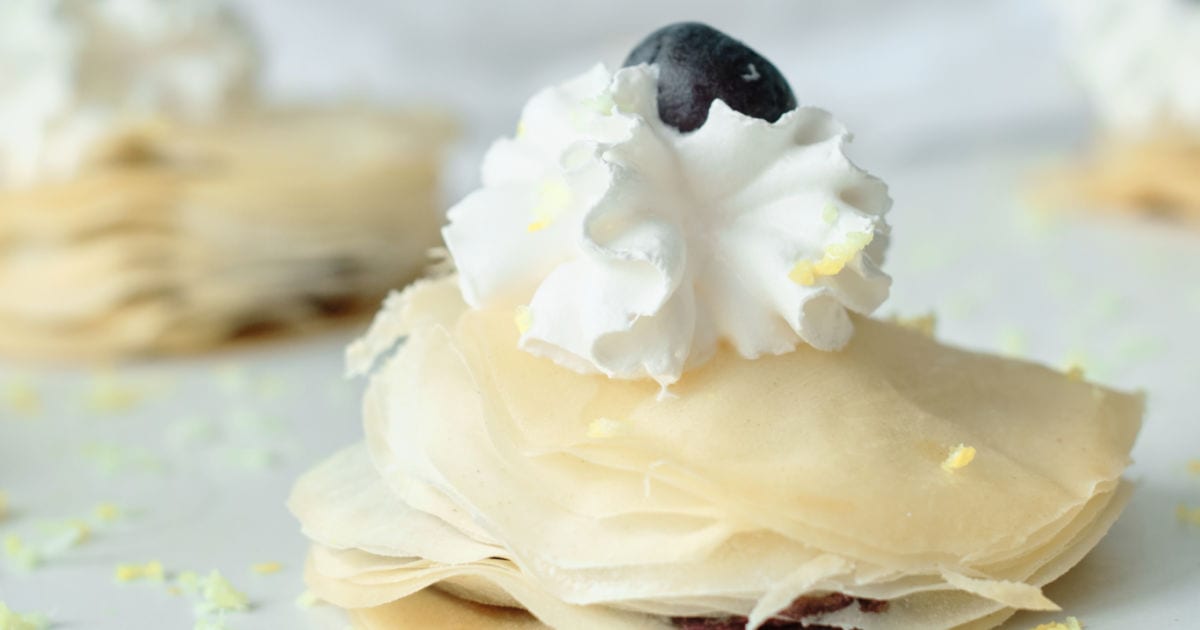 These blueberry filo stacks are easy to make, look great and, of course, these little pastries are an absolutely delicious treat.
Whether you call it filo, fillo or phyllo, this ready to use pastry dough is perfect for making homemade pastries.
The dough is very thin, which is why it is named after the Greek word for "leaf."
It is possible to make the dough from scratch, but a fresh roll of pre-made filo is reasonably priced and so easy to use.
Your blueberry pastries will be light and crunchy, so you can savor each satisfying bite.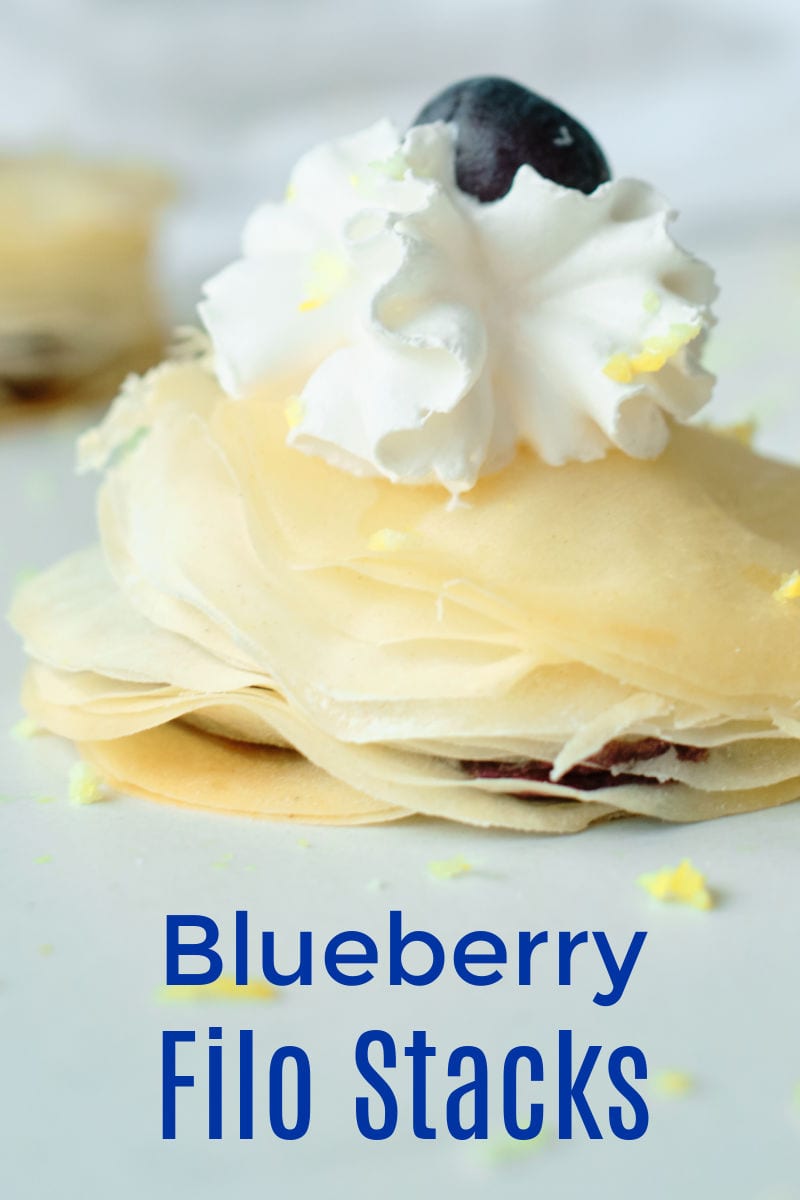 Since filo dough comes in a roll or sheets, you'll need to cut it into circles for this recipe.
A biscuit cutter or round cookie cutter can cut through about 10 sheets at a time, so it doesn't take long at all.
Cutting the dough and assembling the stacks is a fun activity, so your kids may want to help.
There are layers of filo dough on the bottom, a bit of butter and blueberry pie filling topped with more filo layers and butter.
After you bake it to a light golden brown, top with whipped cream, a fresh blueberry and fresh lemon zest.
This is an easy make at the last minute treat or you can plan ahead and serve the pastries for a special occasion.
Enjoy!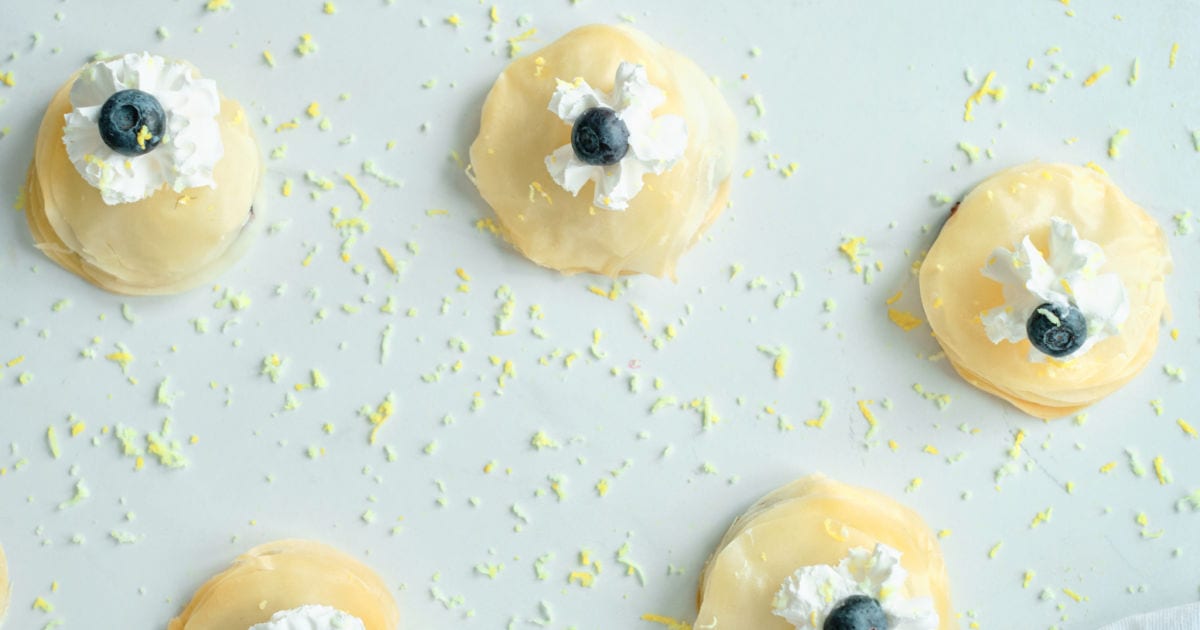 Blueberry Filo Stacks Recipe
Prep time: 15 minutes
Cook time: 15 minutes
Ingredients
16 oz. roll Filo Dough
Blueberry Pie Filling
¼ cup Butter, melted
Garnish:
Whipped cream
Fresh Blueberries
Lemon Zest
Supplies
Biscuit Cutter or Round Cookie Cutter
Rimmed Baking Sheet
Parchment Paper
Pastry Brush
Instructions
1) Line a rimmed baking sheet with parchment paper and preheat oven to 300°. IF your baking sheet has a really good nonstick surface, you can skip the parchment paper.
2) Unroll the filo dough and cut into circles with a cookie cutter. You should be able to
cut through about 10 layers of the dough at once.
3) Stack 4 filo circles on the parchment and brush a little bit of melted butter on it. Place a dollop of the pie filling on the dough and then top with 5-7 filo circles. Brush with more melted butter. Repeat the process to make more stacks until you have used all of the filo.
4) Bake at 300 for about 15 minutes, so that the stacks are are light golden brown.
5) Remove from the oven and let cool. Top each with whipped cream, a fresh blueberry and lemon zest.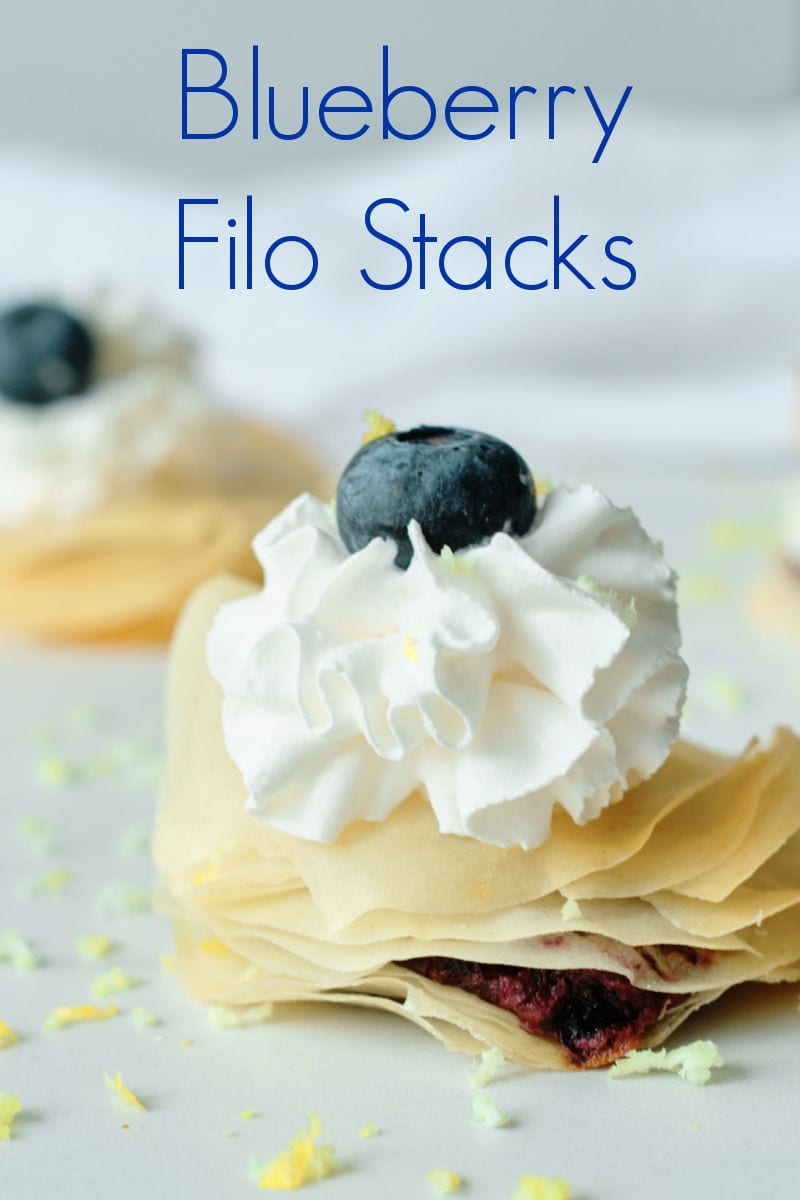 More from Mama Likes To Cook
Check out my dessert recipes, so you can get more sweet inspiration.
Following are a few of my other treat recipes that are great for the holidays:
Then take a look at the rest of my vegetarian recipes, so you can have even more delicious fun in the kitchen!