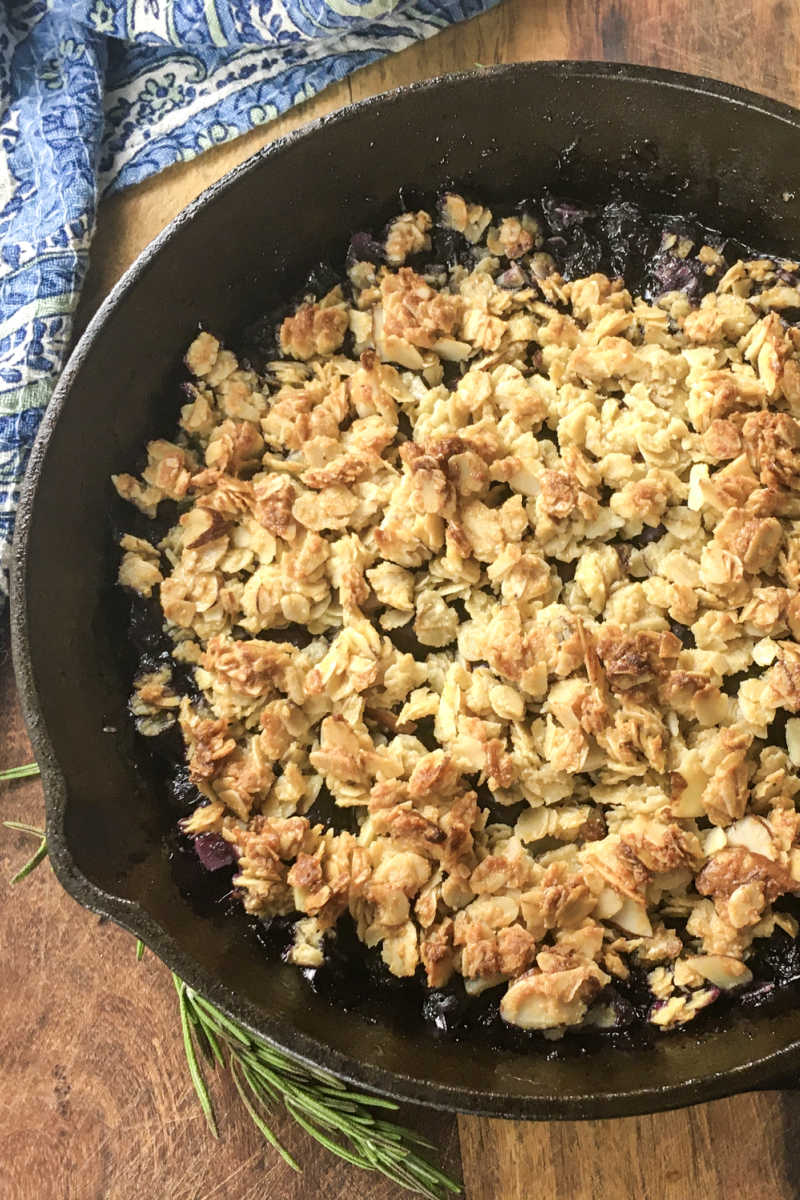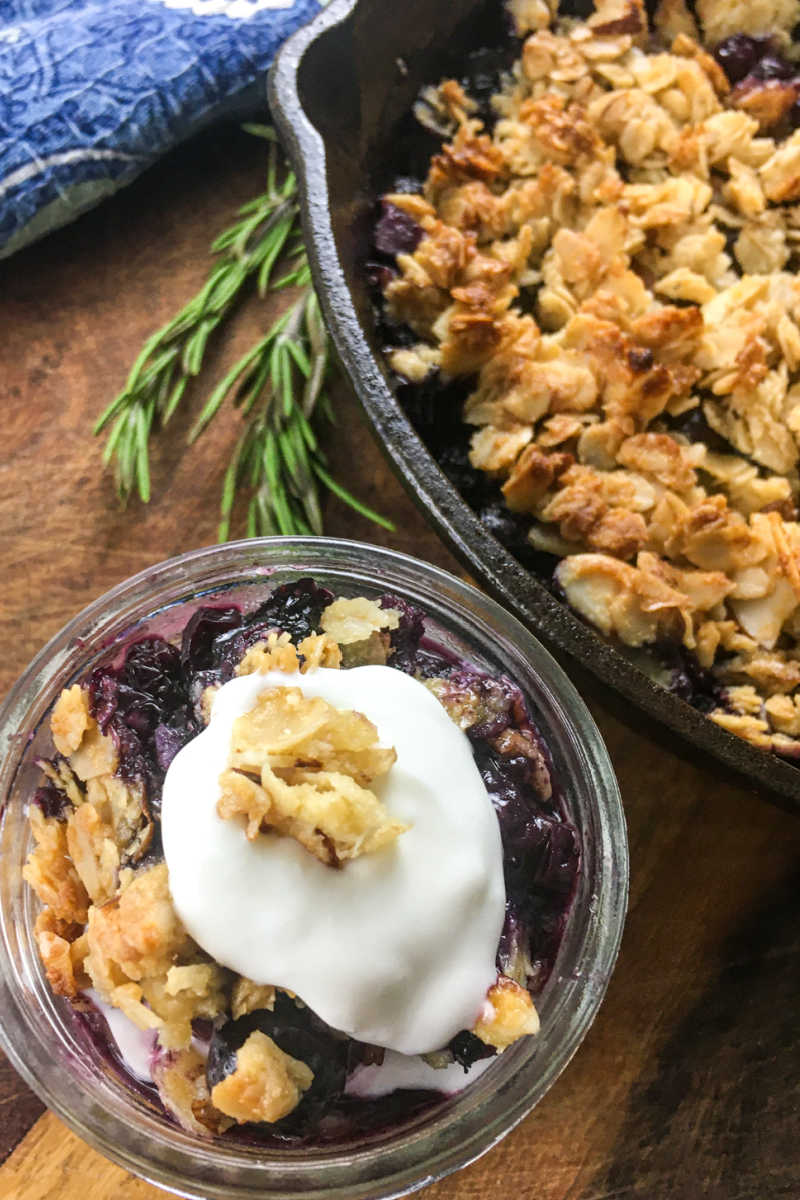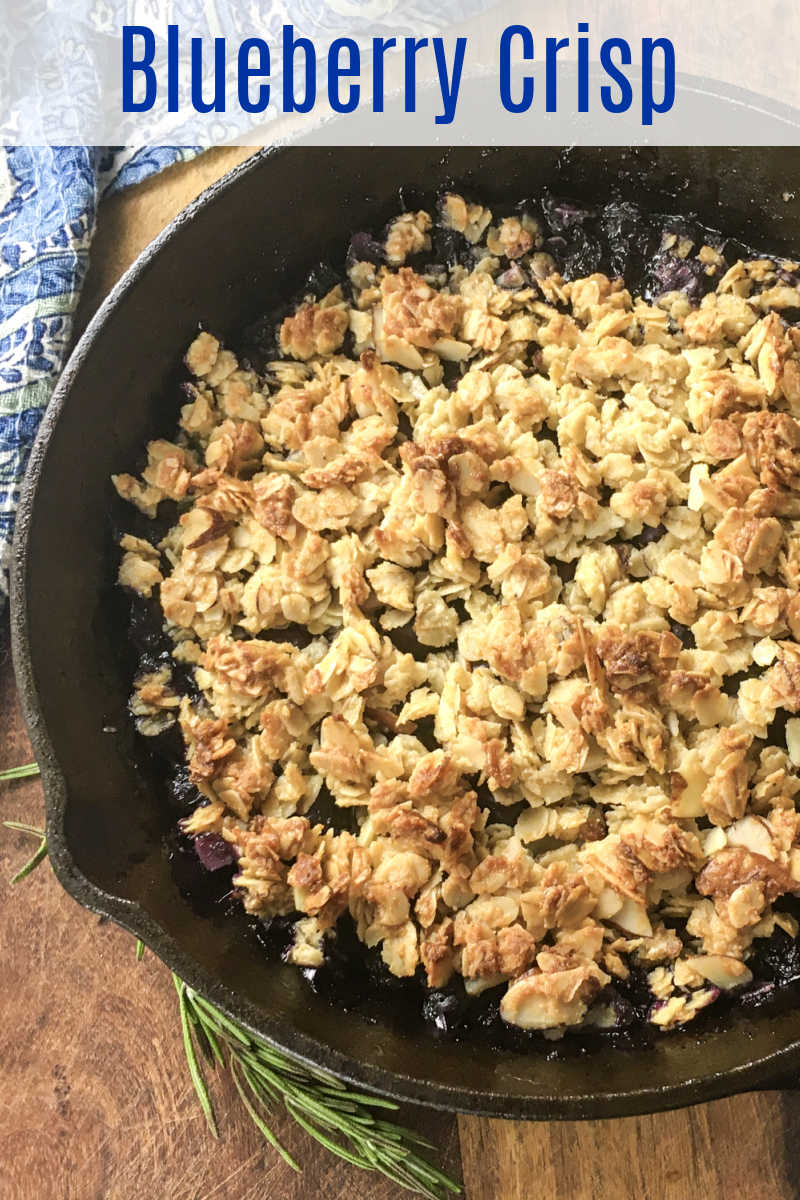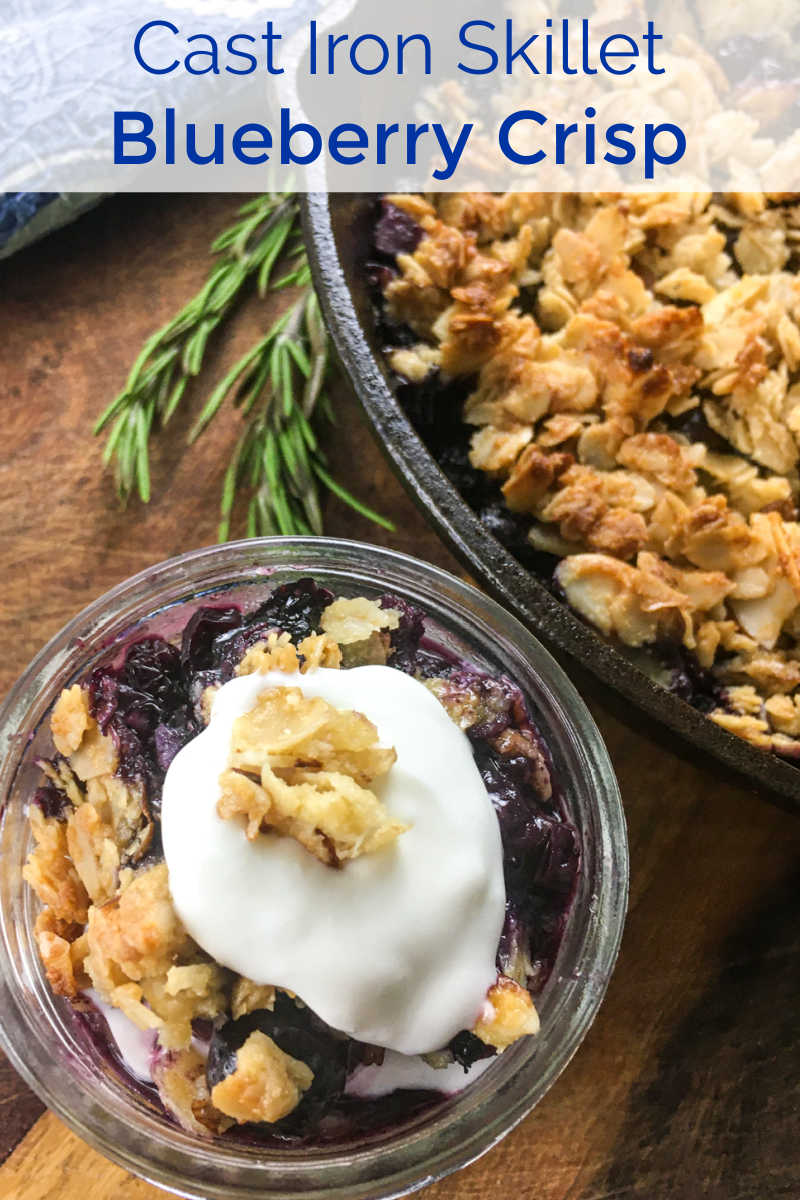 Maple Blueberry Crisp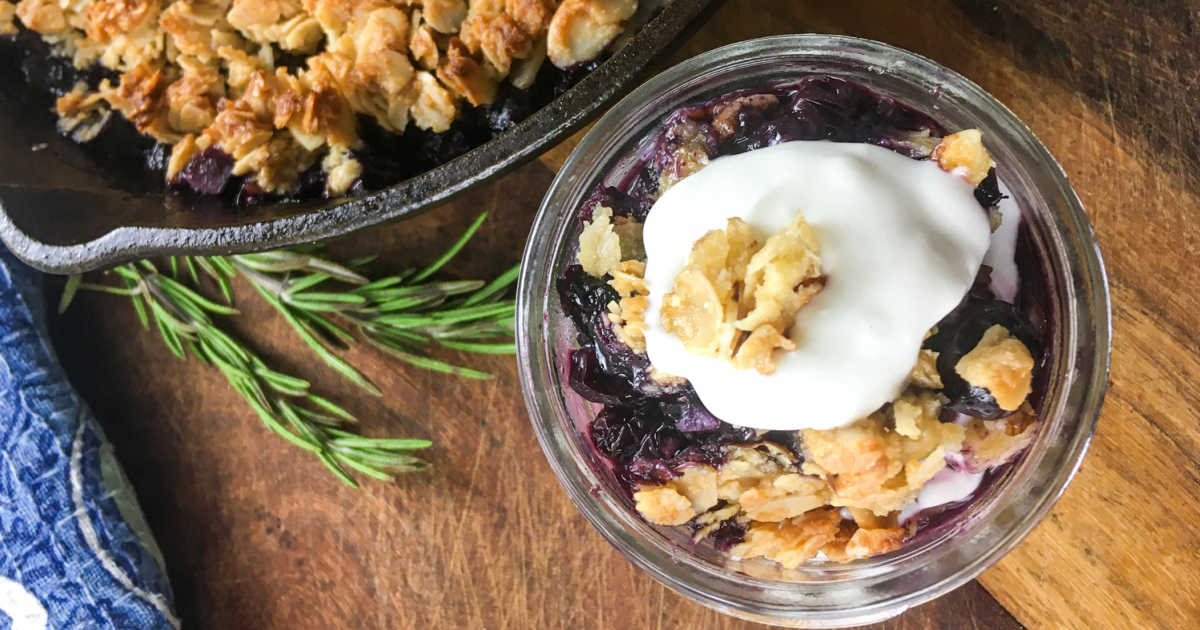 When fresh blueberries are at their peak, make this simple cast iron skillet blueberry crisp that is sweetened with maple syrup.
The recipe is easy, so it doesn't take much effort at all.
If your kids like to help in the kitchen, this recipe is perfect for little helpers who can measure, pour and mix the dessert.
The crisp is made with ingredients that are pantry basics along with fresh blueberries and rosemary.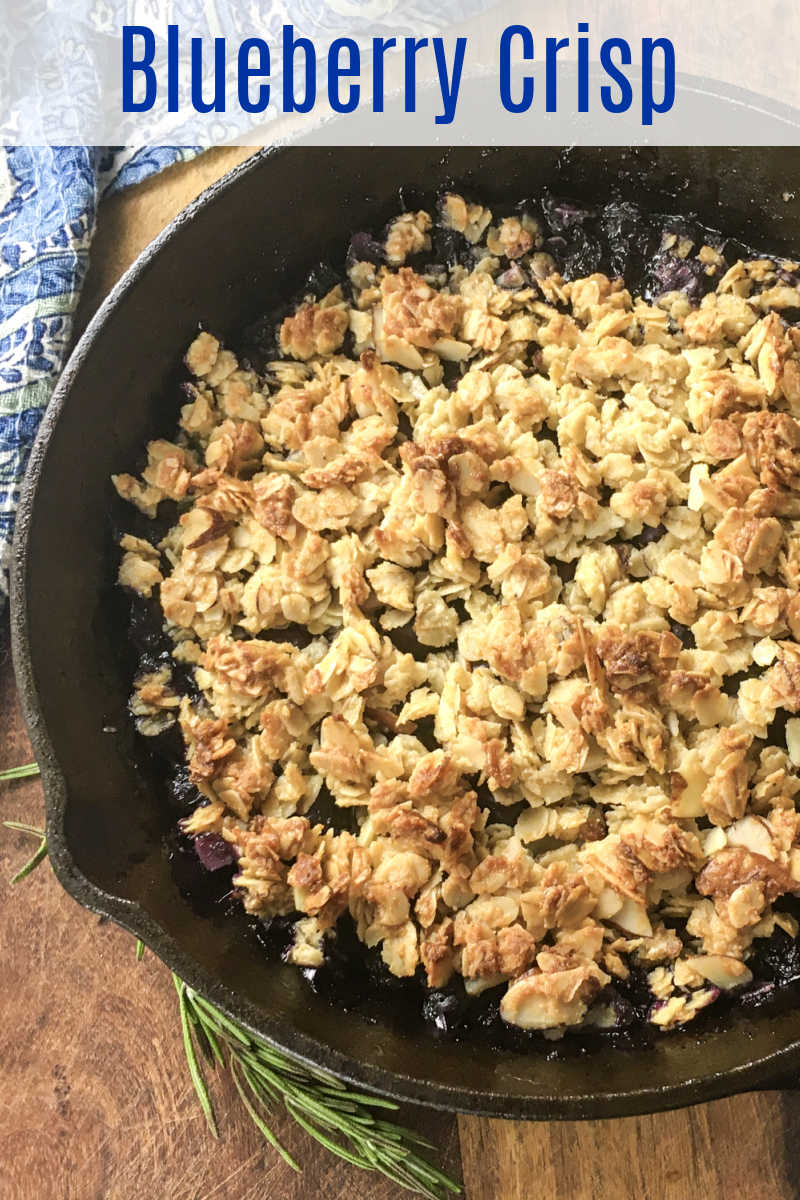 I love cooking with cast iron, so have accumulated a nice collection over the years.
My mother gave me a few of her favorite pans as a start, but I have definitely picked up more along the way.
Some have been purchased second hand and others have been bought new.
The key to using cast iron cookware is to make sure it is properly seasoned.
Check out my easy instructions, if your pans need to be seasoned.
This blueberry crisp is best served warm out of the oven or you can pop it into the microwave, if you need to warm up leftovers.
It is wonderful as is, but, of course, you can serve it with ice cream, whipped cream or plain yogurt.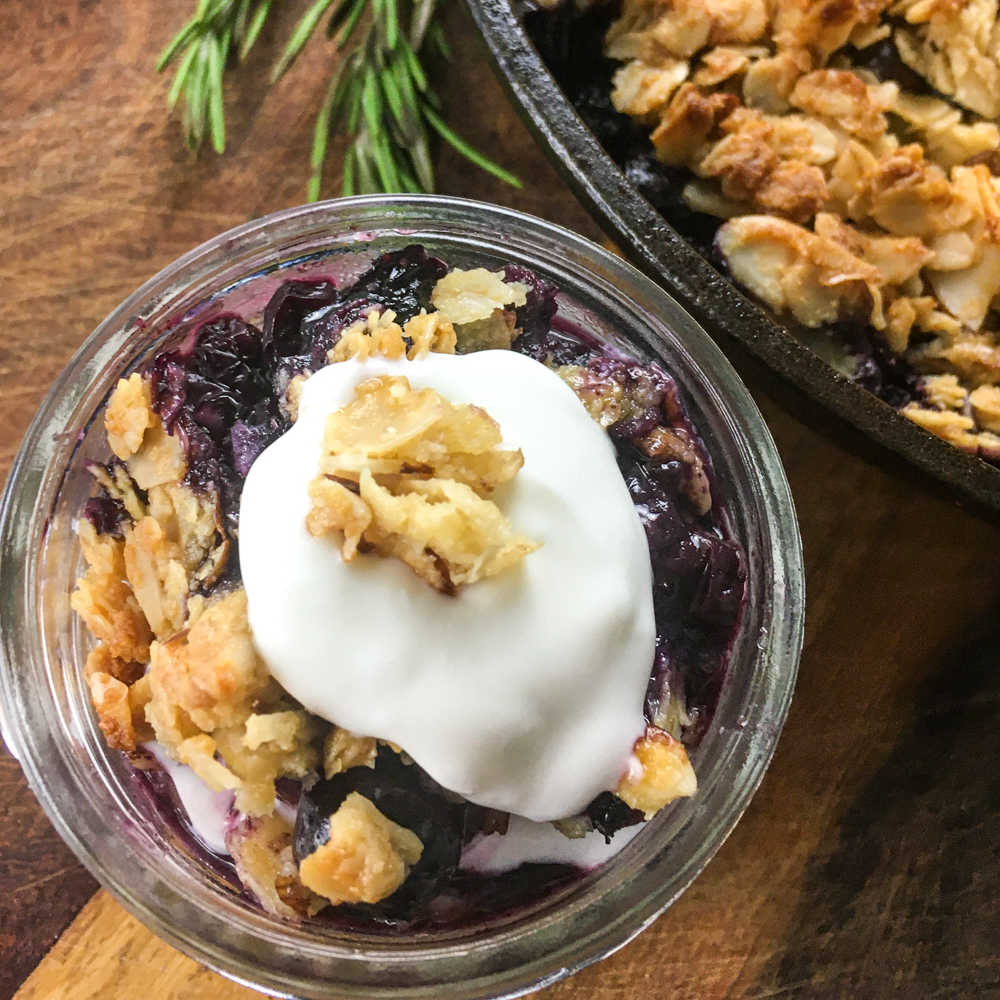 Prep time: 15 minutes
Cook time: 45 minutes
Serves: 4-6
Ingredients
4 cups Fresh Blueberries
¼ cup Real Maple Syrup
1½ t Fresh Rosemary, minced
¾ t Ground Cinnamon
½ t Ground Allspice
Topping Ingredients
¾ cup Oats
¼ cup Almond Flour
¼ cup Slivered Almonds
2 T Coconut Oil, melted
¼ cup Maple Syrup
1/8 t Salt
Supplies
2 Mixing Bowls
Measuring Cup
Measuring Spoons
Fork
10″ Cast Iron Skillet
Aluminum Foil
Instructions
1) Preheat oven to 350°.
2) Add blueberries, maple syrup, minced rosemary, cinnamon and allspice to a mixing bowl. Toss to combine and set aside.
3) Then, make the topping in a second bowl. Mix all ingredients together with a fork until well combine.
4) Pour the blueberry mixture into the cast iron skillet, so that it is spread evenly. Next, top with the topping in another even layer.
5) Bake in the preheated oven for 30 minutes. Remove from the oven and cover loosely with aluminum foil, so that it doesn't get too brown. Then, bake for another 15 minutes.
6) Remove from the oven and let cool for 5-10 minutes.
7) Serve warm as is or with whipped cream, ice cream or yogurt.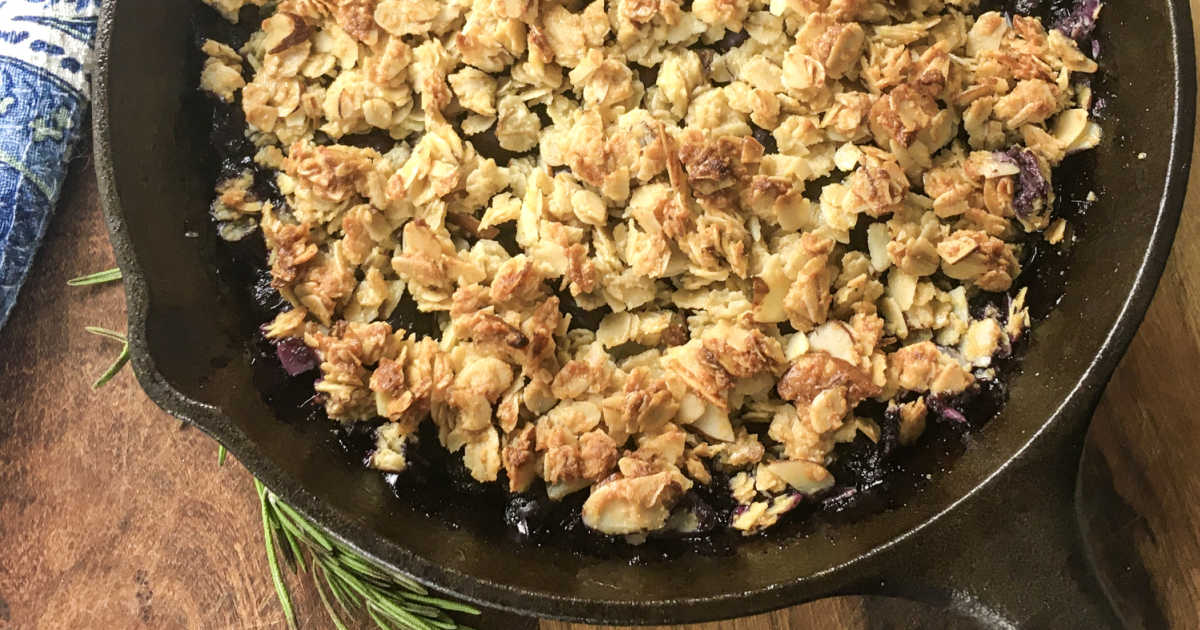 More from Mama Likes To Cook
Check out the rest of my vegetarian recipes, so you can get more great ideas for baking, cooking, blending and juicing.
Shopping Tips
For a beautiful assortment of kitchen necessities and food gifts for the whole family, check out the deals at these online stores.
Are you ready to have some delicious fun in the kitchen?