Summer eating seems to be healthier based on the bounty of veggies and fruits. This easy-to-make dish is perfect for a light dinner or generous appetizer.
Vegan Zucchini Fritters
Step 1:
Grate 3 large zucchini and sprinkle with salt. Set aside for 1 hour and then wrap zucchini in a dry towel. Squeeze out as much excess water as possible.
Step 2:
In a separate bowl, mix together:
1 ½ cups Garbanzo Flour
1 tsp. Pink Salt
2 tsp. Onion Powder
1 Tbl. Nutritional Yeast
1 tsp. Coriander OR Curry depending on your taste preference
Black Pepper, to taste
Step 3:
Finely chop:
1 Tomato
Shred:
1 Carrot
Step 4:
Mix together zucchini, tomato, carrot and dry ingredients.
Form into small balls, roll in toasted sesame seeds and flatten into small pancakes.
Step 5:
In a large fry pan, heat 2 Tbl. Olive Oil. Cook the fritters on each side for 3 to 4 minutes. Serve on a bed of fresh spinach leaves with Vegan Ranch Dressing.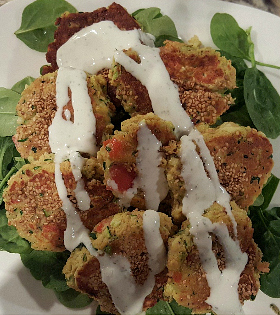 Roxanne Holland is a publicist that owns Quintl. She loves creating vegan recipes. You can connect with her on Twitter.
More from Mama Likes To Cook
Check out the rest of my vegetarian recipes, so you can get more great ideas for baking, cooking, blending and juicing.
Zucchini Recipes
Shopping Tips
For a beautiful assortment of kitchen necessities and food gifts for the whole family, check out the deals at these online stores.
Are you ready to have some delicious fun in the kitchen?