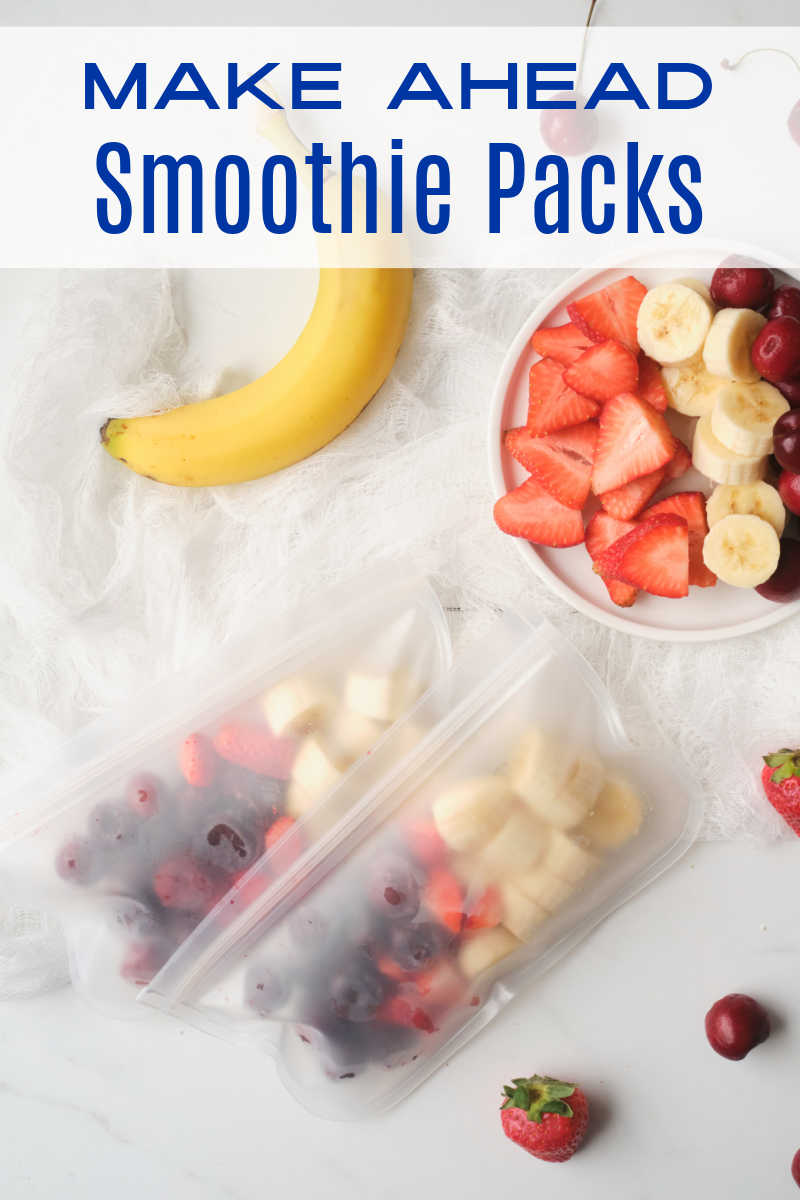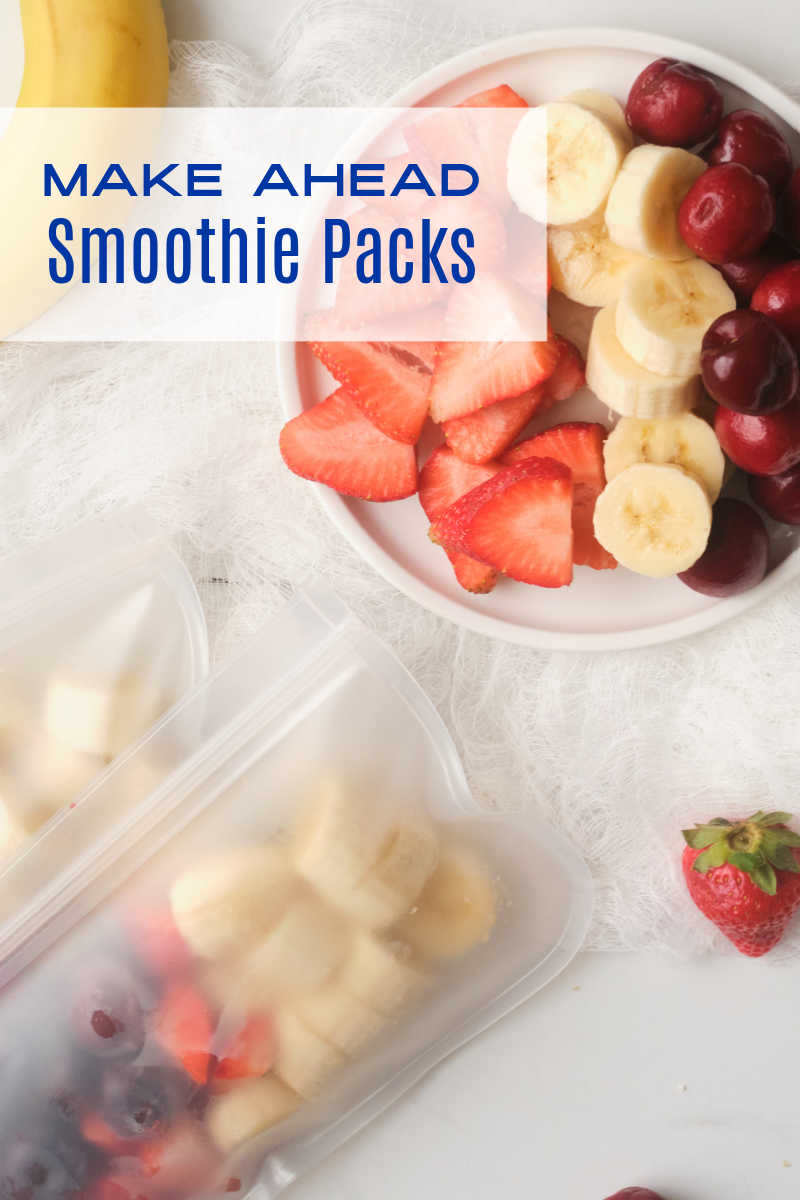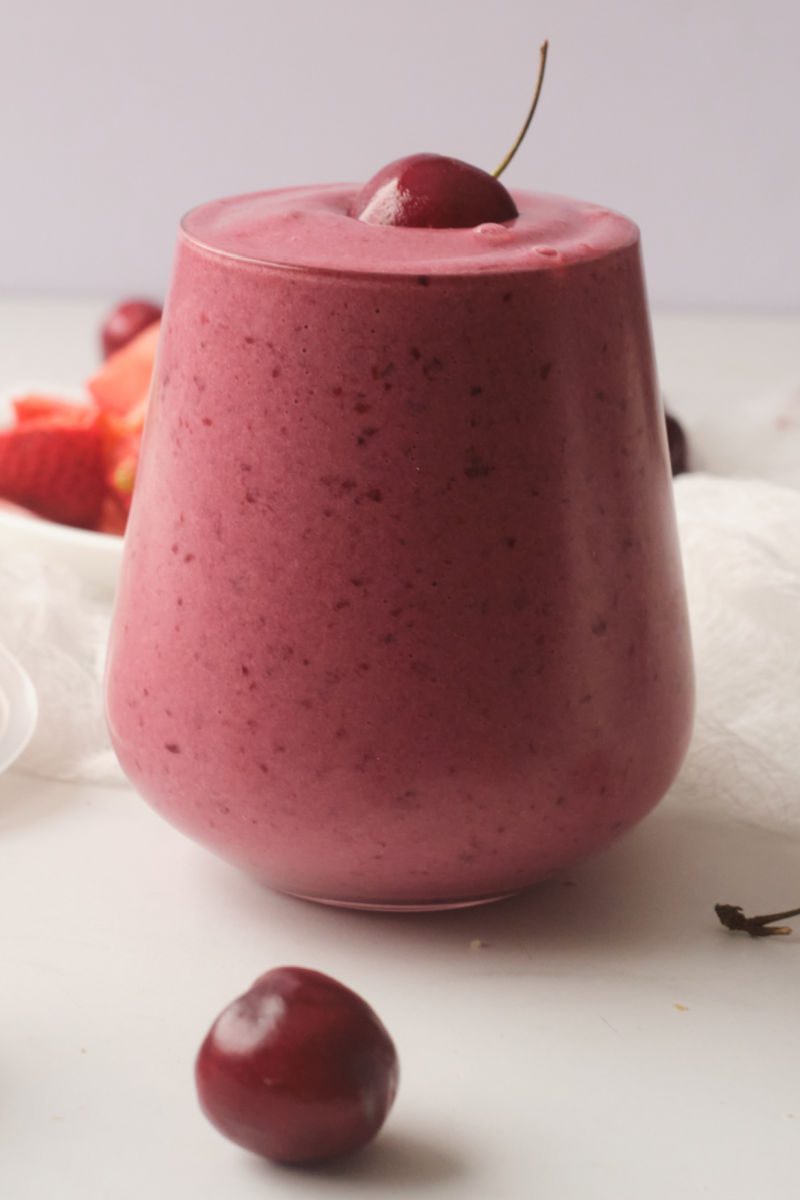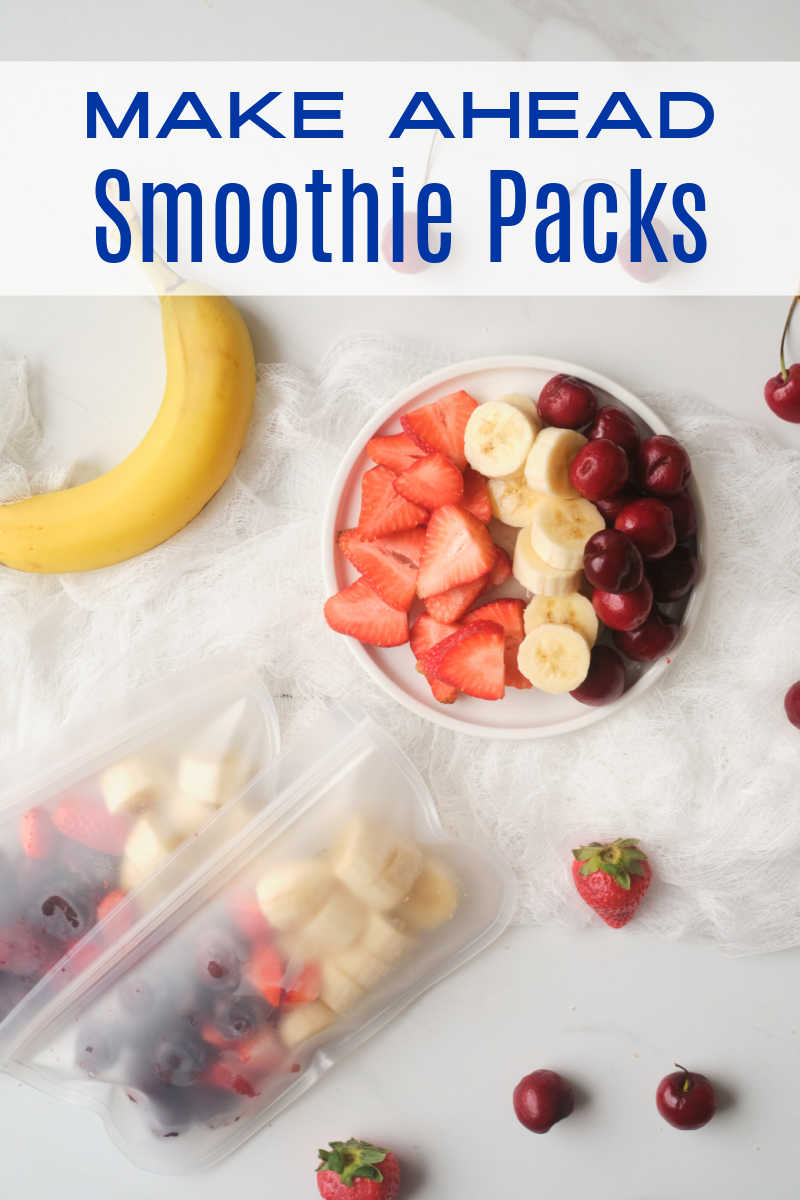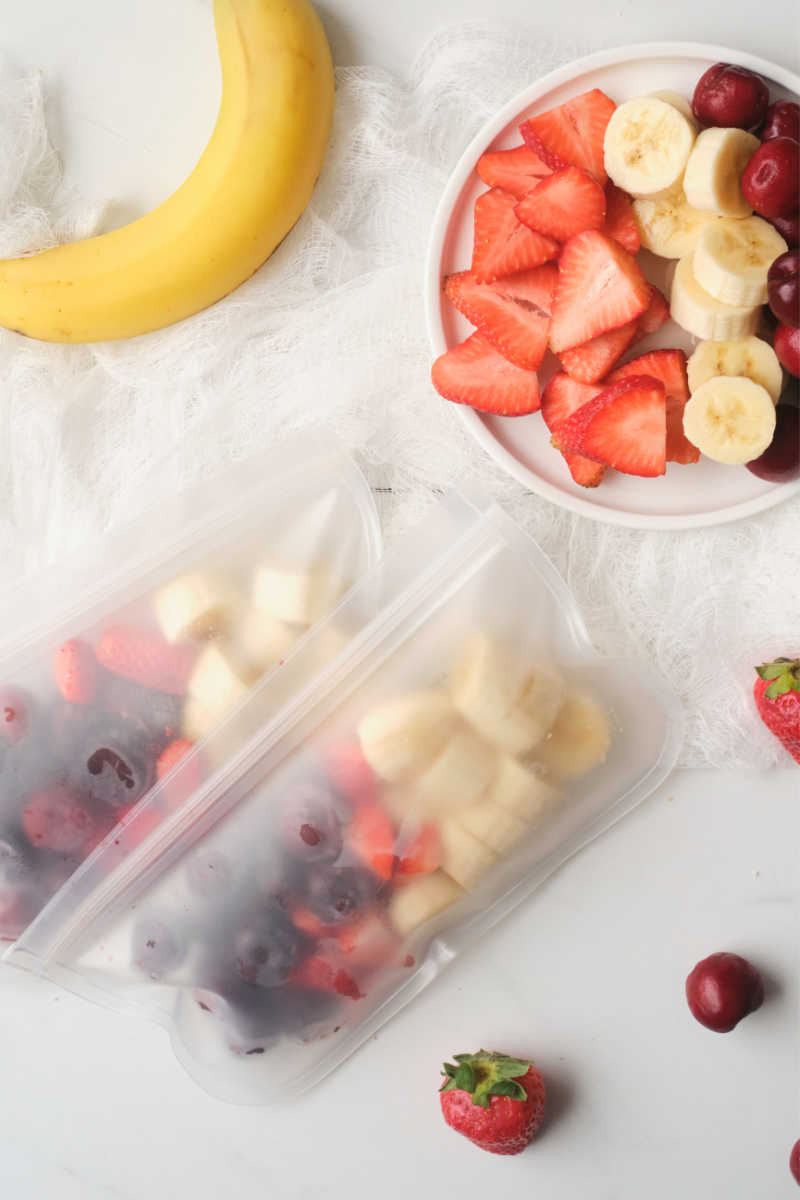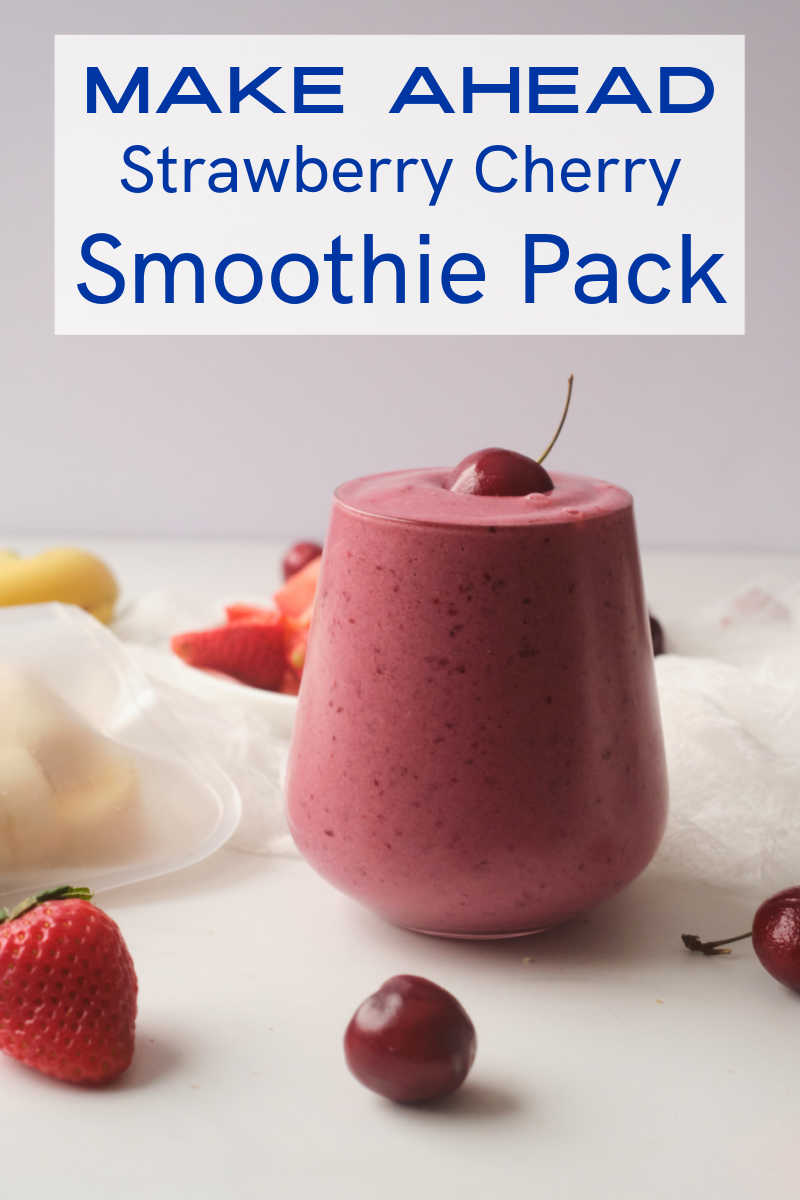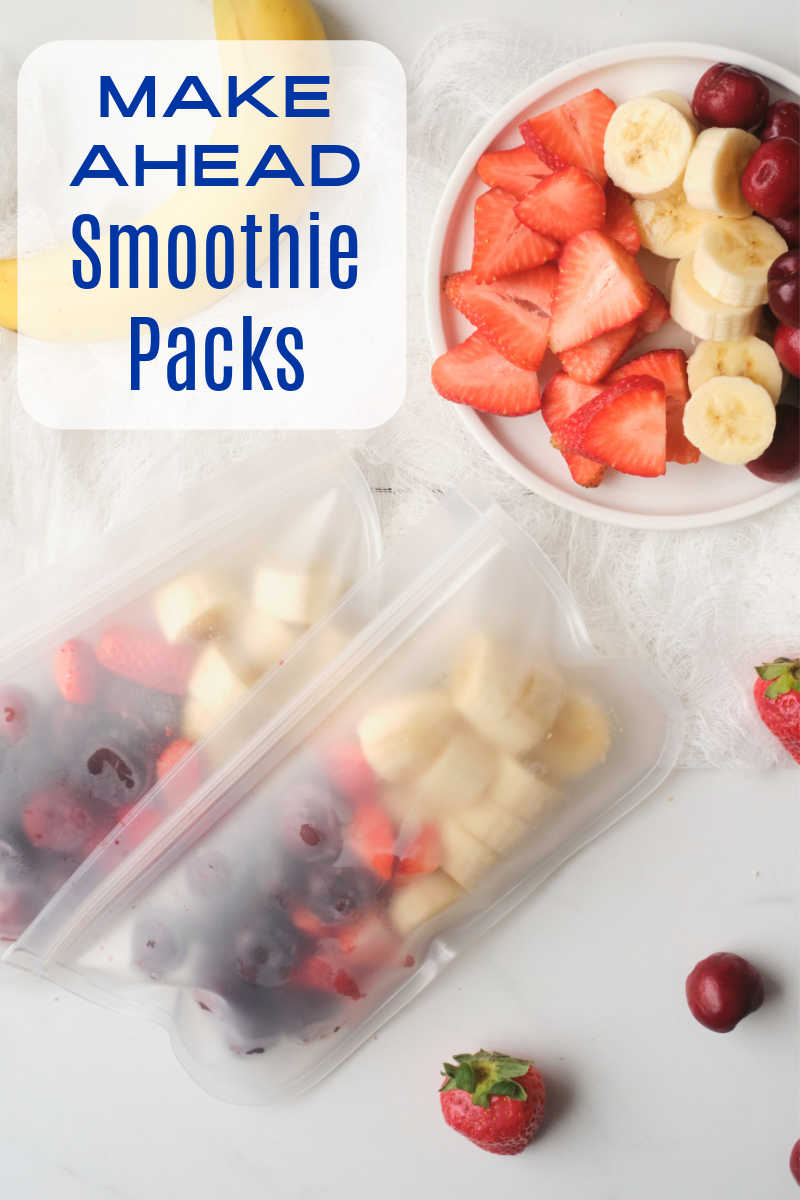 Meal Prep Fruit Smoothie Bags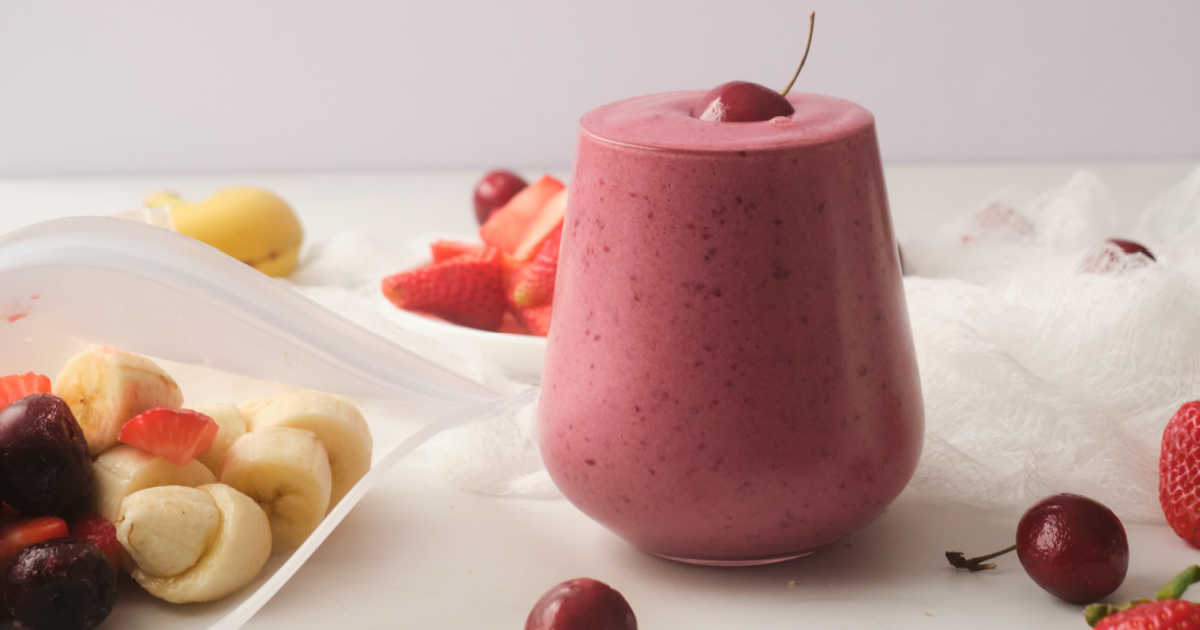 A make ahead smoothie pack is the perfect way to prep, so you can quickly make these cherry strawberry smoothies whenever you'd like.
The recipe is simple, but is a real time saver.
Simply grab a bag from your freezer, instead of planning and preparing ingredients at the last minute when you really just want a smoothie now.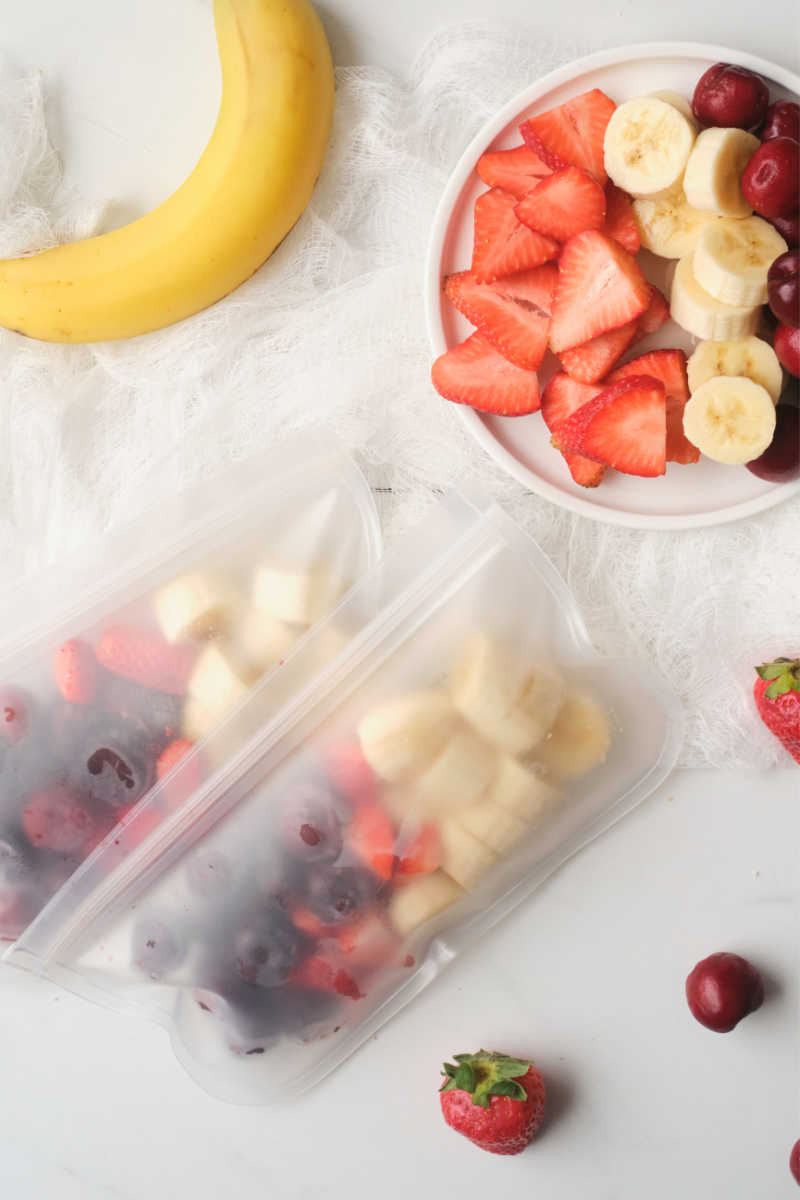 Is The Smoothie Bag Recipe Vegetarian or Vegan?
This cherry strawberry smoothie pack is vegetarian and vegan, so is great for people looking for plant based options.
You can use the make ahead freezer pack with 'regular' milk, if you are ok with consuming dairy.
For a vegan smoothie, simply choose a plant-based liquid to blend your smoothie with the ingredients from the already vegan smoothie bag.
Are The Smoothies Gluten-free?
All of the ingredients in the smoothie bag are naturally gluten-free.
Be sure to check labels on whatever liquid you choose to blend with the freezer pack, so that you can avoid gluten and/or cross contamination if that is a concern.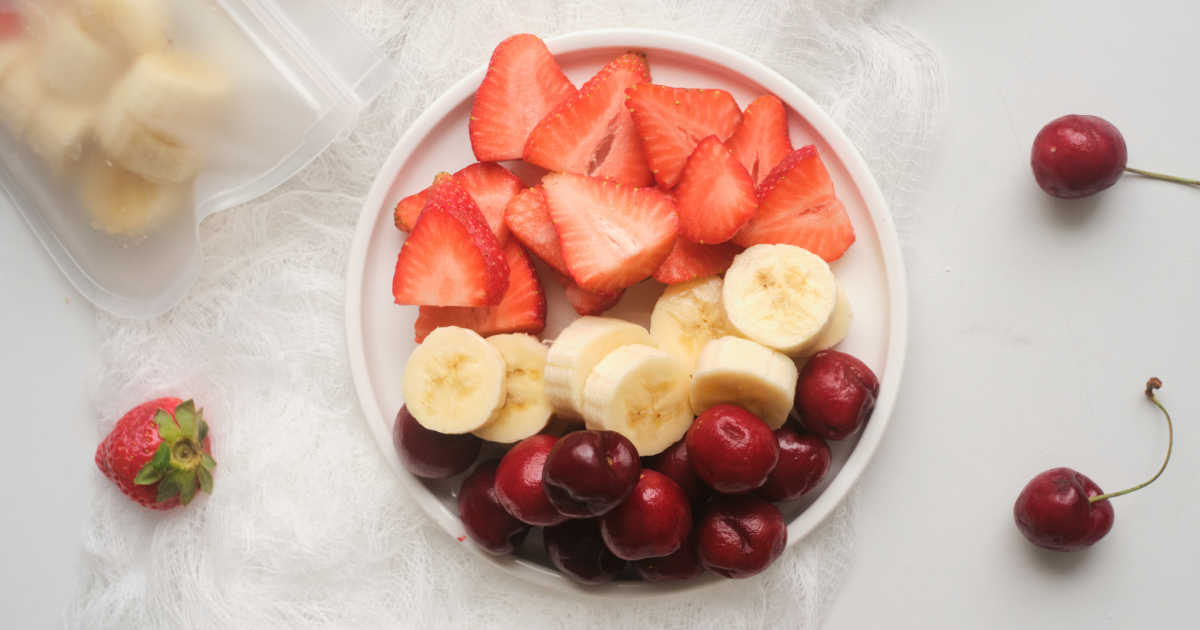 Is It OK to Use Fruit That Is Already Frozen?
Yes.
You can use already frozen fruit, when you assemble your smoothie bags.
In my area I can get fresh bananas and strawberries year round, so I always start with fresh for those two fruit ingredients.
Fresh cherries are not always as easy to find and can be quite pricey when not in season.
Frozen is an easy and good substitute for fresh cherry in this recipe.
Also, when you start with frozen cherries, they are already pitted which saves time.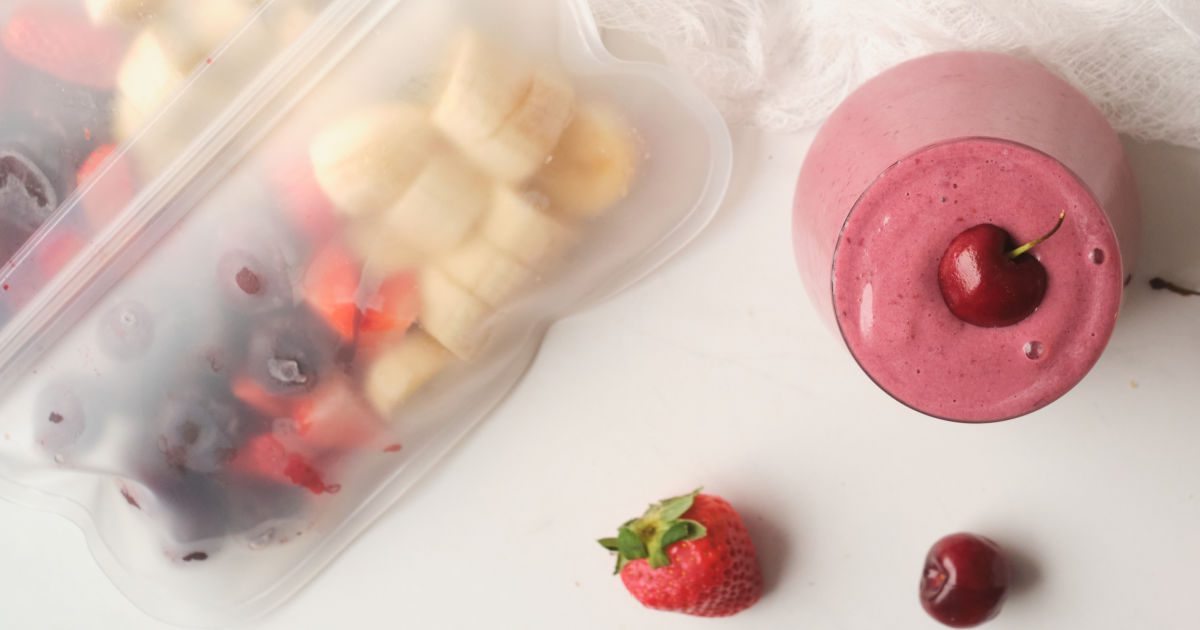 Can I Make Freezer Smoothie Packs without Using Plastic Bags?
Plastic bags are great for smoothie packs, since they conform to the shape of the contents and are efficient to store.
However, the standard bags are not great for the environment.
Reusable freezer bags are a much better choice for the planet!
Silicone bags are my favorite – they are durable and easy to clean.
You can also use other types of reusable storage containers for your smoothie packs.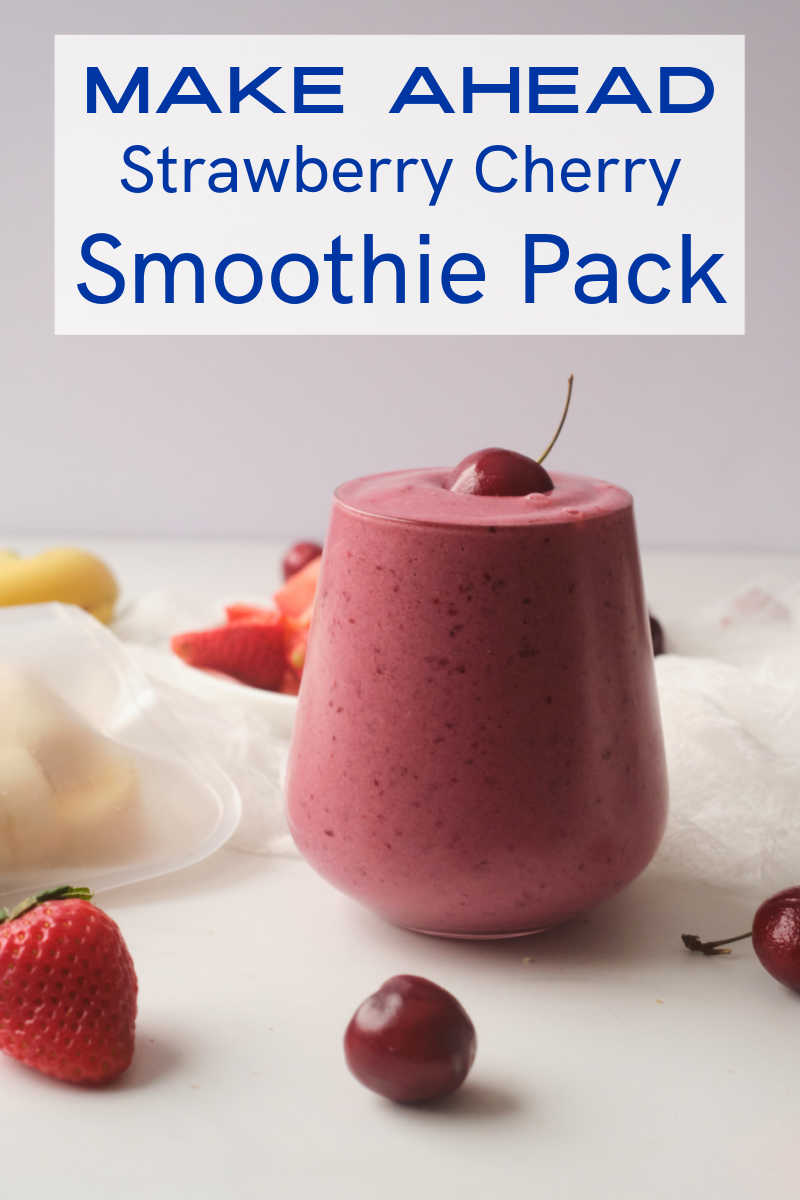 What Kind of Liquid Is Good to Make A Smoothie with The Freezer Pack?
This cherry strawberry smoothie pack is delicious with a wide variety of liquids mixed in, so you can choose your favorite or mix it up and try different liquids.
Milk is good, if you are not looking for a dairy-free smoothie.
Plant based milks are great for smoothies and can add nice flavor.
Nut milks like almond, cashew or macadamia are delicious with this smoothie, but you are welcome to try whatever you prefer.
If you want to add juice instead, orange or pineapple juice are great.
How Many Smoothie Packs Does This Recipe Make?
The recipe includes portions for making one cherry strawberry smoothie pack, but you can make as many as you'd like.
Just keep the proportions approximately as written and you'll be ready to make delicious fruit smoothies.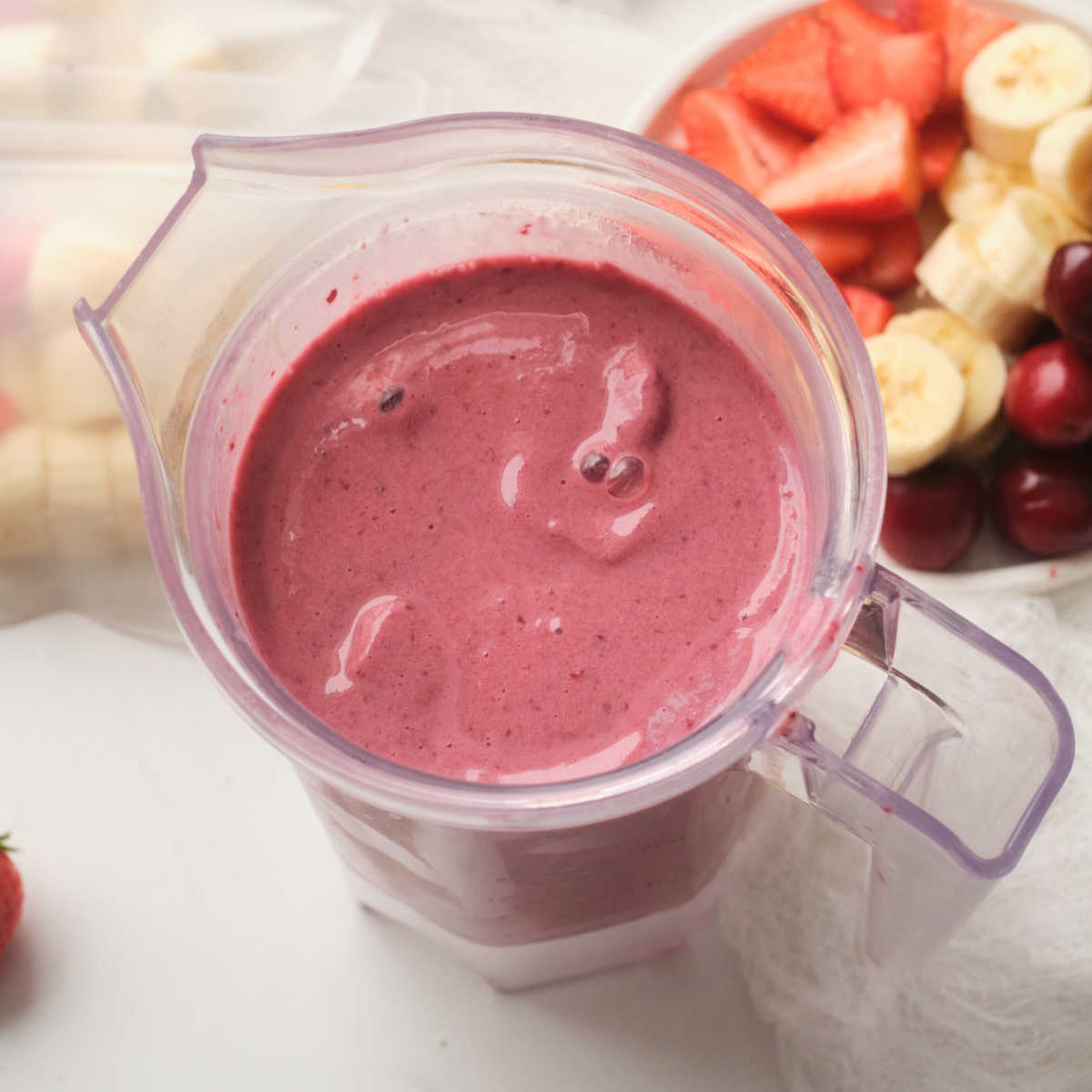 What type of blender should I use?
I always recommend that people invest in a good high-speed blender, so that you can keep it for years and use it often.
This smoothie is made with frozen fruit, so you want to use a blender that will blend those ingredients into a nice smooth texture.
A blender with less power may work for this smoothie, but it will take a little bit more time to get it smooth.
If you are just now looking to purchase a blender, I'd recommend investing in a better one that you will be able to use efficiently for more recipes.
How Do I Make A Smoothie With A Frozen Smoothie Bag?
It is easy to make a smoothie with the make ahead freezer pack, so it is perfect for busy days.
You can make one or you can do a couple at the same time as long as you have a big enough blender.
Simply add the contents of the smoothie pack and your liquid of choice to your blender.
Then, blend until smooth.
This smoothie is good for breakfast in the morning or for a snack in the afternoon or another time of day.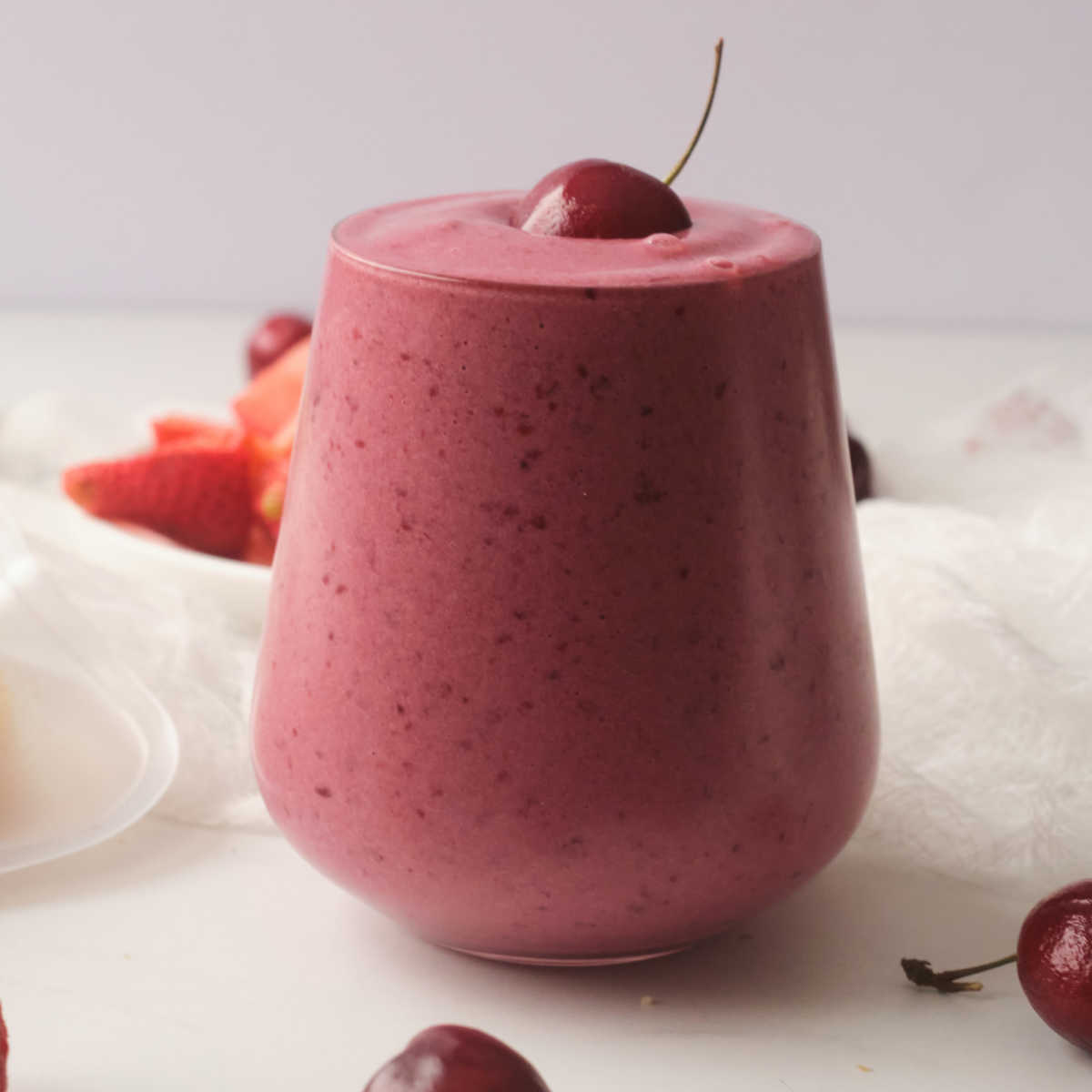 Make Ahead Smoothie Pack Recipe
Prep time: 10 minutes
Total time: overnight for freezing
Yield: 1 or more servings
Ingredients Per Bag
1 Banana, sliced
½ cup Cherries, pitted
4-5 Strawberries
To Serve
1 to 1 1.2 cups Liquid (Milk, Plant Based Milk, Orange Juice…)
Supplies
Instructions
1) Prep the fruit for each smoothie pack. Slice the bananas and pit the cherries. Strawberries can be sliced or left whole.
2) Place each portion into a freezer bag.
3) Lay bags flat in the freezer until frozen. Once they are frozen, you can arrange them however you'd like in your freezer.
To Prepare:
1) Add 1 to 1½ cups of liquid (milk, plant-based milk or juice) and the contents of 1 smoothie bag to your blender.
2) Blend until smooth and serve immediately.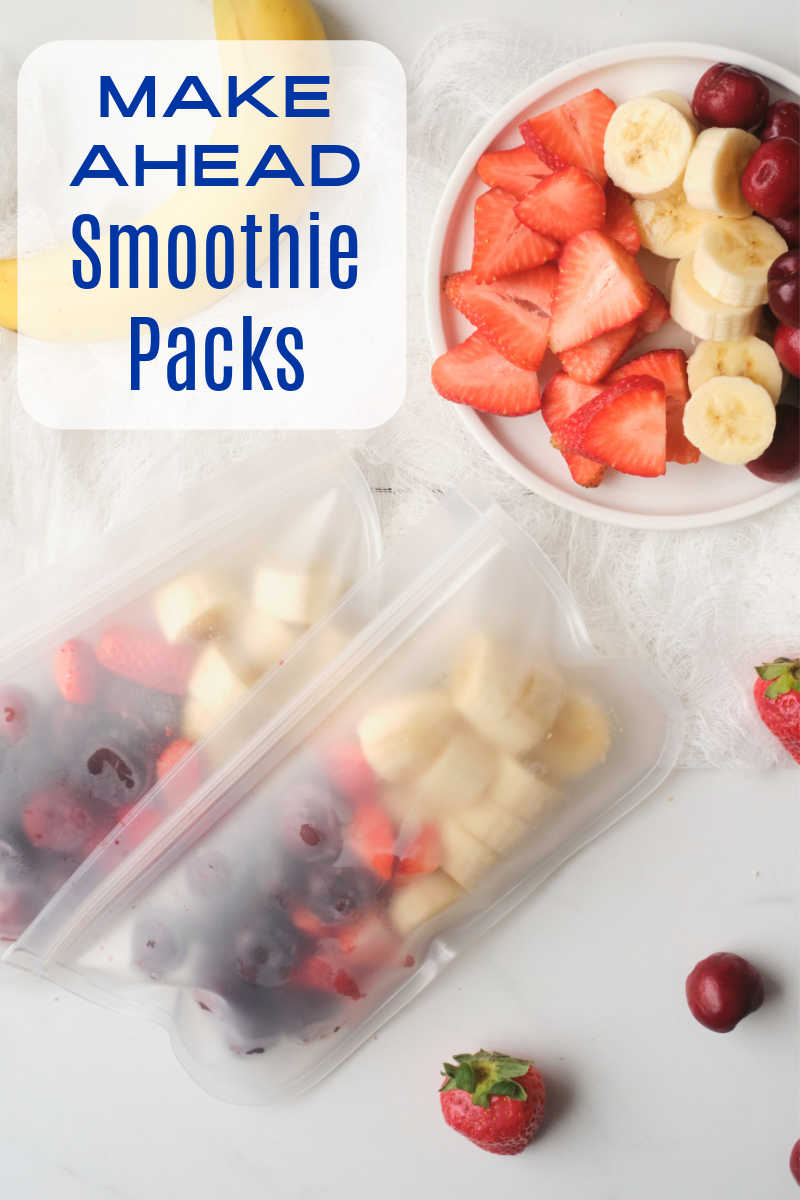 More from Mama Likes To Cook
Check out the rest of my vegetarian recipes, so you can get more great ideas for baking, cooking, blending and juicing.
Smoothie Pack Recipes
Smoothie Recipes
Strawberry Recipes
Cherry Recipes
Shopping Tips
For a beautiful assortment of kitchen necessities and food gifts for the whole family, check out the deals at these online stores.
Are you ready to have some delicious fun in the kitchen?