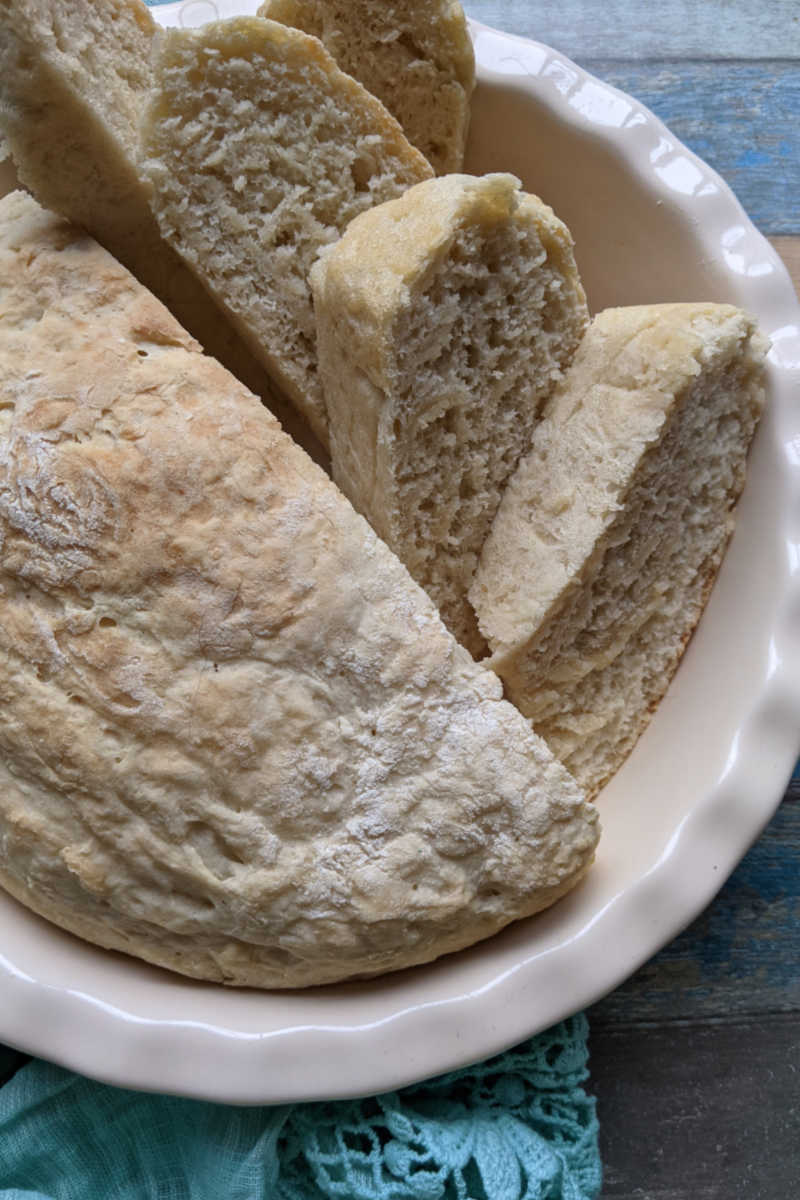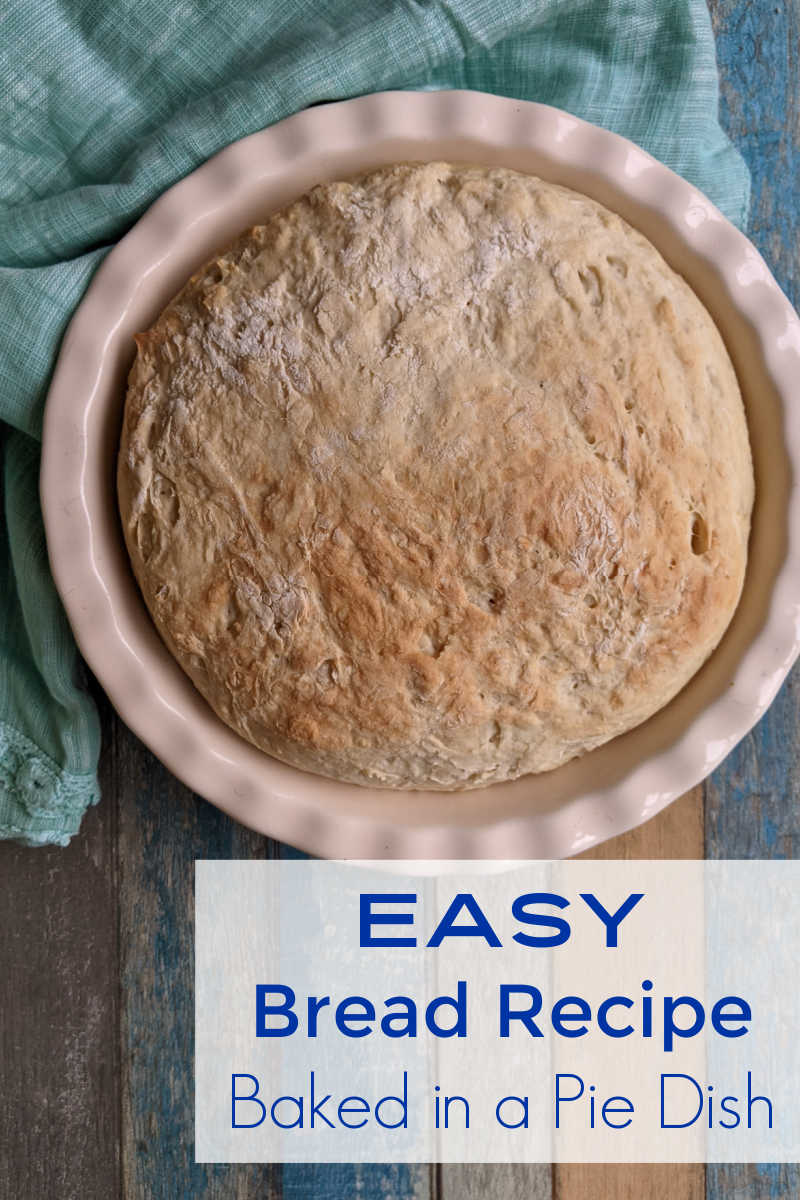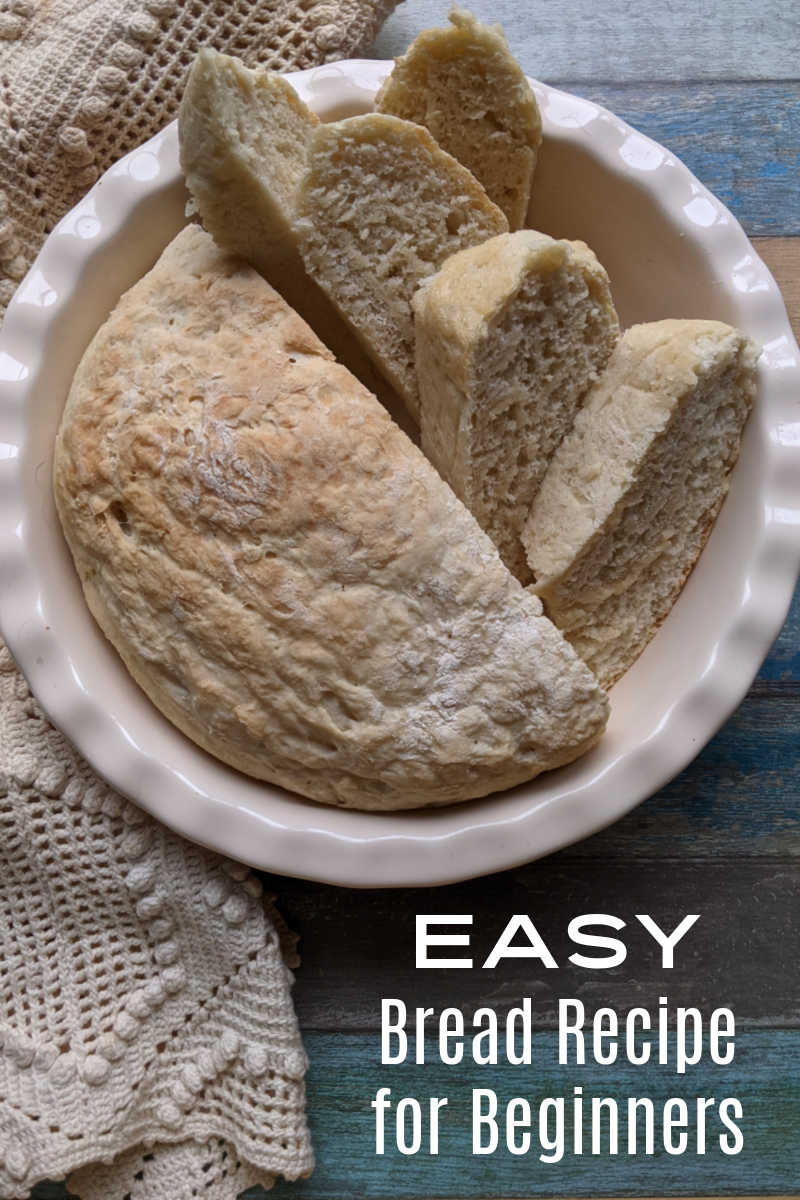 Easy Bread Baking for Beginners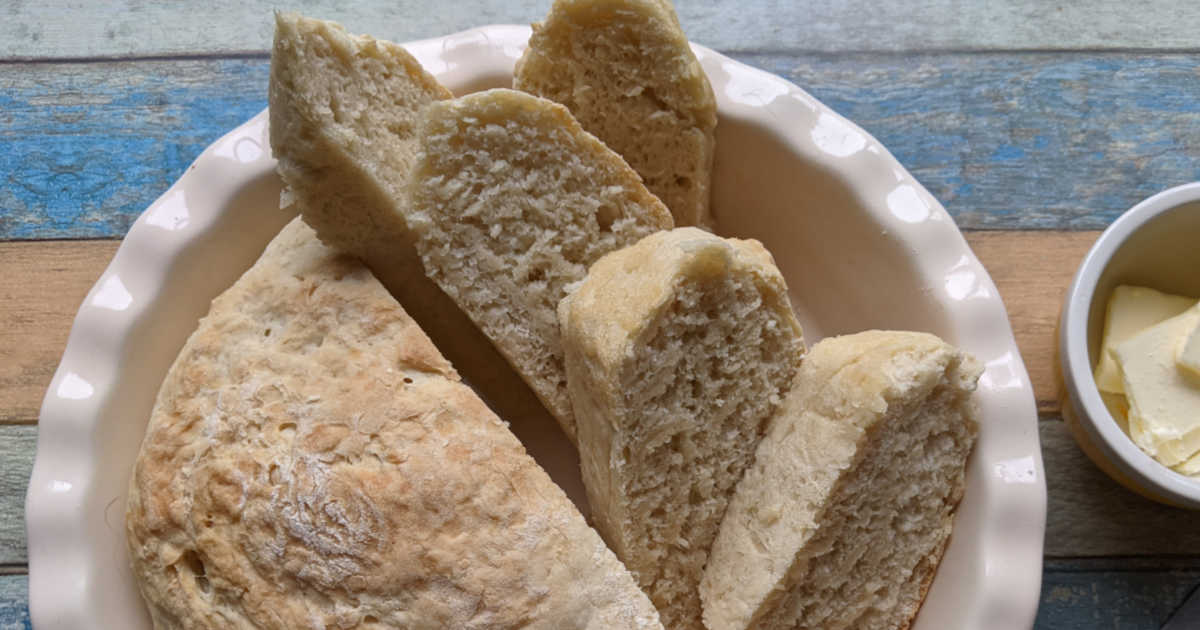 You can bake a simple loaf of bread in a pie dish, even if this is your first time baking bread.
This easy bread recipe baked in a pie dish is good for beginners, and can be made when you don't have a loaf pan.
Follow the steps and learn how to make this simple yeast bread that only takes about 45 minutes to rise.
About a year ago, it was hard to find yeast since it was suddenly in high demand.
These days it is always in stock, when I do my grocery shopping.
As a result, I always have active dry yeast on hand, so am able to bake bread often.
If you've never baked bread before, you might think it's going to be a hard process.
However, this basic bread recipe baked in a pie dish is super easy to make, so even beginners can bake a tasty round loaf of bread.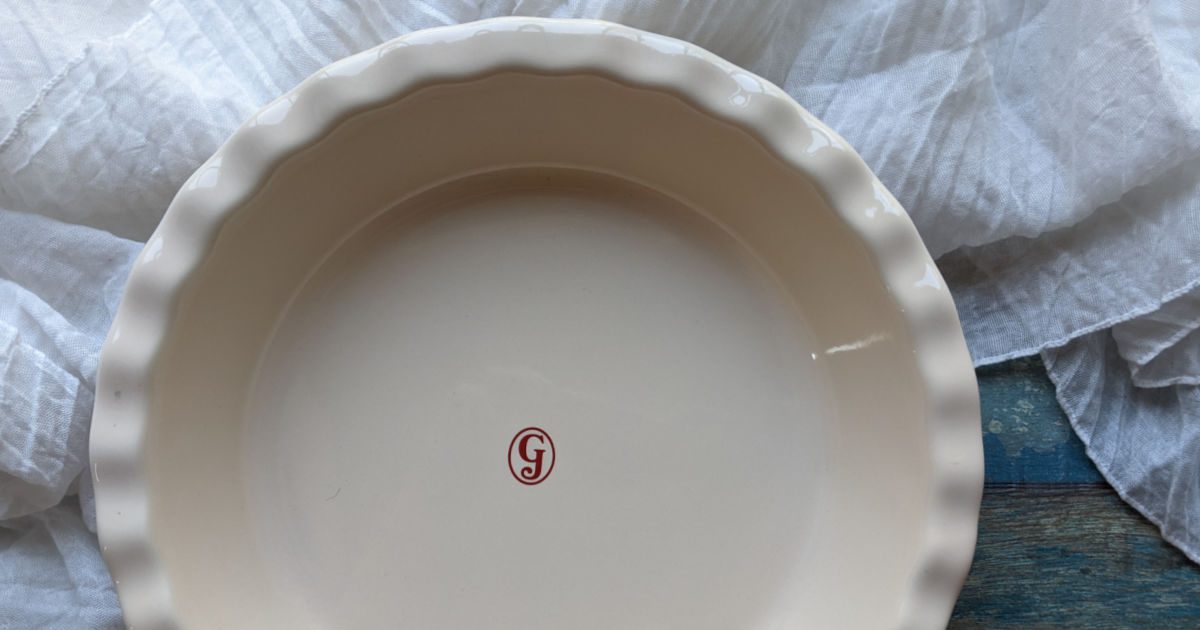 Can I bake bread in a ceramic pie dish?
Yes, you can bake bread in a ceramic stoneware pie dish, and I do it often.
My ceramic pie dish cooks evenly, so my bread comes out perfectly each time.
As an added bonus, my Great Jones bakeware is dishwasher safe, so cleanup is a breeze.
A bread recipe baked in a pie dish is a nice alternative to a traditional loaf pan, and it gives you a nice, round loaf of bread.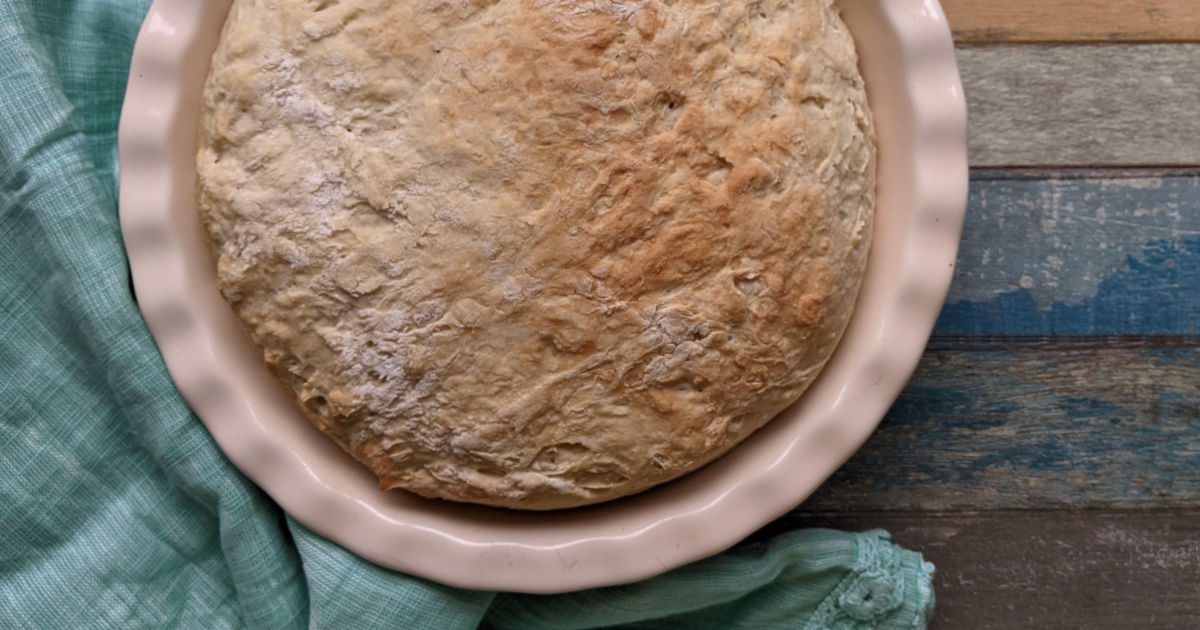 Is it ok to skip the sugar in bread dough?
The yeast in bread dough is a living organism and needs sugar to grow.
When the dough ferments, this sugar is eaten up by the yeast which will make it rise.
If you skip adding sugar to the dough, you will end up with dense bread.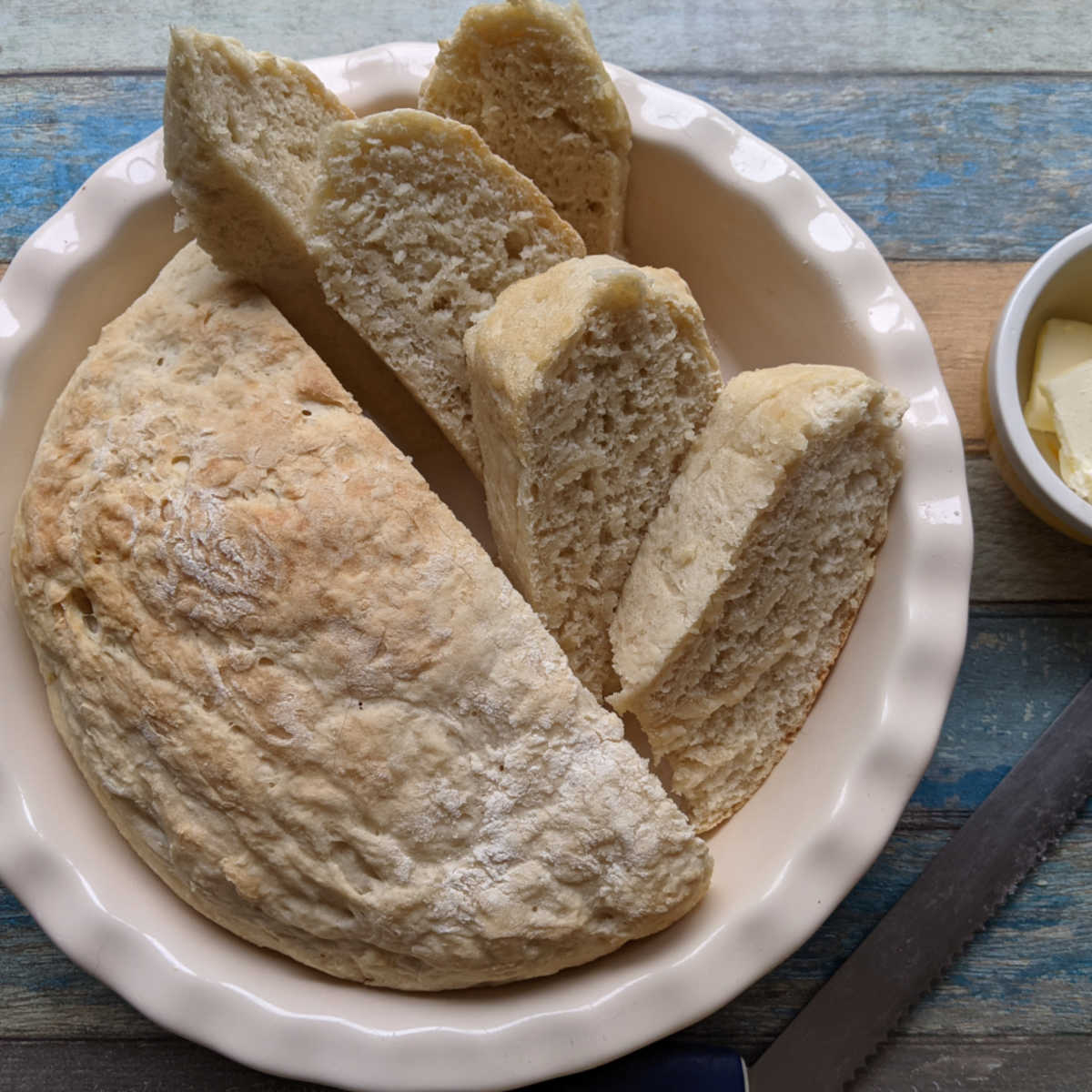 Why add salt to bread dough?
A little bit of salt is needed to get good results, when you are making bread.
Baking is a science, so you do need to use the right amounts of the correct ingredients to get good results.
The chemistry is altered, if you change up the ingredients.
We need salt in the bread, so that the science will work.
Salt helps regulate the yeast, so it rises slowly and results in a loaf of bread with the texture and taste that we want.
We do want the bread to rise, but don't want the yeast to rush it and rise too quickly.
A little salt enhances the flavor and allows the dough to rise at the right pace.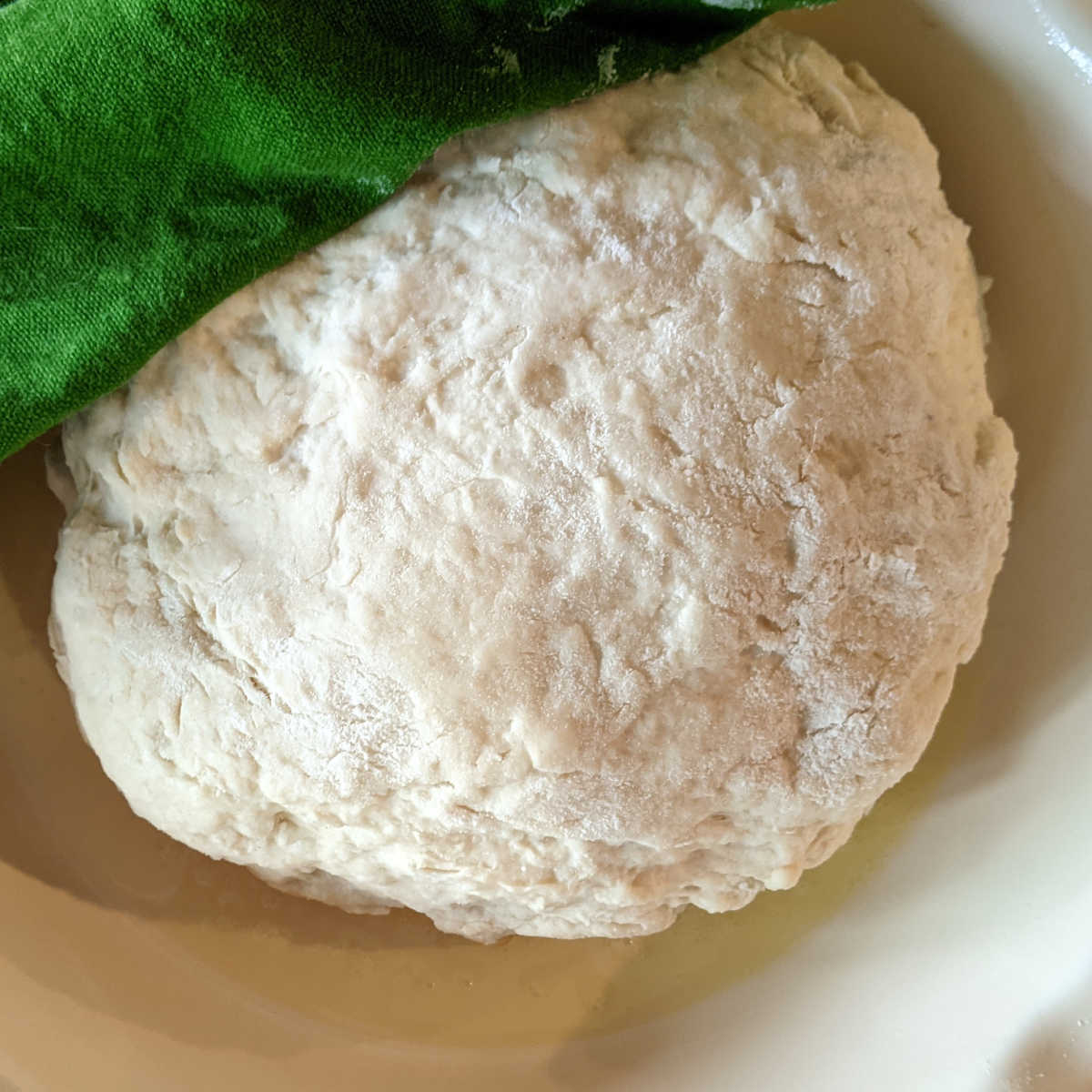 What temperature water activates yeast?
Yeast is activated when added to water that is 110 to 115 degrees Fahrenheit.
What happens to yeast when water is too hot or too cold?
If the water is too hot, it will kill the yeast.
And, if the water is too cold, it will not activate the yeast.
Once you are a more experienced baker, you may be able to estimate the temperature.
However, most people will want to check with a thermometer to make sure they get the water the proper temperature to activate the yeast.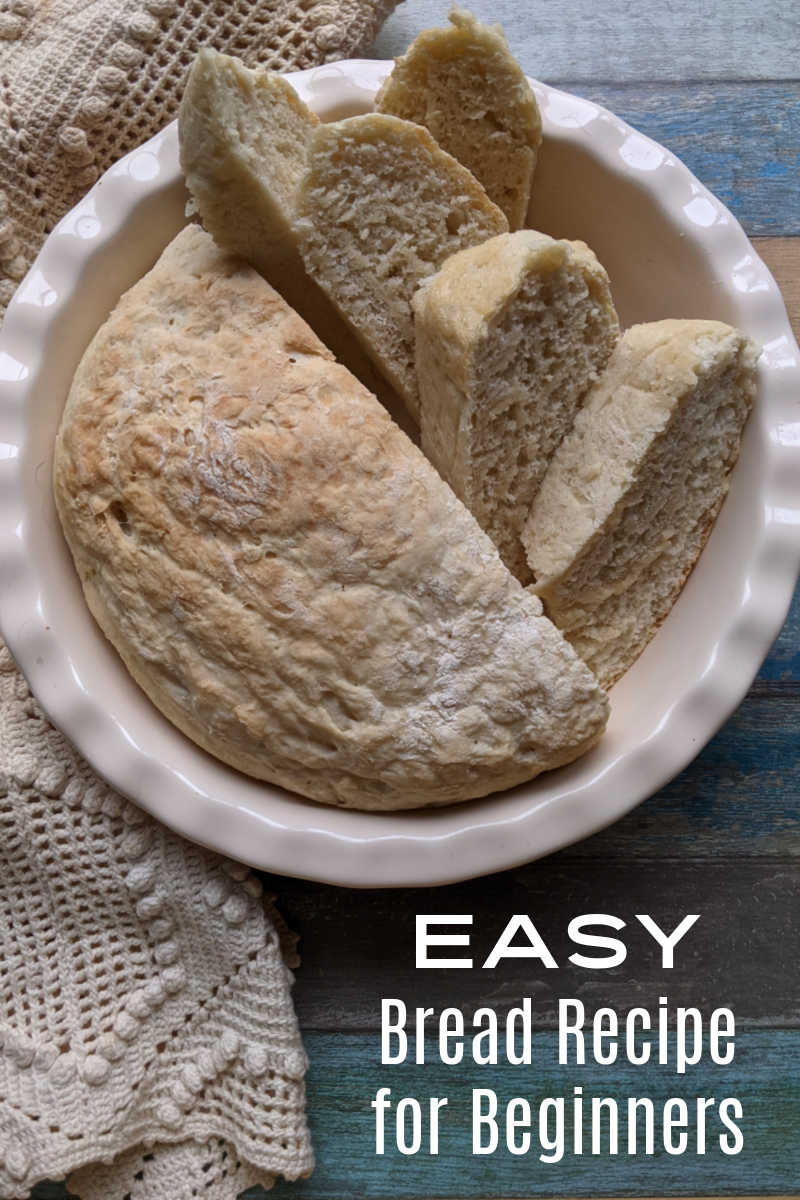 What type of flour is best for baking bread?
You will get the best results, when you use bread flour instead of all-purpose flour.
Bread flour has a higher protein content, which gives you better results.
Which brand of bread flour is best?
I have two favorites, when it comes to choosing a bread flour and have used both of them extensively.
Bob's Redmill and King Arthur Flour can both be relied on, when you want quality flour that gets good results.
Another reason that I like both of these brands is that the companies are employee owned.
Any company that makes decisions based on what is good for the employees gets bonus points with me!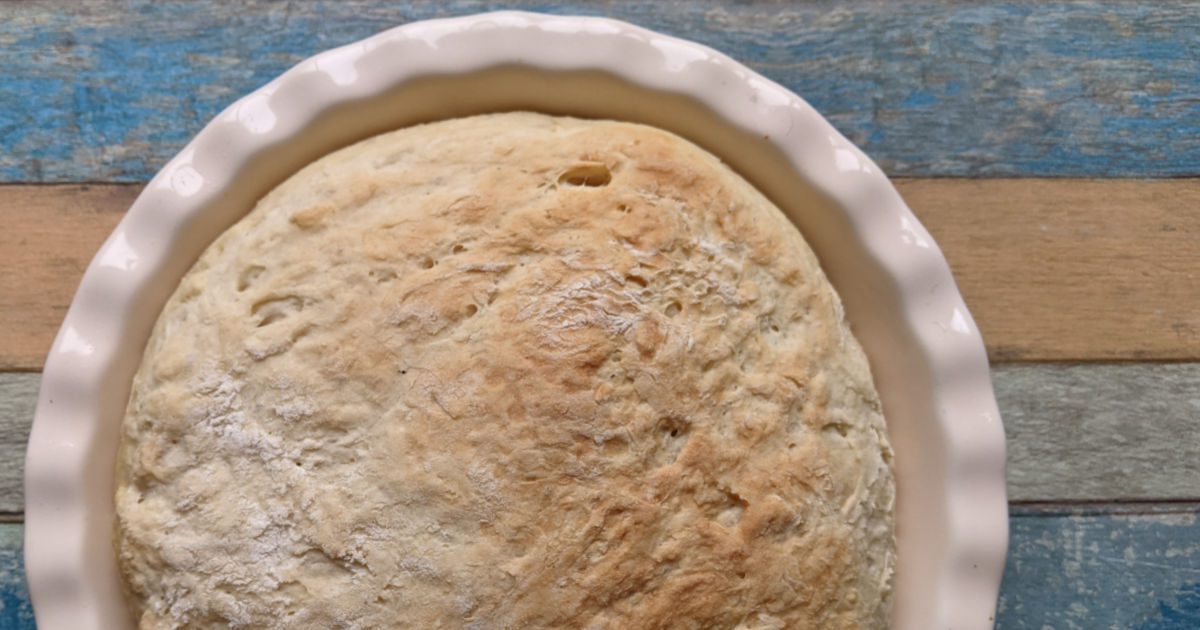 How to store your leftover artisan bread
If you have extra bread, you can store it to eat later.
Make sure the bread is completely cool.
Then, put it in a zip lock bag or another airtight container to store.
Should leftover peasant bread be stored in the refrigerator?
It is best to store leftover bread in a cool, dry place, not in a refrigerator.
The bread will go stale quickly in the refrigerator.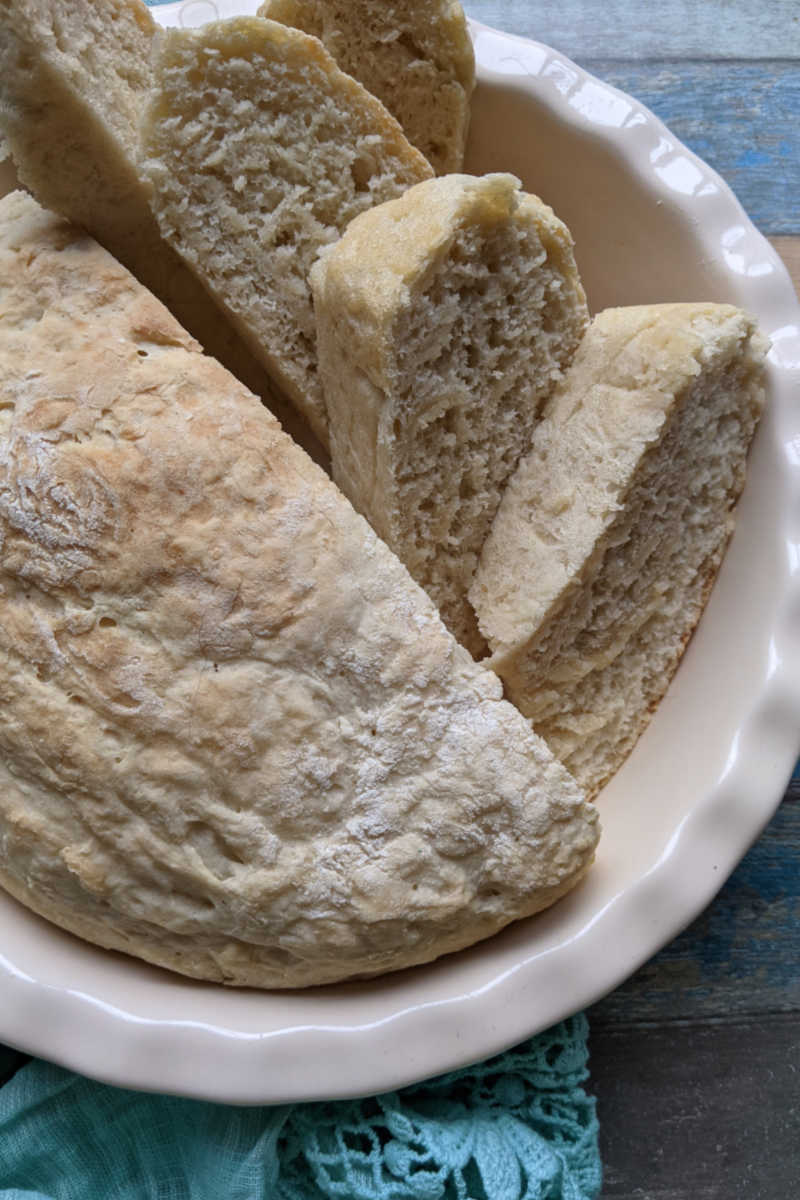 Easy Bread Recipe Baked In A Pie Dish
Prep time: 5 minutes
Rise time: 45 minutes
Bake time: 30 minutes
Yields: 8 servings
Ingredients
1 1/2 cups Warm Water (110°F – 115°F)
1T Active Dry Yeast
1T Granulated Sugar
3 cups Bread Flour (Bob's Redmill and King Arthur Flour recommended)
1t Salt
Supplies
10″ Stoneware Pie Dish
Mixing Bowl
Measuring Cup
Measuring Spoons
Thermometer
Cotton Towel
Non-stick Baking Spray
Step by Step Instructions
1) Heat water to between 110°F – 115°F.
2) Add warm water, yeast and sugar to a mixing bowl. Let it stand for a few minutes, so it becomes bubbly.
3) Scoop the flour and salt into the bowl on top of the bubbling yeast and gently fold together with a fork.
4) Flour your hands and work surface to finish mixing the ingredients and form a ball. Add a little more flour, if needed to make it less sticky. Do not kneed more than a few times.
5) Coat the pie dish thoroughly with non-stick baking spray and place the dough ball in the center.
6) Lightly cover with a damp cotton towel and let the bread dough rise for 30-45 minutes. It rises more quickly, when it is in a warm spot.
7) Pre-heat oven to 350°F and bake for about 30 minutes until the top is light golden brown and bread is cooked through.
8) Let cool prior to cutting into wedges or slices. Store any leftovers in a zip lock bag or another airtight container.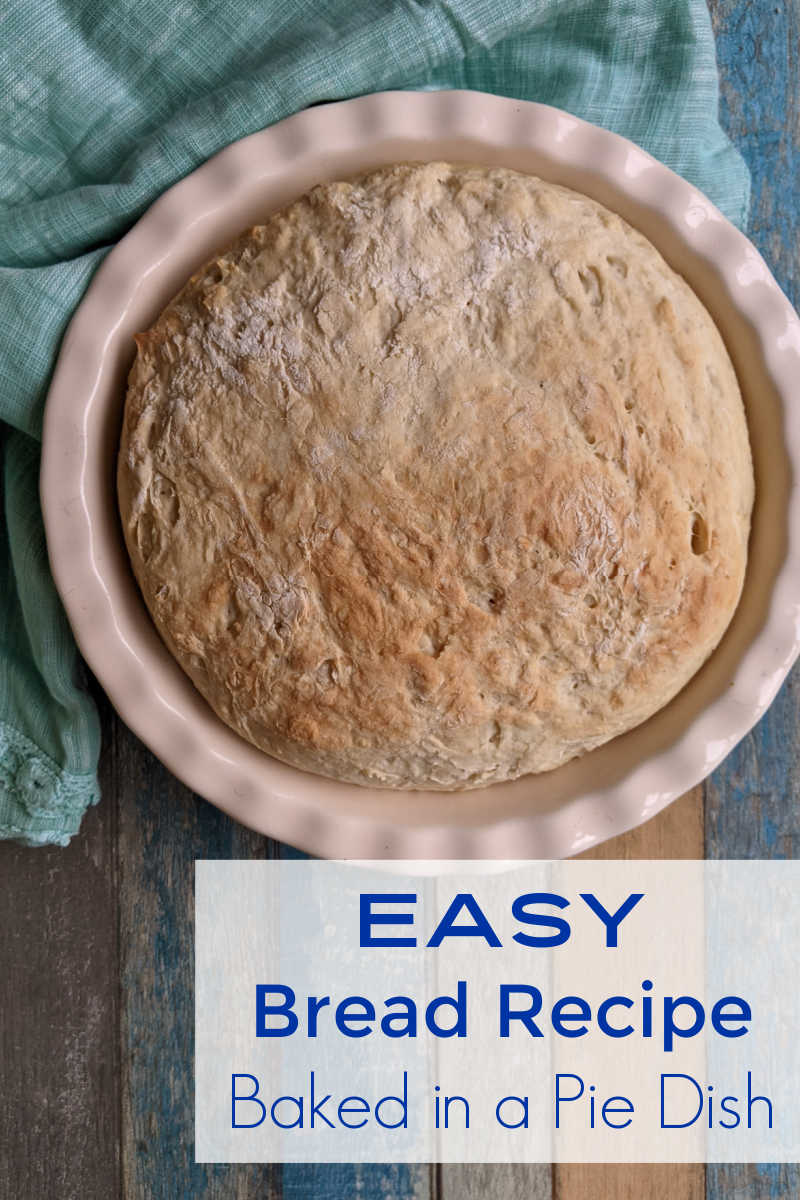 More from Mama Likes To Cook
Check out the rest of my vegetarian recipes, so you can get more great ideas for baking, cooking, blending and juicing.
Favorite Bread Recipes
You may also want to try my pumpkin bread recipe made with cake mix or my spice cake donuts.
Are you ready to have some delicious fun in the kitchen?