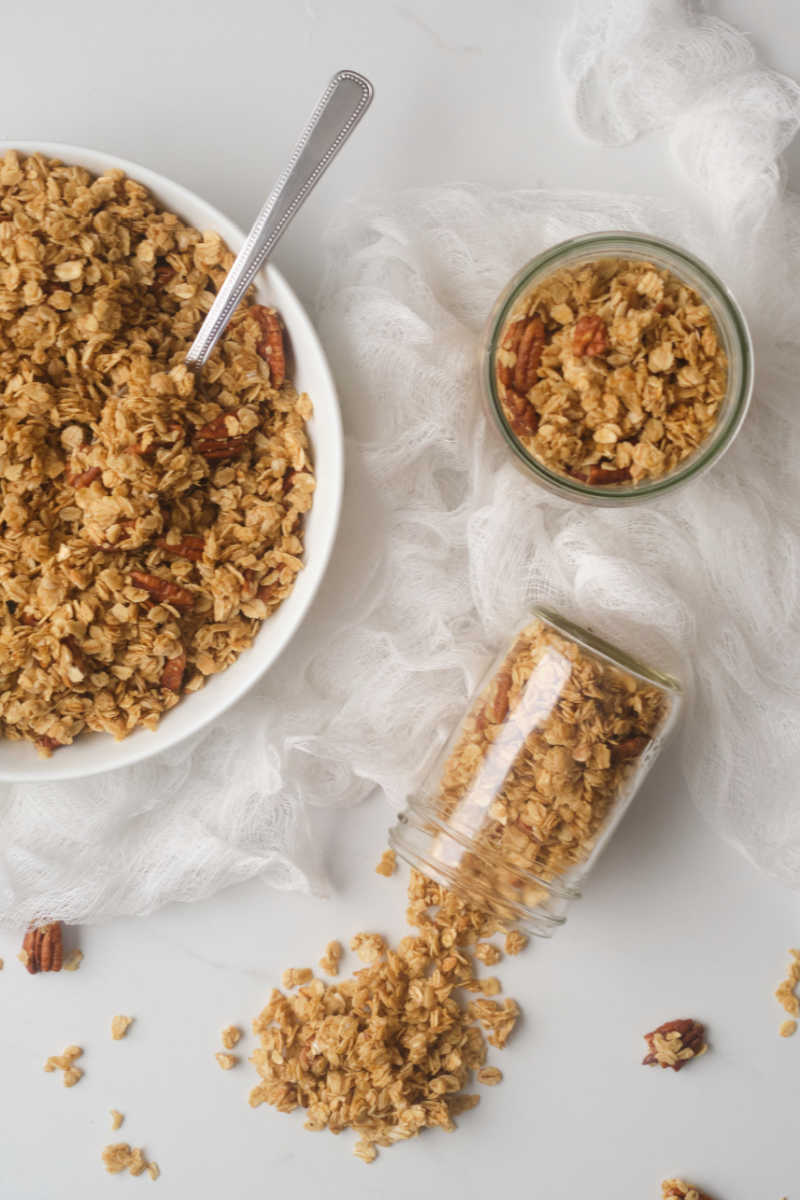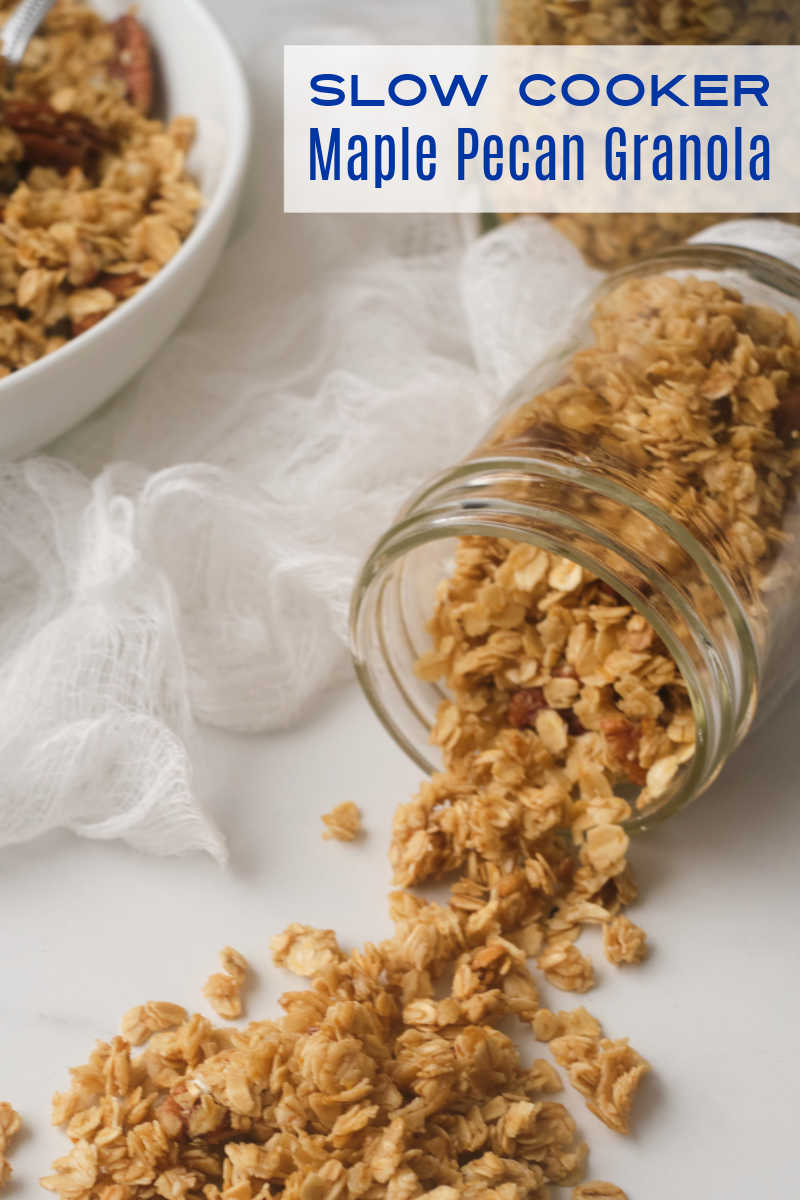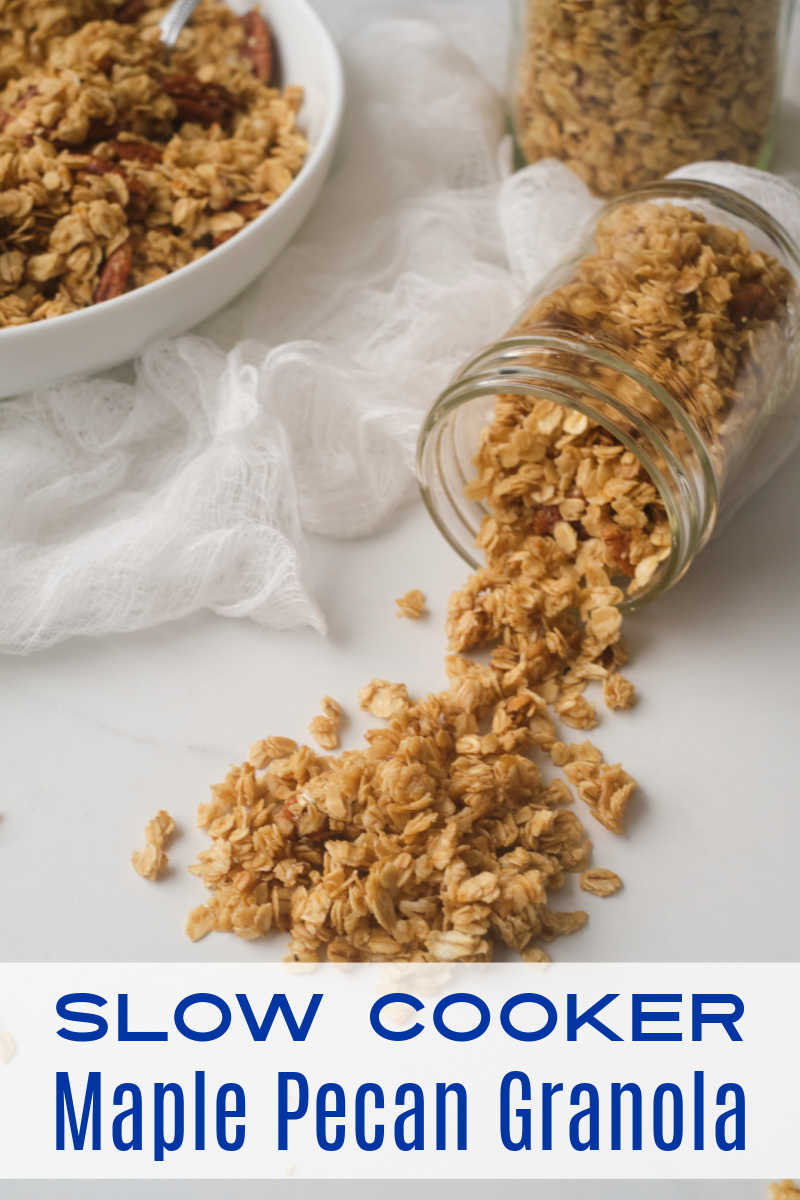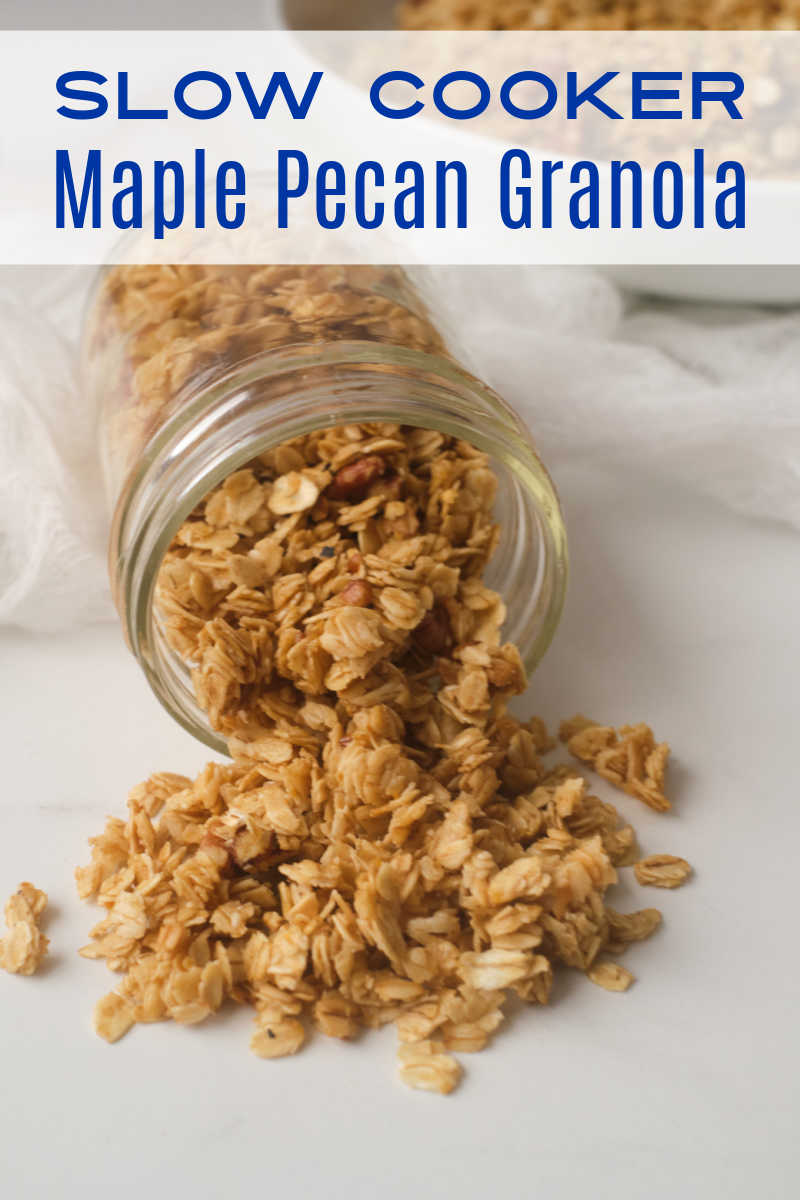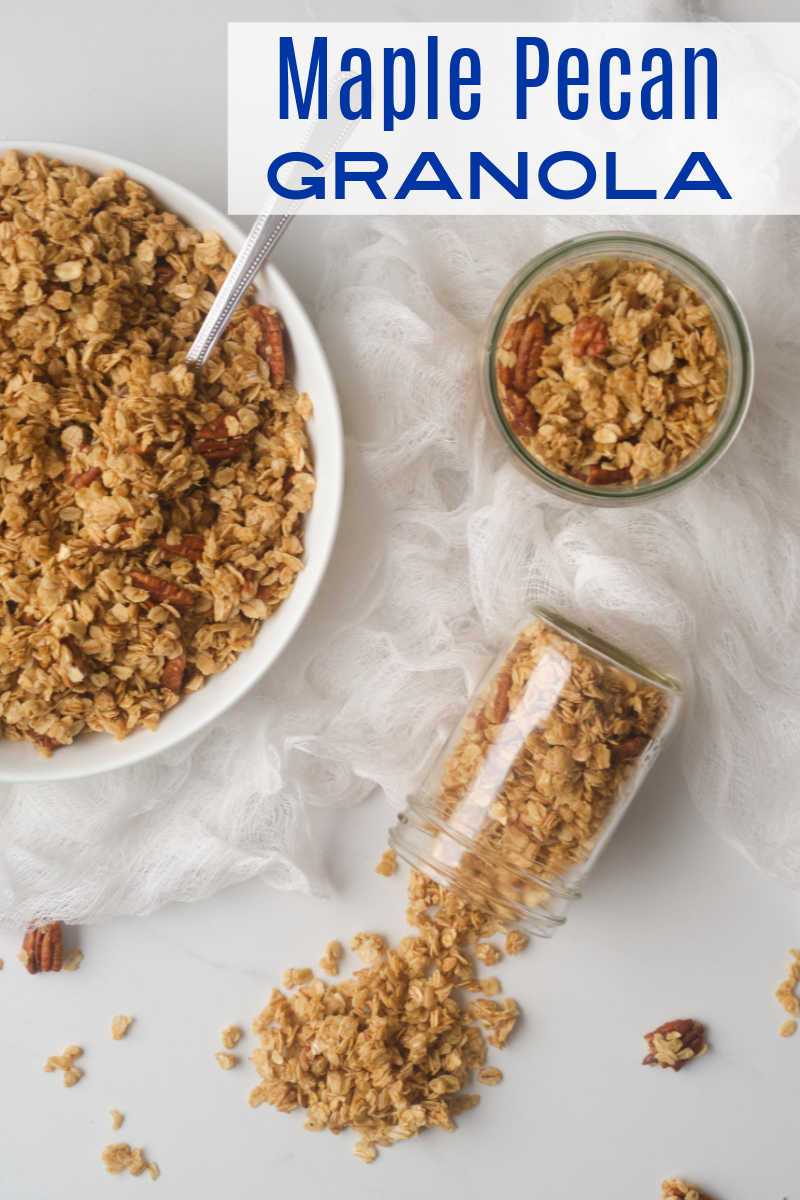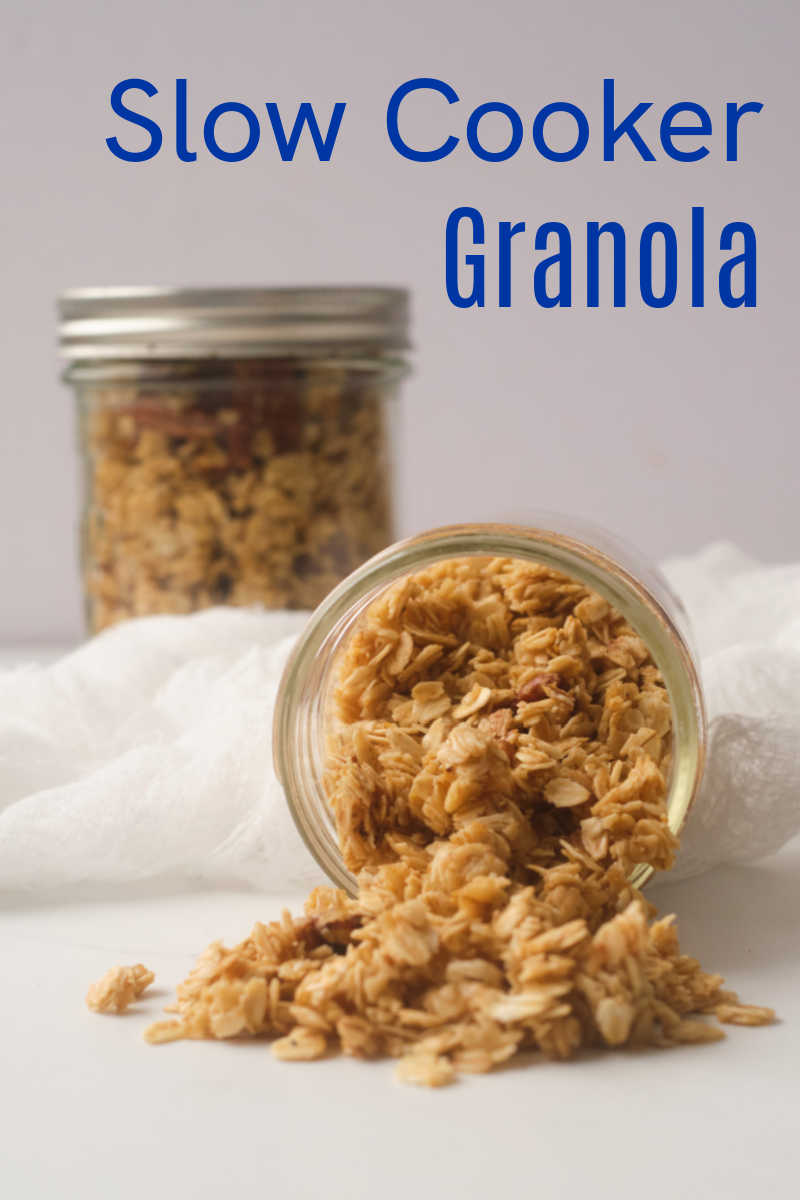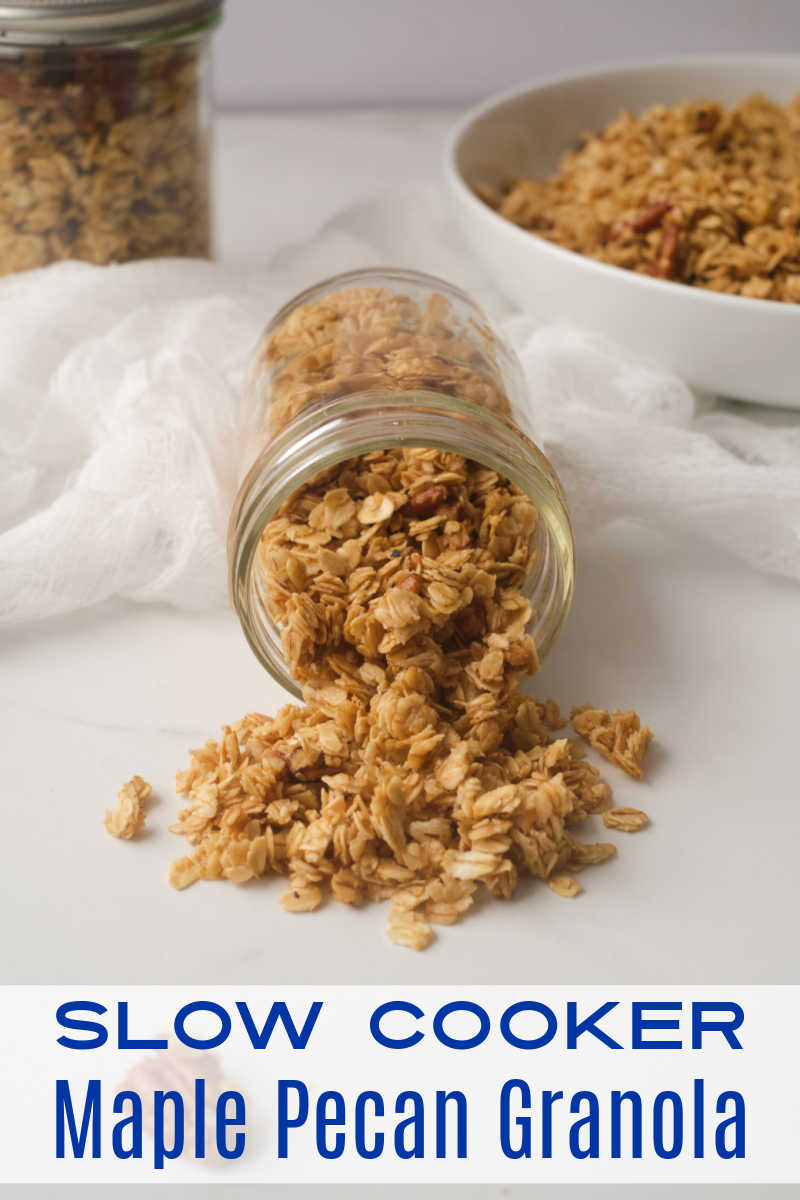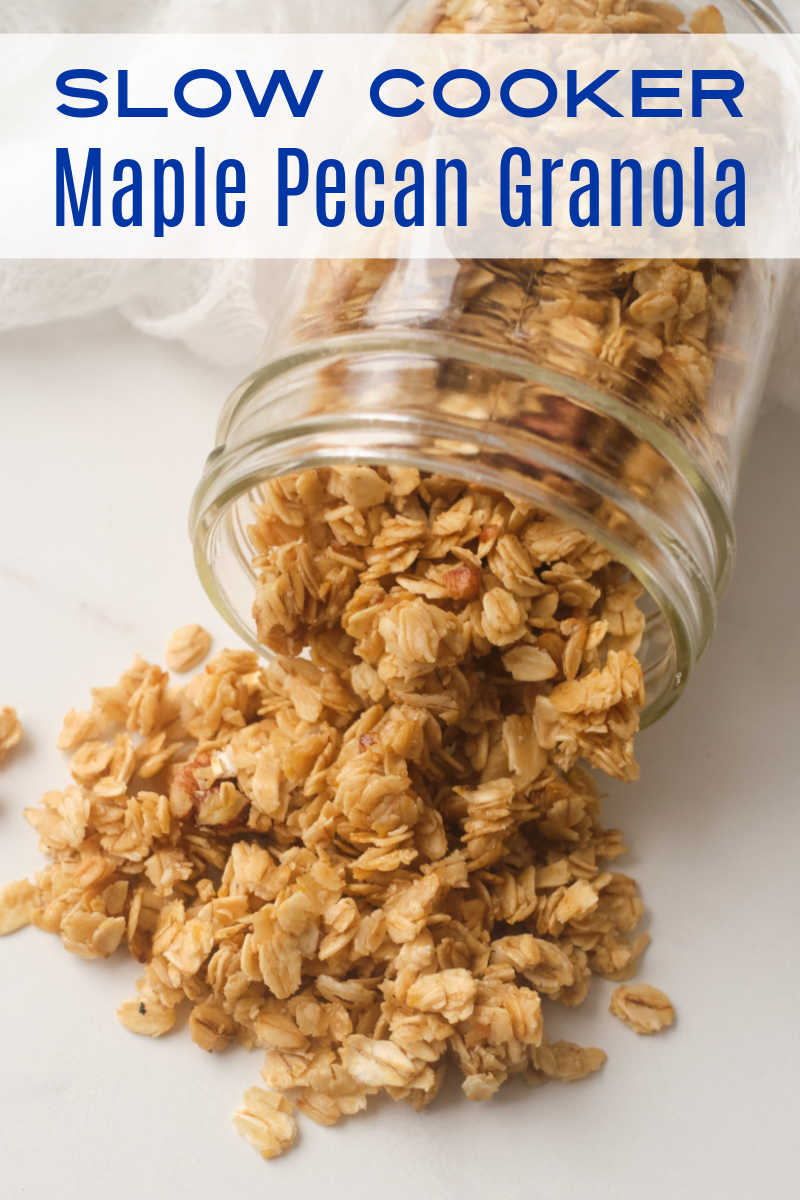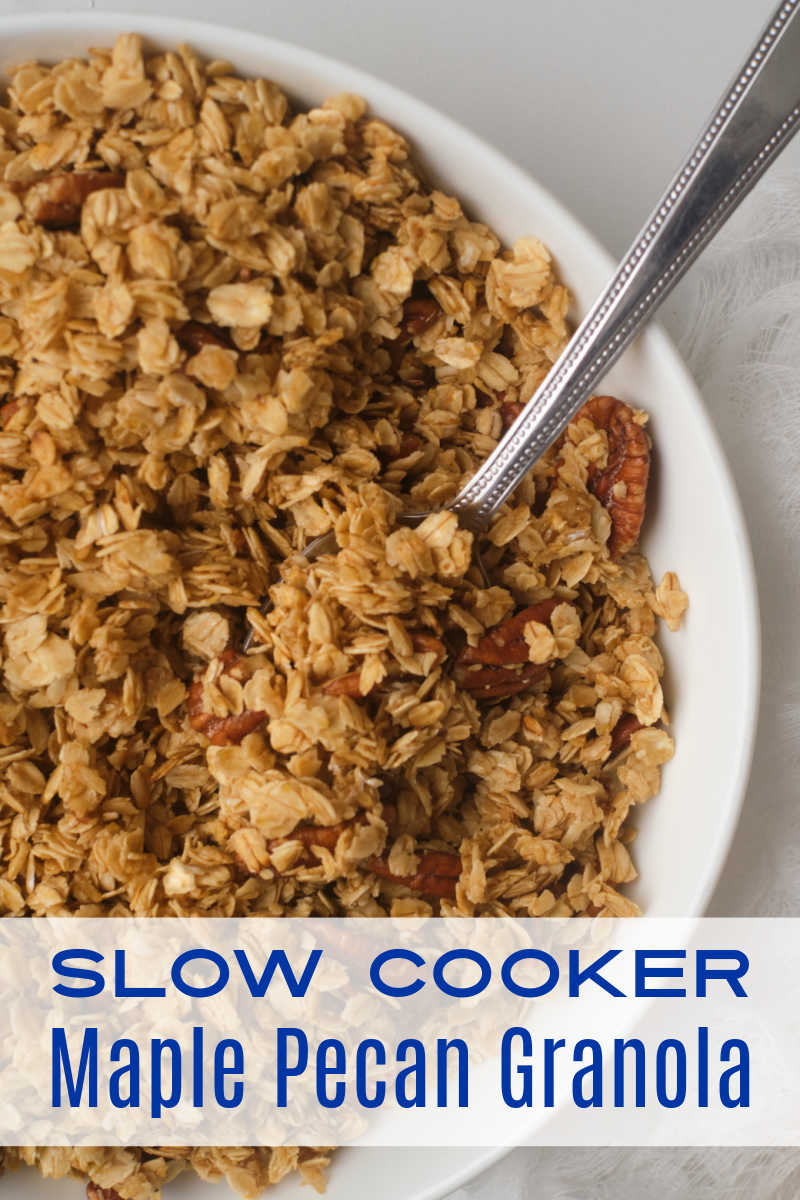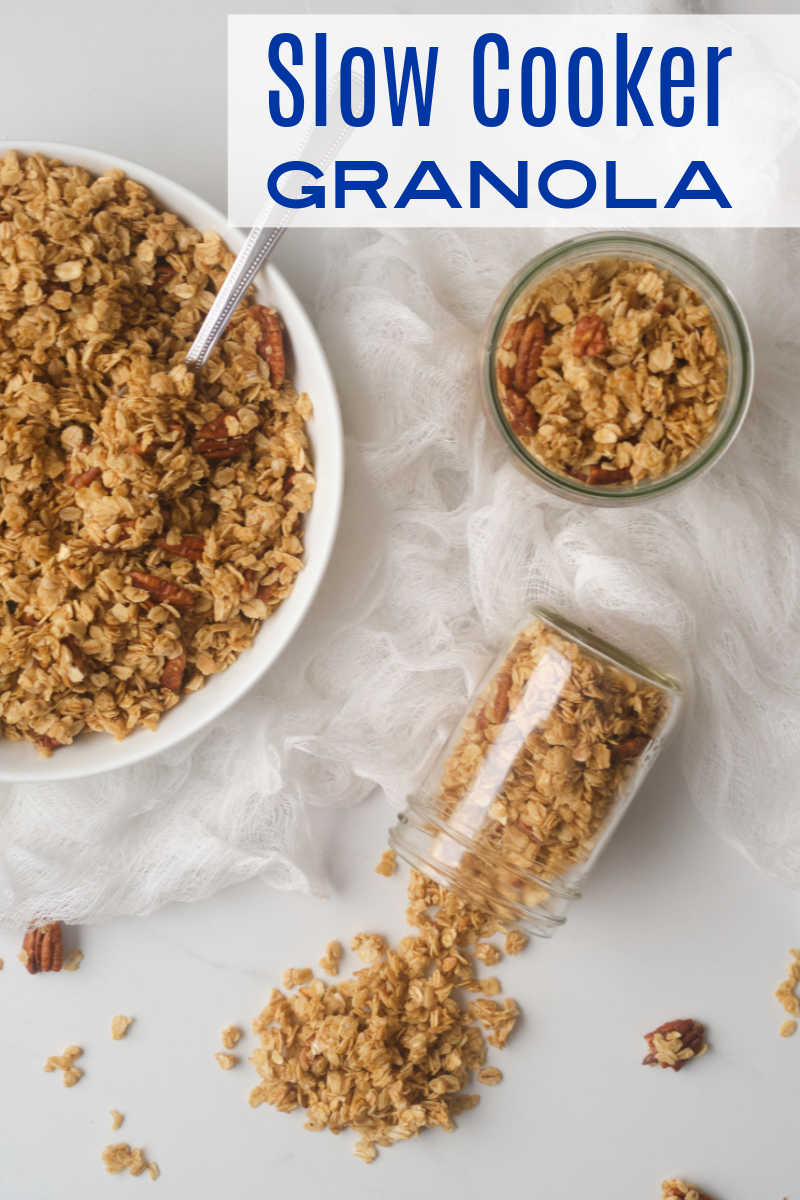 Maple Pecan Crock Pot Granola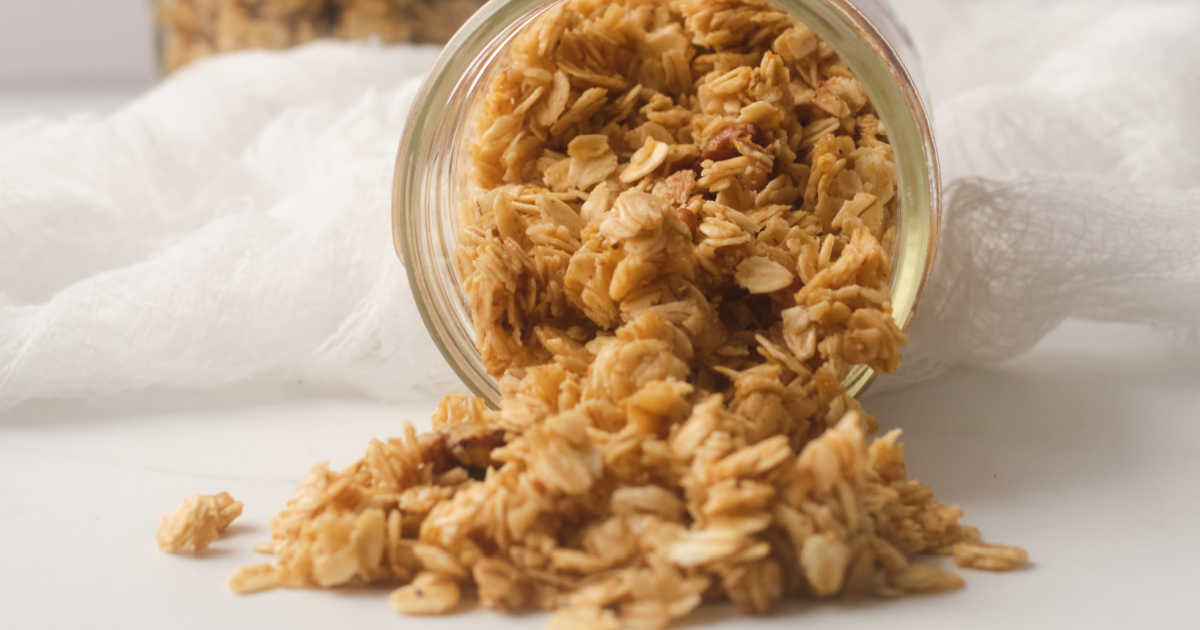 Anyone can make homemade cereal with just 3 ingredients, when you follow my simple maple pecan slow cooker granola recipe.
The flavors and textures of each of the three ingredients really shine, so each bite is pure and delicious.
Eat the granola as cereal with your favorite vegan or non-vegan milk, enjoy it as a yogurt topping or simply snack on it.
Don't you love it when simple foods are wholesome and delicious?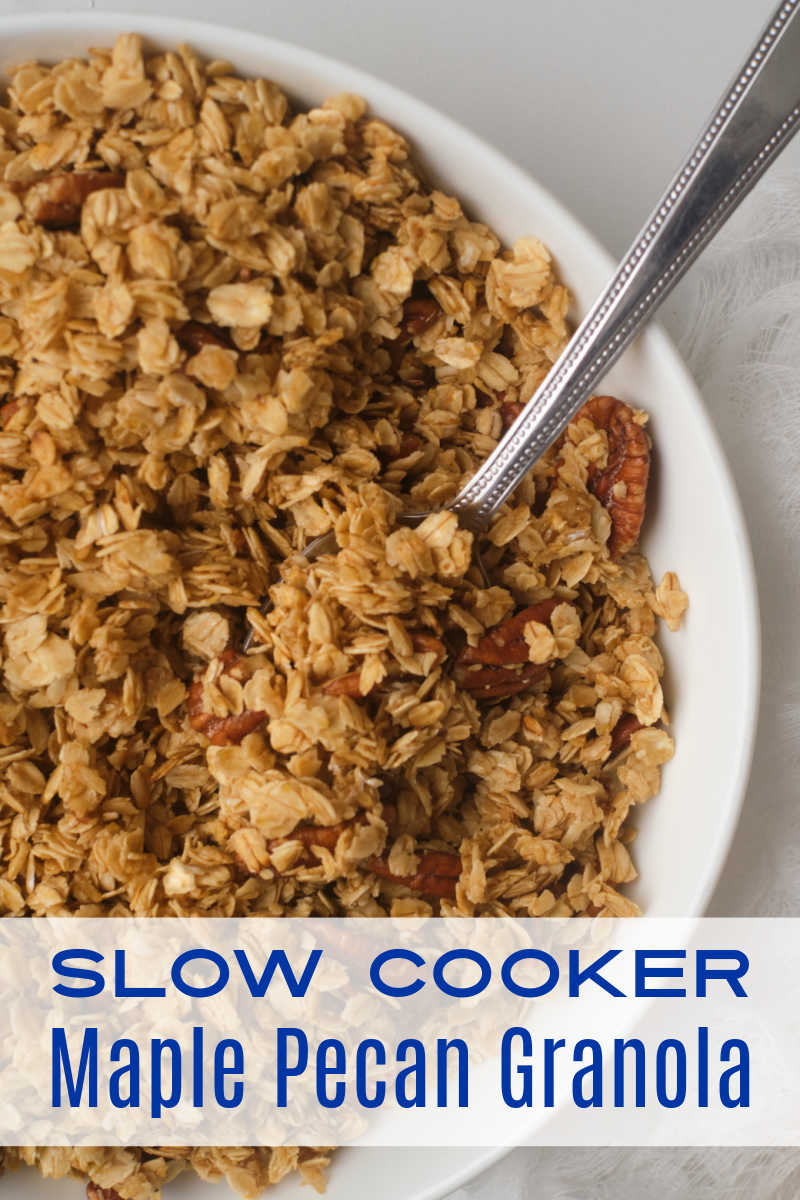 Is It Easy to Make Homemade Granola?
This crock pot granola recipe is very easy to make and doesn't require any advanced kitchen skills.
It is made in a slow cooker, so it does take time from start to finish.
You will need to stir it periodically, but you don't need to be actively giving it all of your attention.
I like to get the recipe started and then keep myself busy with washing dishes or preparing other food.
Then I'm close by to stir as needed, but I still get other things done.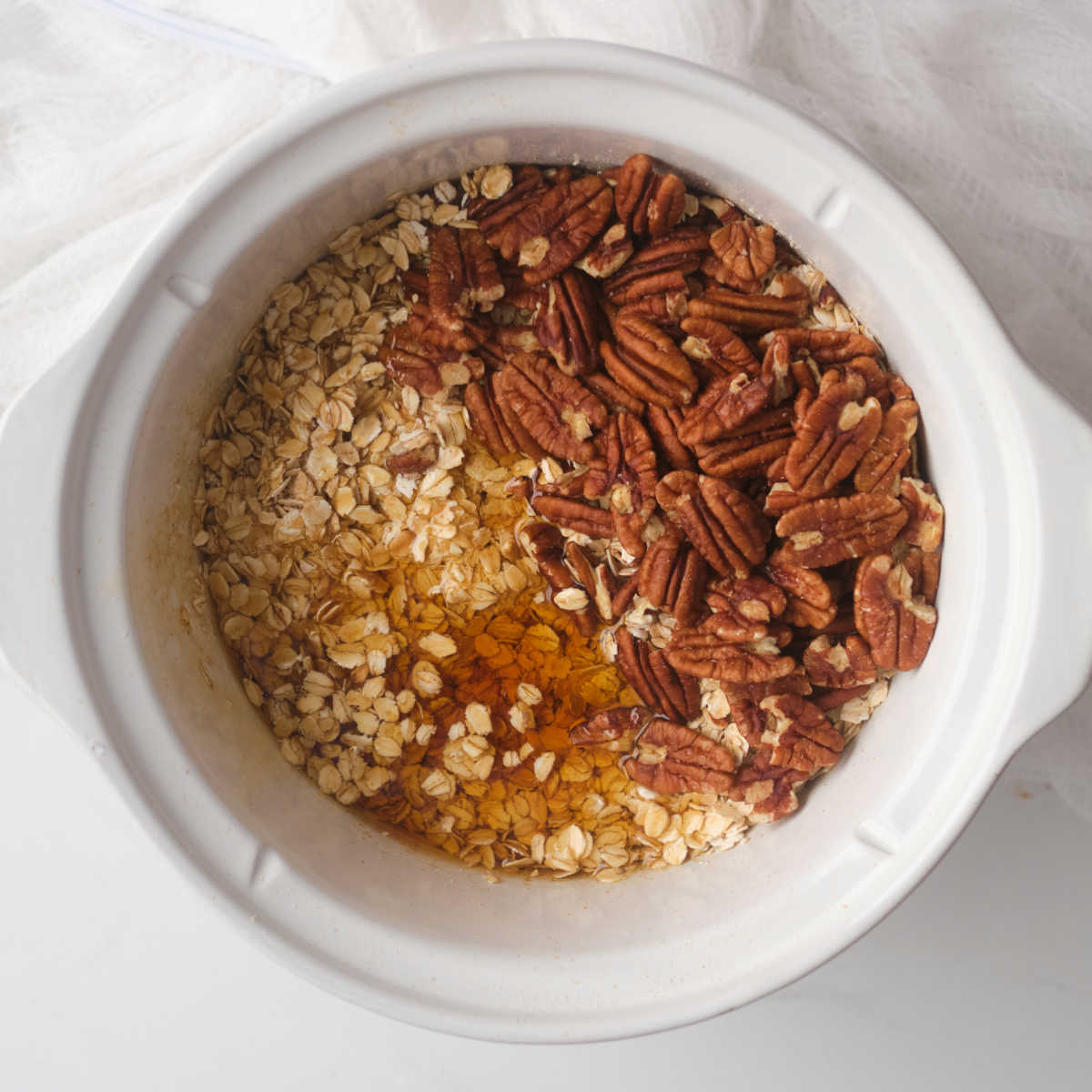 Is This Slow Cooker Granola Gluten-free?
All three of the ingredients in this granola recipe are naturally gluten-free.
As with any packaged food products, you'll want to check labels carefully if cross contamination is a concern of yours.
That is especially true for the oats, since many oat processing facilities also process grains and other foods that are definitely not gluten free.
However, the granola recipe is gluten free and can be enjoyed by those who are intolerant as long as you check the ingredient package labels.
Can I Make This Granola Without Tree Nuts?
As written, this recipe is not ok for people with a tree nut allergy, since pecans are one of the three ingredients.
You can, however, make an easy substitute for a tree nut free granola.
Hulled unsalted sunflower seeds can be substituted for the pecans as an even swap in the recipe.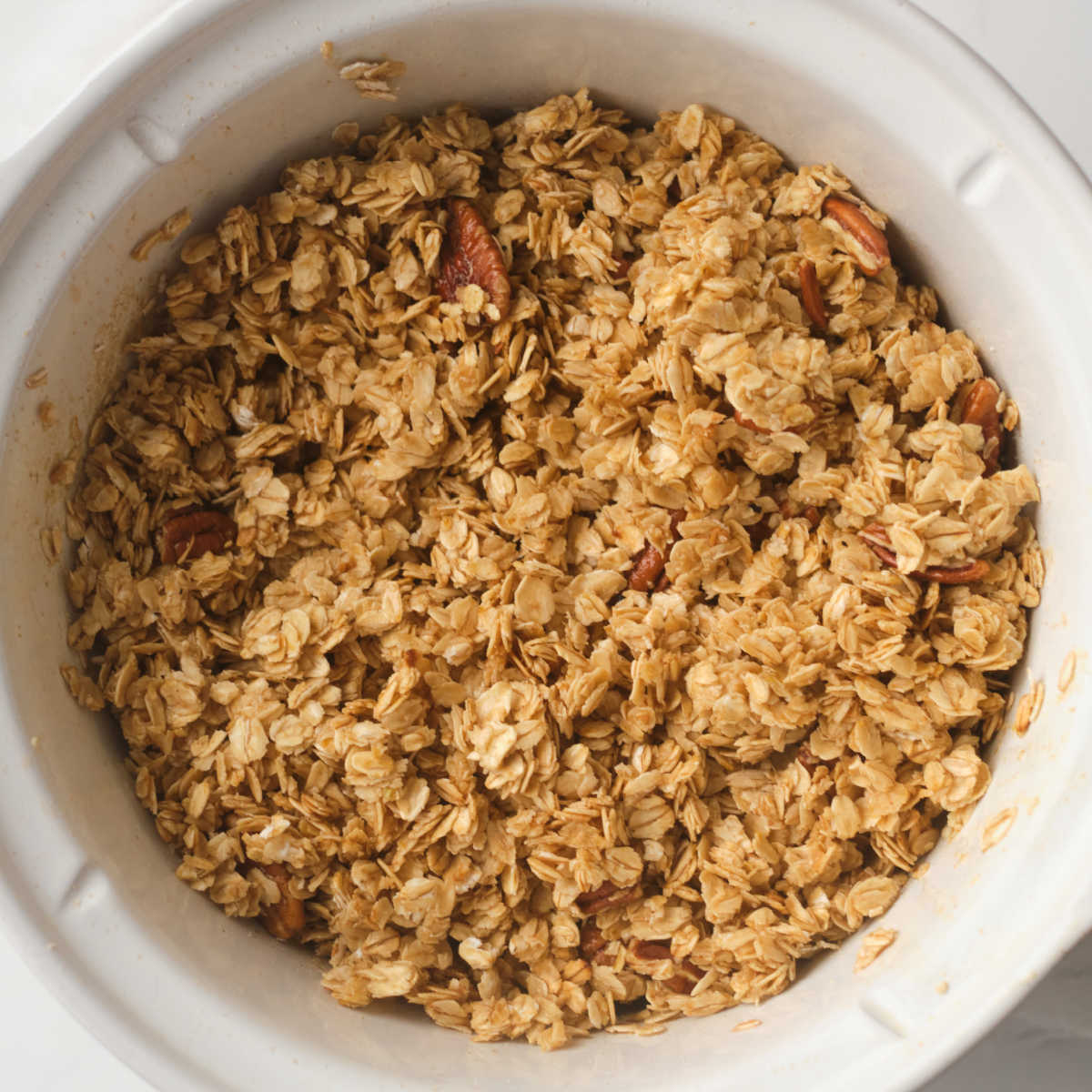 Why Use Oatmeal in Granola?
Oats are an easy way to add some healthy whole grains into your breakfast.
They are available at a budget friendly price, so are a great frugal ingredient that is also packed with nutrition.
Oats have a low glycemic index, which means they won't cause a blood sugar spike like other more refined carbohydrates will.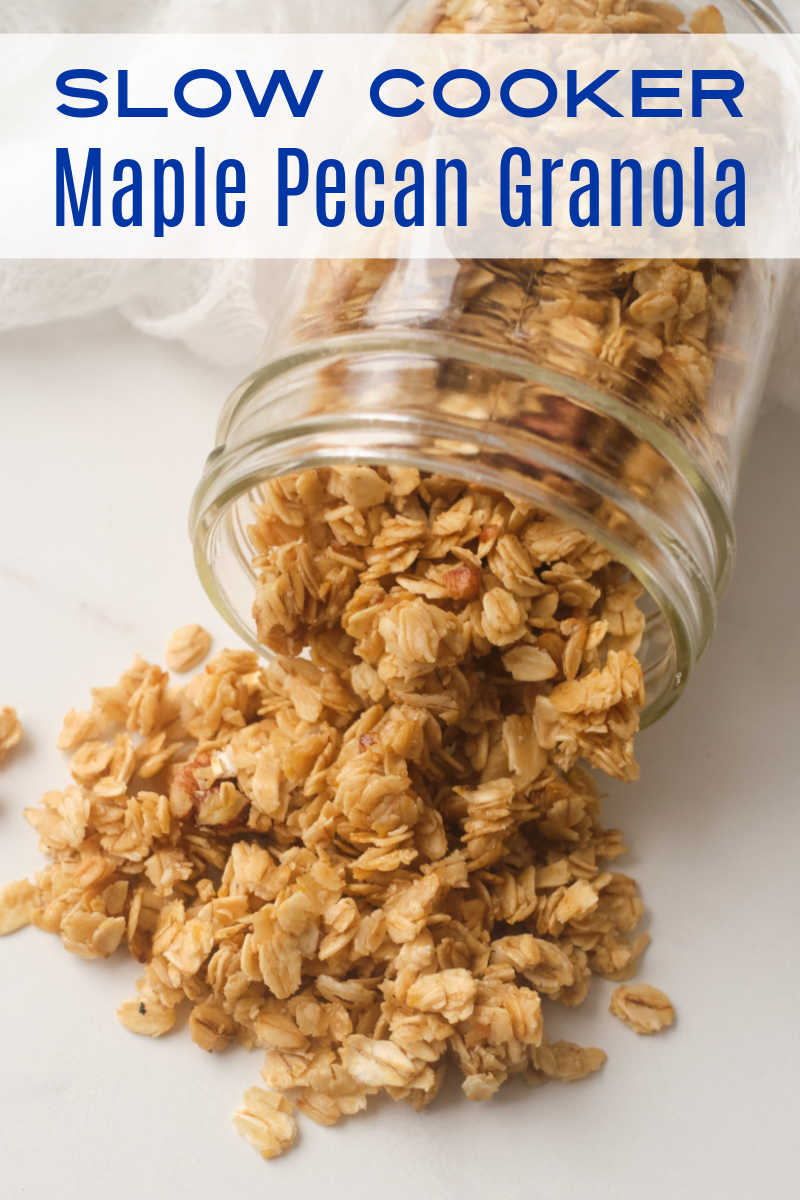 Is Pure Maple Syrup Better Than Maple Flavored Syrup?
Yes!
There is a huge difference between 100% pure maple syrup and maple flavored pancake syrup.
The taste difference is noticeable, even for people accustomed to the cheaper stuff.
Pancake syrup is typically made with ingredients like corn syrup, high fructose corn syrup, artificial color and artificial flavor.
If this is what you have, it will work in this recipe.
However, pure maple syrup is preferred, since it has the delicious maple taste just as nature makes it.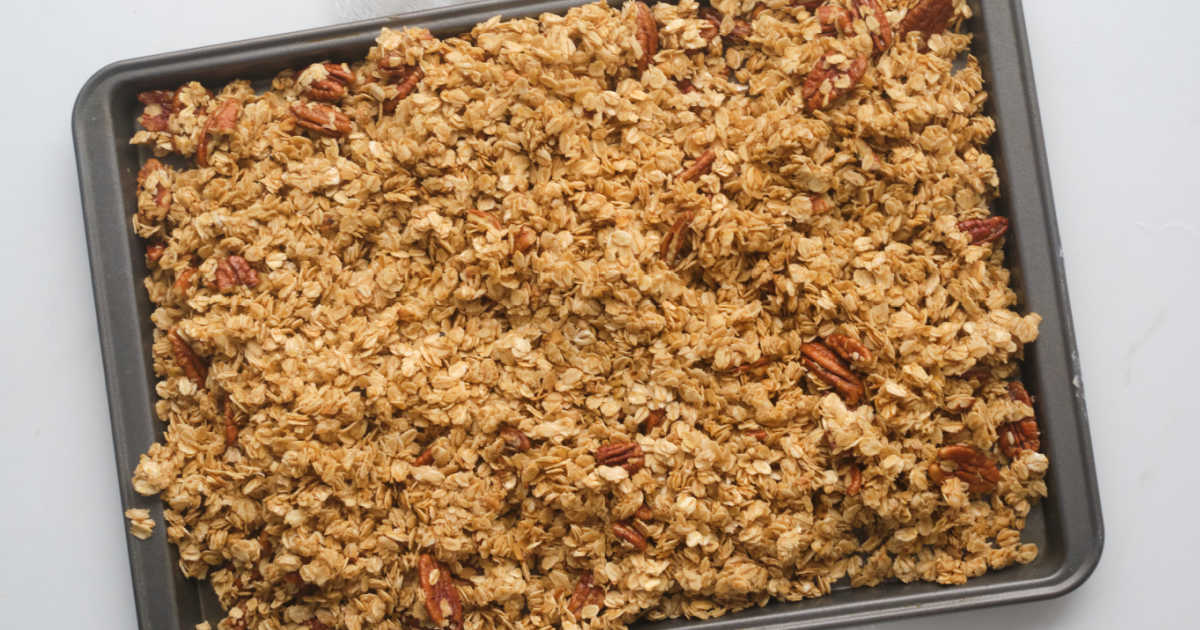 How Do I Get Bite Sized Granola Chunks?
A simple technique will allow you to get granola chunks in the right size for you.
If you plan to eat the granola as cereal, you may want very small pieces.
And if you plan to eat it by had as a snack, you will want larger chunks.
After the granola is done cooking in the slow cooker, spread it out on a rimmed baking sheet to cool.
If your goal is very small bits, you may want to use two baking sheets and spread it out more so there is more space.
Otherwise, one pan will do.
Right after it has cooled, you can break it into smaller bits to suit your needs.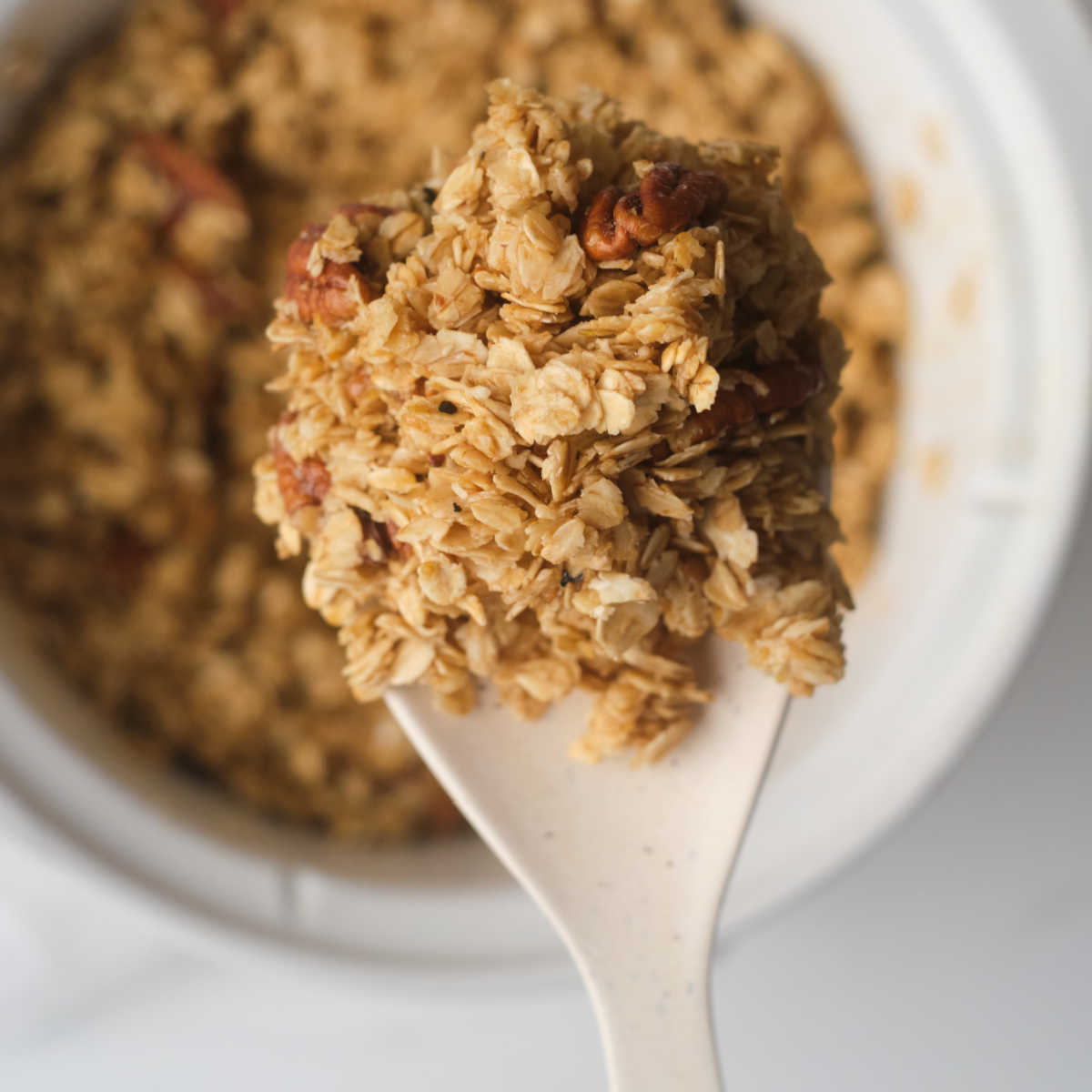 What Slow Cooker Is Best for Making Crock Pot Granola?
All that is needed for this simple recipe is a basic, regular sized slow cooker with settings for low and high heat.
Mine also has a 'warm' setting, but that isn't necessary.
Other recipes may require the bells and whistles of a higher end slow cooker, but this one doesn't.
If you have a pricey slow cooker, that's fine.
However, feel free to use whatever you have already or whichever model fits your budget.
How to Store Homemade Granola
After your granola has completely cooled, you can store it in an airtight container to keep it fresh.
I like using mason jars for food storage, since it's easy to seal the jar.
Also, mason jars don't give the granola a "plastic" taste like some other containers do.
A stainless steel food storage container is another good option to keep food fresh and tasting delicious.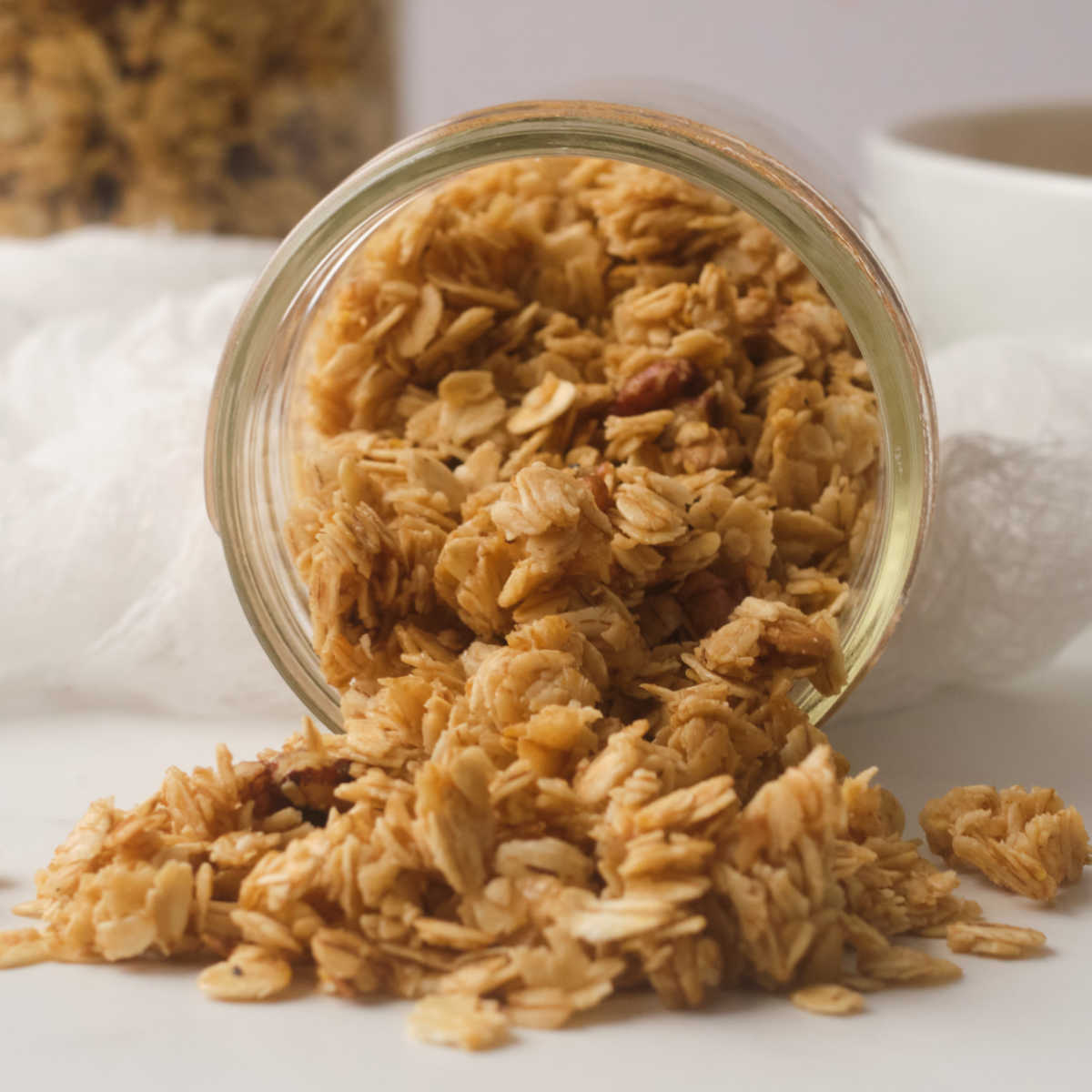 3 Ingredient Slow Cooker Granola Recipe
Prep time: 5 minutes
Total time: 2-3 hours
Ingredients
4 cups Oats
1 cup Pecans (Halves or Chopped)
1 cup Maple Syrup
Supplies
Slow Cooker
Measuring Cup
Spoon
Baking Sheet
Mason Jar or Stainless Steel Container to Store
Instructions
1) Add oats, pecans and maple syrup to the slow cooker and stir.
2) Set heat to "warm" and cook for 2 to 3 hours, stirring periodically.
3) Spread the granola onto a baking sheet, so that it can completely cool. It will get crunchier as it cools.
4) Break apart, if necessary.
5) Serve immediately or store in an airtight container.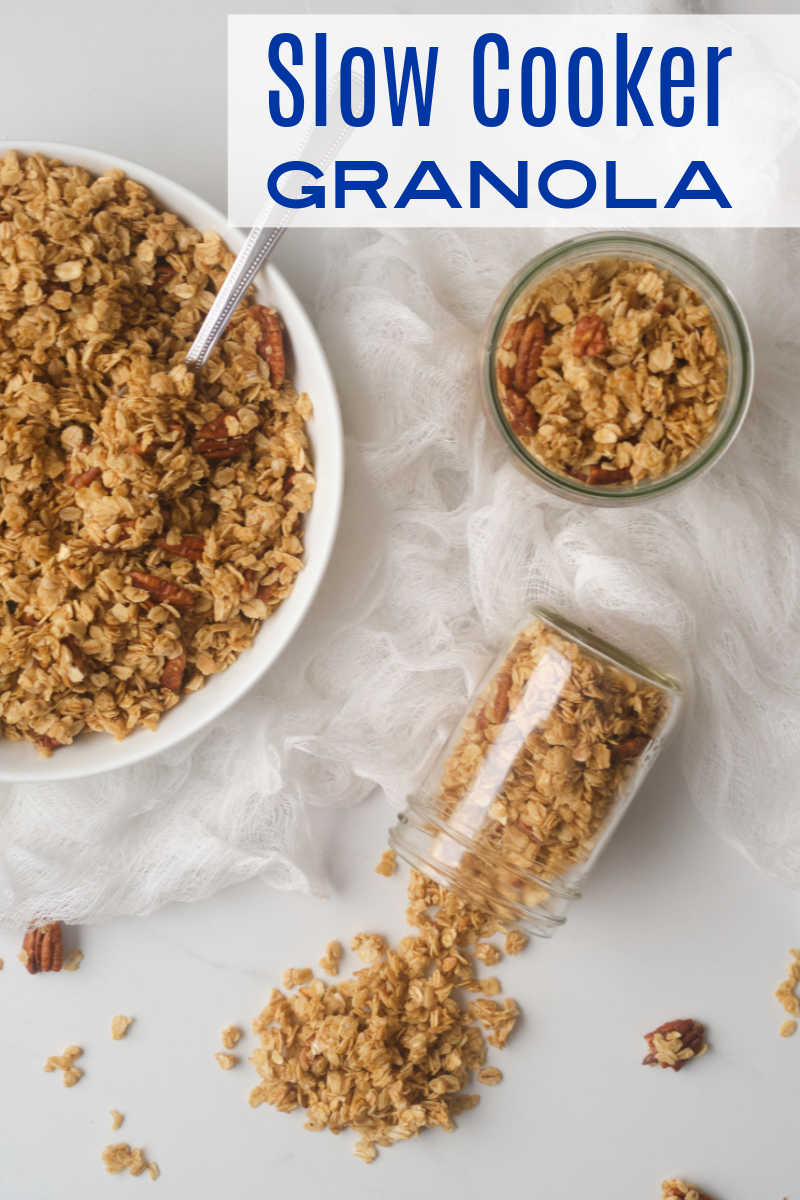 More from Mama Likes To Cook
Check out the rest of my vegetarian recipes, so you can get more great ideas for baking, cooking, blending and juicing.
Maple Recipes
Pecan Recipes
Slow Cooker Recipes
Shopping Tips
For a beautiful assortment of kitchen necessities and food gifts for the whole family, check out the deals at these online stores.
Are you ready to have some delicious fun in the kitchen?