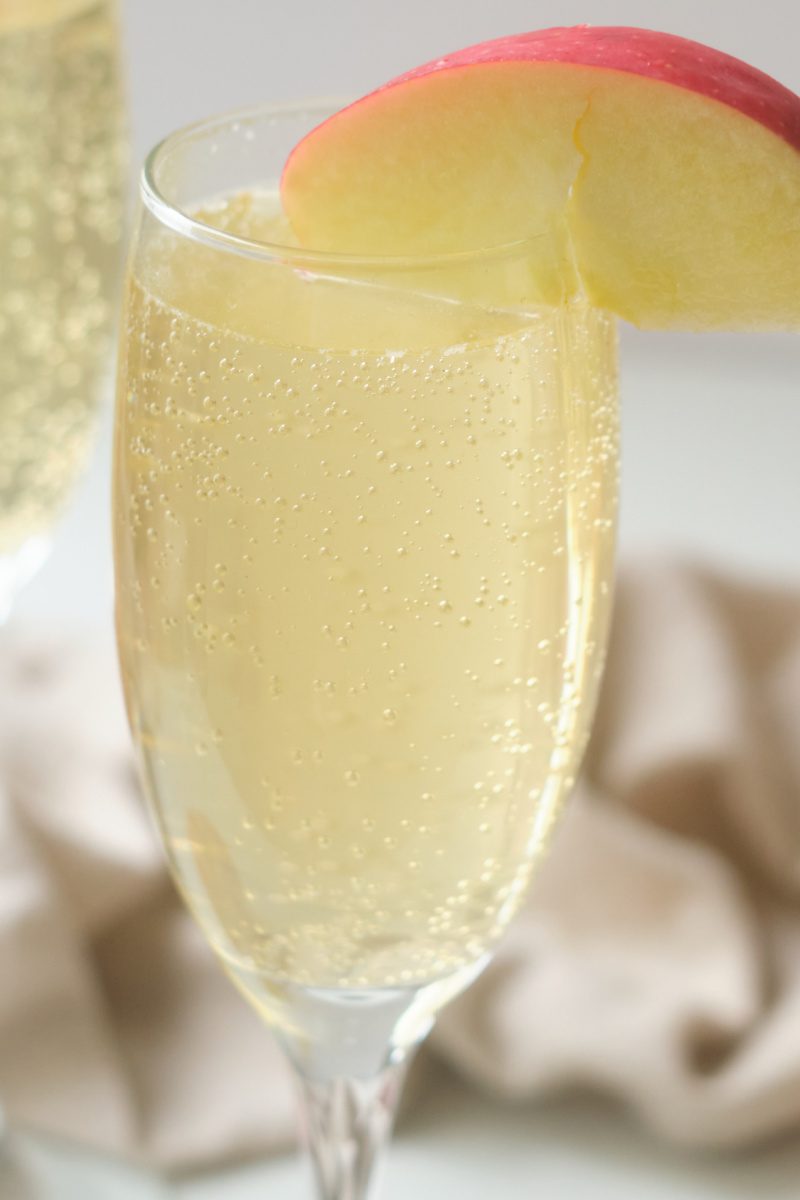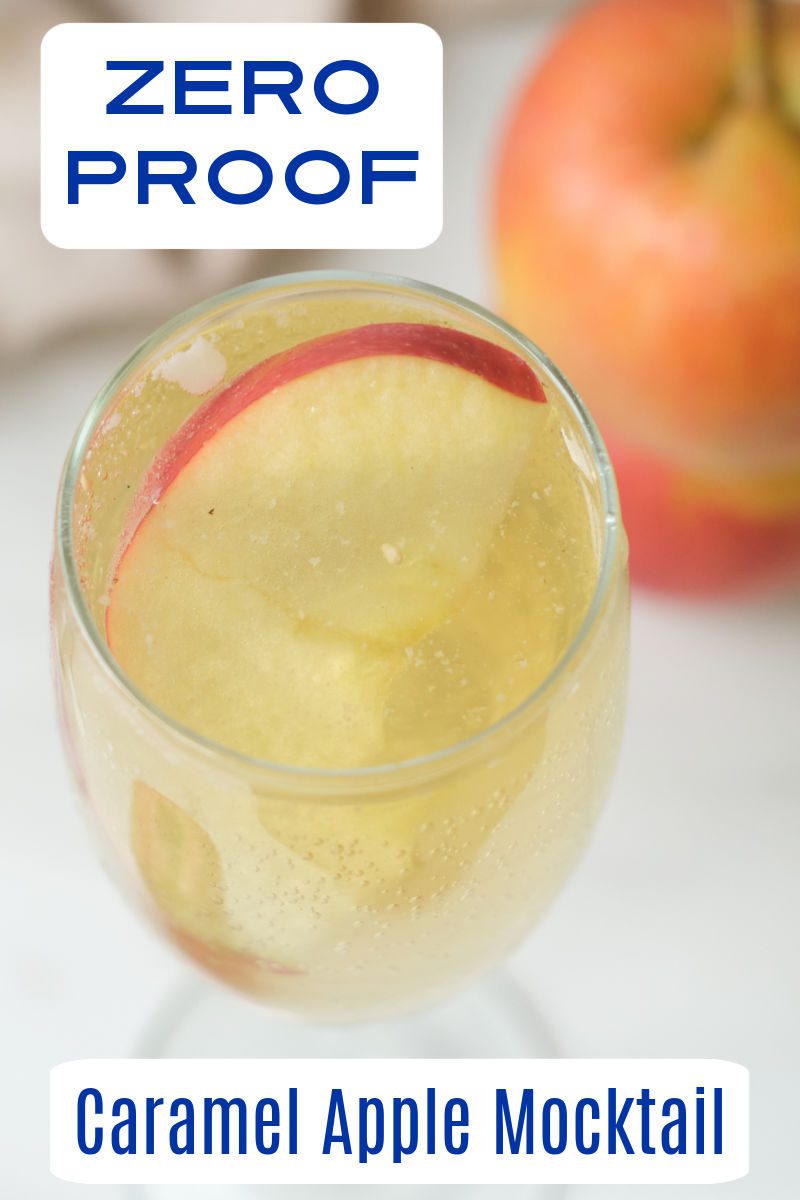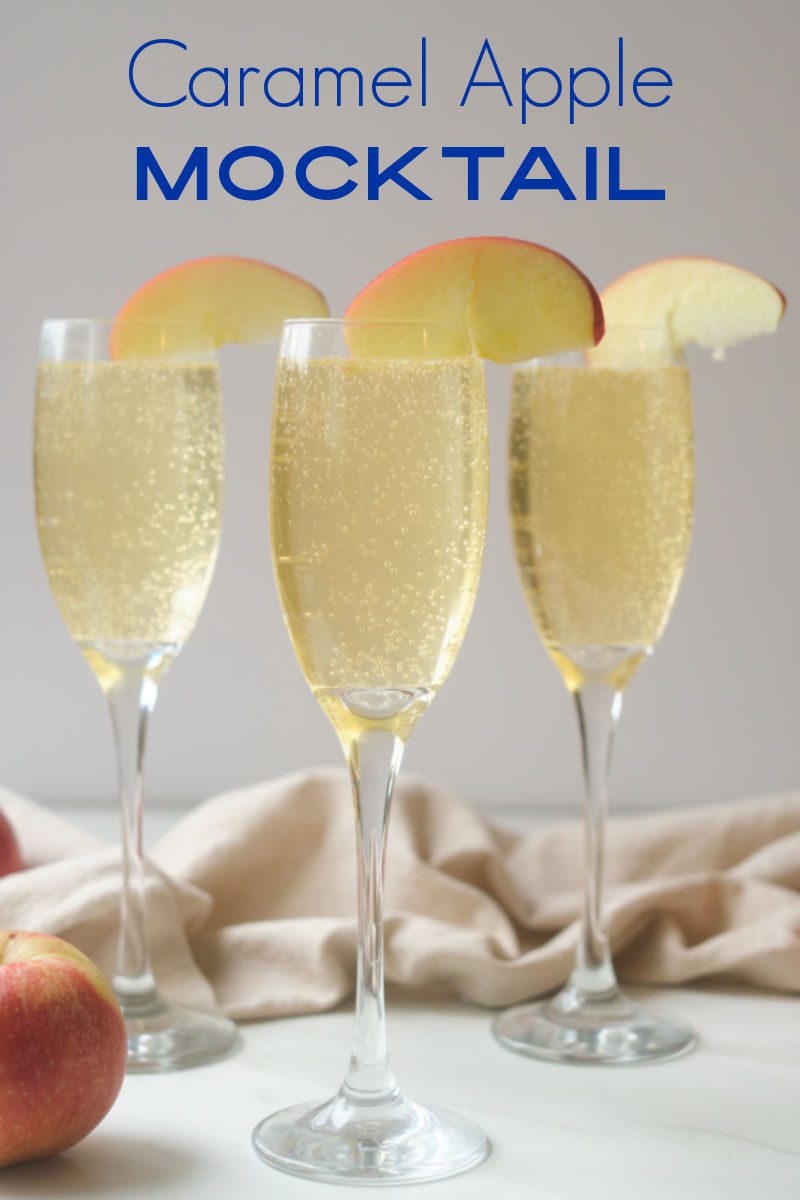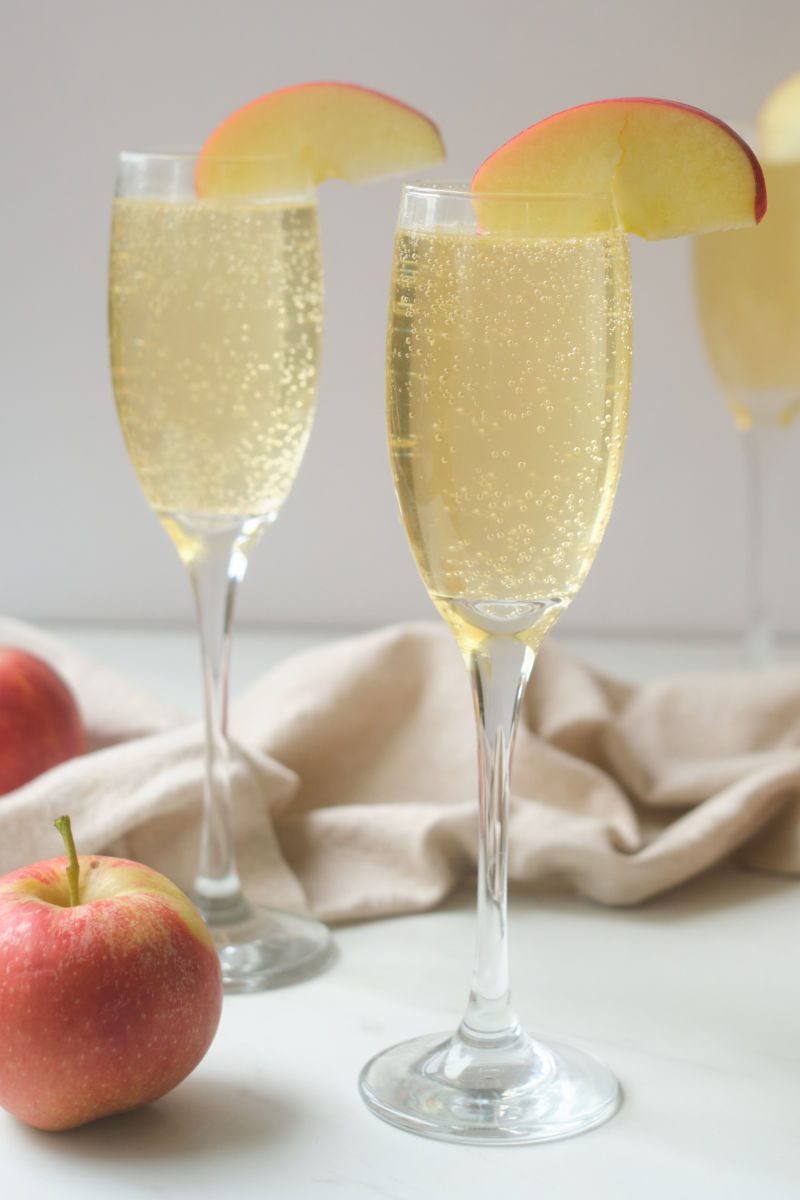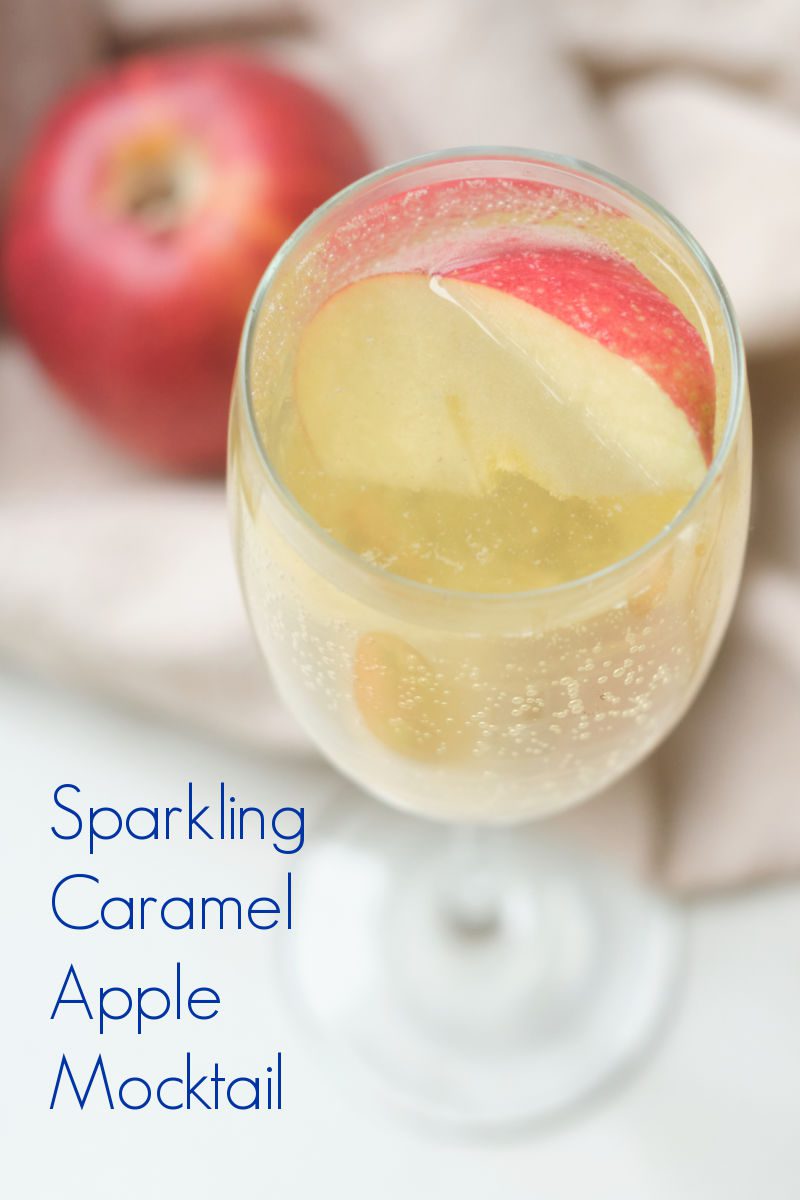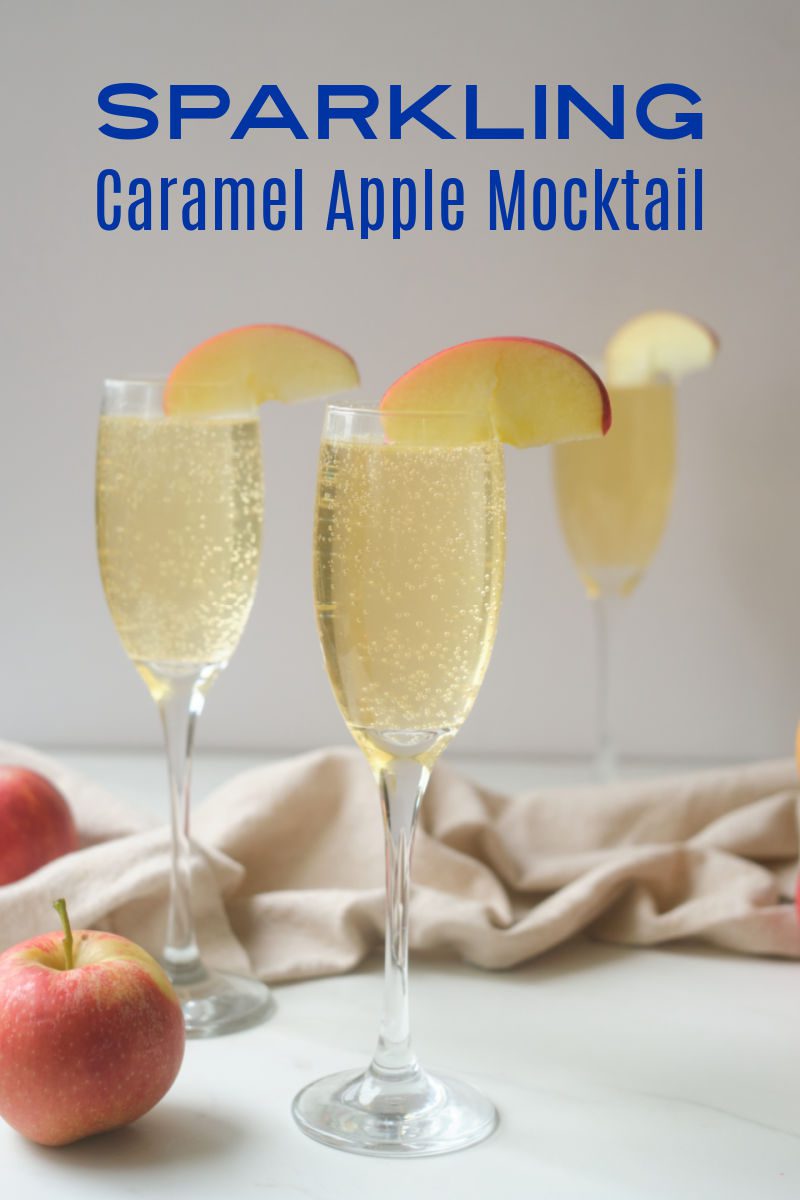 Festive Zero Proof Caramel Apple Party Drink
Sparkling drinks are fun!
Learn how to make an easy non-alcoholic sparkling caramel apple mocktail that's perfect for kids and adults.
Caramel sauce, apple juice and bubbles are the stars of this party drink.
Thin apple slices make a lovely garnish and, of course, your family can eat the garnish, too.
This is a festive drink that is perfect for Fall and Winter, when we are enjoying cool weather and farm fresh apples.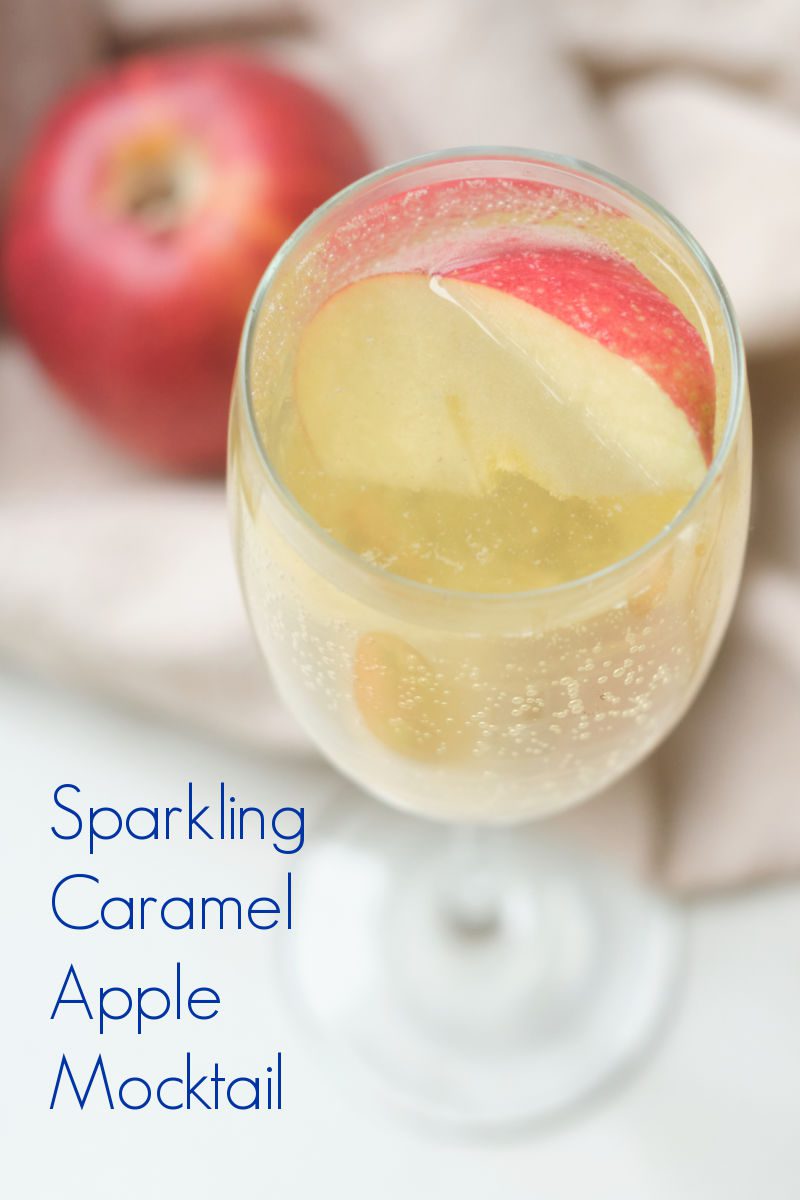 Quick and easy caramel mocktail made with apple juice
This homemade sparkling party drink is simple to make, even if you have never made a cocktail before.
There are only 4 ingredients, including the garnish, but it looks and tastes like something special.
The recipe makes two servings, but you can easily make more.
Just mix them together just before serving, since you want the drinks to be bubbly.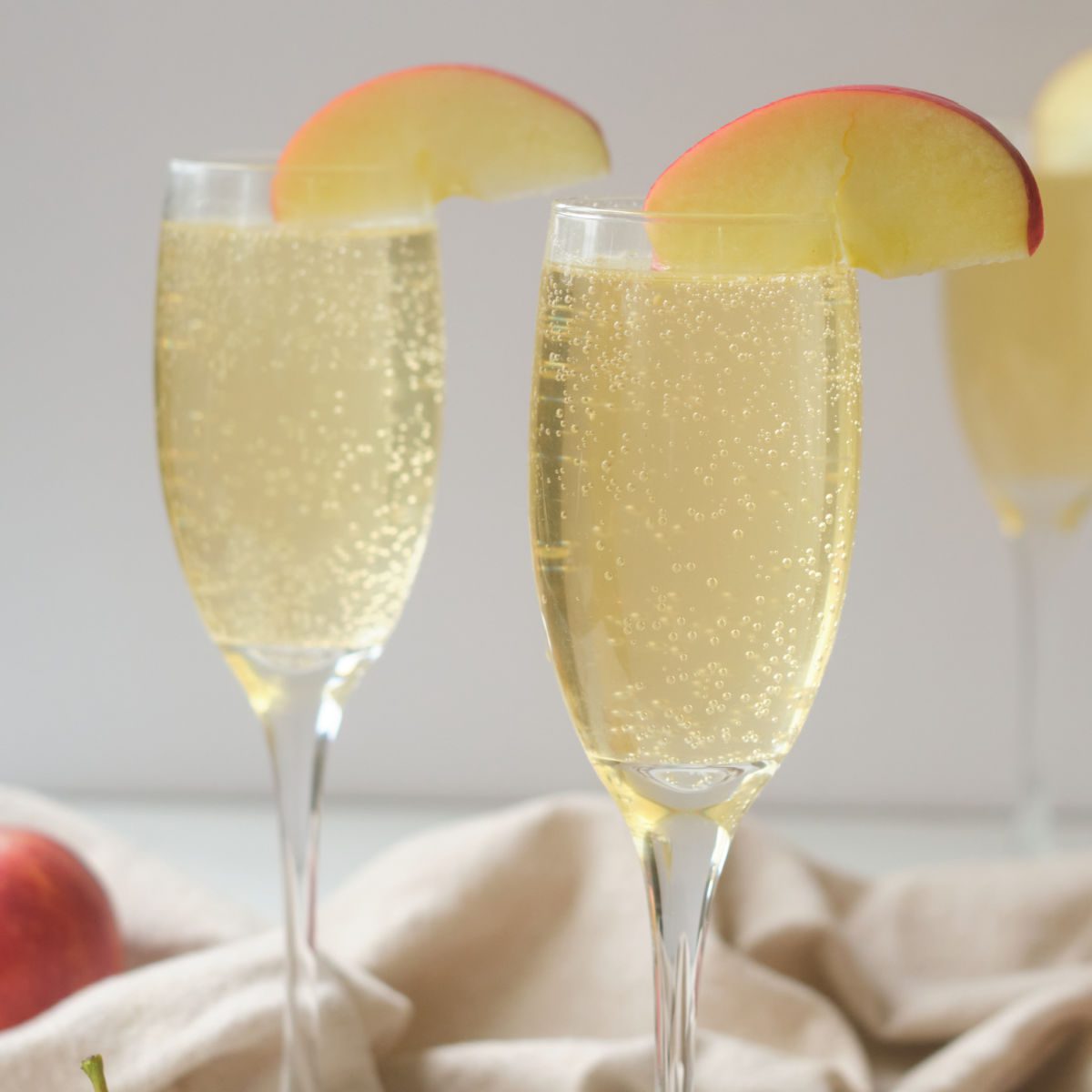 What is a mocktail?
A mocktail is a shortened version of the two words "mock cocktail," so it is a mixed drink without the alcohol.
The difference between a mocktail and cocktail are simply that the former doesn't have alcohol and the latter does.
Mocktails are a type of non-alcoholic beverage that typically uses flavored or carbonated water, apple or other fruit juice, and sometimes sugar.
The word can also be used more loosely to refer to any alcohol-free drink that is served in a cocktail glass.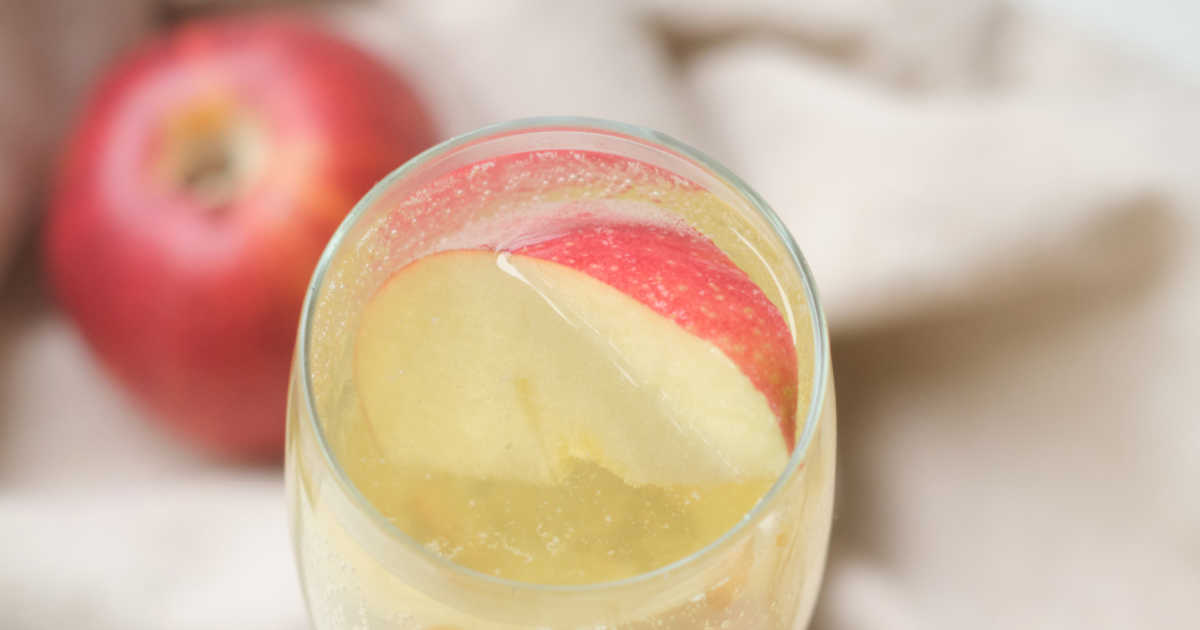 What are other names for a mocktail?
Virgin drinks are mocktails, but this term seems to be used less these days.
You can call it a zero proof drink or simply use the phrases non-alcoholic, alcohol-free or kid-friendly.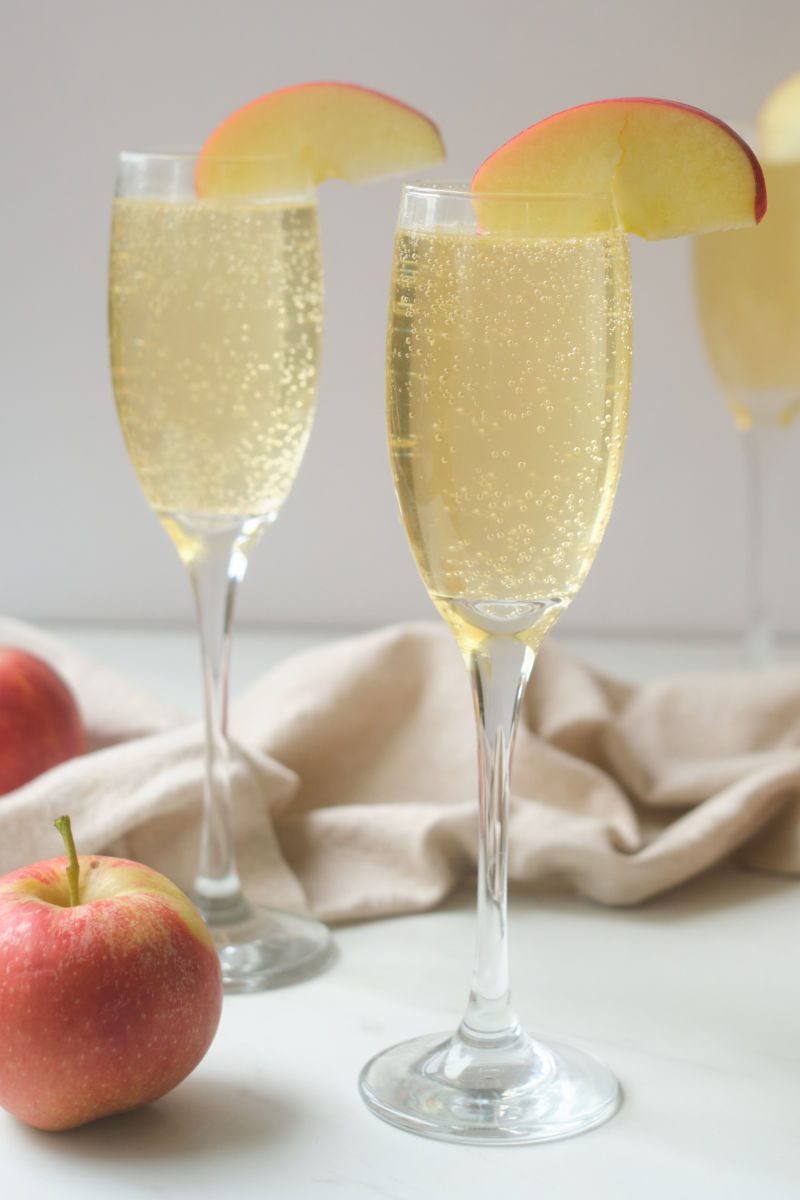 Why are mocktails popular?
Everyone likes a fun beverage, but not everybody wants or needs to drink alcohol all the time.
Mocktails are becoming more and more popular, since they are healthier alternatives to alcoholic drinks.
They are appealing for people who want to avoid alcohol completely or are simply limiting their consumption.
Of course, they are also perfect for kids and young adults under 21.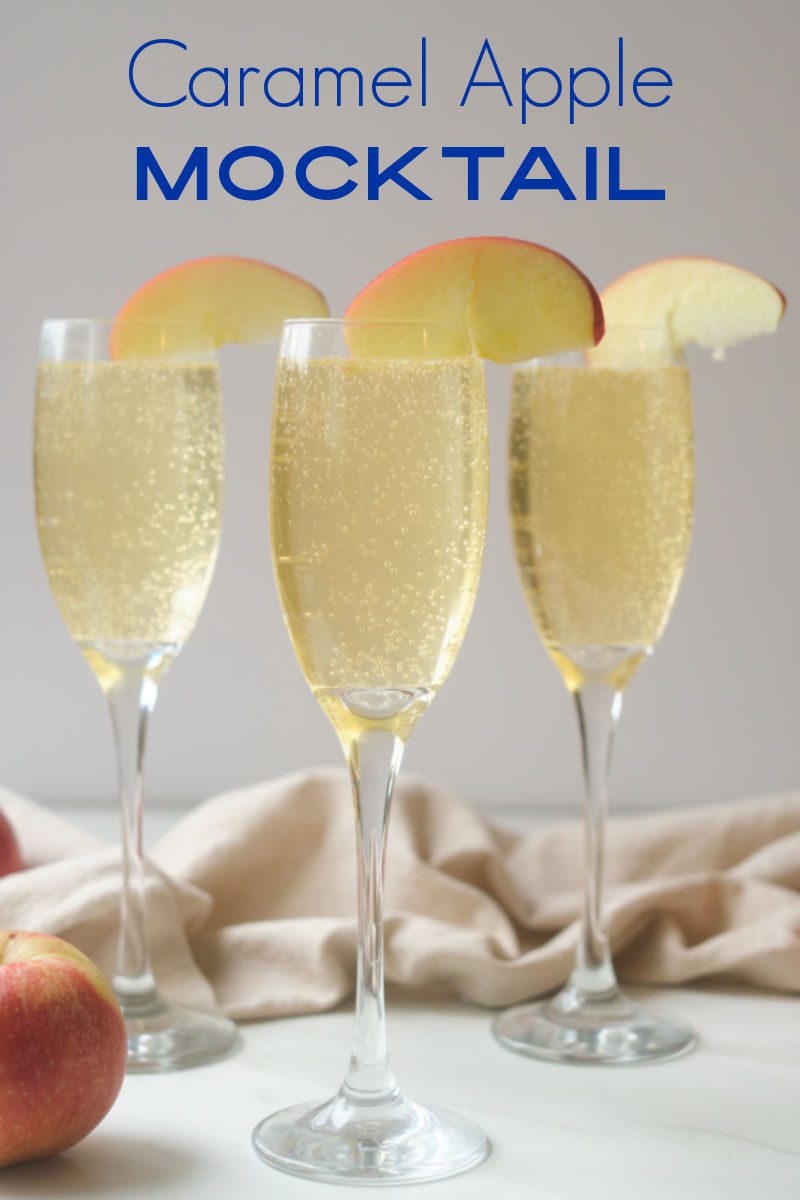 What type of apple juice is best in a sparkling mocktail?
A clear apple juice looks best in this sparkling drink.
Should you use a natural apple cider?
A natural juice or cider that has little bits in it tastes great, but the mocktail will end up looking cloudy if you use it for this recipe.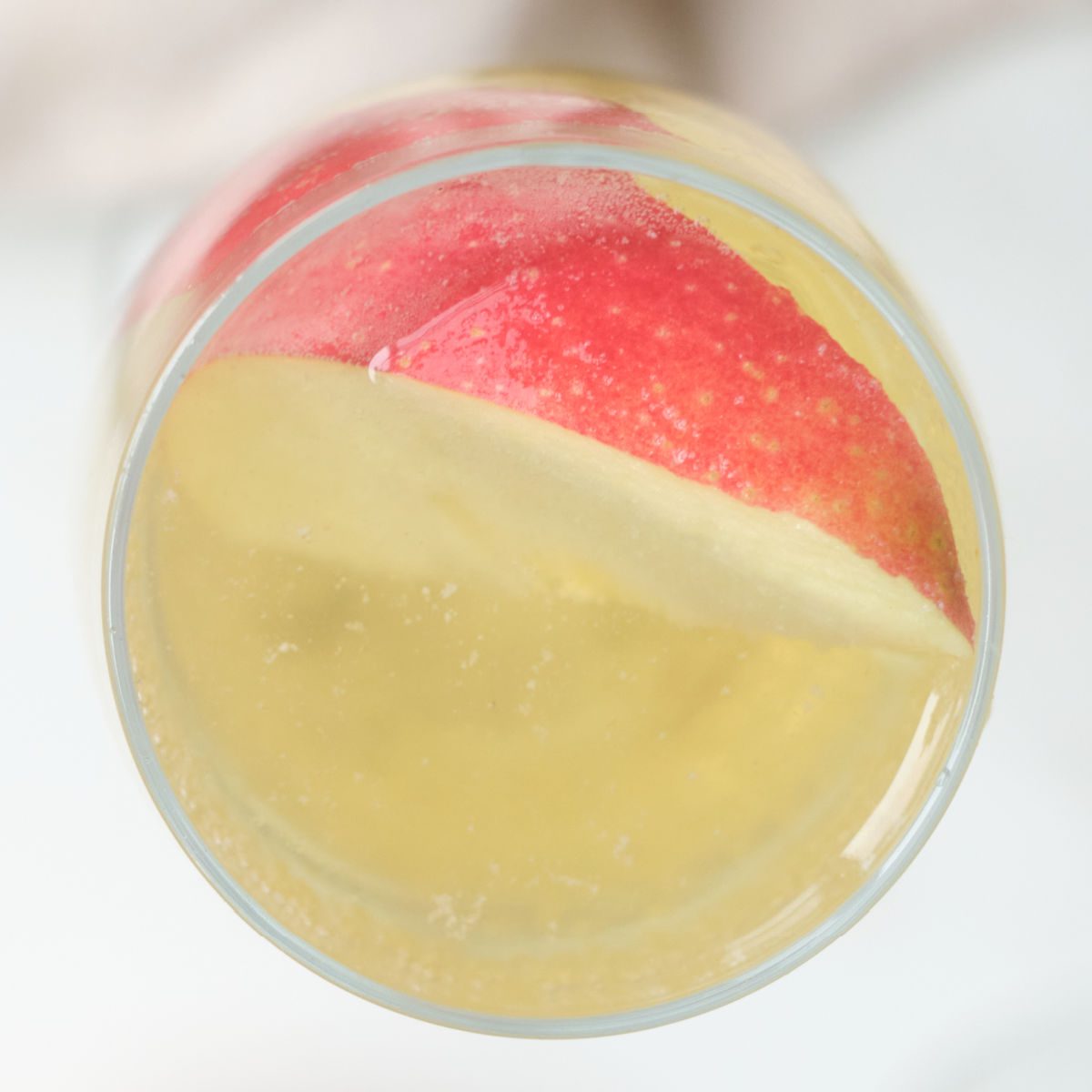 Caramel Apple Mocktail Recipe
Prep time: 10 minutes
Total Time: 15 minutes
Yield: 2 servings
Ingredients
1 cup Clear Apple Juice
1 T Caramel Sauce
1.5 cups Sparkling Water
Garnish
Apple Slices (sliced thin or cut into wedges)
Supplies
Measuring Cup
Measuring Spoons
Quart or Pint Mason Jar
2 Champagne Flutes or Other Cocktail Glasses
Instructions
1) Add the apple juice and caramel sauce to a mason jar. Stir and/or shake until well combined.
2) Pour half of the sparkling water into each glass and then top with the caramel apple juice mixture.
3) Garnish with apple slices and serve immediately.
What special memories will you make, when you sip on sparkling caramel apple drinks with your family?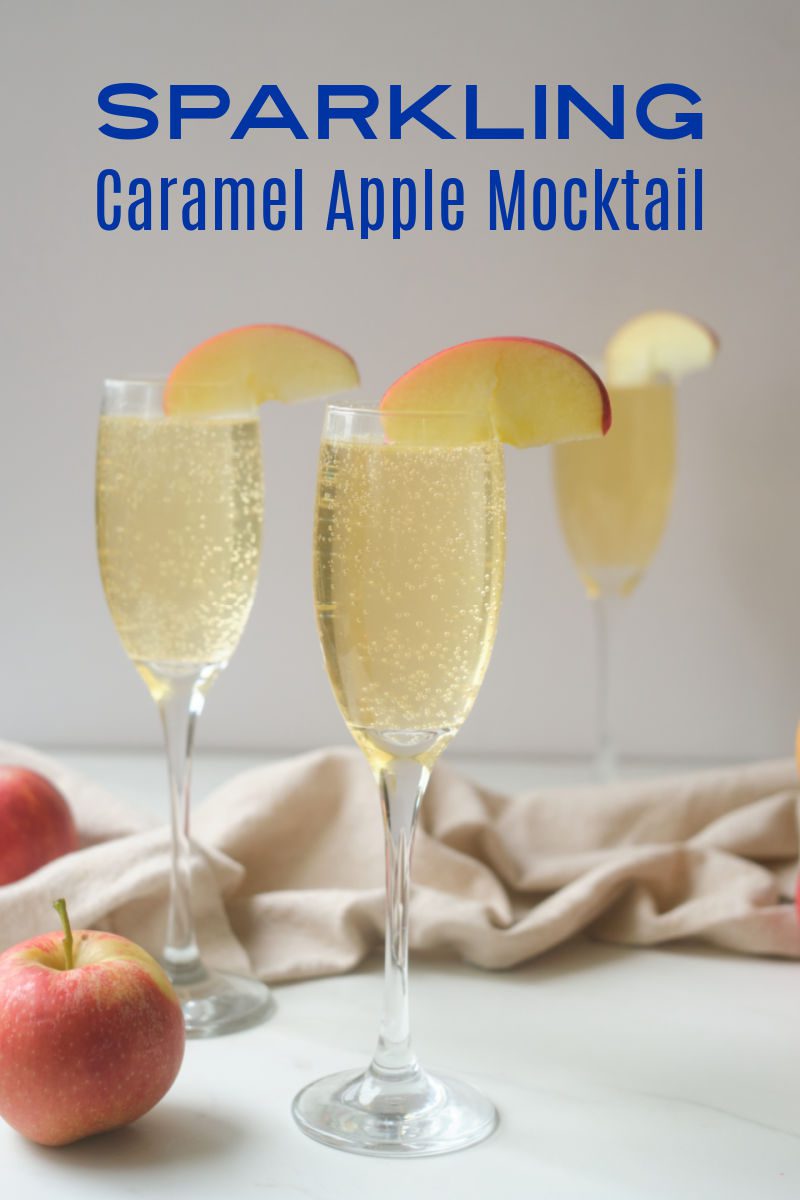 More from Mama Likes To Cook
Check out the rest of my vegetarian recipes, so you can get more great ideas for baking, cooking, blending and juicing.
Zero proof alcohol-free drink recipes
Any of these recipes can be served at a party or other special event, but you can also enjoy them during a regular, relaxing evening at home.
Apple Recipes
Caramel Apple Recipes
Shopping Tips
For a beautiful assortment of kitchen necessities and food gifts for the whole family, check out the current deals at these online stores.
Are you ready to have some delicious fun in the kitchen?